Do you want to get to know one of the most dramatic and impressive landscapes in Europe? Then Norway is your destination! Visit Norwegian fjords, from huge canyons of deep blue water to waterfalls or impressive glaciers, hikes and highways.
The basics of our roadtrip through the fjords at Bergen, Norway:
Duration: 7 days/6 nights
Date of travel: from September the 4th to September the 11th, 2016
Number of travellers: two people
Time of preparation: one month
In this post you will find a very exhaustive list of the main places to visit Norwegian fjords, ranging from activities and visits you can do from your car to short trekks or challenging adventure experiences, as well as cities and foodie recommendations.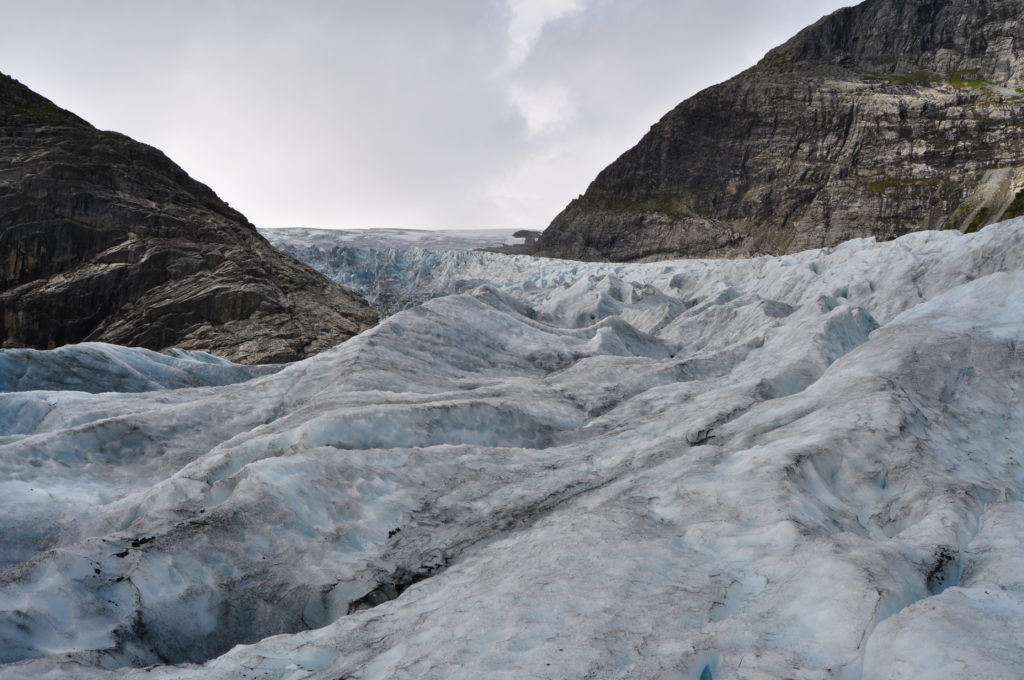 The basics of our trip
We spent a week in the land of the Norwegian Fjords, which have now been included on UNESCO's World Heritage List. Its heart and the usual starting point for visit Norwegian Fjords is the city of Bergen.
The fjords are deep canyons of blue water, some of them huge and impressive and others quite narrow but just as impressive. They are surrounded by mountains that fly almost vertically to the sky, by endless waterfalls or farms, evidencing that this dramatic landscape has been populated for a long time.
The activities and visits you can do in the area are endless. The list of this post, as you will see, is fairly comprehensive bit still misses lots of sights. And, of course, we didn't get to do all of these activities with the short time we had in the country.
During the first days of our trip, one of us was ill. However, we had a little luck for two reasons: pharmacies at Norway can prescribe drugs and he was given antibiotics. This is not the case in some countries, at least in Europe. For example in Spain, only doctors can prescribe antibiotics.
Our other piece of luck was that these first days of trip, we had planned to do activities that did not require a lot of physical effort. We spent a few days in the city of Bergen, then we mainly visited sites by car with short walks. This gave him some time to recover a little before our more adventurous activities started.
Despite the short time we had there and not being at our best health-wise, to visit Norwegian fjords has been one of the trips that we have enjoyed the most and we highly recommend it!
Accomodation and eating
We moved a lot for a trip this short, spending just 1 or 2 nights in each place. We basically slept at Airbnbs although we spent the night in a bungalow at a camping site near the area of Nigardsbreen Glacier.
As we were sharing some people's homes, we felt that everyone is very open regarding how they share their property. We left with the idea that Norway is a secure country and that criminology rates probably are not high.
One of the main reasons why we chose to stay at Airbnbs instead of hotel rooms is that it provided us with a place to cook and therefore we were not dependant on eating out at every meal. Food in Norway (and also alcohol!) is expensive. In fact, as we were trying to keep our expenses at bay, one of the two bags we carried from Spain was filled with food instead of clothes.
That being said, we did eat outside on some occasions. I would recommend not to miss it particularly in Bergen's fish market. As you will see later in the post, it is a remarkable experience.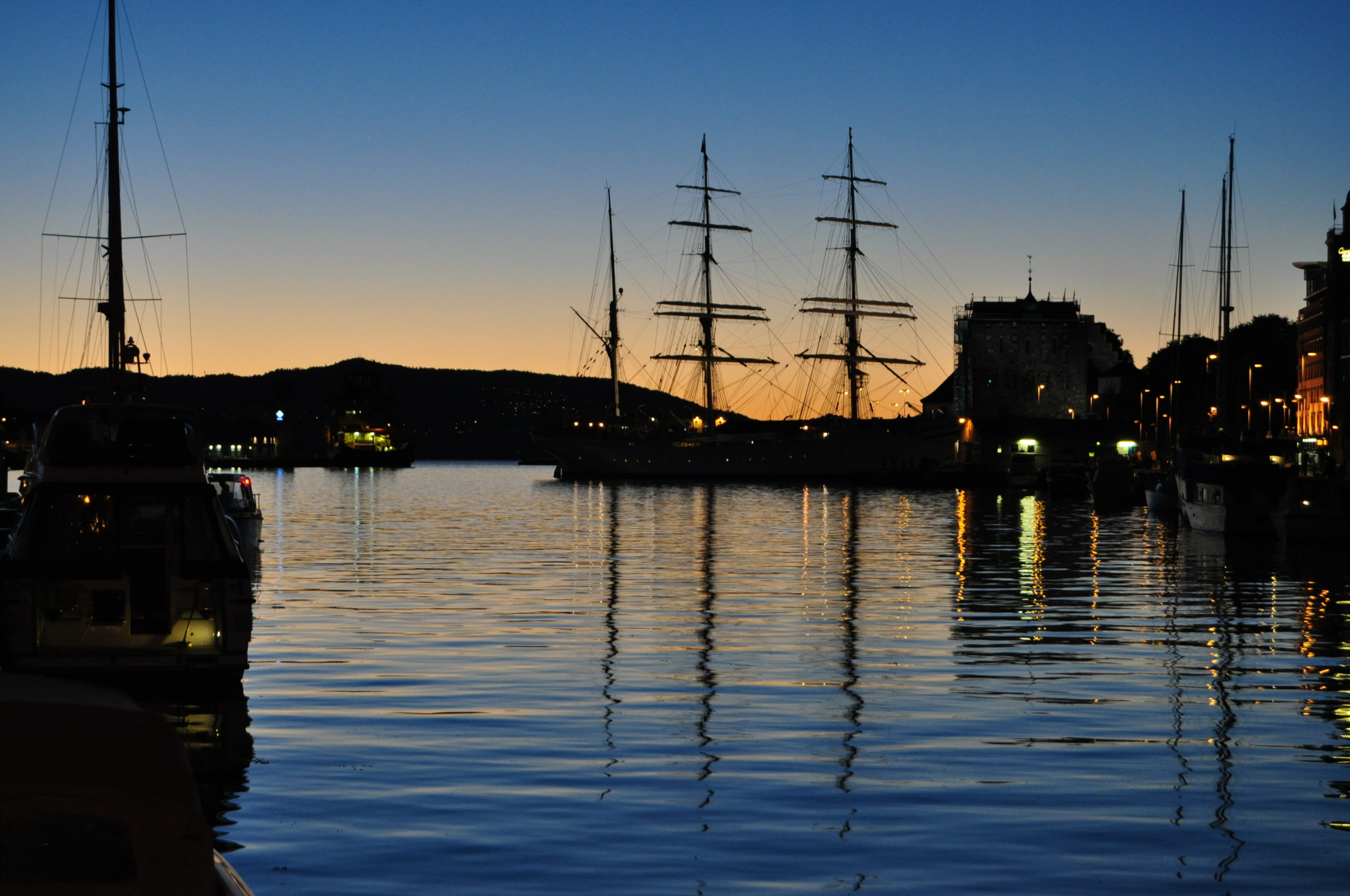 Transportarion
We rented a car and moved on our own. This gave us a lot of freedom to explore wherever and whenever we wanted. If you depend on public transport or guided tours you'll need to adapt to their schedules and routes.
If you are still deciding wether to rent a car or not, I would highly recommend to do it! Not only for the freedom but driving through Norway is a whole experience on its own. In fact, some if the attractions on the list to visit Norwegian fjords are highways or spots right in the road.
We felt absolutely safe driving in the fjords, the roads are in general narrow but very well preserved. To cross some of them, you depended on ferrys which is also an interesting experience but might require that you check some schedules beforehand.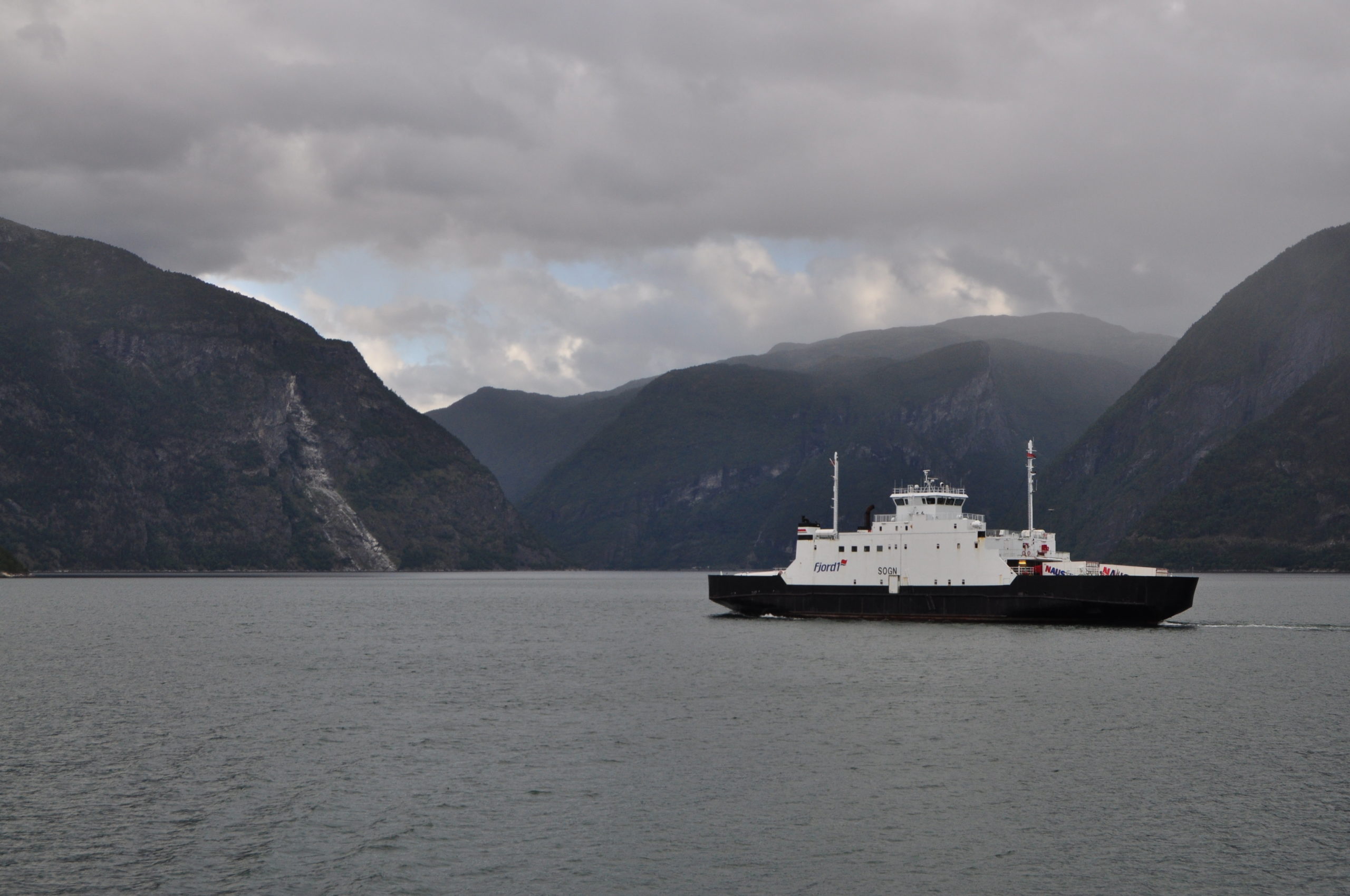 We were particularly surprised by an infrastructure we encountered. We were driving through a looong tunnel and out of the middle of nowhere a roundabout appeared. It was huge and very well illuminated. To this day I still regret not having a picture of that. Later on we found that apparently roundabouts inside tunnels are quite common in Norway.
Daylight and sun in Norway
Due to its proximity to the North Pole, Norway experiences the midnight sun. It consists on the sun not setting at any moment during the night or only for a few hours. This phenomenon is mainly present from April to August and more dramatic the furthest north you travel.
This also means that during winter, Norway gets very few hours of daylight or none at all (depending also on location).
Bergen, which is where the fjords are located, is one of the places in Norway where this phenomenon is less prominent, as it is situated in the south-west of the country. That means, for example, that in winter you can expect as little as 6 hours of daylight and in summer as much as almost 19.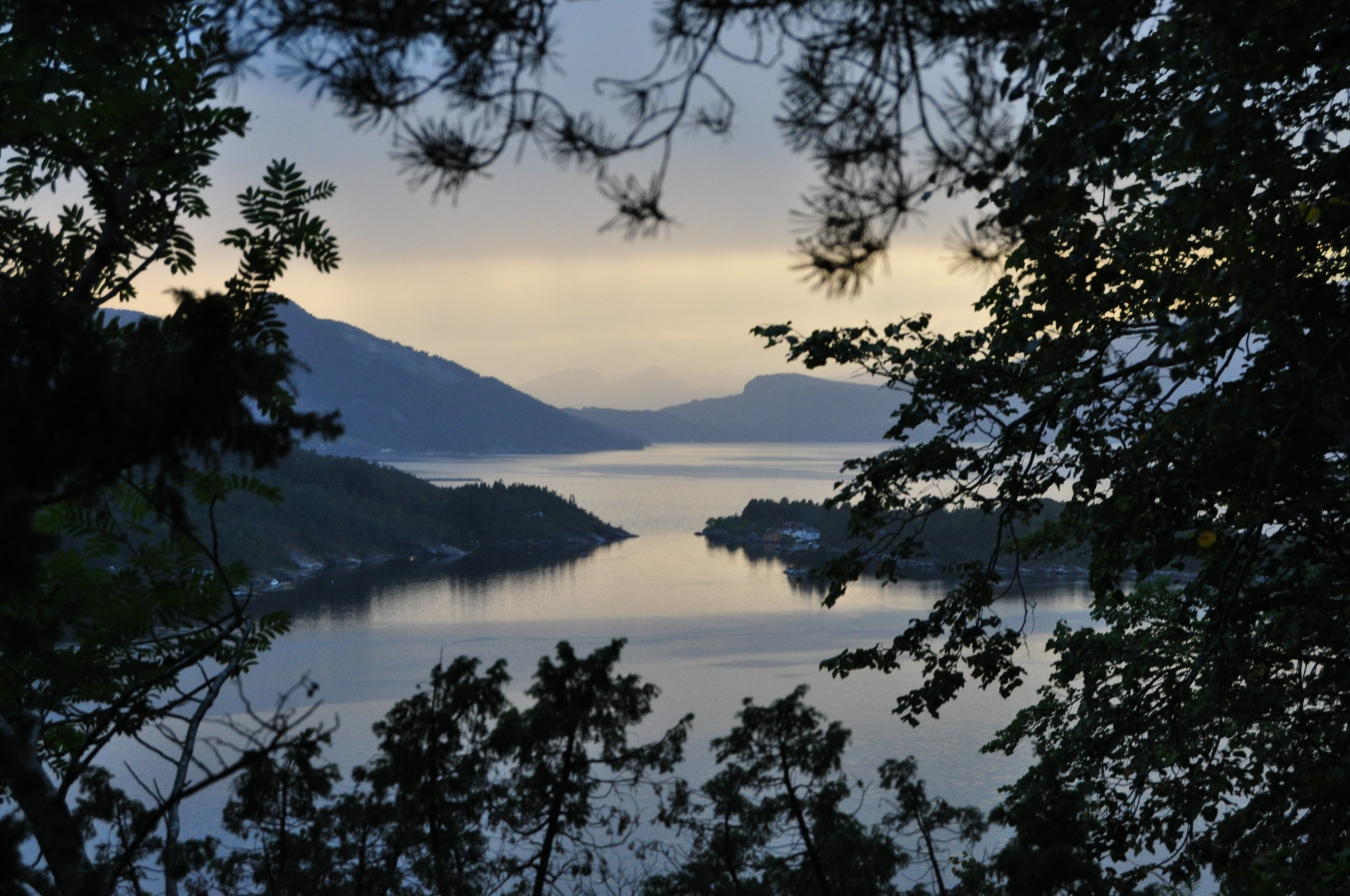 Main places to visit Norwegian fjords
Nature sightseeing
Trolltunga
This is maybe one of the most famous rocks in Norway and dare I say in the whole world. Trolltunga, literally meaning 'troll's tongue', is a formation at 1,100m over sea level overseeing Lake Ringedalsvatnet. Despite being a trekking route of extreme difficulty, many people venture the hike because of the spectacular views along the route and the otherwordly reward at the end.
There are a few spots to leave the car and start this route. The starting point will determine how many kilometres you walk and how much altitude you gain. It will be at least a 20km round-trip hike with over 800m of altitude gain.
From 1st of June to 30st of September, experienced hikers can go on their own, however the rest of the year (1st October to 31st May), hiring a guide is mandatory. Remember that during some months, Norway gets very few hours of daylight, so it is always wise to check that and start as early as possible.
You should not take the trekking to Trolltunga lightly, so I would highly encourage that aside from the views, you do consider your capacities to decide if you should hike it or not.
Himmelstigen to Trolltunga
An alternative to trekking -although just as hard- is a combination of hiking/biking, via ferrata climbing and hiking in the last part. We booked an organised tour to do just that. It cost us Kr 1,100 per person (in 2016).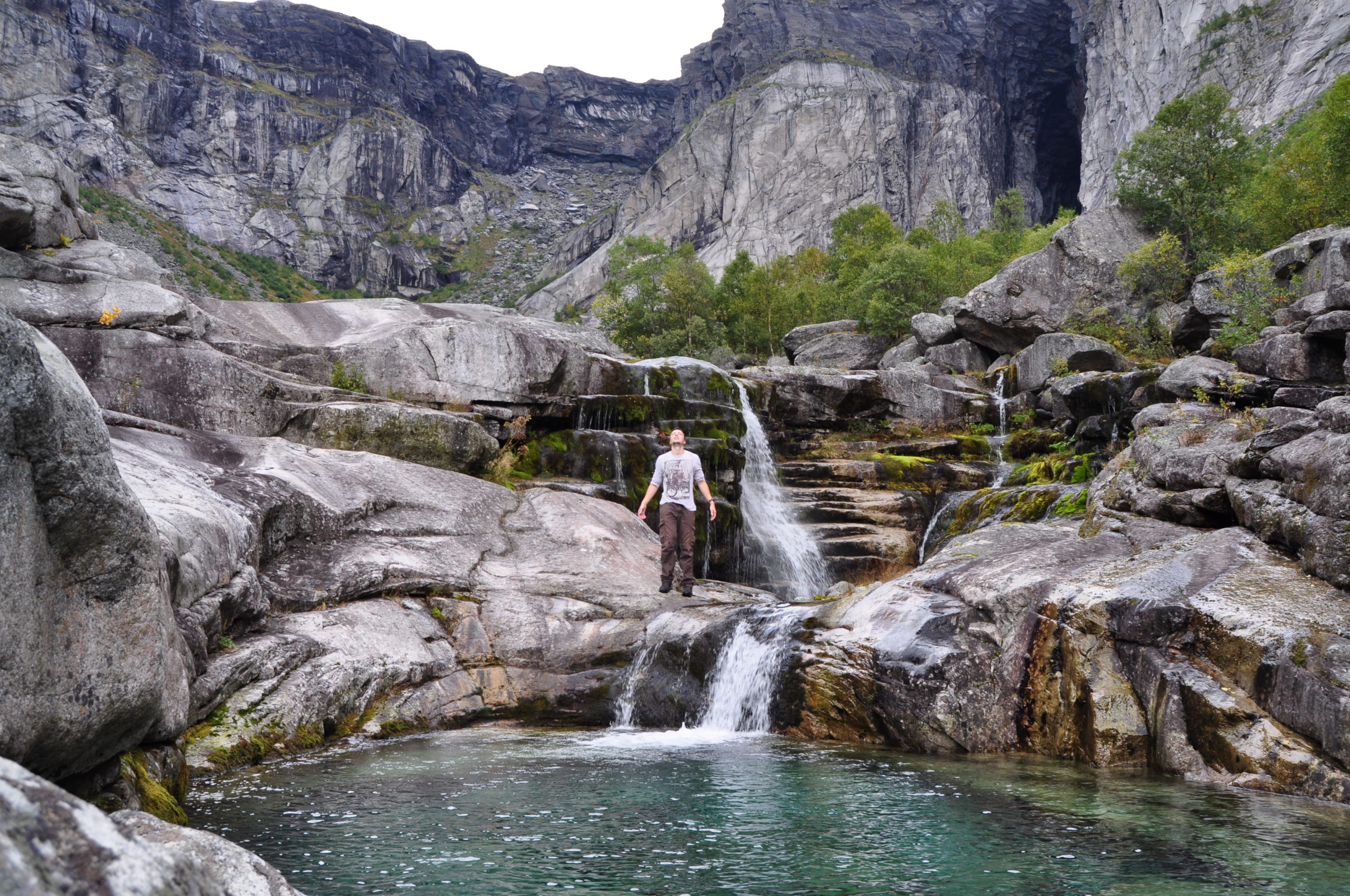 We started biking an easy trail for maybe an hour, then left the bikes to hike through a rocky terrain for another hour until we arrived to the starting point of the via ferrata Himmelstigen. The climb lasts for 45-60 minutes and interestingly enough it is not as hard as the previous trekking. Once we reached the top, we walked for a few kilometres to arrive to Trolltunga.
The return followed the exact same way than the ascend, which is uncommon because usually via ferratas are one-way only. And yes, the bikes were still there!
Overall it was an exhausting but complete and incredible experience that we thoroughly recommend.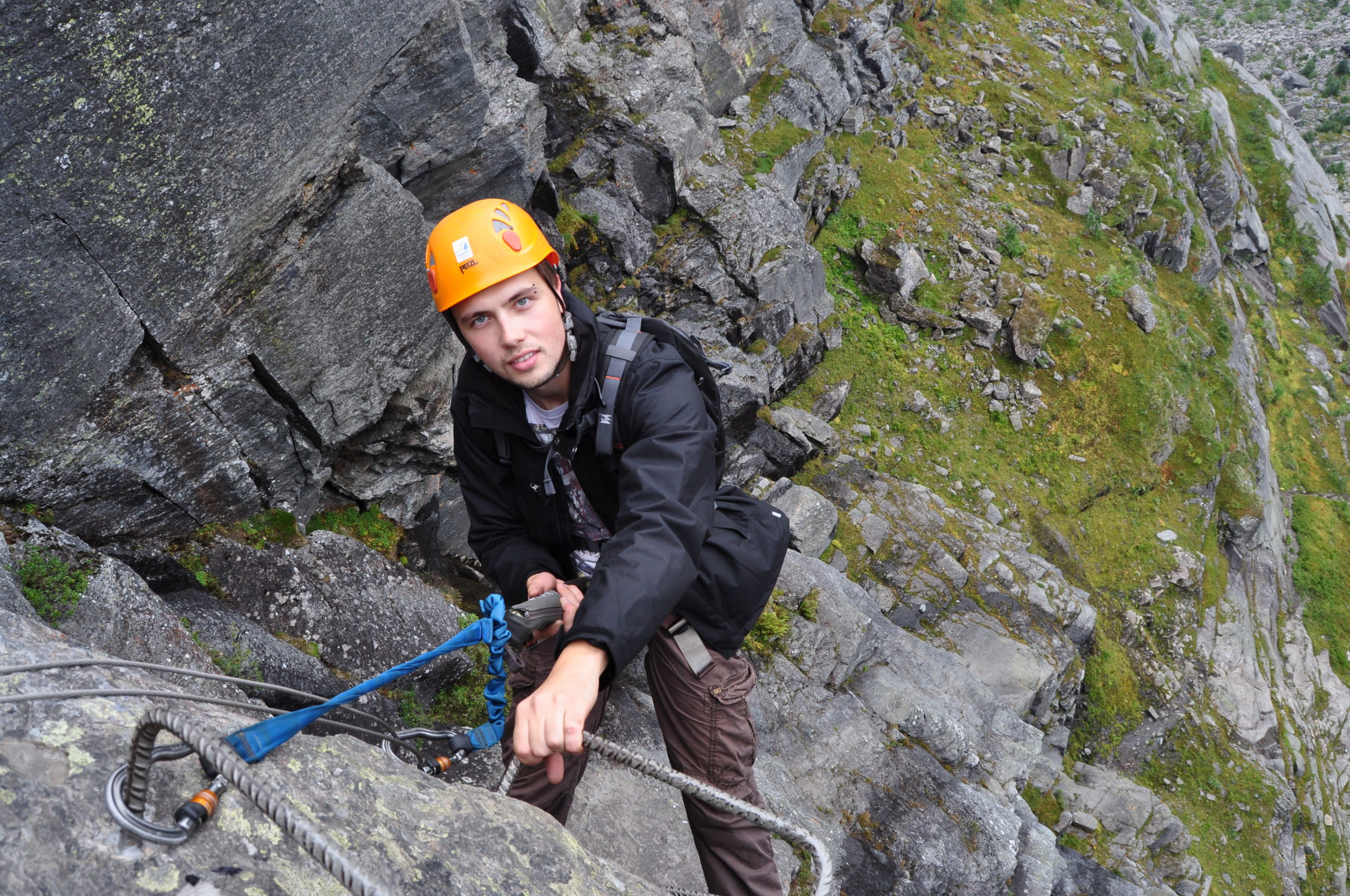 Nigardsbreen glacier + Blue Ice cave
The glacier of Nigardsbreen is one of the arms of the largest glacier Jostedalsbreen, which with a surface of 487 square kilometres, is the largest in continental Europe. Its easy access by car or from Bergen, combined with the remoteness of the place, makes it one of the most visited attractions in Norway. To visit Norwegian fjords without reaching Nigardsbreen glacier would be missing the opportunity of experiencing something unique.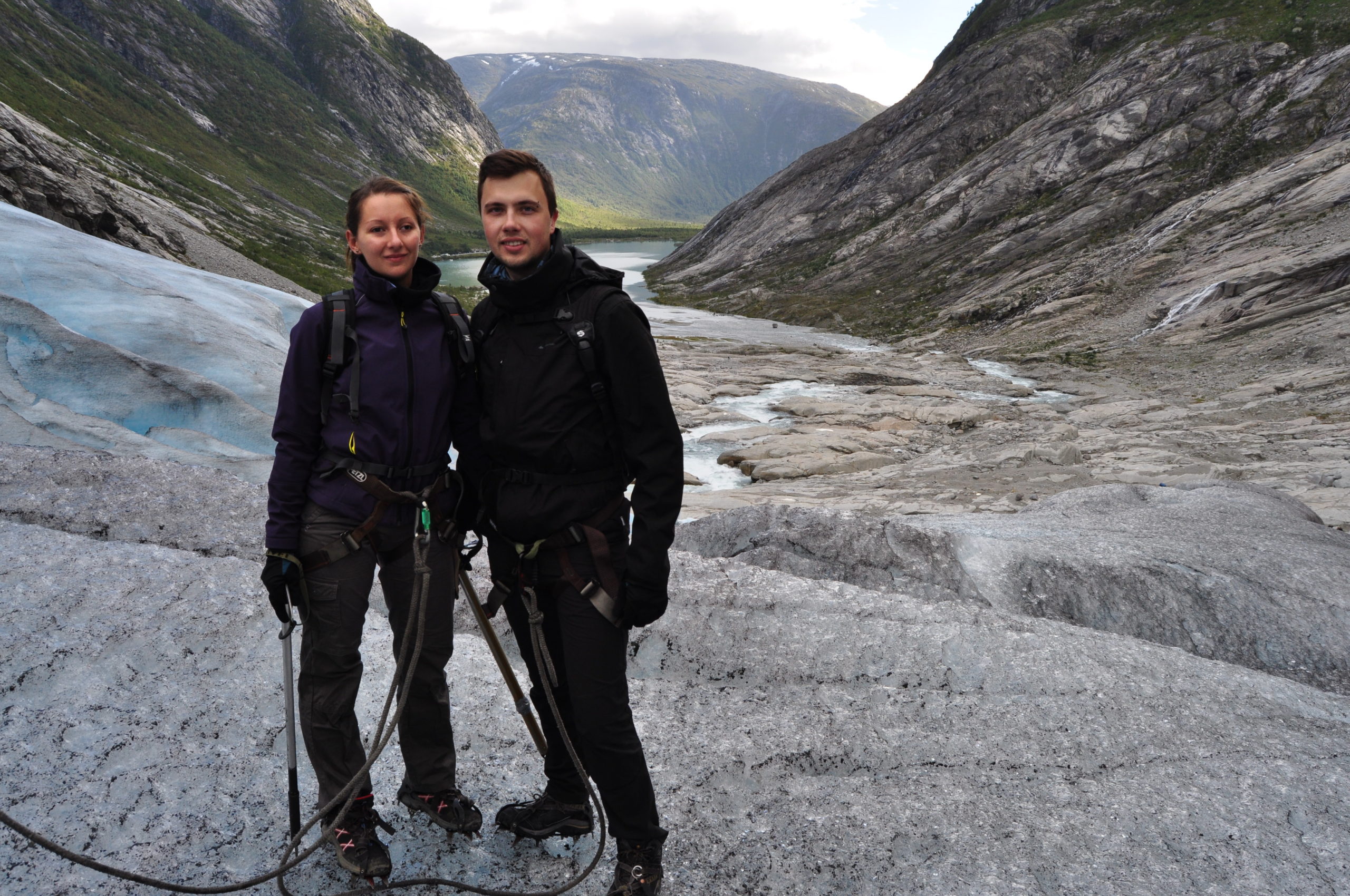 There are several agencies that offer tours of different length and difficulty. The tours usually consist on a short hike to reach the glacier and a hike through the ice. Agencies provide all the material needed for walking through the ice.
One special spot that can be visited in some of these tours is the Blue Ice Cave. Discovered in 2007 and a clear result of climate change, this bittersweet place is a gallery inside the ice that for its beauty and dimensions (8m high, 30 meters deep and 20 meters wide) has been described as an 'ice cathedral'.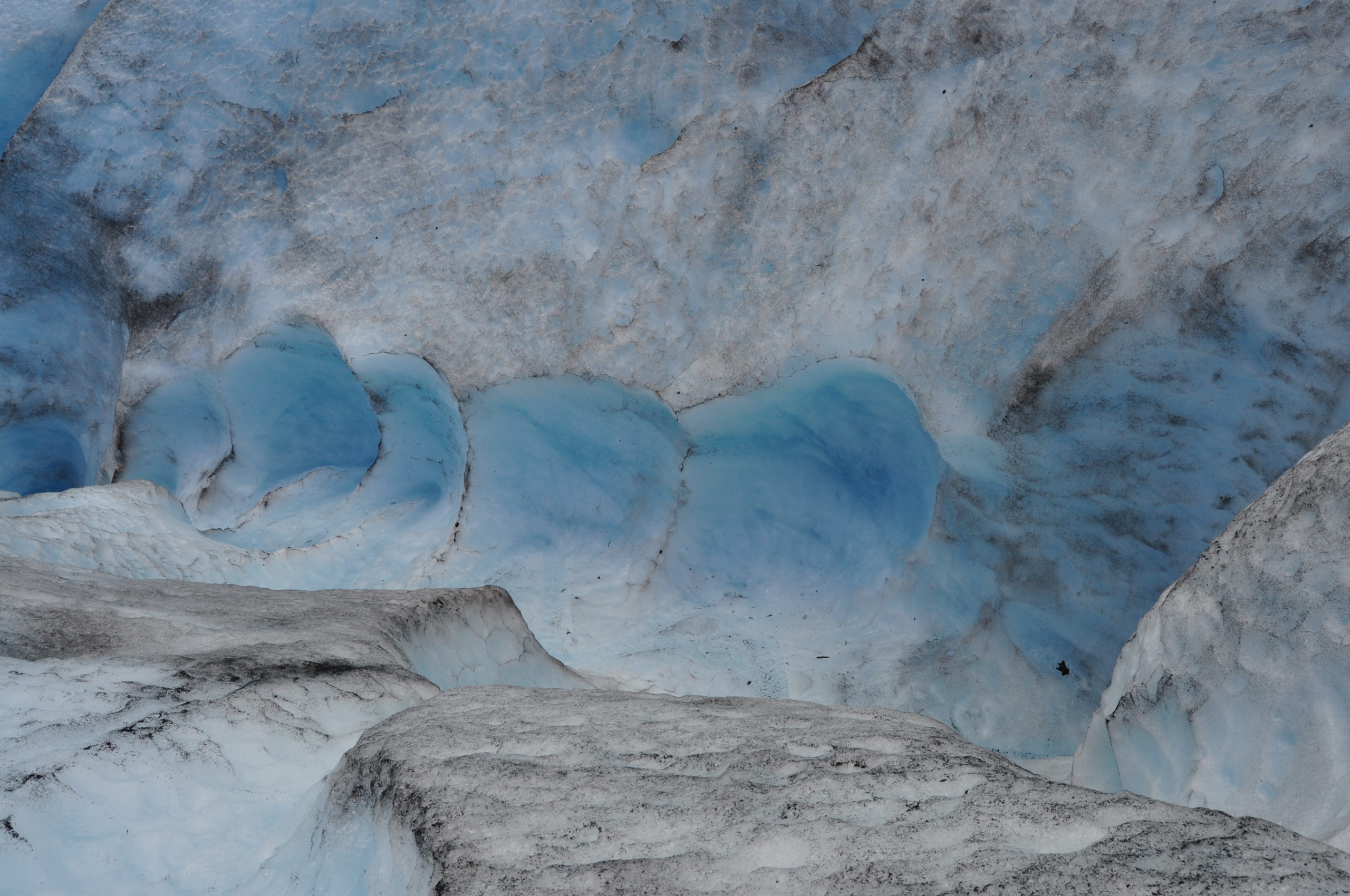 Nærøyfjord
One of the narrowest fjords in Norway, with 250m wide in its largest parts and just 12m in its shallowest, the 20km of Nærøyfjord are included in the World Heritage List. The steep mountains at either edge of the fjord reach almost 1,700m over sea level, making the Nærøyfjord one of the most dramatic scenarios you can be at.
The fjord can be viewed from some of the viewpoints that surround it or experienced through a cruise. For the more adventurous ones, you can also rent a kayak and use your strength to explore it!
Aurlandsfjellet
This is a scenic route by car that goes from fjord to fjord at Gamle Lærdalsøyri to Aurlandsvangen, starting and ending at sea level and reaching its highest point at 1,306m. The change in scenario you will encounter in this less than 50 kilometres route is strikking, ranging from the high-alive fjord to the quietness and remoteness of the mountains covered with snow all-year-round.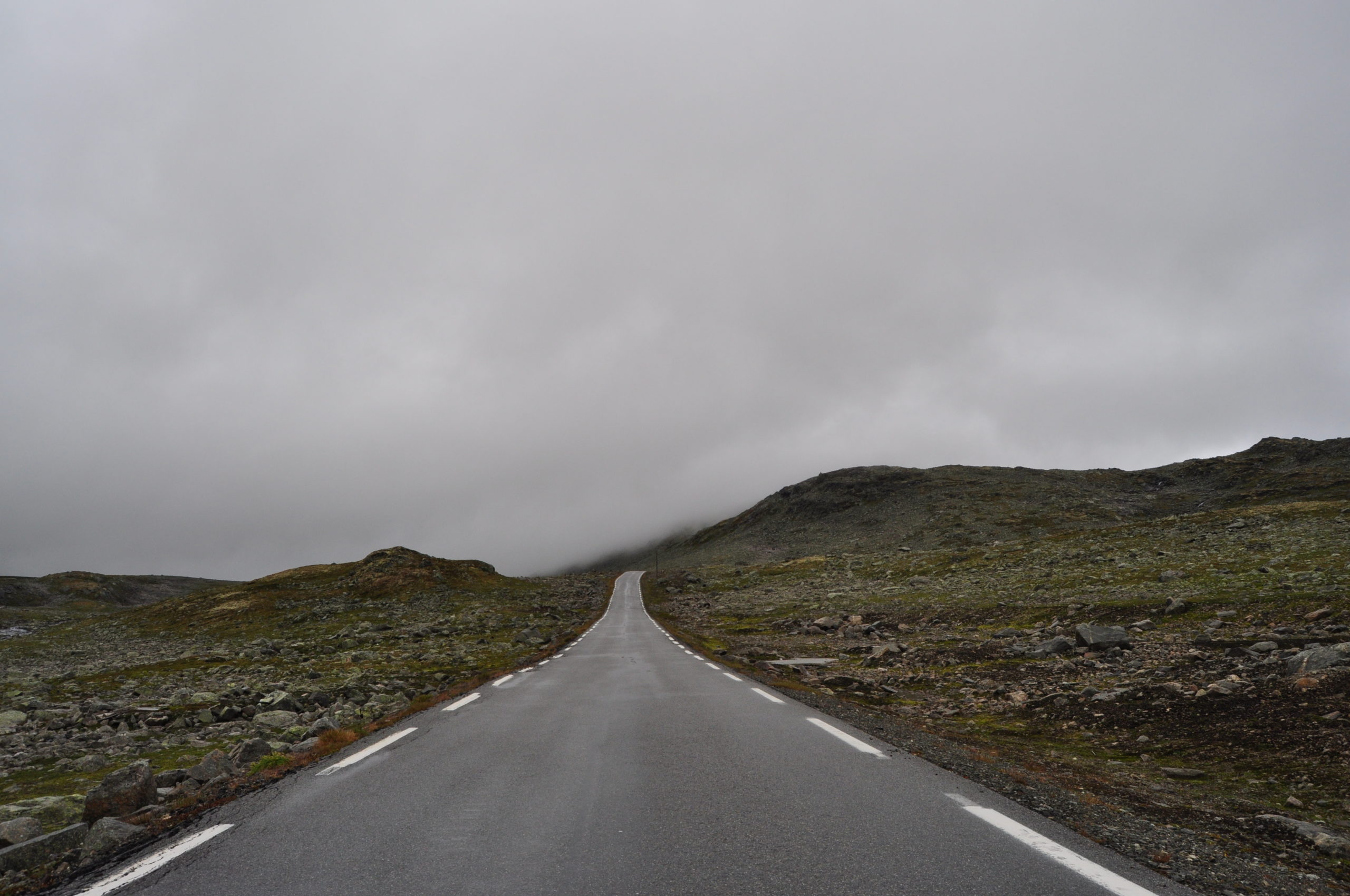 During this route, you can stop at several spots, including Stegastein, a 60 meters high viewpoint over the area of Aurland.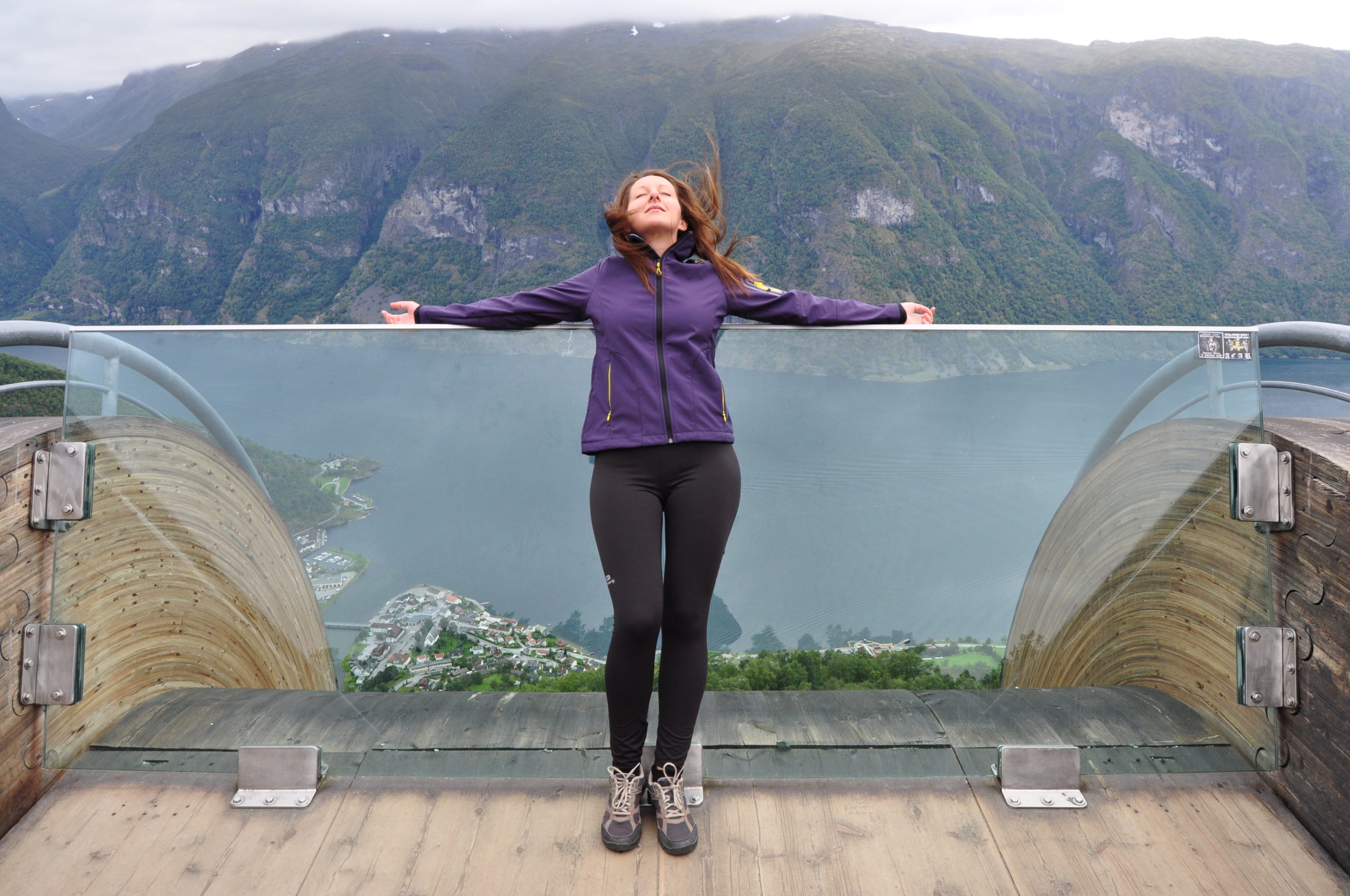 Waterfalls
Kjosfossen
With a total fall of 225 metres and a deafening thundering sound, Kjosfossen is one of the most visited waterfalls in Norway.
The main way to access is by riding the Flåm Railway. It crosses the waterfall right at its falling point and allows for a complete view of the fall.
As a curiosity, there is a power plant in the waterfall that powers the Flåm train.
Låtefossen
Låtefossen falls from Hardangervidda National Park, apparently the largest mountain plateau in Europe. It is a combination of two different waterfalls very close to one another. The southern one once had the name of Skarsfossen, but both have been referred to with the collective name of Låtefossen for a while.
One curiosity of Låtefossen and the reason why so many people visit it is that it falls through the road. In fact, getting a picture without wetting your camera will be far more challenging than arriving there!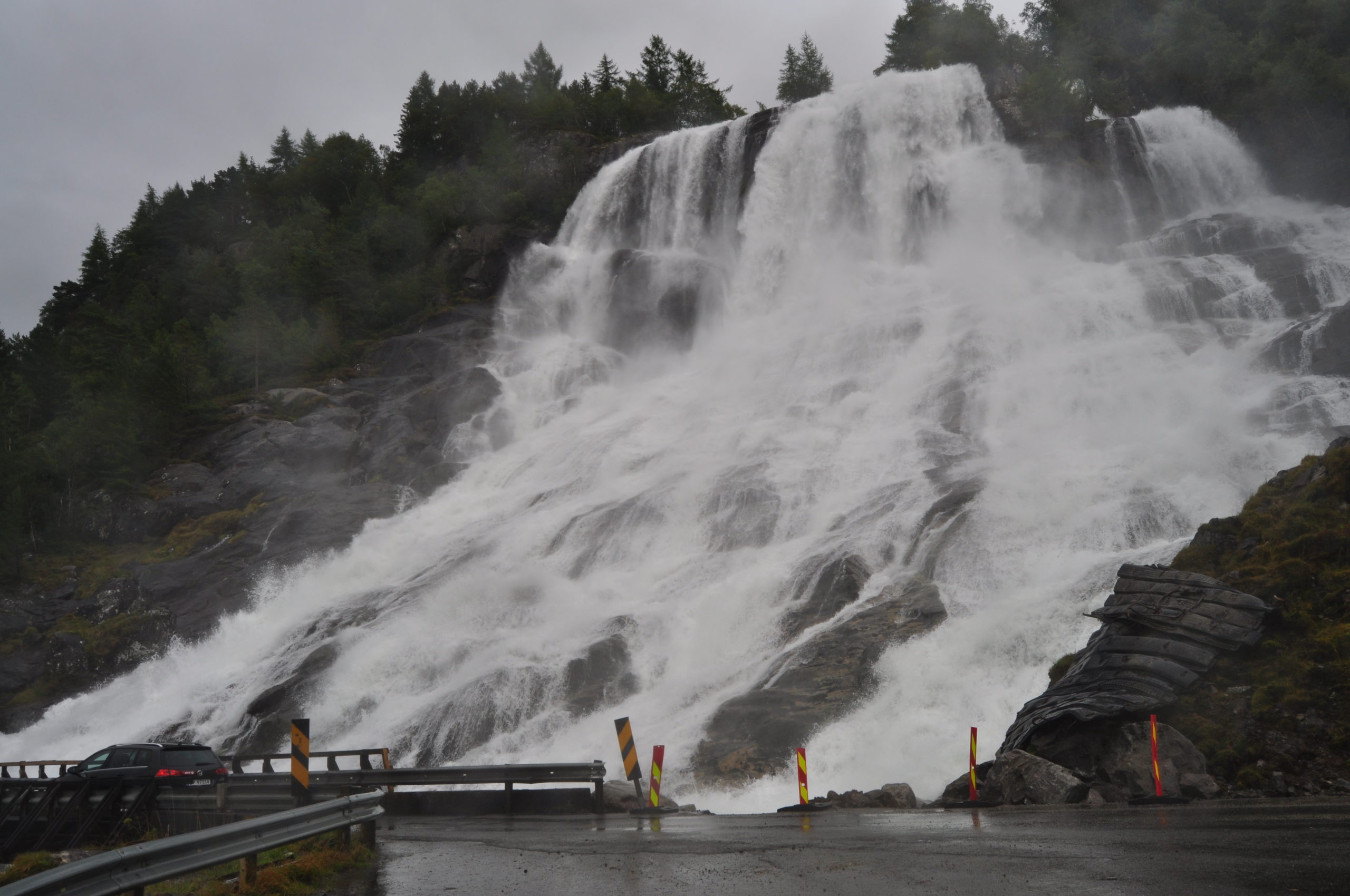 Vøringfossen
One of the waterfalls falling also from Hardangervidda National Park. It has a free fall of 145 metres and a total fall of 182 metres. Vøringsfossen is a favourite attraction for tourists visiting Norway.
There are a few viewpoints from where to observe the waterfall: Fossli Hotel, Vøringfoss Kafeteria & Souvenir. Also, in recent years the facilities around Vøringsfossen have been improved and several platforms and even a bridge have been added to experience the visit.
An alternative to visit this waterfall is a demanding yet beautiful hike that starts at the valley of Måbødalen, the bottom of Vøringsfossen. It lasts for about 3-4 hours (roundtrip).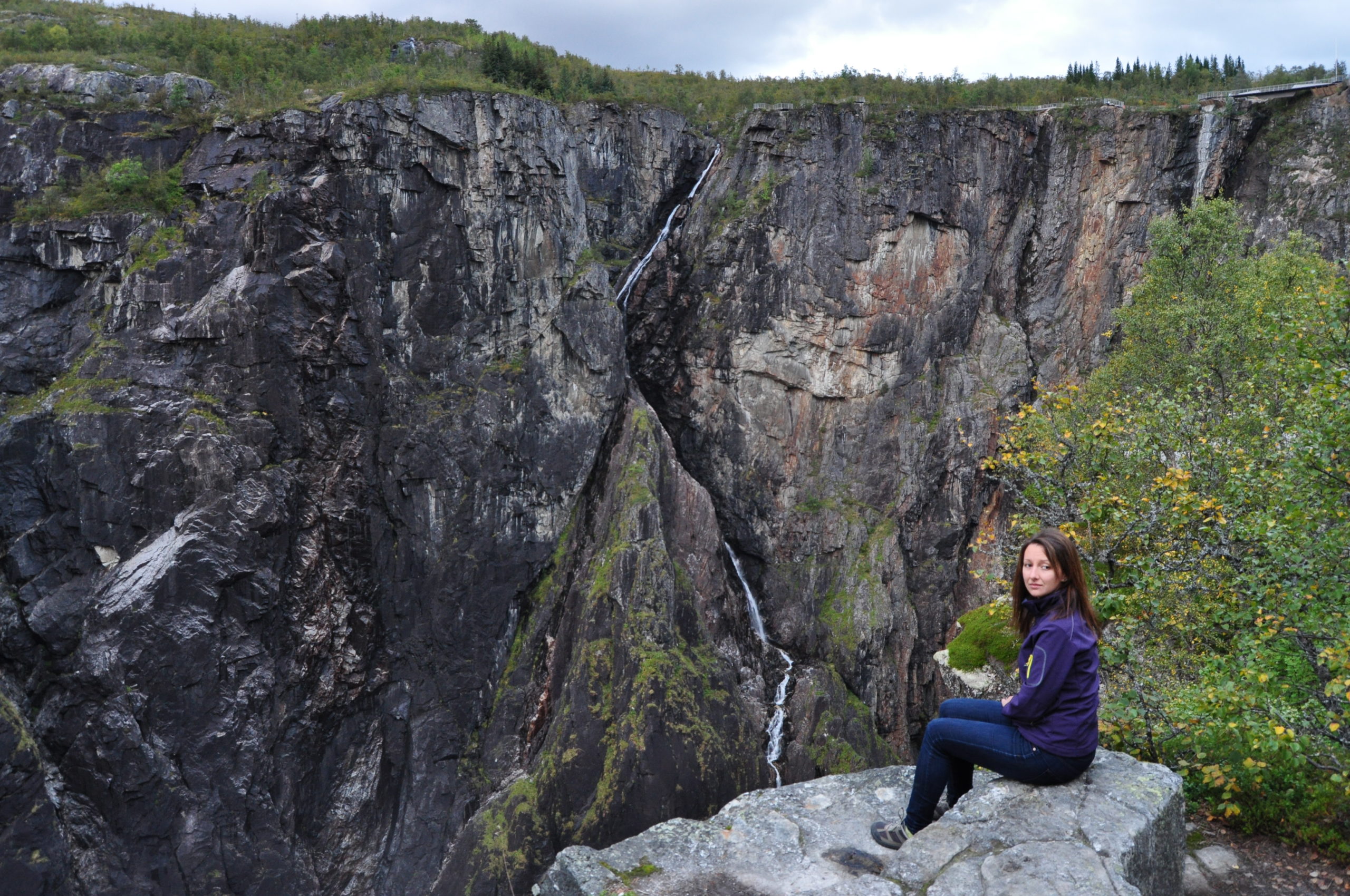 Langfoss
Descending through the slope of a cliff, Langfoss doesn't fall straight like most waterfalls. However, its combined height at over 600m and width over 60m make it no less impressive. This waterfall is constantly in contact with the rocks, giving it a magnificent sense of power.
There are two possibilities to access Langfoss. The first one is a demanding short climb, that gains 600m in 1,8km (4 hours hike round-way). The alternative is visiting by cruise, although I believe this is only available on some weekends on summer.
Flotvatnet
Located in the route through Aurlandsfjellet, Flotvatnet waterfall is not amongst the most popular ones but we trully enjoyed its wetland surroundings and the spots of snow everywhere, despite being still early September.
The waterfall can be visited as a stop in the famous car route. It surely contributes to make the experience more interactive.
Steinsdalsfossen
One of the most popular waterfalls in Norway, if not one of the largest ones. Steinsdalsfossen has 46m of drop. Apparently, it was Emperor's Kaiser Wilhelm II of Germany favourite, and he visited every summer.
The main attractive of Steinsdalsfossen and probably the cause of its popularity, is that you can walk behind it following an easy trail that leaves from the parking lot.
Tvindefossen
Tvindefossen, or also known as Trollafossen, is a 110m fall of water that receives lots of tourists buses to visit.
For some reason, from 1990 the water at Tvindefossen was renowned for its rejuvenating and sexual envigoring properties, contributing to its popularity. It recieved over 200,000 visitors per year from the US, Japan and Russia that came with recipients to fill with the miraculous water.
For us, Tvindefossen was special not only for its spectacularity but because it was the first waterfall we encountered in Norway. And we were very much looking forward to our encounters with waterfalls!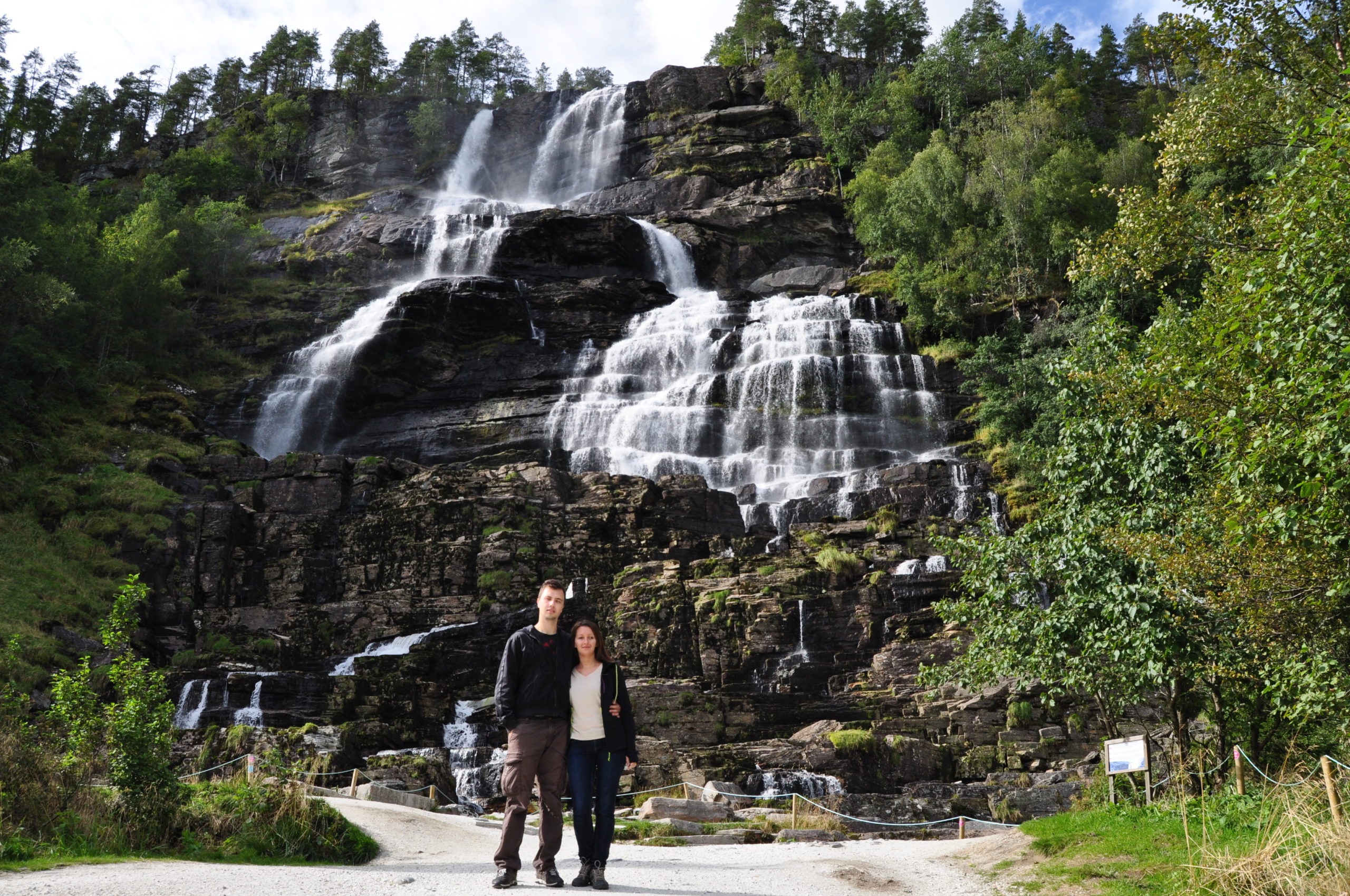 Cultural sightseeing
Bryggen
A classic view of colourfull houses by the sea. This neighbourhood in Bergen, which receives its name from the word 'pier' in norwegian, is one of seven World Heritage sites in Norway. And why is that? Bryggen is not just these famous-looking façades, as behind them, a whole lot of passages, stairs and balconies unravel and allow visitors to lose themselves in another time.
The origin of this neighbourhood lays on the Hanseatic League. It was a medieval Germanic commercial and defensive confederation of merchant guilds and market towns in Central and Northern Europe. From the 13th century, as Bergen's port raised in importance, so did the number of german workers moving to Bryggen.
Due to multiple fires very few of the original houses of the neighbourhood remain today. However, there are a few museums that show what it was to live in Bryggen and its history. The Bryggen Museum, the Hanseatic Museum or the Schøtstuene Museum are the most famous examples.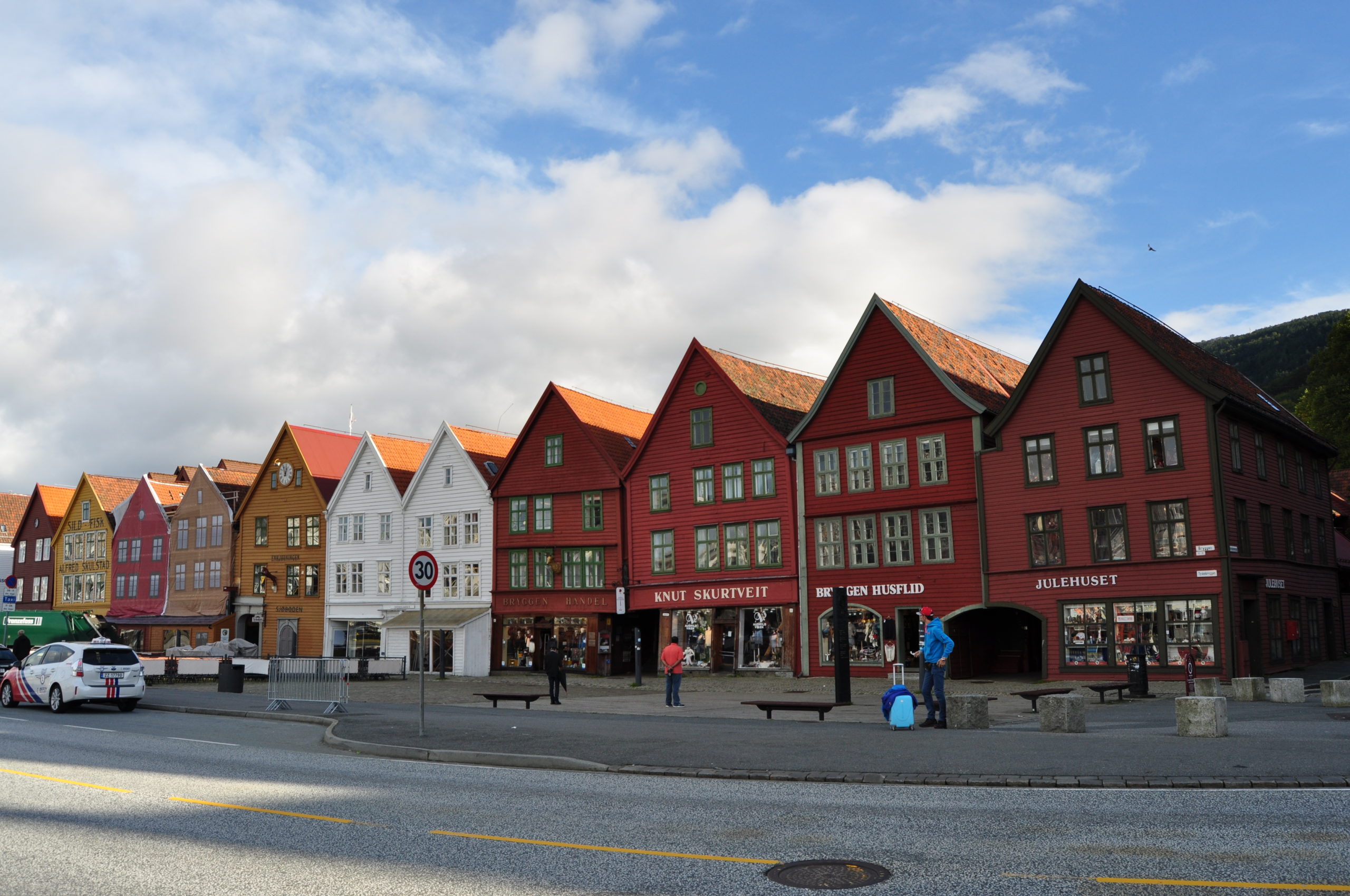 Fløibanen
The funicular of Bergen Fløibanen connects the centre of the city with the peak of the mount Fløyen, at 320m high, in just 8 minutes. The experience offers quite an impressive view that merges the city landscape of Bergen with the sea and the fjords as the scenery around.
Fløibanen is one of the most famous attractions in Norway, however the experience doesn't need to end in the ride. In the mountain you will find an amusement park for kids and adults alike. Even several hikes to explore the peak.
Borgund Stavkyrkje (Stave Church)
Stave churches are medieval wood constructions that can be found all around north-western Europe. They are an example of the finest contribution of Norway to world architecture. One of the most remarkable ones is located near Lærdal. Dedicated to the Apostle Andrew, this impressive architecture is very well preserved. It has carved portals and dragons' heads as roof decoration. A great cultural site while you visit Norwegian fjords.
To reach the church, you can arrive by car, public transport or renting a bike for a 25km ride. Once there, you can visit the museum featuring stave churches or walk the scenic route of Vindhellavegen.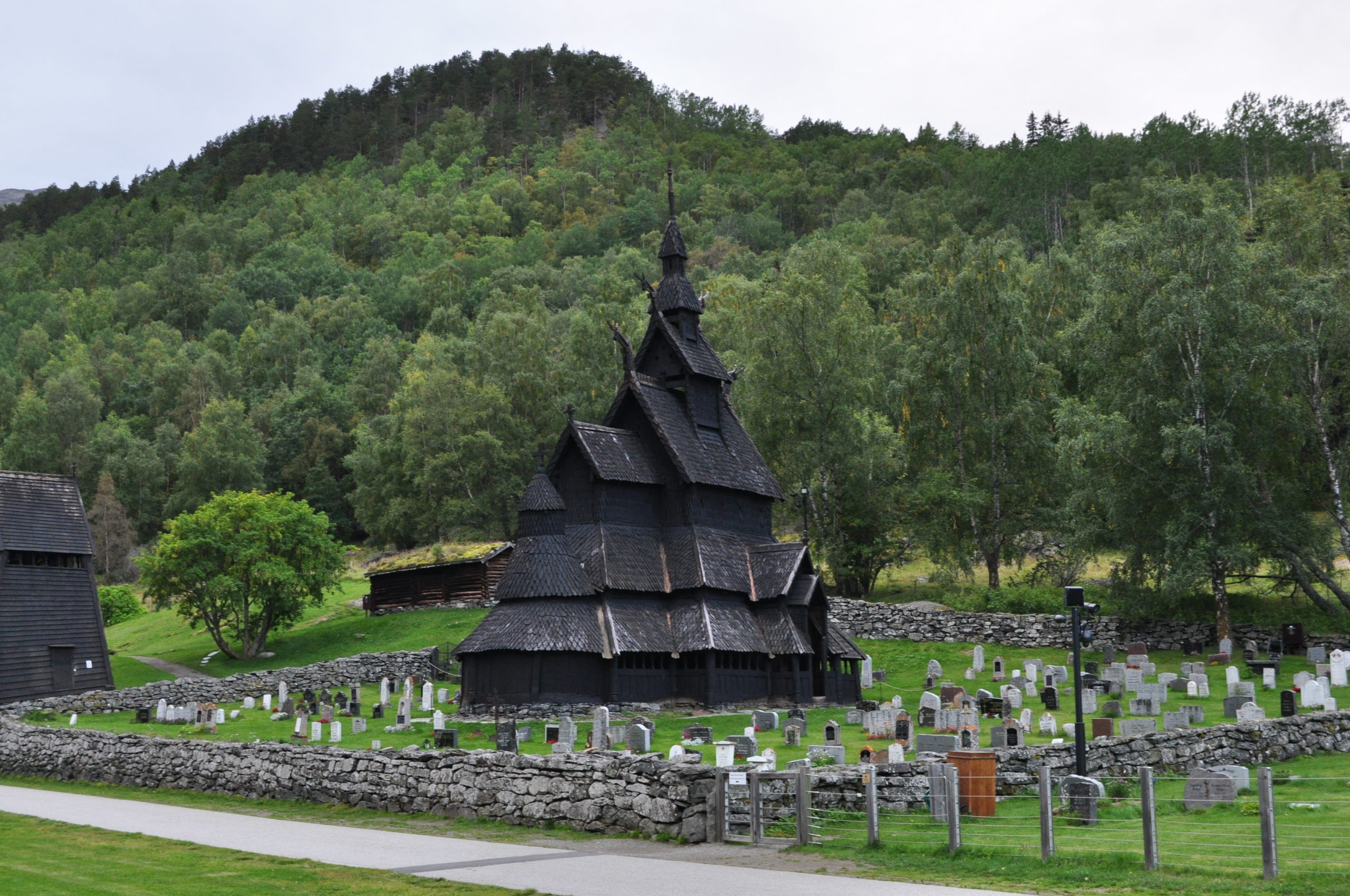 Røldal (Stave Church)
Another example of a stave church, Røldal was built in the 13th century and is renowned for its healing crucifix. The legend tells that once a year, during Olsok nordic festivity on July 29th, the crucifix sweats and this sweat has healing powers. Olsok is a celebration of the death of Olaf II, who appears to have contributed to establishing Christianity throughout Norway.
Røldal was also one of the most important sites of pilgrimage in Norway during the middle ages. It lasted well until the 19th century.
Activities
Gudvangen
Located in the ending side of Nærøyfjord, Gudvangen is a great place to rent a kayak and explore the fjord from below. As most of the viewpoints are high up in the mountains that surround them, this can be a welcomed change of scenery!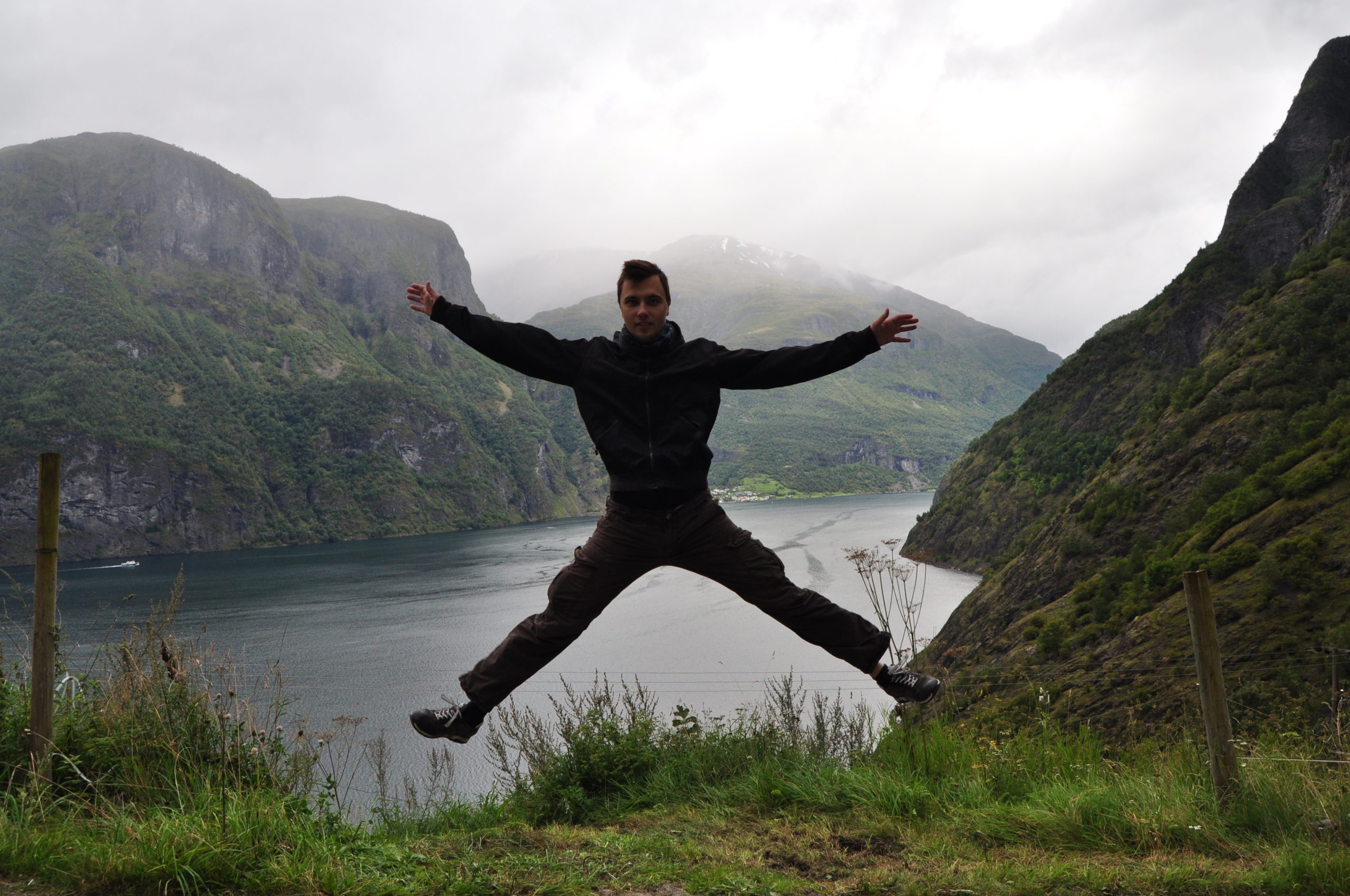 Hemsedal 
Hemsedal is one of the areas in Norway with the greatest number of ski resorts for winter activities. However, if you are visiting in summer there is plenty to do there! From renting a bike and exploring the mountains, to bike-descend the ski slopes or just walks in the area. We visited shortly, and a quick and easy walk we did just outside the town was one of the most beautiful activities of our trip.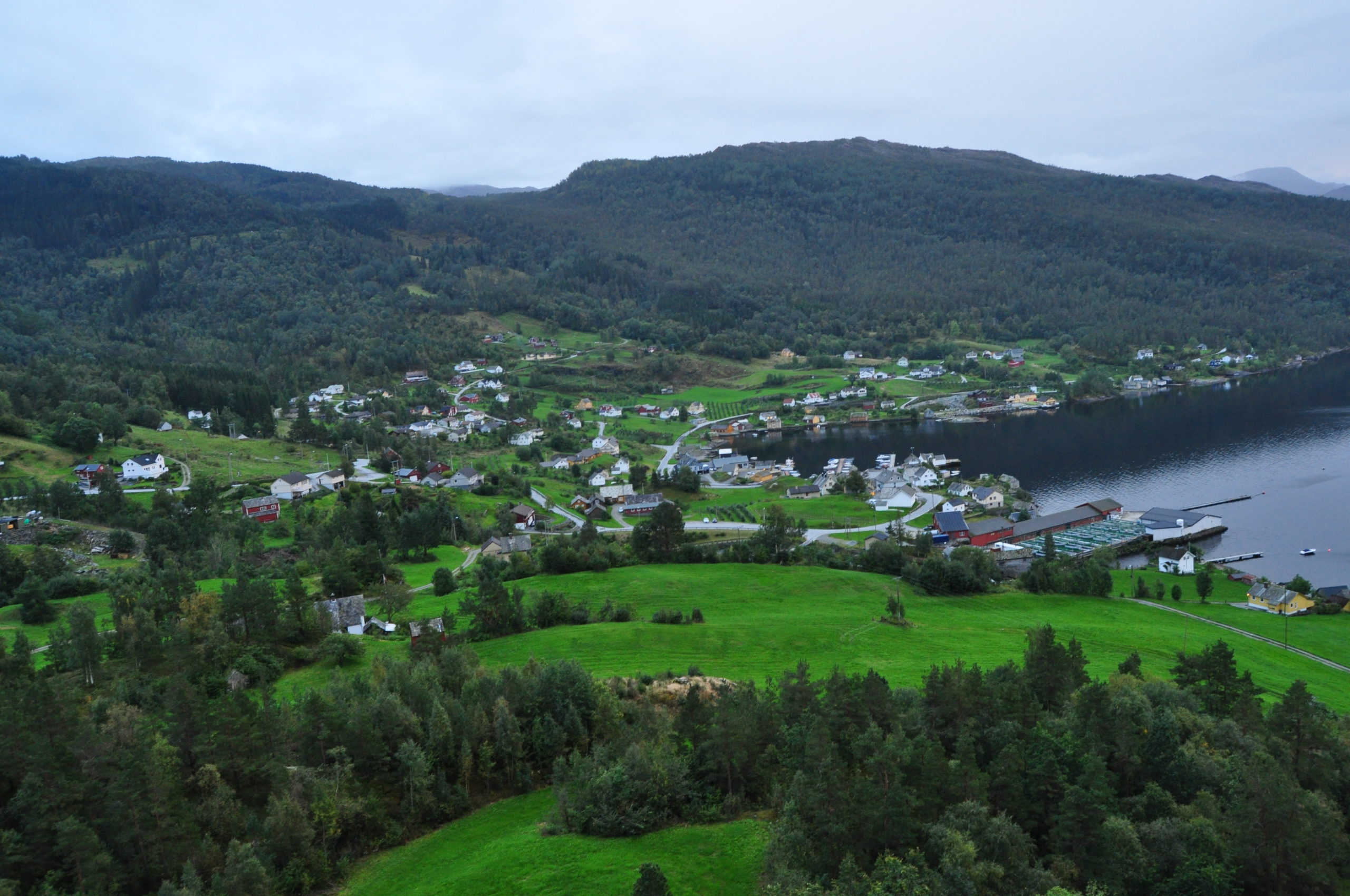 Skydive in Voss
If you are feeling a little (a lot!) more adventurous, you can go to the area of Voss for a skydive tandem experience. Only an hour from Bergen, surely that high in the sky will be a great location to get a different view of the fjords. If adrenaline or panic allow it!
Trolljuv Adrenalinpark
Continuing with the adventure and the sky, Trolljuv Adrenalinpark near Håland might be what you are looking for if you want an extreme experience. Does a 115m high bungee jump over the fjord sound too much or just the right amount of crazy?
If you want to have this experience, check their calendar, as they are only operating certain months in summer.
Flåmsbana (Flåm Railway)
Covering a little over 15km from mountain plateau of Myrdal to the town of Flåm right next to the fjord, the Flåmsbana is the non-funicular railway with the steepest climb in Europe. The breathtaking scenario is guaranteed passing through valleys and falling waterfalls like Kjosfossen. The ride includes passages through tunnels that feature carved windows so that passengers don't miss a bit of the views.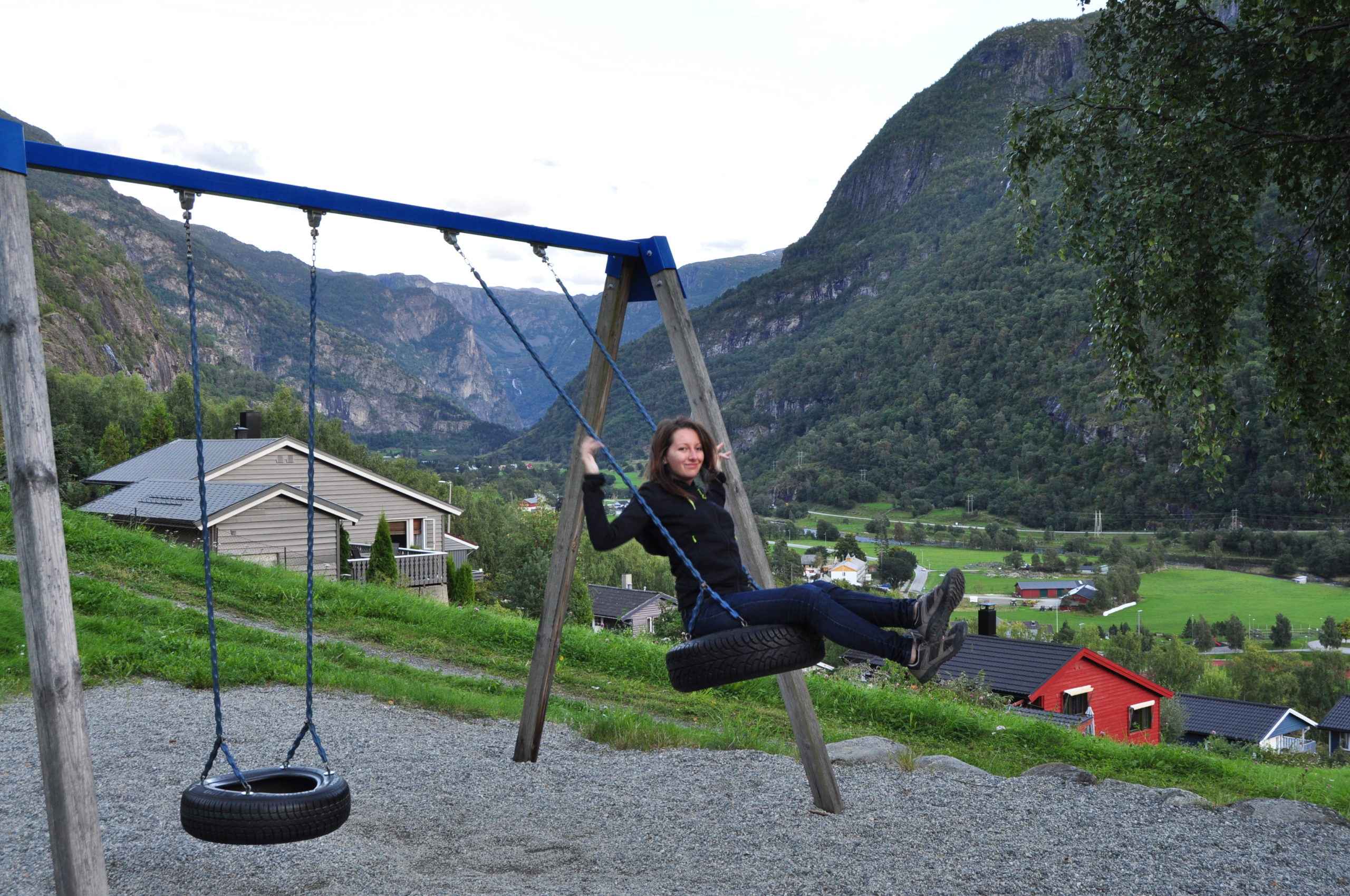 However, while circulating among these dramatic altitude changes, keeping the speed at limit is crucial. The train only averages about 30km per hour when it circulates downhill to Flåm, and around 40km per hour on the way up to Myrdal.
Foodie recommendations
Fisketorget
The world-famous fish market in the port of Bergen is a great place to get lost and try some of Norway's original cuisine, fish meats like whale or smoked salmon, or buy something to take back with you.
There are tones of stalls that may offer pieces to try and several combined dishes with a little bit of everything. Just remember that you are a tourist and the wild salmon they are offering you might not be wild, but will be delicious regardless.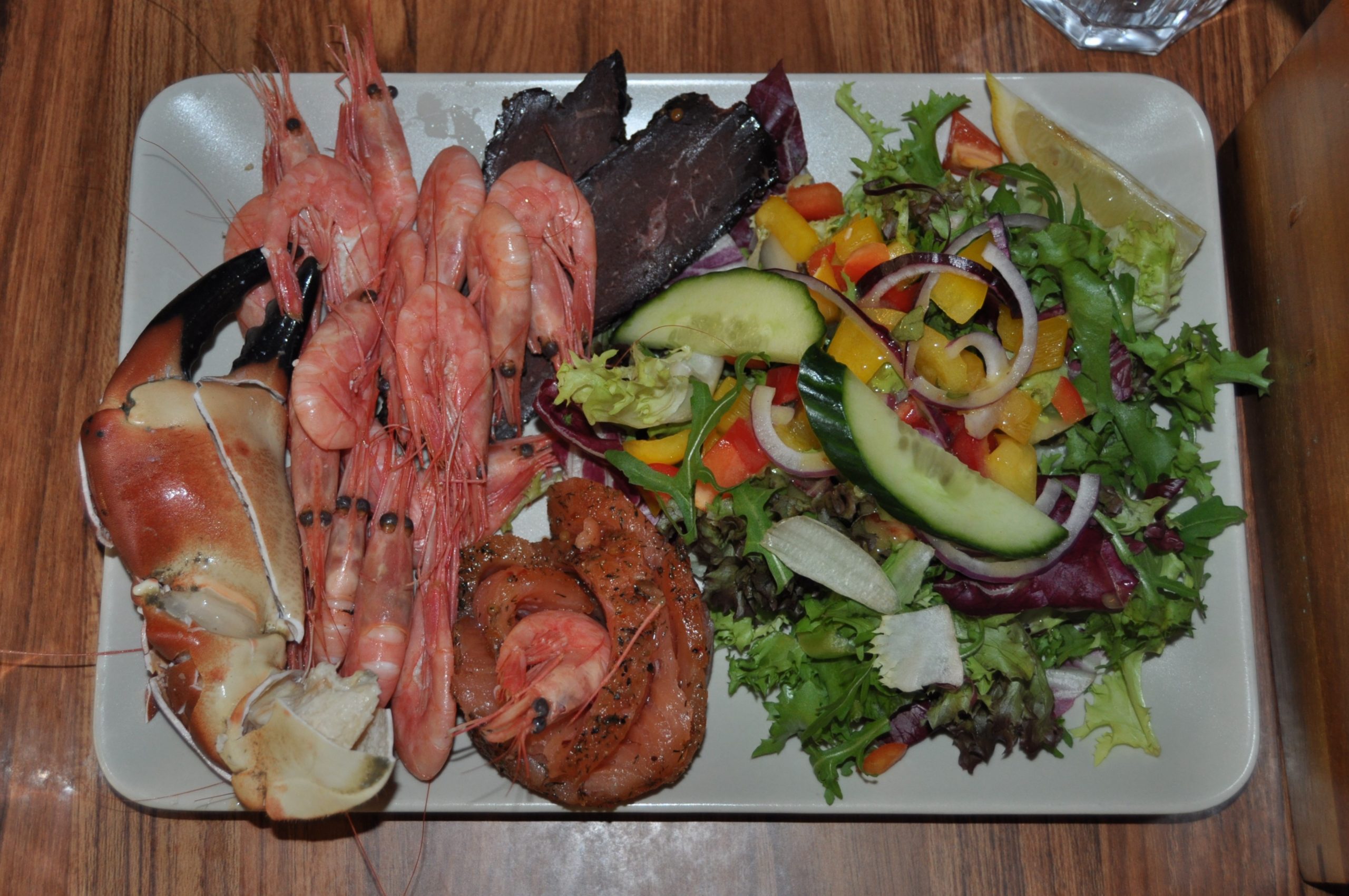 Ægir microbrewery
Located in the town of Flåm, Ægir BrewPub is a viking-style brewery where everything is viking inspired. From the handcrafted beer (which was awarded 'Beer of the Year' in 2012), to distillery drinks, five-courses menus or a la carte lunches an dinners.
Other considerations
Even if you didn't plan anything to visit Norwegian fjords and you just explored the places that randomly appear in your way, you would have an amazing experience and leave convinced that you have been in the most beautiful country in the world. Such is the beauty of Norway.
We visited a lot of places from this list but some also went unvisited. We encountered in our way some waterfalls and routes that we couldn't locate in a map and were astonishing. So, when you go to Norway, sure you should have your list, but be prepared to explore, to discover and just let the fjords and the country show you its raw beauty.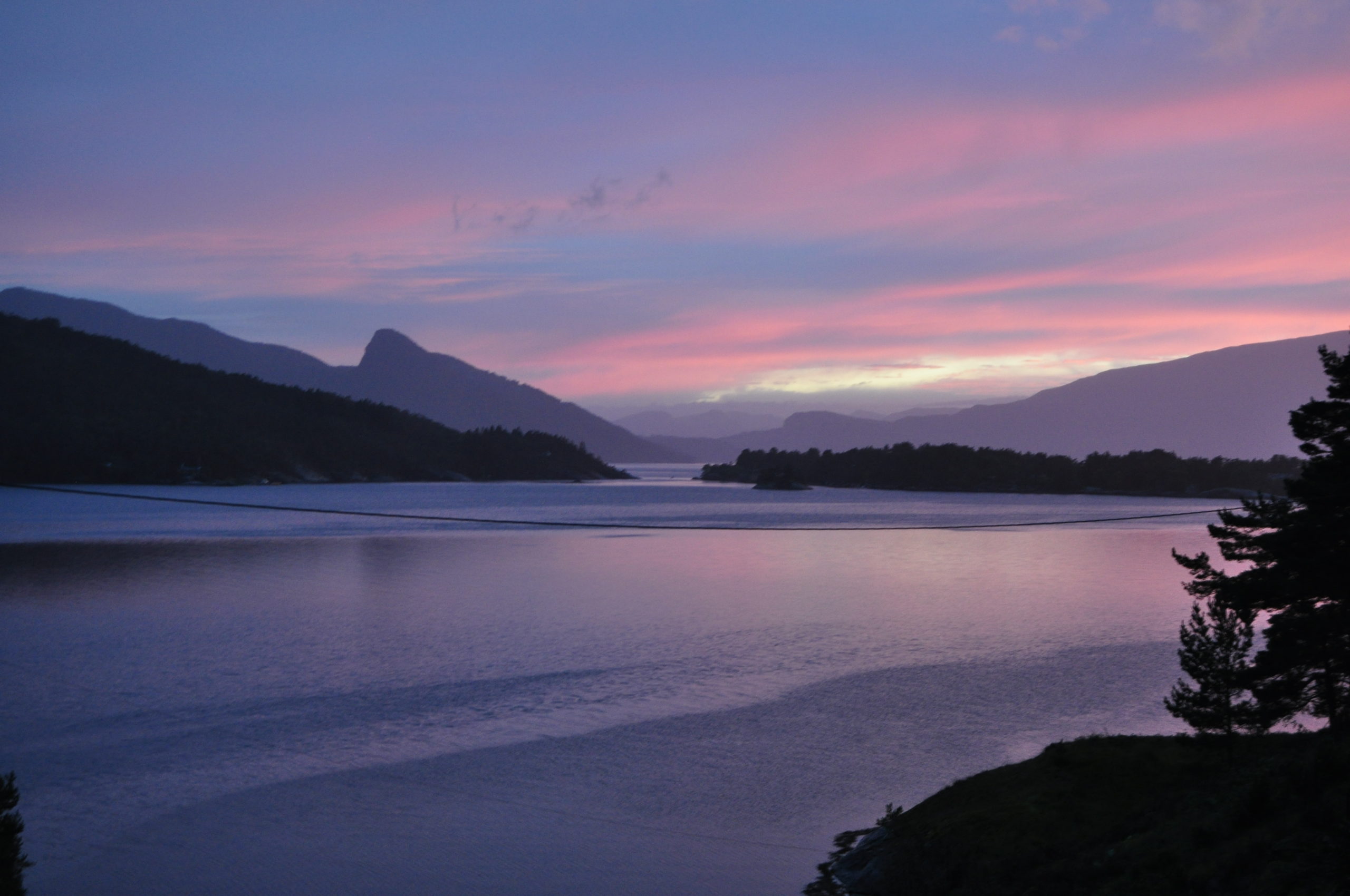 ---
Was this list of what to do in the Norwegian fjords useful for you? Please let me know and feel free to ask any question in the comments section! You can also support my work and Buy Me A Coffe. I will be immensely happy 🙂