Hello traveller! Are you visiting Nepal and you wish to see something more than Kathmandu and Pokhara? Bandipur is an excellent option! You will find yourself in a traditional Newari village, lots of temples, the biggest cave of Nepal and amazing views over the Himalayas. Are you convinced yet? What if I tell you that Bandipur has the best sunrise in the country?
The basics of my trip to Bandipur:
Duration: 2 days/2 nights
Date of travel: from March the 18th to March the 20th, 2018
Solo traveller
In this post you will find everything you can do and visit in Bandipur, how to arrive there and why Bandipur is a location you can't miss in your trip to Nepal.
You can check here other posts about my trip to Nepal. These are the ones currently available:
I am preparing some other posts about Nepal: places to visit, information about the country and what can you expect as a tourist, as well as my experience in the different places I visited and as a volunteer there. They'll arrive really soon so subscribe to receive the updates!
1. The city
Bandipur is a charming Newari village in the centre of Nepal, away from the noise and pollution that characterises the other cities and towns of the country.
1

It is located 143km to the west of Kathmandu and 80km to the east of Pokhara, at an elevation of 1,030m.

Why you need to know this:  it is this location that makes Bandipur such a blessed place regarding its views. The elevation of the village, considerably higher than the rest of the valley around it, makes for the most astonishing sunrises and sunsets you will experience in Nepal. 

2

Bandipur is connected to the Prithvi Highway, one of the main roads in the country, by an 8km road to Dumre that was built in 1998. Before that, during monsoon it was not accessible except than by tractor.

Why you need to know this:  tourism in Nepal is relatively new, but it is even newer in Bandipur. You can feel that by the atmosphere of the village and openness of its people.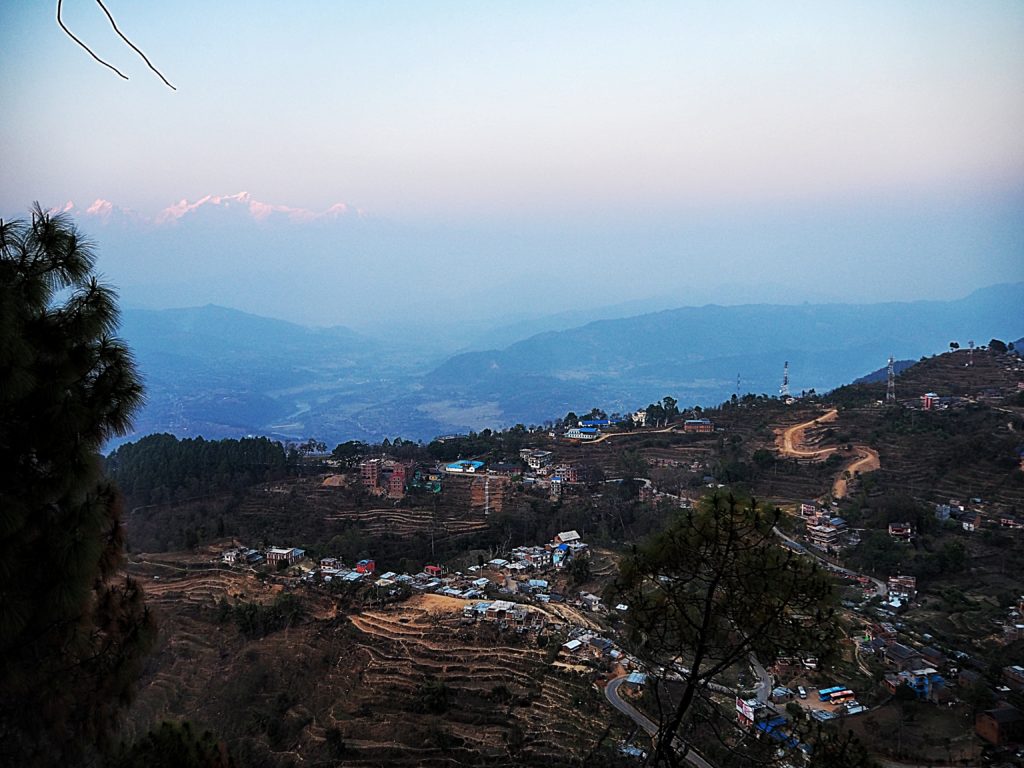 Bandipur as seen from viewpoint.
You can even see the Himalayas!
2. How to arrive
From Kathmandu or Pokhara you can take any bus, either local or tourist, that covers the line Kathmandu-Pokhara. Your stop is Dumre.
Tourist bus: you have to buy the ticket in advance: you can do that by yourself (at Kanti Path in Kathmandu or at Pokhara Bus Station in Pokhara) or through a travel agency or hotel (paying significantly more). You will have an assigned seat and your luggage will go in the trunk. The prices start at about Rs700 and they widely vary depending on the services the bus offers: WiFi, toilet, water, lunch included…
Local bus: they are not comfortable and they take everyone who wants to come in, even if there's no place for them inside. You may not have a seat. You will not have a place for your luggage, so if you carry a lot of bags maybe it's not the best option for you. It's considerably cheaper than a tourist bus; you can expect to pay about Rs350 to get to Dumre, both from Kathmandu and Pokhara.
From Dumre, you take the bus to Bandipur (they are running all day) and Rs25 and half an hour later, you're there.
If you need to arrive to Bandipur from another location of Nepal I would strongly recommend you to ask the locals and follow their advice: they are so helpful and take great pleasure in helping tourists. When I was there, a woman even walked me for a few minutes to the bus I had to take and explained the driver, who didn't speak English, where he had to drop me.
My recommendation
Tourist buses are more comfortable and theoretically faster than local ones, although that last one depends on the roads and they are crazy bad and slow in Nepal. There's no guarantee that even taking the tourist bus you will arrive on time.
On the other hand, local buses are far cheaper than tourist ones and it would be a great opportunity to you to really experience what Nepal is like. I absolutely recommend you to try, at least once, a local bus: it's so authentic that you won't regret the experience even if it's not the most comfortable one.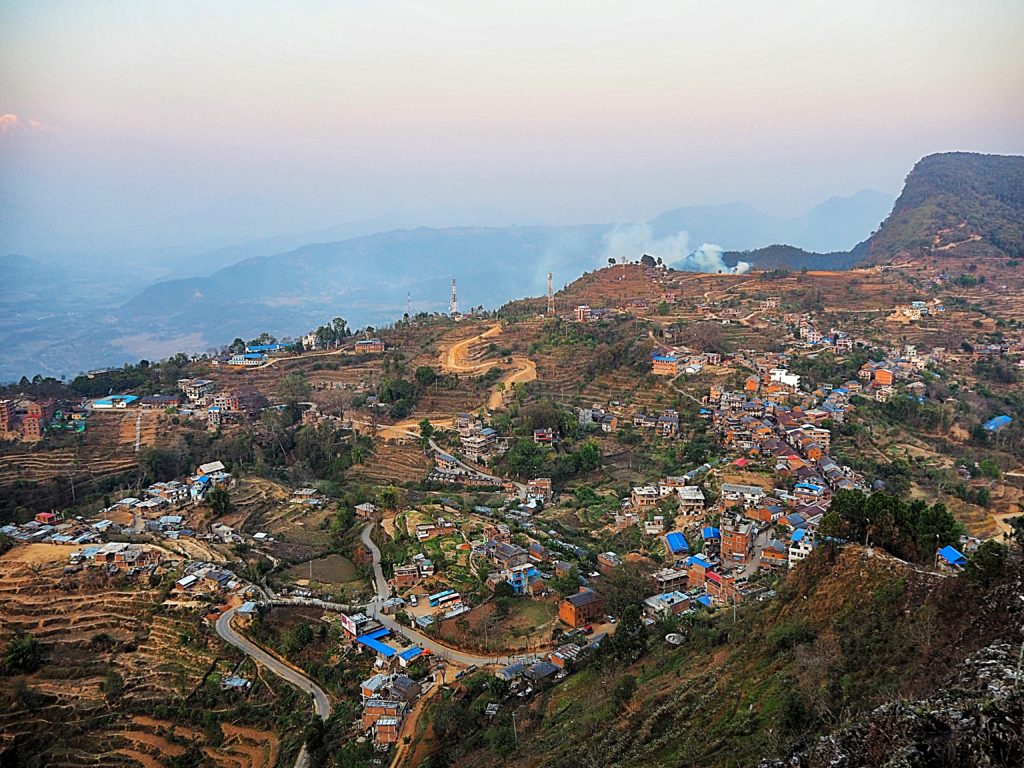 3. What to do in Bandipur
a/ Short visits
Bandipur Bazaar: the main street, very touristy with some nice cafés and restaurants with views.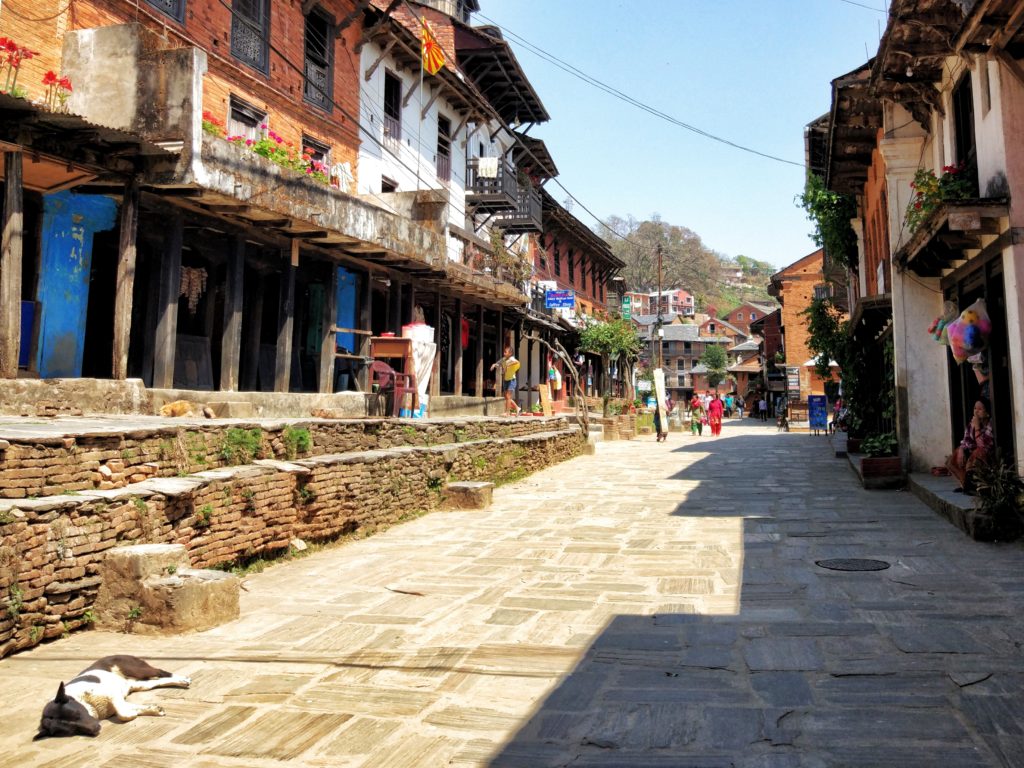 Bazaar, where you can find most of the cafés and shops
Tundikhel: a spot for picnics where locals go in holidays. Good views of the mountains and the valley in front of Bandipur. There I saw the most adorable small goat struggling to eat a big green leaf.
Thani Mai is a small temple in the top of a small hill in the centre of Bandipur, 10 minutes upstairs from the school.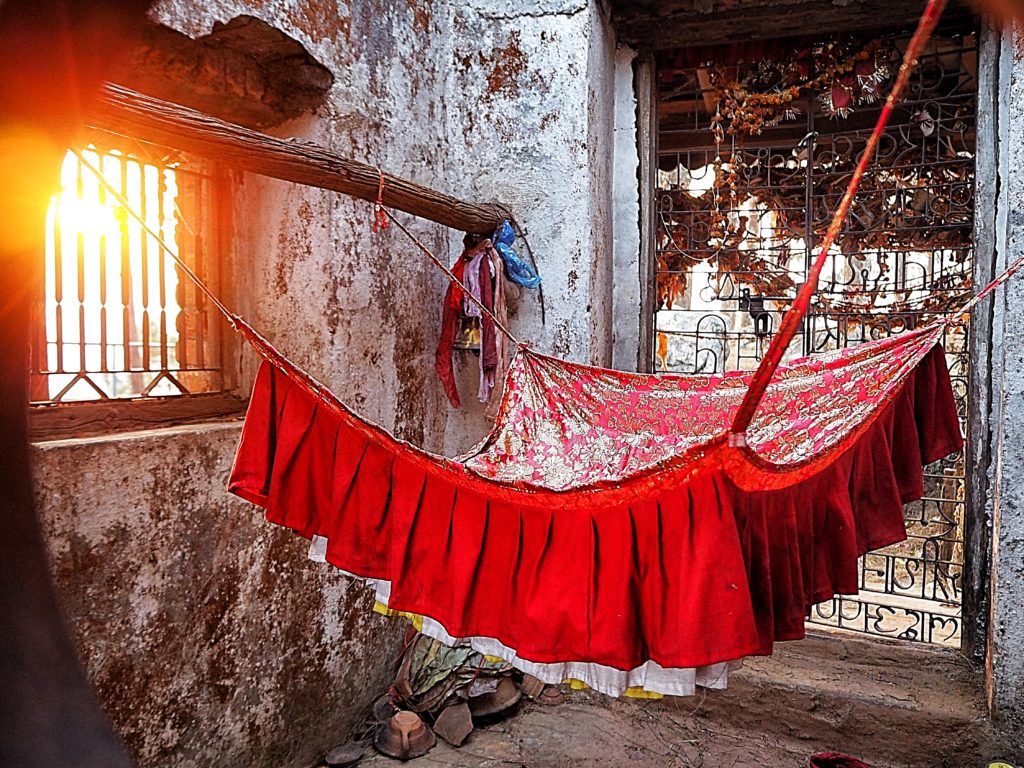 Inside the temple of Thani Mai at sunrise
It is really popular at sunrise and sunset. I went there twice, for both events, and personally prefer sunset but a great deal of that may be because the Himalayas were slightly visible on sunset while nowhere to be found on sunrise.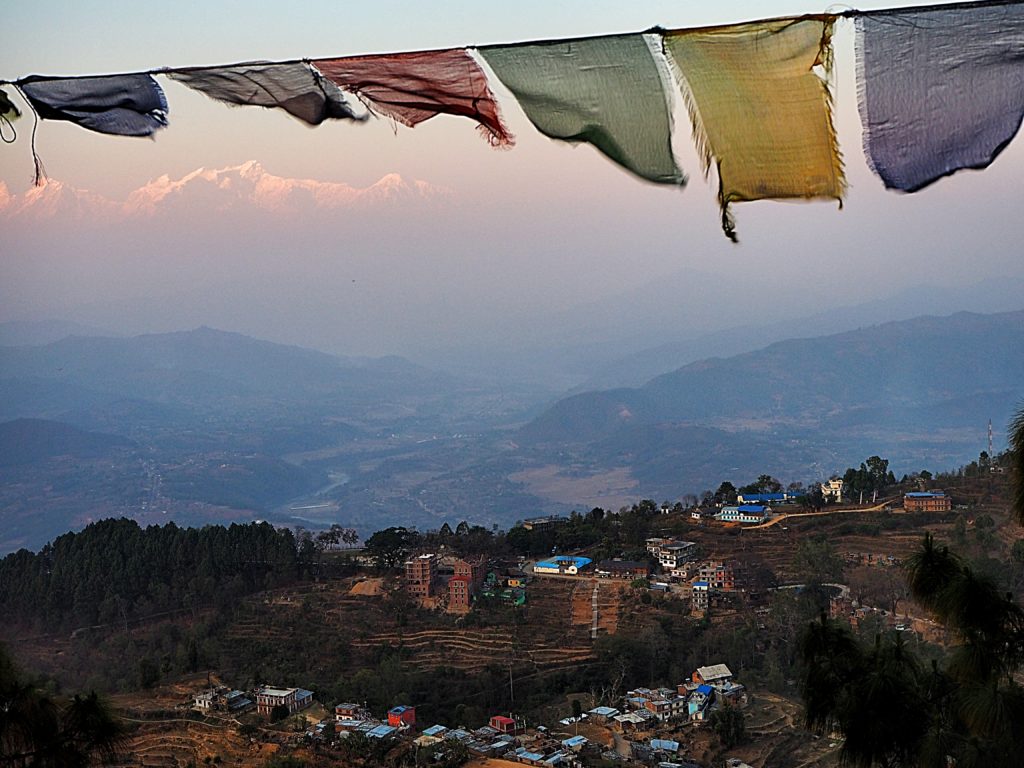 You have to look carefully, but under the flags you'll see
the silhouette of the Himalayas slightly lit by the pale orange of sunset
However, if the day is clear (that usually happens after a storm) I would absolutely recommend visiting Thani Mai at sunrise. The views, with that special light, the fog covering the valley like it was a lake, the well-preserved town of Bandipur and the Himalayas in the back is supposed to be one of the most astonishing spectacles in Nepal.
Teendhara: public bathroom, still used for showers and laundry. There's also a small beautiful temple by its side.
Small temples inside town: Teendhara, Khadga Devi Temple, Bindhebasini Temple, Mahalaxmi Temple.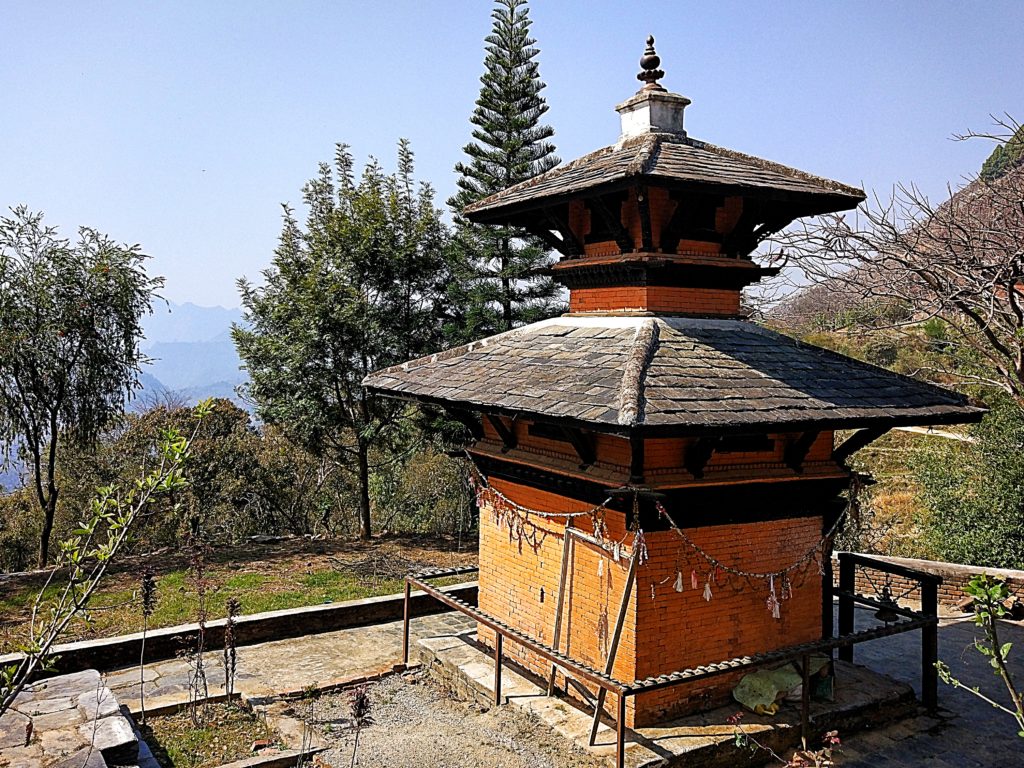 Mahalaxmi Temple, with great views over the valley
Martyrs Memorial Park: also a small piece of land with a view, not so different from the one at Tundikhel.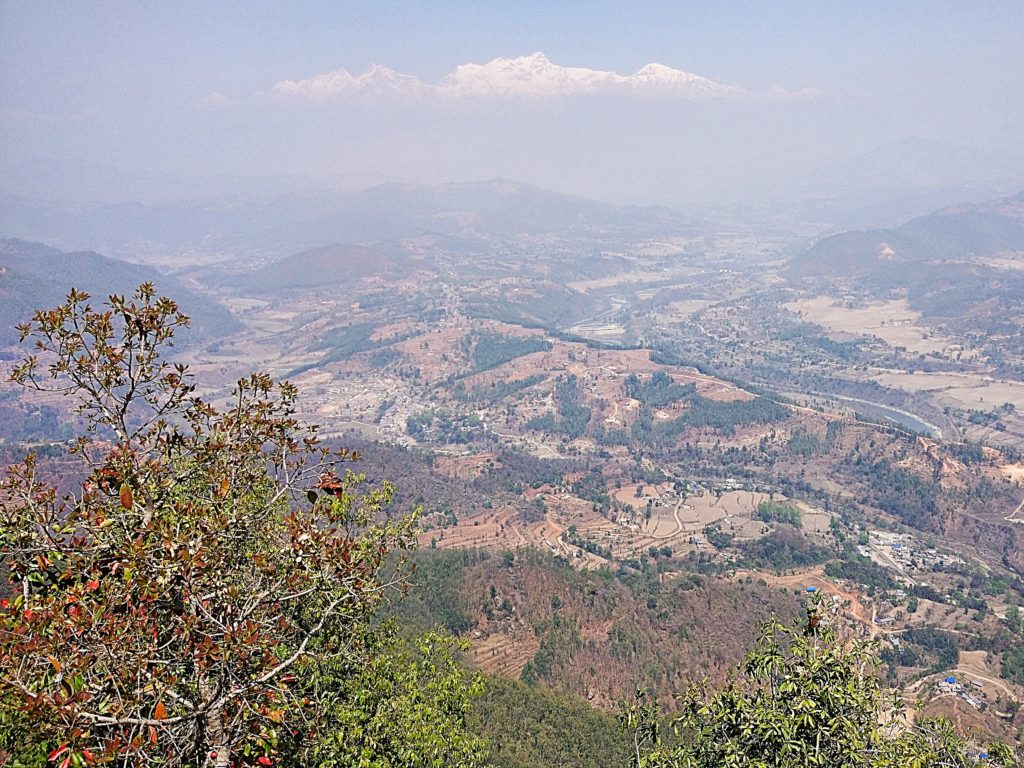 View from Martyrs Memorial Park
b/ Half-day visits
Ramkot: traditional magar village, a half-day visit and nice walk from Bandipur. If you have the time, you can have lunch there and enjoy the traditional ways of Nepali people.
Silkworm farm: another half-day visit from Banidpur, reachable by walking.
Siddha Gufa Cave: the most recommended half-day visit from Bandipur, Siddha Gufa Cave is the biggest cave in Nepal and, if you go there without having done any research –as I did- it will not fail to surprise you. It takes like 40 minutes to arrive there by walking downstairs from the centre of Bandipur, going through a forest and human-made descending stairs almost all the way.
You pay Rs200 to enter –Rs100 for the entry itself and Rs 100 for the guide, not avoidable- and then the adventure begins. It is a surprisingly big cave with beautiful patterns, some slippery parts, some ladders and ropes to help you climb or go down at parts. Don't be afraid, it's not difficult and everyone can do that, but I was expecting a cute little cave like the ones you find at Pokhara and this was something else.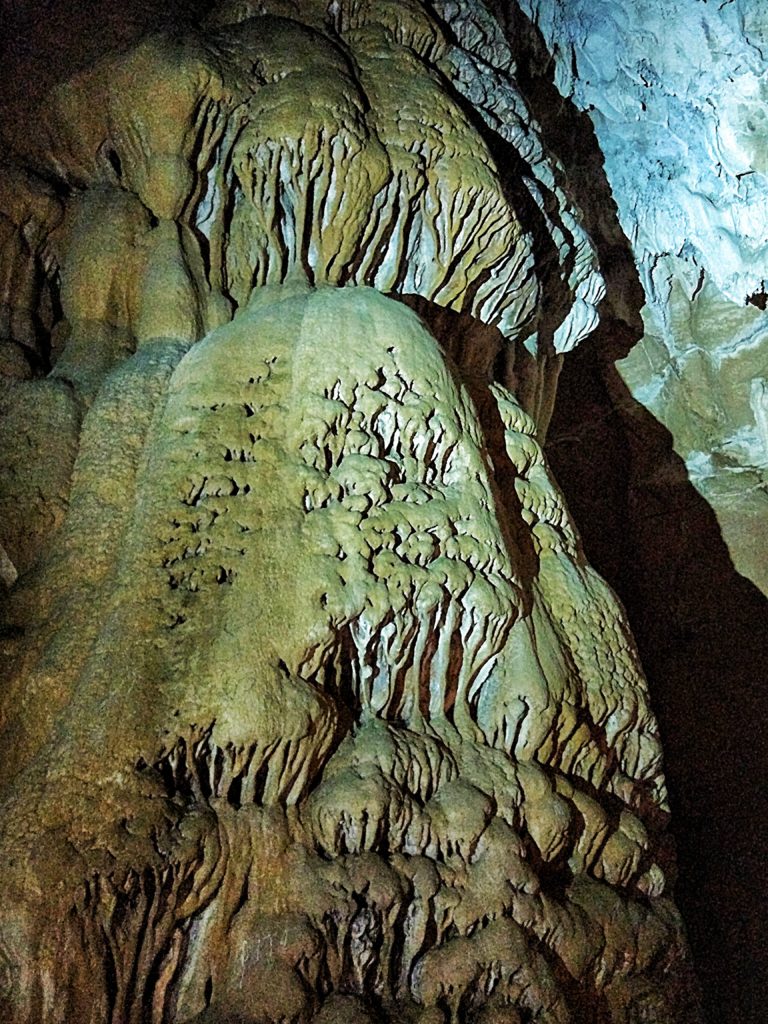 Patterns inside Siddha Gufa Cave
–these ones were supposed to be cauliflowers
I would recommend you to wear good walking shoes and clothes that you don't mind getting dirty. It's not entirely necessary, some girls entered the cave with jeans, beautiful white blouses and heels and did it, I just feel they would have preferred to be dressed differently.
To return to Bandipur you have two options: either you keep descending and ask for a taxi when you reach the town of Palungtar, or you just take the trail you used to get there, although it is an hour of climbing stairs – be sure to have water with you!
4. Why you should visit Bandipur
To put it simple, Bandipur is a drop of quietness and calm in the middle of messy noisy Nepal. There are no cars or scooters and so no honking either, a very welcomed change from other towns and cities and something that is rare to find if not in a remote village.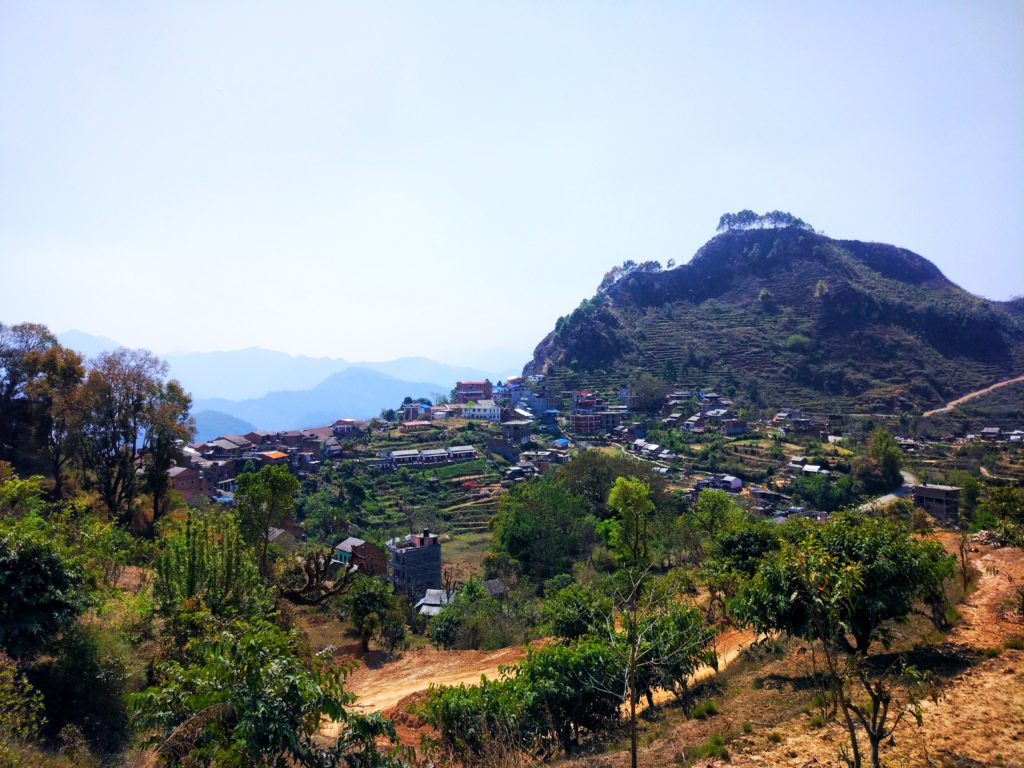 The town of Bandipur as seen from Martyr's Memorial Park
Bandipur is touristic but not so much, which means you find plenty of comfortable hotels and guest houses, even a few nice cafés in the Bazaar, the main street, but the essence of the town has not been torn apart yet.
Last ray of sun behind Bandipur
I didn't fully appreciate Bandipur until I left it for busy Gorkha, because it was my first destination after the Annapurna Base Camp trek -which was the best experience I've had so far in my life- and the Pokhara that took my heart. However, now I'm sure that Bandipur is one of the most special places I have ever visited.
Don't try to rush Bandipur. Its charm is in its peacefulness and, from the perspective of small walks and the observation of its spots and views, there's plenty to do to enjoy a few days there.
---
Was this post useful for you? Please let me know and feel free to ask any question in the comments section! You can also support my work and Buy Me A Coffe. I will be immensely happy 🙂
Check what I have to say about Bandipur and my travels on Instagram!