Is walking in the Himalayas one of your most primary wishes? For me, it was, so when I spent three months in Nepal I had no doubt I would do it. I decided to do the Annapurna Base Camp trek as it is one of the most popular and beautiful ones. It also lasts just for the right amount of days (approximately nine) and you can do it without a guide.
The basics of the Annapurna Base Camp trek without a guide:
Duration: 9 days/8 nights
Date of travel: from March the 9th to March the 17th, 2018
Number of travellers: originally 3, 7 after the first day of the trek
Time of preparation: one month
I have prepared for you a very detailed account on how each day of the trek is going to look like, including transportation when needed, the type of trail you'll be walking and its difficulty and the main marvels you will be finding along the route.
You will be able to feel the adventure of walking in the Himalayas through my experience, and when you finish reading you will know exactly what to expect from the Annapurna Base Camp trek and how to prepare for it.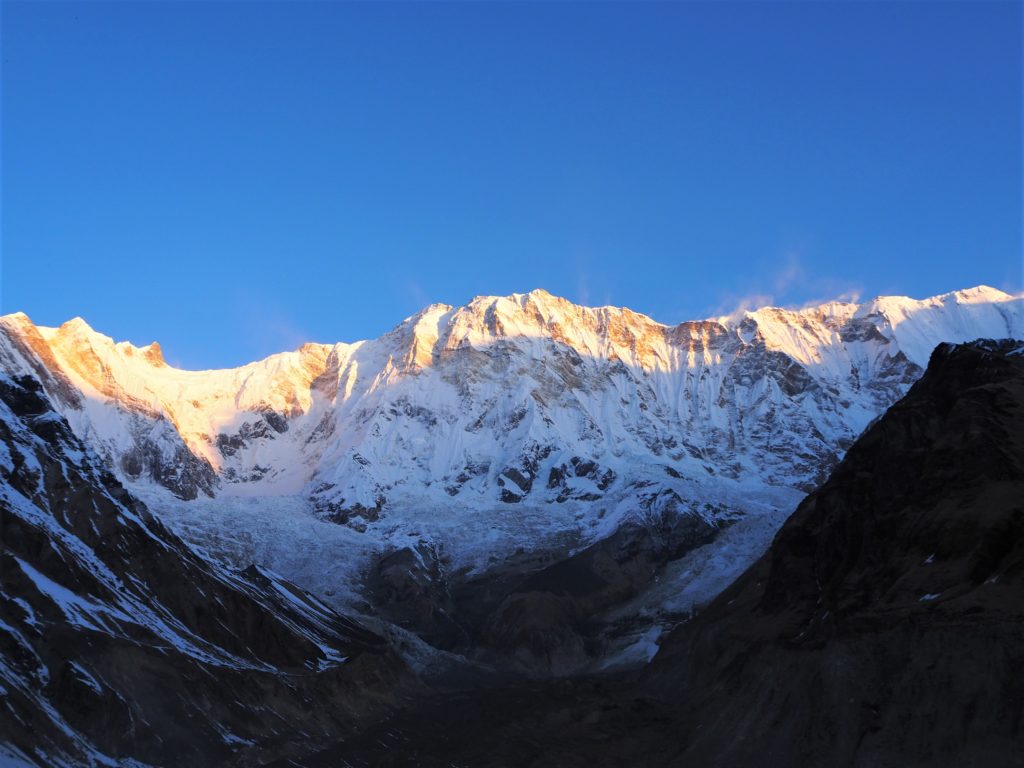 I also highly encourage you to read my other post 'The ultimate handbook for the Annapurna Base Camp trek without a guide'. There I explain everything from the basics of the route to where to sleep and eat without carrying camping gear or how to budget your trek and prepare your backpack. Marketing appart, it is the most useful collection of information you will ever need when preparing for the trek. I promise.
My experience in the Annapurna Base Camp trek
The Annapurna Base Camp or the Annapurna Sanctuary is a mountain refuge from where the ascends to the peak Annapurna I (south variant) and Annapurna South start. It is located 35 km north of Pokhara, a city in the centre of Nepal that is considered the gate to the Himalayas.
From the Annapurna Base Camp you have views over Annapurna I (8,091 m), Annapurna II (7,937 m), Annapurna III (7,555 m), Annapurna IV (7,525 m) and Annapurna South (7,219 m). All of them over the 7,000 m of elevation. Patal Hiunchuli (6,441 m) or Machapuchare (6,993 m) are other smaller peaks that can be appreciated from there.
The trail that arrives there is known as the Annapurna Base Camp trek. It usually lasts for about 8 days and the starting point is Pokhara, reaching a maximum altitude of 4,130 m at the base camp.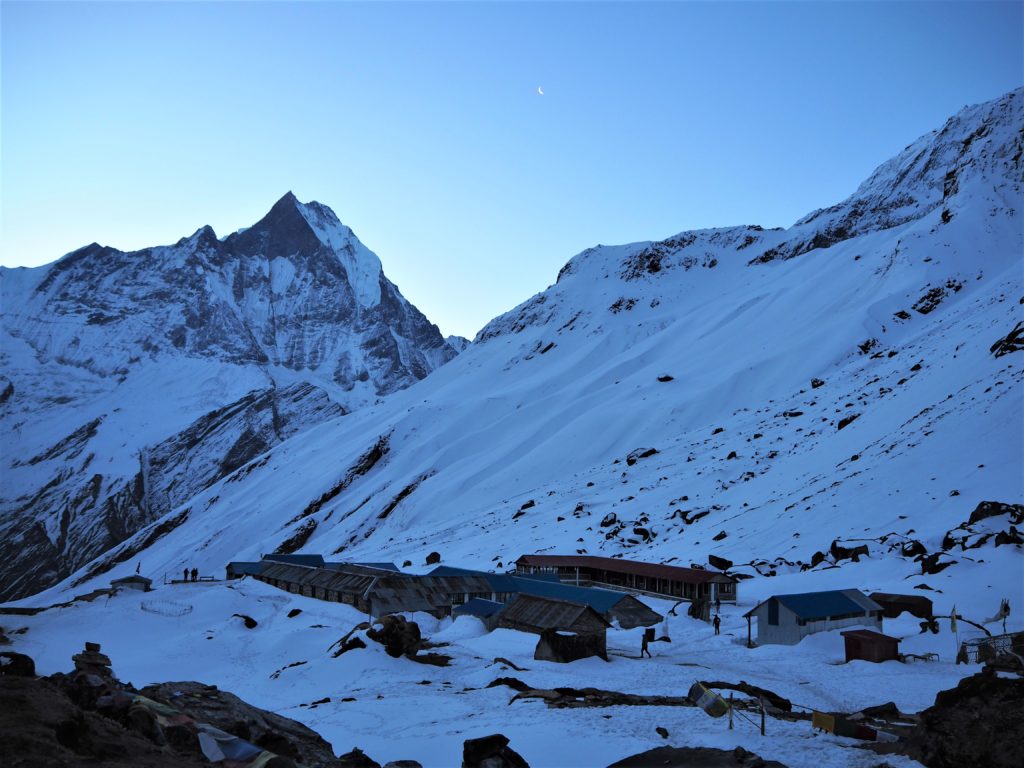 The Annapurna Base Camp Trek is different from the Annapurna Circuit. This one lasts for about 20 days in which you will be walking in the Annapurna range but you will not arrive to the base camp. The maximum altitude you will reach is 5,300 m. It is a harder and more popular trek than the Annapurna Base Camp one.
Our route
We decided to do the Annapurna Base Camp trek instead of one of the many alternatives because it fitted the number of days we had available and was the right amount of challenging. However, there are several alternatives as you can start walking from different villages, which also applies to the finish point. The trail you take to arrive to Chhomrong will also shape your route, which may be determined by your preferences or whether you visit or not the Poonhill viewpoint.
From Chhomrong to the Annapurna Base Camp you'll have one single trail. You can also decide how you organize it, depending on the villages you sleep at.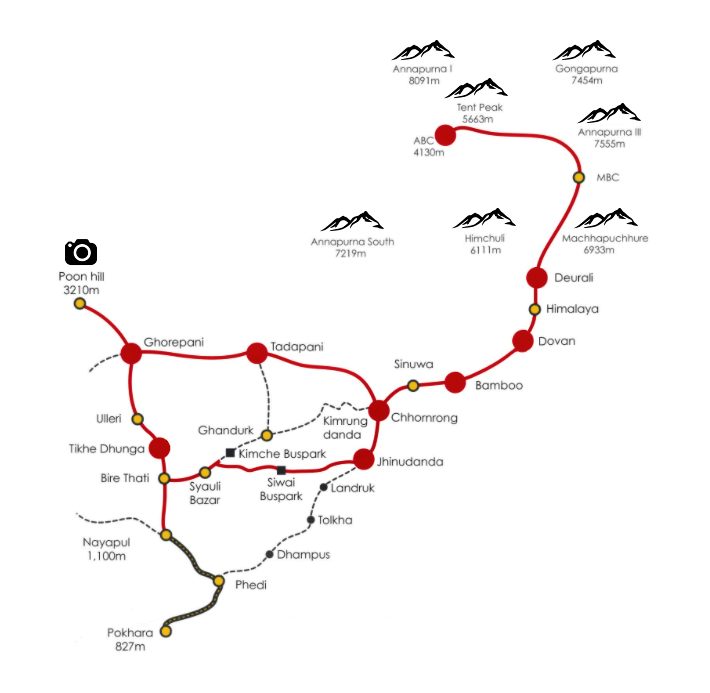 We started at Tikhe Dunga instead of the most common alternatives of Phedi, Nayapul or even Bire Thati because we wanted to spend the first night at Ghorepani to be in the Poonhill viewpoint during sunrise. This is one of the main spectacles of the trek and I highly encourage you to visit it, and to do it at sunrise. You will not regret it.
We also decided that, despite of the cold (we were trekking on early March) we wanted to sleep in the Annapurna Base Camp, mainly to see the starry sky over the Annapurnas and also to experience the sunrise there. I'm not sure if I would personally recommend that. The rest of the group probably would, but I was suffering from altitude sickness. Also I was very very cold.
Finally, we decided that instead of taking the bus to Pokhara from Nayapul or Phedi, we would take it in Siwai after having been to Jhinudanda and its hotsprings. The sole reason for that is simple: the route was shorter and we were exhausted.
We spent a total of nine days in the Annapurna Base Camp trek.
The Annapurna Base Camp trek distance and elevation profile
The total distance we walked was 81.9 km, with an elevation gain of roughly 5,255 m and an elevation loss of 5,405 m. Of course, these numbers will vary depending on the actual route you take.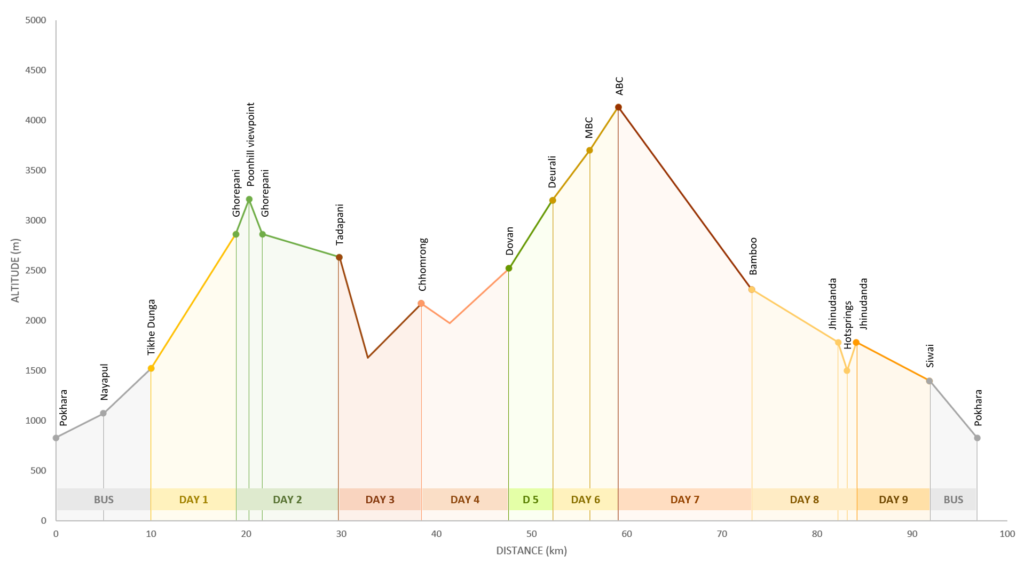 Note that the grey areas are the bus rides and are included just to have the complete picture, as distances provided there are not exact.
START
END
DISTANCE
ELEVATION
COST*
DAY 1
Tikhe Dhunga
1,520 m
Ghorepani
2,860 m
8.9 km
+1,340 m
Rs2,620
DAY 2
Ghorepani
2,860 m
Tadapani
2,630 m
10.9 km
with Poonhill
+790 m
-950 m
Rs1,250
DAY 3
Tadapani
2,630 m
Chhomrong
2,170 m
8.6 km
+600 m
-1,000 m
Rs1,470
DAY 4
Chhomrong
2,170 m
Dovan
2,520 m
9.2 km
+550 m
-200 m
Rs2,180
DAY 5
Dovan
2,520 m
Deurali
3,200 m
4.6 km
+595 m
Rs1,965
DAY 6
Deurali
3,200 m
ABC
4,130 m
6.9 km
+1,030 m
Rs2,860
DAY 7
ABC
4,130 m
Bamboo
2,310 m
14 km
-1,795 m
Rs2,045
DAY 8
Bamboo
2,310 m
Jhinudanda
1,780 m
11 km
with hotsprings
+350 m
-1,075 m
Rs2,375
DAY 9
Jhinudanda
1,780 m
Siwai
1,395 m
7.7 km
-385 m
Rs450
The group of trekkers
As I was a solo traveller in Nepal and I definitely didn't want to do the Annapurna Base Camp trek alone, I knew I had to find fellow trekkers.
I spent a month in Pokhara before starting the trek. That gave me plenty of time to look for companions for the adventure. If I had wanted to hire a guide, that would not have been a problem, as the trekking agency would have surely arranged that. However, this was not the case, so I had to be the proactive one.
I visited several restaurants and hostels. There I left my name, number and basic plan for the Annapurna Base Camp trek. This was not useful for me but I know it has been for some people.
I was volunteering in an orphanage and when I had been there for a few days, a spanigh girl who also wanted to do the trek appeared.
We were pretty active on Facebook groups of backpackers in Nepal. These groups have plenty of people talking about their plans in the country and trying to engage other travellers to join them. We found two guys who might join our trip. One was a polish paraglider with whom we spent plenty of afternoons in Pokhara but finally didn't come. The other one, another spanish guy did join us.
We started the trek and after the first day, at Ghorepani, we met a guy who worked at the same company as the other girl from our party (how small can the world be?). He was there with his girlfriend and two italian friends they had just made. So we had a group of seven.
This was interesting because appart from the great company, being a large group we were able to negotiate really good accomodation prices.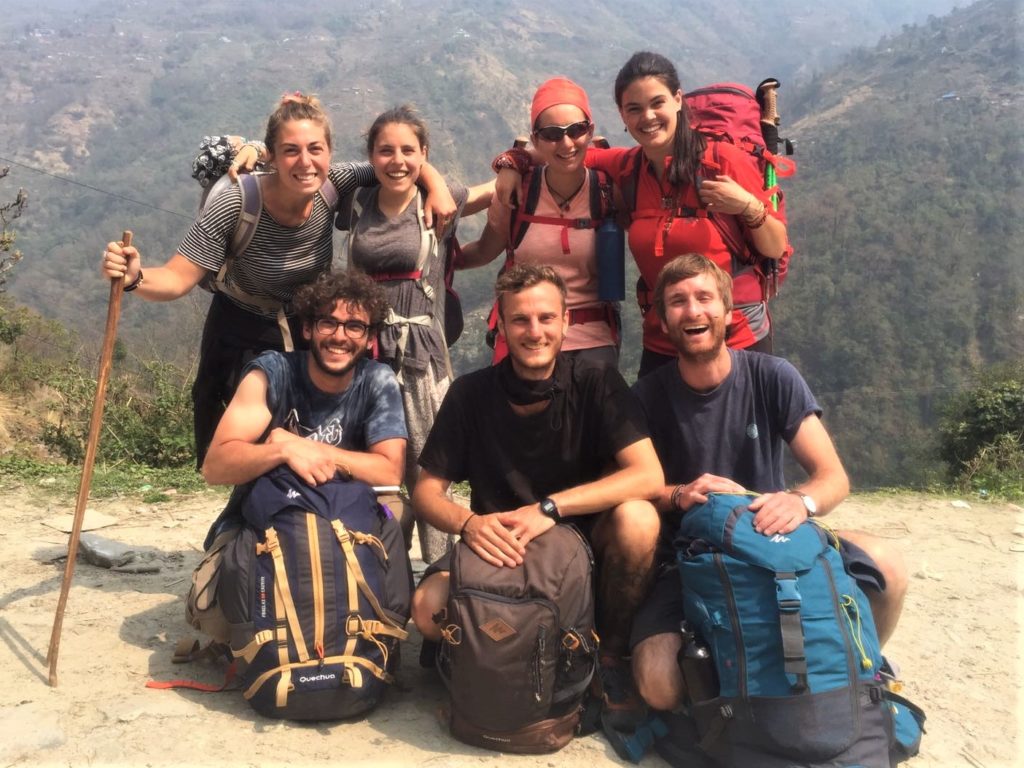 Want additional information?
Yes, I know, this is very scarce information to prepare for such an adventure. So if you haven't already, go and read my other post 'The ultimate handbook for the Annapurna Base Camp trek without a guide', which is basically everything you need to know to prepare for this trekking.
There you will find:
Why did we start at Tikhe Dunga and finished in Siwai, and alternatives to that.
Side treks and wonders you can't miss since you are in the Annapurna Base Camp.
The weather in the Annapurnas.
Other routes to do in the area.
A discussion on whether you need guide and/or porter or not.
The cost of everything you'll need, both a generalisation extracted from reading several Nepali trekking guides and my actual costs.
Advise on which ATMs to use for lesser fees.
All transport options and where to take them from.
The permits you will need, how and where to get them.
How to minimise altitude sicknes.
How to download and follow the track.
A list of everything you need to carry with you in your backpack.
Annapurna Base Camp trek on your own – day-by-day route
Day 1: Pokhara (827 m) – Nayapul (1,070 m) – Tikhe Dhunga (1,520 m) – Ghorepani (2,860 m)
In a glimpse
Distance:
Timings:

Bus from Pokhara to Tikhe Dhunga: 8am to 1pm
Tikhe Dhunga to Ghorepani: 1pm to 6pm

Expenses breakdown:

Accomodation: Rs50
Food: Rs1,470
Snacks: Rs600
Shower: Rs100

Transport: Rs300 bus + Rs100 taxi (to bus station)
Arriving to Tikhe Dhunga by bus
From Pokhara to Nayapul the road was acceptable for nepali standards. We had lots of bumps and dust, but we were told we would arrive to Nayapul at 11am and we did, although we had left almost half an hour later than we were supposed to and had several stops for bathroom and lunch.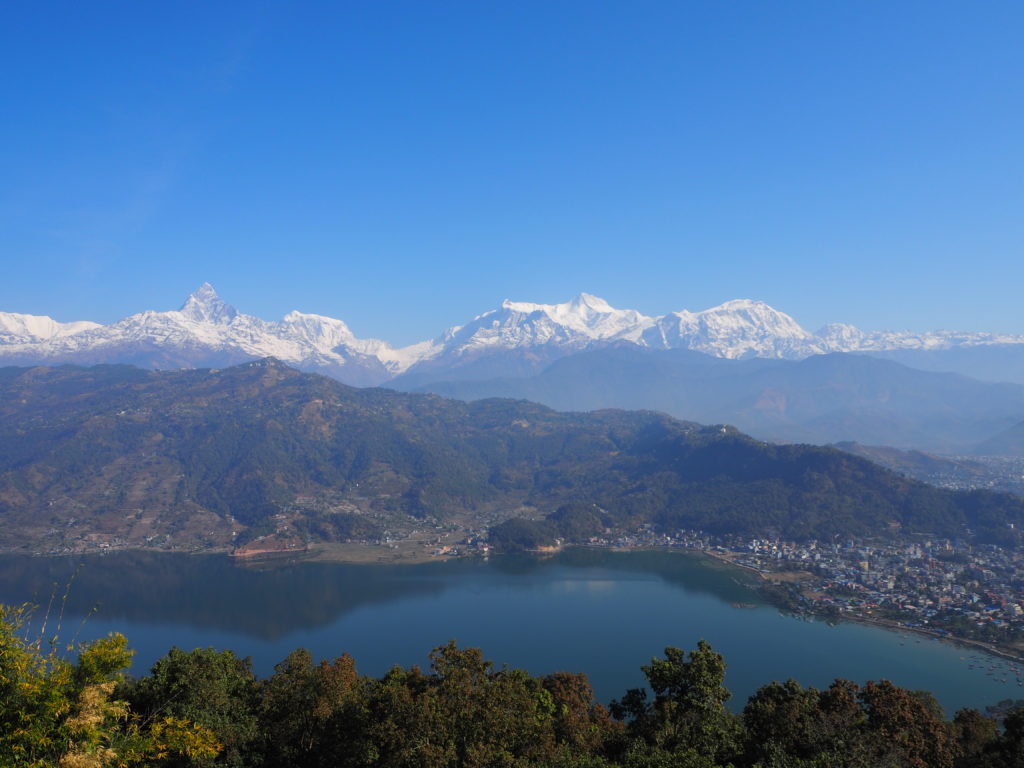 All in all, until Nayapul the bus ride was quite comfortable despite the loud high-pitched nepali music with strange videoclips that characterise all bus rides.
Most trekking groups start walking at Nayapul to arrive to Tikhe Dhunga at the end of the first day of the trekking (therefore adding one day to the whole trip). However, we had decided we were continuing by bus from Nayapul to Tikhe Dunga and we didn't regret this decision for a minute. First, because the trekking path was shared with the bus and jeeps driving the road and it had a lot of dust and zero beauty. It also allowed us to spend the first night at Ghorepani, which was our first objective for the trek.
The road from Nayapul to Biretanti was quite similar although instead of people the bus mainly transported boxes, beverages and construction material. Once at Biretanti, the bus driver assistent showed or ACAP and TIMS card permits to the guard at the checking point and we continued. These permits can be purchased at the Trekking Office in Pokhara, located in the Tourist Information Centre in Damside. Opened daily. In Kathmandu, they can be purchased at the Nepal Tourism Board.
From Biretanti to Tikhe Dhunga we traveled through a road made for jeeps so it was extremely bumpy. The bus stopped several times for people and material to get out and we arrived at 1pm, an hour later than expected.
From Tikhe Dhunga to Ghorepani
The bus assistant took us to the start of the Annapurna Base Camp trek. From there, our initial party of three actually started our trek with the characteristic stairs to Ulleri. We covered the three thousand four hundred something leg-killing steps in a llitle more than an hour and a half. Once there, we were surprised to discover that the town of Ulleri had also stairs instead of roads.
It took us three and a half more hours to get to Ghorepani. The path was continuously up and interesting enough, even the mountain trail had far more steps than what we are used to, which is something that we found during the 9 days of route.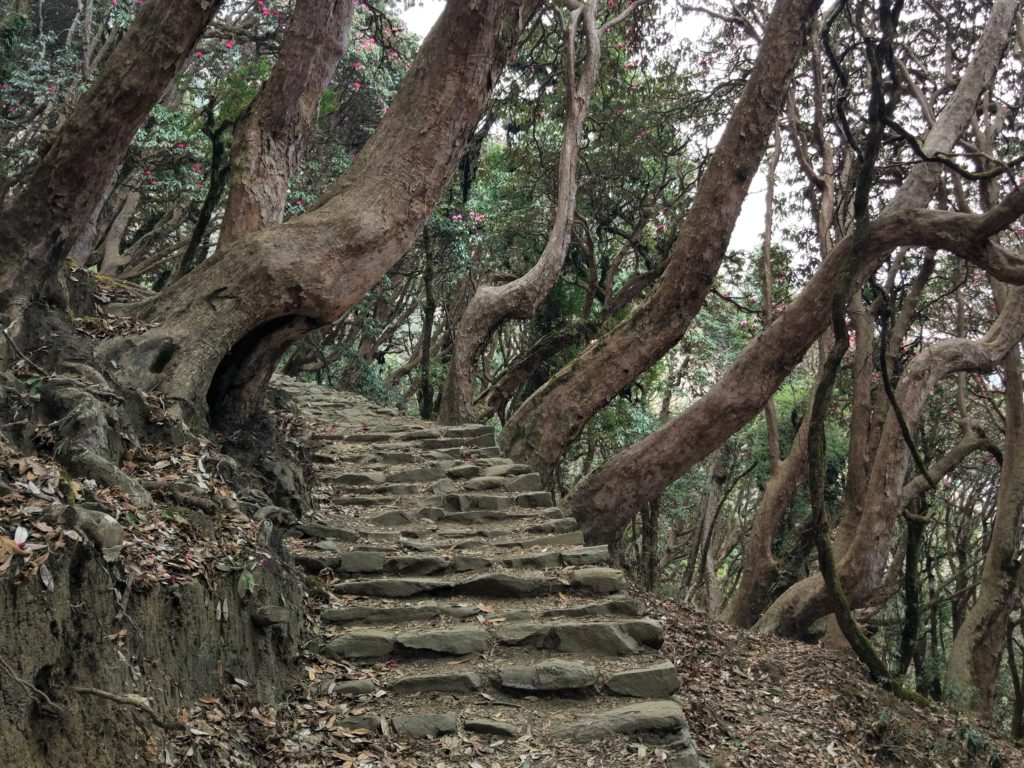 Arriving to Ghorepani was so sweet because I was really exhausted. Once there, we also met with the four additional trekkers that completed the group.
We had dinner and some well-deserved chocolate in a heated dinning room and after a short conversation we went to sleep at 9pm.
Day 2: Ghorepani (2,860 m) – Poonhill (3,210 m) – Ghorepani (2,860 m) – Tadapani (2,630 m)
In a glimpse
Distance:

To Poonhill and return: 2.8 km, +350 m, -350 m
Rest of the day: 8.1 km, +440 m, -600 m

Timings:

Side trip to Poonhill viewpoint:

Ascend: 5.45am to 6.30am
At Poonhill: 6.30am to 7.40am
Descend: 7.40 am to 8.05am

Ghorepani to Tadapani: 10.30am to 3.15pm
Side trek to Poonhill viewpoint
As one of the best places to see the sun rise over the Annapurna range, Poonhill viewpoint is a very popular trekking destination.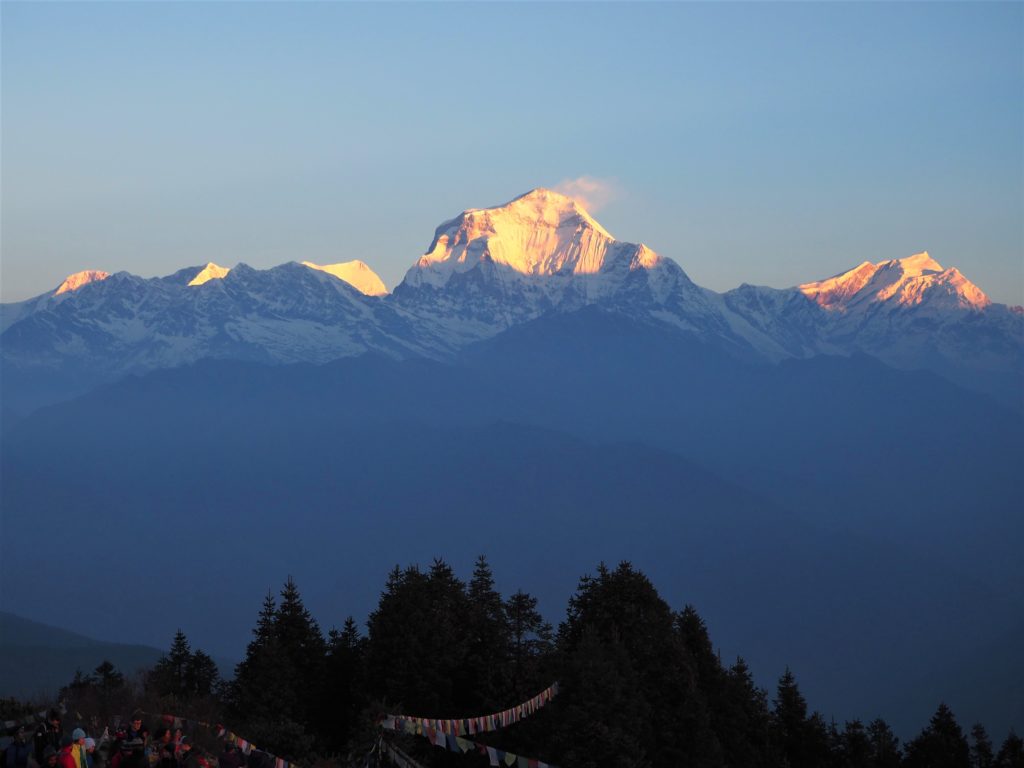 So we woke up really early and at 5.45am were already walking. We knew that the path to Poonhill was short (1 hour and a half to arrive and return), what we didn't know is that it was entirely made of stairs. After 45 minutes, we arrived to the entry of the viewpoint where we were supposed to pay Rs50 each to access. We didn't know that and we had no money with us, but luckily we were allowed to pass with the condition to pay later at our guesthouse in Ghorepani.
We arrived to the viewpoint just three minutes before sunrise. It was already crowded so we looked for an empty spot and waited. The paradise that unraveled before our eyes when the sun started to paint the white Himalayas with gold is hard to describe. We spent the next 30 minutes just looking at it, stunned with the beauty, the purity, taking thousands of pictures. There I decided I was going to tattoo that view somewhere in my body.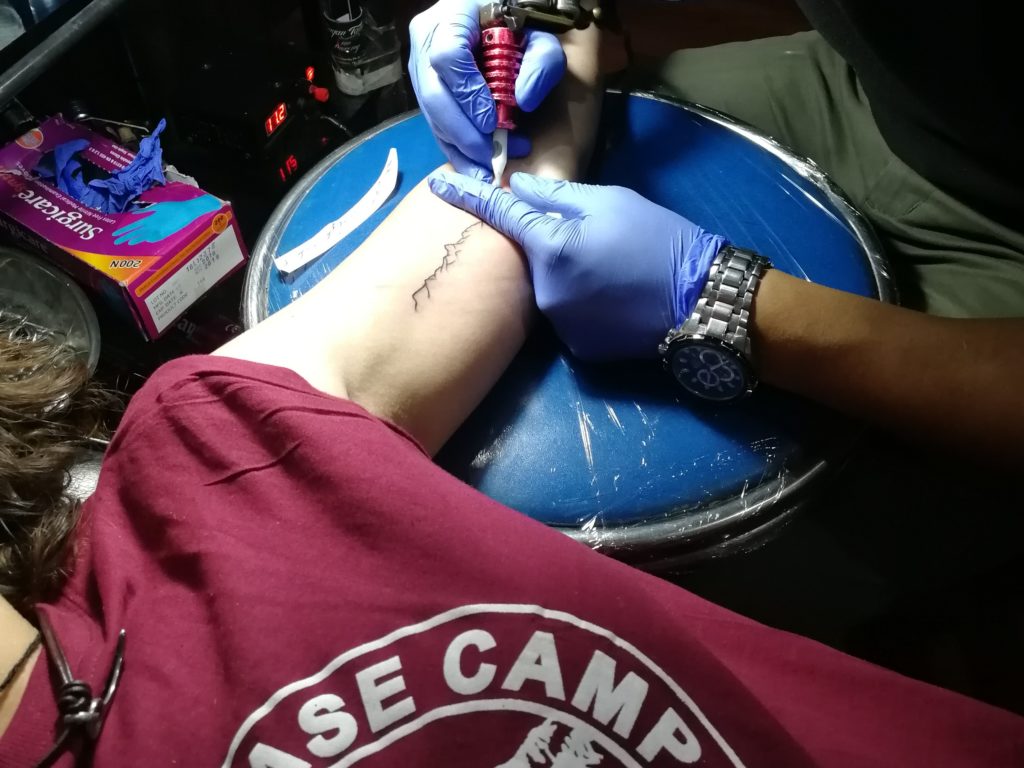 After 30 additional minutes in which we were just lingering, we started to descend to Ghorepani. Once there, we discovered that many trekkers had not waken up for the experience and were planning on going later or not going at all, which we couldn't understand. I would very very strongly recommend you to wake up early to see the sun rise over the Himalayas at Poonhill.
Finally we had breakfast, picked up our backpacks and started moving again.
From Ghorepani to Tadapani
The beginning of the path to Tadapani were stairs again but soon they started to disappear, so we were climbing a regular path until we reached Deurali viewpoint. It was beautiful but windy and although the mountains were starting to be covered by clouds, they still looked kind of orange so it was well worth the climb.
From there on, the path had ups and downs and was extremely beautiful. Flowered trees, intricated roots, cliffs just at the side of the path, huge walls of stone…
After that part, there is a steep descend that lasts for about 40 minutes. It started raining there, very little at first but it kept increasing. We finally walked the last 30 minutes up under the rain and reached Tadapani at 3.15pm.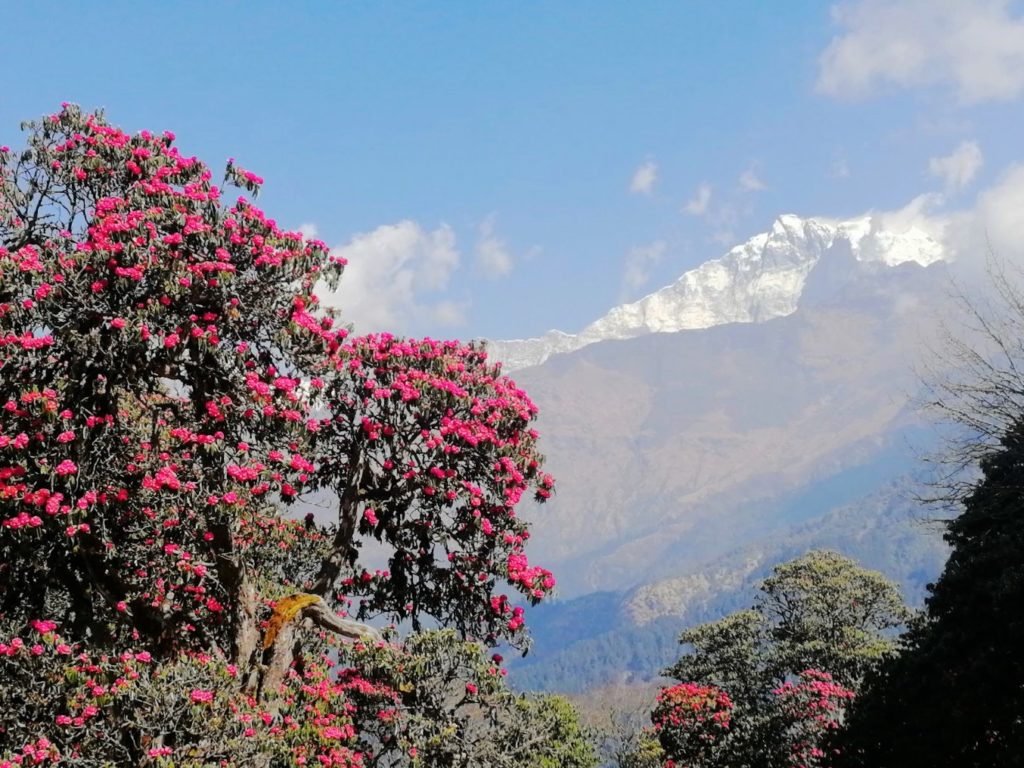 Walking under the rain was the bitter part of the day, not because we minded getting a little wet but because it was more difficult to walk in wet terrain, we didn't know exactly how much more we needed to walk before arriving to Tadapani and none of us wanted to be in the middle of the forest for the storm.
We were pretty scared when the thunder storm started and kept pushing ourselves to go further. It was harder when we started to climb again even if we knew it meant we were almost in Tadapani.
Once at Tadapani
It was a relieve to find a guesthouse and get a three-beds room for free provided we ate our meals there. Our timing was also really good, because just five minutes after we entered the guesthouse, it started raining like crazy.
After a shower and heating up in the dinning room, we were almost like new. We had dinner at 6pm and enjoyed some time for ourselves before going to sleep at 8.30pm.
However, if the rain was bitter, we also had a sweet moment: we started seeing the Himalayes for the first time in the trek. It finally seemed like we were walking in the Himalayas, not just a random trek, THE HIMALAYAS.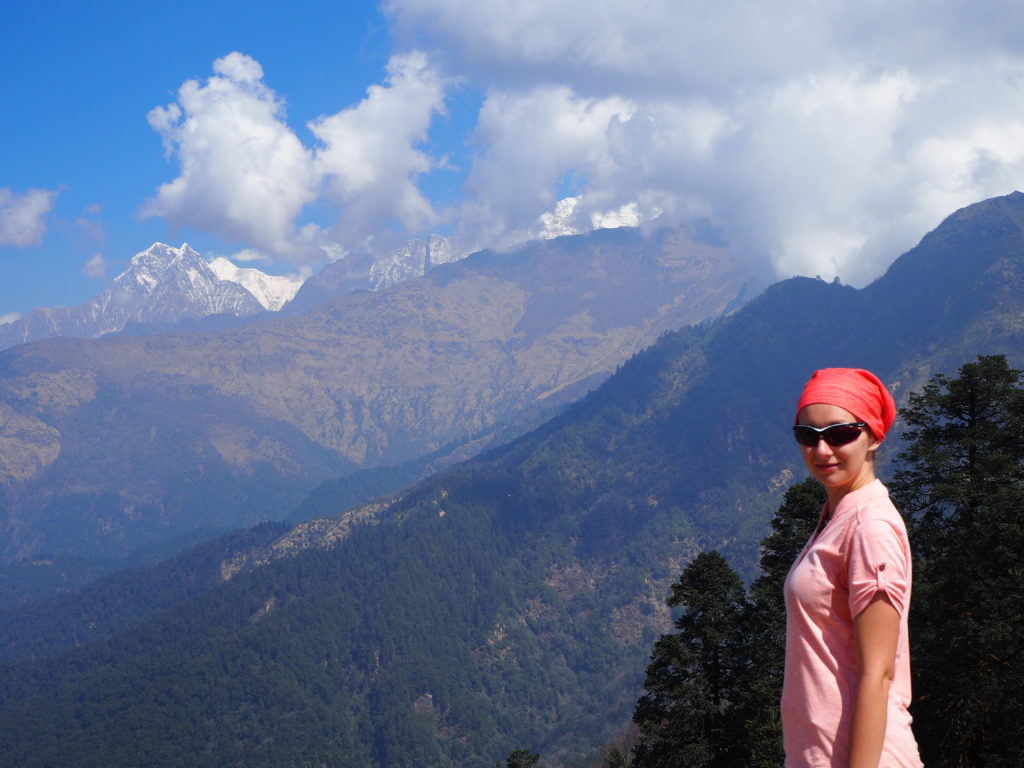 Day 3: Tadapani (2,630 m) – Chhomrong (2,170 m) (by Chuille)
In a glimpse
Distance:
Timings:

Tadapani to Chhomrong: 9.20am to 1.40pm

Expenses breakdown:

Accomodation: Rs100
Food: Rs1,370
From Tadapani to Chhomrong
We started with a heavy but beautiful descend that lasted for a little less than two hours until we reached the river. From there, we started to climb up what we had previously descended. After the first killing half hour we were combining ups and downs and our pace was surprisingly fast, as we kept passing people on the route.
The ups and downs were really easy to navigate and when we arrived to Chhomrong some 45 minutes before we expected we were so proud of ourselves. Particularly because the previous days had not felt that easy.
The fact that it started raining 30 minutes after we arrived also helped to keep our good mood, as the previous day the rain had been quite stressing.
It was a relieve to arrive to the guesthouse before the rain started and was also nice to understand in advance, from the sky, that it was going to rain. For us this demonstrated how important it is to start walking early in the morning, because rain usually starts at 2pm and it cannot really be predicted in advanced.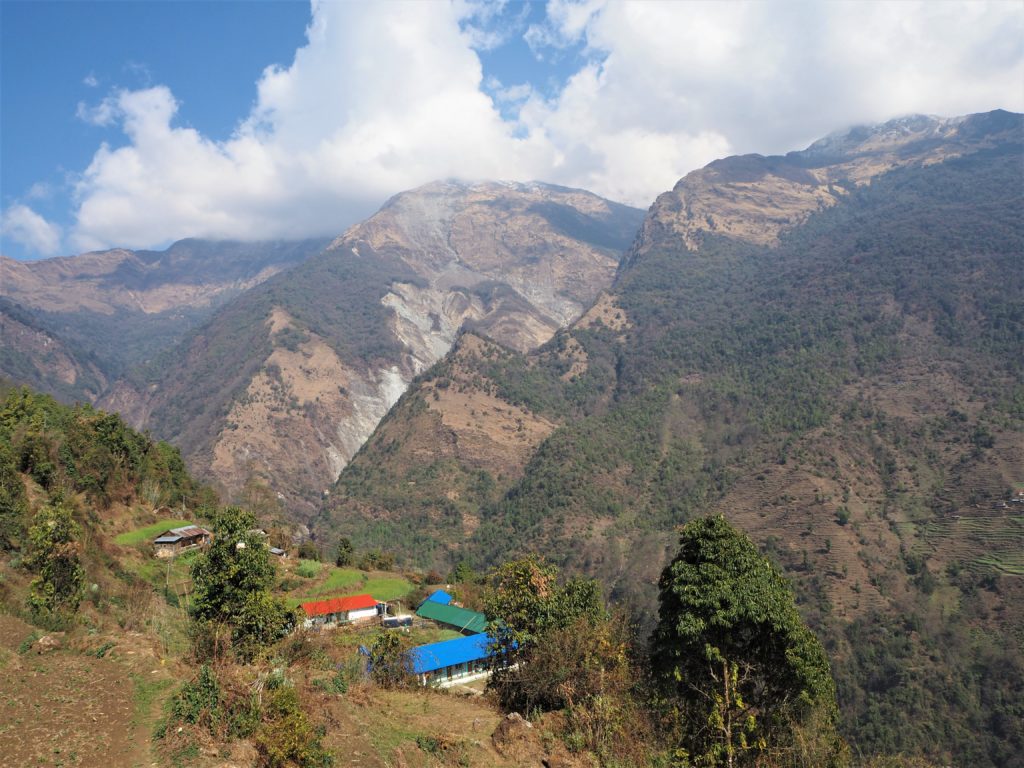 We spent a long time in the living room of the gesthouse just enjoying the sound of the rain outside (although we were a little concerned for our fellow trekkers out there) and talking with each other. Also, we played cards with two indian brothers we met on the route, and although we didn't have a heater and it was a little cold, it was quite pleasant anyway.
We had dinner at 6.30pm and went to sleep at 9pm, after playing cards for a little more and laughing a lot with the several groups of trekkers that were also staying in the same place.
Day 4: Chhomrong (2,170 m) – Dovan (2,520 m)
In a glimpse
Distance:
Timings:

Chhomrong to Dovan: 8.40am to 1.50pm with a lot of stops

Expenses breakdown:

Accomodation: Rs100
Food: Rs1,780
From Chhomrong to Dovan
We woke up at 6.40am to have breakfast at 7.10am and somehow we didn't leave until 8.40am, so there's a lot of room for improvement in getting ready to leave.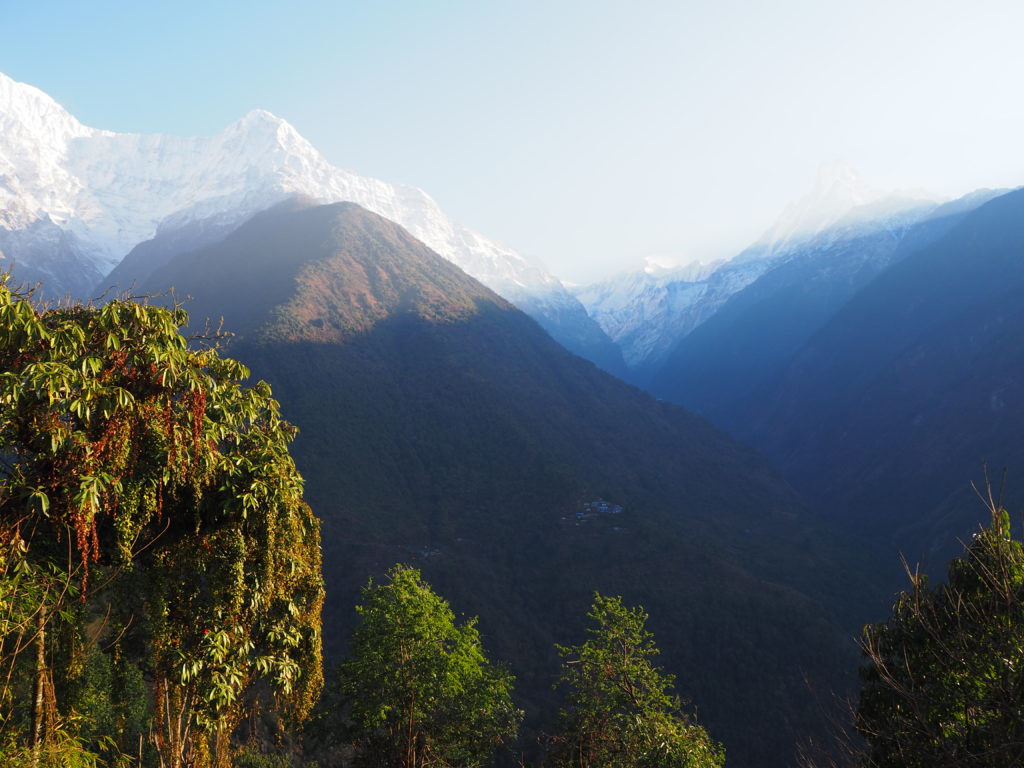 After the first five minutes of ascending stairs and checking in in the Annapurna Conservation Area, there were a lot, and I mean a lot of descending stairs until we arrived to the bridge that crossed the river. There we had to climb that amount of stairs again, but it was very tolerable as we were combining ups and downs and our legs were already used to walking.
The stairs down to Bamboo were really heavy too. We stopped for a while in Bamboo and as it started to rain we waited there for a while more, but soon we decided that as we only had 2.2 km more to Dovan (our final destination for the day) and the rain was very light, we were going to continue. After 45 relaxed minutes we arrived to Dovan, through a forest that resembled a fairytale.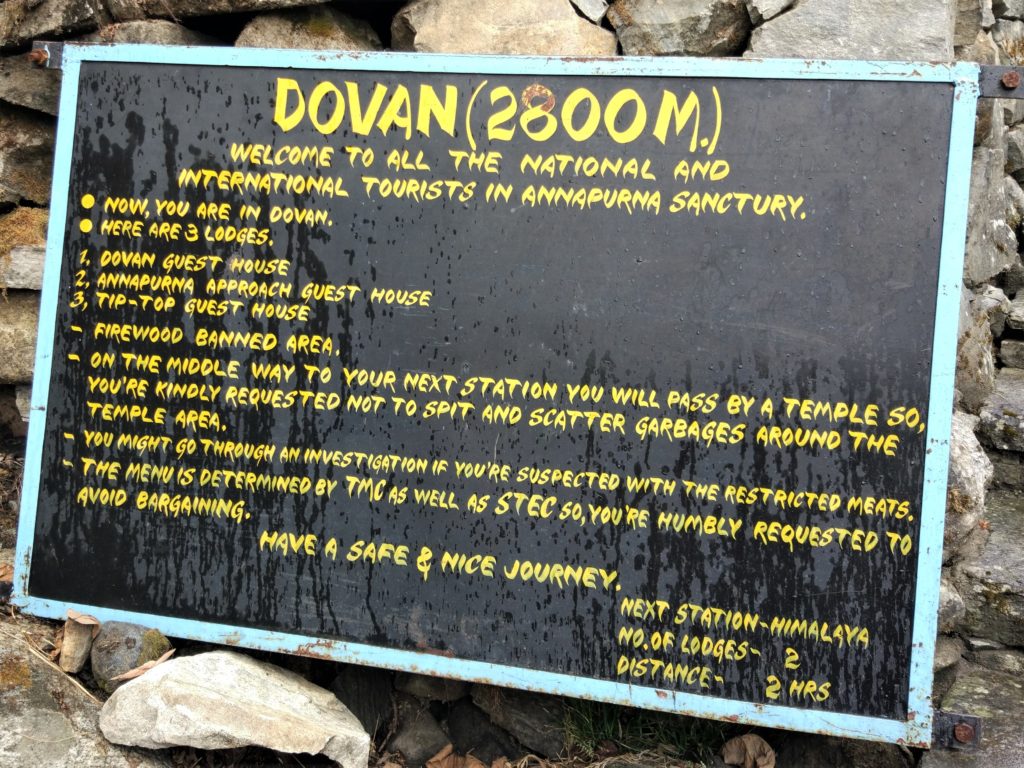 We found out that Dovan was a three-guesthouses town with absolutely anything else, so we picked one of them and after cleaning ourselves we shared a delicious pizza and settled to get cold in the living room until going to sleep at 8.30pm. We were past the point where guesthouses had heaters.
It is also from a little before reaching Dovan that, for religious reasons, meat is not allowed. This will mean that you will not find it in menus, but also that if you are carrying your own food, it is expected that it is also vegetarian. Sanctions may apply.
Day 5: Dovan (2,520 m) – Deurali (3,200 m)
In a glimpse
Distance:
Timings:

Dovan to Himalaya: 9.30am to 11.15am
Himalaya to Deurali: 11.30am to 1.30pm

Expenses breakdown:
From Dovan to Deurali
We started walking at 9.30am and arrived at 1.30pm to Deurali, covering 4.6 km, so overall it was not a long day neither a particularly complicated one.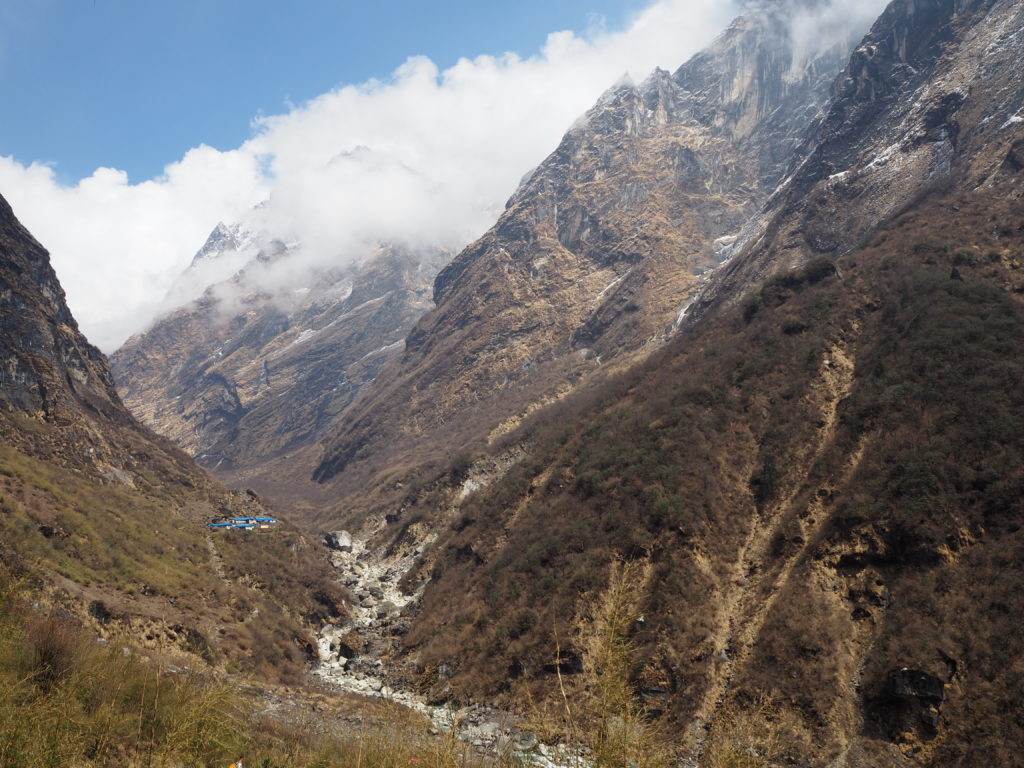 From Dovan to Deurali, the trail was up but easy, and although we felt our legs sending painful signs to our brain, it was nice to also feel we could keep going despite that.
Once near Deurali and especially when we were moving and gaining altitude, we started to feel the lack of oxygen for the first time in the trek. Therefore, although the the terrain was generally easy and covered in big rocks, we felt we needed some extra effort while at the same time we acknowledged how easy that part would be on our way down, when lack of oxygen was not going to be a problem.
When we arrived at the guesthouse we put on almost every piece of clothes we had with us, and waited in the living room freezing inside our sleeping bags and the blankets that were there. Luckily, we had two blankets each for sleeping (plus of course our sleeping bag), but still we went to bed with our thermal clothes, hats and gloves to be cold anyway.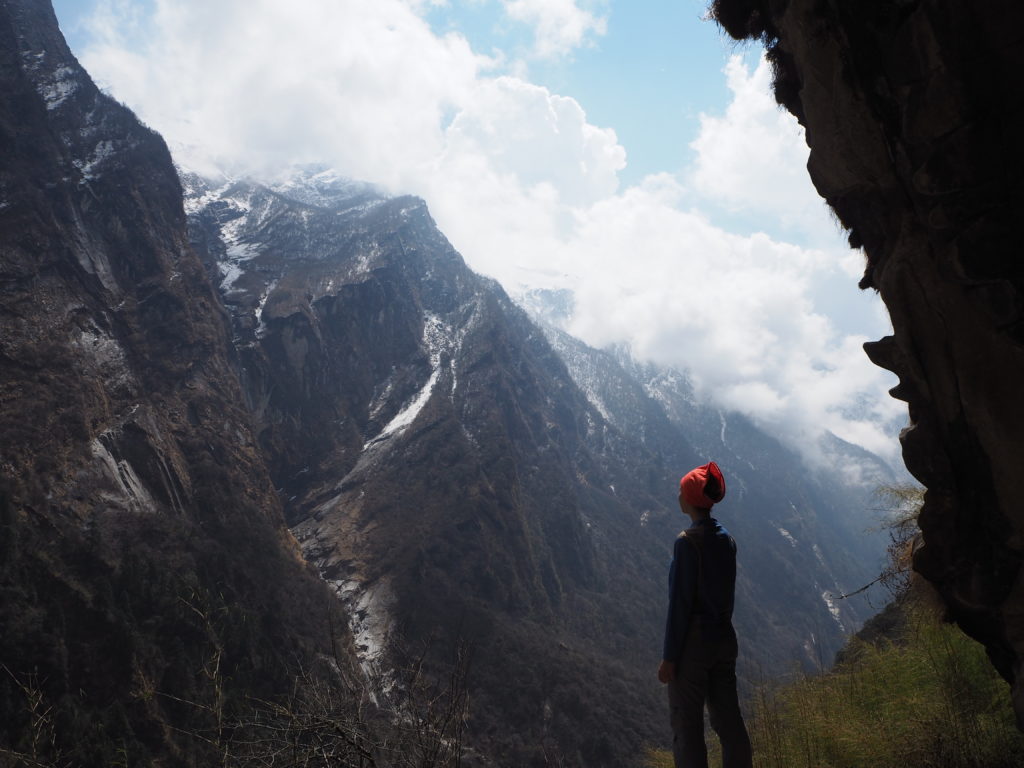 Day 6: Deurali (3,200 m) – Machapuchare Base Camp (3,700 m) – Annapurna Base Camp (4,130 m)
In a glimpse
Distance:
Timings:

Deurali to Machapuchare Base Camp: 8.30am to 11.10am
Machapuchare Base Camp to Annapurna Base Camp: 11.30am to 1.30pm

Expenses breakdown:

Accomodation: Rs150
Food: Rs2,510
From Deurali to Annapurna Base Camp
We had breakfast at 7am and at 8.30am started to walk. I felt the lack of oxygen again, which I hadn't for the night. Only this time it was heavier than the day before, when I just felt it was more difficult to move my feet. Today I felt the lack of oxygen in my head: a little headache and dizziness that improved when I stopped. I also walked really really slow, even I was not physically tired and I think that, at a lower altitude, the trail would have been generally easy.
I kept drinking a lot of water, which is one of the things you can do to prevent altitude sickness and kept going. Until we reached Machapuchare Base Camp and the following half an hour after leaving it, the trail was considerably ascending, with rocks that made it more difficult to walk in. After that, it got almost flat and despite we had to walk in the snow for a while, it was better and even the altitude was less heavy on me.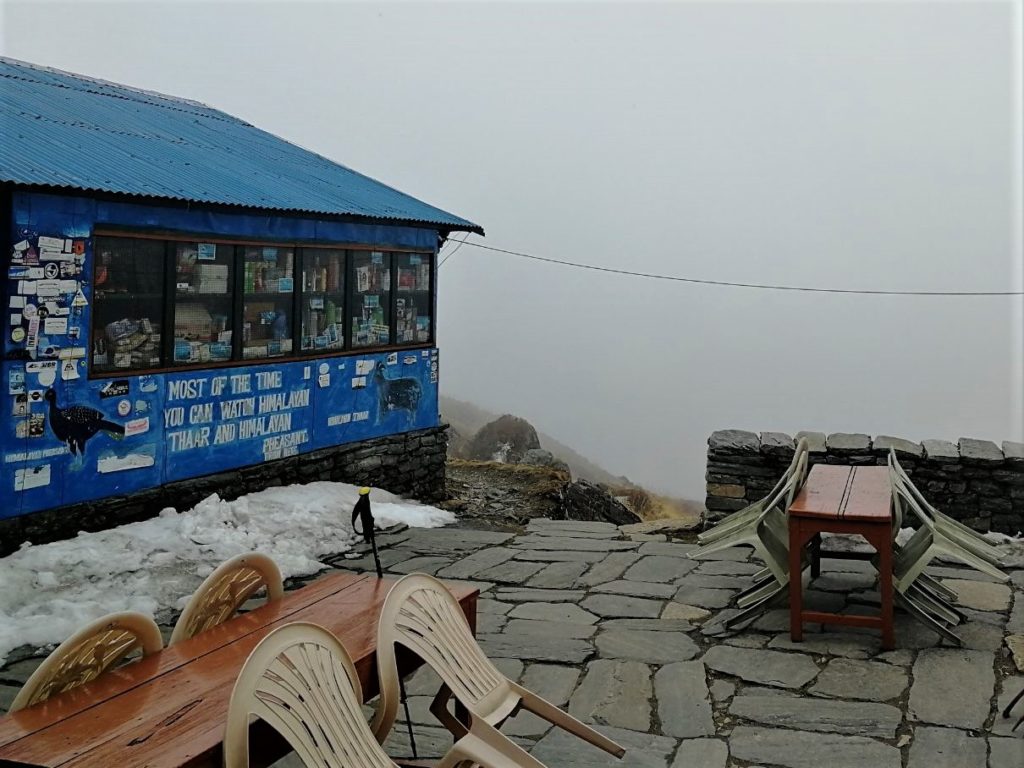 It started to snow a little when we were at Machapuchare Base Camp, and it didn't stop for the whole time we were walking. We didn't mind that in the slightest, as it was highly bearable and it only increased the beauty of the place. With the exception of our first day, it had rained every day of the trek, so bad weather in the Annapurnas was not news anymore.
It took us two hours of hard effort to arrive to the Annapurna Base Camp.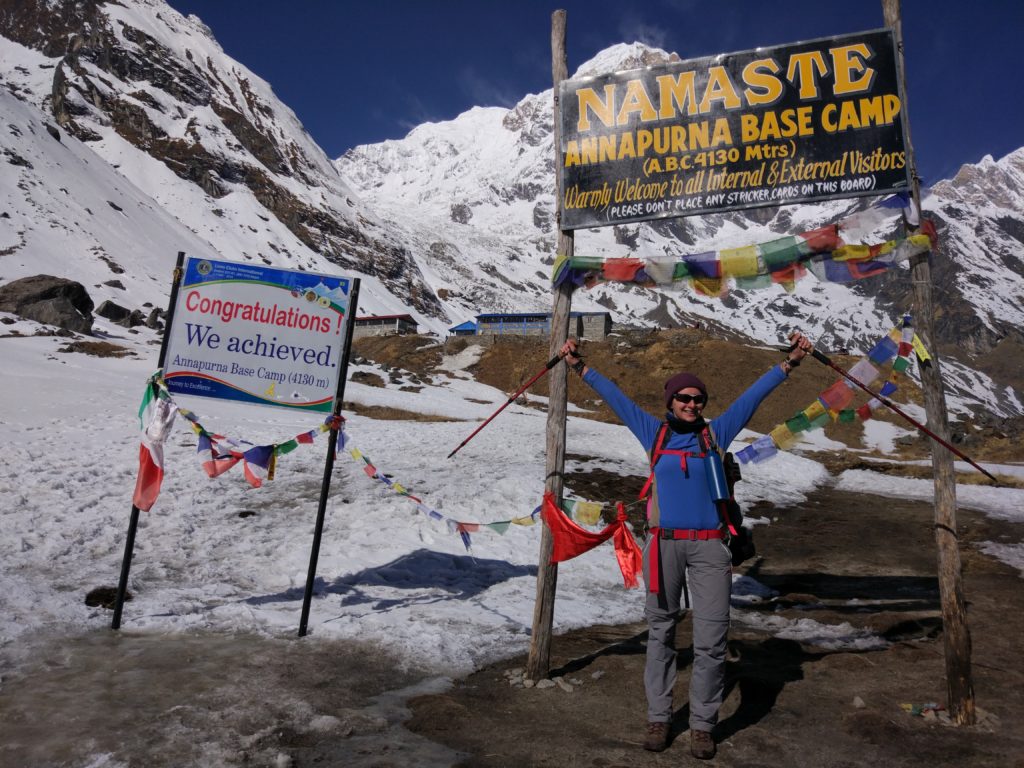 At the Annapurna Base Camp
We reached the Annapurna Base Camp at the perfect time to have lunch and then spent a little part of the afternoon wandering around and taking thousans of pictures of the top of the trek. It was really cold for the whole time, but when the cold started to become unbearable we returned inside and covered again in endless layers of clothes, sleeping bags and blankets.
I had a book in my backpack and I read for a little while, just to be able to justify having carried it to 4,130 m high. However, for the main part of the evening we played dices and cards with the group.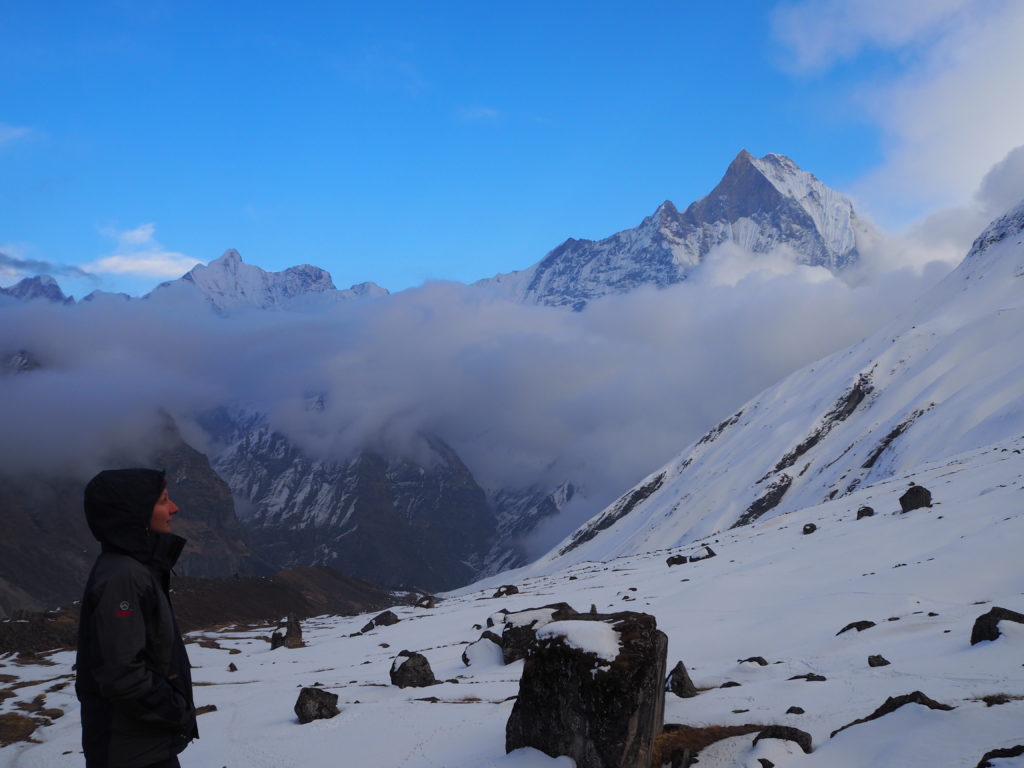 We had a well-deserved delicious dinner at 7pm and went to sleep just after that. We were determined to wake up at 4.30am the next day to see the stars and the sunrise over the Annapurnas.
I wasn't feeling great although I had been resting and drinking plenty of water the whole evening. My feet had zero sensitivity and I was frozen. I started to feel better inside the sleeping bag under two blankets. During the night, I was so hot that I even lost one of the two pairs of socks I was wearing and the buff.
Day 7: Annapurna Base Camp (4,130 m) – Bamboo (2,310 m)
In a glimpse
Distance:
Timings:

Annapurna Base Camp to Himalaya: 9am to 1.30pm
Himalaya to Bamboo: 3pm to 5.30pm

Expenses breakdown:
The starry sky
We did wake up at 4.30am and I was so motivated. I had gone to the bathroom in the middle of the night and I had a preview of the spectacle of the stars. I couldn't wait for the real thing.
We dressed with everything we had, which wasn't nearly enough. There was a small mountain five minutes from the guesthouse where we settled.
The panoramic views were amazing. There was no moon at the beginning so we saw every star and it was incredibly beautiful. We had been there for maybe 15 minutes when the moon appeared from behind Machapuchare. A very special sight that made the whole landscape even more stunning.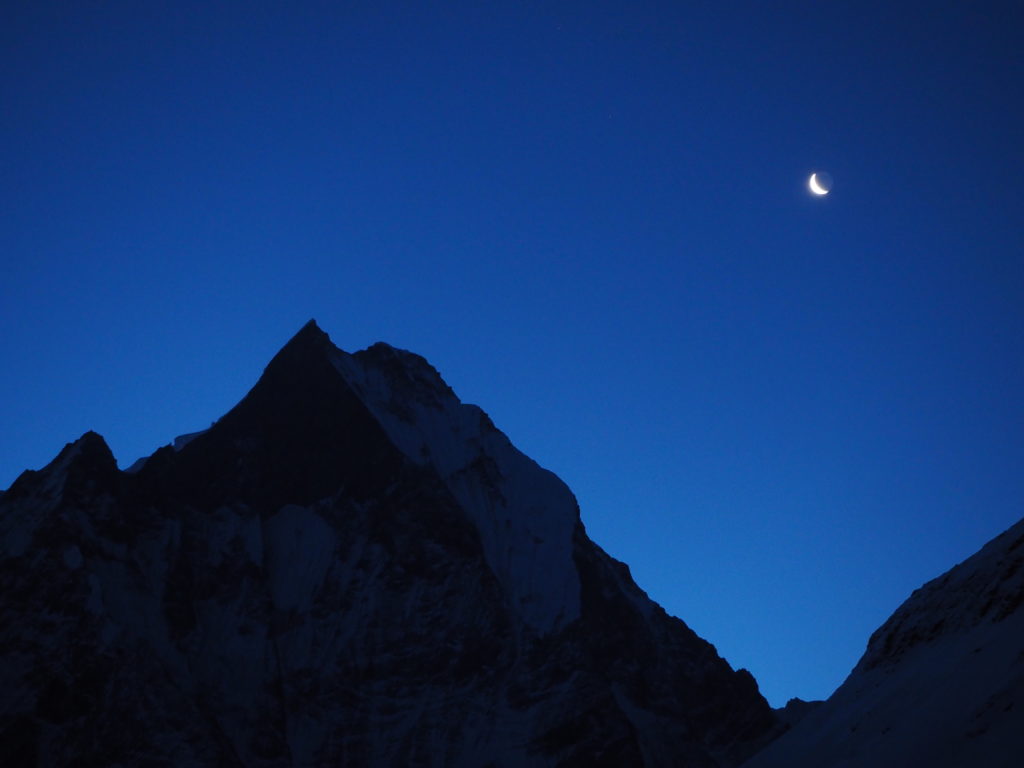 But it was really cold. Like really really cold. Cold to the extend that at some point, even if I was surrounded by the best views I will ever be surrounded by, it was almost not worth it. Almost.
I don't know if it was for the cold, the lack of oxygen or for looking up so many times to take pictures, but suddenly I felt like fainting and I laid in the floor. In the frozen floor. I was not really improving so we went to the room for a little while.
Sunrise over the Annapurnas
When the time for sunrise was coming we returned to our spot, me feeling way better. The place was crowded when previously we had been the only ones there.
The sun light started to fill the valley and make its way to the Annapurnas. By the time it started to reach the mountains, I was feeling so so SO cold and dizzy that it was difficult to enjoy it. Besides, although it was undoubtedly beautiful because we were entirely surrounded by mountains, the colors in Poonhill had been more bright and impressive.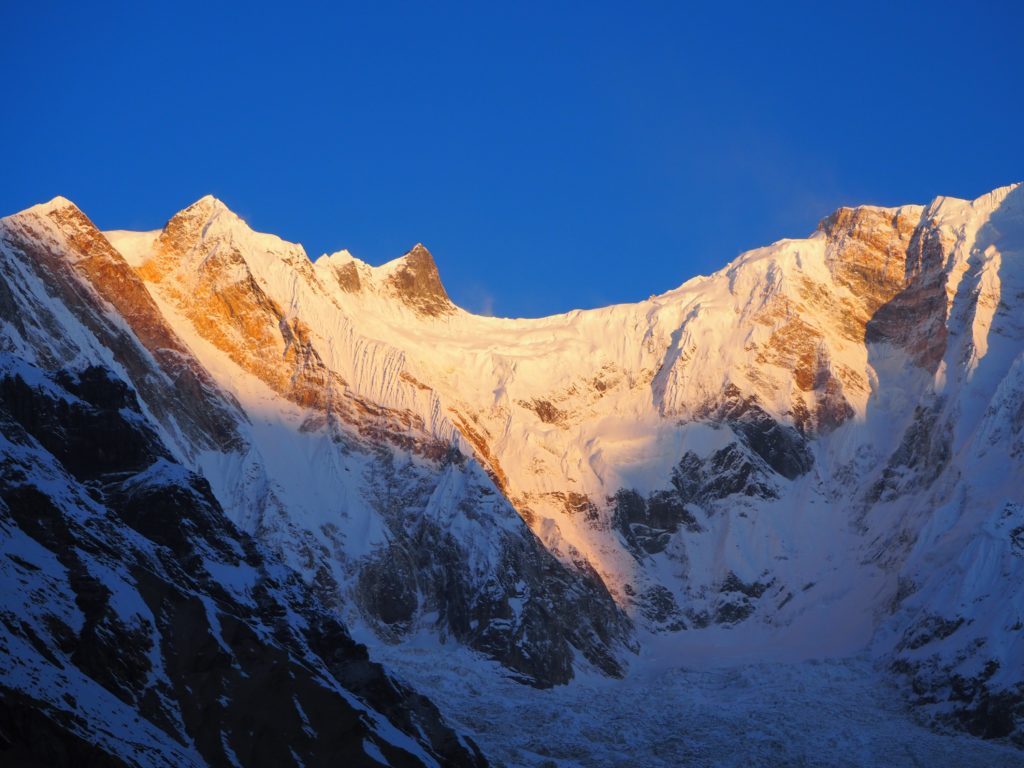 I decided I had had enough and returned to the living room, to my sleeping bag and collection of blankets. I laid there feeling miserable. I'm sure I looked so pittiful. A girl of the group also returned not long after and we shared the sleeping bag, blankets and some hot beverage. It was a considerable improvement and by the time everyone was arriving I felt well enough to have breakfast.
We paid a fortune for our stay and food there (which is very understandable). At 9am we started to walk down.
From Annapurna Base Camp to Bamboo
Arriving to Machapuchare Base Camp was surprisingly easy. I almost couldn't believe it when we appeared there in 45 minutes. How bad is lack of oxygen for speed!
From Machapuchare Base Camp to Deurali, the trail was slower because of the big rocks. We had to be careful with every step. It took us two hours to arrive to Deurali, which is almost the same time that on our way up.
The terrain didn't really change from Deurali to Himalaya so we were really slow. Particularly because our group of 7 had a lot of bad knees, ankles, throats and general feeling of despair. I was feeling well in contrast, especially considering how very miserable I had been feeling that early morning.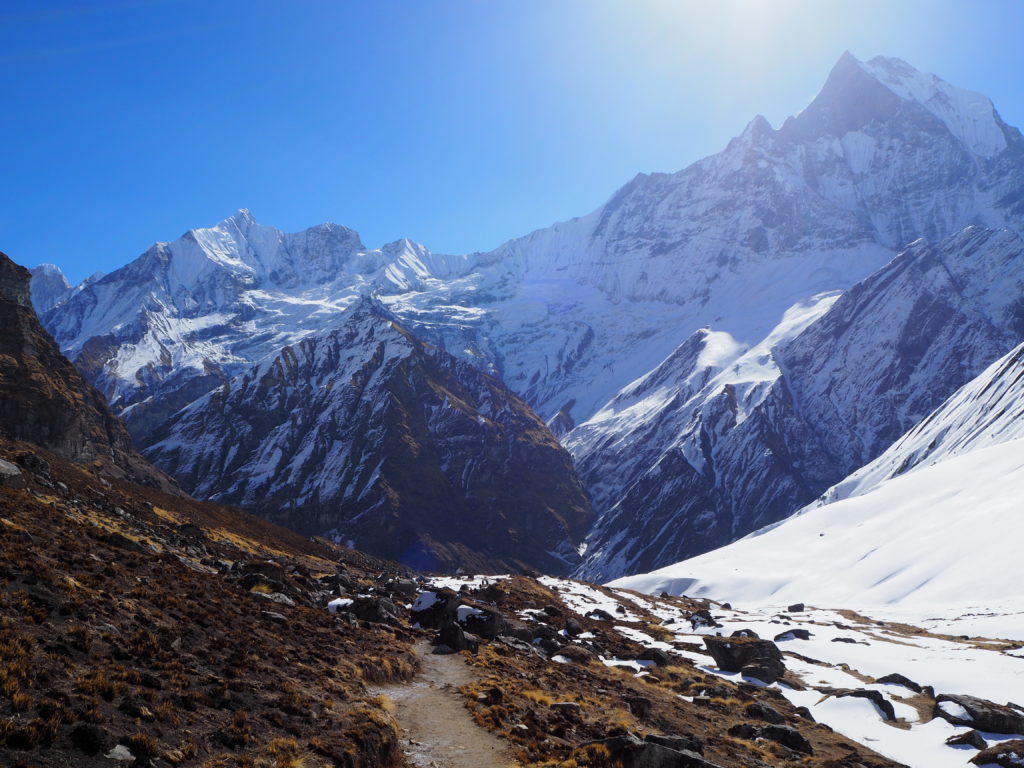 We had a long lunch stop in Himalaya and continued our way down until we reached Dovan, where se stopped again to rest from the difficult descend.
In comparison, the path from Dovan to Bamboo is really easy. We finally arrived at 5.30pm and went to a guesthouse with a very nice host lady. She even sat with us for a while and laughed at our bad jokes – even spanish ones. We went to sleep at 9.30pm.
Day 8: Bamboo (2,310 m) – Jhinudanda (1,780 m)
In a glimpse
Distance:

9.1 km, +350 m, -1,075 m
To the hotsprings and return to Jhinudanda: 1.9 km

Timings:

Bamboo to Sinuwa: 8.40am to 10am
Sinuwa to Chhomrong: 10.30am to 12pm
Chhomrong to Jhinudanda: 1pm to 2pm

Expenses breakdown:
From Bamboo to Jhinudanda
The path from Bamboo to Sinuwa was purely ascending stairs, but it was almost easy. Probably I was kind of used to walk a lot by then. I felt fit from the previous days and full of the confidence that came from knowing I had a good pace, when at the start of the trek I didn't so much.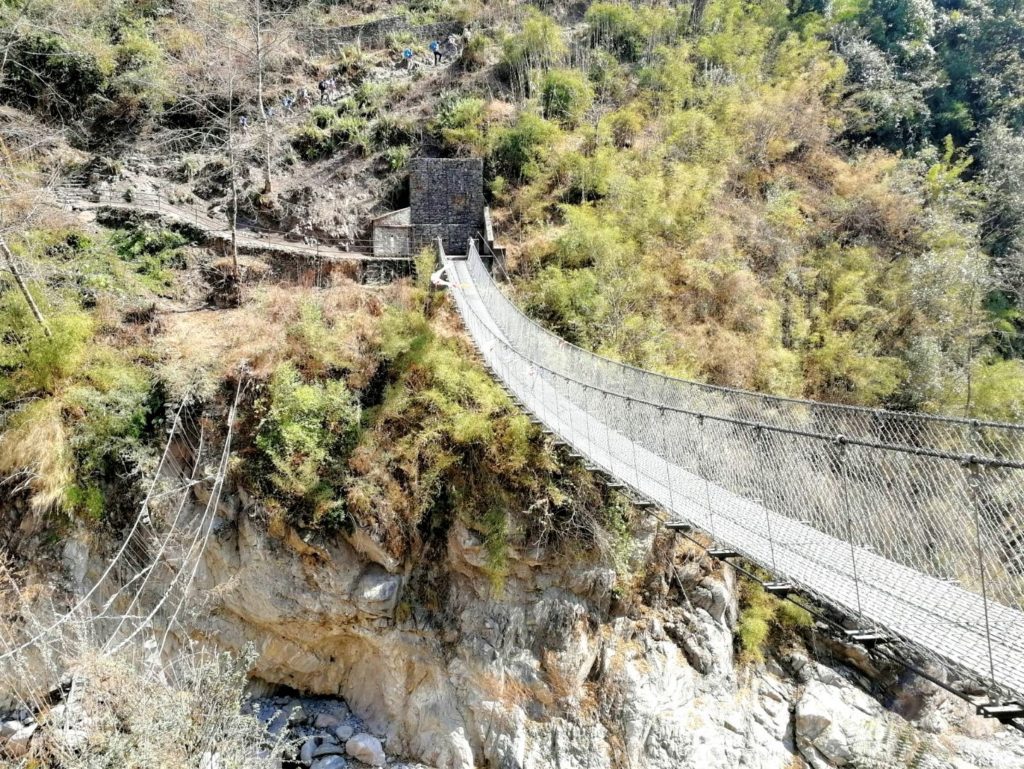 From Sinuwa to the bridge that crossed the river I was almost running downhill. I was extremely focused on assessing the terrain and the rocks to avoid lessions. After the bridge and until arriving to the ACAP checkpoint at Chhomrong, I kept pushing myself and counted a total of 2,034 uphill steps.
We rested for a while at the checkpoint and continued to Jhinudanda through very narrow descending steps. They were generally easy to walk – except for bad knees, oops. We arrived to Jhinudanda at 2pm, we chose a guesthouse and had lunch.
Resting in Jhinudanda hotsprings
When descending to the hotsprings, I was one of the few on the group with my trekking boots instead of flip flops and I was SO GRATEFUL for having them. We got lost because at some point we left the trail without knowing it and found ourselves in the middle of the forest. There was no trail to follow there, but plenty of leeches. They even attached to the legs of a guy in the group.
So we had to climb again, almost to Jhinudanda, and this time we did find the right path. We had lost almost an hour of hotsprings but when we arrived still were able to enjoy plenty of time of relaxation. The place is really cozy, with human-made pools of hotspring water.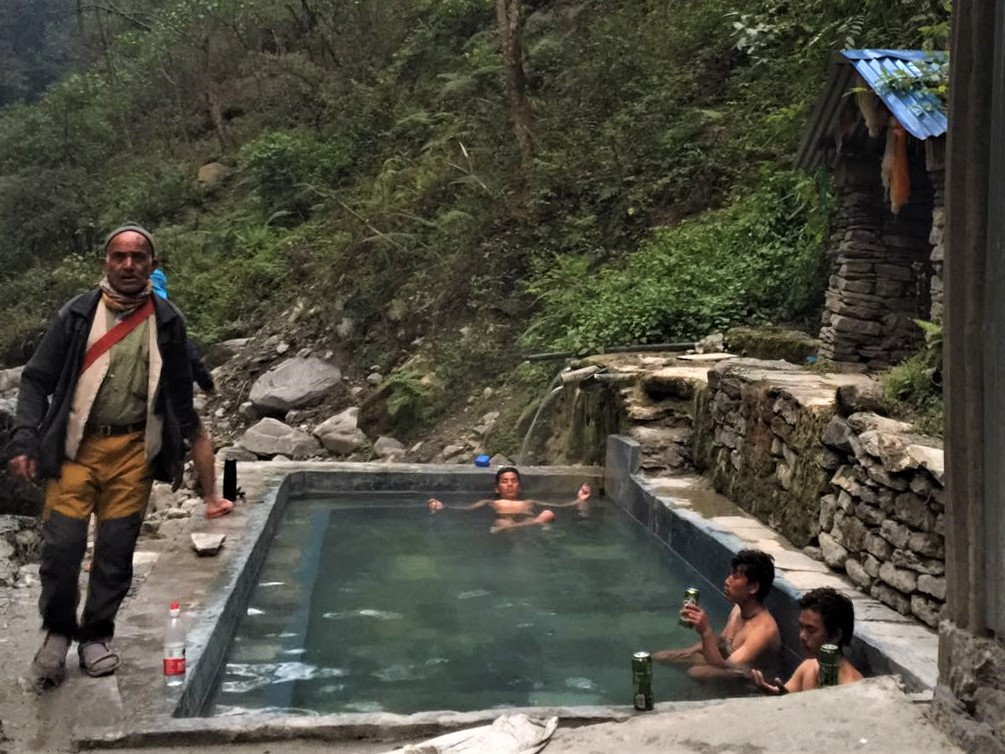 The hotsprings are next to the river, so you can also combine the freezing water of the river flow with the hot pools. It is quite intense and did wonders to our damaged muscles.
The evening went without anecdotes and for the first time in eight days, we were able to sleep without our sleeping bags.
Day 9: Jhinudanda (1,780 m) – Siwai (1,395 m) – Pokhara (827 m)
In a glimpse
Distance:
Timings:

Jhinudanda to Siwai: 9.40am to 1.10pm
Bus from Siwai to Pokhara: 1.30pm to 5pm

Expenses breakdown:

Transport: Rs350 bus to Pokhara
From Jhinudanda to Siwai and return to Pokhara
At that point of the trek we had already had all the experiences we were waiting for, the last one being the Jhinudanda hotsprings. So, the only thing left for us was to return. And we were exhausted and we really really didn't want to walk, but walk we had to.
As we had decided to take the bus in Siwai instead of the alternatives we knew we only had 7.7km left, so somehow we started walking. It was difficult because our mind was not up to it, although we were physicaly fit. It was also very hot. And we really really didn't want to walk, have I already said that?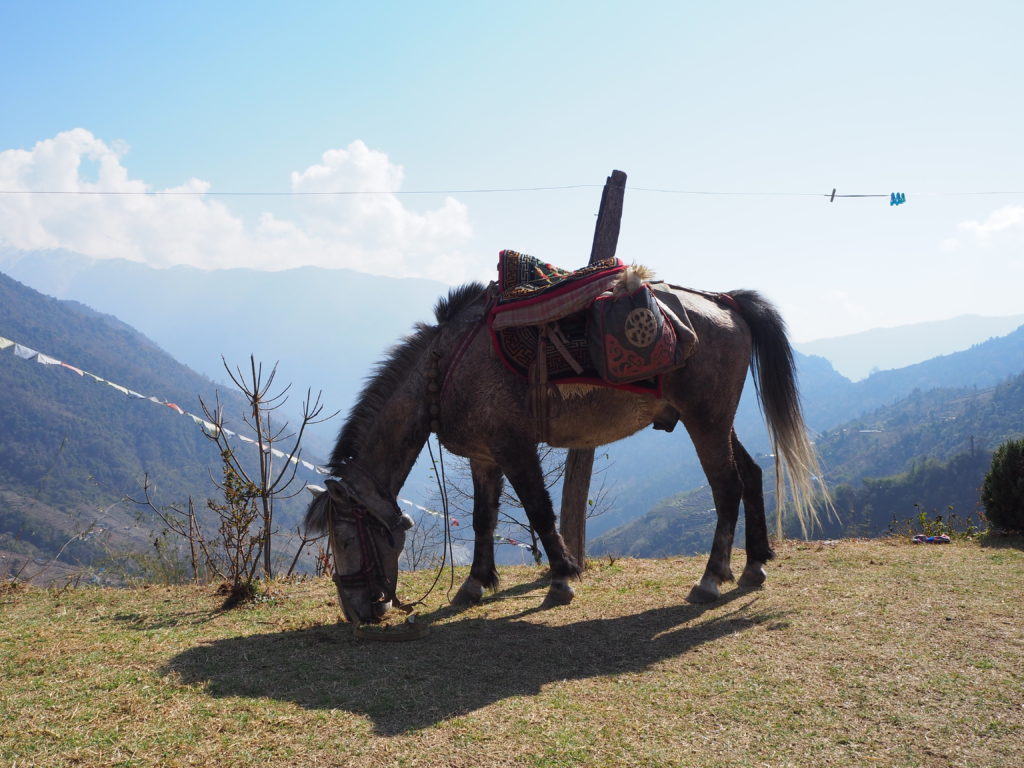 We arrived to the bus station at 1.10pm having started walking at 9.40am, so we were really slow. But we had done it.
And then the horrific bus drive to Pokhara started. Four hours of pure inferno. The worst four hours of the whole trek to the Annapurna Base Camp. The road was extremely narrow and bumpy and the seats too small for our legs, so we kept hurting our knees (and I am small). Eventually we arrived to Pokhara.
In Pokhara, at last!
Our original party of three returned to the orphanage we had been volunteering in the previous month. We took showers and felt almost like human beings again.
The complete group, the seven of us, met for dinner in Pokhara lakeside. Sitting there I was thinking how I really appreciated the company of those people despite they were so different fromme. Traveling solo does that.
We had been a group, not a bunch of people but a group of friends. We had achieved something huge together, we had climbed to the Annapurna Base Camp without a guide! Despite tha bad knees, not having the required mental strength sometimes, the dizziness, the lack of oxygen, the cold… We had done it!
And it is something to be proud of forever.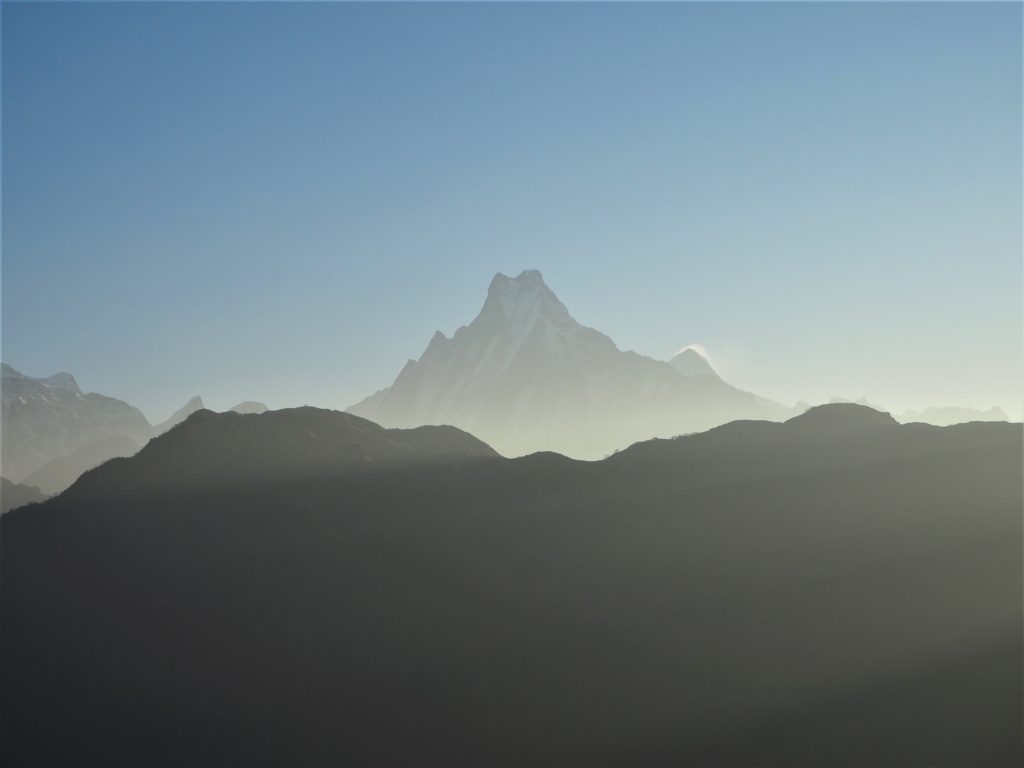 ---
Endnote
Was this post useful for you? Please let me know and feel free to ask any question in the comments section! You can also support my work and Buy Me A Coffe. I will be immensely happy 🙂
If you are planning to spend some time in Nepal or you are curious about its culture, you can check here other posts about the three months I spent there. These are the ones currently available: