Are you planning a visit to Nepal and you want to learn some useful words in Nepali first? I've assembled a list of the most common expressions that tourists may need, as well as a basic lesson, in case you want to try to communicate in the local language.
The Nepali lesson was given to me as a part of a welcome to my three-months volunteering experience in Nepal, therefore is particularly focused on the expressions you may use to communicate with the family who is hosting you.
This post is part of a basic guide about Nepal for tourists and volunteers: 'The ultimate guide to visit Nepal: everything you need to know'. As I'm currently writing it, the posts you have available right now are the following:
So, let's get to work!
Useful sentences
Namaste – hello / goodbye
Namaskar – a polite 'namaste'
Suva bihaani – good morning
Suva deen – good afternoon
Suva rattri – good night
Ho / aa – yes
Hoina / aaha – no
Dhanyabaad – thank you
Swagat chha – you are welcome (pronounced sagat ta)
Swagatam – welcome (pronounced sagatam)
Peri bhetaula – see you again (pronounced peri bitola)
Jam Jam – let's go (pronounced zam zam)
Lala – OK
Mero naam Sila ho – My name is Sila (I was actually given this Nepali name because they thought mine was too difficult)
Tapaailai kasto chha? – How are you? (pronounced tapalai kasto ta?)
Malaai ramro chha – I'm good (pronounced malai ramro ta)
Malaai thik chha – I'm OK (pronounced malai tik ta, and be careful, because 'zik' means 'fuck' -the expression)
Pronouns
Ma – I / me
Tapaai – you (formal)
Timi – you (informal: for children, young people and close friends)
Wahaa – he / she
Haami – we
Tapaaiharu – you (formal plural)
Timiharu – you (informal plural)
Wahaaharu – they
Yo – this
Tyo – that
Yahe – here
Teha – there
Possessives
Mero – my
Tapaaiko – yours (formal)
Timro – yours (informal)
Wahaako – his / hers
Haamro – our
Tapaaiharuko – yours (formal plural)
Timiharuko – yours (informal plural)
Wahaaharuko – theirs
As you can see, you add 'haru' to make the plural form of the pronouns, and 'ko' to make them possessives. 
Verbs
Ho – to be
Hoina – not to be
Chha – to have
Chhaina – not to have
Maanparcha – to like
Maanpardaina – not to like
Chahincha – to need
Chahidaina – not to need
Lagyo – to feel
Lagena – not to feel
Feelings
Kushi – happy (pronounced kusi)
Dukha – sad
Bhok – hungry
Tirkha – thirsy
Nindra – sleepy
Alchi – lazy
Thakaai – tired
Rhys – angry
Avari – grateful
Birami – sick
Wak-wak – nauseous
Colours
Raato – red
Nilo – blue
Pachlo – yellow (pronounced pahelo)
Seeto – white
Kaalo – black
Hariyo – green
Payji – purple
Gulabi – pink
Rangi-changi – multicolor (pronounced rangi-tangi). It also means 'drunk'.
Family
Bubaa / Ba – father
Ama – mother
Hajur bubaa / Hajur ba – grandfather
Hajur ama – grarndmother
Daai – big brother
Bhai – young brother
Didi – big sister
Bahini – younger sister
Keto – boy
Keti – girl
Ketaketi – children
Sathi – friend
Food flavors
Piro – chili / spicy
Nunilo – salty
Amilo – acid
Guliyo – sweet
Tito – bitter
Ekdam – a lot
Ali ali – a little
'WH' questions
They are called 'K' questions in Nepal.
Ke – what
Ko – who
Kasko – whose
Kina – why
Kaha  where
Kahile – when
Kun – which
Kati – how much
Kasto – how to feel
Kasari – how to do
Kinavano – because
Sentences construction
Tapaaiko aamako naam ke ho? – What's your mother's name?
Mero aamako naam Sila ho – My mother's name is Sila.
Tapaaiko didiko naam ke ho?  What's the name of your older sister?
Mero didiko chhaina – I don't have an older sister.
Mero deshko naam Spain ho – My country's name is Spain.
Yo ke ho? – What is this?
Yo 'chair' ho – This is a chair.
The word 'laai' is added to pronouns when they are used with the verbs like / dislike and feelings, and to nouns.
Tapaailaai kasto chha? – How are you?
Malaai ramro chha – I'm good.
Tapaailaai kun rang maanparchha? – Which colour do you like?
Malaai payji maanparchha – I like purple.
Tapaailaai kun rang maanpardaina? – Which colour don't you like?
Malaai seeto maanpardaina – I don't like white.
Tapaailaai bhok lagyo? – Are you hungry?
Malaai bhok lagyo – I'm hungry.
Malaai bhok lagena – I'm not hungry.
Malaai ali ali bhok lagyo / Malaai bhok ali ali lagyo – I'm a little hungry.
Do you want some help?
Lastly, do you want to visit the country and have real contact with the locals or get help on how to organise your activities? Please contact me or say so in the comments section. I will provide you with the contact information of the amazing and welcoming family that I stayed with in an orphanage in Chitwan. We spent a month together in which they even invited me to the wedding of one of the sisters that run the orphanage.
They have plenty of rooms for volunteers. You would be able to share their daily life and get to really know the Nepali culture. This is to these days my top life-changing experience. They can also organise trekking activities for you and if you do visit them, they will help you in any way possible to make the most of your experience in their country.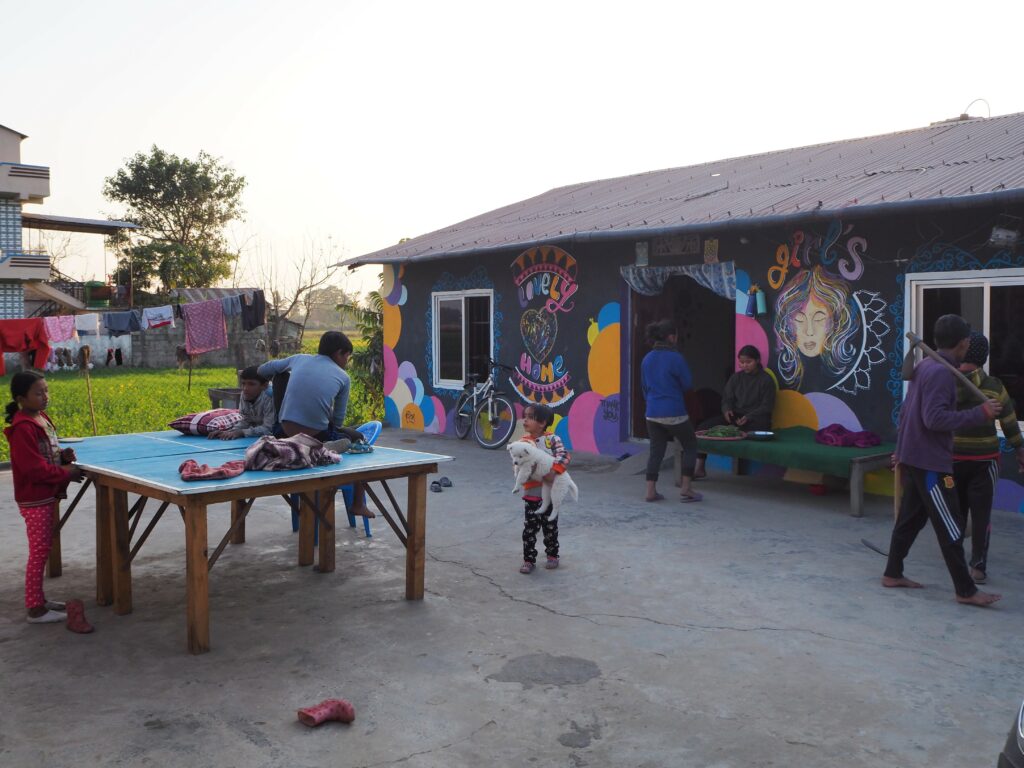 ---
Was this post useful for you? Please let me know and feel free to ask any question in the comments section! You can also support my work and Buy Me A Coffe. I will be immensely happy 🙂