The Salkantay Trek to Machu Picchu is one of the most popular trekking routes in Peru, however, is it possible to do it on your own and sleeping at guesthouses, avoiding to hire a guide or carrying your tent and your own food? We found out it was and, moreover, it was amazingly easy and cheap! So here we provide all the information for you to also live this experience.
The basics of our Salkantay Trek without a guide:
Duration: 5 days/4 nights
Date of travel: from June the 23rd to June the 27th, 2019
Number of travellers: two people
Time of preparation: a month for the organisation, way longer for the physical training
In this post you will find everything you need to know to prepare for the Salkantay Trek without a guide, on your own and even better, without carrying a tent to sleep or food for the whole trek! We will cover where to sleep and eat, all the transportation you will use to get to the starting point of the trek and return to Cusco and how is every day of the trek going to look like.
When you finish reading, you will know everything you need to prepare for this trekking that will take you right to one of the World's Seven Wonders: Machu Picchu.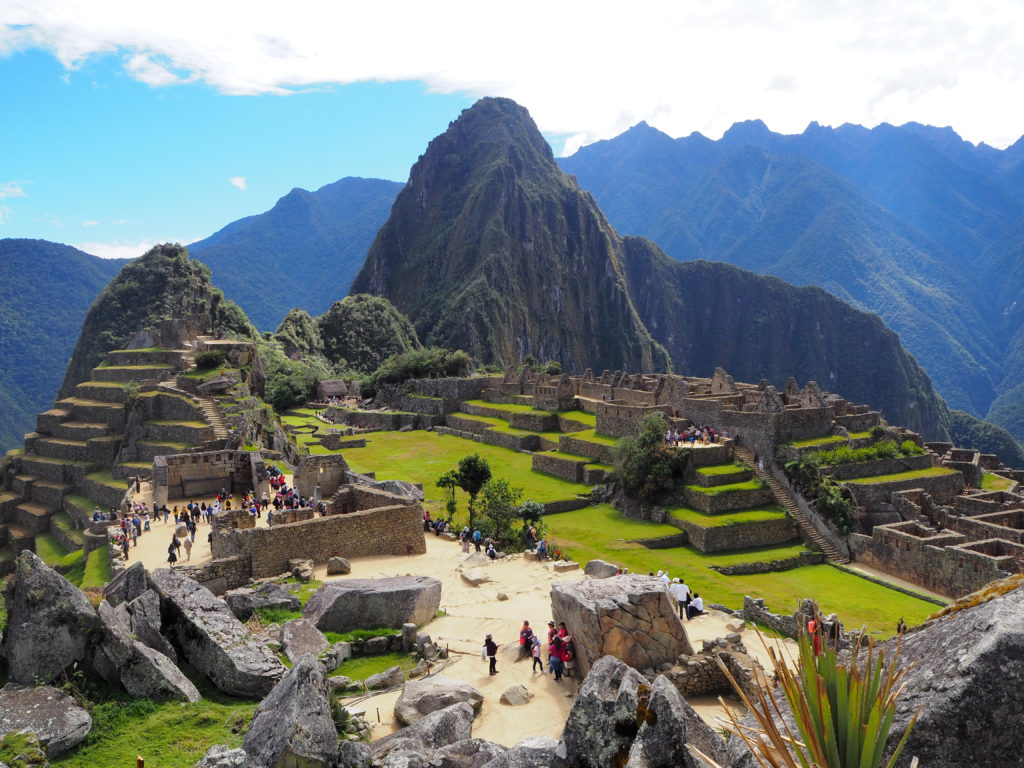 Also, if you want to have some useful information about the difficulty of the trek and how to determine if you are prepared to do it, how to prepare the track and what tools you can use to navigate the route, information on altitude sickness and how to minimise its effects, safety along the route and what does your backpack need to contain, check my other post 'Salkantay Trek on your own: 5 essentials to prepare'.
Salkantay Trek on your own: 5 essentials to prepare
1. The business around the Salkantay Trek
When we were preparing for our trip to Peru, we learnt that we could arrive to Machu Picchu by trekking instead of taking the train or a bus and we instantly knew that was the option for us. However, almost every piece of information we found regarding the Salkantay Trek was directed at those trekking with a guide or alternatively on how to trek on your own but carrying tent and food. Either was the experience we were looking for. We wanted to carry a light backpack and sleep and eat at guesthouses.
After many searches, we found the amazing blog of Career Break Adventures and their post 'Salkantay Trek to Machu Picchu (Without a Tent or Guide)'. It was our inspiration to prepare our itinerary to trek by our terms: without a guide, without a tent and without carrying the food we would eat for five days.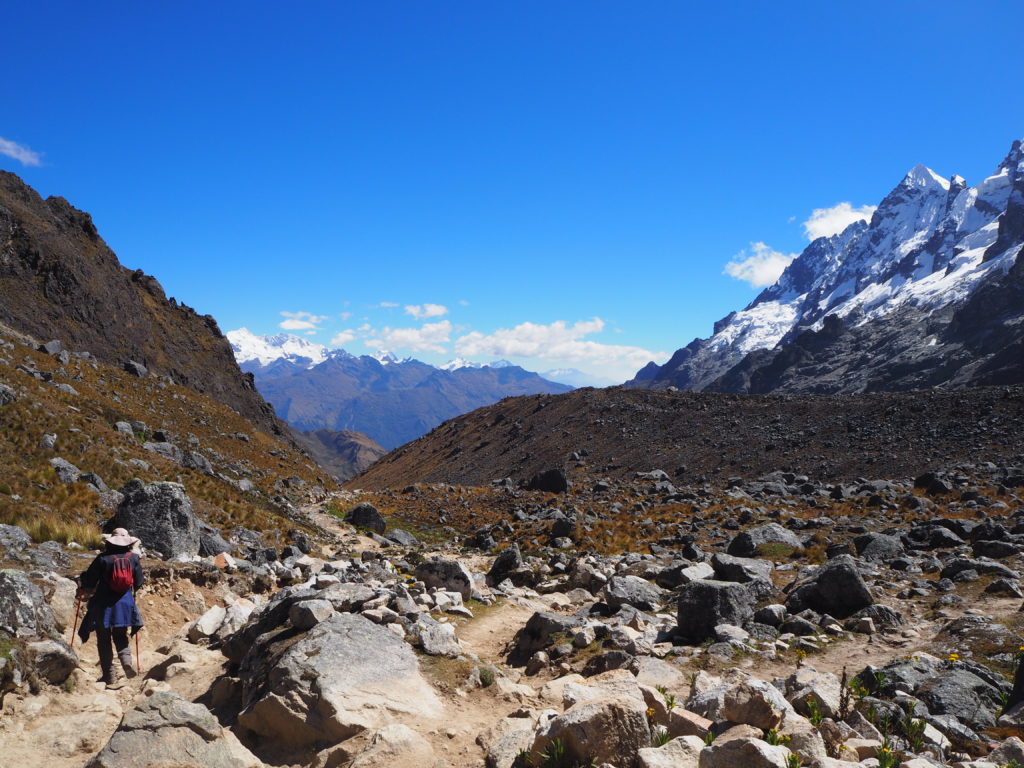 Once at Cusco and along the trek we spoke with locals and we understood the Salkantay Trek is a huge tourist attraction. Travel agencies are not really interested in you going on your own. For this reason, if you search in the web and if, once in Peru, try to gather information from travel agencies, they will tell you that the trek is not safe and that it's not possible to do it on your own because you won't find accommodation or meals. This is absolutely not true.
Can I do it on my own?
If you keep reading you will find that the Salkantay Trek passes through several towns and small villages. Almost all of them have accommodation and provide food for their guests. Depending on the day of the trek and your budget, this accommodation may be a private room, a shared dorm or a tent. Your hosts will provide you with everything you need.
Moreover, we were able to keep the cost of the experience at a little less than 150 € per person. All expenses are included in this sum, even the Machu Picchu tickets to the citadel and Machu Picchu Mountain. This is significantly lower than the average cost of a guided tour, ranging from 240 to 420 € (tickets to Machu Picchu -60 € for the citadel, 75 € if you visit also one of the mountains- not included in this price). Later in this post, you will find a compilation of all the expenses we had in the Salkantay Trek without a guide.
Therefore, the only question that will remain is if you are physically and mentally prepared for this trekking, so be sure to read my post 'Salkantay Trek on your own: 5 essentials to prepare' for information on that matter.
2. The trekking experience
2.1. In a nutshell
The Salkantay Trek is a trekking route to arrive to Machu Picchu. It is an alternative to the more famous, but much more regulated Inca Trail, which has a limited number of trekkers allowed per day and gets full months in advance. This is not the case in Salkantay, as there is not a limit in the number of trekkers allowed.
It lasts five days and four nights, visiting Machu Picchu on the last day. With 92 km (57 mi) and almost 8,000 m (26,245 ft) of accumulated elevation gained/lost (3,000 m / 9,840 ft gained and 4,880 / 16,010 ft lost), it is a high demanding extremely beautiful trek. Also, one of the coolest experiences you will have in Peru. Cusco is the 'base-camp' you will leave from and where you will return after the adventure.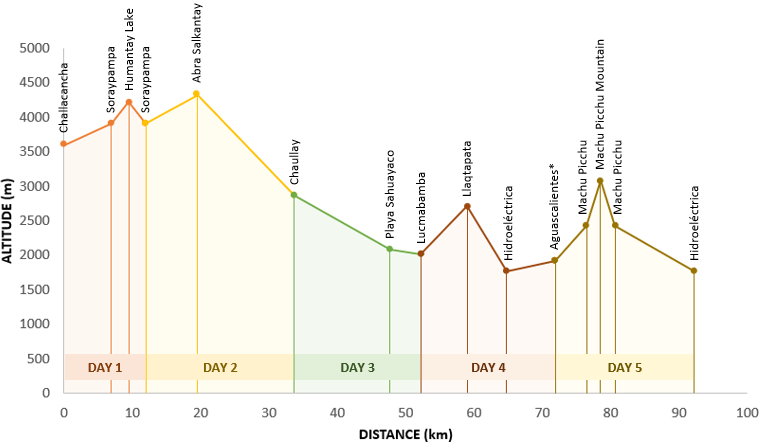 The Salkantay Trek can be done on your own (either sleeping and eating at guesthouses or carrying your own tent and food) or with an organised group with a guide and porters.
The Salkantay Trek does not require any special skill apart from general fitness and determination. The path is clear and easy to walk, although you can expect some altitude sickness. I believe everyone who is in a good physical condition, has some general knowledge of mountaineering and has thoroughly prepared this trip can do it.
Our route
We chose to go on our own and do the Salkantay Trek without a guide and without carrying a tent and food. However, we did carry plenty of snacks (nuts and dehydrated fruit) to substitute most lunches during the trek. We slept every night at guesthouses or campings, where we also bought our meals.
On the first day, we got up early and took the bus to Challacancha, where we started our trek. We walked to Soraypampa, found accommodation, had lunch and left our bags to climb to Humantay Lake.
We slept in Soraypampa and the next morning headed to Abra Salkantay, the highest point of the trek, and started our way down to Chaullay, where we slept on our second night.
The third day we followed a down and easy trail that took us to Lucmabamba to rest.
We started the fourth day climbing to Llaqtapata, then we descended to Hidroeléctrica. From there we followed a long, flat and easy trail to Aguascalientes, but we stopped roughly 3.5 km / 2.2 mi before the town to sleep closer to the Machu Picchu entrance. We still were about 2km / 1.2 mi from the entrance, so we would recommend finding a closer accommodation. We never visited Aguascalientes.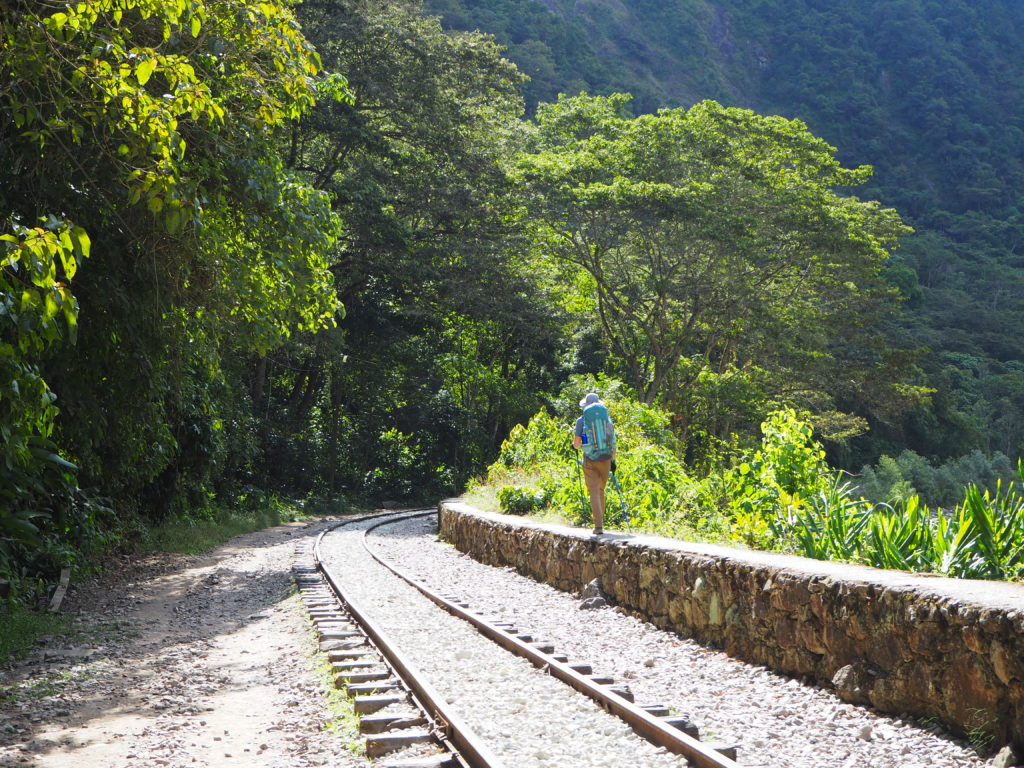 On the fifth day we woke up early again to be among the first ones to enter Machu Picchu. We had a hard, short climb to the entrance still at night. Once at Machu Picchu, the first thing we did was climb the quite demanding Machu Picchu Mountain. When we returned to Machu Picchu archaeological site, we took a guided tour and then raced down to Hidroeléctrica to take a direct bus to Cusco.
The second and last day were definitely the most challenging ones.
The Salkantay Trek without a guide in figures
These are the main numbers that can help you get an idea of what you will be facing:
DAY 1
DAY 2
DAY 3
DAY 4
DAY 5
Starting point
Challacancha
3,600 m
11,811 ft
Soraypampa
3,910 m
12,828 ft
Chaullay
2,860 m
9,383 ft
Lucmabamba
2,008 m
6,587 ft
Aguascalientes*
1,920 m
6,299 ft
Highest point
Humantay Lake
4,221 m
13,848 ft
Abra Salkantay
4,326 m
14,192 ft
Chaullay
2,860 m
9,383 ft
Llaqtapata
2,711 m
8,894 ft
Machu Picchu Mountain
3,082 m
10,111 ft
Final point
Soraypampa
3,910 m
12,828 ft
Chaullay
2,860 m
9,383 ft
Lucmabamba
2,008 m
6,587 ft
Aguascalientes*
1,920 m
6,299 ft
Cusco
3,399 m
11,151 ft
Total distance
12 km
7.45 mi
21.5 km
13,36 mi
18.5 km
11.49 mi
19.7 km
12.24 mi
20.3 km
12.61 mi
Elevation gained
621 m
2,037 ft
416 m
1,364 ft
-
852 m
2,795 ft
1,162 m
3,812 ft
Elevation lost
311 m
1,020 ft
1,466 m
4,809 ft
852 m
2,795 ft
940 m
3,083 ft
1,311 m
4,301 ft
Cost for two people
39,69 €
148.83 PEN
29,02 €
108.83 PEN
29,02 €
108.83 PEN
39,69 €
148.83 PEN
153,17 €
(includes Machu Picchu tickets)
143.83 PEN
(does not include Machu Picchu tickets)
* We slept roughly 3.5 km / 2.2 mi before Aguascalientes, to be closer to the Machu Picchu entrance
2.2. Where to sleep
In general, you can sleep in guesthouses, home-stays, campings (in which case your hosts will provide you with the tent, sleeping bag and even a pillow). You will even find fancy expensive domes at some towns. You can't book these accommodations in advance if you don't travel with a group, so it's generally recommended to arrive early to ensure you find a place.
What would happen if you didn't? You would need to walk a few extra kilometres to reach the next, less popular town. You would for sure find a place to sleep there, but you will probably be tired from the long day walk.
There is hot water everywhere. In general, showers are not included and you need to pay about 10 PEN per person. Toilets can be either private or shared. This will play a role on the price of the room and whether the shower is included or not.
First night – Soraypampa
In Soraypampa you will find plenty of guesthouses, campings and domes so just ask around to find the option that works for you.
We slept in a camping. We rented a tent which our hosts prepared for us under a hay cover. Sleeping bags, mattress and a pillow were included, although we didn't have a shower available. It was a slightly cold night, but we attribute that to the altitude as we were very sheltered from the wind.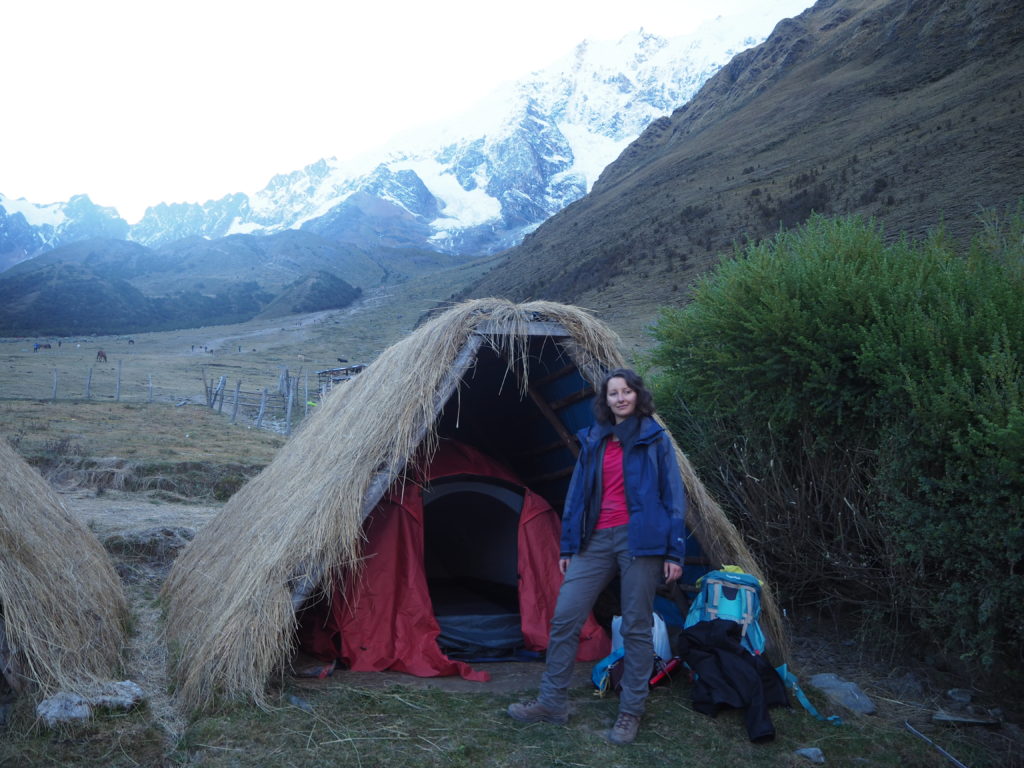 For two people, we payed 20 PEN for the accommodation, being our cheapest night in the Salkantay Trek.
Second night – Chaullay
We found that most guesthouses offer either rooms, a space for your tent and tents to rent. Showers are available at an extra cost. We arrived at 16.30h and were able to secure one of the last rooms available for 40 PEN for the both of us, so we would recommend to try to arrive earlier, even this is one of the hardest days of the trek.
If rooms are not available when you arrive, you can rent a tent or keep walking to Collpapampa if you still have the energy. It is about 1 km / 0.6 mi from Chaullay and also has plenty of options for accommodation.
As a curiosity, in Chaullay our hosts asked us to have our meals in the kitchen, isolated from other guests. They didn't want us to share with them that we were doing the Salkantay Trek without a guide.
Third night – Lucmabamba
We found that Lucmabamba was the less crowded place where we slept, because many groups sleep at Santa Teresa to visit its hot springs. There are a very few guesthouses or home-stays, but it is unlikely you find yourself without options because of the low number of tourists visiting.
For us, it was the best night of the whole trek. We rented a room with shared bathroom and a big comfortable bed at Sonia and Walter home stay, in the middle of a coffee plantation, for 50 PEN for both. It was the first night we had electricity.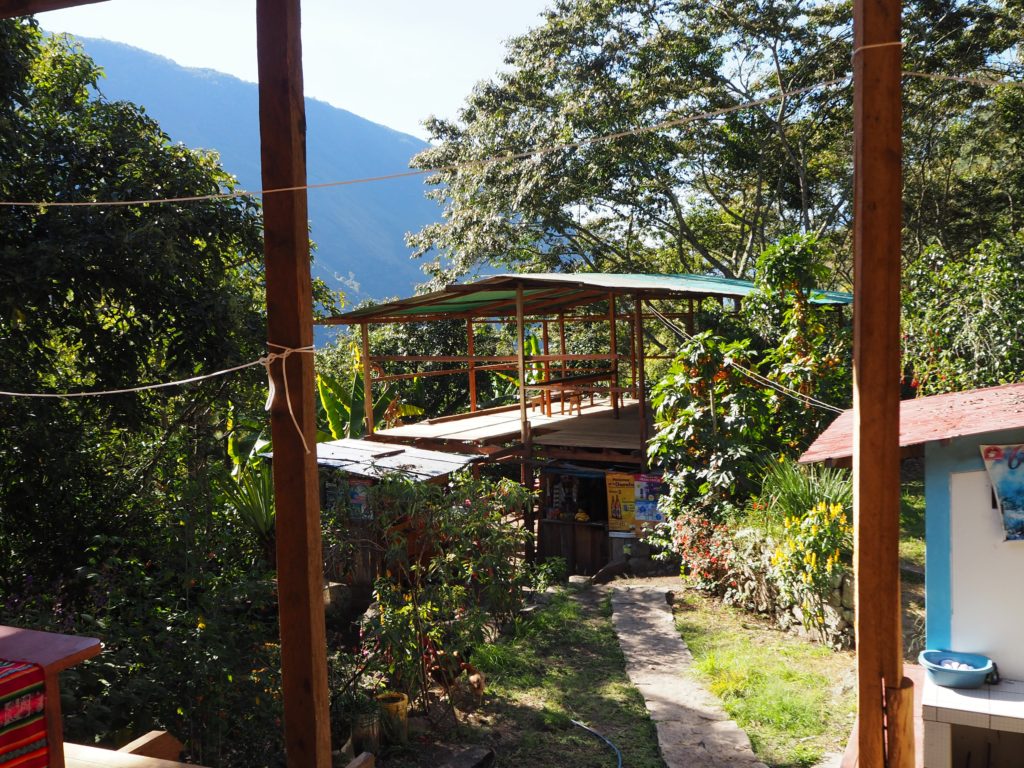 Some alternatives for this day are the lodges you will find near the main road, just before taking the trail to Lucmabamba (1km / 0.6 mi before Lucmabamba). Also, the nearest towns of Playa Sahuayco or Sahuayco, although they are roughly 4 km / 2.4 mi before Lucmabamba and this would mean a very long fourth day.
Fourth night – Near Aguascalientes
The most popular option is to sleep in Aguascalientes (also known as Machu Picchu Pueblo), in which case you will have a lot of options. However, we decided against this for several reasons:
We were not going to take the train from Hidroeléctrica to Aguascalientes, nor the bus from Aguascalientes to the entrance of Machu Picchu. Therefore the closer we slept from the Machu Picchu entrance the better. We avoided to walk a few kilometres at the end of the fourth day.
If we had stayed in Aguascalientes, that would mean returning there to get our backpack once our visit to Machu Picchu had ended. Therefore, 4 extra kilometres.
Everything we read and were told about Aguascalientes prevented us to go there. We understood it is a town filled with tourists coming from the Salkantay Trek, the train to Machu Picchu and the buses to Hidroeléctrica from Cusco – Santa María – Santa Teresa. It has hot springs, party and drunk tourists. We don't like either of these things, so we decided we could miss it. It is a very personal choice.
We stayed at Mandor (formerly Gea Lodge), which is the only hostel you will find before Aguascalientes. A dorm with 4 beds, shared bathroom and electricity cost 40 PEN per person.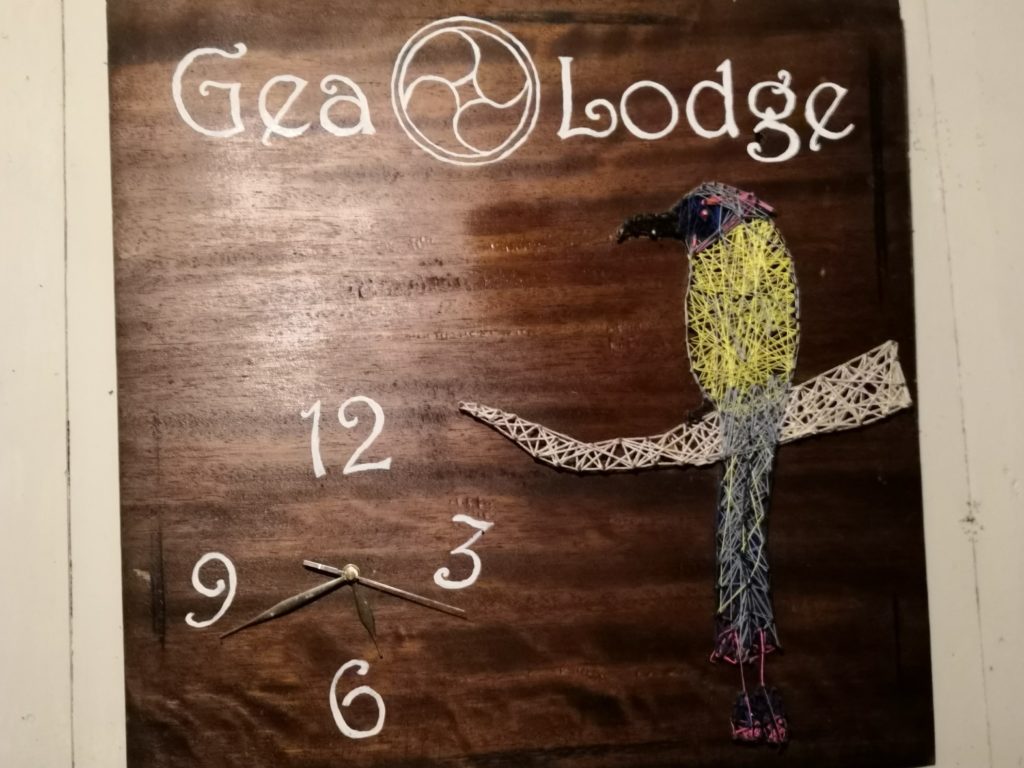 Around Mandor and until Aguascalientes, there are a few campings available. When we were there on June 2019, they only had tents, however, they were building some bungalows that were supposed to be ready in a couple of months. If we had to recommend you what to do, we would tell you to look for the closer camping to the Machu Picchu entrance, and rent a tent or bungalow to sleep there.
2.3. Where to eat
You will have breakfast and dinner in the guesthouse or camping where you sleep. The cost will range from 10 to 15 PEN per person per meal. Don't expect anything fancy: it will probably consist on an omelette with vegetables and rice, coca tea (mate de coca), juice and coffee. Hot, abundant and nutritive, what else could you need?
Regarding lunch, you may be able to ask for it to-go. You definitely can just stop at any town during the route. However, when we are trekking we always skip lunch and eat plenty of snacks during the day instead (mostly nuts and dehydrated fruits). We prefer this option because we don't want to waste time waiting for our lunch and, anyway, our body constantly needs the energy from nuts and fruit, and the rest you get from these short stops along the way.
As of water, we carried purification pills and were able to refill our bottles every few minutes for almost the whole trek. The only stage were we couldn't find water was from Llaqtapata to Hidroeléctrica, on the fourth day. It is also possible to buy bottled water in guesthouses and in the villages you pass, but I would recommend you just to purify it to reduce your plastic waste.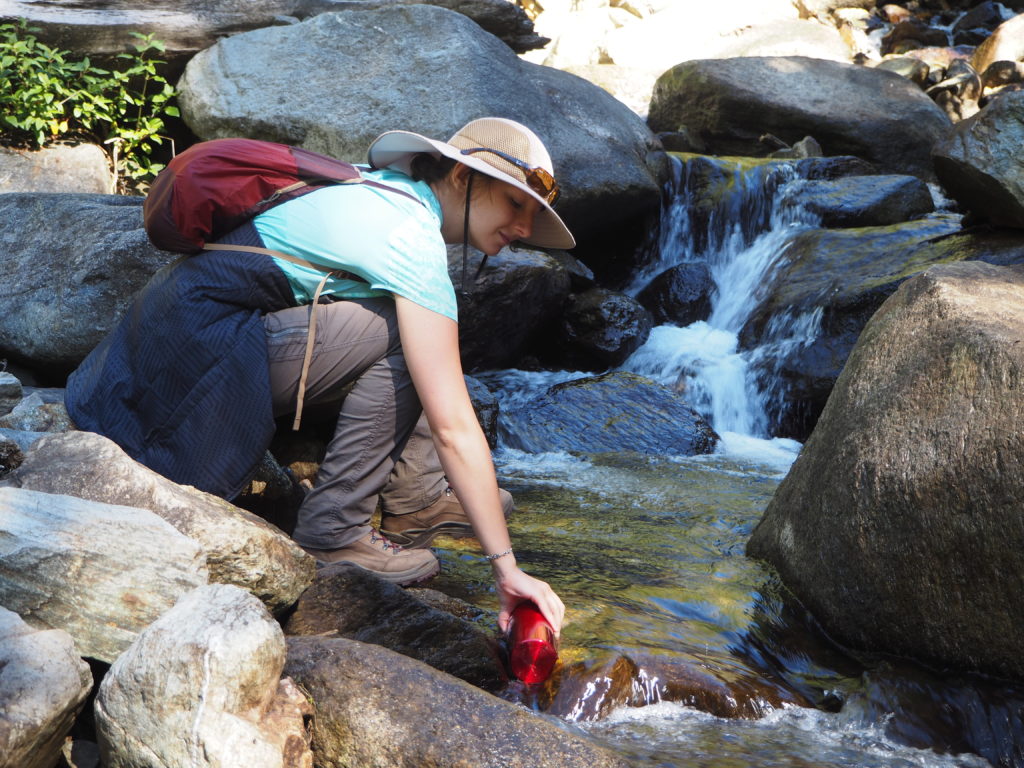 2.4. Transportation
Bus from Cusco to Challacancha. Leaving from the intersection between Av. Arcopata and Av. Apurimac in Cusco, you take the bus to Mollepata. Once at Mollepata, from where the first bus left you, take another bus or taxi to Challacancha, where you will be starting the trek. You will need to wait for each bus to fill before you leave.
Train from Hidroeléctrica to Aguascalientes. It will save you from a two hours flat and easy walk at an awfully expensive price: 31 USD per person. Also, if you want to sleep closer to the actual entrance to Machu Picchu, not in Aguascalientes, you will need to walk down some part of the trail, as the train only stops at the end of the line.
Bus from Aguascalientes to the Machu Picchu entrance. The fact that it costs 12 USD per person is the reason why we decided to walk instead and why we didn't sleep in Aguascalientes but closer to the Machu Picchu entrance. However, it will save you from a considerably demanding climb.
Train from Aguascalientes back to Hidroeléctrica.
Bus from Hidroeléctrica to Cusco. The last direct bus leaves at 16h and arrives at 21.30h, so you better plan your visit to Machu Picchu accordingly. The alternative is changing the bus at Santa Teresa and then again at Santa María, which would take even longer.
Alternatives for tiredness or sickness. From Playa Sahuayaco (end of third day of the Salkantay Trek) it's possible to take a bus or taxi to Santa Teresa (popular alternative, particularly among guided groups, because of its hot springs), and another one from Santa Teresa to Hidroeléctrica. Also, the trekking trail goes in parallel to the road during the third day of the trek, so you could take a bus or taxi there.
3. Salkantay Trek without a guide – day-by-day route
Before you start…
Before the trek, we had stayed two nights in Cusco, having previously spent two days in Titicaca Lake and two days in Arequipa, so altitude sickness was not new to us. Also, in this high altitude we had been very active and done a few short treks and a lot of ups-and-downs in the streets of Cusco, so we were better equipped to walk in altitude.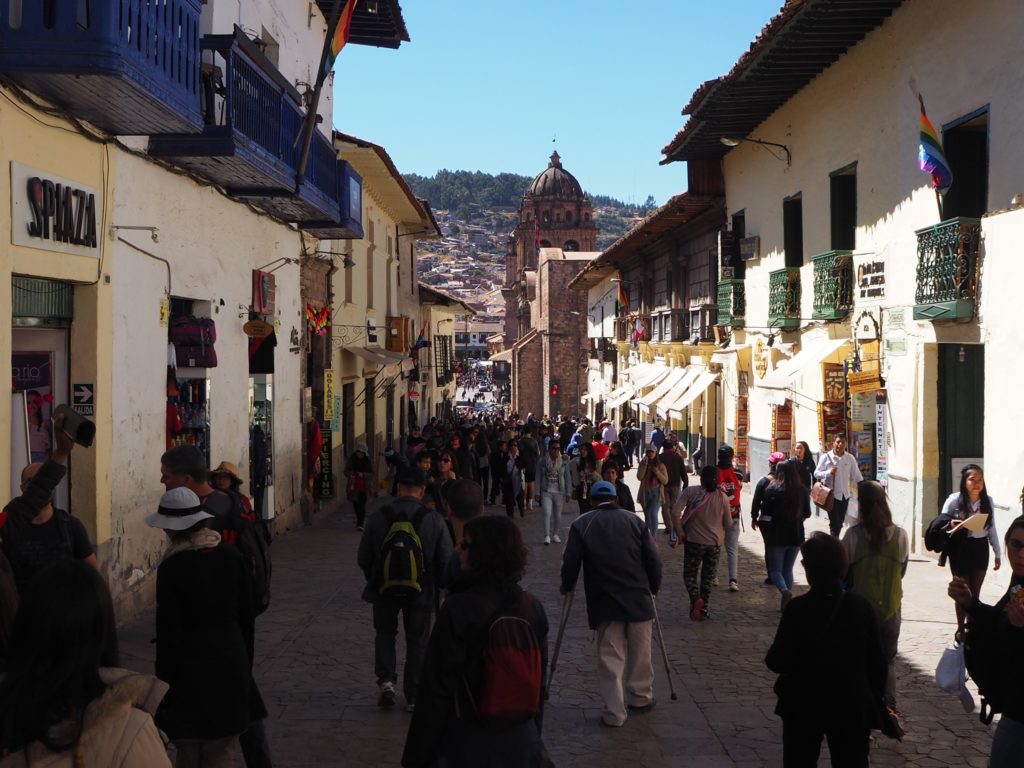 Cusco is also the perfect place for last-minute purchases for the Salkantay Trek without a guide: topographic map and compass, hat, trekking poles… There are plenty of stores with mountaineering equipment around Plaza de Armas so just take the time to visit a few of them to find products and prices that convince you.
In the case of the trekking poles, we bought a pair of them for 80 PEN instead of renting. When we returned back to Cusco, we sold the poles back to one of these stores for 30 PEN. It was way cheaper that if we had rented them, although we had to visit a few stores to find one that would take them.
It was not easy for us to buy a topographic map at Cusco (we had to visit several stores) because, as I said, everything is prepared for you to go in an organised group, so it may be a good idea to buy it online.
Day 1: Cusco – Mollepata – Challacancha – Soraypampa – Humantay Lake
We woke up at 2.45h to be at 3.45h in the Bus Station to Mollepata. We arrived by Uber for 6 PEN from the centre of Cusco. After waiting for half an hour for the bus to be full, and for 15 PEN per person it took us to Mollepata, arriving at 6.15h. Just before entering the town, we passed through a control were we had to pay our 10 PEN per person entry fee to the Salkantay Trek.
We were supposed to take another bus from Mollepata to Challacancha but were told that a taxi was the only option we had available. Apparently, buses are only for organised groups.
So we took a taxi. We were lucky enough to find another couple of travellers that were following the exact same route we were following (also inspired by Career Break Adventures), so we shared the 15 PEN per person 50 minutes ride. This was the only price we were able to bargain during the trek.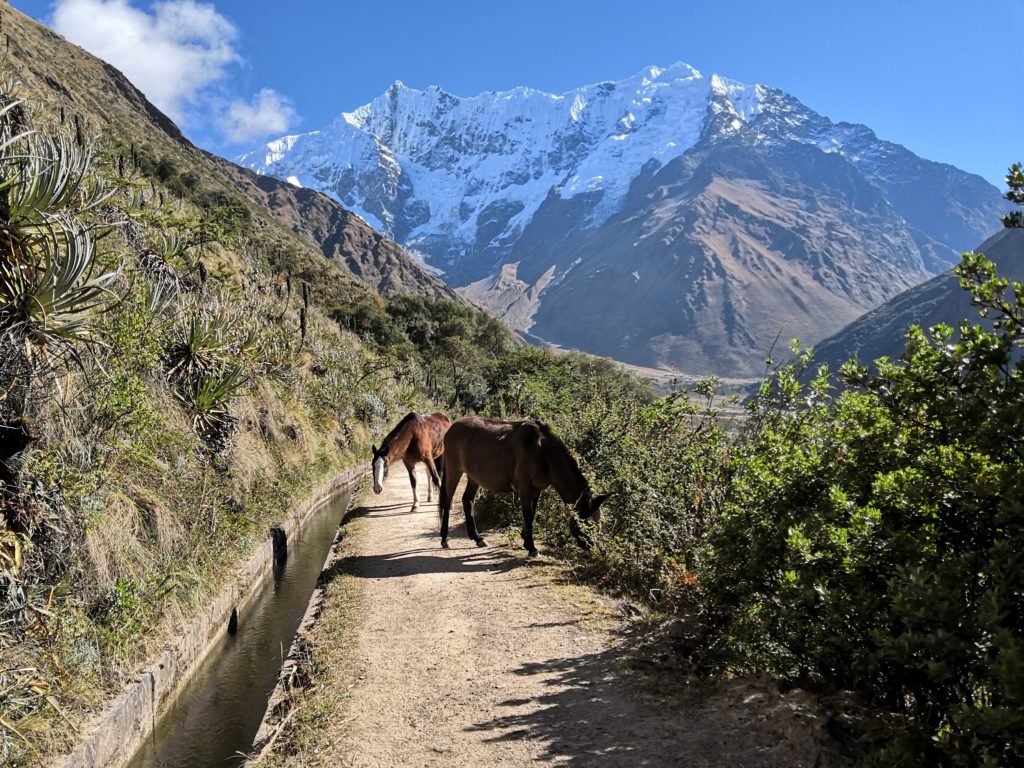 The 2.5h trail from Challacancha to Soraypampa is generally easy. It is steep at the beginning and just before arriving to Soraypampa. In between, it goes next to a river and is flat and narrow.
Side trek to Humantay Lake
Once we had found accommodation we took a short nap, had lunch and started our way up to Humantay Lake. It was not long (about 1.5h) but harder than we expected, even with our bags at the campsite. The path was very steep and you definitely felt the lack of oxygen.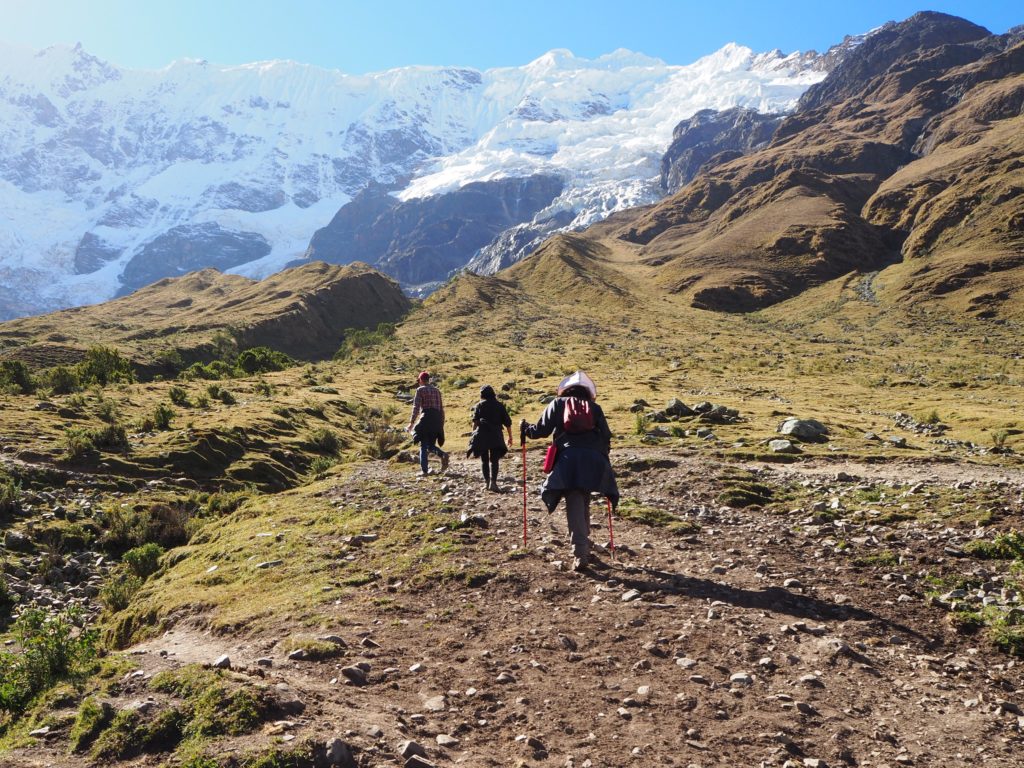 You forgot about all that once you arrived to the lake. It is one of the most beautiful places we have ever visited. We lingered there for a little longer than we should have, relaxing, taking pictures and exploring the surroundings. We watched the sunset from that point. On the way down, the sun was already leaving. It was considerably easier, but a little hard on the knees.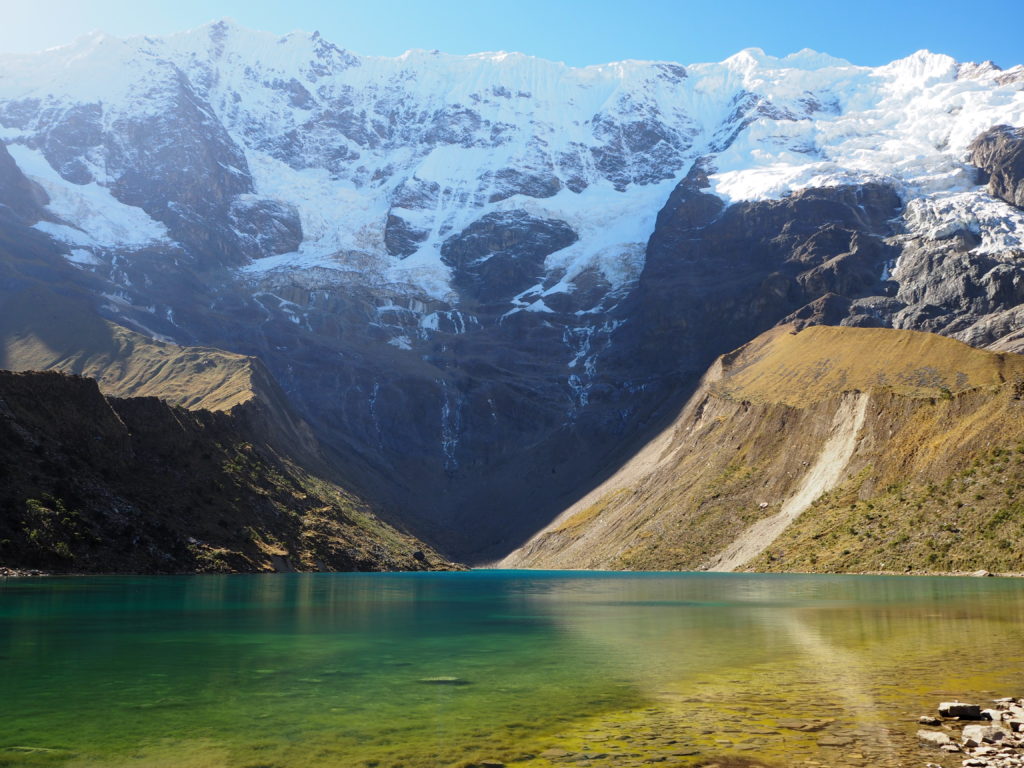 The weather had been very pleasant the whole day, we weren't cold even at the Humantay Lake (4,221 m / 13,848 ft). However, at night temperatures were notably lower and we were glad to have the shelter from the hay cover and the sleeping bag. The sky was clear and full of stars.
Day 2: Soraypampa – Abra Salkantay – Chaullay
In the second day of the Salkantay Trek without a guide, we started walking at 6.30h. A very steep trail with plenty of zigzags that allowed us to gain altitude fast, let you arrive to Abra Salkantay in 4.5h.
We felt lightheaded and fatigued all the way up, having to stop several times to catch our breath. We even had to stop once for half an hour because I felt extremely dizzy. Rest and food helped and healed us every time. Don't try to hurry to the Pass, listen to your body and give it the rest it needs. Luckily the surroundings are amazingly beautiful.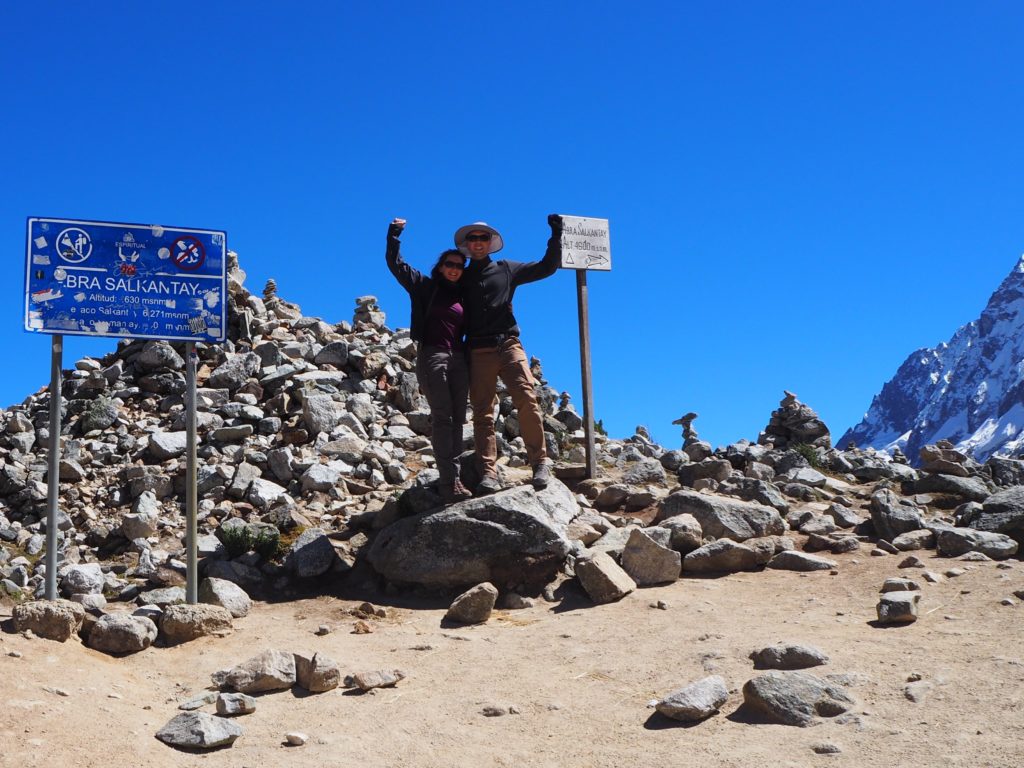 Once at the top, having completed one of the hardest sections of the trek, the landscape was spectacular. We were not cold at all and we spent a few minutes soaking on the beauty of the mountain range. Then, we started the long 5.5h descend. Very welcomed at the beginning because it was easy and the amount of oxygen was higher and higher. However, 13 km / 8 mi and 1,800 m / 5,905 ft of descend are no joke. It truly felt like the day never ended and the last few hours were nothing short from infernal.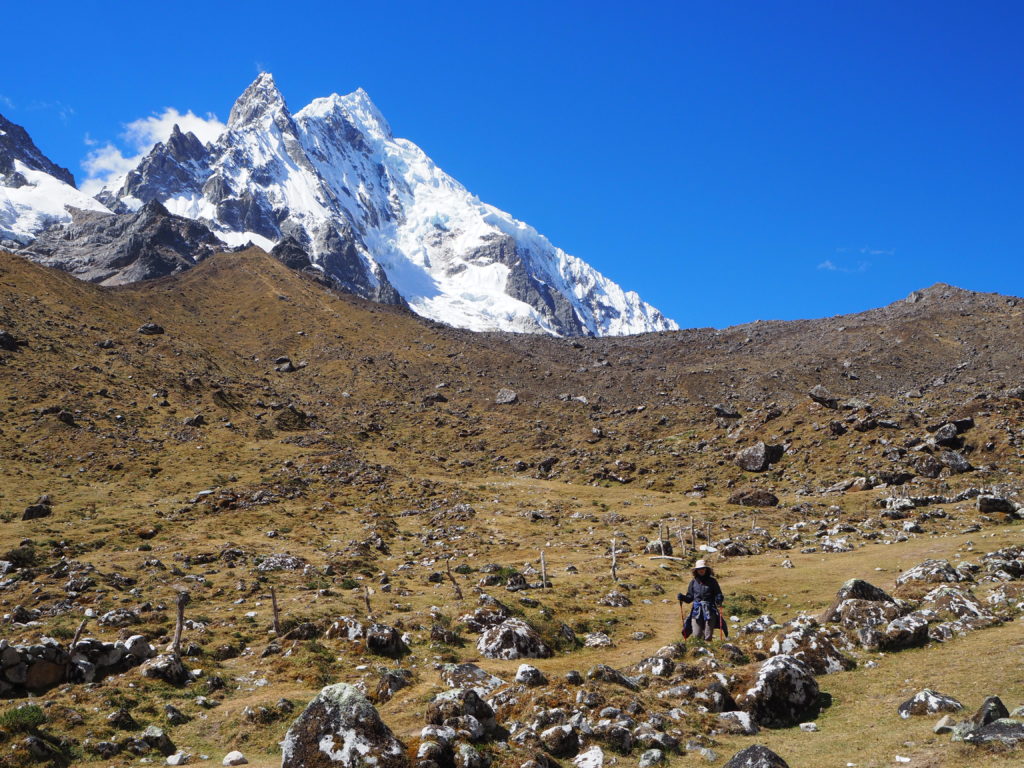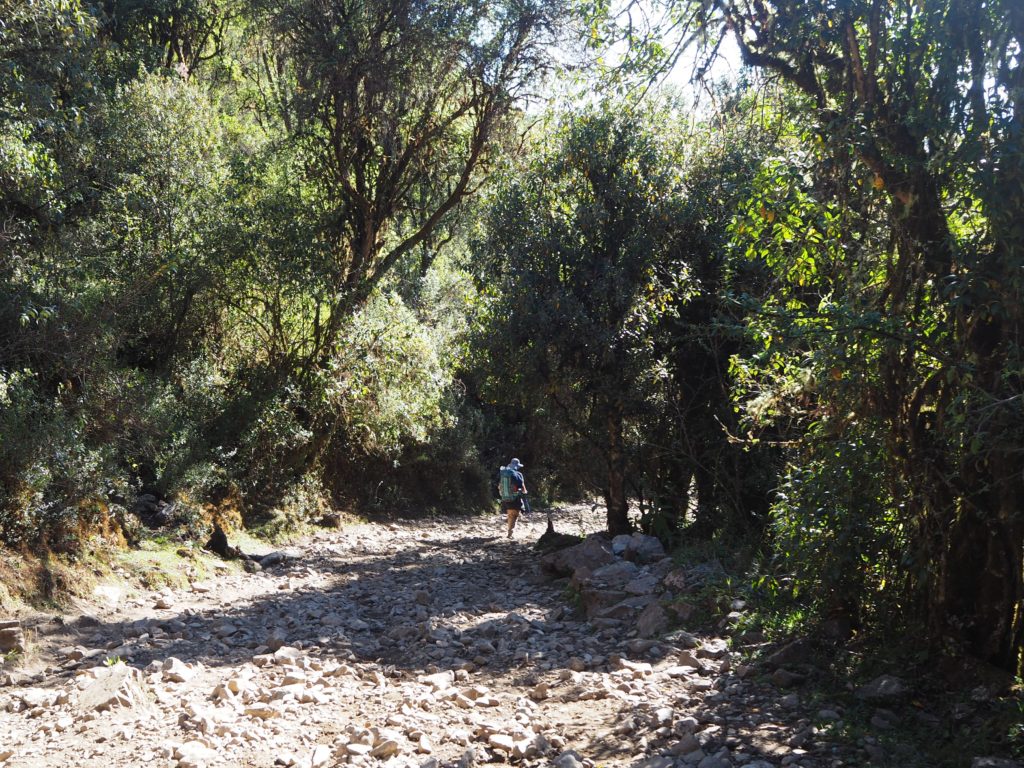 We arrived to Chaullay at 16.30h, got a room, took a shower, had dinner and went to sleep exhausted.
Overall, it was one of the most physically demanding days of my whole life.
Day 3: Chaullay – Lucmabamba
We started walking once again at 6.30h. This third day of the Salkantay Trek without a guide was generally easy and downhill, but long. During the first few minutes we walked in the road, until we turned left across the river and took the trail.
From Chaullay to Playa Sahuayco, the path goes down with a few easy and short climbs. For most of the time it crosses the jungle, so be prepared for heat and insects. Once you arrive to Playa Sahuayco and until you turn left for the trail to Lucmabamba, you walk again in the flat road.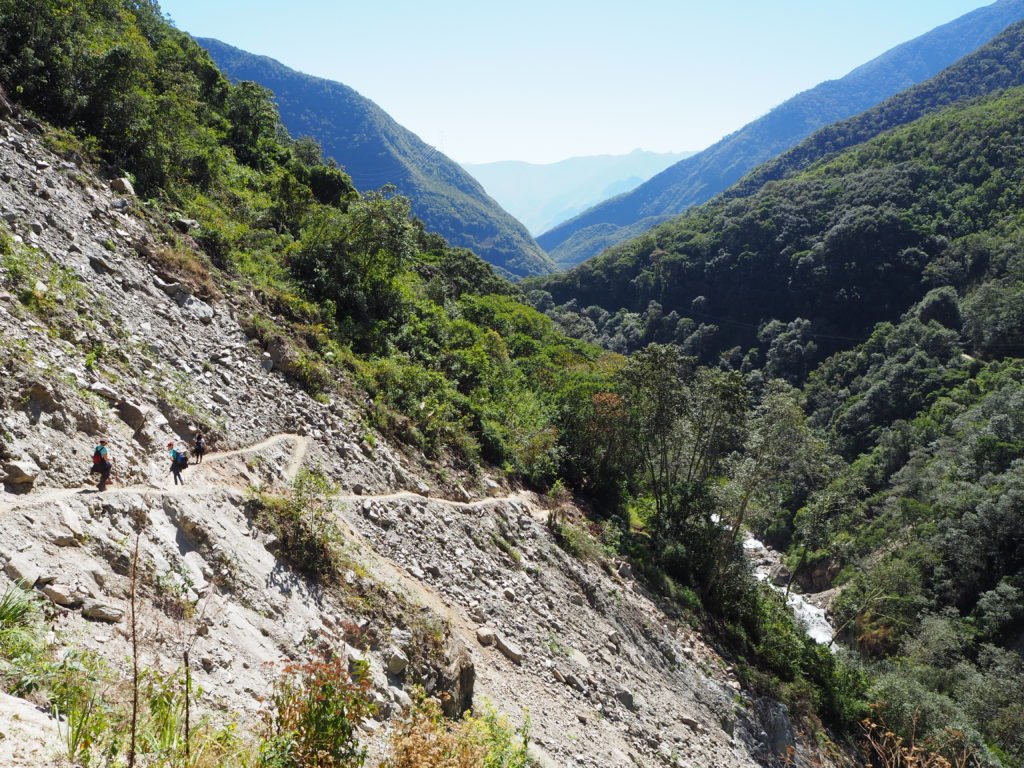 Playa Sahuayco and Sahuayco are real towns, not the small villages you will have encountered so far. It will be possible for you to have lunch there, however, we decided to continue.
The last climb from the main road to Lucmabamba is short and not particularly steep. However, we were so tired that it was a huge effort for us. We passed the first home stay we found and settled in the second one because it was slightly cheaper.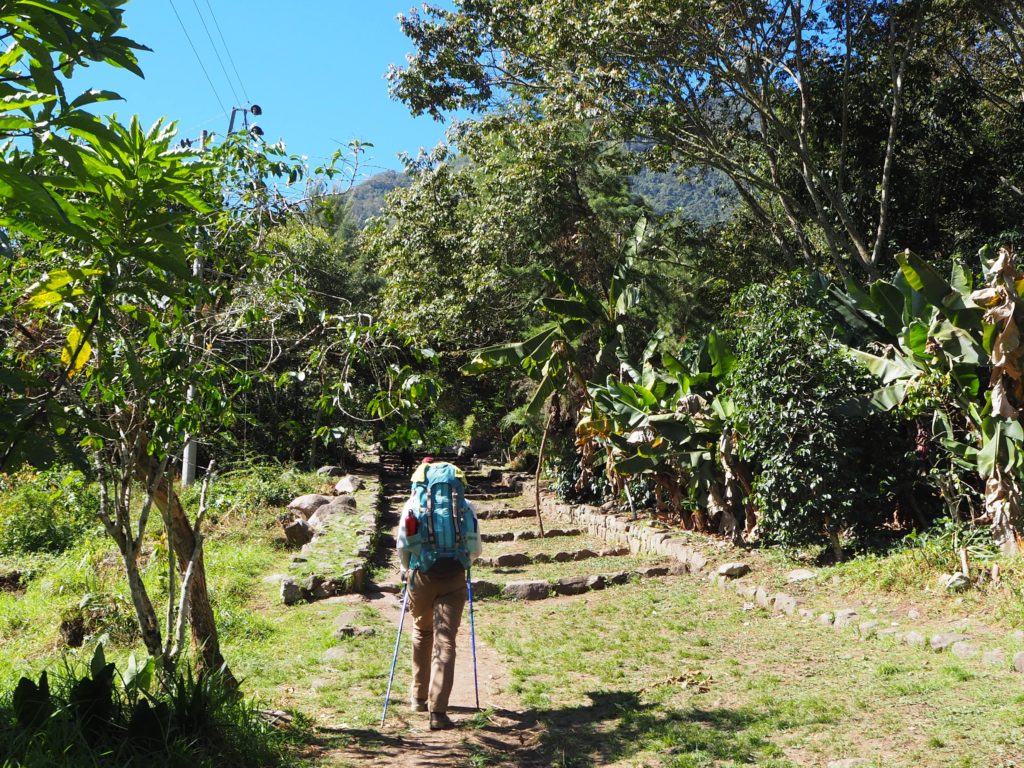 It was 13.30h and we had already finished the trekking of the day, so we were really proud – and tired. We rested for almost an hour, took turns on the shower and spent a great part of the afternoon massaging our muscles and stretching. The dinner was amazingly good and we went to sleep feeling a little repaired.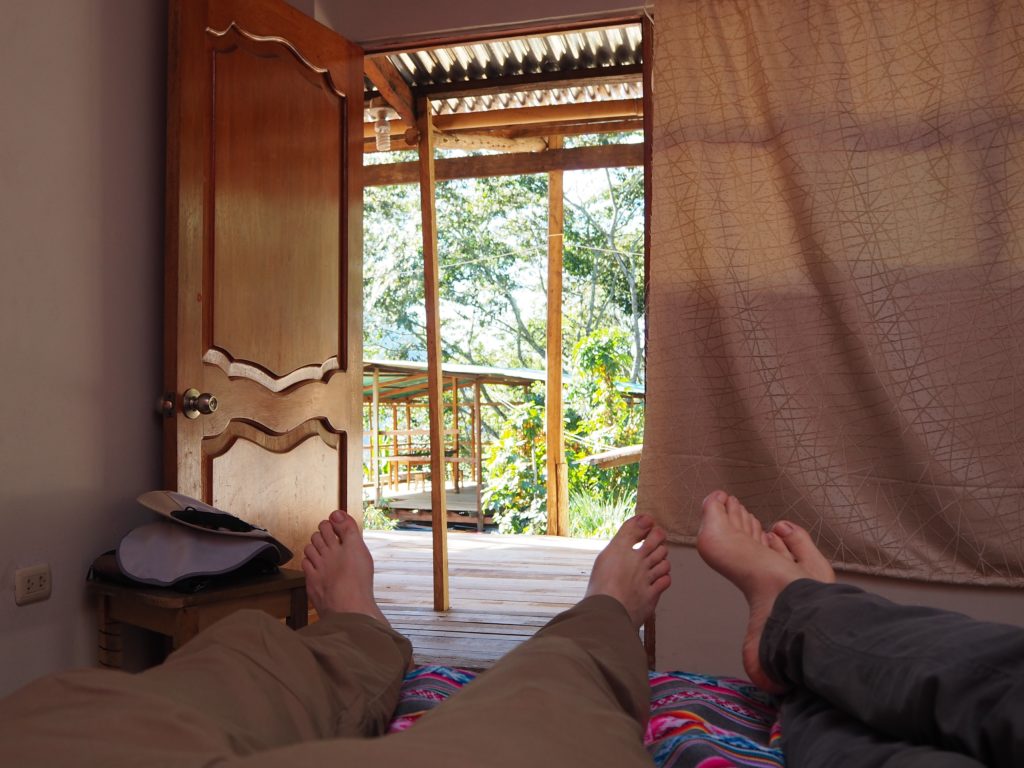 Day 4: Lucmabamba – Llaqtapata – Hidroeléctrica – Aguascalientes
At 3.21h, the rooster that lived next to our room started crowing and didn't stop. There was not a single ray of light in the sky, so we couldn't understand what was wrong with that animal, but we slept OK despite of that.
We started walking on our fourth day of the Salkantay Trek without a guide at 6.30h after an amazing breakfast. The first stop of the day was a swing on the way to Llaqtapata viewpoint. We arrived there at 9.30h, after a generally easy climb that combined demanding and relaxed stages. We entertained ourselves for a few minutes swinging and taking pictures.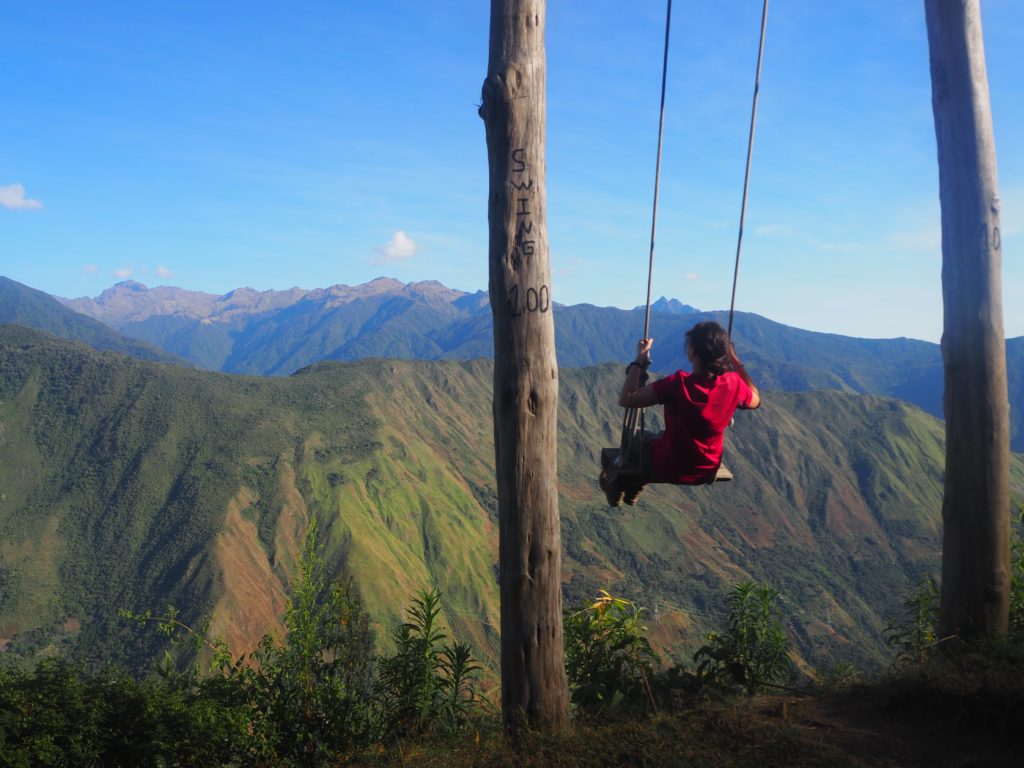 The short climb from the swing to Llaqtapata viewpoint, where we arrived at 10h, was a little more demanding. There you have views over the whole range of mountains, including the Machu Picchu, so it's also one of the most spectacular landscapes of the trek.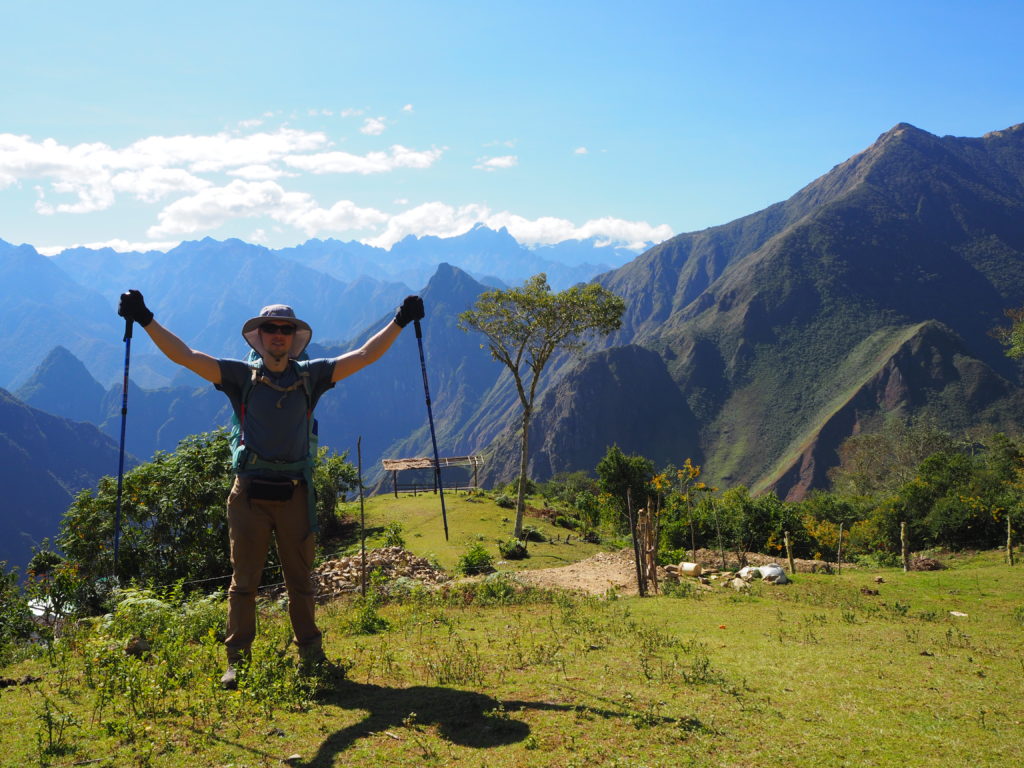 The descend from Llaqtapata to Hidroeléctrica was long, hot and infernal again. The first stage was easy and fun until you found the zigzags, which descended very steep and lasted for a lot of time. It was not friendly on the knees. After the zigzags, you walked about 2 km / 1.2 mi in the flat road under the noon sun.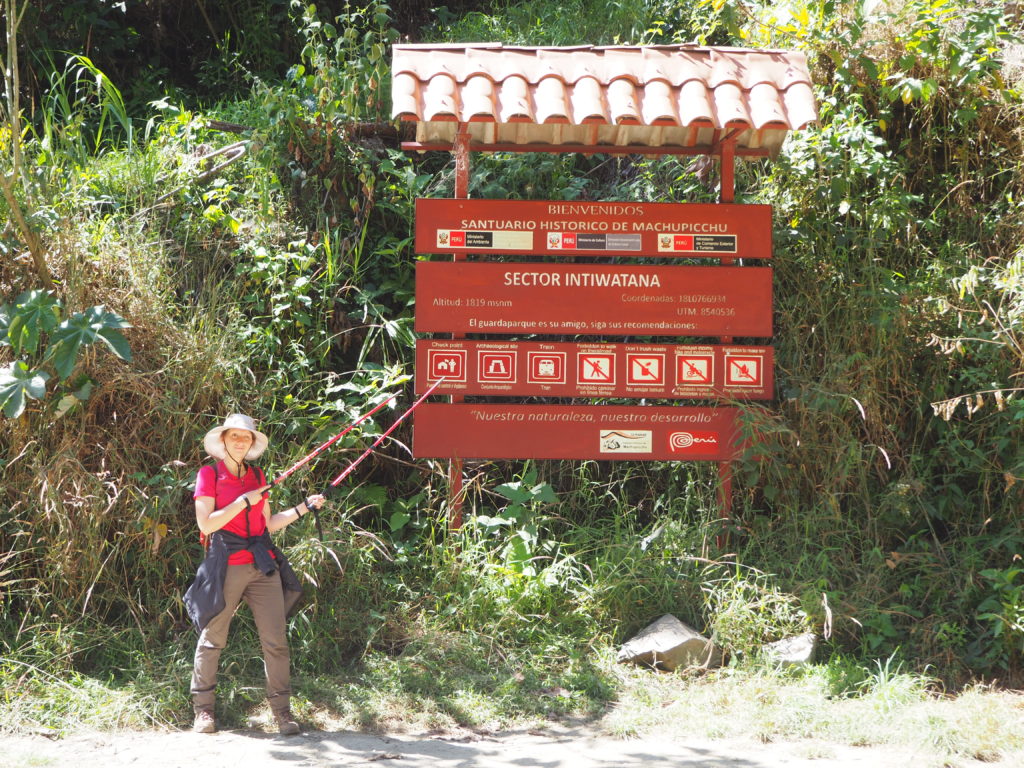 Our main problem in this descend and the road, apart from its steepness, was the sun and the lack of water. The shadows of the trees ended almost at the beginning of the zigzag. Also, from Llaqtapata and right before arriving to Hidroeléctrica, there was nowhere were you could refill nor buy some water. You better remember to fill your bottle up before starting this stage!
From Hidroeléctrica to Aguascalientes
We left Hidroeléctrica at 13h . The first 10 minutes you will be following an intense climb through the forest. After that, you will find yourself again in the train rails, which you will follow until you arrive. This path is mildly ascending and easy.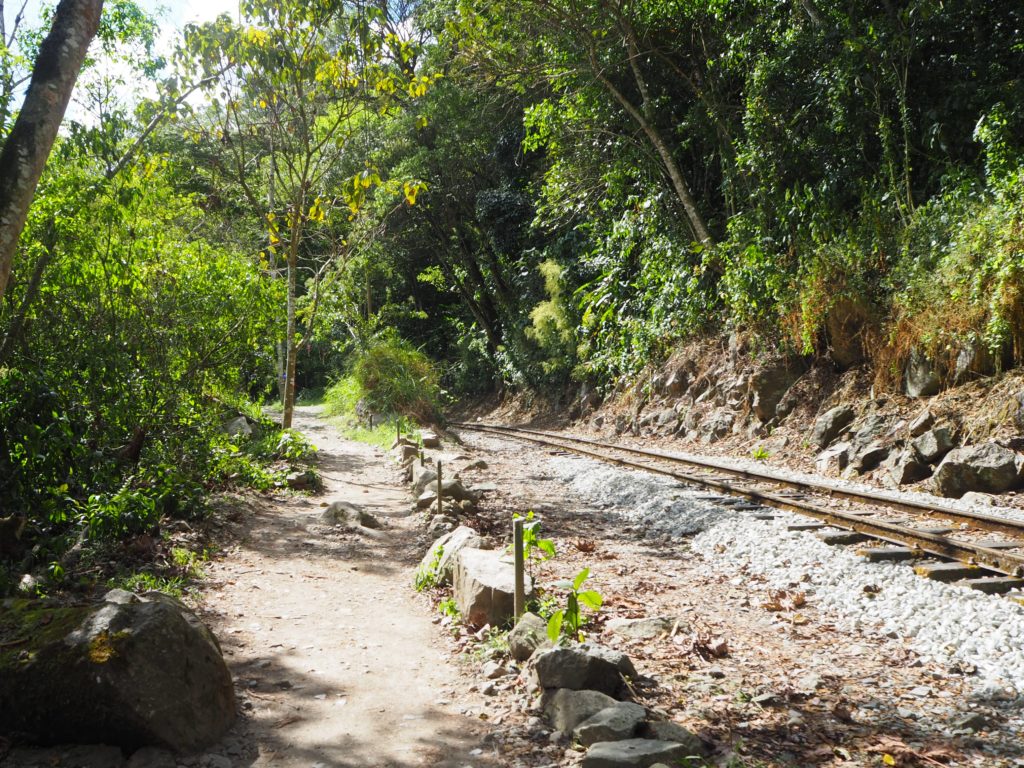 We arrived at Mandor (formerly Gea Lodge), the hostel were we slept, at 14.45h. The room was not the best: we had a beehive next to our window. However, they had a nice terrace that overlooked the river. We spent most of the afternoon there tending to our muscles. We had dinner at Mamá Angélica (our only option) and went to sleep really early. An exciting adventure was waiting for us the following day!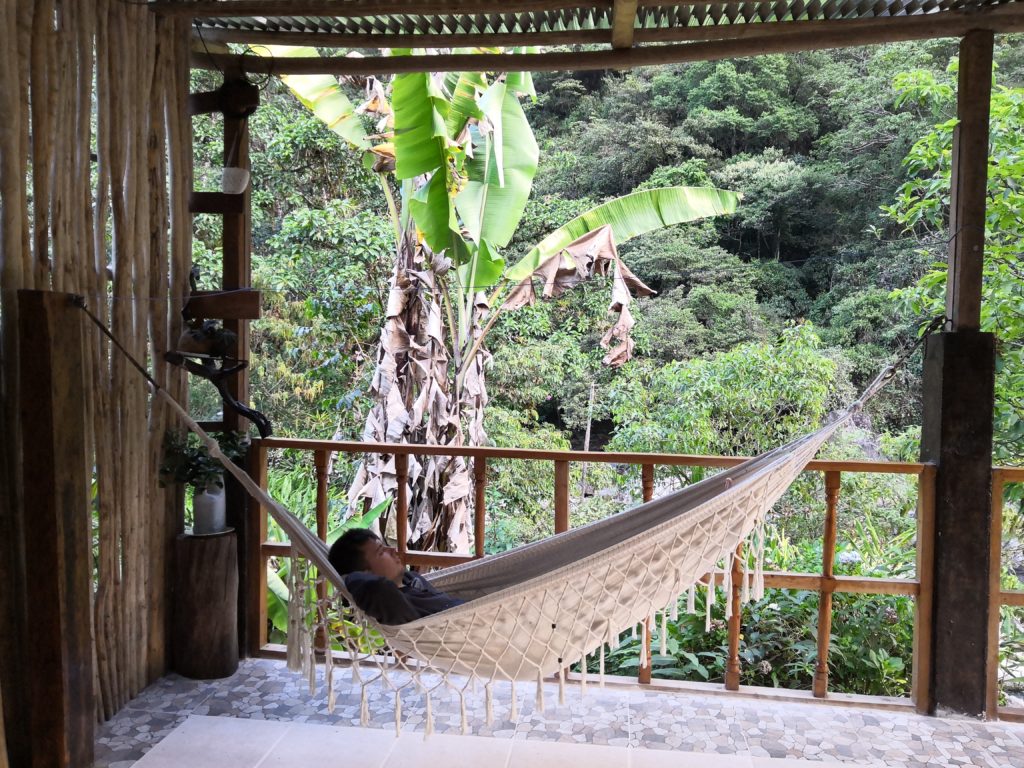 Day 5: Machu Picchu – Machu Picchu Mountain – return to Hidroeléctrica and Cusco
On the fifth day of the Salkantay Trek without a guide we started walking at 4.15h. We were very light having left our backpack in the hostel, which was an improvement! However, it was still dark night, so we relied on our frontal lights to check the path.
We arrived to the queue to the Machu Picchu entrance at 4.45h and were among the first ones there. The entrance opened at 5h and at 5.10h we passed the control. Then, we started the race to the Machu Picchu citadel trying to beat the buses that were already arriving. Our goal was to see the archaeological site without the massive amount of tourists that would arrive.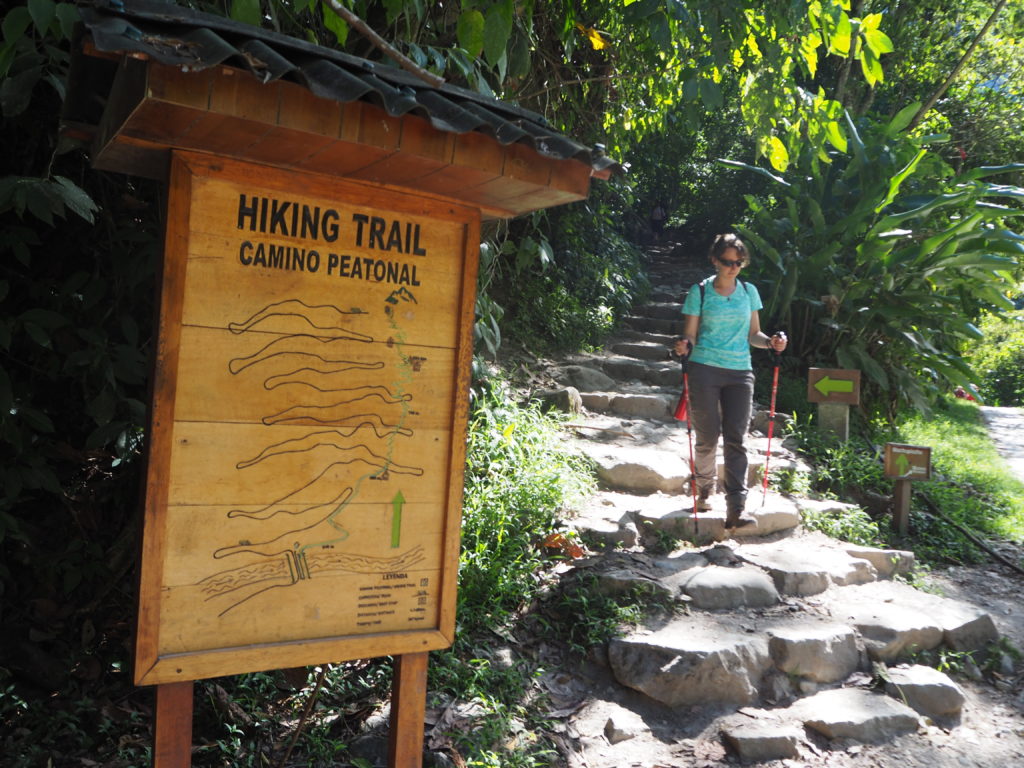 We were at the second control to Machu Picchu at 6.15h, exhausted and kind of overwhelmed after a very demanding climb filled with steps and still at night. There, we found that if you wanted to hire a guide you needed to do that before accessing the citadel. As our ticket was also for Machu Picchu mountain, we could first go to the mountain and then enter the citadel again with a guide. We guess this will also be possible if the ticket you have is for Huayna Picchu.
We also found that our trekking poles, in which we relied heavily after four days of trekking, had to be left in the lockers. Apparently, to protect the runes, they are only allowed for people over 65yo and with a certified medical condition. Even then, they need to wear a plastic cover.
Machu Picchu mountain and citadel
When purchasing our tickets for Machu Picchu, we decided to climb Machu Picchu Mountain instead of Huayna Picchu because it is higher. And, you know, the higher the better. We didn't factor that we would be extremely tired from the previous days of trekking, but still we don't regret this decision.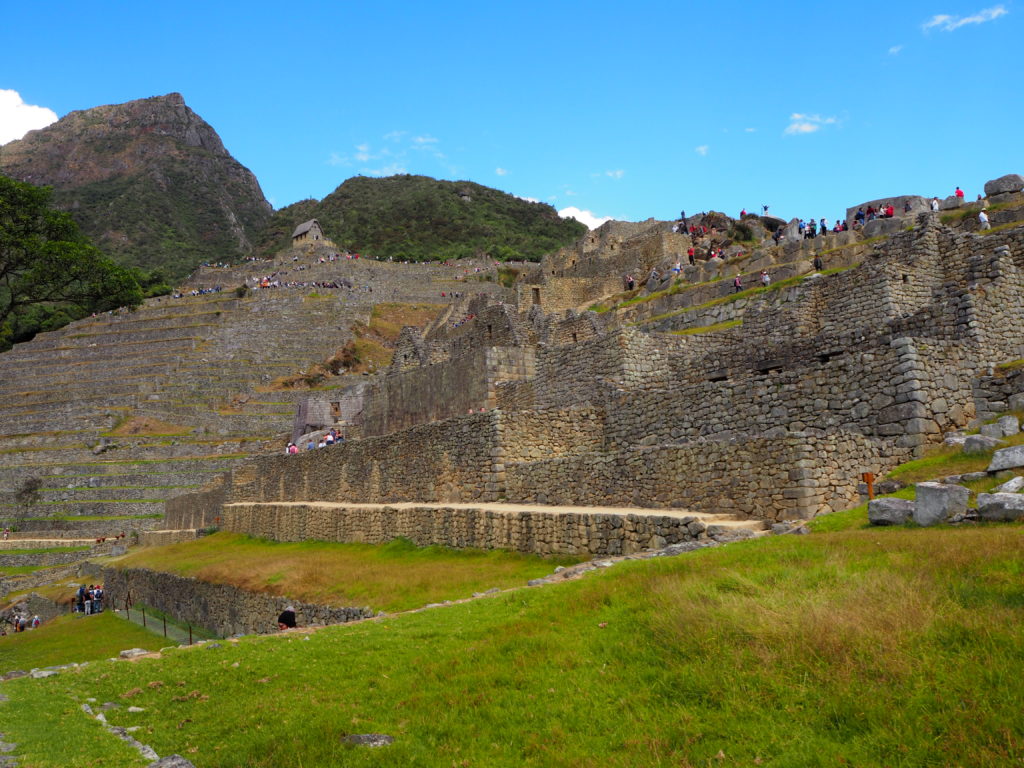 We checked at the Machu Picchu Mountain control around 7h, where we could stay for four hours. Desperately missing our trekking poles, we started the exhausting and difficult 2h climb. It was very steep with irregular and high steps. After four days of trekking, our legs almost couldn't carry us. But nevertheless we arrived at the top, having left behind a few people that turned down because of the difficulty.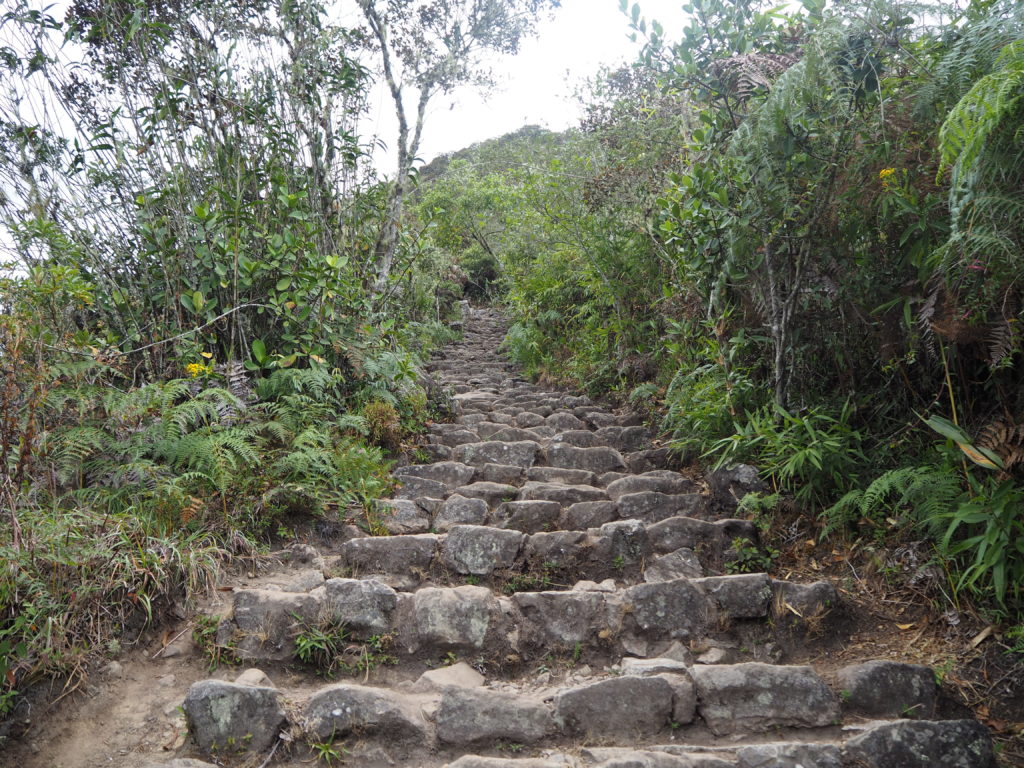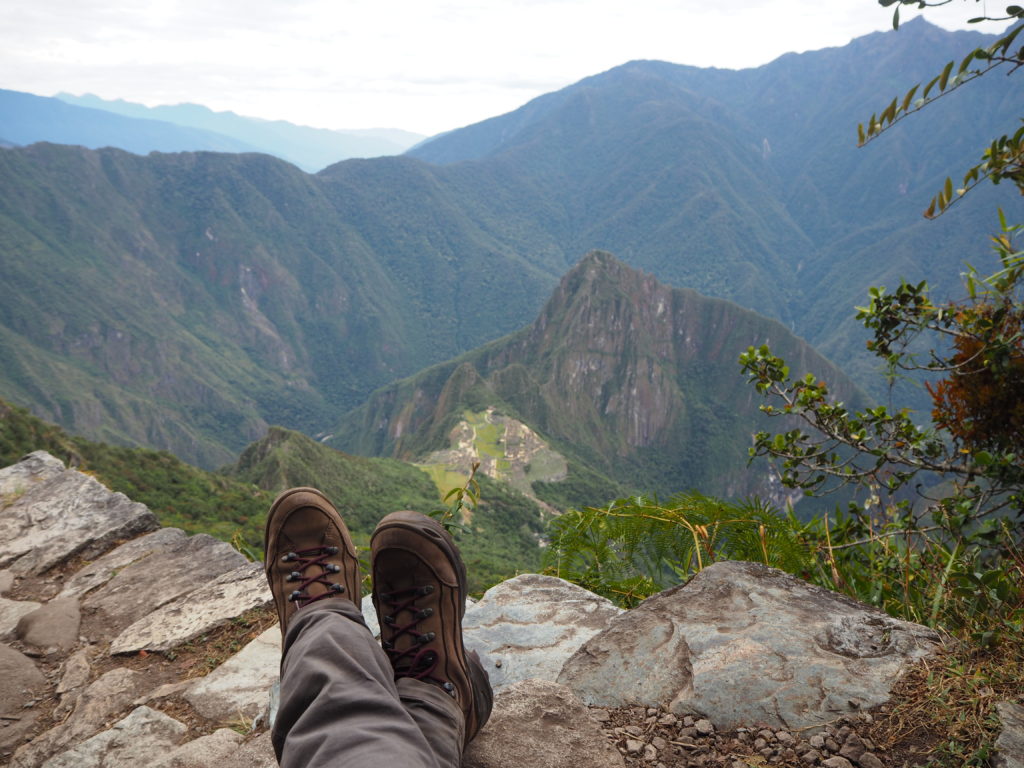 After resting for a while, we took the mandatory pictures and raced our way down in 40 minutes. Once at the citadel, we were lucky to find a guide who had just started the tour. We joined the group for 20 PEN per person, without having to go outside to look for a guide and enter again.
We truly recommend hiring a guide to be able to appreciate all the history and details of Machu Picchu. For us, the two-hour tour was extremely interesting but also exhausting. At this point, even standing still listening to the explanations of the guide was a huge effort.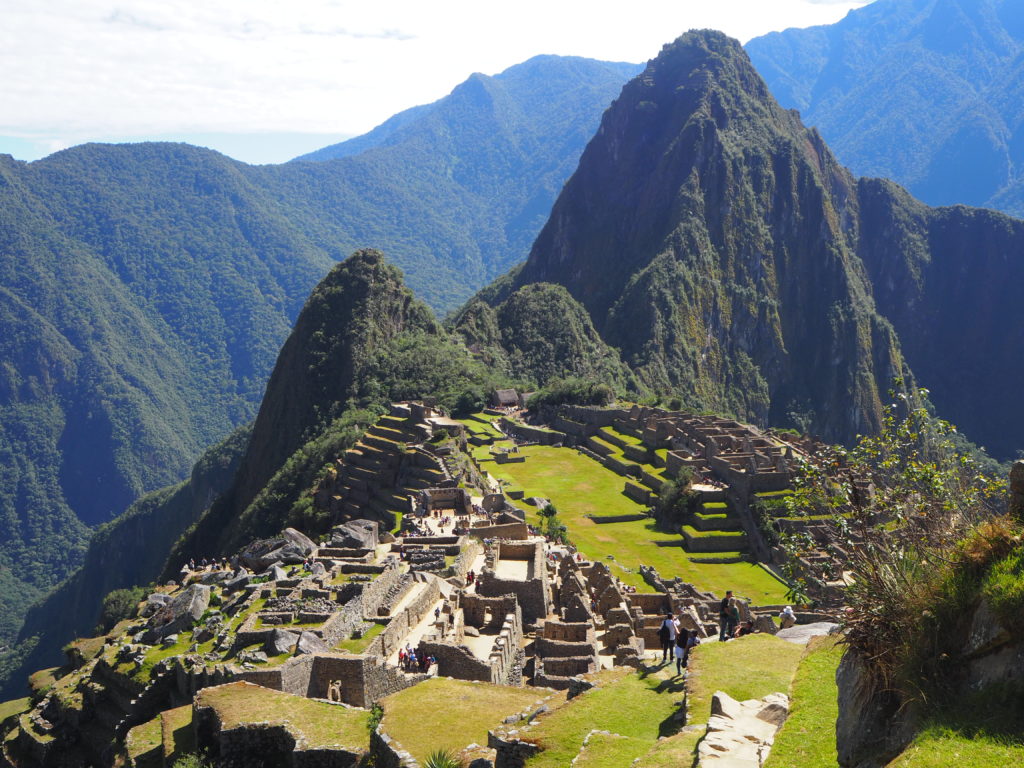 The guide was the one who told us that the last direct bus from Hidroeléctrica to Cusco left at 16h. Otherwise we would need to stop at Santa Teresa and then again at Santa María, and we would arrive to Cusco very late at night. It was already 12.45h.
To Hidroeléctrica and back to Cusco
With this new information and no energy left, we started racing down the stairs to the first Machu Picchu entrance. Once at the train rails, we stopped for a couple of minutes to eat a sandwich and have a sugary drink to try to regain some strength. It greatly helped.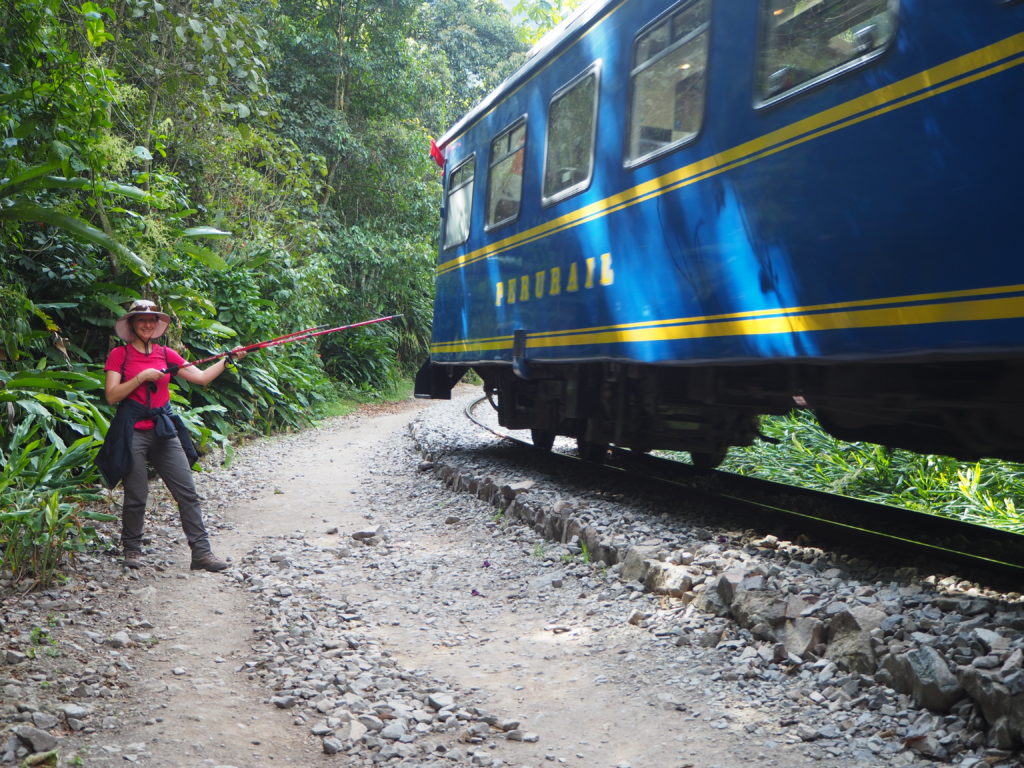 We were at our hostel at 14.10h, picked up our backpack and at 14.40h we were back on the train rail, walking non-stop to Hidroeléctrica. It was not the best moment for us, because we had a very close deadline, 7 km / 4.3 mi to go, and we were exhausted. Mind over body, as they say it, so we kept walking. We arrived to Hidroeléctrica at 15.58h and were able to secure passages in the last direct bus to Cusco for 35 PEN per person that left a minute after we arrived.
The first part of the road until you leave the mountain range is interesting, so to speak. The road is very narrow and irregular, drivers tend to drive faster than they should and you have mountain at your left and a very high cliff on your right. It was without a doubt the most dangerous part of the Salkantay Trek. The rest of the drive, using more conventional roads, is only long and boring.
We arrived at Cusco at 21.30h and had enough energy only to take a shower and go to sleep without having dinner.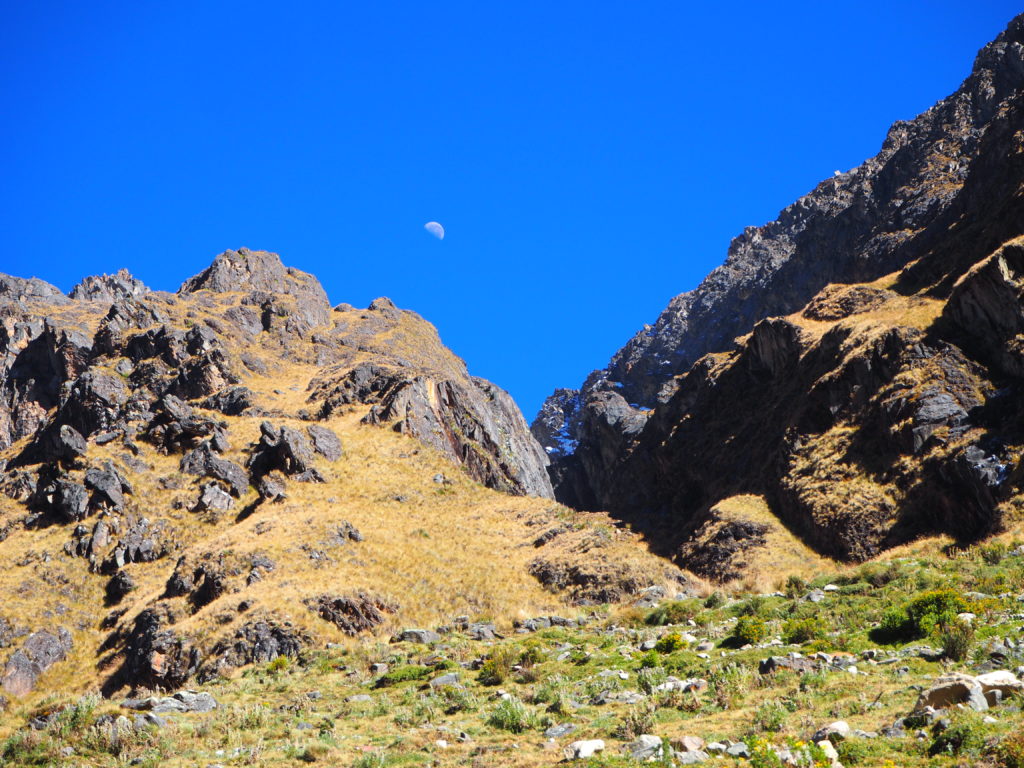 4. The cost of the Salkantay Trek without a guide
We have been giving information about prices during the whole post, however, we have also compiled all the costs we had so you can get an idea of how much will you be spending for each category:
| Two people | DAY 1 | DAY 2 | DAY 3 | DAY 4 | DAY 5 | TOTAL |
| --- | --- | --- | --- | --- | --- | --- |
| Food | 5,33 € | 10,67 € | 13,33 € | 16,00 € | 6,67 € | 52,00 € |
| Accommodation | 10,67 € | 10,67 € | 13,33 € | 21,33 € | - | 56,00 € |
| Shower | - | 5,33 € | - | - | - | 5,33 € |
| Transportation | 16,00 € | - | - | - | 18,67 € | 34,67 € |
| Entry tickets | 5,33 € | - | - | - | 114,81 € | 120,14 € |
| Guide | - | - | - | - | 10,67 € | 10,67 € |
| Snacks | 2,36 € | 2,36 € | 2,36 € | 2,36 € | 2,36 € | 11,78 € |
| TOTAL | 39,69 € | 29,02 € | 29,02 € | 39,69 € | 153,17 € | 290,59 € |
In case it is easier for you, here you will find these same amounts in Peruvian soles (PEN):
| Two people | DAY 1 | DAY 2 | DAY 3 | DAY 4 | DAY 5 | TOTAL |
| --- | --- | --- | --- | --- | --- | --- |
| Food | 20 | 40 | 50 | 60 | 25 | 195 |
| Accommodation | 20 | 40 | 50 | 80 | - | 210 |
| Shower | - | 20 | - | - | - | 20 |
| Transportation | 60 | - | - | - | 70 | 130 |
| Entry tickets | 20 | - | - | - | 114.81 € | 20 |
| Guide | - | - | - | - | 40 | 40 |
| Snacks | 8.83 | 8.83 | 8.83 | 8.83 | 8.83 | 44.17 |
| TOTAL | 148.83 | 108.83 | 108.83 | 148.83 | 143.83 | 659.17 |
Note: the cost of the Machu Picchu tickets are not included in the totals of this table
---
Was this post useful for you? Please let me know and feel free to ask any question in the comments section! You can also support my work and Buy Me A Coffe. I will be immensely happy 🙂
Also, if you want to have some additional useful information about the difficulty of the trek and what you need to assess to determine if you are prepared to do it, how to prepare the track and what tools you can use to navigate the route, information on altitude sickness and how to minimise its effects, safety along the route and what does your backpack need to contain, check my other post 'Salkantay Trek on your own: 5 essentials to prepare'.