Porto, the second-largest city in Portugal, is one of the oldest European centres. Its old town was regarded as a World Heritage Site by UNESCO in 1996. Porto is characteristic for the azulejos (blue tiles) that decorate its buildings, for its pintoresque neighbourhoods, for the estuary of the river Duoro and of course for its great cuisine such as cod dishes or nata cakes. In this Porto in a day itinerary, you will visit mainly the old town where most tourist attractions are located. You will also discover the neighbourhoods of Bolhão and Ildefonso, Sé, Barredo, Ribeira and even get a glimpse on Vilanova de Gaia riverfront, at the other side of the river Duoro.
This one-day plan also includes a short one-hour cruise along the Duoro, where you will navigate under the six principal bridges of the city. The day will end by contemplating the sunset from one of these bridges, Ponte Don Luis I. And, if you still have the energy, after having dinner you can enjoy the nightlife at Ribeira.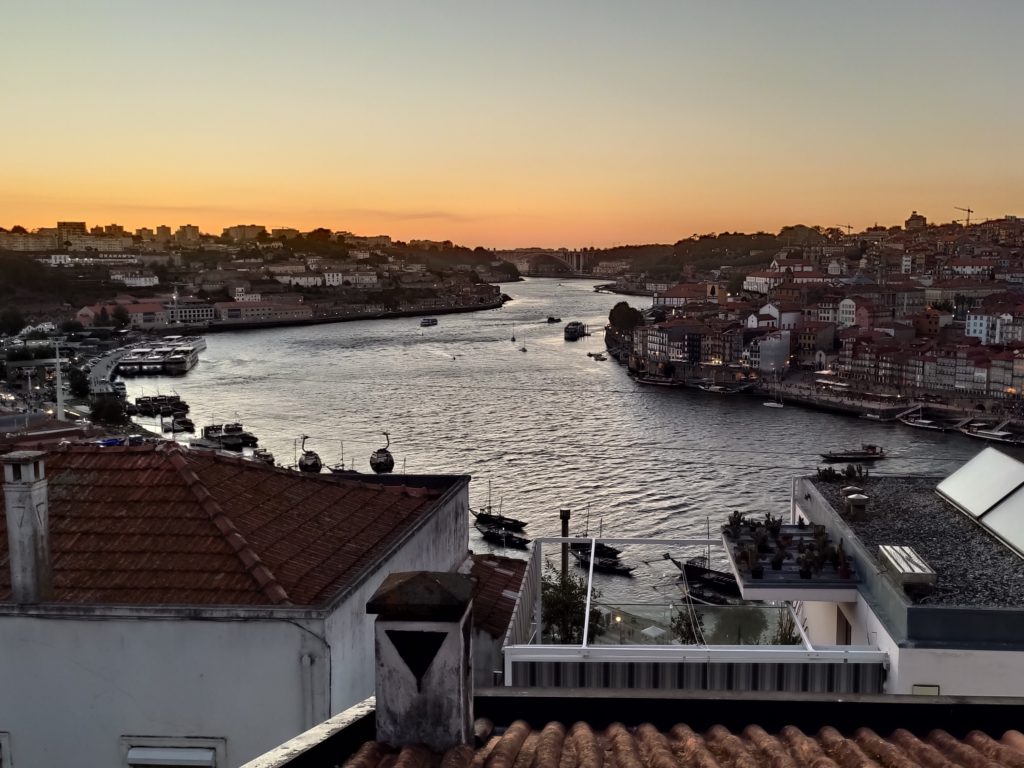 It will be an intense yet rewarding day that will, in a few hours, take you to the most beautiful and notorious sites of the city. If you are short on time but you still want to see all you can of Porto, this is definitely your itinerary.
Porto in a day: the itinerary
Mercado de Bolhão
The day starts at 8am at Mercado de Bolhão, a 19th century building that is partially under renovation. As you will see along the day, this is pretty common in the city.
In this white and bright market you will find plenty of stalls with cod, fruits, nuts, meat, cakes, flowers, cheese or wine.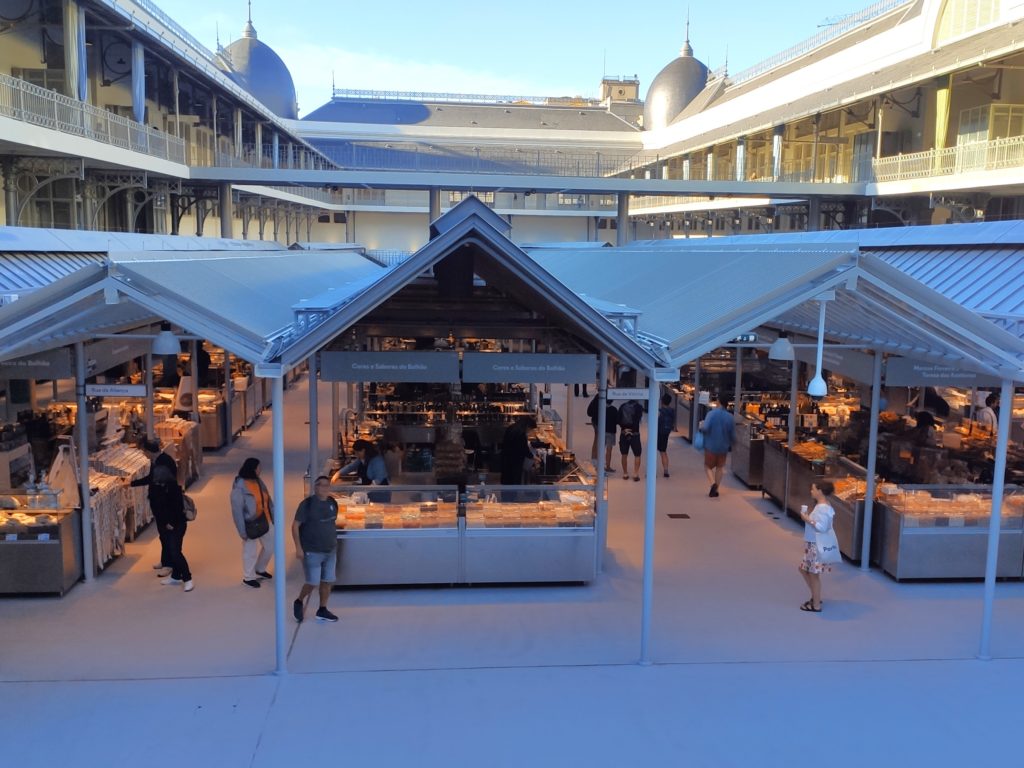 In front of the main entrance of Mercado de Bolhão there is the Confeitaria do Bolhão, a bakery funded in 1896 which can be a great place to have breakfast or enjoy your first nata cake of the day. Nata cakes are little crunchy cream pastries, typical to this part of Portugal. They are definitely something you can't miss in your Porto in a day visit.
Avenida dos Aliados
You can then head to Avenida dos Aliados, where you will find the impressive City Hall with views all over the avenue. It ends in Praça de Liberdade, which is considered the main square of Porto.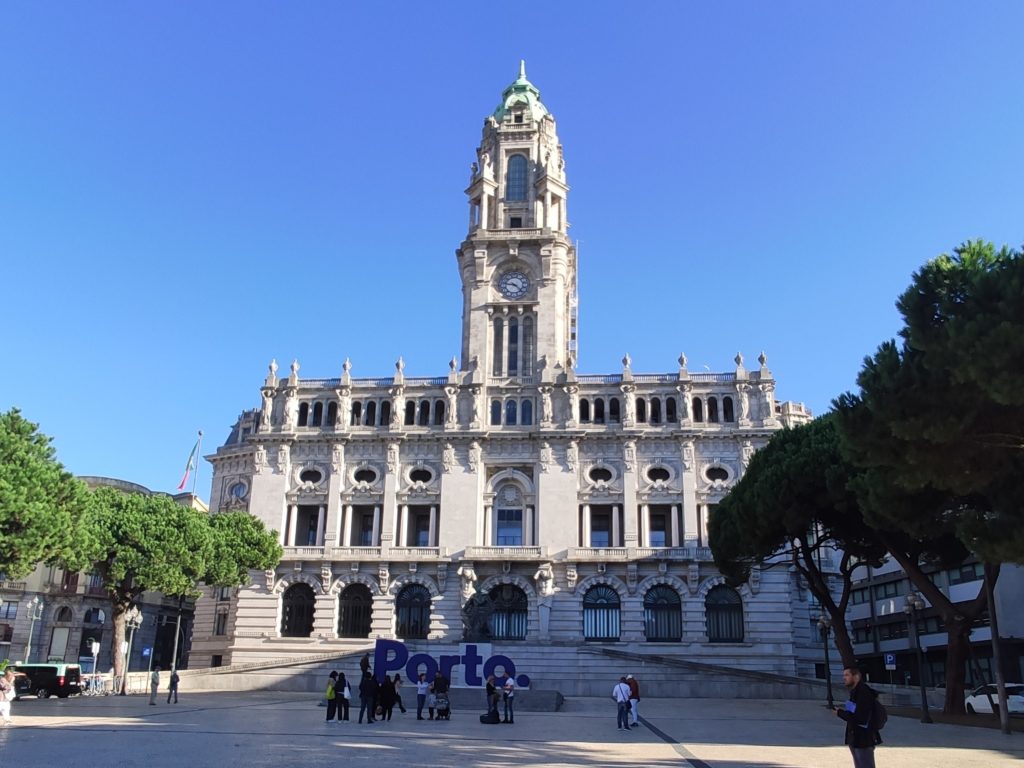 In the Avenida dos Aliados you will find some restaurants that offer fado shows in the evenings. Also, in this avenue you will find a McDonald's that is surprisingly worth a visit as it has maintained the modernist arcitectonic style that dominates the whole street.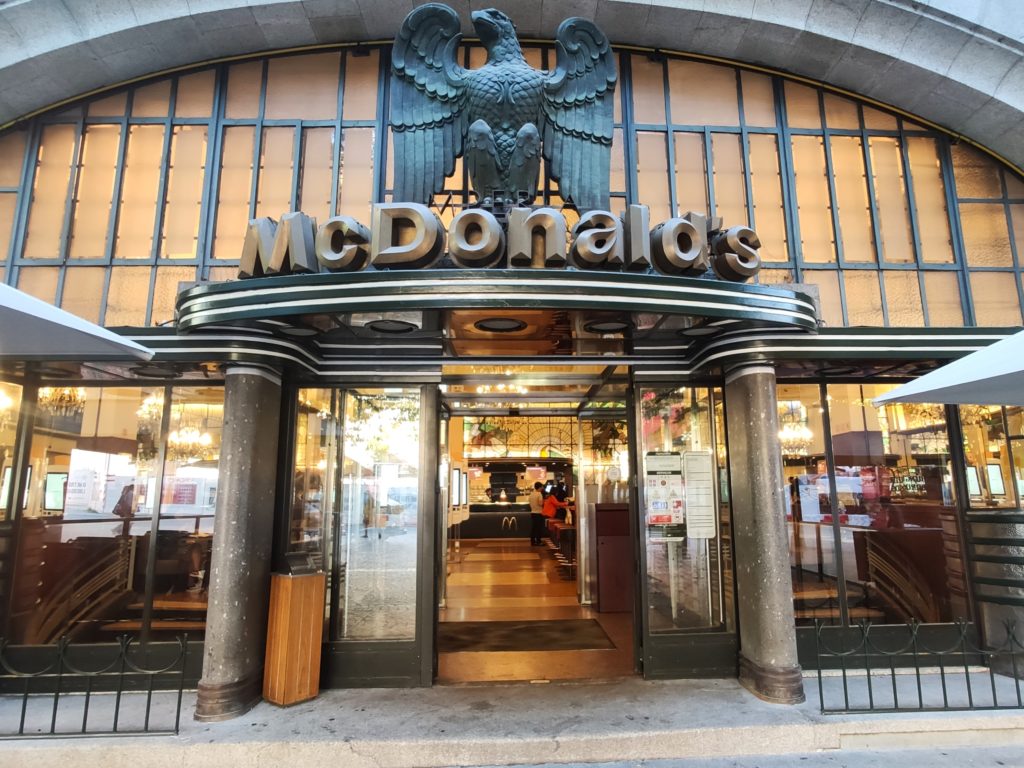 Train station of San Bento
Very close to Praça da Liberdade the famous train station of San Bento is located. It is very fairly regarded as one of the most beautiful train stations in the world.
It will be the first time -but definitely not the last!- in this Porto in a day itinerary that you will be seeing Porto's renowned azulejos, or blue tiles. San Bento's train station, which is also fully operational, is composed by more than 20,000 pieces of azulejos. You will surely want to spend some time contemplating this picture-ready scene.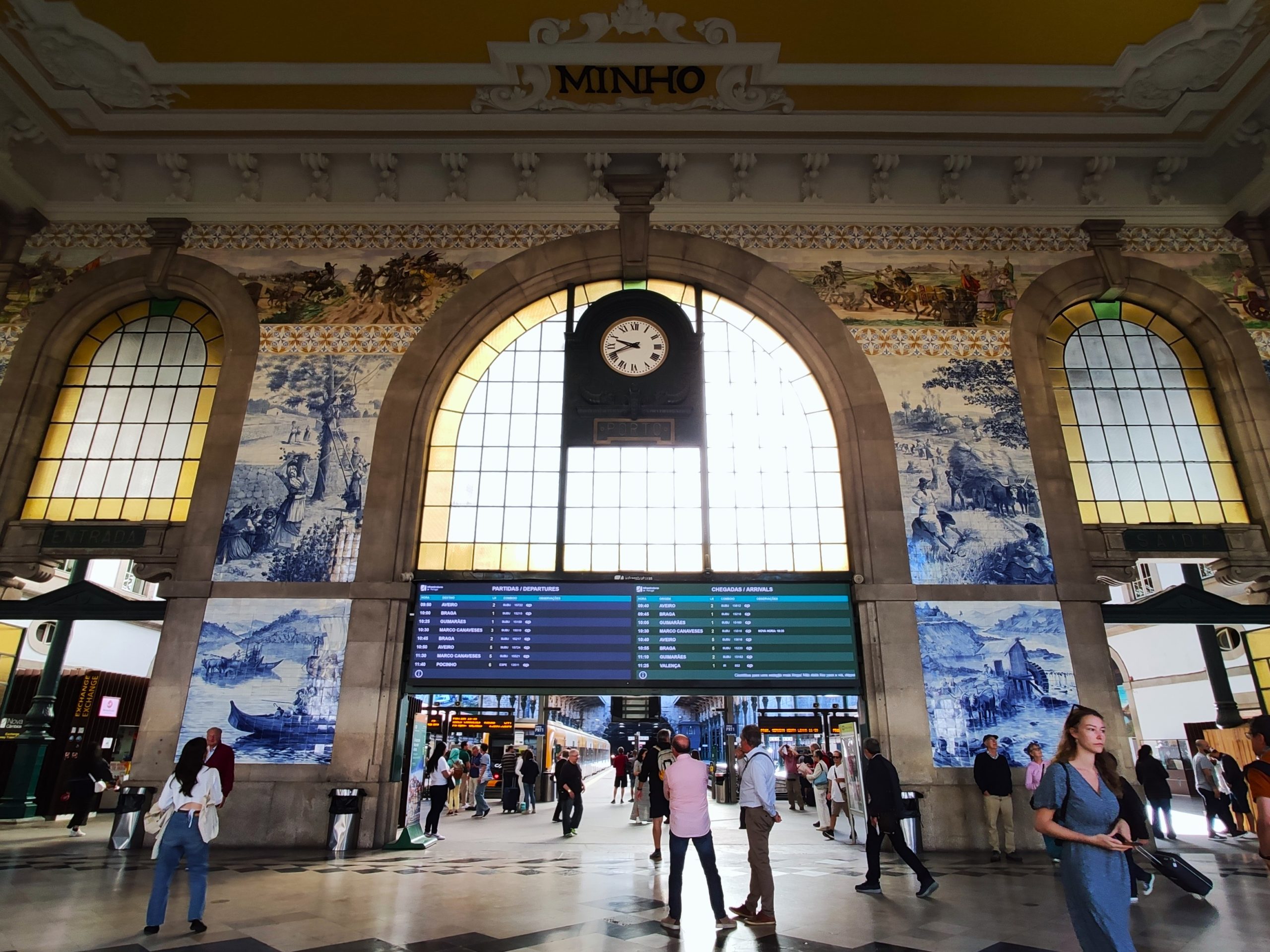 In the street next to the station, you fill find a very small but very good place called Café Nata Lisboa where you can have another nata cake. They serve it hot and crispy and it is simply delicious.
Livraria Lello
Your next stop will be Livraria Lello, that has for several years been regarded as one of the most beautiful libraries in the world. Appart from its intrinsic beauty, it ows its fame partially because J.K. Rowling, the writer of Harry Potter, got some inspiration there to create the moving staircases at Hogwarts.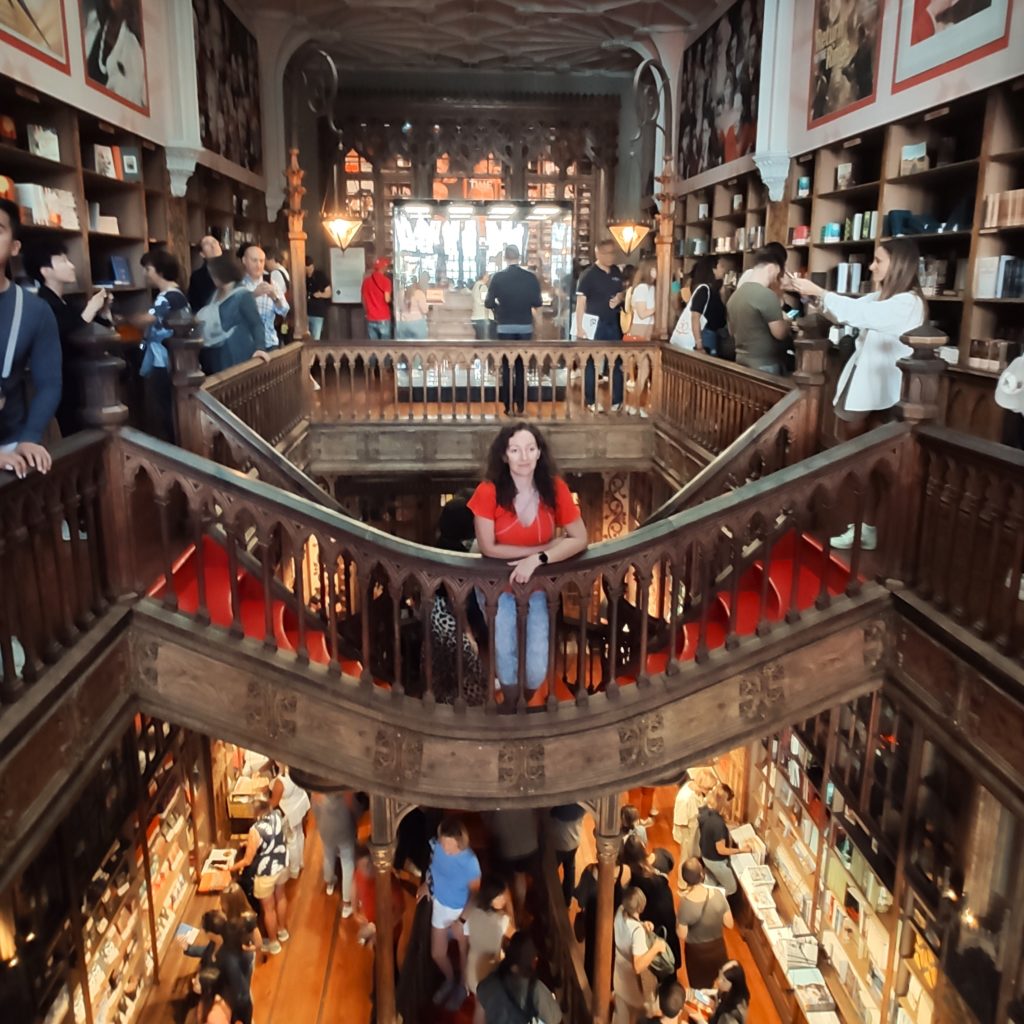 Due to the many many tourists that visit daily and considering that it is a functional library, the owners have established an entry fee of 6€ (5€ if you buy it in advanced) for visiting. If you then buy some book there, these 5€ will be discounted from the total price.
You will probably read that you need to book the visit in advance and that's not necessarily true. You have two options:
Buy it directly at the door when you arrive, in which case you will pay 6€. You will need to do a queu to buy the entry ticket, and a different one to access the library.
Buy it online for 5€. Now here comes the trick: you can either do that ahead of time or right on the spot. If you chose the later, you do not need to fix a specific time when you will be there (which can be difficult when you are sightseeing) as you will buy it when you arrive. You will only need to wait for 5 minutes or so for the system to process your purchase and send the entry tickets to your email. Now, the downside of this option is that the maximum number of tickets available per hour is limited. So it might not work if you plan to visit in weekends and high season.
Igreja do Carmo
Continuing with the azulejos, next to the Livraria Lello you can visit Igreja do Carmo. Its facade is composed by the characteristic blue tiles of Porto.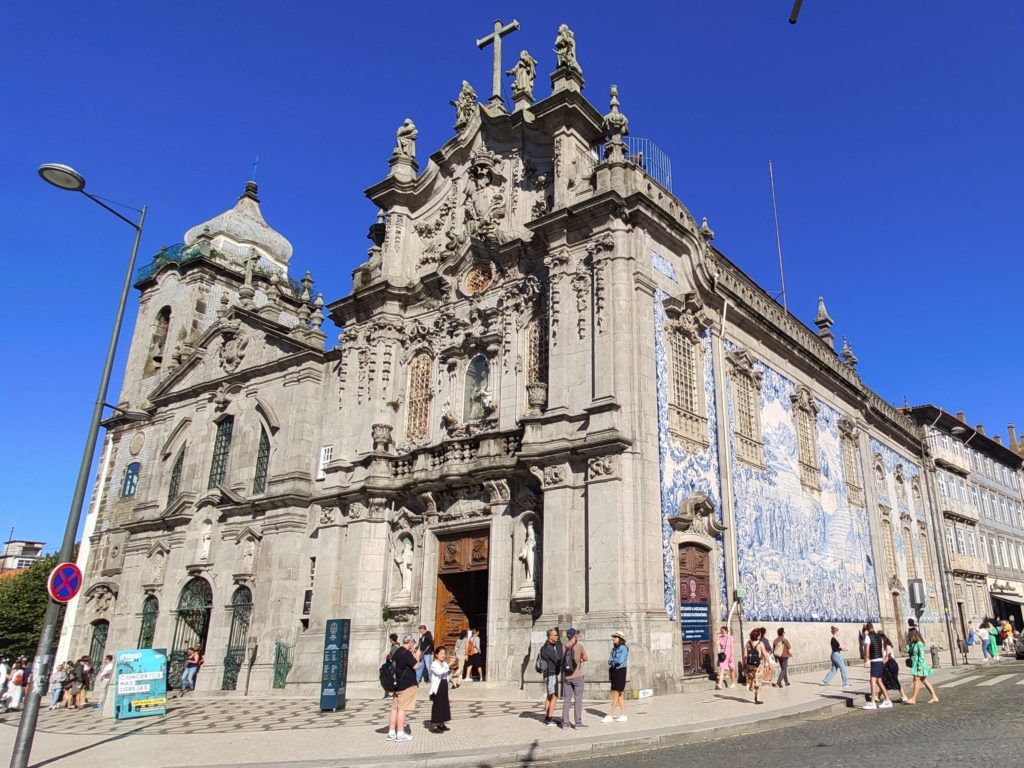 Torre dos Clérigos
In Igreja dos Clérigos you can buy a ticket to visit both the church and the tower Torre dos Clérigos. The church is spectacular and what we enjoyed the most were the views from the second floor and the organ.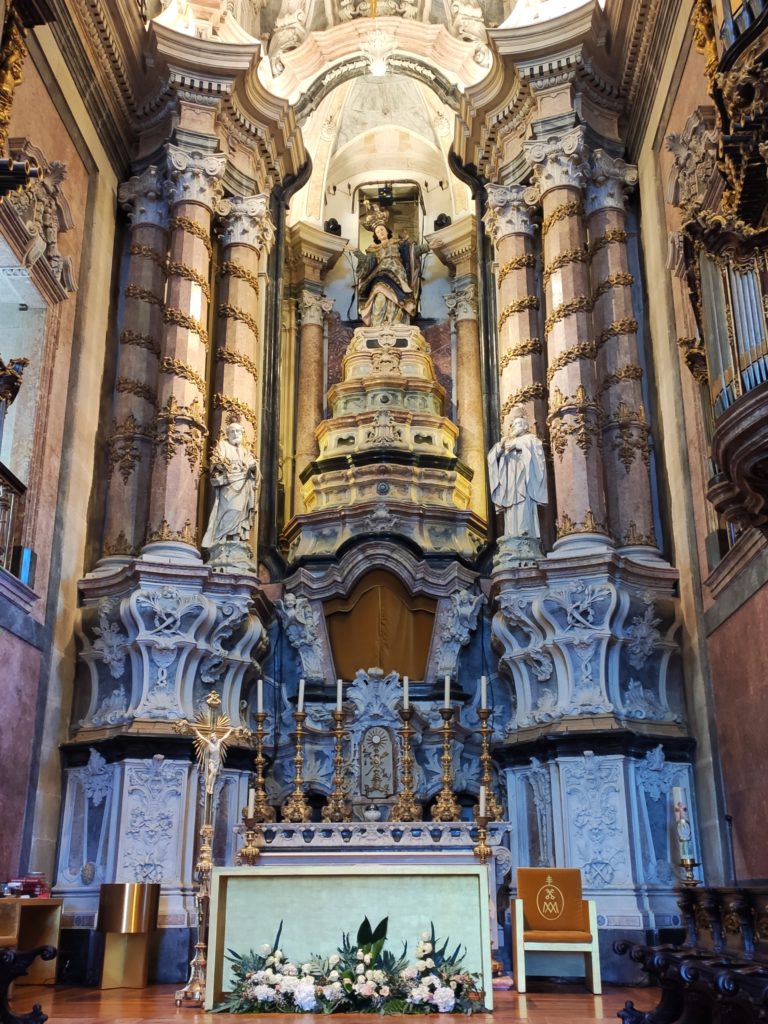 The Torre dos Clérigos is however the most notorious attraction in the complex. With an altitude of 75m, it is one of the most famous viewpoints of the city. All the old town of Porto can be fully appreciated as seen from above.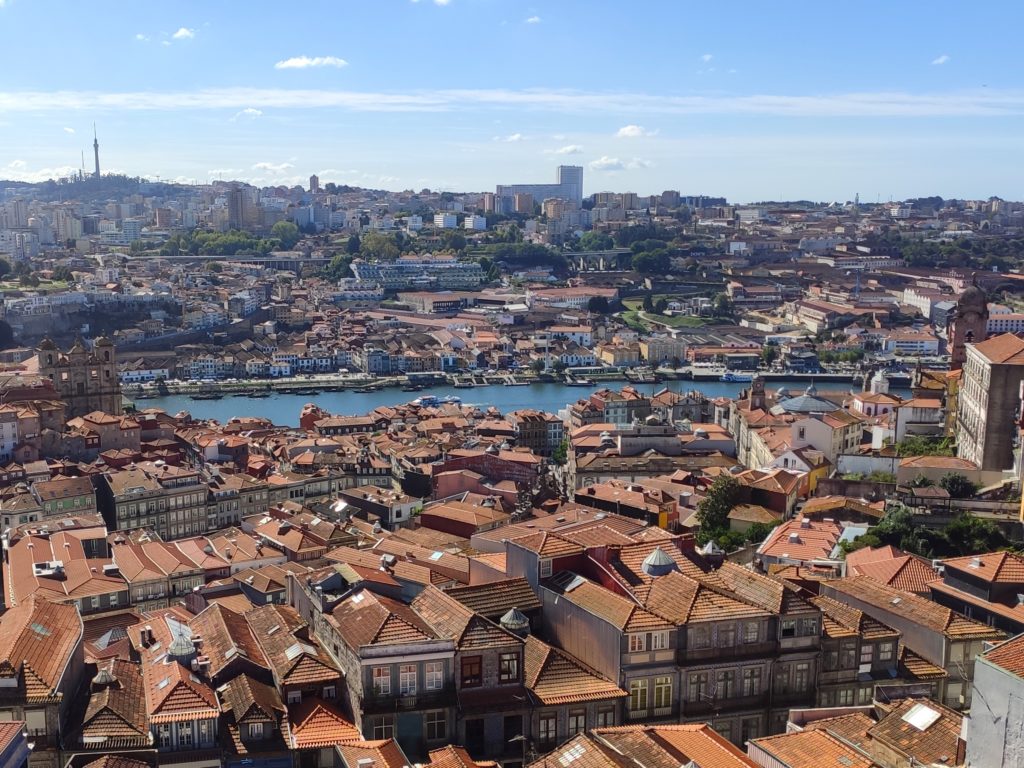 Igreja de San Ildefonso
Another church with a facade full of azulejos, Igreja de San Ildefonso stands out for its impressive stance.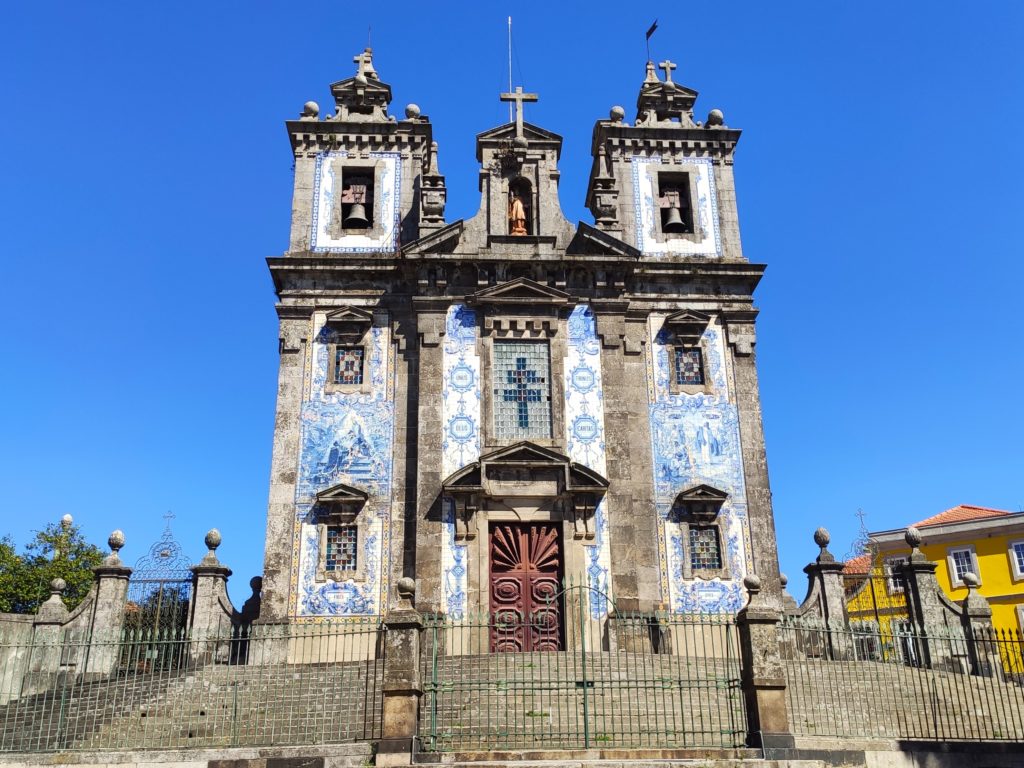 Neighbourhood of Barredo
On your way to Sé (the main Cathedral of Porto) and Ribeira, you will cross the neighbourhood of Do Barredo, with steep stairs, colourful flags hanging across its streets and monuments such as Escadas do Barredo, Convento dos Grillos or the best preserved piece of the Muralla Fernandina.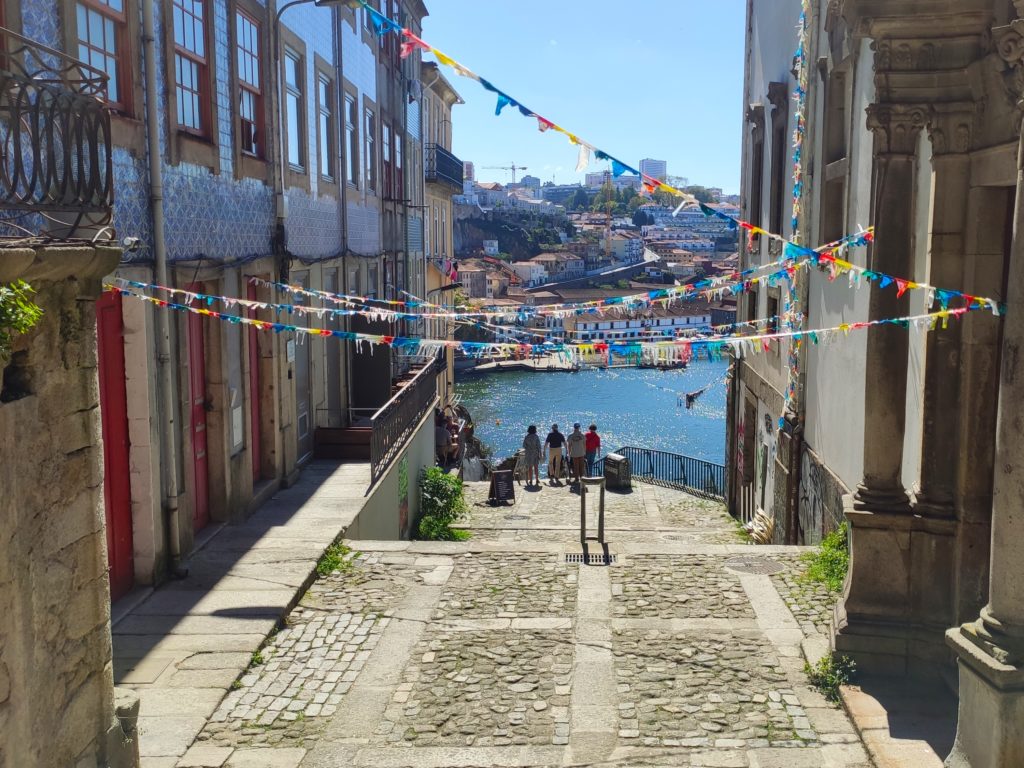 At this point it might be a good time to have lunch. Depending on your plans for dinner (you might want to save it for then) you can go to the neighbourhood of Ribeira, next to the river Duoro. It has plenty of tasty options where fish and most particularly cod is the clear protagonist.
Sé (cathedral)
The first thing that will take you aback at Sé is the beauty of the views over the old town, as the cathedral is placed in a small hill. Of course comparisons are always hateful, however, in my opinion this views are iven better than the ones from Torre dos Clérigos.
Before entering La Sé, you can observe the ornamented column placed in the midle of the Praça, which is where one time ago criminals were punished. Once inside, get delighted at the cloisters, richly decorated with azulejos. There is also a tower to climb with, once again, great views over the city.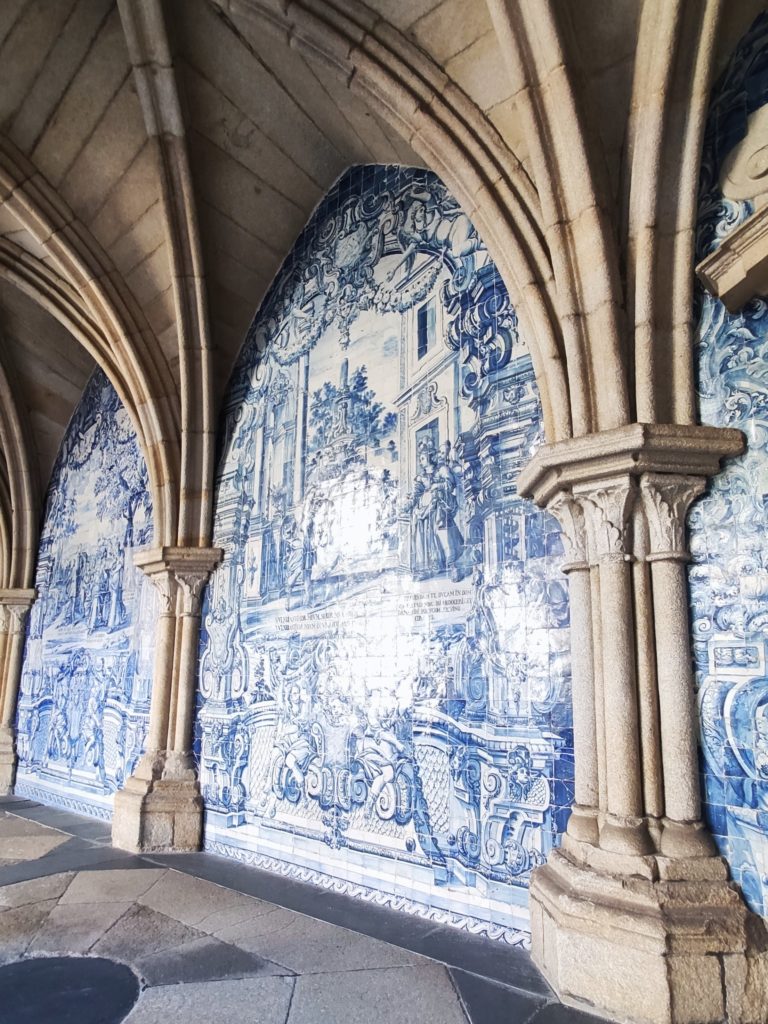 La Sé is also the place where Camino de Santiago (The Way of saint James) starts in Porto: the Portuguese Coastal Way. If, like us, your Porto in a day visit is the precedent for Camino de Santiago, you will be able to buy your Pilgrim's Credential at La Sé.
Cruise to visit the six bridges over the river Duoro
Leaving from Ribeira, plenty of operators organise tours over the river Duoro. They usually last for about an hour and are not expensive.
From the cruise you will be able to see both sides of the river, Porto and Vilanova do Gaia. You will almost arrive to Duoro's estuary to the Atlantic Ocean.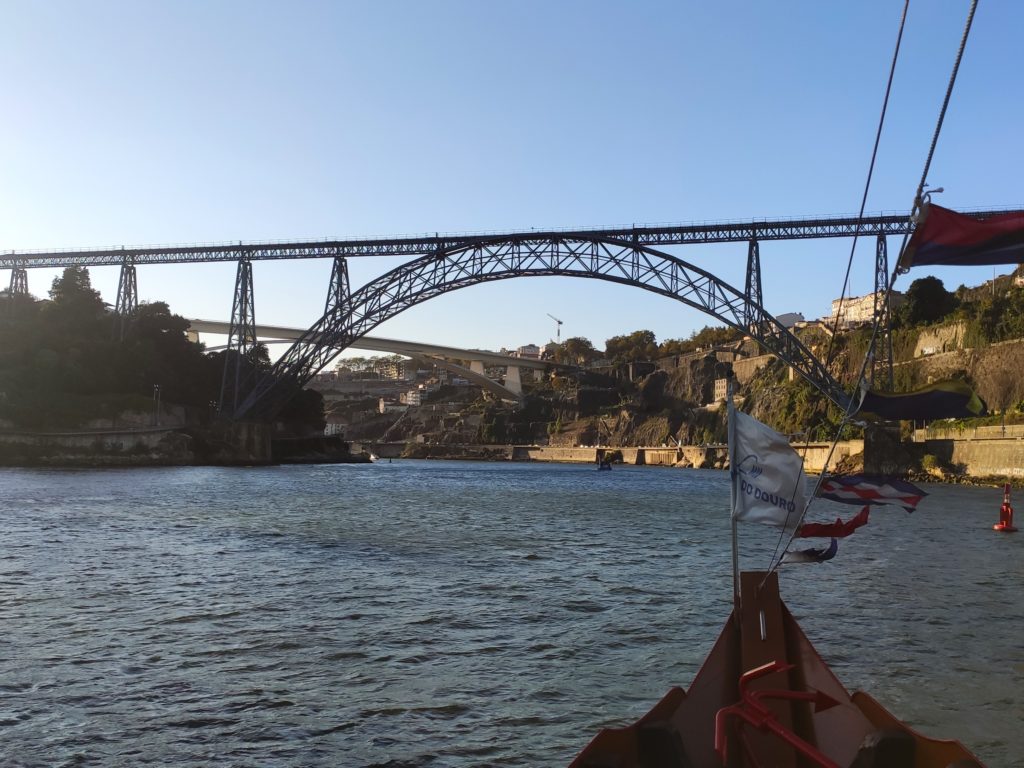 Although for us it was not the most spectacular experience of the day, it gave us an hour of peace and rest while still discovering the city. We very much needed that after the whole day of walking, so overall it was a great choice.
Ponte Don Luis I
When you are an hour away from sunset, you can visit the bridge Ponte Don Luis I. If you are at the area of Ribeira, you will need to climb again the stairs of the neighbourhood of Barredo to the second floor of the bridge. We aware that besides pedestrians, trolleys also use this bridge.
Ponte Don Luis I is in itself an architectonic masterpiece built by Théophile Seyrig, disciple of Gustave Eiffel (the architect behind the construction of the Eiffel Tower in Paris). However, it also happens to be one of the best spots in Porto to contemplate the sunset over the river Duoro, Ribeira and Vilanova do Gaia.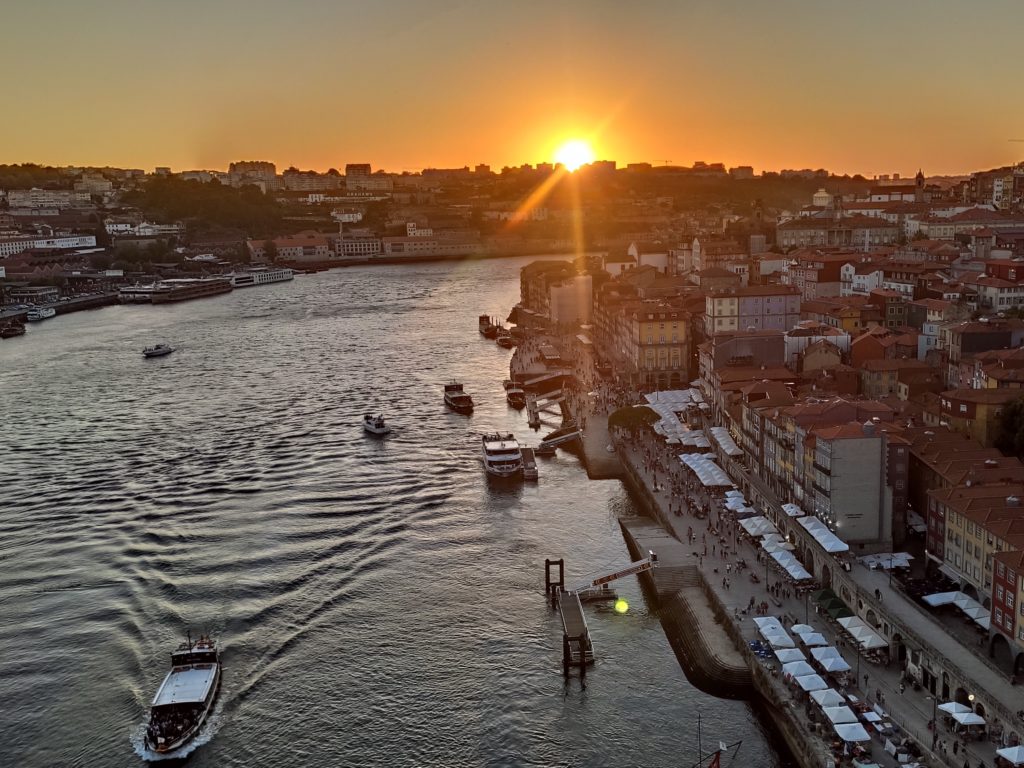 Jardim do Morro – Vilanova do Gaia
If it is not yet time for dinner, you can completely cross the Ponte Don Luis I to arrive to Vilanova do Gaia. Right there, at Jardim do Morro, there is another great spot to watch the sunset over Ribeira and the city of Porto.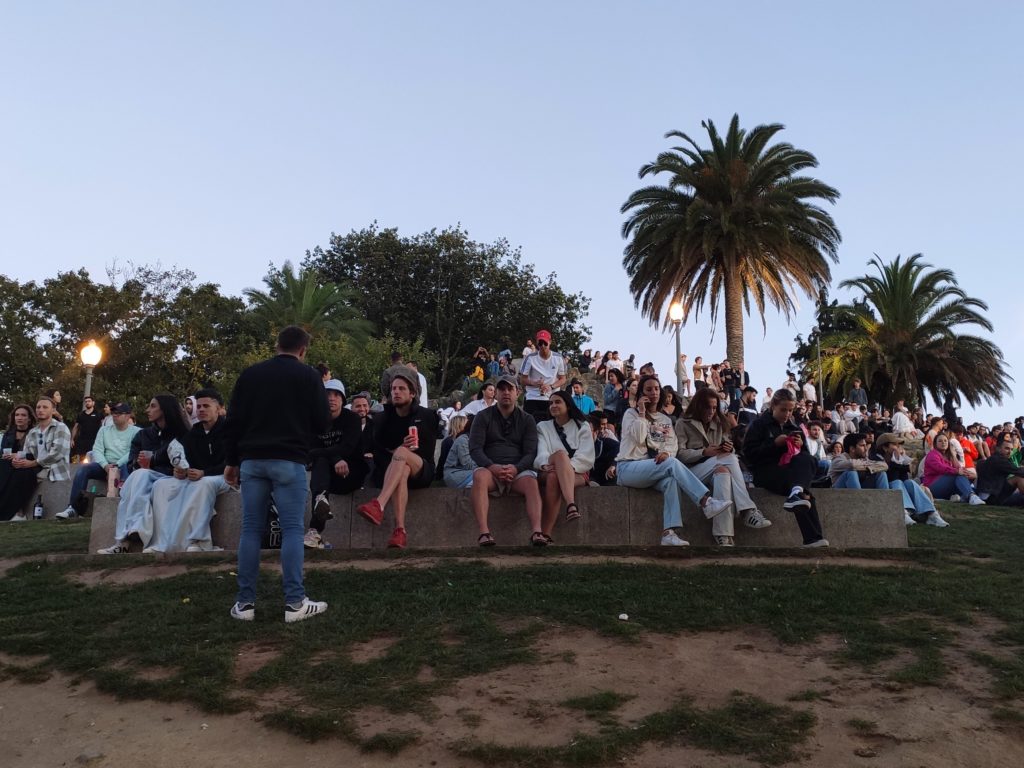 Mosteiro da Serra do Pilar
From Jardim do Morro there is also a very clear view of Mosteiro da Serra do Pilar. It has a very rare circular cloisters and has the most beautiful lights on its facade at night.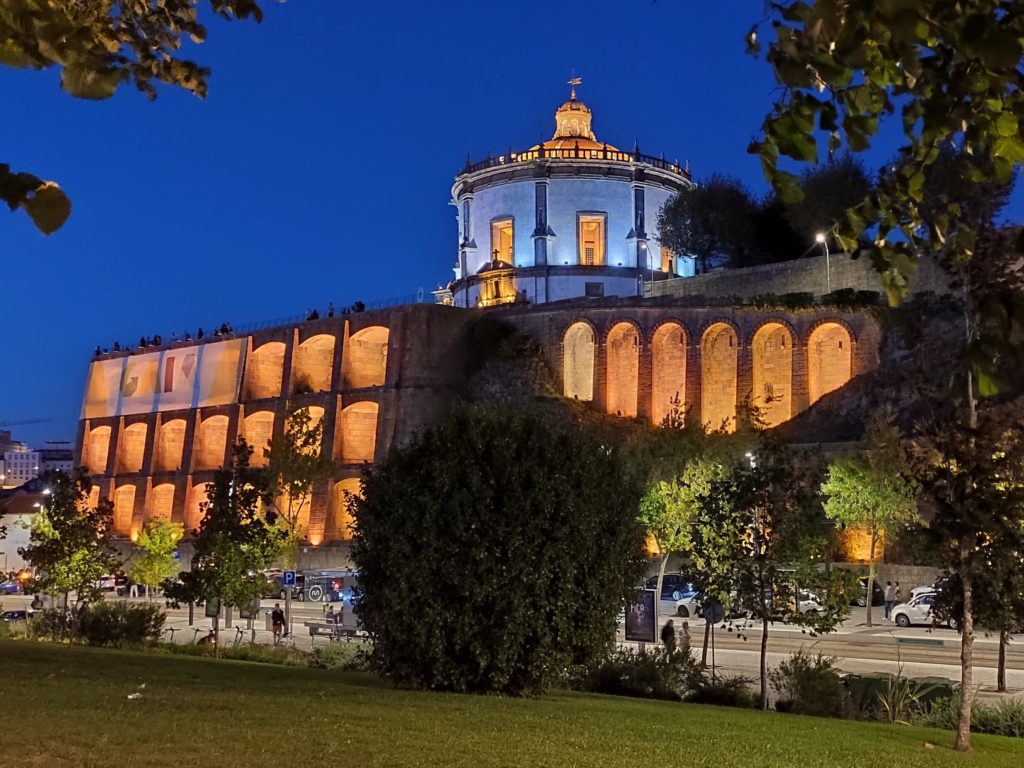 Ribeira
The day can finish with dinner at Ribeira. The street lights over the river Duoro are lovely. This neighbourhood is much alive at night so you can also enjoy some drinks or street music and performances.
If you have more time…
There are plenty of other attractions to visit if you have more than a day to spend in Porto. Some of the most standing out ones can be:
Visiting wine cellars at Vilanova do Gaia. After all, Porto's sweet wine is world-known!
Enjoy a Fado show with your dinner. Fado is a folklore type of music typical of Portugal.
Visit Palácio da Bolsa, an apparently pain building in Porto with rich architecture in the inside. It is one of the less known but most worthy plans to do.
Marvel at the majestic Igreja de São Francisco. It is a 13th century building that has about 300kg of gold dust in its structure. Its catacombs are also spectacular.
Walk around the estuary of the river Duoro at the Atlantic Ocean. Particularly do not miss the Farolim da Barra do Duoro.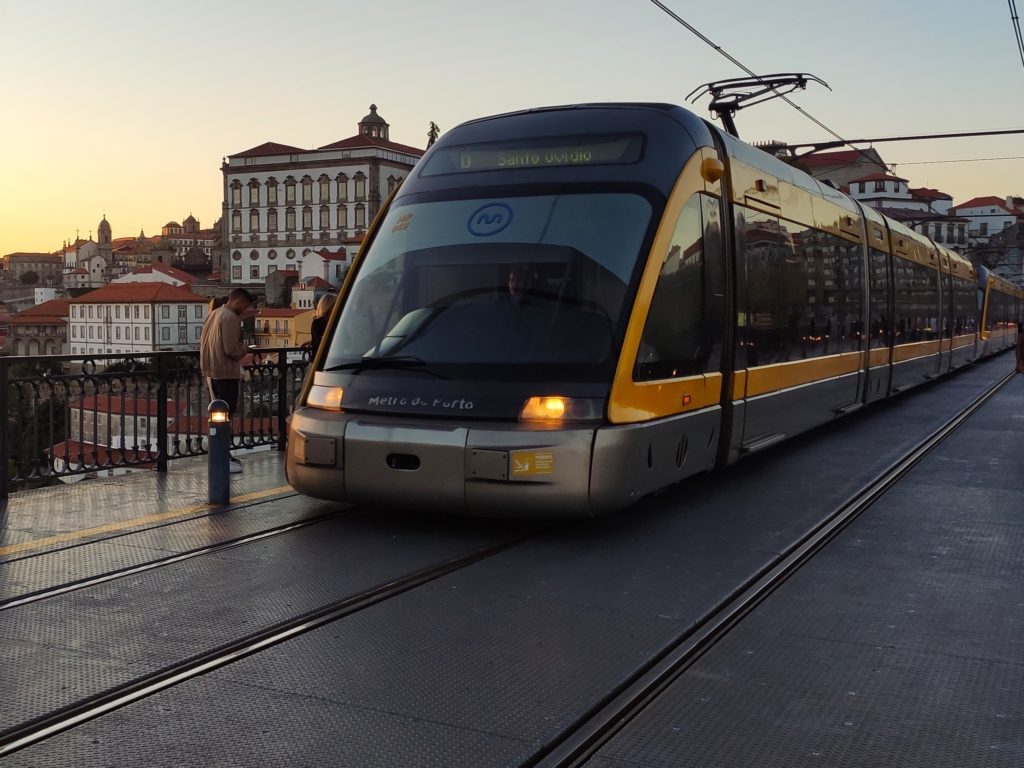 ---
Was this post on what to do in Porto in a day useful for you? Please let me know and feel free to ask any question in the comments section! You can also support my work and Buy Me A Coffe. I will be immensely happy 🙂