Do you want to trek a country in Europe with plenty of hectareas of raw nature and the greatest population of brown bears and lynxes in the whole continent? You should consider trekking in Romania: Carpathian mountains, national parks, lakes, peaks, waterfalls…
The basics of our roadtrip through Transylvania, Romania:
Duration: 16 days
Date of travel: from July the 16th to August the 1st, 2021
Number of travellers: two people
Time of preparation: one month
In this post you will find information on how to get the best trekking routes in Romania as well as some examples of treks with different levels of difficulty, and a list of the most astonishing national parks. Most of this information was provided by locals so you will find places barely known by tourists!
If you also want to wander around Romanian culture and cities, check my other post 'What to do in Romania: the list of the best tourist attractions you can't miss'. You will find there a very exhaustive list of the main places you should go to when visiting Romania, with a particular focus on Transylvania, ranging from fortresses and castles, huge salt mines, cities full of history and breathtaking landscapes.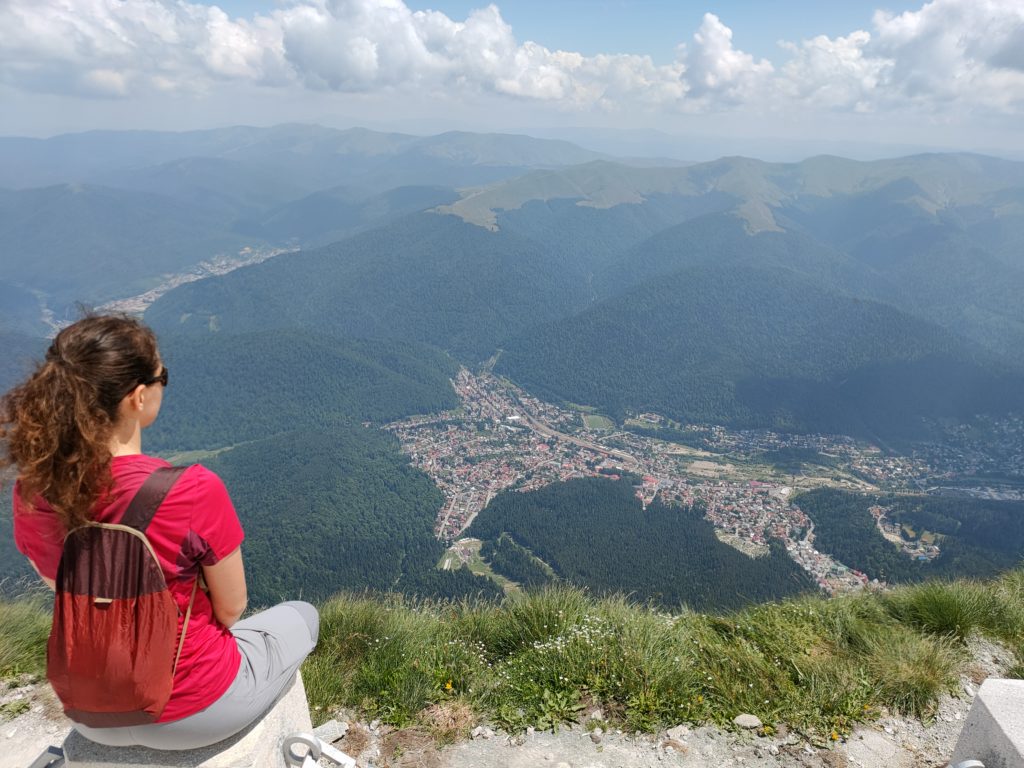 1. The basics of our trip
We spent two weeks on a roadtrip in Romania, mainly in the centre region of the country known as Transylvania. We rented a basic car but were lucky to get updated to a 4wd. This was extremely useful for us as some of the roads we took were not paved and not really good. During the post, when it's relevant I will describe the type of road that leads to these destinations.
We combined visiting cities and other tourist attractions with national parks and trekking routes. We planned to trek a lot more than we finally could. Particularly, the two-days route to the Varful Moldoveanu, the highest peak in Romania, was supposed to be the jewel of our trip but it did not happen.
The reason for that was mainly that the weather was not great for trekking: it was very unstable in the mountains with forecast of clouds and rain. Since we only had two weeks for the whole trip and we were moving a lot, waiting a few days for the storm to pass was not really an option for us and therefore we missed the opportunity of trekking in Romania a lot more. That's nature, right?
Also, just at the middle of our trip, I twisted my ankle and could walk very little, so trekking was definitely not an option and we had to settle to move a lot by car and less by foot. However, we did read a lot of information and received amazing recommendations about gem natural spots to visit by local friends, so I want to compile all of it for you to have it.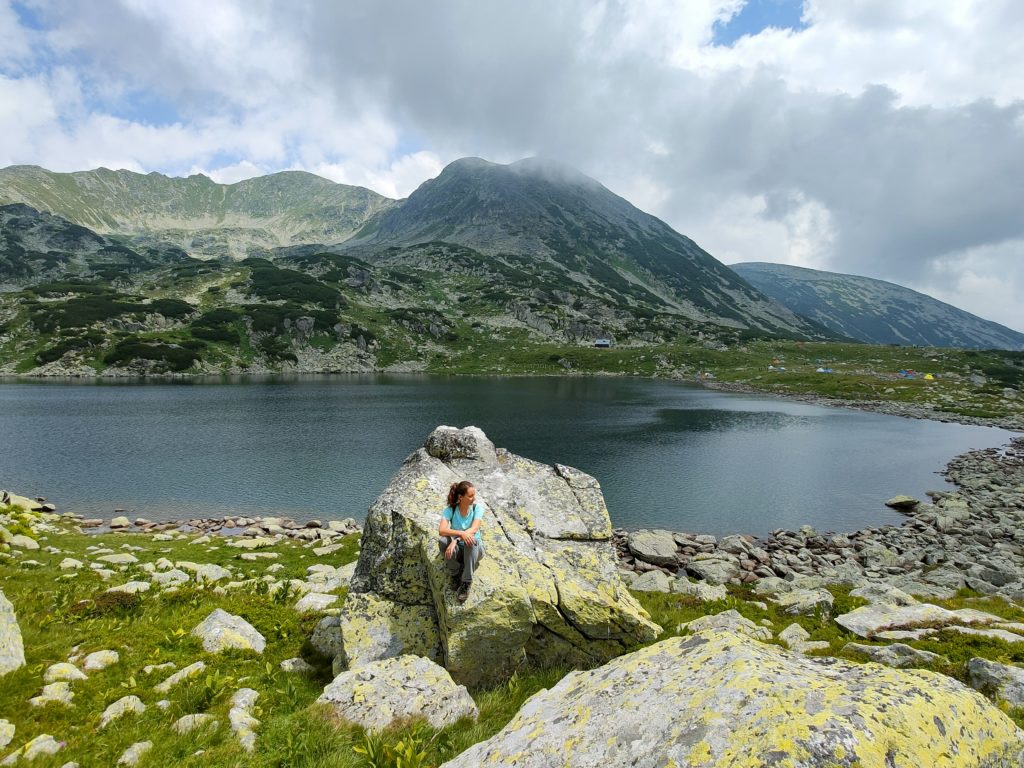 2. National parks and peaks for trekking in Romania
Appart from the list of trekking routes in Romania, I have prepared some general information on the basics of moving in the mountains, in case you need it. It can be found below in this post, in the section '3. A few recommendations for trekking in Romania'. If you are already familiar with trekking, I would just recommend you to read the part about the App Muntii Nostri, which is where you will find most of your routes.
Varful Moldoveanu
Varful Moldoveanu (Moldoveanu Peak) is the highest peak in Romania at 2,544 m high and therefore one of the most emblematic trekking routes in the country, although locals say it is not the most beautiful. The trek to the top is about 30 km with +2,800 m/-2,800 m of vertical relief and is usually made in two days, starting from Balea Lake. Along the route, you can sleep in a guesthouse (Podragu Chalet) on the way up. You can also have your meals there. We tried to contact them to get more information, without success, so I would say it is not possible to book a bed ahead of time. However, from what we read, even if all the beds are taken the hosts would take trekkers in to sleep in the dinning area.
In our case, after delaying the trekking for a week because of bad weather we finally canceled it altogether. The days we had reserved for it were gonna be cloudy and rainy, which increases the intrinsic difficulty of the trek. Also, we wouldn't have the views we were hoping for. So I guess we will need to visit Romania again to cross that out from our bucket list.
Where it is
Located in the Fagaras Mountains, in the Carpathian Mountains. Victoria is considered the reference town for this peak.
How to arrive
The most common starting point is Lacul Balea (Balea Lake), although there are other options that leave from Victoria. Both locations can be accessed by car. In the case of Lacul Balea, the road that will lead you there is the Transfagarasan road, considered the most beautiful highway in the world. Transfaragasan is a mountain road of 91 km of total distance, which in summer is open from 6am to 10pm. The part from the starting point at Cartisoara to Lacul Balea is the most impressive one.
There is also a cable car in the area that may lead to some confusion. It operates between Balea Waterfall and Balea Lake (both at Transfaragasan, 7.5 km by road from each other). As it doesn't leave from a major city, it is not really useful to arrive to Balea Lake but it serves only touristic purposes for its scenic views over the highway.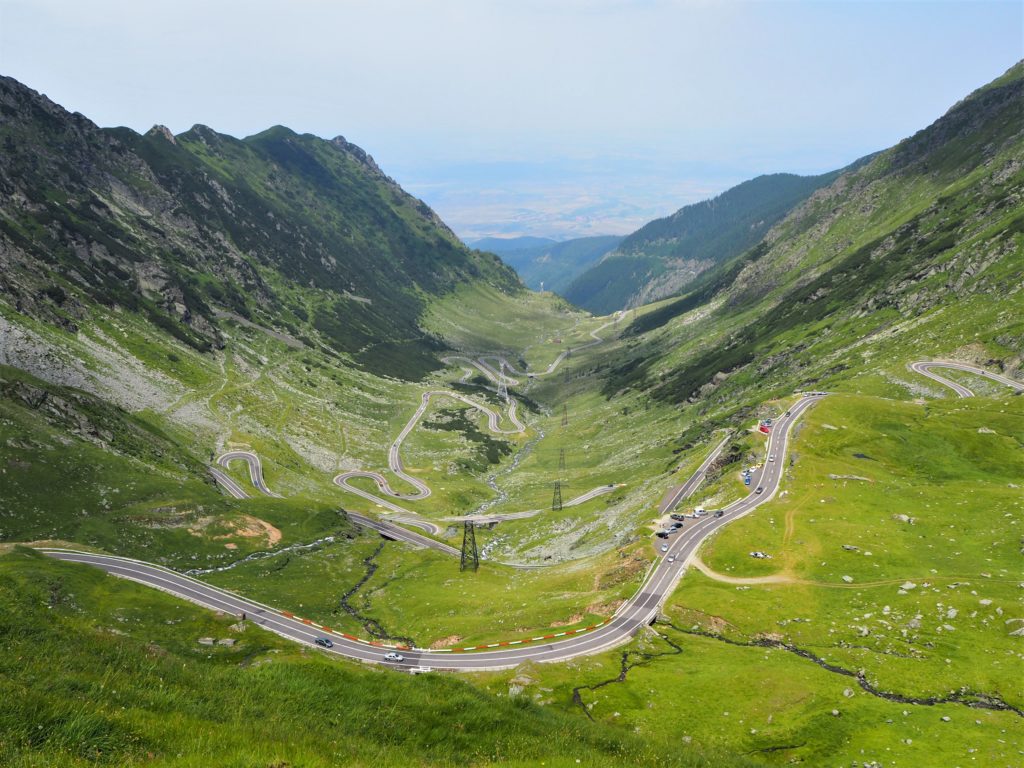 The route
As I said, we didn't actually do the trek so this is second hand information:
The circular from Balea Lake to Moldoveanu Peak and return has a distance of 30 km, covering 2,800 m of elevation gain and the same elevation loss.
The route is constantly gaining and losing elevation (some 300 m up and down, and repeat) instead of gaining it progressively from Balea Lake to Moldoveanu Peak.
You can sleep and have your meals at Podragu Chalet, which is at 7,5 km from Balea Lake and 6 km from Moldoveanu Peak.
Regarding Podragu Chalet, it is not on the "main road" and you need to divert some 30 minutes from the route to arrive there. This means that it is not really practical to leave your belongings at the Chalet to do the ascend to the peak without your backpack.
How many days do you need?
It is usually done in two days, sleeping at the guesthouse Podragu Chalet, which is still 3 hours away from Moldoveanu Peak. Therefore, if you do it in two days, you will have a long day (when you will be going to Moldoveanu Peak) and a short one. Some things I would consider to decide if you do the peak the first or the second day are:

On the first day: the main advantage would be that you will be fresh and full of energy to do the longest part of the trek, and on the second day the way down from Podragu Chalet to Balea Lake will be short and easy (in comparison). If you decide for this option, I would recommend you to sleep at one of the cabins at Balea Lake to be able to start the trek early.
On the second day: you will be already tired from the day before and probably not as rested (guesthouses tend to be only comfortable enough). However, the weather in the mountain tends to be better during morning so you'll have more chances of having a nice view on the top. This will also mean that you should wake up really early and maybe even start walking when it's still dark.

Some really fit people do the trek in one day while others split it in three: first day from Balea Lake to Podragu Chalet, second from Podragu Chalet to Moldoveanu Peak and return to Podragu, and third from Podragu to Balea Lake. We did something similar when we trekked to Toubkal, in Morocco, and it worked really well for us.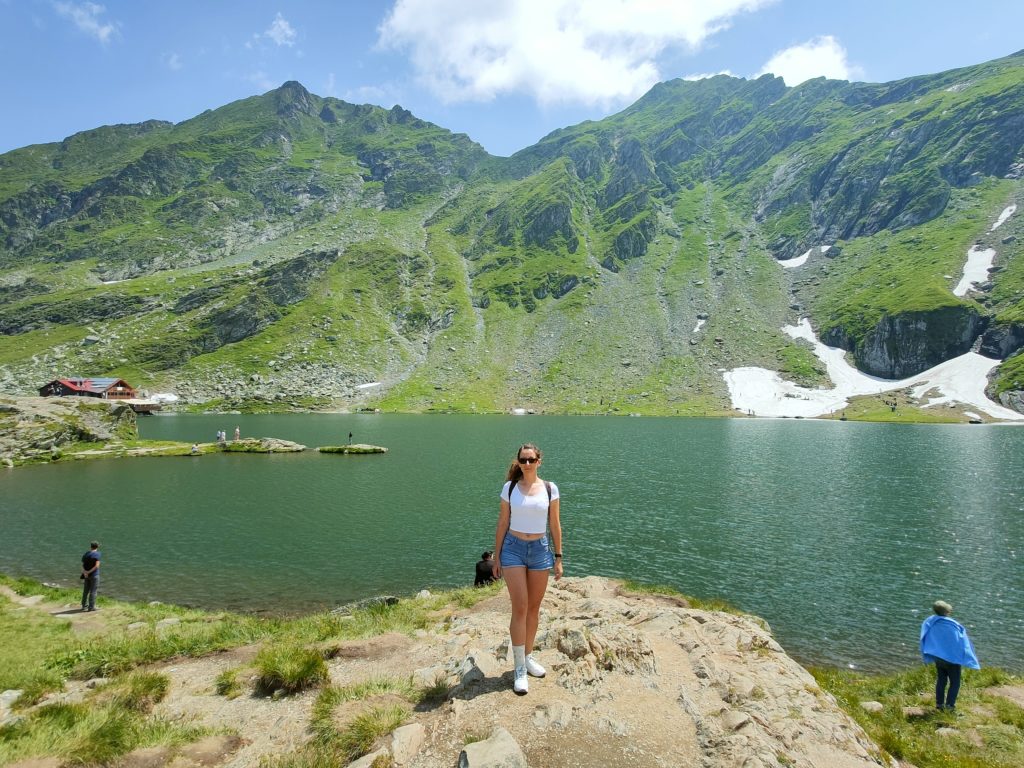 Retezat Mountains
Retezat is one of the National Parks in Romania and one of the most impressive trekking activities we have done. There are plenty of trekking routes to explore the area, including its several lakes and peaks.
There are a few access points to the park and different routes starting from each of them. Most of the routes we found were ascensions to the peaks at Retezat (Pelaga, Bucura, Judele, Retezat…). The majority of these treks start from different refuges located in the park that you can only arrive to by trekking and demand a +15 km trekking with +1,000 m of gained elevation. Therefore, if you truly want to explore the area, I would recommend to spend a night or a few in one of these refuges.
We didn't had the time to do so, so we settled for an apparently easy trek that we could complete in a single day, the glacier lakes tour, starting from Cabana Poienii.
Where it is
Located in the south-west of the centre of Romania. The nearest town is Hateg, some 30 km south from Hunedoara.
How to arrive
We arrived to Cabana Poienii by car through a mountain road not suitable for regular cars. It is not paved in the last 18 km and therefore in quite bad conditions. We payed 35 RON total for accessing the park (10 per person and 15 for the car). I would imagine that there are some operators that offer lifts to Cabana Poienii, however, if you don't have a car maybe you could consider doing another route, starting from Rausor or Carnic.
The route
When we start the trek, the landscape is amazing. We start the trail up through a pine forest with the floor full of roots and pine needles. The trees are all tall and green. As we ascend, the trees start disappearing and bushes, wetlands and rocks of varying sizes start to appear. We arrive to the Bucura lake and encounter it surrounded by the tents of the people who spend a few days in the area.
Our route today consists in a circular around several glacier lakes in the area. We thought it was going to be easy and although it is not extremely hard, approximately at the middle of the circular we walk purely over boulders and need to very carefully watch our steps. Overall, we walk 11 km with over 700 m of elevation gain in about 5 hours with stops.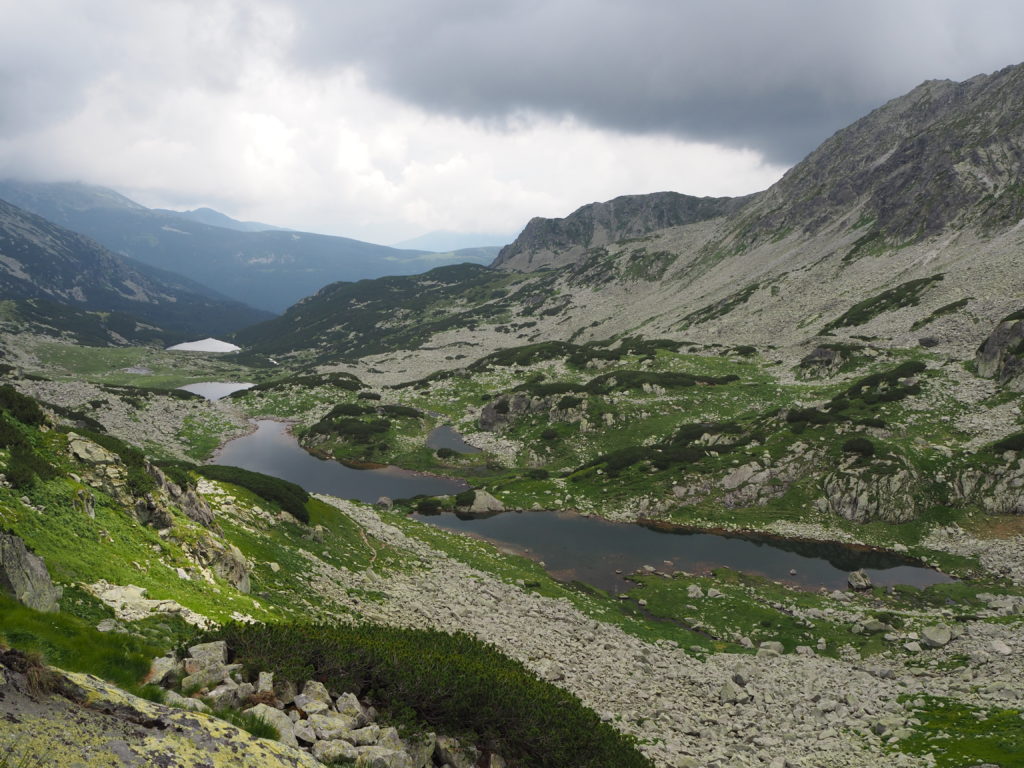 The Mountain Sphinx
The Mountain Sphinx consists of a formation of rocks that resemble Egypt's Great Sphinx of Giza. It is considered one of the "Seven Wonders of Romania". In the area you'll find several other curious formations, for example shaped as mushrooms.
Where it is
Located in the Bucegi mountains in Busteni, near Brasov and close to Varful Caraiman and the Caraiman Cruisse.
How to arrive
The Sphinx can be accessed from Busteni by several treks of varying difficulty or a cable car (36 RON one way per person from Busteni to Babele). If you chose to arrive by cable car, expect long queues. A good option we found was leaving the car near "Il Rifugio Della Fame", a parking where you will need to pay 10 RON. From there to the Babele cable car there are 30 minutes of easy ascending route.
The route
From the Babele cable car to the Mountain Sphinx there are just about 10 minutes of plain terrain. You will be encountering different rock formations and astonishing views of the surrounding mountains. Once at the Sphinx there is not much to do but circle it and decide if you've had enough or you want to walk a little more in the area. I would recommend to team the trip to the Mountain Sphinx with the visit to Caraiman Cruisse at Caraiman peak.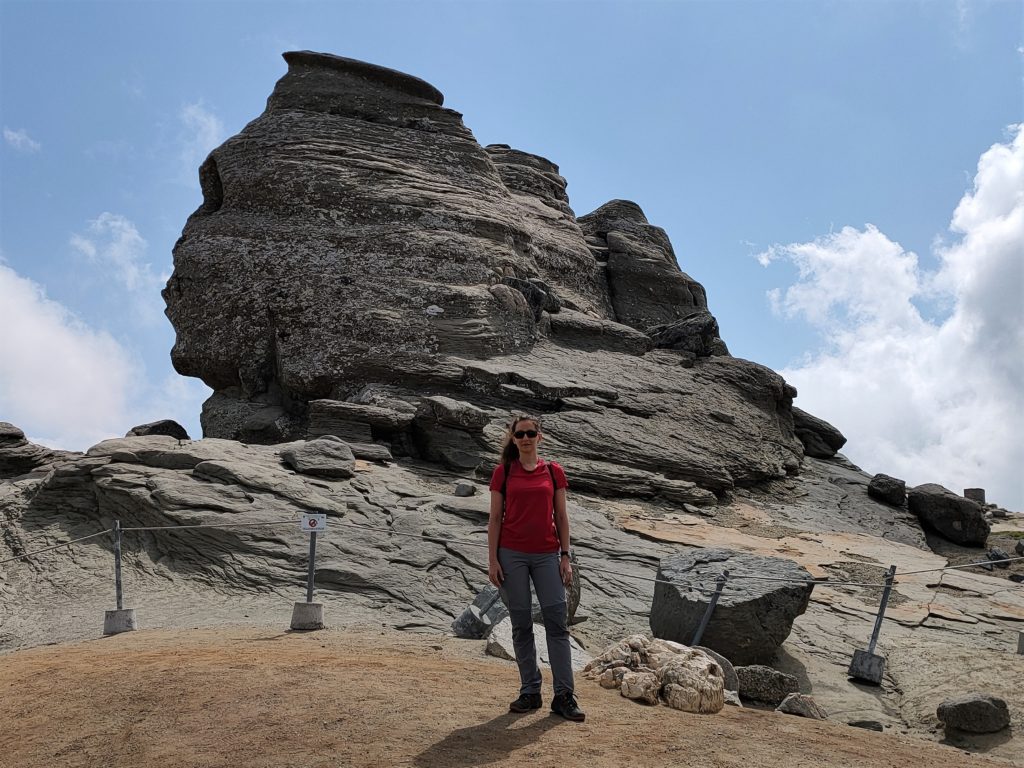 Varful Caraiman
A 2,384 m peak in the Bucegi mountains with the Caraiman Cruisse nearby. The Cruisse is a monument for those fallen on WWI.
Where it is
Located in the Bucegi mountains in Busteni, near Brasov and close to the Mountain Sphinx.
How to arrive
The Caraiman peak and Cruisse can be accessed from Busteni by several treks of varying difficulty or a cable car (36 RON one way per person from Busteni to Babele). If you chose to arrive by cable car, expect long queues. A good option we found was leaving the car near "Il Rifugio Della Fame", a parking where you will need to pay 10 RON. From there to the Babele cable car there are 30 minutes of easy ascending route.
The route
From our starting point at the parking, we hike for a total of 15 km. We visit first the Sphinx, Costila and last the Caraiman Cruisse. Until then, the terrain is pretty regular and the elevation gained or lost very progressive and easy. The way back from the Caraiman Cruisse to the parking takes us about 5 km and is longer and harder than expected, particularly the first half of it, mainly because of irregular terrain, with considerable elevation loss.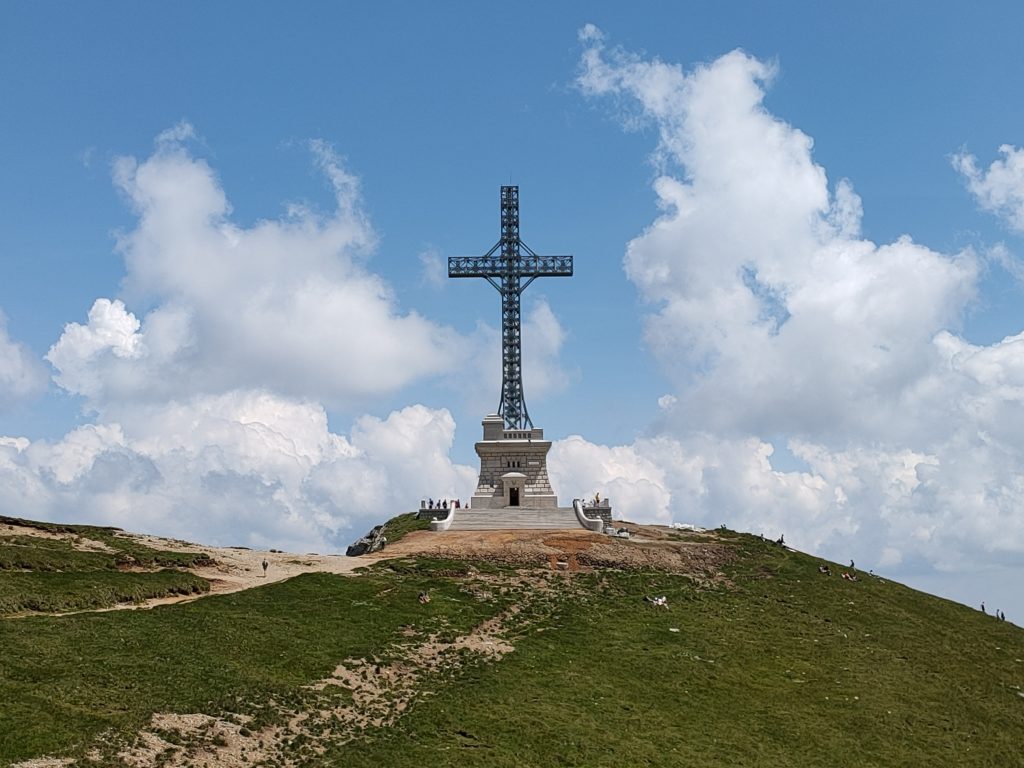 Rapa Rosie
Among the varying landscapes you will encounter in Romania, Rapa Rosie is an anomaly. It is a formation of reddish rocks in the middle of nowhere, regarded as Romania's small Grand Canyon.
It is not a major trek or a full's day activity, although it is close to Sebes and in the way to several other destinations that must be visited. So, a short stop would be perfect to appreciate it.
Where it is
Near Sebes.
How to arrive
It can be accessed by car from Sebes in 15 minutes. Once you leave the highway, the road to arrive to Rapa Rosie is not paved but not bad either, so it is possible to do it with regular cars.
The route
When we went, we climbed the formation doing a circular route of about 2 km and 180 m elevation gain, which was really unnecessary because there were no special views in the top and the trail was almost non-existent (just walk among the bushes and dry tall grass). I would recommend to stick to taking the picture from below, as everybody does.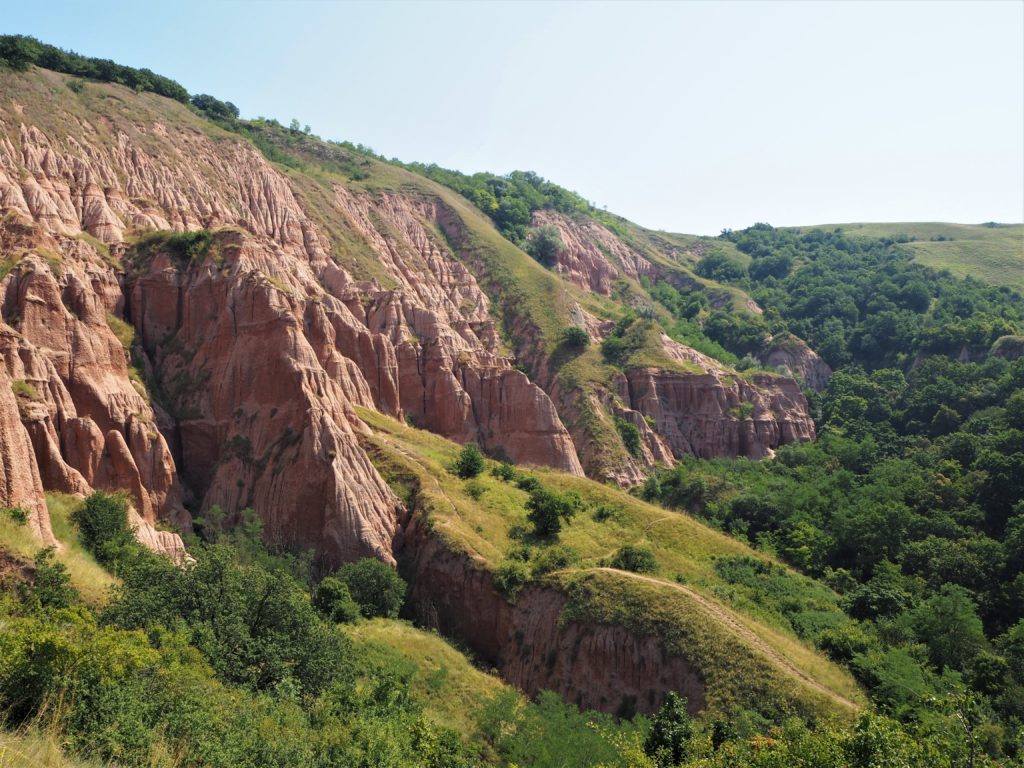 Domogled-Valea Cernei National Park
Domogled-Valea Cernei National Park has its reference city at Baile Herculane. It is mainly regarded as a climbing destination, although there are several trekking routes and other activities you can do. A local friend recommended us this area and although it was too far for us as we only had two weeks in the country, we do regret not being able to explore it.
The area is full of thermal springs, each with different minerals and healing properties. As a result, there are several spas which can be great options to relax after the activities of the day. However, one of the things that we find more interesting and is the single reason we would have gone there are the natural hot springs that can be found just anywhere in the park.
Where it is
Located in the south-west of Romania, almost at the border with Serbia.
How to arrive
By car through a decent road.
The route
From Tasnei Gorge to Empress Elizabeth Trail or Vanturatoaera Waterfall and Inelet Hamlet Village, the area is full of options. You can do them by yourself or in an organised group. Domogled-Valea Cernei National Park is highly touristic, therefore there are plenty of tour operators that offer these routes. However, I would encourage you to assess whether you can do it on your own. The trails in Romania are very well maintained and marked. With a good track and a litle experience in the mountains, you will be able to do it independently.
Inelet Hamlet
Recommended by a local, Inelet is a town with no access by car or road, only by a wooden ladder. We don't visit it as it is quite far from where we are, but would have loved to.
Its location and difficult access have kept Inelet quite isolated from civilisation, which can be both a blessing and a handicap. For visitors, it usually means that the ways of its people are more traditional that what we would observe elsewhere. However, as it poses a touristic interest, it is probably highly exploited. A quick search shows you that several tour operators organise one-day visits to Inelet. One of the activities for the day is to have lunch with a local family, which is surely interesting – although quite artificial. I would take it nevertheless.
Where it is
Located in the Domogled-Valea Cernei National Park, in the south-west of Romania, almost at the border with Serbia.
How to arrive
By car through a decent road.
The route
The town is accessible by a wooden ladder on one end and a mountain trail by the other. In my opinion, the ladder is the main attraction to go there. However, if you don't do well in hights it might not be a good idea, as it is very steep and honestly doesn't look extremely secure. I'm sure it is, just not in appearance.
The route lasts only for 5 km with 550 m of elevation gained (plus the same lost). It starts at one point of the road and ends in another, so if you are not going with an organised group you'll probably need to walk there to return to the starting point.
3. A few recommendations for trekking in Romania
These recommendations will be specially usefull if you plan to do a few days trek. For example, Moldoveanu Peak or exploring Retezat mountains. But they are applicable also for one-day routes.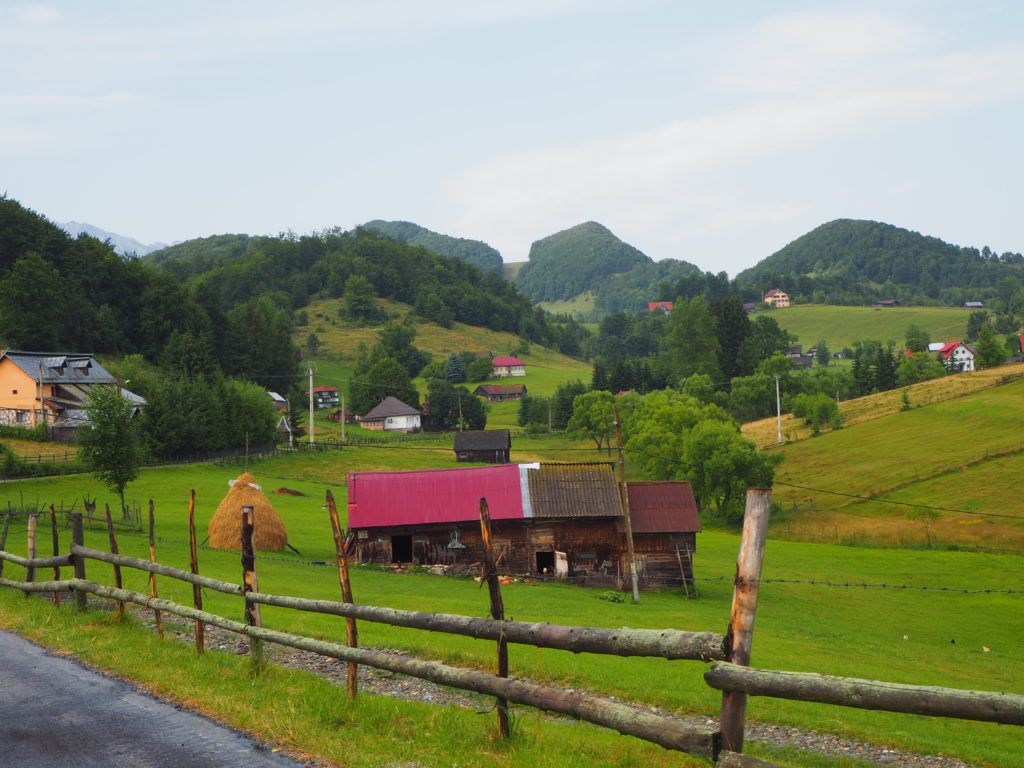 Having a good reliable track – Muntii Nostri
I can't stress enough that having a good track is the most important thing of the whole planning (for trekking in Romania or anywhere). We usually use Wikiloc to find them and so far we have always found plenty of options. However, this was not the case in Romania, as there were fewer trekking routes than we are used to. Curiously enough, most of the routes we did find were uploaded by Spaniards.
We understood the reason for that while talking to a local friend. He explaind that Romania has a specific website/mobile application for trekking routes, Mountii Nostri. Their aim is to provide good quality trekking routes with accurate maps and detailed information.
You can search routes through the map or by introducing key words. The routes will be rated by difficulty, distance and elevation gained/lost. You'll have a description and the track, which you can download to have available offline. Overall, it is very similar to Wikiloc and once you get used to it, very useful.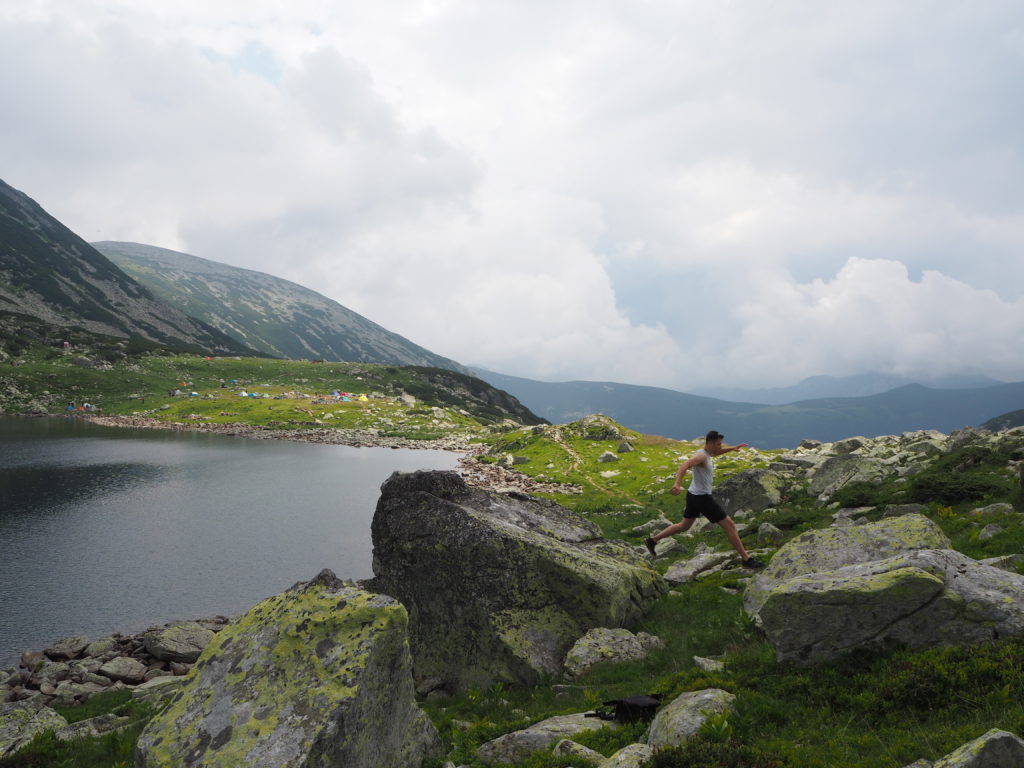 What I think is key if you want to trek an unknown path is to have a topographic map and a compass. Luckily for us technology can complement these items and now we have Apps on our phones that can provide this information.
If you don't already have a map viewer I would recommend you Oruxmaps, which is the one that I use. You can get the free version only in their website, as you have to pay for the version available in Google Play Store or Apple's App Store. Although they could improve its 'user-friendly'-ness (uploading maps can be a little tricky), it has features that I find essential. The ones you should ask your map viewer to have are roughly these ones:
Working both online and offline
Huge databases from where you can download tracks
Compass
Altimeter
Sharing your position
Creating and saving your tracks
The premium version of Wikiloc, which costs about 10€ per year, is also a great option. We also like Maps.me and Mapy.cz. They both have a lot of mountain trails and can tell you the distance from one point to the next one, as well as the elevation gained/lost.
I also recommend you to have a physical topographic map of the area.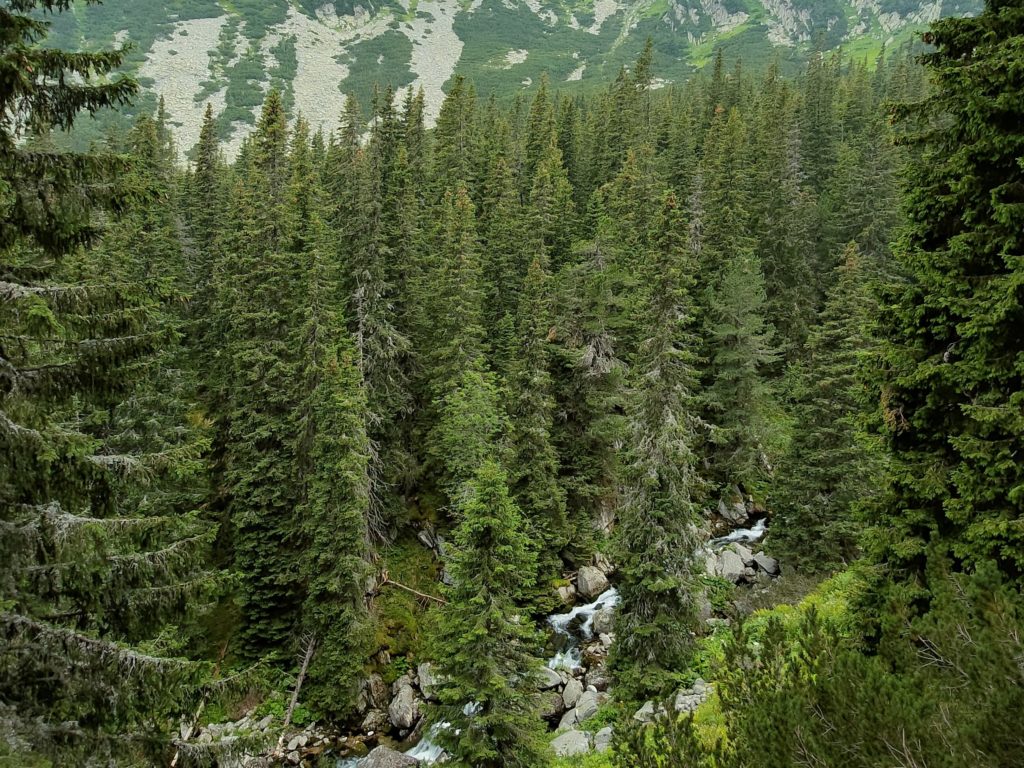 Assessing your preparedness
Again, this section is particularly intended for those trekking for a few days. The most relevant things you need to consider to assess if you are prepared or not for trekking are the distance you will be walking, the elevation gained/lost and the type of terrain.
Think about your previous experiences, your level of fitness and your familiarity with the mountains. I do advocate for exploring the nature, and trekking in Romania is a great way to do it, but you always need to be safe and prepared for what you might encounter.
That being said, there are several things you can consider:
Carry a light backpack (see below a list of what your backpack should contain, either for long and short treks).
Be prepared for changing weather, it is very common in the mountain.
Read information about the trek you will be doing.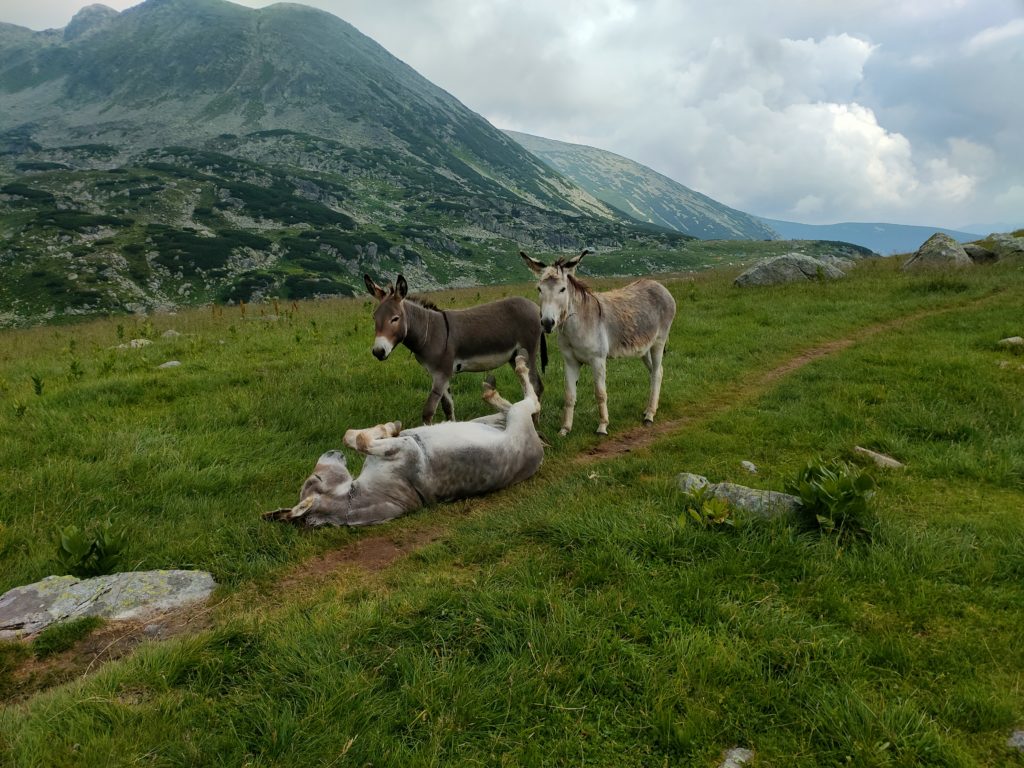 Altitude sickness
Altitude sickness is also known as acute mountain sickness (AMS), and it's a health disorder that presents at high altitude, usually from 2,400 m (8,000 ft). The main symptoms of AMS are headache, nausea and other gastrointestinal disorders, fatigue, dizziness, insomnia, swelling extremities or face and rapid pulse. Other more serious complications may also occur and I strongly recommend you to read about them from reliable sources. In this link, you have an example of a reliable source, but check your own!
However, given that the highest spot in Romania is Moldoveanu peak at 2,544 m (8,346 ft), I would think that altitude sickness is not something you'll need to worry about when trekking in Romania.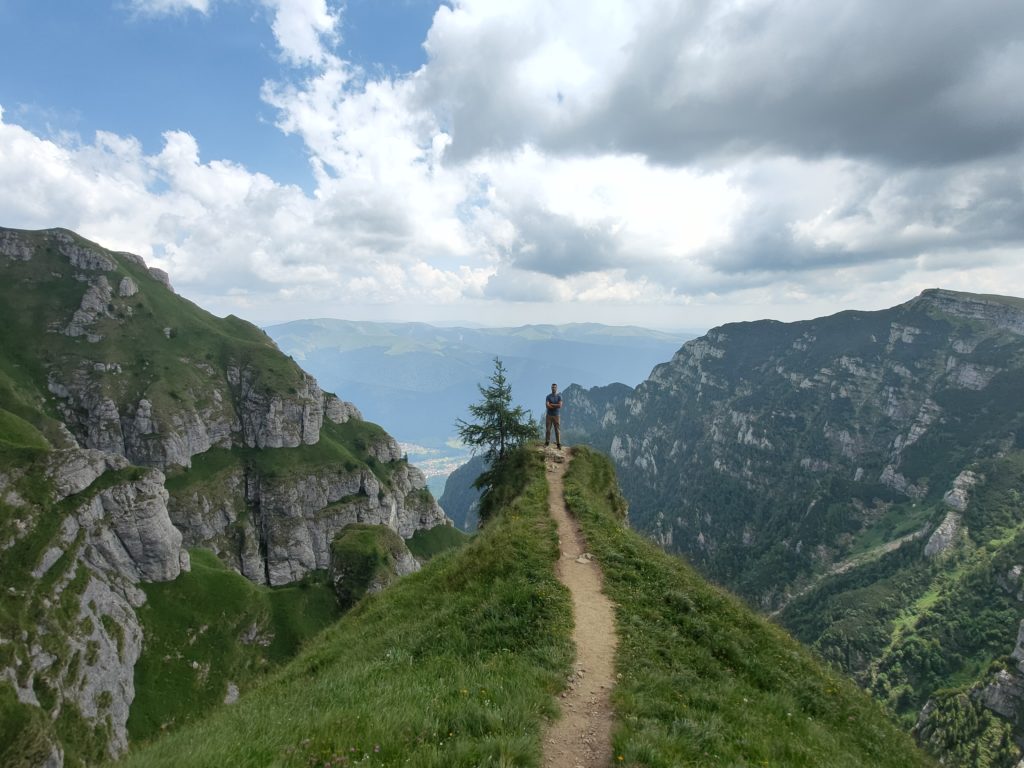 Your backpack
For a one-day trek
Water or isotonic drinks. Soft drinks may help you boost your blood sugar and give you extra energy, but will do nothing to keep you hydrated. Alcoholic drinks such as beers may be a treat or a celebration of the route, but I would recommend drinking them once the activity has finished.
Snacks such as fruits and nuts to give you enerty. Maybe a sandwich or a more consistent meal if you plan to do an all-day-long activity.
Adequate clothing for the activity and the weather and good hiking boots to avoid lesions.
SUNSCREEN! You know, the sun at the mountains is even more harmful than at the beach.
For longer routes
Water purification pills or water purification bottle.
Snacks. Regarding food, you will also need to consider if main meals will be provided where you sleep or you'll need to carry them with you along with the utilities to cook them.
Regarding sleep: will you be sleeping in a refuge/guesthouse or in a tent? Consider if you need to carry the tent and sleeping bag.
Adequate clothing (depending on the season and weather). Try to pack smart and think what you need to wear fresh each day and what you can reuse.
Impermeable windshield warm jacket, if possible, with a hood.
Good hiking boots.
Clean dry socks for every day of the trek.
Electronics, sunscreen, toiletries and basic first-aid kit (mainly for blisters).
Topographic map and compass.
Comfortable backpack of the right size. I wouldn't recommend anything bigger than 40L. Impermeable bag to protect the backpack.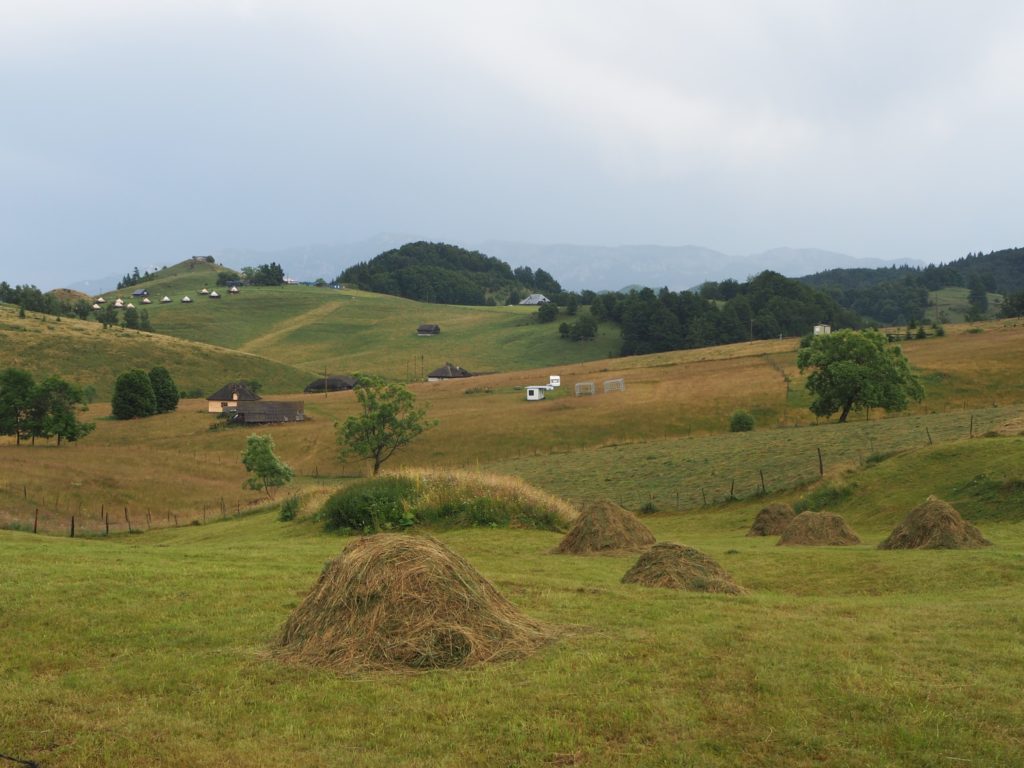 Leave a better place that what you found
I'm sure you will appreciate finding a clean unpoluted landscape. Luckily most trekkers do, and understand that they have the responsibility to take care of nature. However, not everyone is the same, so I would like to encourage you to pick up the trash you find in your way, if any, and, of course, to be very conscious and carefull with your own trash. In the nature, leave only your footprints.
---
Was this post useful for you? Please let me know and feel free to ask any question in the comments section! You can also support my work and Buy Me A Coffe. I will be immensely happy 🙂