Do you want to get to know one of the oldest regions of Eastern Europe? Then Romania is your destination, a country full of contrasts that will transport you to a fairytale from another era.
The basics of our roadtrip through Transylvania, Romania:
Duration: 16 days
Date of travel: from July the 16th to August the 1st, 2021
Number of travellers: two people
Time of preparation: one month
In this post you will find a very exhaustive list of the main places you should go to when visiting Romania, with a particular focus on Transylvania, ranging from fortresses and castles, huge salt mines, cities full of history and breathtaking landscapes.
If you also want to wander around Romanian nature, check my other post 'Trekking in Romania: discovering dreamy national parks and hidden gems'. You will find there information on how to get the best routes as well as some examples of treks with different levels of difficulty and a list of the most astonishing national parks. Most of this information was provided by locals so you will find places barely known by tourists!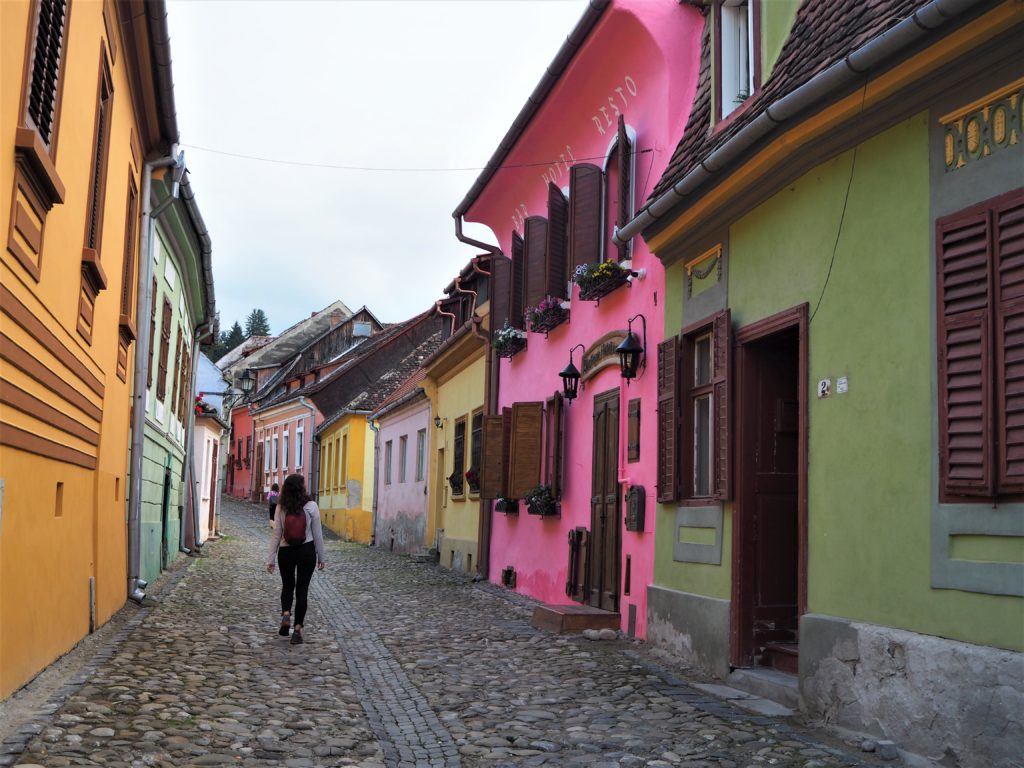 1. The basics of our trip
We spent two weeks on a roadtrip in Romania, mainly in the centre region of the country known as Transylvania. We rented a basic car but were lucky to get updated to a 4wd. This was extremely useful for us as some of the roads we took (particularly some leading to national parks) were not paved and not really good. During the post, when it's relevant I will describe the type of road that leads to these destinations.
For the first week we were very active and visited several places each day. However, in the middle of the roadtrip I twisted my ankle and we had to slow the pace. Fortunately this did not prevent us from enjoying our time in Romania as there are plenty of things you can do with reduced mobility.
Transylvania is mainly known for being home to the fictional character Dracula, which is based on the historical figure Vlad Tepes the Impaler, ruler in Wallachia (Romania) in the 15th century. For this reason, people regard Transylvania as a dark and mysterious place. The reality is quite different: its Carpathian landscapes look bright as extracted from fairytales, with huge pine forests and fields. Also, current Romania is located where several antique European Kingdoms laid and as a result, it is full of culture as well as impressive fortresses or majestic castles.
Have I convinced you yet of visiting Romania? Check the list of the attractions you can't miss!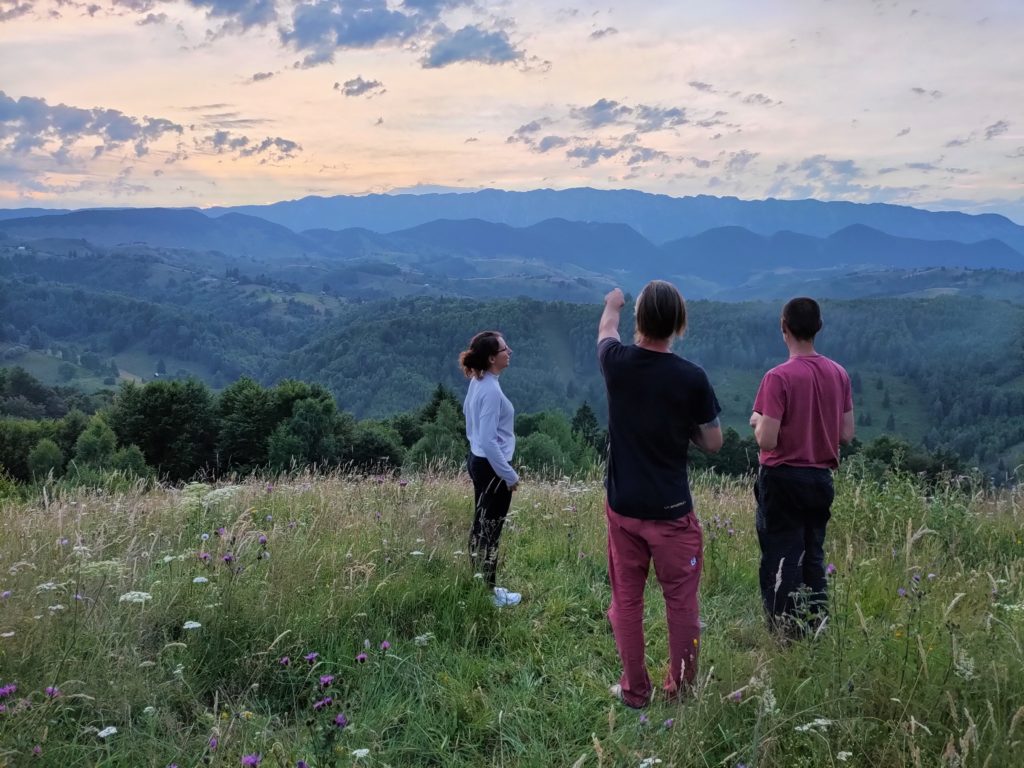 2. Main places to visit in Romania
You will find the information displayed first in a summarised table and then explained in detail for each attraction.
Summary of Romania's main attractions
In this table I have compiled all the tourist attractions that are detailed below. Here you will find the complete list along with some additional information:
Type of attraction: castle (which also includes fortresses), church (listing all religious buildings), city (meaning a range of different visits that you can do while in the cities), museum, nature (great national park as well as gardens and other fresh spots at cities), prison and salt mine.
Cost: expressed in cost per one entry ticket per adult in RON. It does not include the parking, if applicable, and it usually consists in the basic visit. In the text describing each attraction below you can find more information about specific costs. When this column is filled by a question mark, it means that we did not visit and don't know the cost.
Rating: from 1 to 5, 5 being the highest. Now keep in mind that this is very subjective and that I tend to prefer nature over cities. Also, know that this rating serves to compare one attraction to another in this list, so a low rating doesn't mean we didn't like it, but that we didn't like it as much as other places we went to. Again, if the column is empty it means that we didn't visit.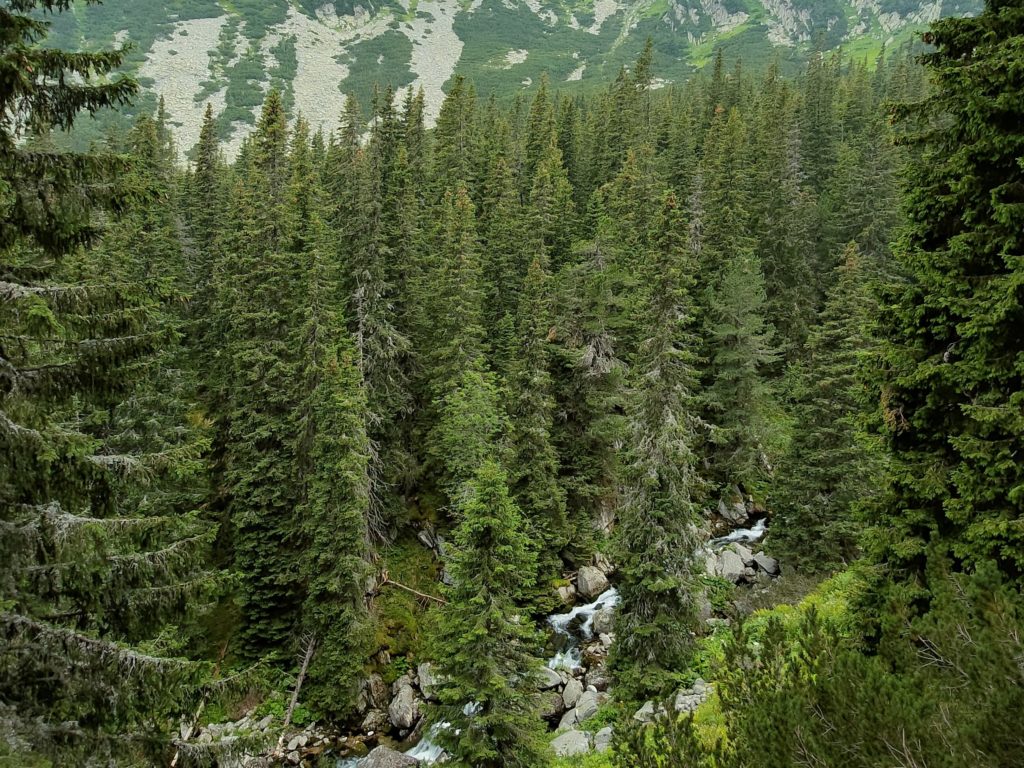 | NAME | TYPE | PRICE (RON/adult) | RATING |
| --- | --- | --- | --- |
| Doftana Penitentiary | Prison | 0 | ★★★☆☆ |
| Casino Sinaia | City | 15 | - |
| The Mountain Sphinx | Nature | 0 | ★★☆☆☆ |
| Varful Caraiman | Nature | 0 | ★★★★★ |
| Cantacuzino Castle | Castle | 30 | - |
| Peles Castle | Castle | 30 | ★★★★★ |
| Strada Sforii (Rope Street), Brasov | City | 0 | ★★★☆☆ |
| Biserica Neagra (the Black Church), Brasov | Church | 15 | ★★★★☆ |
| Brasov and Rasnov Hollywood signs | City | 0 | ★★☆☆☆ |
| Rasnov Fortress | Castle | 10 | ★★★☆☆ |
| Bran Castle | Castle | 45 | ★★★★★ |
| The Sinca Veche Temple Cave | Church | 0 | ★★★★☆ |
| Rupea Fortress | Castle | 15 | ★★★★☆ |
| Towers of Sighisoara | City | 0 | ★★★★☆ |
| Sighisoara Saxon Cementery | City | 0 | ★★★★★ |
| Salina Turda | Salt mine | 50 | ★★★★★ |
| Catedrala Mitropolitana Adormirea Maicii Domnului, Cluj-Napoca | Church | 0 | ★★★☆☆ |
| Saint Michael's Church, Cluj-Napoca | Church | 0 | ★★★☆☆ |
| Opera Nationala, Cluj-Napoca | City | 0 | ★★★★☆ |
| Museum Square, Cluj-Napoca | City | 0 | ★★★☆☆ |
| Hoia-Baciu (forest), Cluj-Napoca | Nature | 0 | - |
| Parcul Etnografic Romulus Vuia, Cluj-Napoca | Museum | 6 | ★★★★★ |
| Botanical Garden, Cluj-Napoca | Nature | 7 | ★★★★☆ |
| Round Church of Geoagiu | Church | 0 | ★★☆☆☆ |
| I Giardini di Zoe | Nature | ? | - |
| Cetatea Deva | Castle | ? | - |
| Corvin Castle | Castle | 30 | ★★★★★ |
| Gypsy Palaces, Hunedoara | City | 0 | ★★★★☆ |
| Retezat Mountains | Nature | 0 | ★★★★★ |
| Densus Church | Church | 0 | ★★★☆☆ |
| Rapa Rosie | Nature | 0 | ★★★☆☆ |
| Sibiu | City | 0 | ★★★☆☆ |
| Fagaras Fortress | Castle | 0 | ★★★☆☆ |
| Transfagarasan | Nature | 0 | ★★★★★ |
| Varful Moldoveanu | Nature | ? | - |
| Prometheus Statue at Vidraru Dam | Nature | 0 | ★★★★☆ |
| Poenari Castle | Castle | 10 | - |
| Horezu Monastery | Church | 0 | - |
| Manastirea Tutana | Church | 0 | ★★★☆☆ |
| Catedrala Curtea de Arges | Church | 0 | ★★★★★ |
| Stone Ravens Monastery | Church | 0 | ★★★★☆ |
| Dambovicioara Cave | Nature | 10 | ★★★★★ |
| Slanic Prahova Saline | Salt mine | 28 | ★★★★☆ |
| Bucarest city night life, Bucarest | City | 0 | ★★★★☆ |
| Arcul de Triumf, Bucarest | City | 0 | ★★★☆☆ |
| Carturesti Carusel Bookstore, Bucarest | City | 0 | ★★★★★ |
| Trajan and Wolf Statue, Bucarest | City | 0 | - |
| Dimitrie Leonida Technical Museum, Bucarest | Museum | 10 | ★★★★☆ |
| Memorial of Rebirth, Bucarest | City | 0 | ★★★☆☆ |
| Palace of the Parliament, Bucarest | City | 40 | ★★★★★ |
| Tunnel of Love | Nature | 0 | - |
| Inelet | Nature | 0 | - |
| Baile Herculane | Nature | 0 | - |
| Bigar Waterfall | Nature | 0 | - |
Description of tourist attractions
Doftana Penitentiary
King Carol I built this prison in 1895, currently in ruins. At the time, it had eight wings, 308 cells, a massive defense wall, and seven guard towers. Five wings had cells with windows, and three wings had cells with no natural light (reserved for inmates with toughest punishments). As theoretically it cannot be visited, there is not much to do. The gates are closed but there's a space between gate bars that someone opened where you can enter. When we went, there was a worker there who apparently didn't mind us getting inside (he's probably used to) but did told us about a dog and to be careful because the roof was falling. We walked for 10 minutes mostly outside and returned. Not really a must, but since we were already passing by by car, we stopped.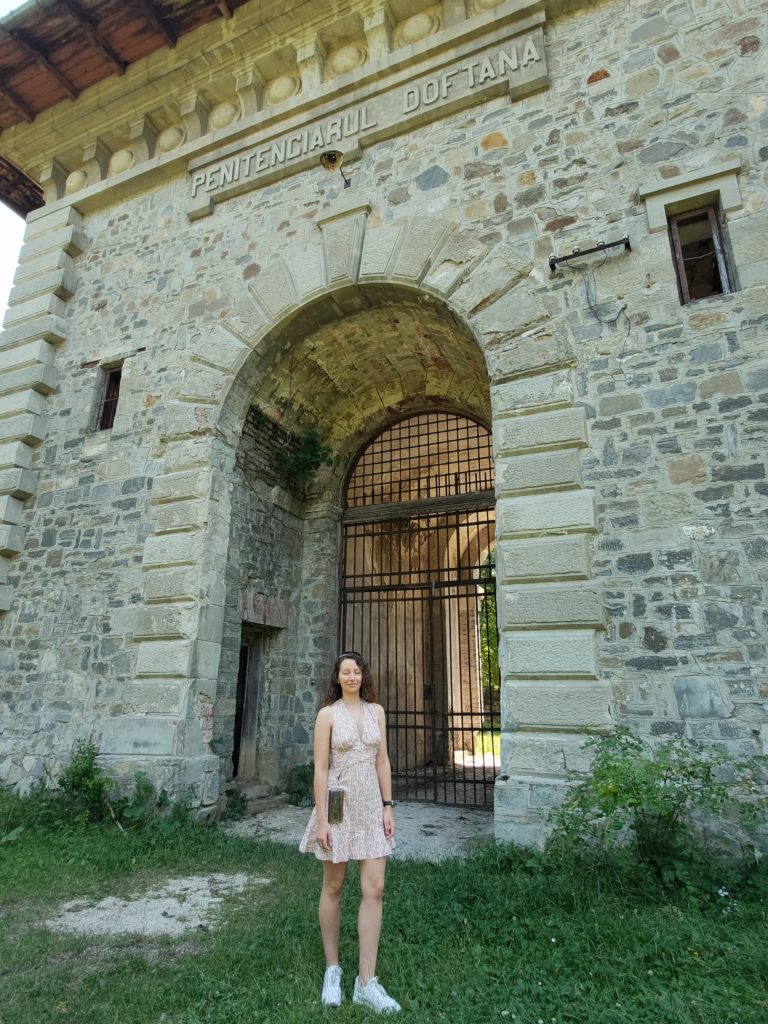 Casino Sinaia
The Sinaia Casino is located in the city of Sinaia and was built at the initiative of King Carol I from 1912-13. It became a major attraction between the wars. After the communist takeover in the late 1940s, gambling ceased and the casino is now an international conference center.
https://www.casino-sinaia.ro/ro/
The Mountain Sphinx
Located in the Bucegi mountains near Brasov, the Mountain Sphinx consists in a formation of rocks that resembles Egypt's Great Sphinx of Giza. It is considered one of the "Seven Wonders of Romania". In the area you'll find several other curious formations. The Sphinx can be accessed by several treks of varying difficulty or a cable car (36 RON one way per person from Busteni to Babele). If you chose to arrive by cable car, expect long queues. A good option we found was leaving the car near "Il Rifugio Della Fame", a parking where you will need to pay 10 RON. From there to the Babele cable car there are 30 minutes of easy ascending route. I would recommend to team the trip to the Mountain Sphinx with the visit to Caraiman Cruisse at Caraiman peak. Also, the surrounding mountains are very beautiful.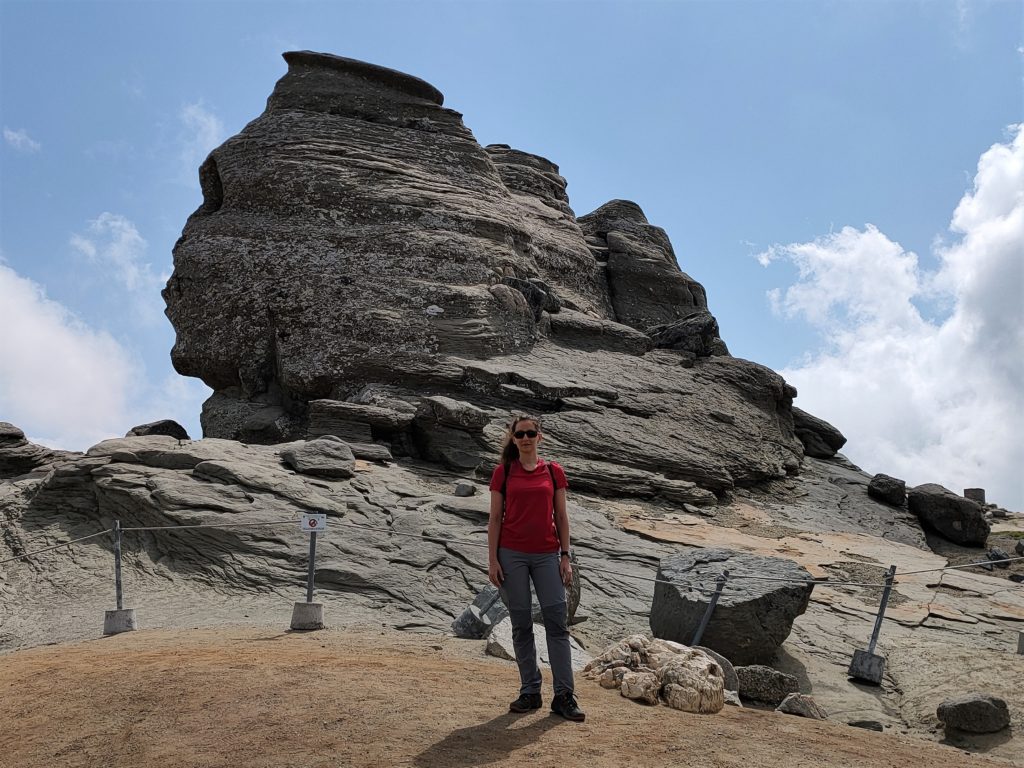 Varful Caraiman
A peak in the Bucegi mountains with the Caraiman Cruisse nearby. The Cruisse is a monument for those fallen on WWI. It can be combined with the visit to the Mountain Sphinx and the access by car, cable car or trekking would be the same (described above). We hike for 15 km arriving from the parking to the cable car in 30 minutes. We visit first the Sphinx, Costila and last the Caraiman Cruisse. The way back takes us about 5 km and is larger and harder than expected, mainly because of irregular terrain.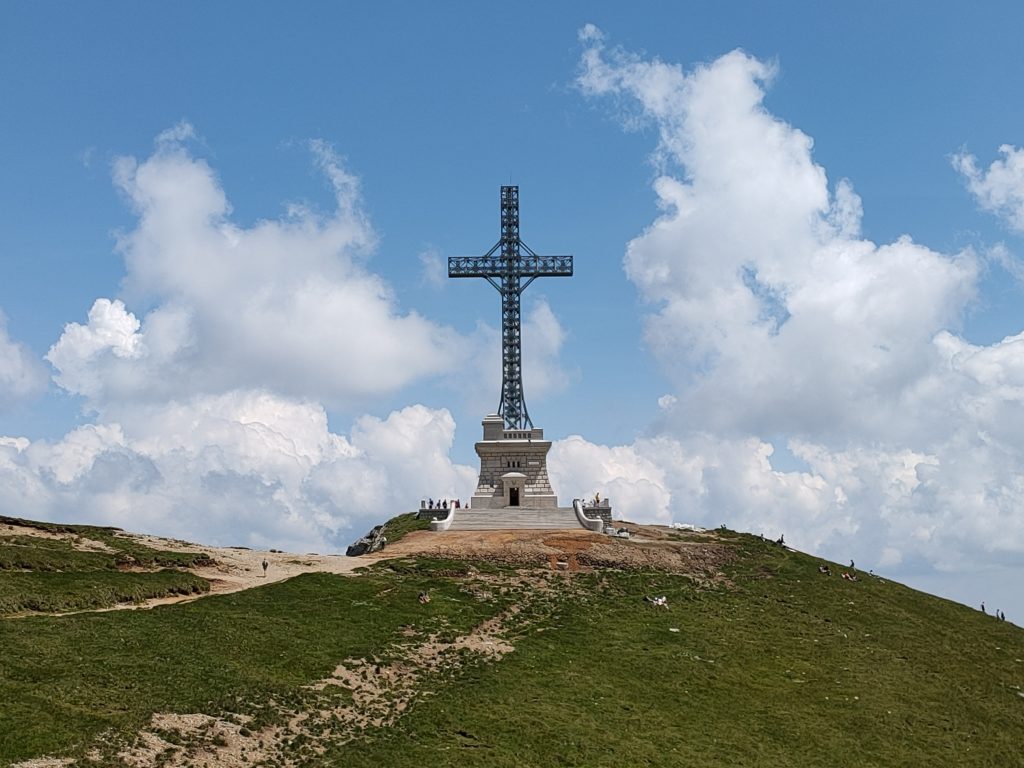 Cantacuzino Castle
As you probably already know, Romania is full of castles built and inhabited by several monarchs and rulers. You can find Cantacuzino Castle in Busteni. It was inaugurated in 1911 by Prince Gheorghe Grigore Cantacuzino. Visits start at five minutes past each hour from 9 to 20h. It is possible to visit the castle, the grounds and the art gallery. If you wish to have the visit in a language different than Romanian, you should contact in advance. The ticket price for one adult for visiting the castle and the grounds is 30 RON. Cantacuzino Castle is very close to Peles Castle.
https://www.cantacuzinocastle.com/homeeng
Peles Castle
Built by King Carol I after visiting the village of Sinaia and falling in love with the views of the Bucegi mountains, a very characteristic nature sight in Romania. It was completed in 1883 and served as summer residence of the royal family until 1947. No expenses were spared and as a result the castle is filled with European art, Murano crystal chandeliers, German stained-glass windows and Cordoba leather-covered walls.
We pay 10 RON for the parking and walk 20 minutes from there to reach the castle. We decide for the basic visit (40 RON per adult), which includes first floor and a fraction of the gardens. With the more complete option you also can go to the second floor (80 RON per adult). However, the staff takes your ticket at the first entrance. I'm sure that if when they ask if you have the complete visit you say you do, you can access the second floor regardless of the ticket you paid for.
The palace is rich in details and has different interesting styles. We particularly appreciate the weapon collection, specially a turkish sword with shark skin, the wood work that is everywhere and the Murano-glass mirrors and lamps. We are not offered audio-guides, but there are small pieces of information in each room (in Romanian, English, German, Spanish and French).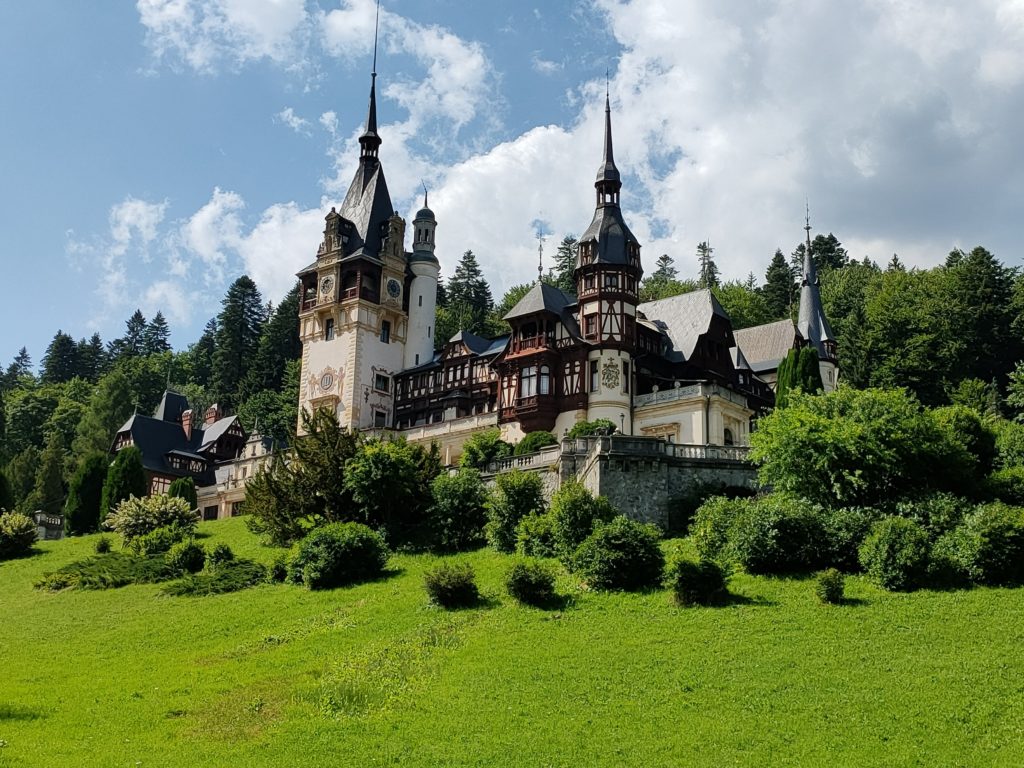 Strada Sforii (Rope Street), Brasov
It was built in the 15th century to allow fire fighters to pass between the principal roads at each end. Its touristic interest is mainly given by its proximity to Piata Sfatului (Brasov's main square) and the Black Church. The street is just a narrow passage with grafffiti and inscriptions all around the walls, pretty curuious to visit.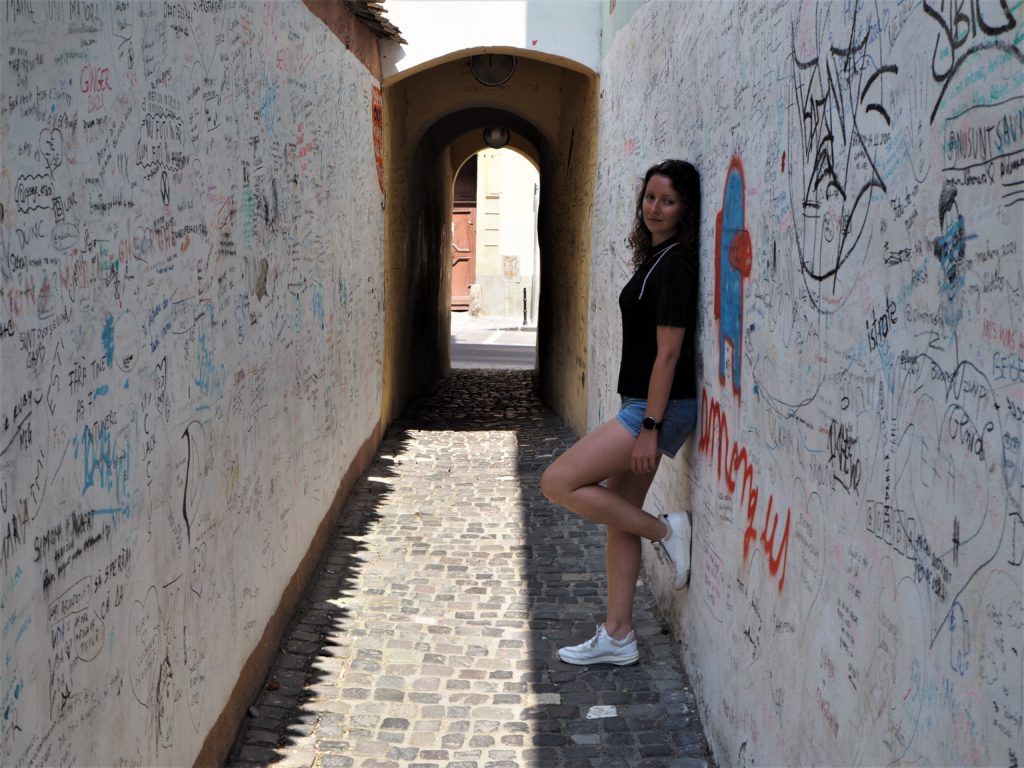 Biserica Neagra (the Black Church), Brasov
The Black Church receives its name from a fire that painted its outside walls. It dates back to the medieval times and is the biggest in all Romania. Originally catholic, currently the Black Church is protestant, which can be appreciated in the style. It has one of the greatest organs in Europe and periodically holds organ concerts. The entry ticket costs 15 RON per adult.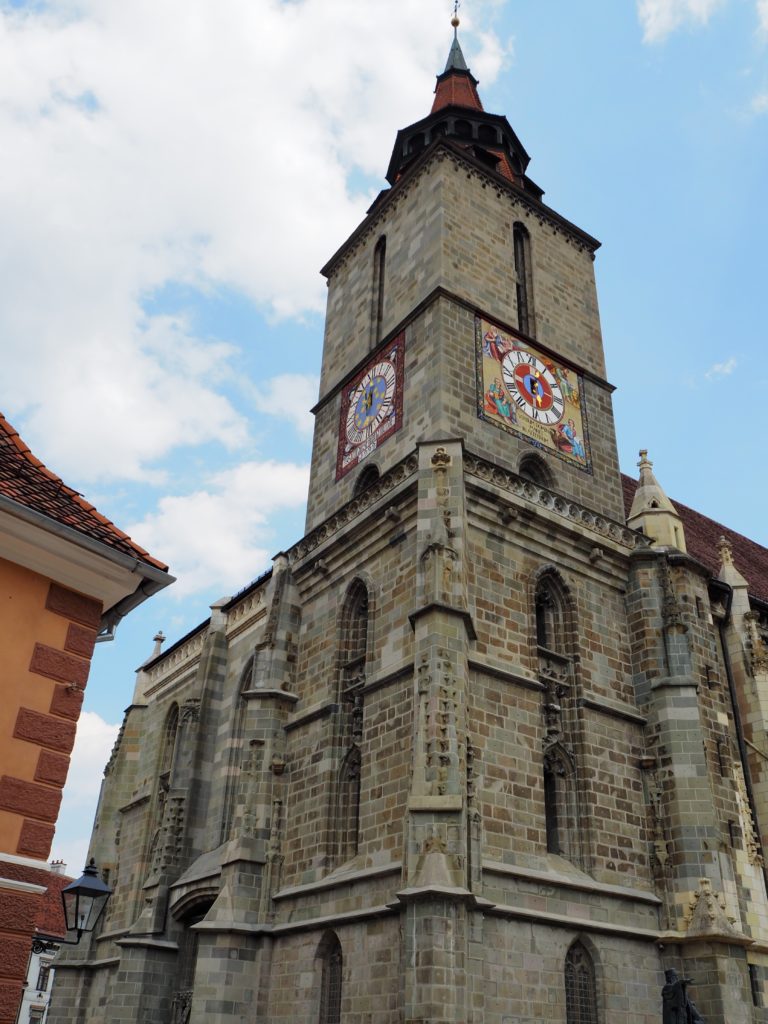 Brasov and Rasnov Hollywood signs
In the saxon old towns of Brasov and Rasnov Hollywood-esque signs can be found in the ladders of mountains. They are original sights visible from various points of both cities.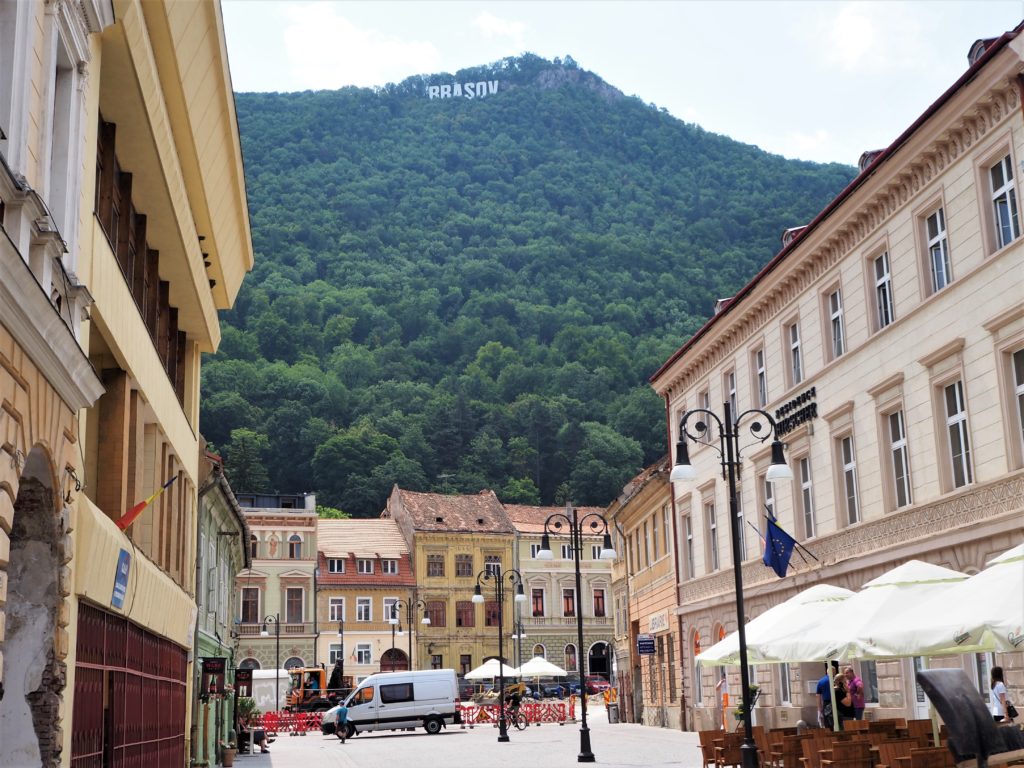 Rasnov Fortress
The first oficial mention of this fortress, built by Teutonic Knights, is in 1331. Located in the top of a hill its purpose was to defend against invading tartars. When we visit, Rasnov Fortress (Rosenau in German) is under renovations (supposedly until 2022) and therefore cannot be visited. We settle for having lunch nearby and walk around it, so we pay 12 RON for parking and discover there is also a dino park next to the fortress. No wonder there are so many kids! We do walk up to the top of the hill (10 minutes) and kind of go around it for a while. There is not much to see without entering and we quickly return. I would recommend to check if the renovations are over and wether it is possible to visit the inside before going.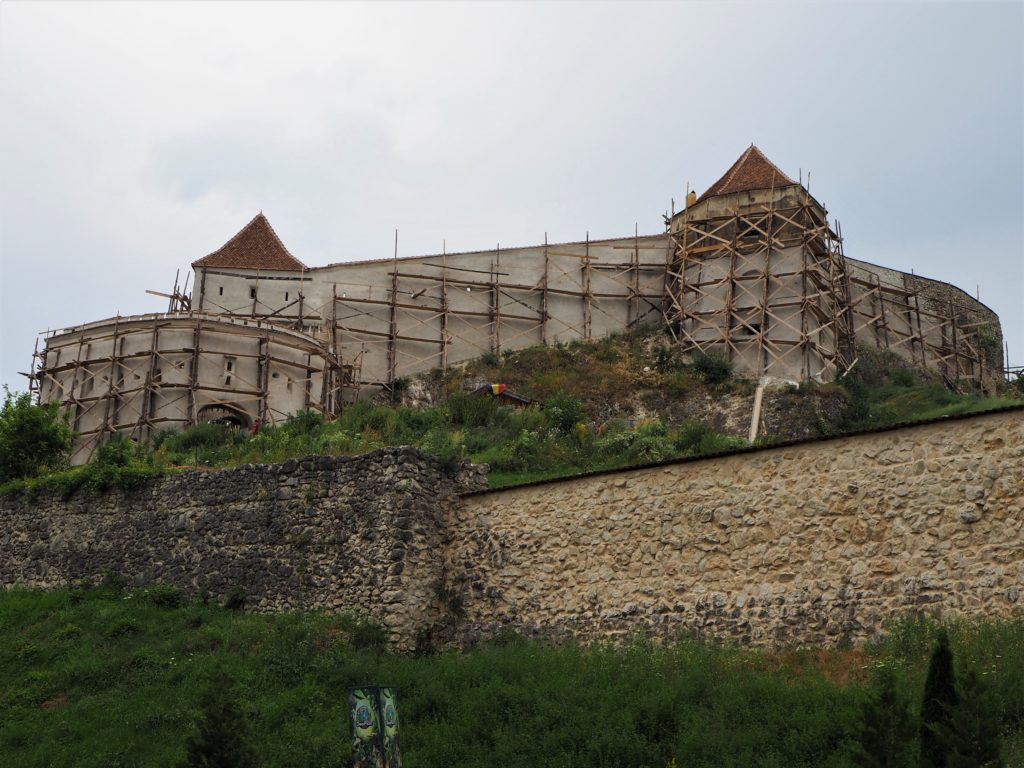 Bran Castle
This is the absolute more famous tourist attraction in all Romania. The medieval Bran castle is believed to have held Vlad the Impaler prisoner. Vlad the Impaler was a Romanian ruler who served as inspiration for the novel Dracula by Bram Stoker. For this reason, Bran Castle is popularly known as Dracula's Castle.
Its location on the top of a rock is a nice touch. It is also kind of labyrinthic, even more because of the circuit for tourists, which contributes to its mystique. What I like the most about the visit is that in almost every room they tell some history about the monarchy, the different kings and queens that inhabited the castle, their personality, their deeds. Particular emphasis is put on Queen Maria, a well-esteemed monarch among the romanians. She lived in the castle for a period. Queen Maria was also the one to renovate it (she even added the two top floors).
The cost of the visit is 45 RON per adult and 4 RON per hour for the parking.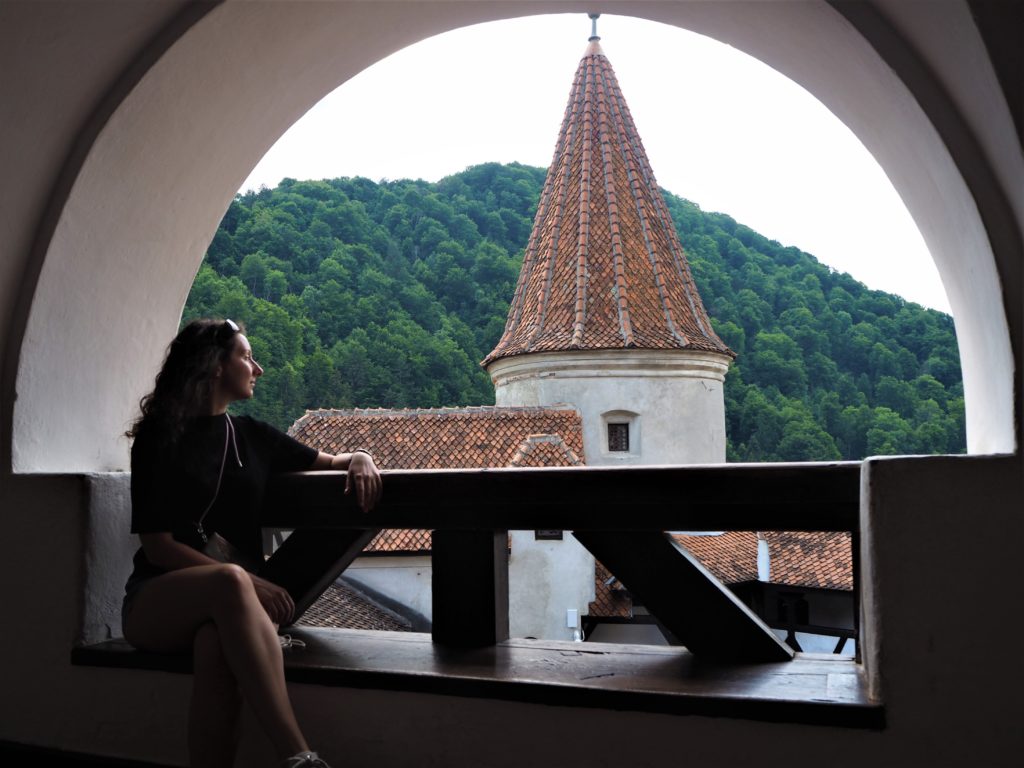 The Sinca Veche Temple Cave
Sinca Veche temple is a monastery built inside a cave. It has been dated to around 7,000 years old. Since then, it has held several different religions, which can be appreciated in the religious symbols carved into the walls. From Star of David, Chinese yin-yang… No Christian crosses can be appreciated, despite there being other evidence of Christian inhabitation. Currently it is an orthodox temple with free visit and parking, open in summer from 8 to 20h.
It is worth visiting. It is very well maintained, it probably was originally simply a cave but people have been broadening it. The walls are full of inscriptions and markings and there is a hole in the roof to let the light in. The surrounding grounds are also well maintained and there is a small orthodox conventional church.
Rupea Fortress
Rupea fortress, in the centre of current Romania, was first mentioned in 1357 and was used over the years to defend the territory against different invasions. As a tourist site, it can be visited from 10 to 20h, having free parking and 15 RON per ticket for adults.
When we visited, it was raining a little but nothing major. The fortress is interesting and with great views, you can gain access to different rooms and compartments in a surprisingly good stage of conservation. There is information in Romanian and English for each room. Although the conservation status is good, renovations are a little weird, leading one to wonder if it has been in use until recently. The style of renovation seems more practical than aesthetical – which would be for tourists purposes.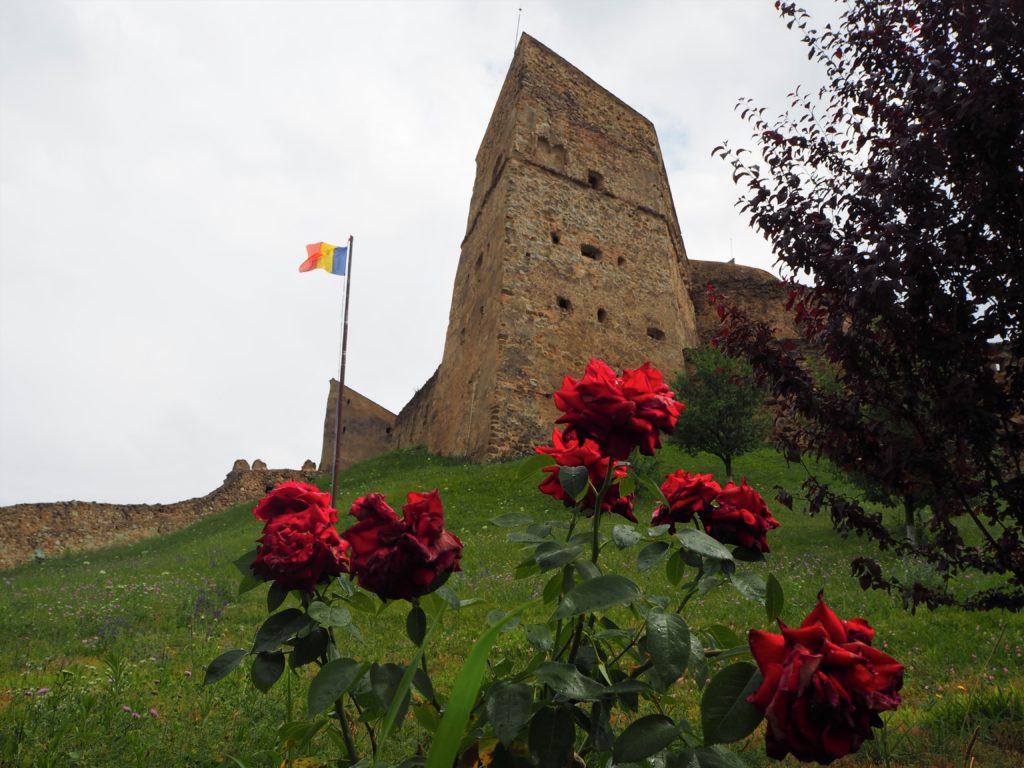 Towers of Sighisoara
Sighisoara is a medievel city in the center of Transylvania and a highly recommended visit by locals. It was founded in the 12th century by Saxon settlers. One of the most interesting things to know and visit in the city are its defense walls. It has a total of 14 towers, each of them built, manned, and maintained by the city's 14 guilds, including groups like the Blacksmiths, Butchers, Weavers, Rope Makers, Leather Tanners, and Tailors guilds. In exchange, at the time these groups obtained commercial privileges.
It is surprisingly better than we originally expected. We see a few of the defending towers and particularly the Tower of the Clock is the best preserved and most astonishing. We appreciate the roof of the tower, with tiles from different vivid colours. The old town per se is full of restaurants and pictoresque hotels and streets.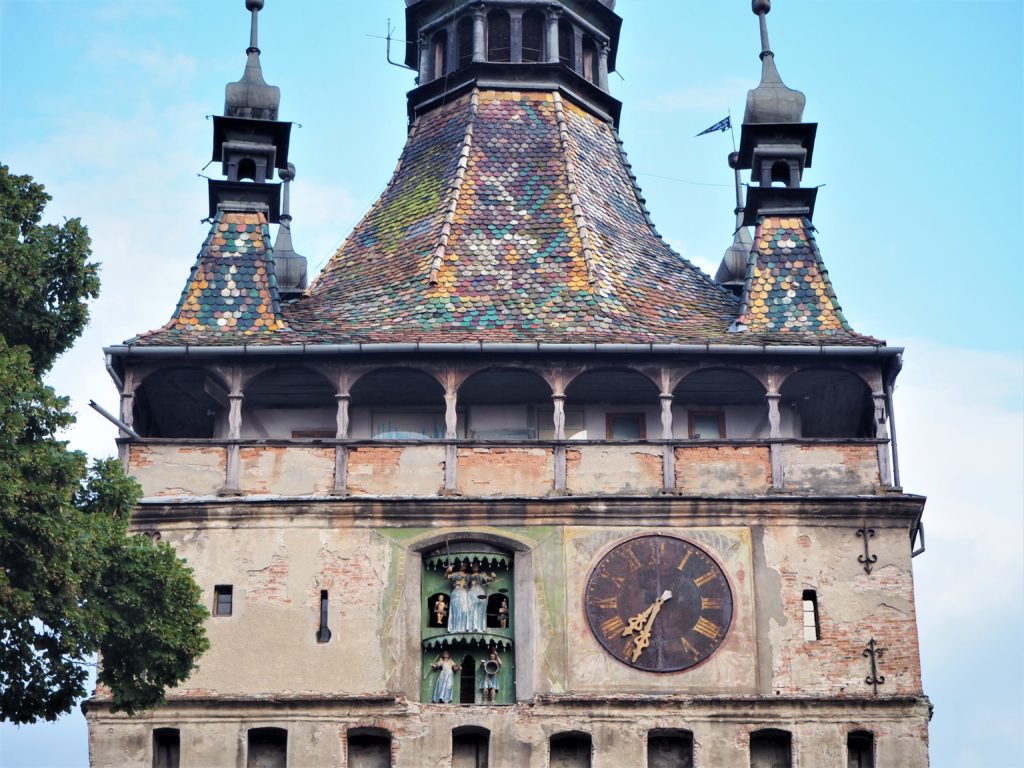 Sighisoara Saxon Cementery
We arrive to this beautiful graveyard by climbing 175 stairs in a dark tunnel leading to Biserica Din Deal. This church dedicated to Saint Nicholas is temporarily closed, but it is possible to visit the cementery. We enjoy walking around, it looks like taken from a fairytale, probably most since we visit during sunset. The oldest graves we see are from the beginning of the XIX century. We are surprised at the great state of conservation of both the graves and the grounds. The views from up this small hill and therefore the cementery are quite open and fresh. Overall, not a bad place to rest.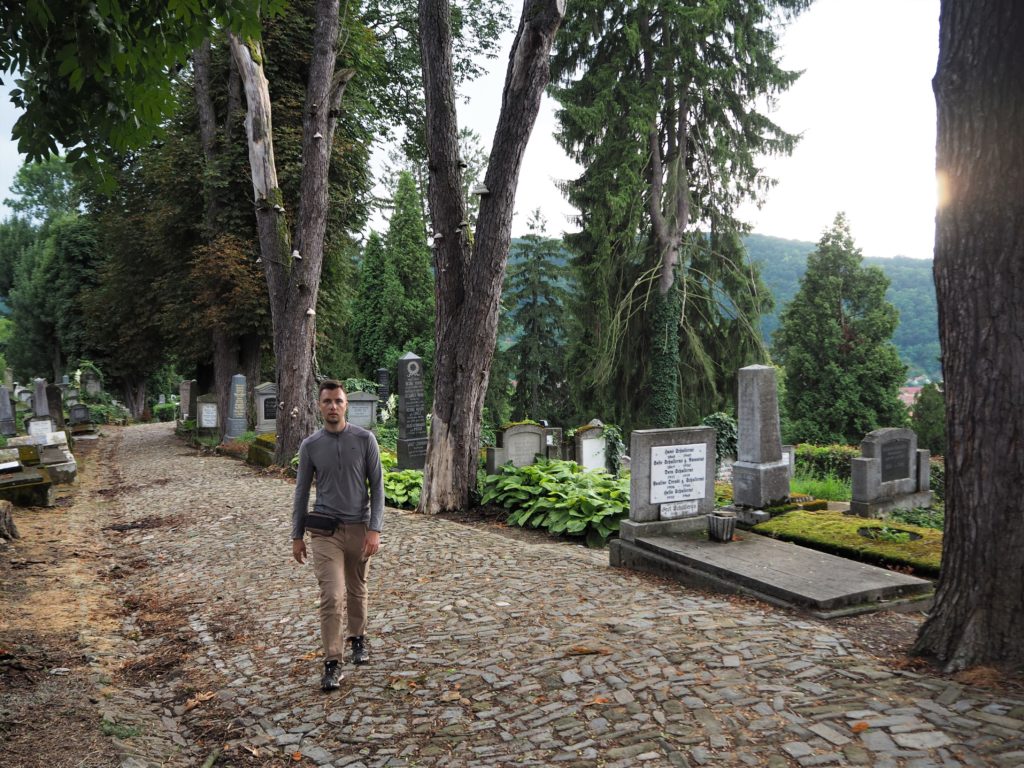 Salina Turda
Turda Salt Mine is one of the world's most spectacular underground formation shaped by humans. It is also one of the most original tourist destinations in the world and definitely a must do in Romania. It is an underground formation not currently active as salt mine, even it could cover the salt requirements for all the planet for 60 years.
There are two big parkings next to Salina, at 2 RON per hour. There are two entrances to the mine located more or less 1 km from each other, it seems you can access the mines from both. This is important, because once you are inside, you can also exit from both entrances and you'll need to be sure you take the right one. The entry cost is 50 RON per adult.
We like it a lot. It's a little cold inside so a light jacket is recommended. The galleries and mines are extremely big, you can visit all of them on your own except mine Ghizela (hey, that's me!), with schedule at 11h and 14h.
There is old machinery that was actually used during the exploitation of the salt, and apparently it still could work. The two biggest galleries have entertainments such as pool, minigolf, ping pong, a ferris wheel and a lake where you can rent a boat. However the most impressive thing are the inmensely huge galleries. There are lifts to move around but with large queus. We decide to use the stairs and although they are narrow and steep it's an experience and not as tiring as expected.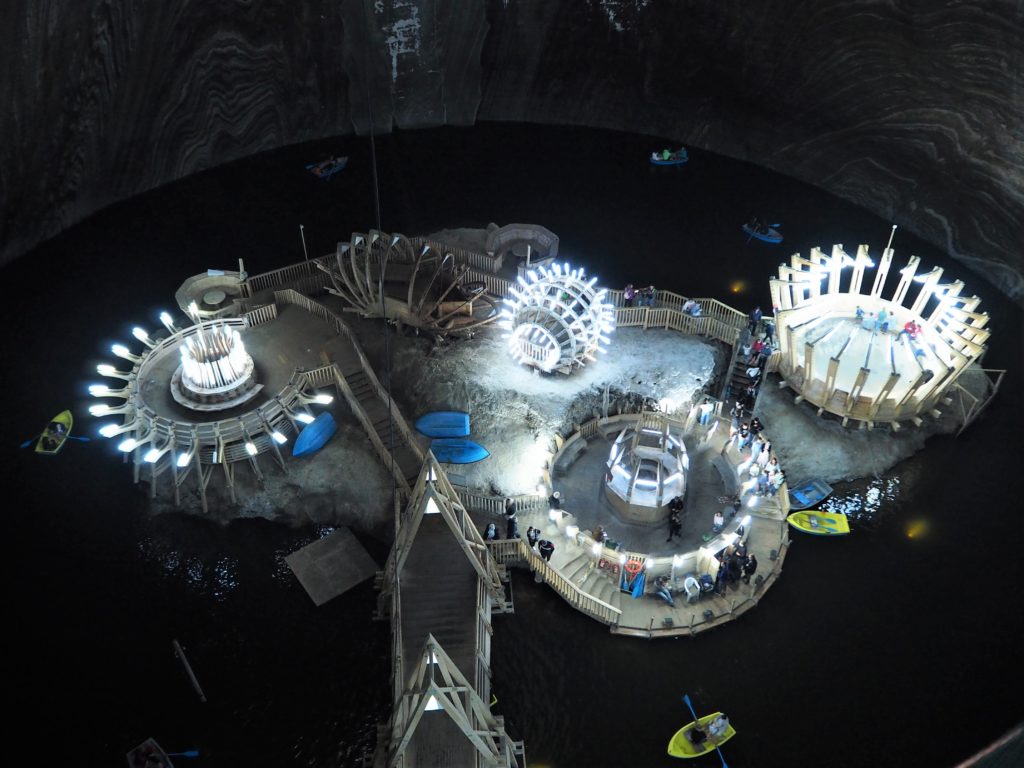 Catedrala Mitropolitana Adormirea Maicii Domnului, Cluj-Napoca
This cathedral dates from between 1920 and 1930. It is the third biggest cathedral in Romania and a significant symbol of Transilvanian Orthodox church. When we go it is under renovation so it is not possible to visit the inside. From the outside we would highlight the two statues at both sides of the main entrance, representing significant figures of the Orthodox faith in Cluj.
Saint Michael's Church, Cluj-Napoca
A seven centuries old church that, even it has remained the same denomination over the years, has held five different religious affiliations. When we visit it is closed due to renovations. The architecthure is very similar to the Black Church in Brasov, both gothic. We do not visit the inside, however, outside there is a statue with a man in a horse. Four warriors on foot surround him. The details are so very rich and the face expressions so alive.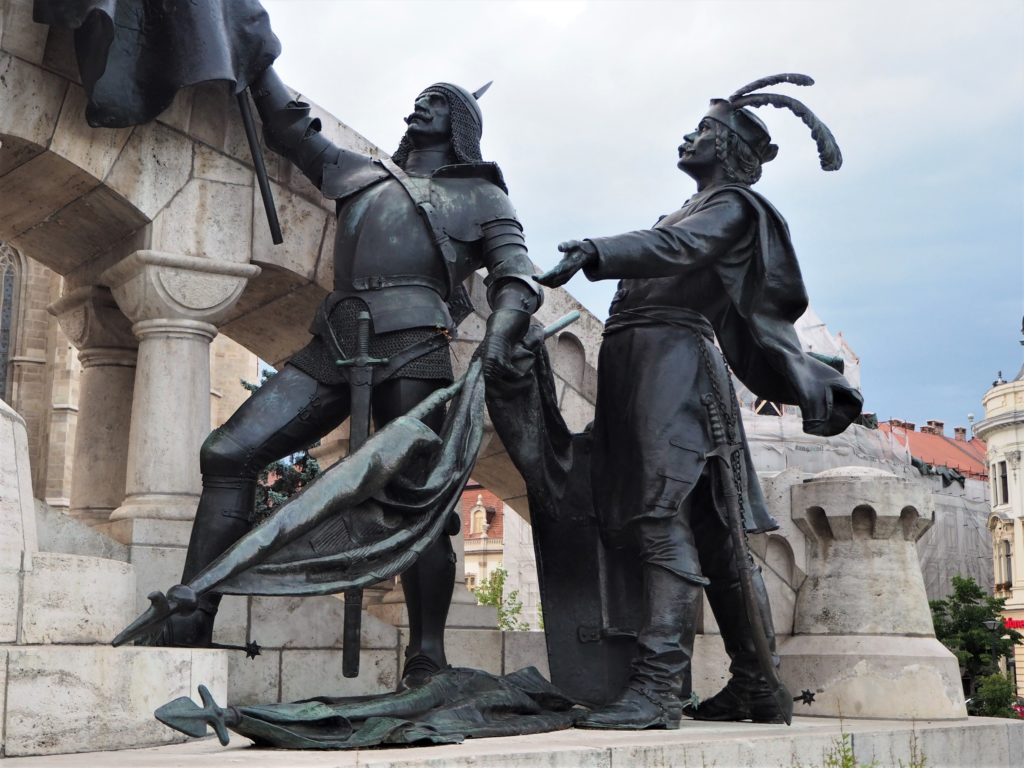 Opera Nationala, Cluj-Napoca
We pass by walking on our way to the centre (with sun light) and when we return (at night). The building is very beautiful and more spectacular by night than day.
Museum Square, Cluj-Napoca
One of the most visited points of the city, full of restaurant and pubs and very alive.
Hoia-Baciu (forest), Cluj-Napoca
In the city of Cluj-Napoca lays this forest filled with skeletal figures twisting and spiraling, making it seem as though they're contorting themselves to reach out and touch you. Almost in complete silence, only interrupted by the footsteps of unseen figures. It is supposed to be one of the most haunted forests in the world and its history is full of dark stories. Mystique appart, Hoia-Baciu is a fresh area for a green break inside the city, perfect for a relaxing walk.
Parcul Etnografic Romulus Vuia, Cluj-Napoca
A big extension of terrain devoted to showing different traditional buildings from all over Transylvania starting from the 18th century to beginning of 20th century. It is very interesting although you can not visit the inside of every housing, just a few. The most curious buildings we see are the churches. It is located in a hill with views over the city and the ticket for adults costs 6 RON.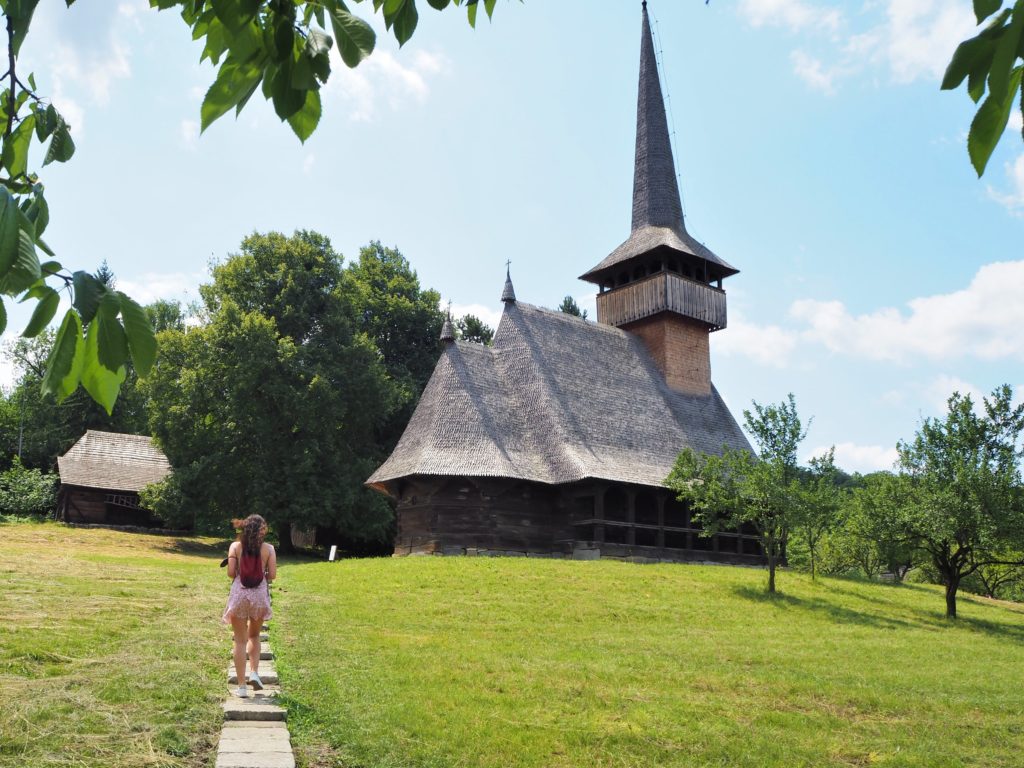 Botanical Garden, Cluj-Napoca
Huge extension of terrain with a lot of flowers and trees. The best thing to do is wander around, breathing the fresh air and cool temperature, in contrast with the hot city. Would totally recommend for a nice break. The entrance fee is 7 RON for adults.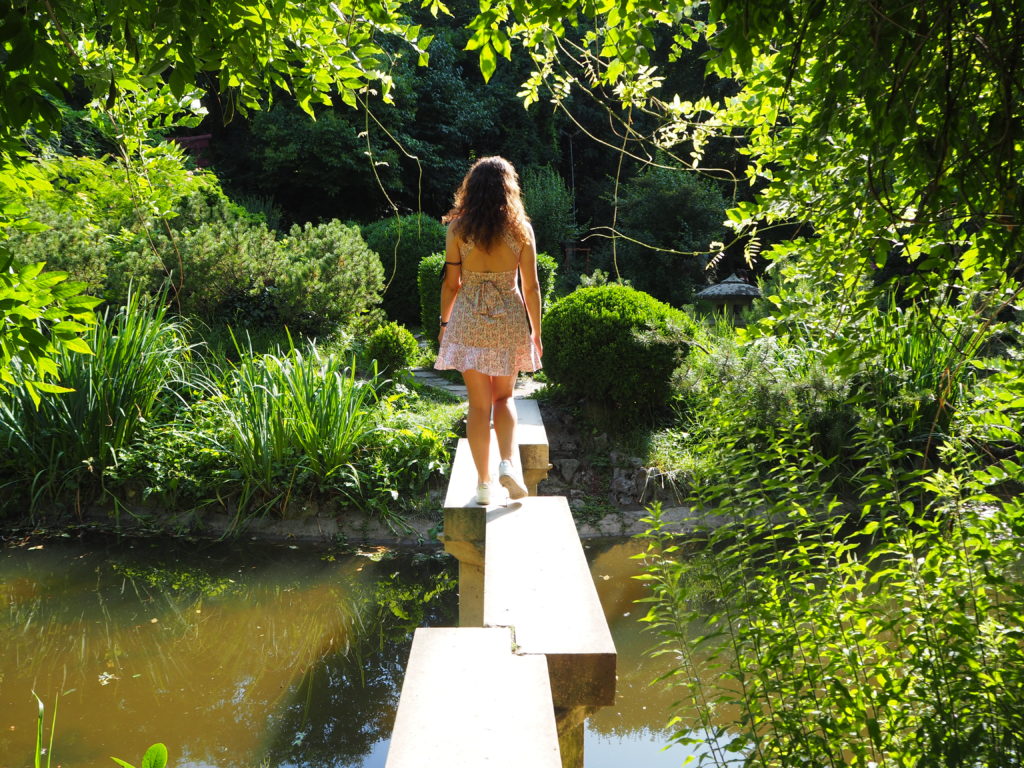 Round Church of Geoagiu
Supposedly the oldest church in Romania, the round church of Geoagiu dates from the 11th century, during the reign of King László. The medieval structure still stands today, being an historical and archaeological wonder. However, when we visit it is closed for renovations and surrounded by a high plastic fence. The church is not big so it is not visible from the outside. I would recommend to check whether the renovations have finished before going.
I Giardini di Zoe
Near Hunedoara, I Giardini di Zoe is a vast extencion of outdoor gardens laying in a small peak. Green, very fresh and extremely well-maintained, the visit costs 10 RON per adult. A local recommended us this visit but we finally didn't go because we didn't had the time and had already visited the Botanical Garden of Cluj-Napoca the day before.
Cetatea Deva
Recommended by local. We don't really visit, just watch it from the street, but it does look majestic and with great views of the area. We don't go because we prioritize visiting the Corvin Castle instead and because with Rasnov (although it was under renovations) and Rupea we have already had our dose of fortresses in the trip. What we can explain is that there is a cable car that takes you to the top (don't know the cost). I guess you can also go by walking.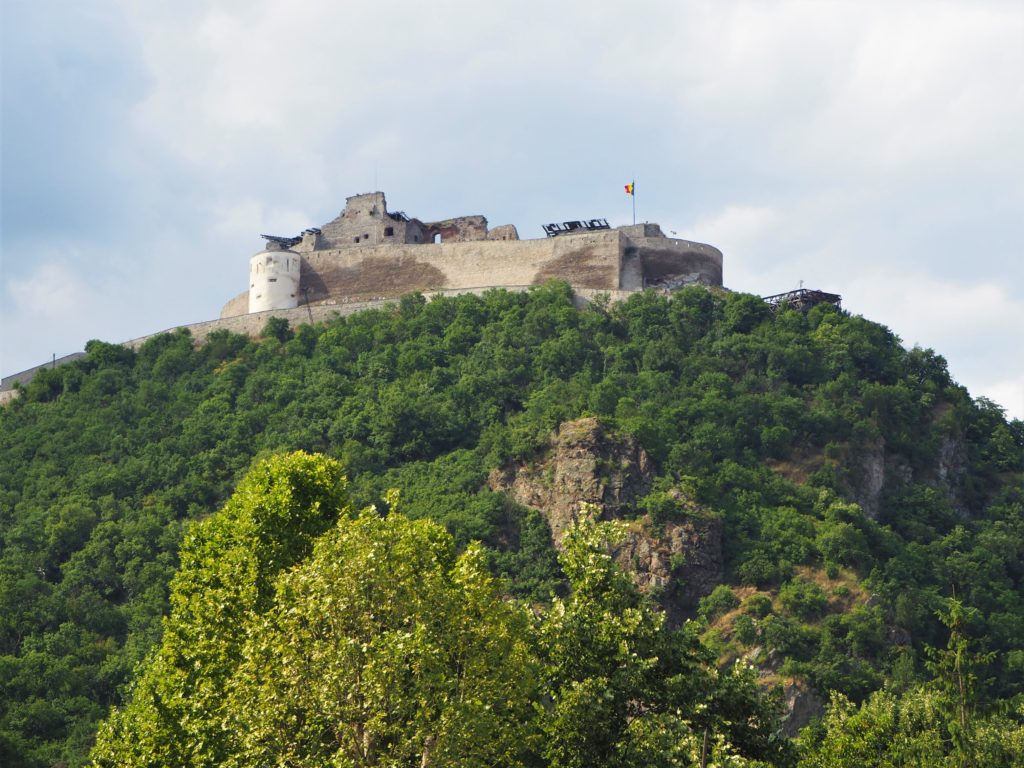 Corvin Castle
Corvin Castle, or Corvinilor, or Hunyard, or Huniazilor, is one of Europe's largests castles and certainly looks like extracted from Disney movies. Its current appearance is highly influenced by the restoration works conducted during the 19th century, not really leaving much of its original style, although original pieces are exposed inside the castle. Corvin Castle is one of the Seven Wonders of Romania.
Several parts of the castle have been built in different moments by different Hungarian kings inhabiting it (adding floors and wings), in the 14th, 15th and 18th centuries. Up to five different fires have contributed to shaping its form, due to its corresponding restorations. As a curiosity, there is a torture exposition in the old dungeons.
Do not miss the opportunity to visit, it is truly wondrous. The parking costs 10 RON and some days the entrance is free (like when we went), but I don't know if this was an exception or something regular. However, as a result, a lot of people decided to visit the castle that day.
http://www.castelulcorvinilor.ro/en/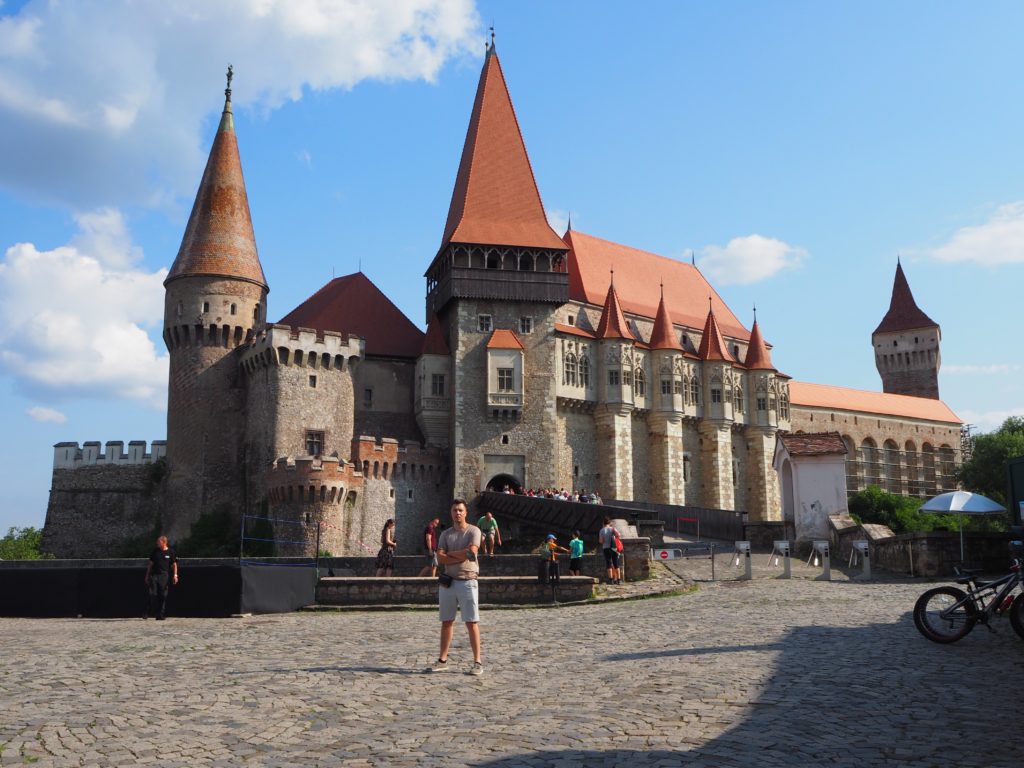 Gypsy Palaces, Hunedoara
We saw them by chance while leaving Hunedoara by car, specifically in the neighbourhood of Hasdat although later we read that Chizid also holds a considerable number of them. They are impressive, huge constructions very very rich in detail and silverly rooftops. Areas like Alejandria or Buzescu have these type of constructions in even greater numbers.
Retezat Mountains
Retezat is one of the National Parks in Romania and one of the most impressive activities we have done. There are plenty of trekking routes to explore the area, including its several lakes and peaks. Most of these routes start from different refuges located in the park that you can only arrive to by trekking. Therefore, if you truly want to explore the area, I would recommend to spend a night or a few in one of these refuges. We settled for an apparently easy trek that we could complete in a single day, the glacier lakes tour.
First things first, we arrived to Cabana Poienii through a mountain road not suitable for regular cars. It is not paved in the last 18 km and in quite bad conditions. We payed 35 RON total for accessing the park (10 per person, 15 for the car).
When we start the trek, the landscape is amazing. We start the trail up through a pine forest with the floor full of roots and pine needles. The trees are all tall and green. As we ascend, the trees start disappearing and make place for bushes, wetlands and rocks of varying sizes. We arrive to the Bucura lake and encounter it surrounded by the tents of the people who spend a few days in the area.
Our route today consists in a circular around several glacier lakes in the area. We thought it was going to be easy and although it is not extremely hard, approximately at the middle of the circular we walk purely over boulders and need to very carefully watch our steps. Overall, we walk 11 km with over 700 m of elevation gain in about 5 hours with stops.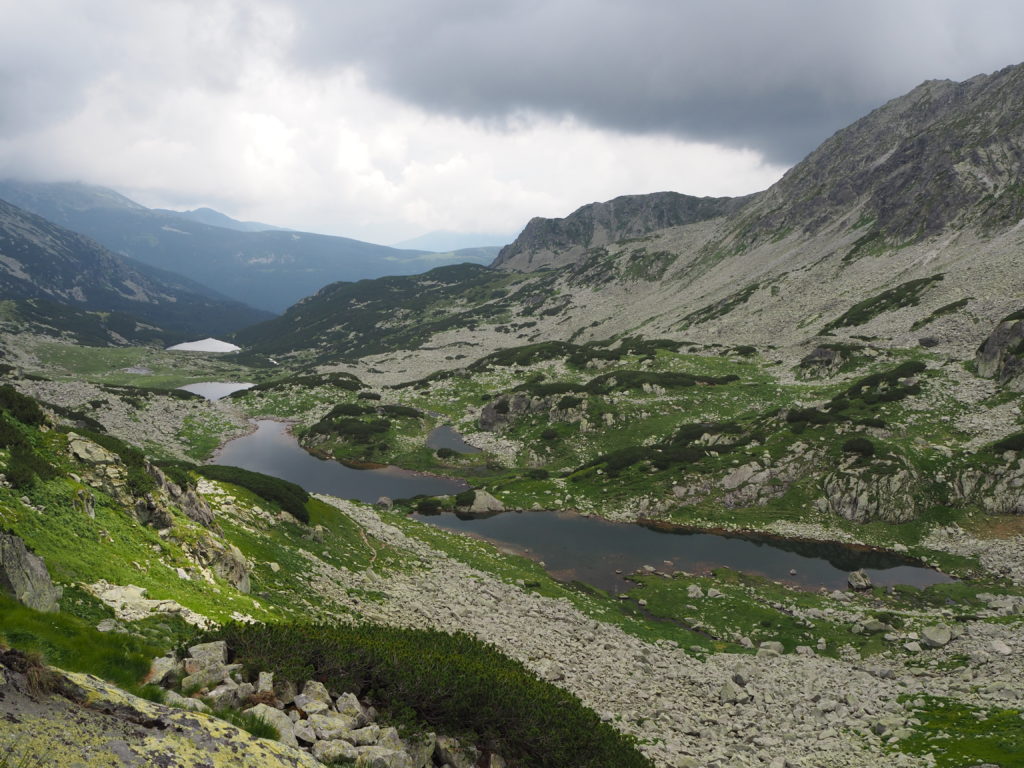 Densus Church
Likely dating from the 13th century, Saint Nicholas church in Densus is the country's oldest still-used orthodox church. Its exact origin is disputed: some believe it is located in a former pagan temple or that it served as mausoleum for a Roman general.
Densus church has some old paintings in the interior walls. We enjoy the visit and appreciate some religious traditions along with it: there are a few orthodox monks, one of them is ringing the bell and another is hitting a wooden table with two small wooden hammers – we definitely don't understand what is happening.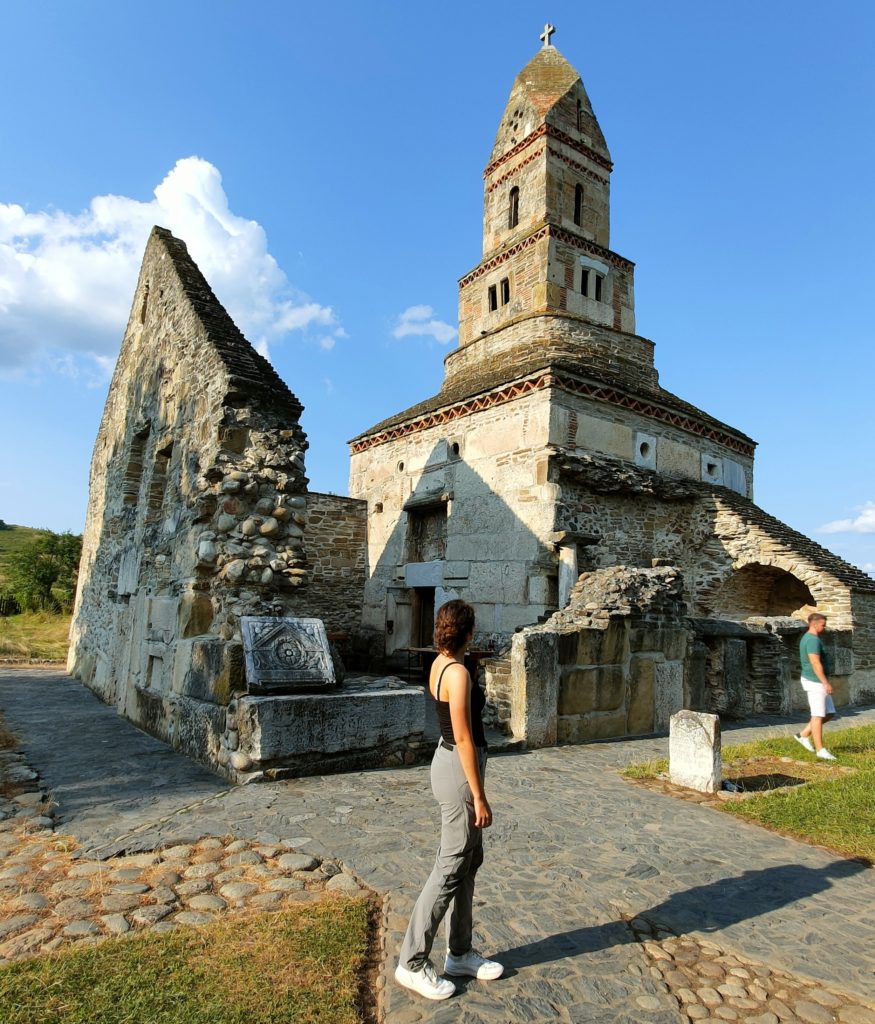 Rapa Rosie
Among the varying landscapes you will encounter in Romania, Rapa Rosie is an anomaly. I honestly would say it is not that impressive, although it is close to Sebes and in the way to several other destinations that must be visited. So, a short stop would be perfect to appreciate it. Rapa Rosie is a formation of reddish rocks in the middle of nowhere. They are regarded as Romania's small Grand Canyon. The road to arrive there from Sebes is not paved but not bad either. When we went, we climbed doing a circular route of about 2 km and 180 m elevation gain, which was really unnecessary because there were no special views in the top and the trail was almost non-existent (just walk among the bushes and dry tall grass). I would recommend to stick to taking the picture from below, as everybody does.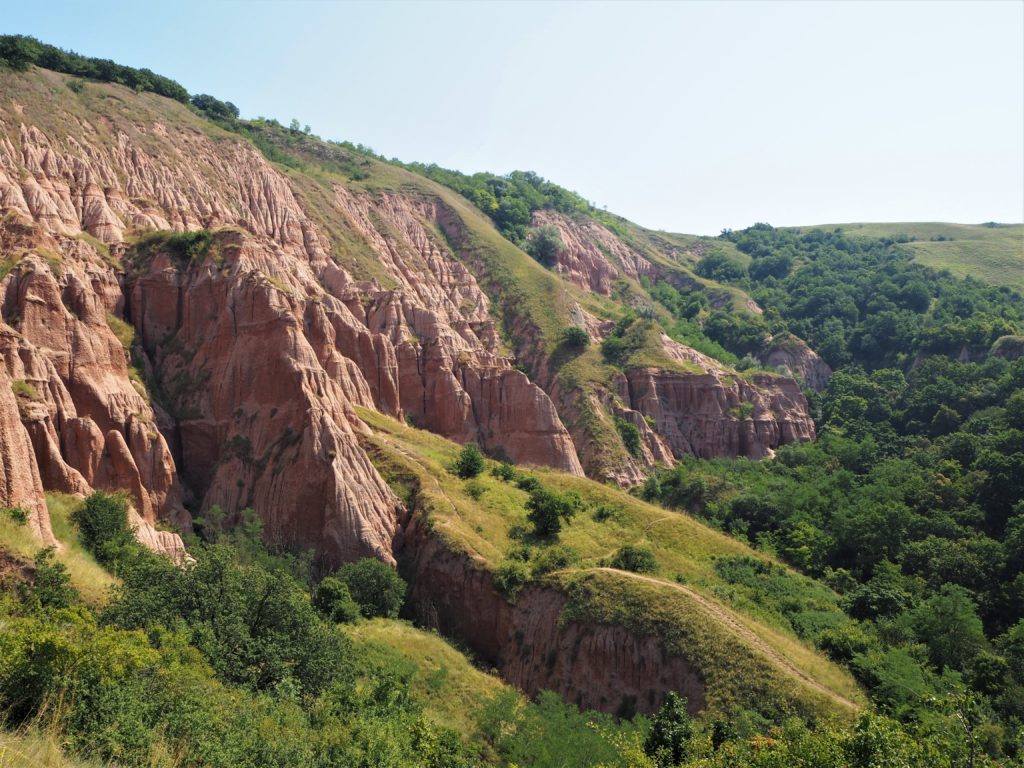 Sibiu
Sibiu is a town in the centre of Romania known for its houses with eyes that look over you. Although these eyes are only small windows with this particular form, you do feel observed, and particularly during the communist regime it was quite a mood. We stopped there for a short visit on the road, having lunch and a short walk.
Fagaras Fortress
If it weren't for its proximity to the Fagaras Mountains, the city of Fagaras would not be the major tourist attraction it is. However, it holds a hidden treasure very worth the visit: the Fagaras Fortress. Dating from the 14th century and laying over a former wooden fortress, this building has been expanded and restores accross the years. Its current architecture and particularly its defensive walls display the characteristic star-style of war engineer Marquis de Vauban. Fagaras Fortress currently holds the Fagaras County Museum.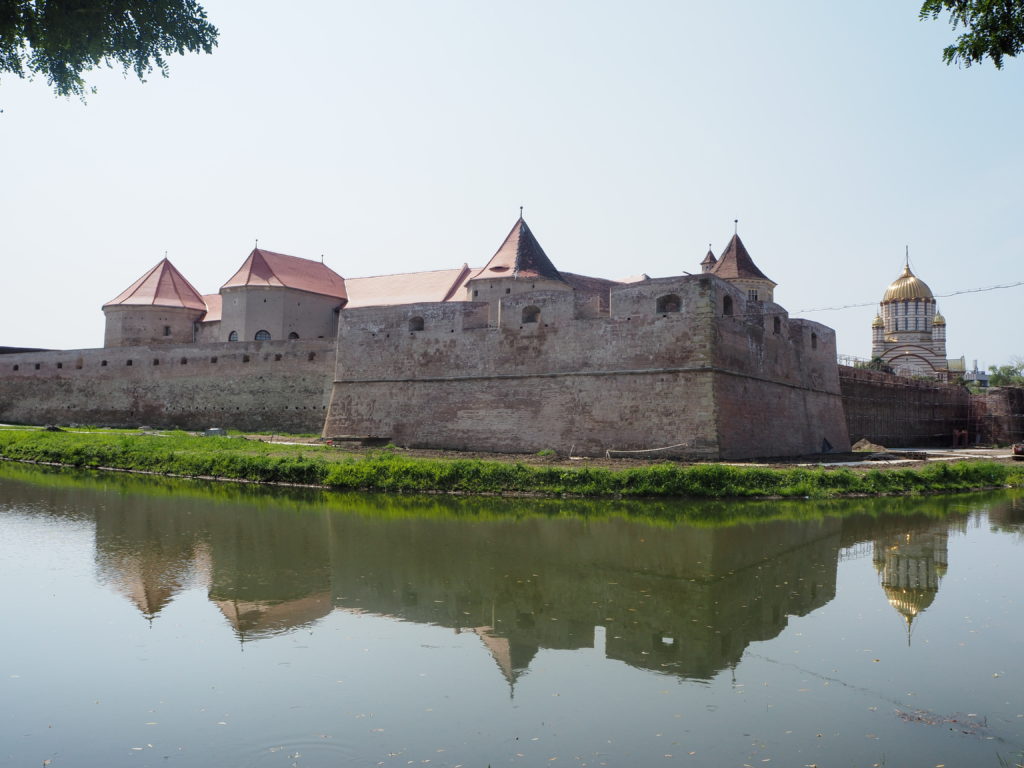 Transfagarasan
It is considered the most beautiful highway in the world. 91 km, open in summer from 6am to 10pm. It is not recommended to go during the weekend or local festivities as it is crowded with local tourists.
We encounter a stunning mountain road with scenic views all over the way. We drive it completely from north to south. At the end, after a total of 3 hours of driving, we are exhausted and we've clearly had enough. However, we really enjoyed the way up to Lacul Balea stopping for pictures every few kilometres. At Lacul Balea we park for 10 RON per hour and walk around the lake. There are a few cabins where you can spend some days with impressive views to the lake and surrounding mountains. There are also plenty of stands to sell you rocks and jewerly as well as food (cheese and smoked meat).
Something interesting that happened to us is that just when we were starting the road, we received an alert on both our phones informing us that near Vidraru Dam there had been a bear seen and we should proceed with care.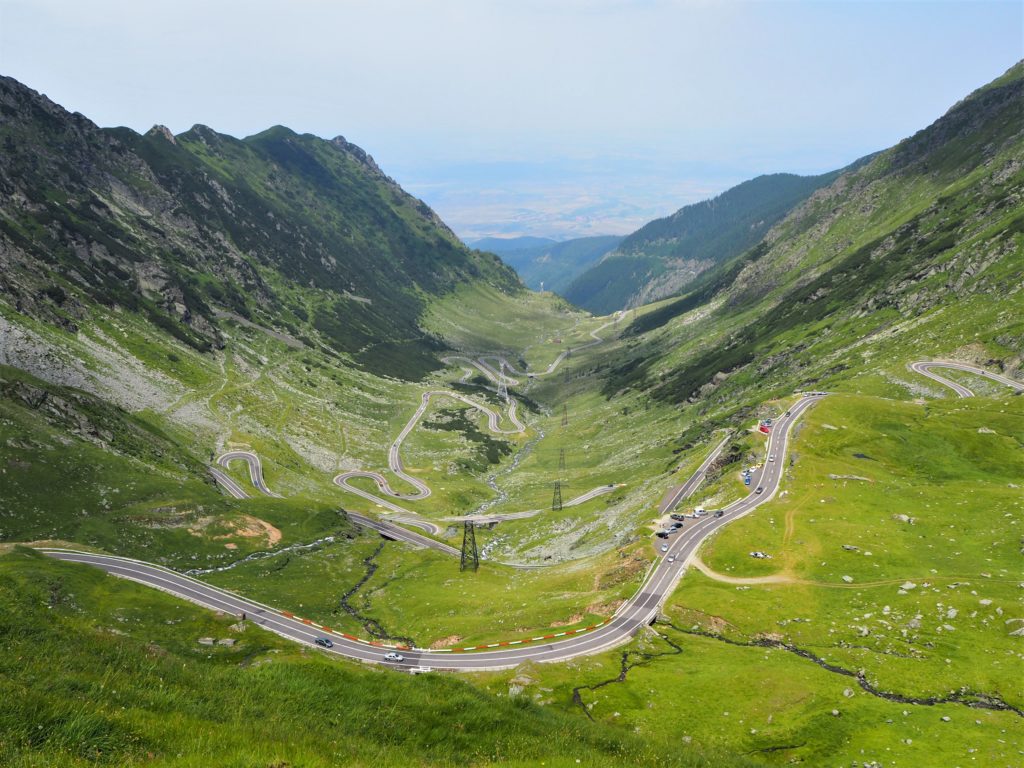 Varful Moldoveanu
Varful Moldoveanu (Moldoveanu Peak) is the highest peak in Romania with 2544 m high. The trek to the top is about 30 km with +2,800 m/-2,800 m of vertical relieve and is usually made in two days, starting from Balea Lake. Along the route, you can sleep in a guesthouse (Podragu Chalet) on the way up. You can also have your meals there. We tried to contact them without success, so I would say it is not possible to book a bed. However, from what we read, even if all the beds are taken the hosts would take trekkers in to sleep in the dinning area.
In our case, after delaying the trekking for a week because of bad weather we finally canceled it altogether. The days we had reserved for it were gonna be cloudy and even rainy, which increases the intrinsic difficulty of the trek. Also, we wouldn't have the views we were hoping for. So I guess we will need to visit Romania again to cross that out from our bucket list.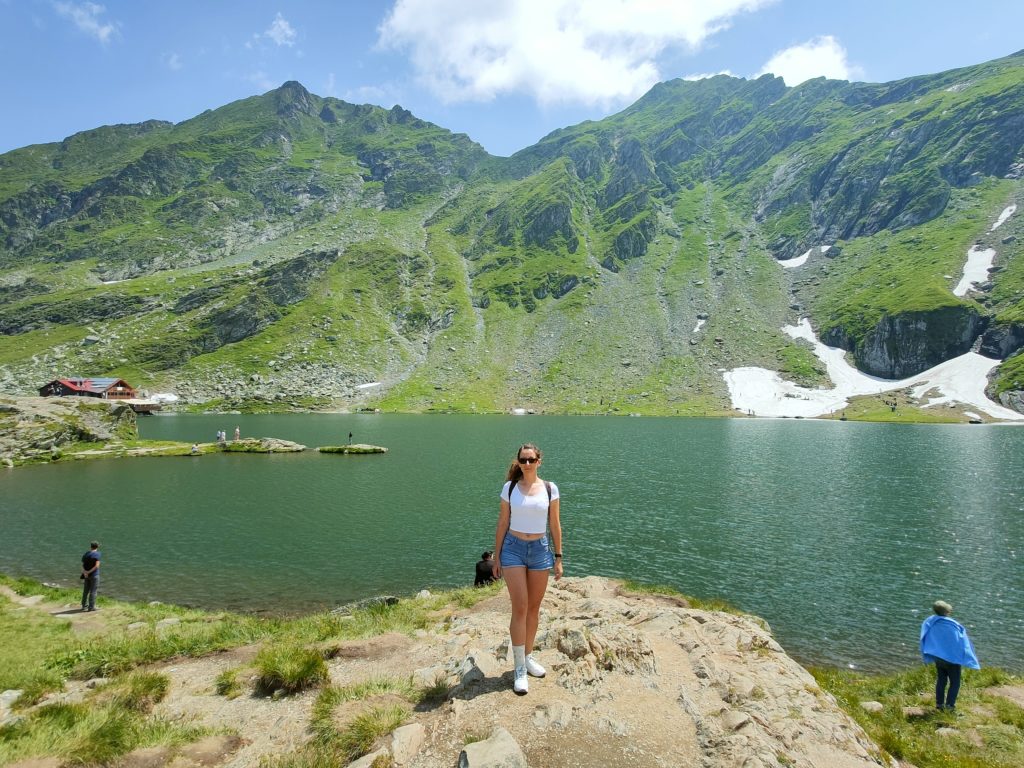 Prometheus Statue at Vidraru Dam
Located on the Arges River, Vidraru Dam is an engineering marvel built in 1966 to create hydroelectricity. Formed by over a million hard rocks obtained from underground, almost a million cubic metres of concrete and 42 kilometers of tunnels. It took the live of 80 builders. Vidraru Dam was designed with a safety measure: dynamite strategically placed in the surrounding mountains. If ever needed in case there is a crack in the dam, this dynamite would be detonated and the rocks falling from the mountains would act as a substitute dam to protect the surrounding area.
On the top of the dam, there is also a statue of Prometheus, from Greek mythology. It is possible to arrive there by climbing several stairs. There you would get a closer glimpse to the statue and better views from uphill of the Fruntii and Ghitu mountains that surround Lacul Vidraru.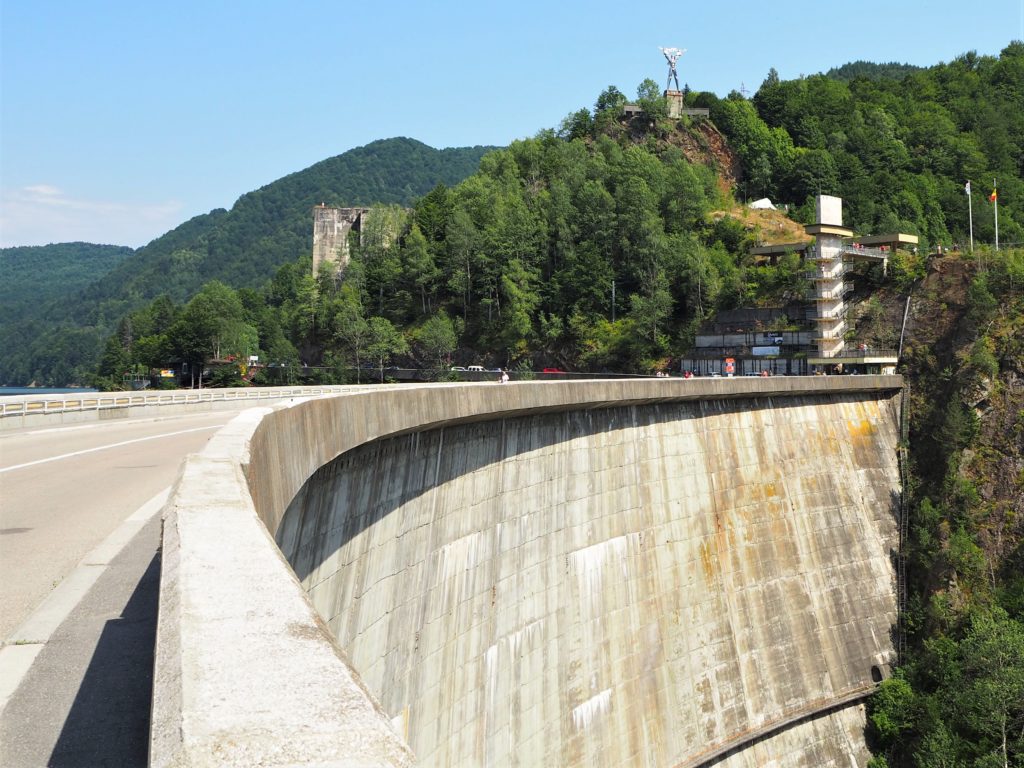 Poenari Castle
Poenari Castle, or Poenari Fortress, is located at the top of a cliff near Vidraru Dam in the Transfagarasan road (the greatest road in Romania). A majestic complex from the 13th century, currently in ruins, with scenic views over the surrounding mountains and the cliffside. It is often closed due to bears in the area, which seems difficult to know in advance. However, we had received alerts in our phones regarding bears nearby, but when we arrived to the castle it was open for visits.
The entrance fee for adults is 10 RON. For visiting, you need to climb 1480 steps. There is no alternative to arrive to the castle but the stairs, so it is not friendly for people with reduced mobility. As I had a twisted ankle, we don't visit it.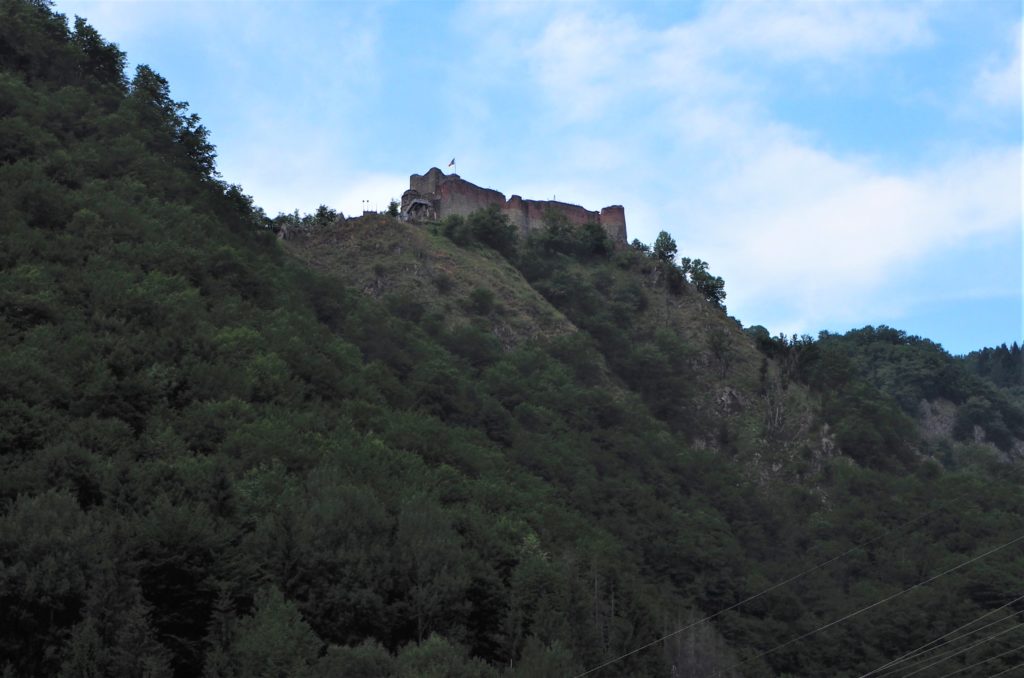 Horezu Monastery
Prince Constantin Brancoveanu founded Horezu Monastery in 1690 in the town of Horezu, Wallachia. It is one of the most famous in all of Romania and considered a masterpiece. The structure is known for its architectural purity and balance, details in the sculptures and decorative paintings. It is also a UNESCO World Heritage Site.
Manastirea Tutana
When we visit, it is temporarily closed, we guess that for renovations. We do not see anyone there, not tourists, not locals. A small garden with open gates surrounds the monastery, what you can't do is access the interior of the building. The garden has small roses, some of them of very curious colours. It also has the remains of an antique defensive wall or side monastery. From the outside, it seems that the windows from the inside would be very beautiful, as they are small with a lot of forms and probably with glasses of different colours.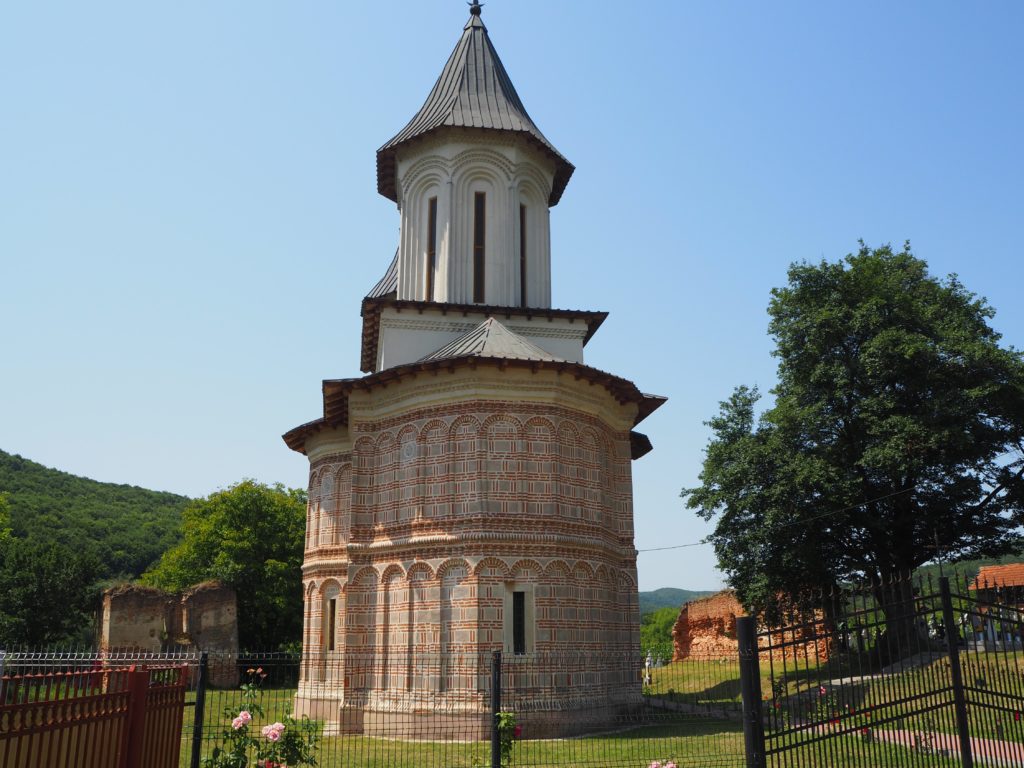 Catedrala Curtea de Arges
It is an orthodox cathedral from the 16th century, dedicated to Saint Nicholas, although it is a small building. The information at the entrance states that the visit costs 2 RON per person. There is no one selling tickets and no one buying so we just enter. The whole decorations are very goldy and full of paintings (the walls, the columns). There is a priest giving explanations in rumanian to a group of kids, maybe that's what you pay for. Outside the cathedral but in the same grounds there is another orthodox church (also seems to be under renovation) and a third one under construction. This last one is much larger, we guess the goal is to have more room for parisioners. It is clear that the whole area is religiously active somehow, because there are plenty of people expressing their faith. The parking costs 2 RON.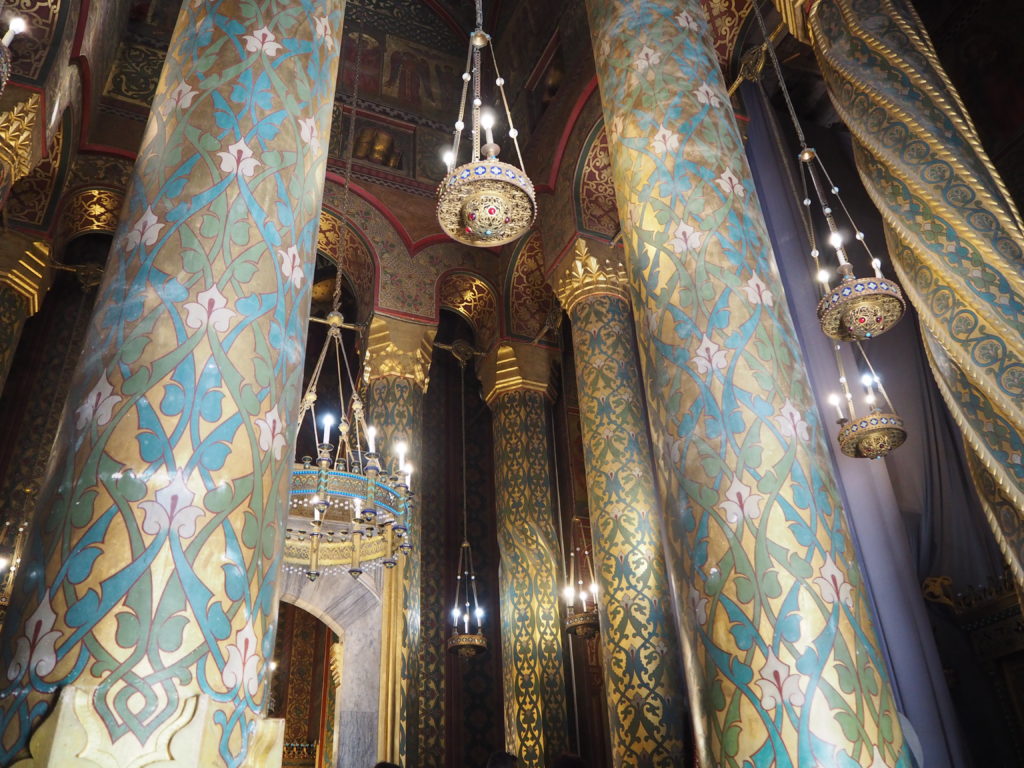 Stone Ravens Monastery
There is not much to do there but it is a small monastery just under a rock in the mountain, pretty cold inside. It has two rooms, the second one of them still has some very old paintings in one of the walls (the other one is covered in mild mold). It is possible to go up in the mountain, it doesn't seem that far or steep and probably there is a cementery up there or great views over the valley, but we don't go because I had a twisted ankle. Overall it is a short curious visit.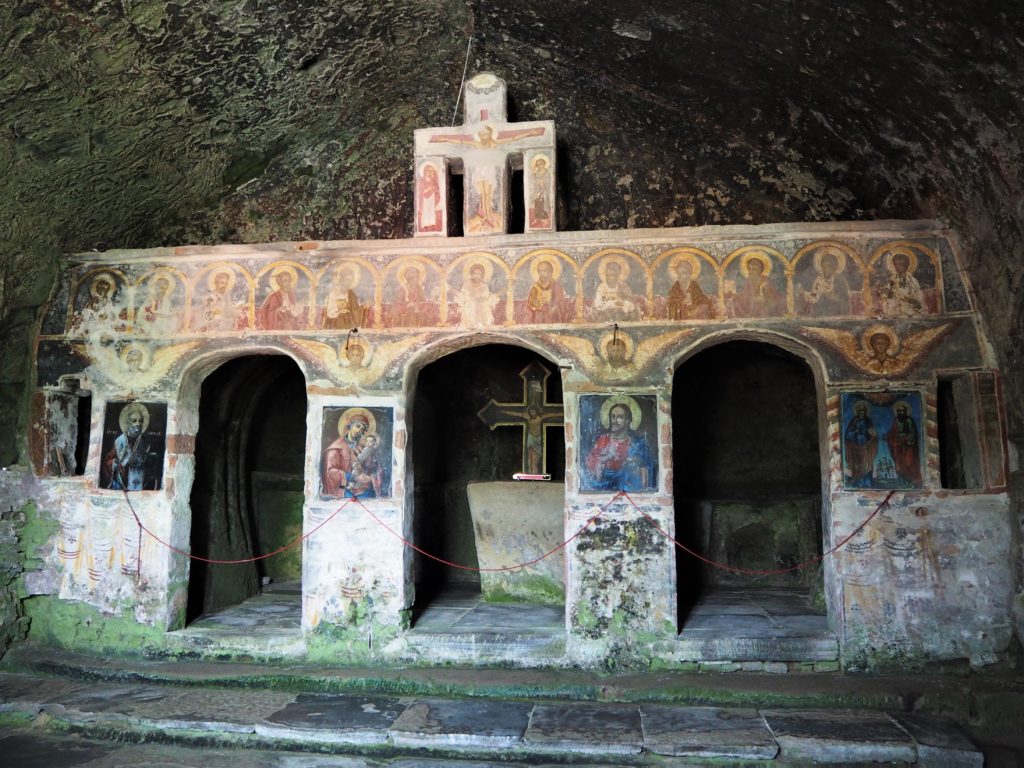 Dambovicioara Cave
We pay 3 RON per person to access the natural park where the cave is. The road there is short (some 15 minutes) but very narrow and spectacular. When we arrive to the cave, it is heavily raining so we race to the entrance. We pay the ticket (10 RON per adult) and the guy asks if we speak Romanian. If we did, a boy there (maybe 8yo, probably his son) would acompany us inside to explain some facts about the cave, but since we don't we go on our own and just admire the different cavities, stalactites and forms in the walls and ceiling. There are also some rupestre paintings and the bones of a bear. Our guess is that our nomad predecessors used the cave as shelter. Probably the boy would have explained that.
After leaving the cave it has stopped raining and we drive from there to the area next to Bran, and the landscape is amazing. Green fields over low mountains everywhere, little farms and guesthouses, valleys and mountains on the horizon. It would be a great spot to spend a few days relaxing but even just passing by with the car is a refreshing experience.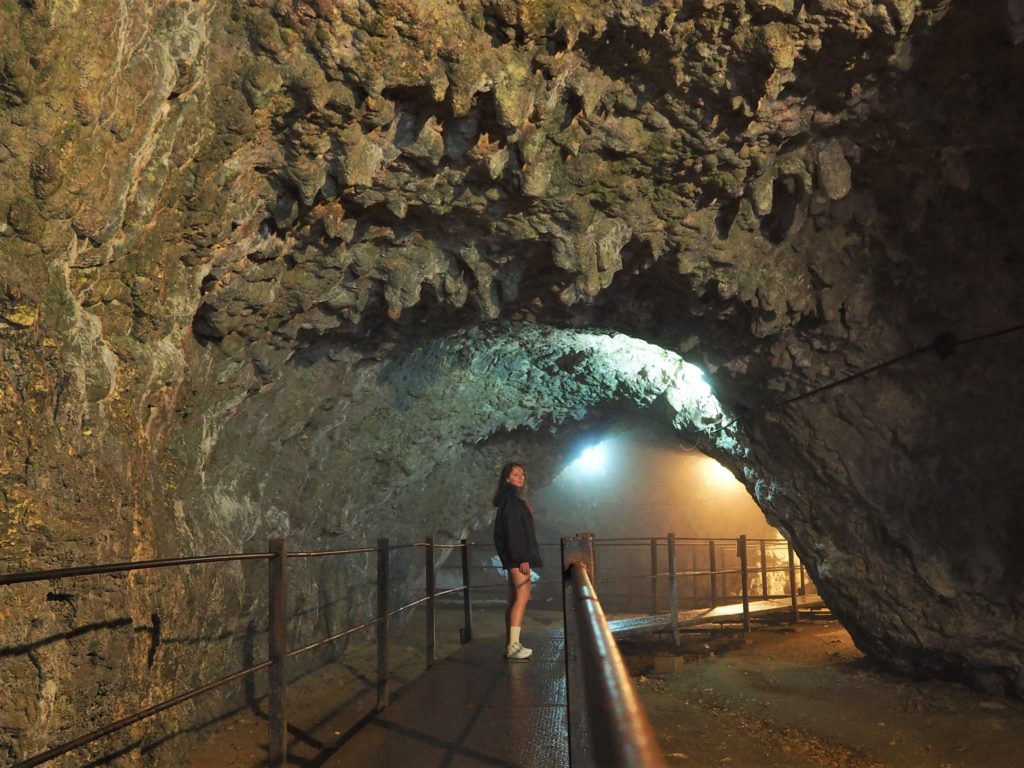 Slanic Prahova Saline
Slanic Prahova Saline is the biggest salt mine in all Europe. The area where it is located is very hot and remote if it weren't for the saline, so you can expect a few restaurants but not much more. After buying the 28 RON ticket a minibus picks you up and drives you to the saline. It takes about 5 minutes to arrive to the entrance and then another 10-15 to cover the distance from the entrance to where the gallery is, using a 3,1 km long descending tunnel carved in the stone. The space there is huge, with a total of 14 trapezoid rooms.
There are entertainments (such as a basket-case, ping-pong, pool…). The air is supposed to be the purest of the planet, so the salt mine is used as treatment for certain pulmonary diseases. There are private spaces were patients can rest for a few hours. There's also a small store inside, it closes at 15h. At the top of the walls there are wooden passarellas that probably have excellent views, however, it seems that they are only for staff and you can not access them.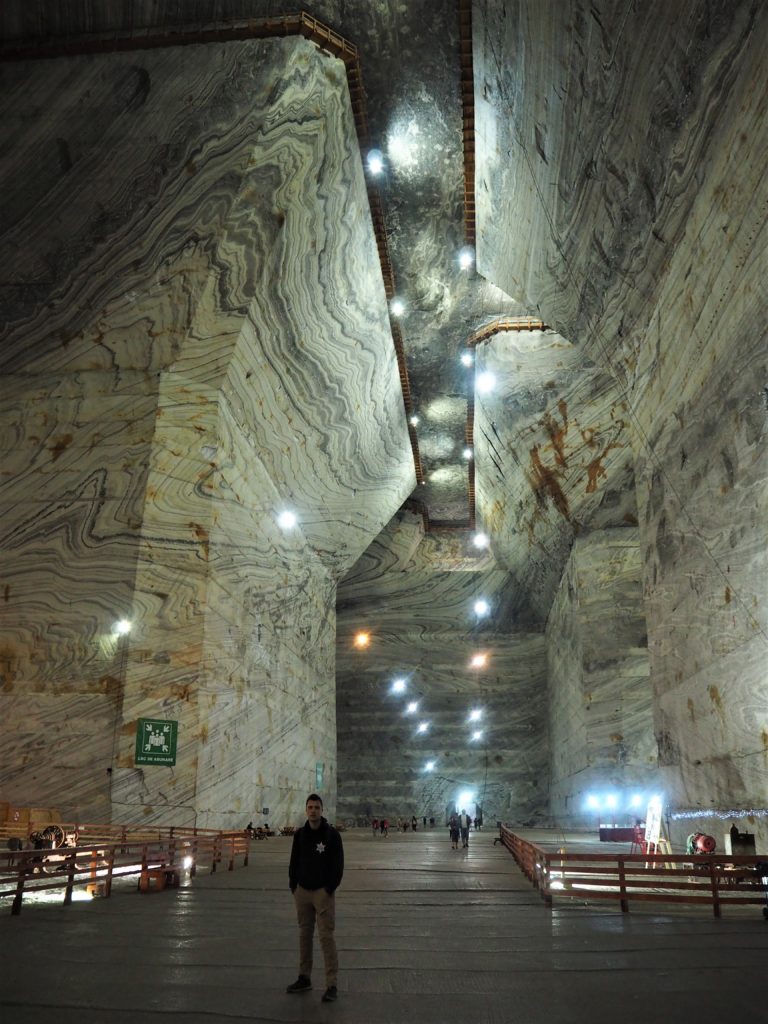 Bucarest city night life, Bucarest
The small cobblestone streets of the centre of Bucarest are hot and kind of peacefull during the capital's summer days, but the scenario changes completely during the night. Restaurant after restaurant, pub after pub, the streets are filled with people enjoying dinner and the night life, each place competing with the others to offer the best food and drinks, the loudest music, the prettiest dancers. Several food, beverage and shisha choices are available. For outsiders such as us, it is surprising that restaurants have go-gos to entertain their customers or the extremely high amount of striptease and gentlemen's clubs available in the main streets. Overall a loud, crowded and naughty environment not lacking certain charm. As opposed to that, you can also find clubs with live music or musicians in the street that can delight you with The Sound of Silence or Hallellujah.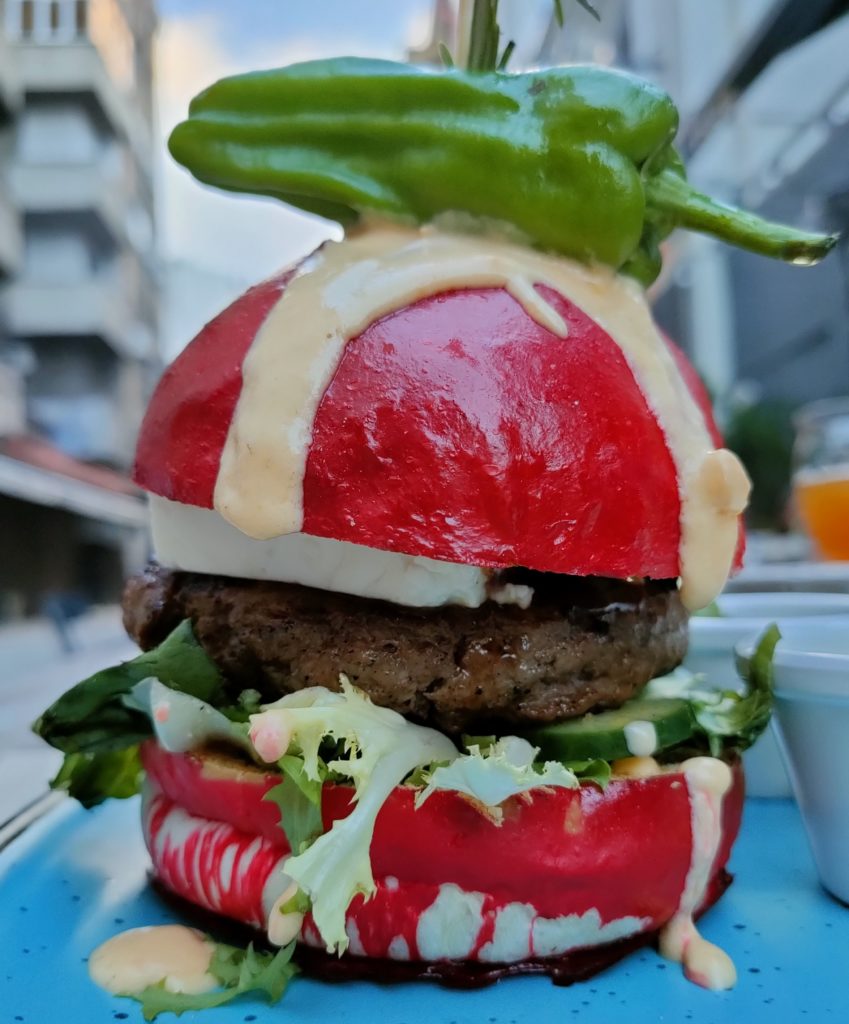 Arcul de Triumf, Bucarest
This arc is not located in the centre of the city but in the northern part, and maybe that's why it's not that common to visit. Built in 1878 with wood, when Romania gained its independence.
Carturesti Carusel Bookstore, Bucarest
A family of Greek bankers built the original building in 1903. The communist regime confiscated it in the 1950s and after small use, left it to decay. After many bureaucratic loops and battles in court, the grandson of the banker got the building back in 2007 and transformed it to the Carturesti Carusel (Carousel of Light), housing a charming bookstore. It is a four-stories shop with delightfull taste in architecture and decoration. Plenty of books and souvenirs but appart from the store there is nothing else to do there, which doesn't mean that is not worth the visit.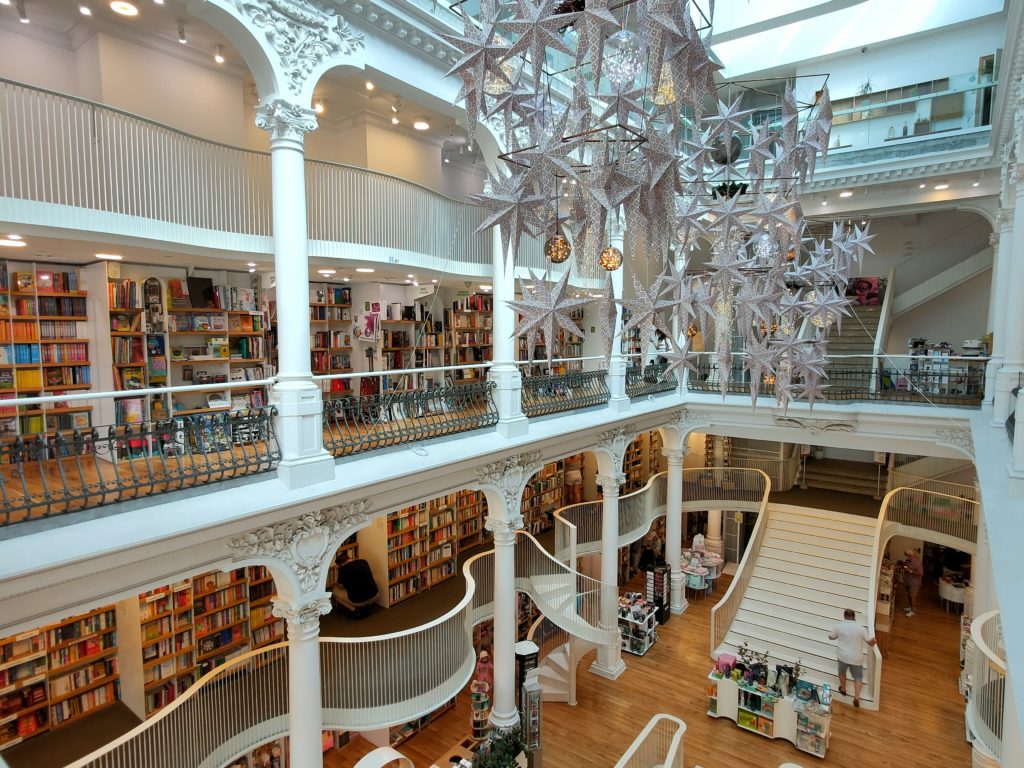 Trajan and Wolf Statue, Bucarest
On the steps of the National History Museum of Romania sits the statue of naked Roman Emperor Trajan. To add even more awkwardness to it, he is holding a wolf that appears to float just above his hands. All in all is not a very special monument, however, it is controversial and curuious to see.
Dimitrie Leonida Technical Museum, Bucarest
Engineer Dimitrie Leonida founded this museum in 1909 to showcast several developments in various applied sciences. Although the information we had said that the visit was free, we pay 10 RON per adult. It looks like a very old museum which certainly fits the collection. There are a lot of technical instruments, models and even paintings, the oldest we see being from the 16th century. There is also a small collection of cars, motorbikes and bycicles. The museum is in the grounds of a garden, and the building is kind of one single huge room. The result is that the temperature, having visited it in the middle of summer and a heat wave, is extremely high. The air conditioners they have there are not strong enough to compensate for it. Besides that, we enjoy the visit and all the curiosities we see.
http://cimec.ro/muzee/mteh/mteh_eng.htm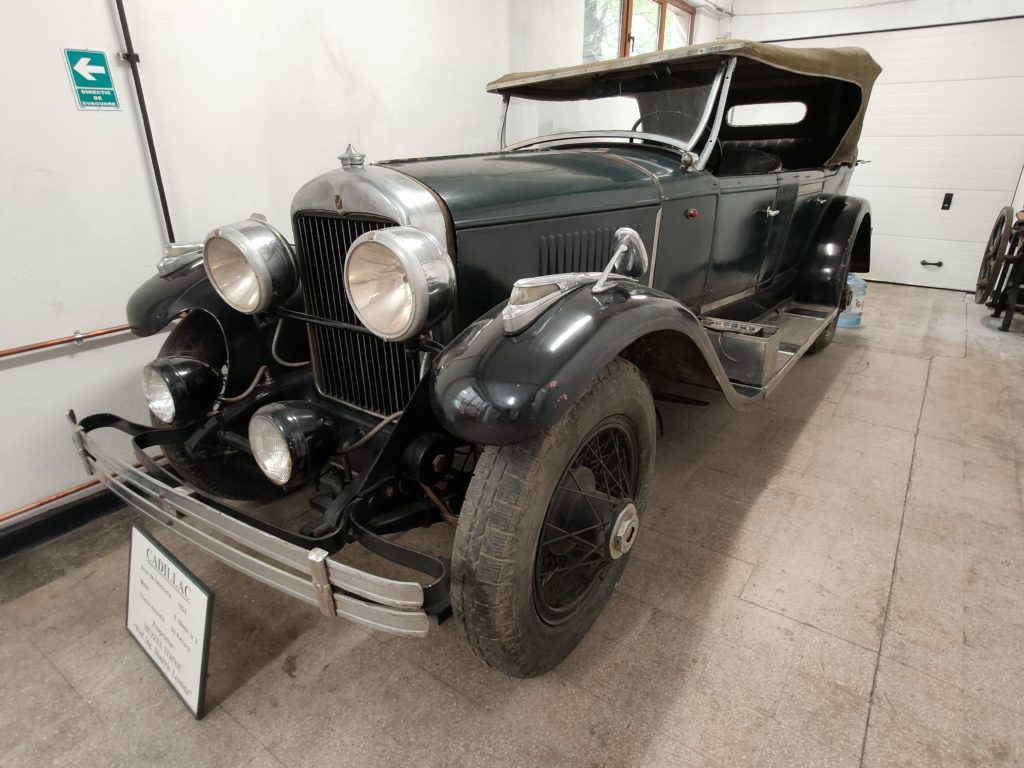 Memorial of Rebirth, Bucarest
Locals have renamed this monument with several nicknames due to its curious shape. Potato on a Stick, Potato on a Skewer, an Olive, a Brain. We pass by at night. We don't know if it's a thing of the weekends, or the nights, but the streets are pedestrian with zero cars and the walk is pretty pleasant.
Palace of the Parliament, Bucarest
The communist regime originally built the Palace of the Parliament in the 1980s, intended as a "People's Palace". The intention was to reflect prosperity, highly ironic as people faced food shortages, blackouts, and gas cuts for its construction. For five years, Romania spent one third of its GDP in the palace, up to two billion dollars dedicated to the ruling class.
Almost a whole neighbourhood (Uranus) was destroyed to build it, including homes to some 60 families and three churches of great historical value. Today it is one of the biggest buildings in the world. We schedule the inside visit for 40 RON per adult. To book you need to call by phone in advance (one day was enough for us).
For us it is definitely worth the visit. It looks surprisingly like Versailles for its details or the huge size and height of the rooms. Every wall and floor is made of marble, one full room of pink one. Almost all floors are covered in rich reddish carpets, some of them, because of their size, were manufactured in the rooms they are today. There are reception halls and ballrooms that can host hundreds of people. Almost each room had a different architect, hence the varying styles across the Palace.
The Palace of the Parliament is currently used by the Romanian government, so we only visit the small portion of the building that is open for conferences. Just as well, because it takes us one hour and a half to cover this fraction of the Parliament.
http://cic.cdep.ro/en/opening-hours-and-tariffs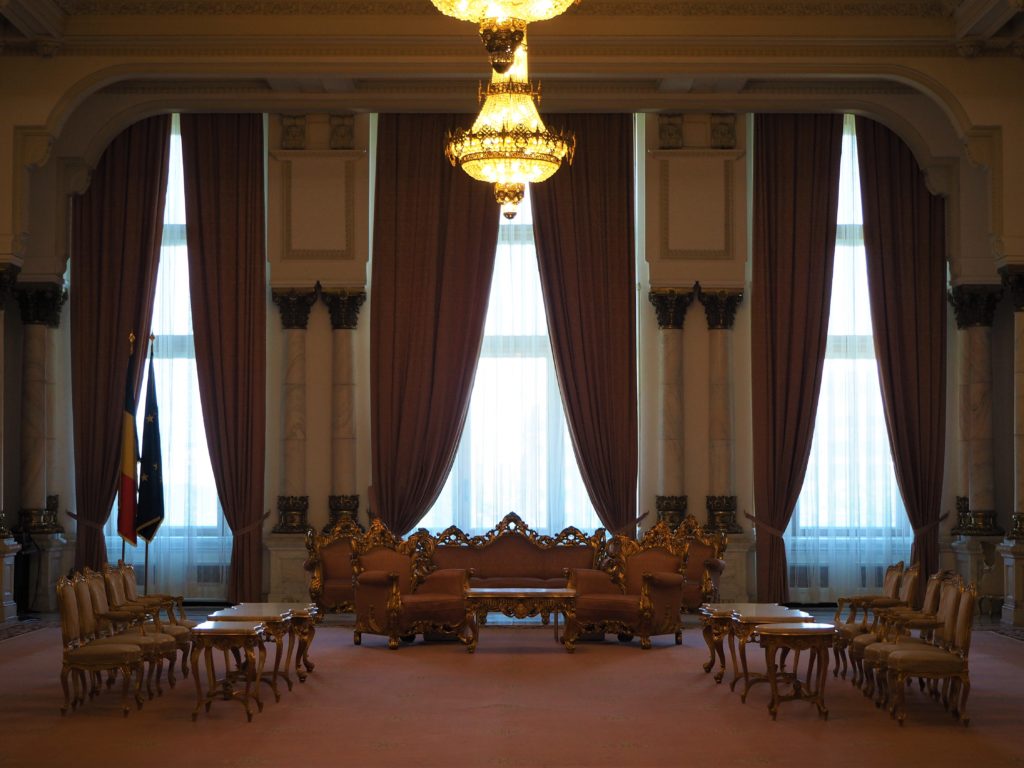 Tunnel of Love
A very narrow train railway surrounded by dense vegetation in the sides and at the top. We read that it is a version of the famous Tunnel of Love in Ukraine, but we do not have the time to visit.
Inelet
Recommended by a local, Inelet is a town with no access by car or road, only by a wooden ladder. We don't visit as it is not located in the area we are at but would have loved to.
Baile Herculane
A local recommends us the area of Baile Herculane, mainly regarded as a climbing destination but with some hidden hot springs. We do not have the time to visit.
Bigar Waterfall
Beautiful waterfall considered the best of Romania. You can arrive by car (no trekking needed). It is almost in the western border. We do not visit it as it is quite far from our roadtrip.
3. Where to eat in Romania
If you are like us and are planning a full roadtrip with plenty stops along the way, and still want to improvise and decide the next destinations as you go, you'll probably end up investing a significant percentage of your day looking for places to eat and sleep.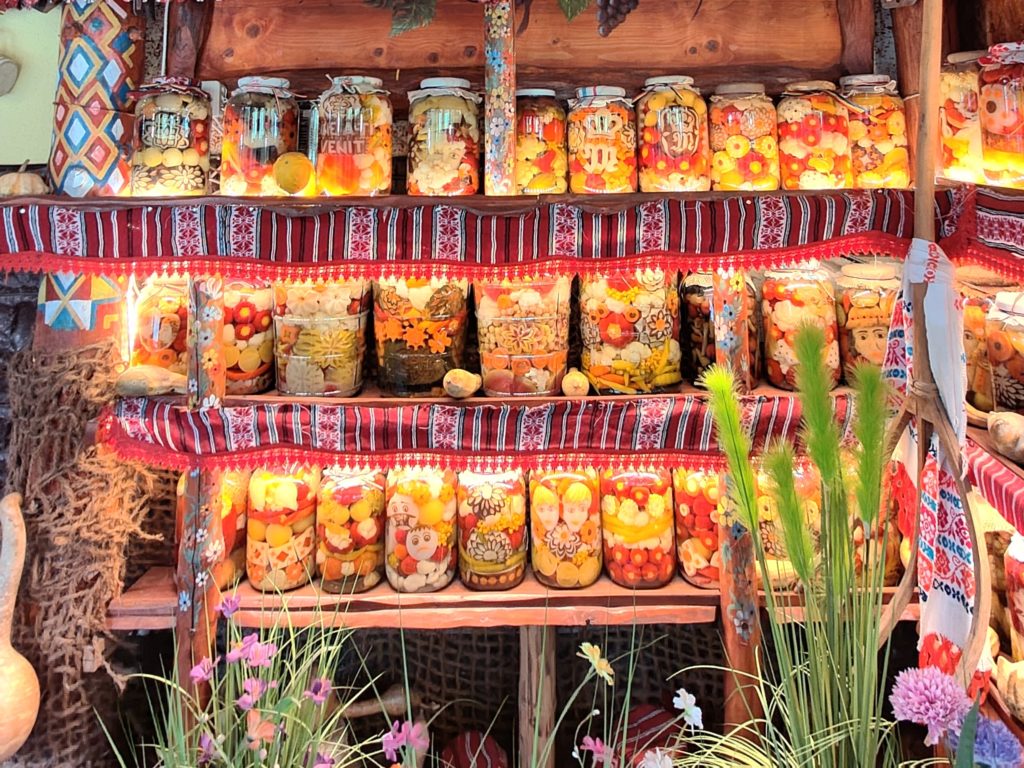 So, in case you want some inspiration to ease that search, we have compiled a list of some of the restaurants we went to and enjoyed the most.
Selection of restaurants
Final foodie recommendation
To finish the post and since we are on the topic of food, I cannot publish a list of the best things to do in Romania and leave papanasi out of it. Papanasi is a desert directly brought from heaven. It consists on a big doughnut, usually covered in sour cream and jam. Without a doubt the greatest discovery of our trip.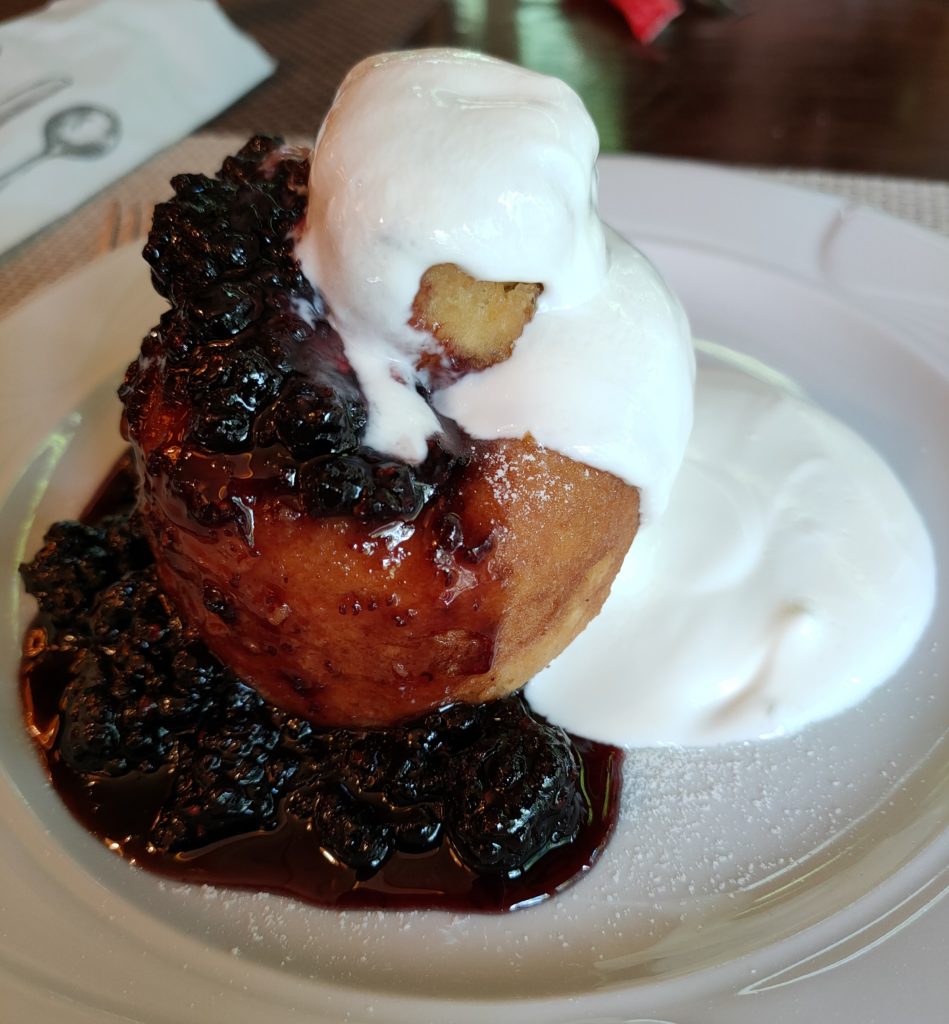 ---
Was this post useful for you? Please let me know and feel free to ask any question in the comments section! You can also support my work and Buy Me A Coffe. I will be immensely happy 🙂