Welcome adventurer! Are you visiting Barcelona and want to experience something more about our beautiful country than just the city? Catalonia has a lot of amazing medieval towns and the most astonishing views and routes on the Catalan Pyrenees. You can explore some of them in a weekend, just follow the itinerary I have prepared for you!
The basics of my van trip to the Catalan Pyrenees:
Duration: 2 days/2 nights
Date of travel: from August the 31st to September the 2nd, 2018
Places visited:  Castellfollit de la Roca, Montagut i Oix, Beget, Molló, Coll d'Ares, Vallter 2000, Tregurà
Here you'll find a day-by-day detail of our weekend van trip to La Vall del Llierca in the Catalan Pyrenees, including information on where to sleep and which towns and views you cannot miss.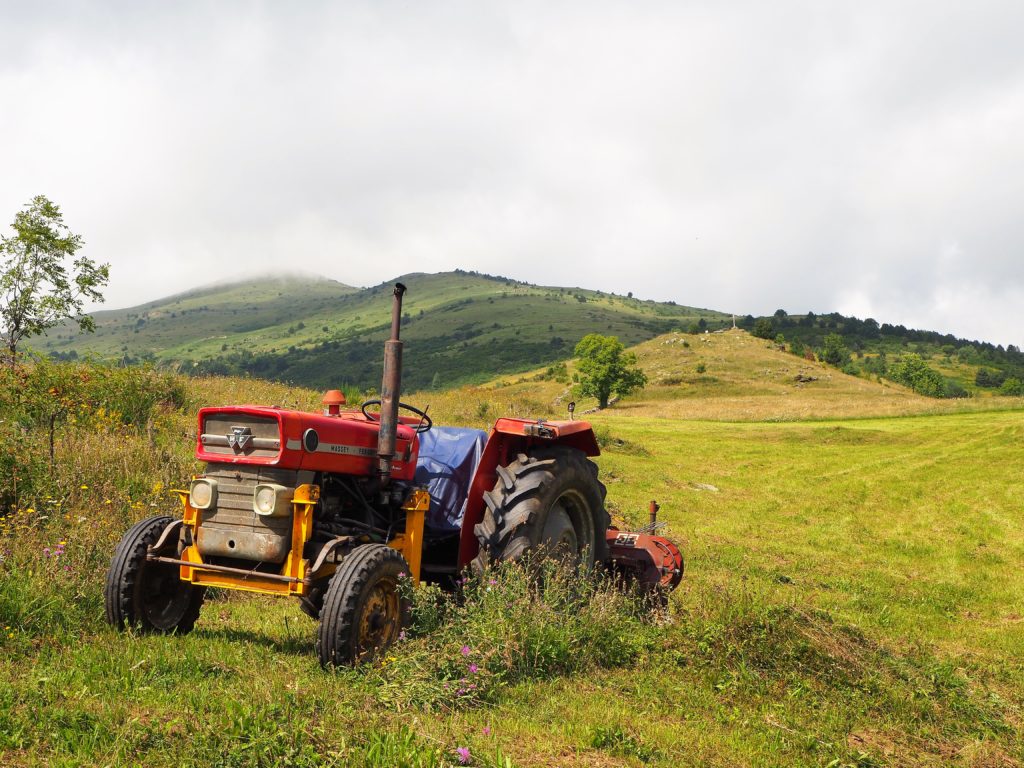 Itinerary
You can check the exact locations of our itinerary in this my maps.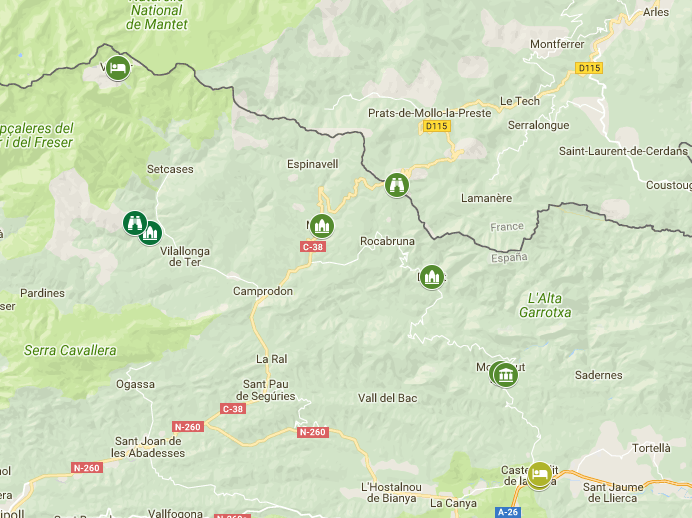 On this occasion, we planned a relaxed and chill out weekend with the goal to enjoy small medieval towns and scenic views, however, the Catalan Pyrenees are full of trekking routes of different levels of difficulty, a lot of them starting from the places we visited here. If you want to add some adventure just check for somewhere to trek around there!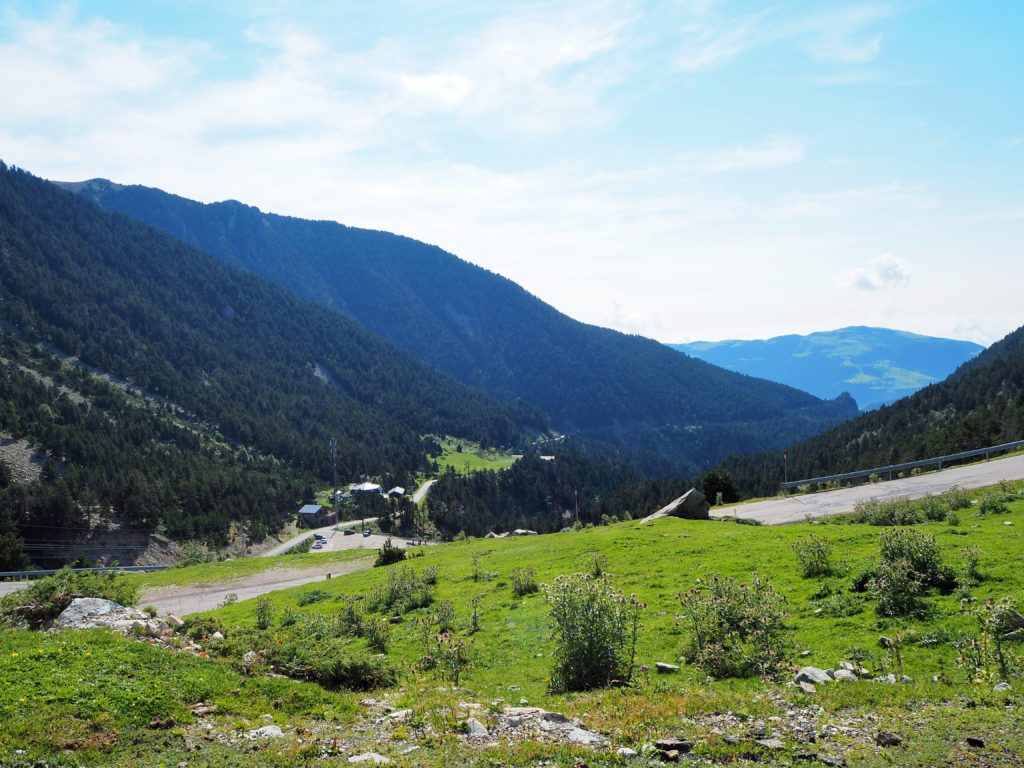 Views of the Pyrenees from Vallter 2000
FRIDAY: Castellfollit de la Roca
We arrived at Castellfollit de la Roca at 7pm and parked in the side of a secondary road. It was very peaceful and had amazing views of the town on top of the cliff.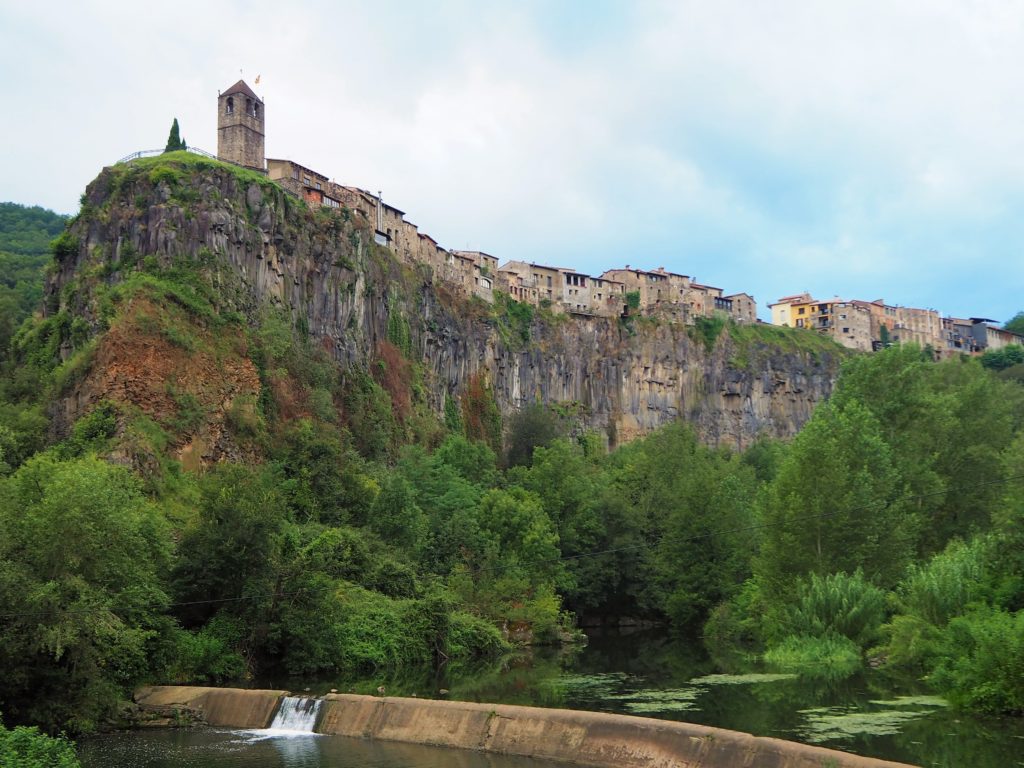 The town over the cliff
From there we followed the short easy trail that took us to the actual town and in about 15 minutes we were already in the church of the historical town, with astonishing views over the valley.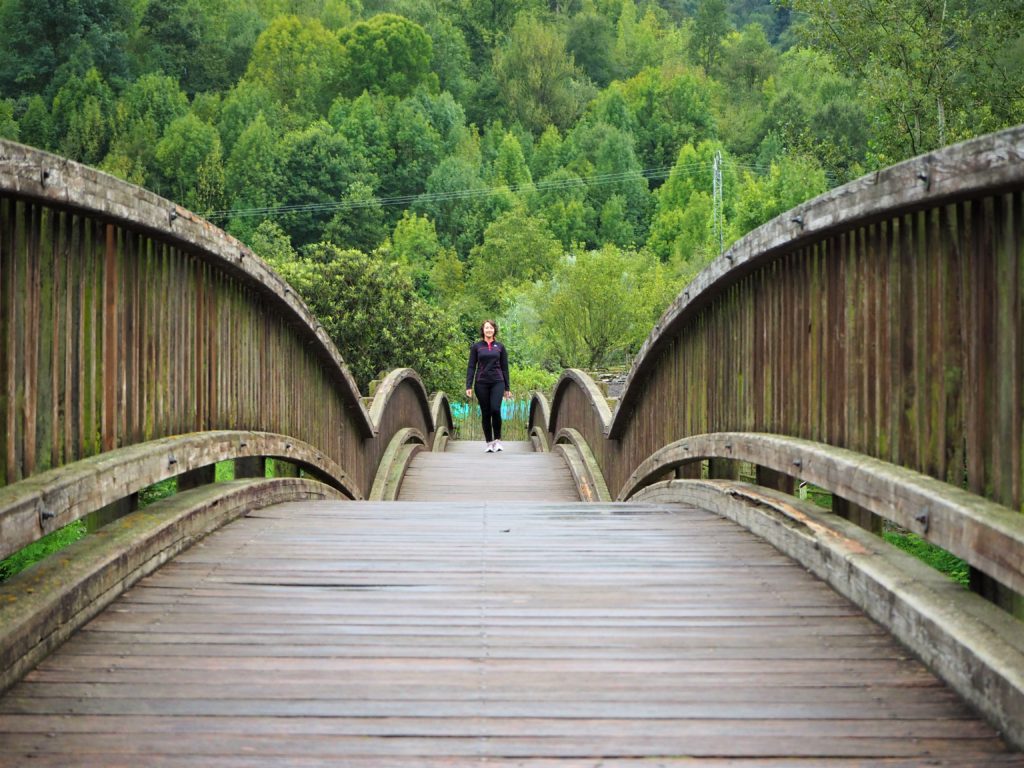 Bridge on the way to Castellfollit de la Roca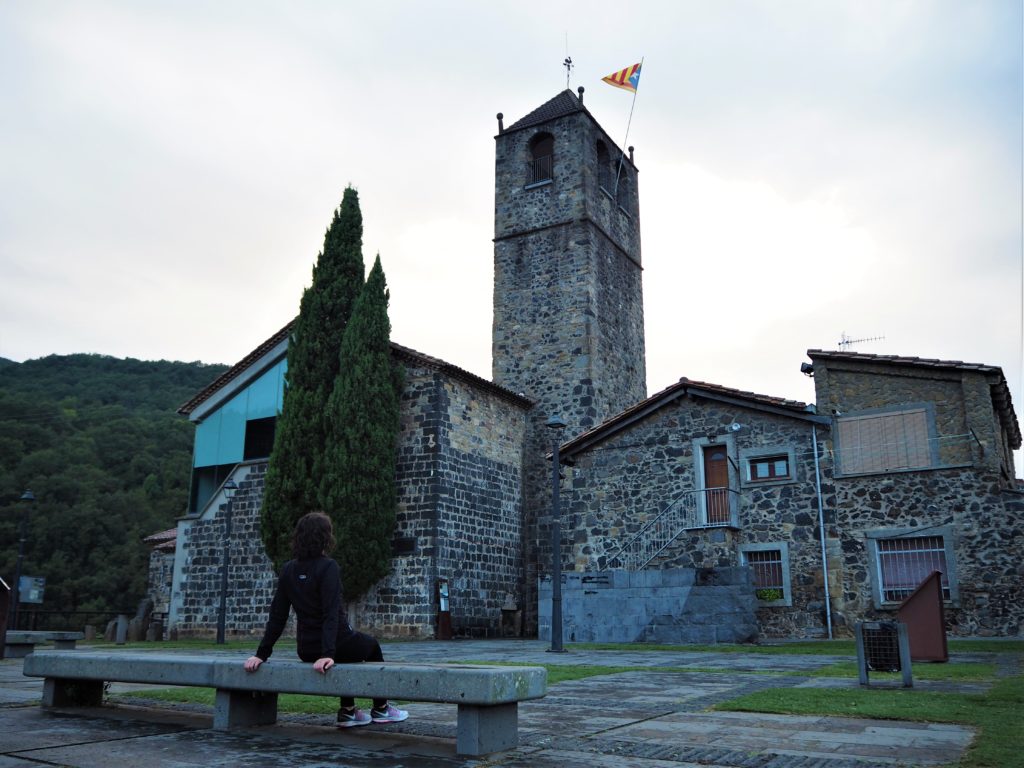 Church of Castellfollit de la Roca
We paid a short visit to the rest of the town and then returned to our van to have dinner and rest.
SATURDAY: Montagut i Oix – Beget – Molló – Coll d'Ares – Vallter 2000
Morning
First stop after breakfast was Montagut i Oix, were we trekked for 10 minutes to arrive to the Roman Bridge. It was built by the Sir of the area to make use of the "droit du seigneur" that he had on maids of the surrounding towns. Apparently some heavy downpours had prevented him for using this "right", so he built the bridge to avoid that happening again.
Beget was our next stop, a truly medieval town that seems to belong to a fairy tale. Its stone streets and pale brown buildings are a perfect addition to the green landscape and surrounding mountains. We had a beer there to have an excuse to enjoy the views for a little longer.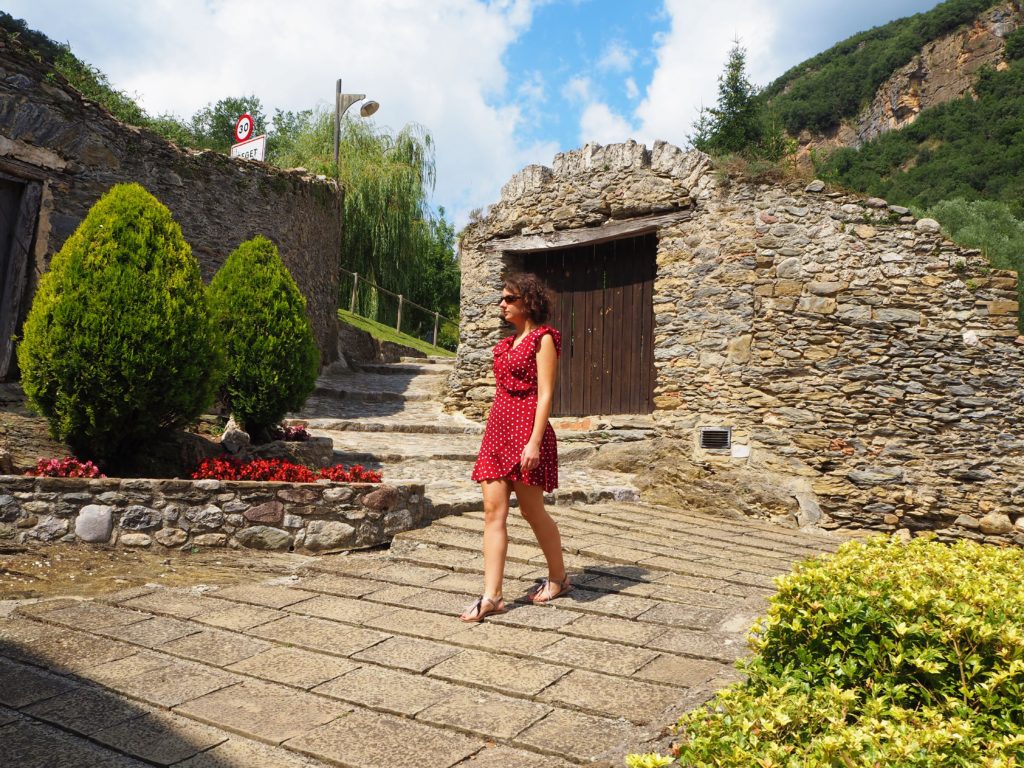 The town of Beget
We headed to France and stopped at Molló to have lunch. Interesting thing about this town: it is one of the few that can be counted on having a small supermarket and a butcher. Most importantly: he landscape there doesn't disappoint either.
Afternoon
After Molló we drove to Coll d'Ares, right at the border with France. It is a viewpoint both for Spanish and French scenery, both French and Catalan Pyrenees.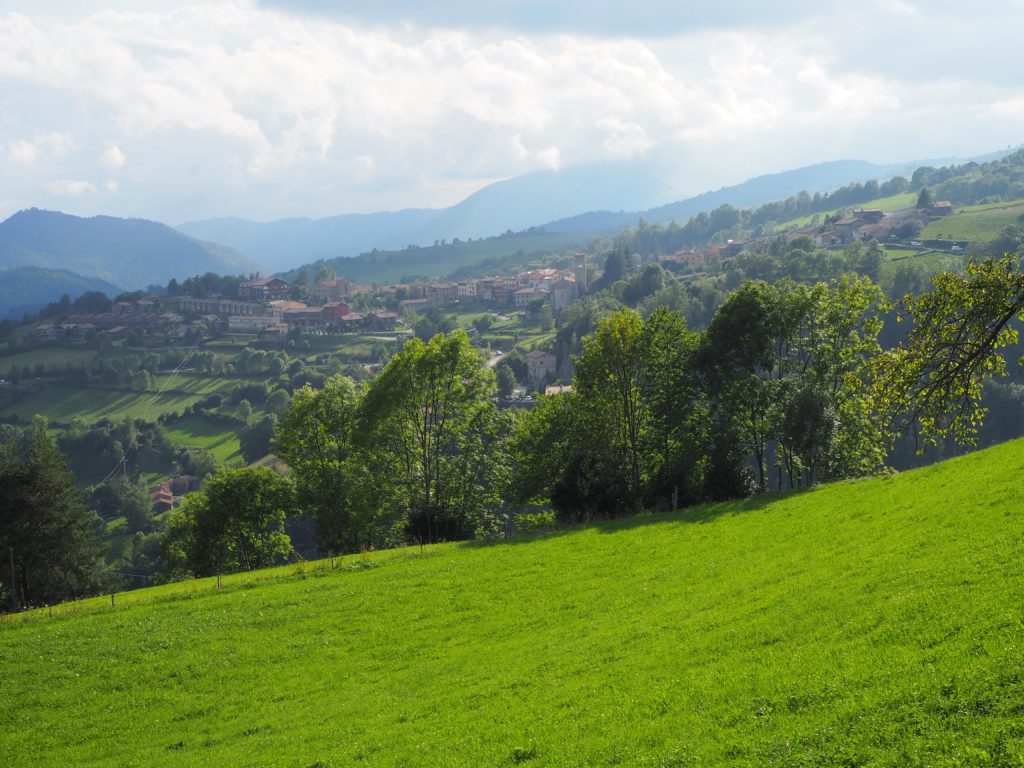 Views on the way to Coll d'Ares
After Spanish Civil War, Coll d'Ares was used by plenty of Spanish runaways seeking refuge in France.
Our last stop of the day was Vallter 2000, a ski station during winter and the starting point for tons of trekking routes, including the summit Bastiments, the rest of the year. We passed by Camprodón, the biggest and most touristic town of the area, but since both of us had already been there, on this occasion we didn't stop. If you haven't visited it, it's a must! The same principle applies to Setcases, the next town we encountered and skipped.
The road from Setcases to Vallter 2000 is really spectacular and scenic, ascending almost 1,000m to reach the 2,200m altitude of the Catalan Pyrenees in Vallter.
The downside? It was pretty cold, so even if you visit in summer be sure to pack some thermal clothes. And a good quilt!
However, even if enjoyed at a cold temperature, the night sky was amazing. There are almost no artificial lights there –apart from the window of a couple of vans- and there was neither moon nor clouds, so we saw what seemed to be all the stars in the Universe.
SUNDAY: La Creu de Fusta viewpoint
We had our satisfyingly hot breakfast in Vallter 2000 and then headed to Tregurà de Dalt, a tiny little town up in the mountains with the vest views over the valley. Our goal for the day was to find a quiet place to chill out, but if you prefer a more active itinerary, Sunday morning would be the perfect moment to visit Setcases and Camprodón. The road to Tregurà de Dalt is quite narrow, but our Ford Transit was able to do it, even when we found ourselves in front of a tow truck going to the opposite direction.
There was no parking available in Tregurà de Dalt so we continued the same road to the viewpoint of La Creu de Fusta, right until the paved road finished. We walked for 10 minutes to the actual viewpoint.
We had lunch there and after some "me time", we headed home.
---
Was this post useful for you? Please let me know and feel free to ask any question in the comments section! You can also support my work and Buy Me A Coffe. I will be immensely happy 🙂