As a part of our trip to Morocco, we did a 3-days-tour to visit the desert of Merzouga. It was an incredible experience not only because visiting the desert cannot be compared to anything you've ever done but also for the cultural shock it is to visit traditional Berber towns and their people.
The basics of my trip to the desert:
Duration: 3 days/2 nights
Date of travel: from September the 27th to September the 29th, 2017
Number of travellers: two people
Time of preparation: a day
In this post I will briefly explain you the differences between the two desert areas of Morocco as well as some options you have for such a trip and tips and utilities to travel there taking the most of it without spending your entire budget.
You can check here other posts about my trip to Morocco. These are the ones currently available:
1. The desert
If you are planning to visit the Sahara desert in Morocco you have two main options: Merzouga or Zagora. Each destination offers you a different experience so it is up to you to decide which one of them is better for your trip.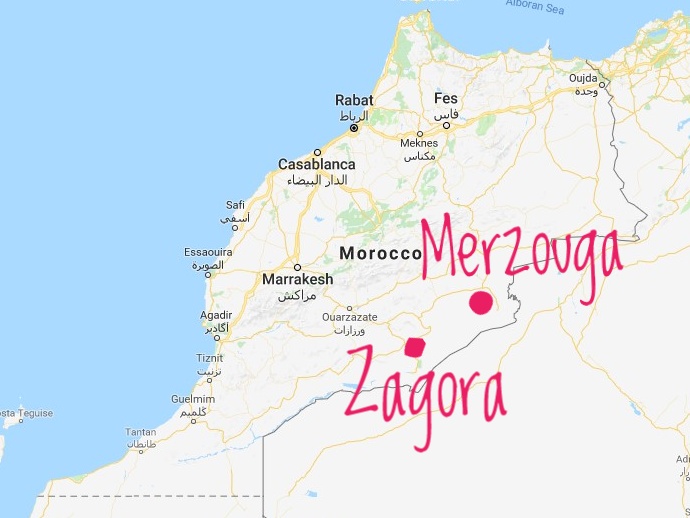 Without going through the details, Merzouga is believed to be more beautiful and it is easily to access. However, Zagora offers you a more authentic experience as it is considerably less touristic.
Now, some details:
Tours visiting the Merzouga region from Marrakech last 3 days (2 nights, one of them in the desert). This allows tourists to visit other parts of Morocco while travelling to the desert, such as Aït Benhaddou, Tinghir or the Todgha gorges. The town of Merzouga is just at the entrance of the Erg Chebbi sand dunes, which means it is full of hotels and tourist-related activities.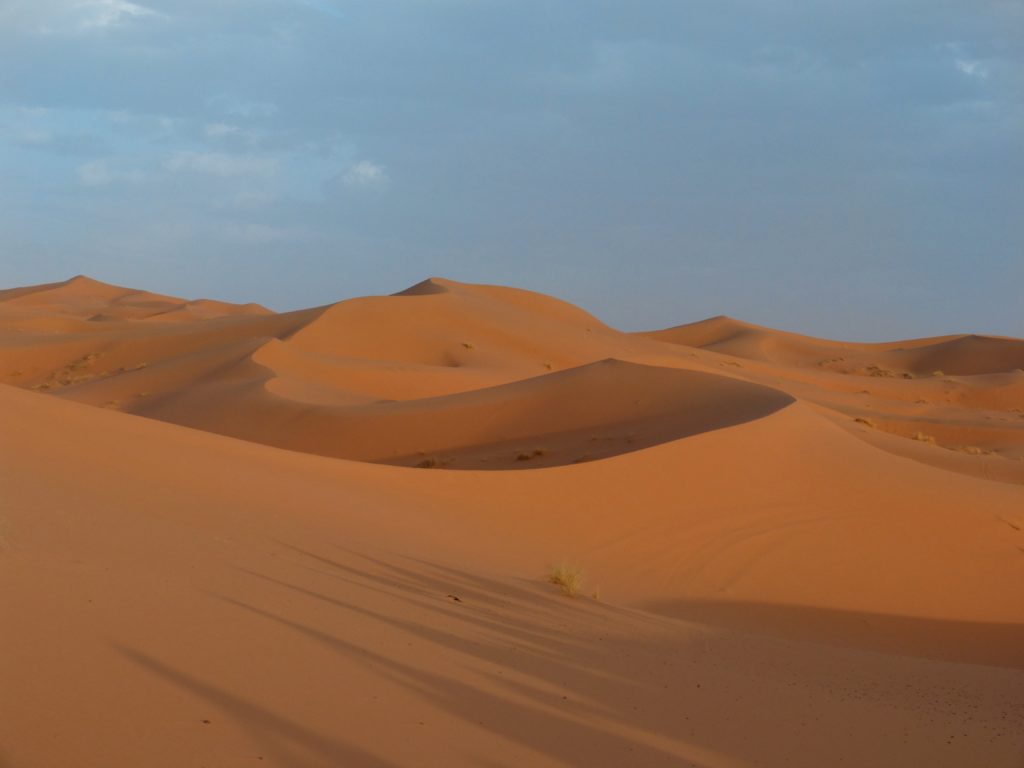 Desert of Merzouga
From the town of Merzouga it is really easy to take a camel ride or a 4×4 and be surrounded by sand dunes, without anything else to see 360º on the horizon. The shock is quite appalling and the landscape extremely beautiful. Erg Chebbi is full of haimas where you can spend the night or a few days, so you have a lot of options to chose; but, on the other hand, having other haimas around you the feeling of solitude is somehow diluted.
Neither the amount of tourists or haimas prevent you from having an amazing experience.
The trip to Zagora from Marrakech usually lasts 2 days. The views on the road are breathtaking although the drive is a little abrupt.
The sand dunes of the region of Zagora (Erg Chigaga) are more difficult to access than the ones in Merzouga (usually takes a few hours 4×4 drive or camel ride). Also, sand dunes are not as wide in Zagora as in Merzouga. These two reasons are why many tourists chose Merzouga over Zagora.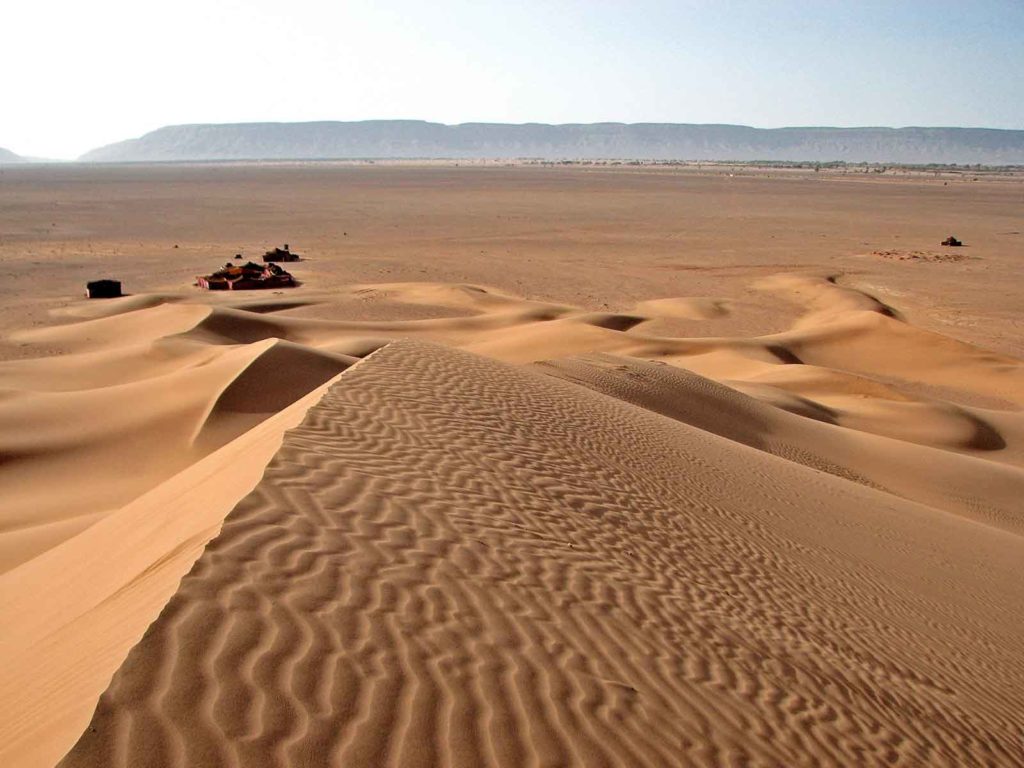 Desert of Zagora (image from Google)
However, Zagora has the advantage of offering those tourists who do visit the area a more authentic and personal experience than the one in Merzouga, as they don't have to share it with so many people.
I could not recommend you one desert area over the other because I've only been to one of them. We had a lot of doubts over which region to visit and we finally decided over Merzouga because we also wanted to visit the Todgha gorges and they were on the way to Merzouga. We do not regret this decision.
2. Guided trips
a/ Types
Particular trip
This is the most expensive option but also the most personalised one. You would have a driver for your group alone and you will be able to customise your trip as much as you want: the type of hotels you want to sleep in, what to visit or not, the times at each stop, where to have lunch… as long as you keep on the general route and schedule.
There are moments when you may join other groups for a particular visit (for example at Aït Benhaddou, if you take the guided tour). You may also be accommodated in the same hotel as other groups taking the same tour than you. If you take a camel ride to get to the haima at the desert, for the ride and for the night you may join the other groups that spend that night in the desert too, although you will have a room for yourselves alone at the haima. Of course you also have the option of asking for a haima just for yourselves.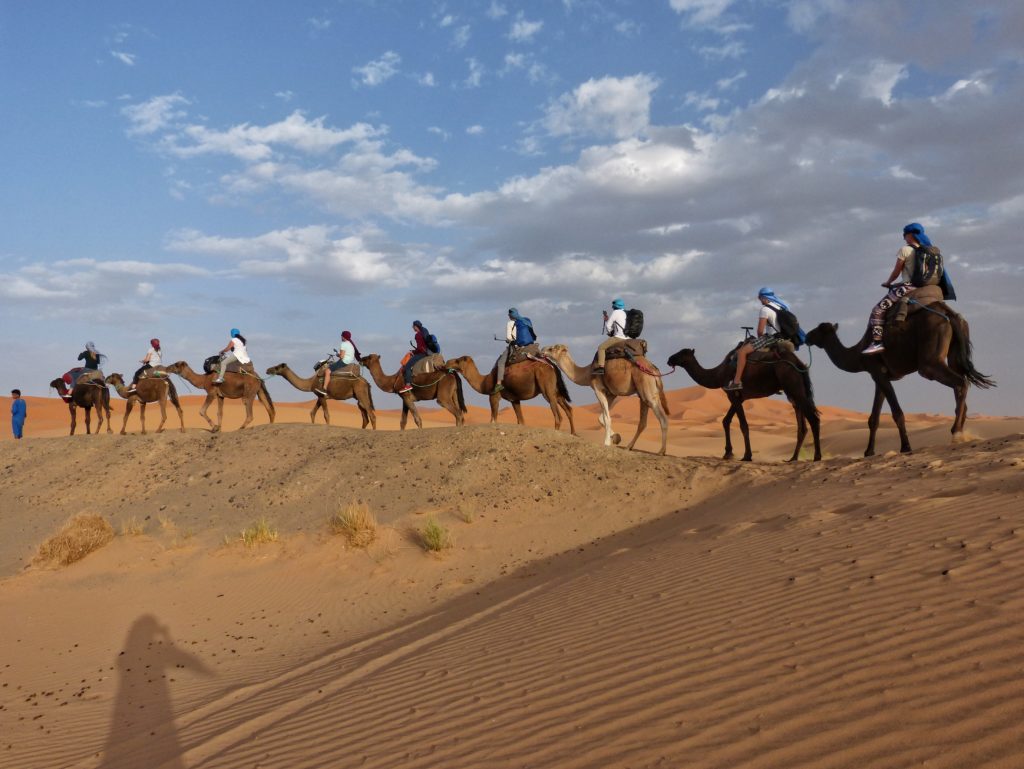 Group riding camels to the haima
I don't believe this option is very popular.
Group trip
In a group trip you will share the experience with other tourists – usually the parties are between 14 and 16 people. You will travel in a minibus with a driver; the guides will be awaiting you in each stop. The places to visit and the time at each visit will be standard and you won't have any say on that.
However, you will be able to customise some aspects of your trip:
Where to sleep: basically, you can chose the category of the hotel / haima.
How to get to your haima: by camel ride, 4×4 or a combination of both.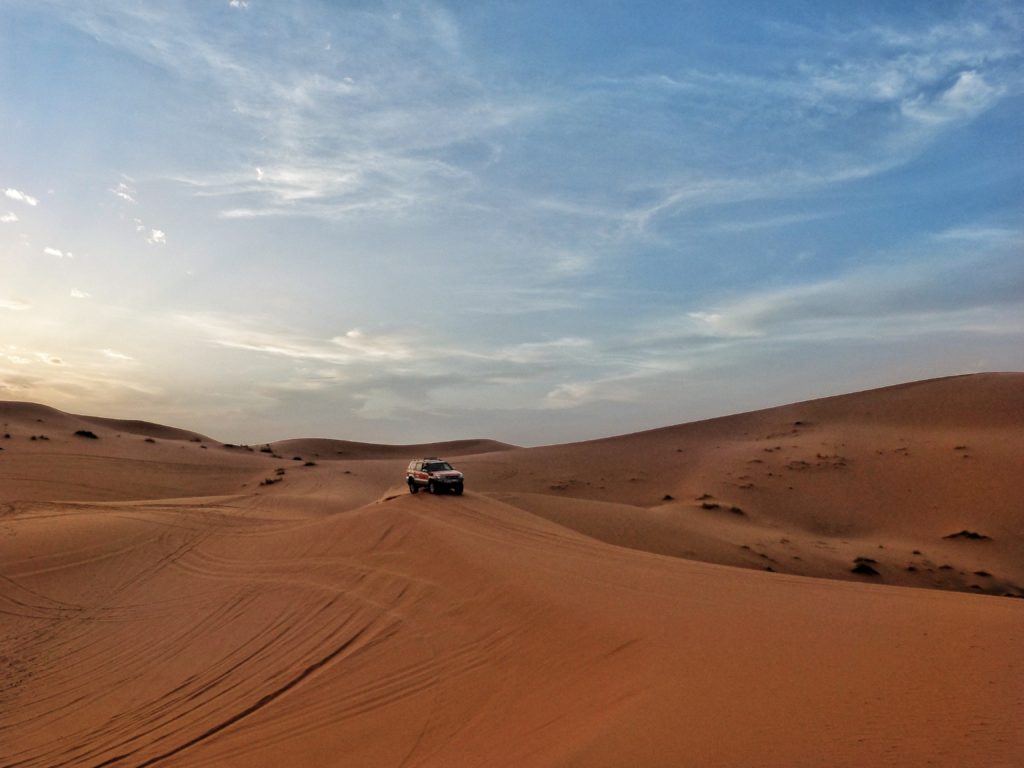 4×4 drive through the sand dunes
Group trip with individual rooms
This was the option we took. It is basically the same than the previous one, with the difference that you'll be sleeping in private rooms with your group alone (your partner, your friends, your family…). If you don't ask for this option, you will be accommodated in shared rooms with other people from your party. Having individual rooms is slightly more expensive than the regular ones, but in our case it cost us 15 € more per person. The whole trip cost us 85 € per person.
However, our experience had room for improvement: the first day we were the lasts of our party to be picked up, so when we arrived at the minibus the only two available seats were separated. If you want to avoid that, ask to be seated together when you buy the tour.
b/ How to book it
Now, this is the most important piece of advice I can give you and I hope to emphasize it enough: BOOK THESE TRIPS DIRECTLY IN MARRAKECH (or the city you are at). We did it this way although we were a little nervous about the availability, and we didn't have any problem to do all the visits we had planned and I promise you won't either.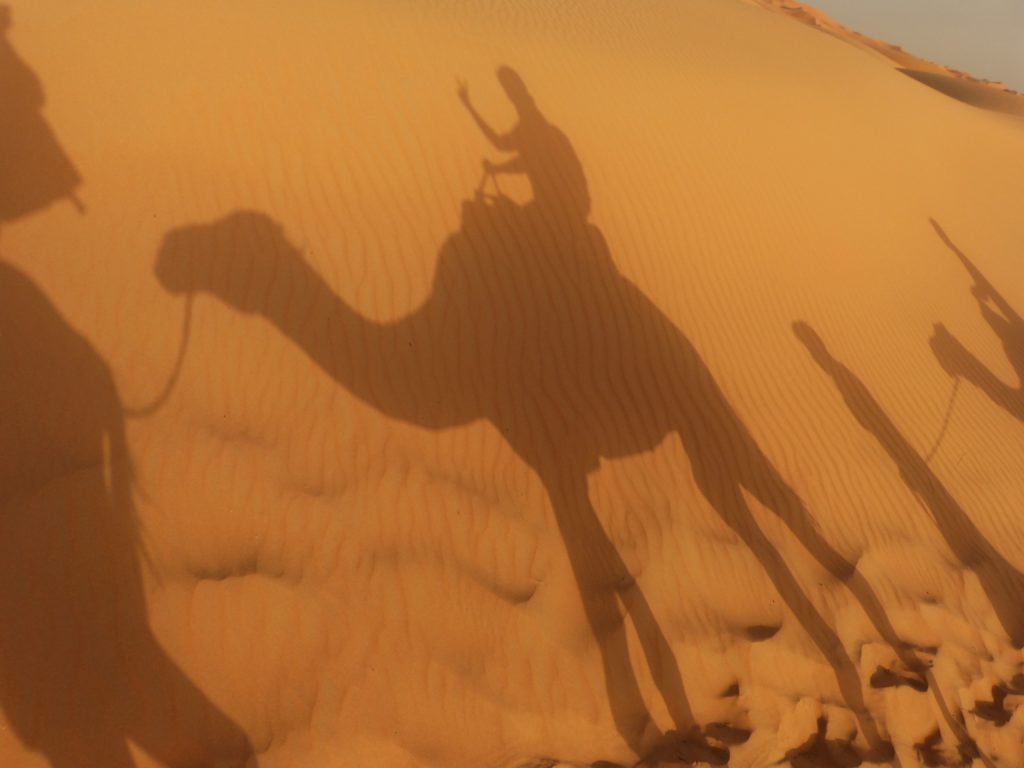 My shadow while riding the camel
There might be an obvious exception to this 'book-the-trips-directly-in-Marrakech' rule, and it's that if you arrive at Marrakech late at night and you want to leave the next day you may not have the time to organise it. However, something similar happened to us and it wasn't a problem at all: we booked the trip to the Desert of Merzouga at 8pm and they picked us up from our riad at 7am the very next morning.
Why I think it is better to book the excursions directly in Marrakech:
| | |
| --- | --- |
| 1 | It will be cheaper. Honestly this is the main reason why I recommend you to book the trip in the city instead of at home. To explain it with an example: our three-day-trip to the desert cost us 85€ per person for a group trip with individual rooms, and there were people travelling with us in the exact same conditions that had paid up to 130€ per person. The only difference between them and us was that they booked the trip from home. It is understandable, of course: intermediaries have to get their share and that increments the total cost of the experience for the costumers. That's why I'm encouraging you to organise these trips in Marrakech. The following reasons aim just to make you confident about this decision. |
| 2 | You will have a thousand million options to choose. In Medina there are a lot of travel agencies and they are literally everywhere, specially around the tourist attractions and more specifically around Djema el-Fna square, but, honestly, you can find them even in the smallest or quietest streets. Everyone will offer you every possible option of every possible trip, so there is no way that you end up not being able to do a certain trip, no matter how specific or rare it is. |
| 3 | You will be able to ask for a trip as personalised as you want. In general you will be offered three options: a trip for your party alone, a trip in a larger group or a trip in a larger group with individual rooms (be sure to ask for this if it's something you want!). The particular trips can obviously be customised at demand. However, even when you are travelling in a larger group of people you can personalise your particular experience: you could ask to drive a jeep instead of a camel to get to the haima you'll sleep in the desert, or to sleep on 4* hotels, or return to a different city. If this is the case, you will be separated from the group for this part of the experience and will re-join them for the rest of the trip. |
| 4 | It will be easier to get all the information about the trip, its conditions and all the details you want to ask, and, therefore to take a more informed decision about what travel agency choose, depending on what you expect from your trip and who offers it to you. |
c/ Utilities
This section is about specific tips you need to know before taking a guided tour to the desert. For general recommendations about the trip to the desert, check de section '5. My recommendations'. Check also the section '6. Your backpack' to see what you can't forget to bring on your tour.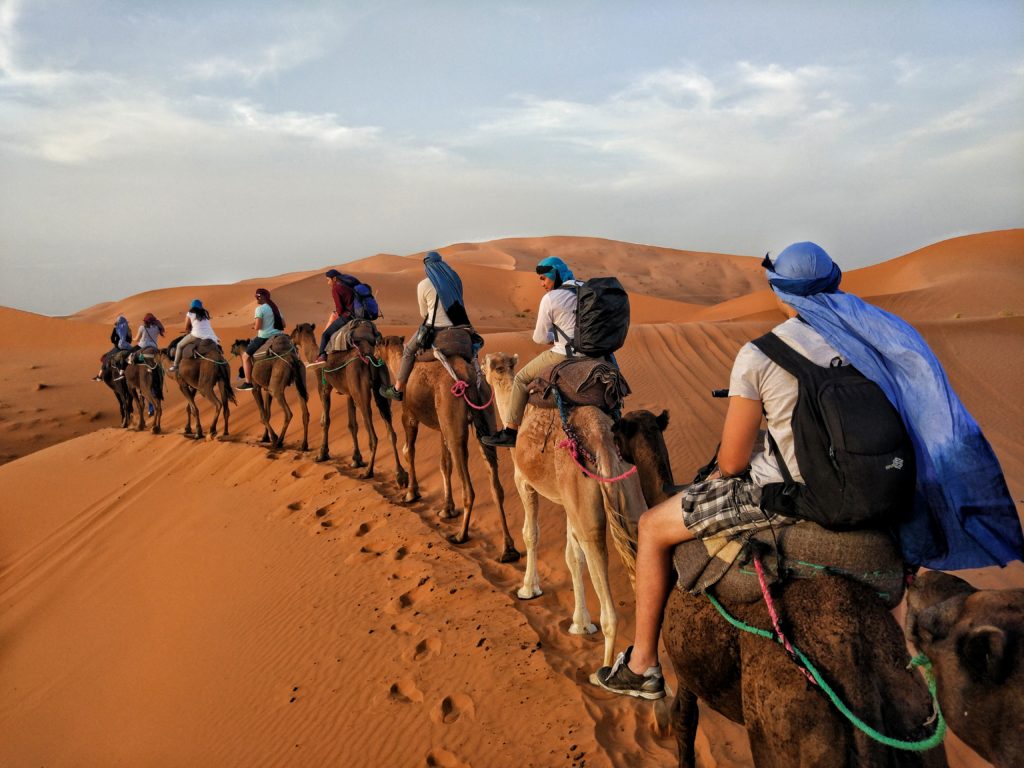 On our way to the haima
What's included
In a guided tour they will tell you that everything is included -apart from your lunch and what you buy, but here's a more detailed list concerning that:
Included

Transportation
Accommodation
Breakfast
Dinner
Visits
Camel ride or 4×4

Not included

Everyday lunch
Water
Snacks
Foulards
Souvenirs
Additional guided tours
However, during the trip they will offer you additional tours and although they make it clear you have to pay for them, what they fail to mention is that you have no obligation of taking them. This happened to us on our visit to Aït Benhaddou: a guide came to our minibus and while the driver was taking us to the runes he explained what we were going to see and how the visit would be organised. When we arrived to the city we just followed him because we thought we had no other option, but a part of our party went by themselves and took the exact same visit we took.
I don't want you to avoid guided trips or tours, I just want you to be informed about the real possibilities you have so you can really make a decision.
Where to eat or buy
The driver or guides will usually take you to specific restaurants to have lunch. Sometimes you won't have any other option –you may be in the middle of the desert without anything else surrounding you-, but if you have, I recommend you to walk away from the multitude and chose another place to eat. The meals are overprized at the restaurants they take you because they have a commission.
Something similar happens at souvenirs and utilities stores. Of course you always have the option of not buying anything, but at some point of the trip they usually take you to a foulard store and go on about how you absolutely need a foulard for your visit to the dunes. You do need one – but bring it from home or buy it anywhere else.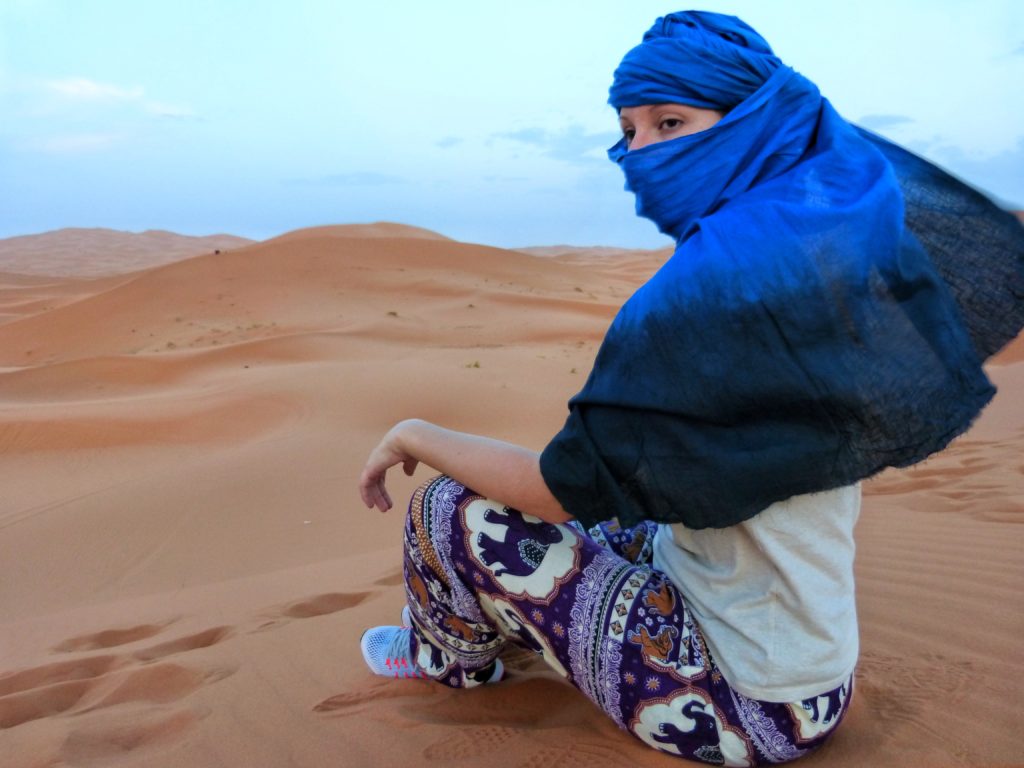 Traditional Berber foulard
For useful tips on how to bargain, visit my post '7 tips and utilities to survive Marrakech'.
3. Renting a car
A rental car is the best option if you want to do a few days trip. Why? Basically because cars are more comfortable than minibuses (it is so obvious but so true, especially when you stay for eight hours in a vehicle), guided tours often stop too shortly in the attractions you visit on the road, drivers always stop at the restaurants they want –usually the ones they have deals with, which are more expensive to you- and of course, you cannot choose what to visit if you pay for a specific trip.
We didn't rent a car because we were told that traffic in Morocco is crazy and driving rules are different from the European ones. This is not true. Traffic is chaotic in the cities but really OK everywhere else; and although the roads have just one lane for each direction this is not a problem at all, because traffic is not as dense as what we are used to. There's police everywhere and they are extremely helpful to tourists.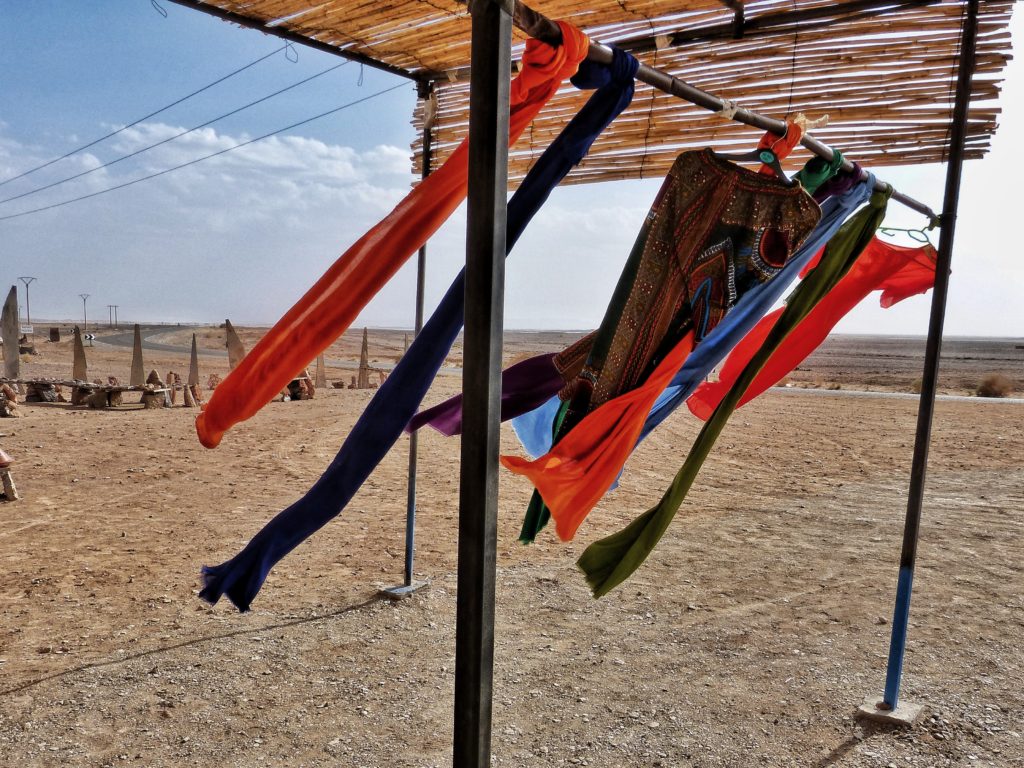 Check the peaceful and empty road
4. My recommendations
I was expecting to see a sky as full of stars as the ones you see in National Geographic the night we slept at the desert. Well – that didn't happen and now I realise it was not realistic to expect it, however, if seeing the stars is one of the things that attracts you the most of this experience, you can try and organise it on new moon to ensure as little light pollution as possible.
In a less specific tone, I have a few general recommendations about what I would have liked to know before planning my trip to the desert. Here they go:
1

RENT A CAR

If I had to repeat, I would definitely rent a car. A guided tour is really comfortable in the sense that you don't have to worry about anything, but the truth is that you lose a lot of time picking up and leaving everyone at their hotel (not everyone on your party stays in the same hotel) and you later miss that time to spend a few more minutes in a specific location. We would have loved to trek to the top of Toghda gorges but we just had 20 minutes there so that was not an option. Just keep in mind that renting a car will require that you plan a little more your trip than if you decide for a guided one.

Todgha gorges

Some time ago there was a bus available to take you to Merzouga, but it has been cancelled so that's no longer an option.

2

HAVE SMALL MONEY

You will need to purchase things during your trip –water, fruit, lunch- and you may want to buy souvenirs, or a foulard, or whatever. This will be extremely easier if you have small money with you, because it is strange for them to have change so at times you may have to wait for someone to pay something else to get your change back.

3

HAVE SOMETHING TO TRADE

I think this would be one of the most interesting ways to have a personal souvenir from Morocco. Of course you can take an old phone with you and trade it for a carpet, but I'm not talking only about that. Moroccans and especially Berbers are very keen to have 'occidental' things, so they'll probably offer you something they have for something you have. I feel there's a charm in that: you take back with you a piece of the real Morocco, not a manufactured product.

4

SPEND MORE THAN ONE NIGHT AT THE DESERT

We arrived to our haima after sunset and left before sunrise, so apart from enjoying the dance around the bonfire and take a short trek to the top of a dune, we didn't do any activity on the desert. We would have liked to 'snowboard' in the dunes, run through the desert (there are specific routes you can take) or just walk barefoot on the sand. So, if you want and you can, try to spend at least two nights there.
For a few specific recommendations about guided tours, check again the section c/ Utilities.
5. Your backpack
For the tour
Something to exchange.
Small money.
Fruit or snacks for the journey
Comfortable shoes to walk with. This is very important! It's not that the terrain is particularly difficult or tricky, but you'll find a few places you'll need to have a firm step. Some girls of our party wore sandals or even flip flops, which was a little inadequate. I would recommend you to wear sneakers or something of the kind.
If you travel in a guided tour you may want to have something to distract you with, such as music, movies or a car game. The hours in the minibus are very long.
For the desert
Water. Water is not provided in the haima so you need to bring your own.
Sunglasses.
A foulard to cover your hair and face from the sand, especially if there is a sandstorm.
Long pants to prevent an allergic reaction to the contact of your skin with camel hair (this is recommended but not mandatory).
Thermal clothes, although this will depend on the season you visit and the climate you find. We wore them but we didn't use them (we visited at the end of September).
---
Was this post useful for you? Please let me know and feel free to ask any question in the comments section! You can also support my work and Buy Me A Coffe. I will be immensely happy 🙂