Carlit, with its 2,921m is the highest peak in the department of Pyrénées-Orientales and the region Languedoc-Roussillon, France. It is also among the most emblematic mountains in the area and therefore climbing Carlit is one of the most spectacular trekkings you can do there.
In Catalonia, which is where we are from, Carlit is also one of the most popular peaks because it is included on the list of the 100 mountains to climb (which paradoxically includes over 350), prepared by the catalan mountaineering federation, the '100 cims'.
In this post, you fill find information on how to arrive to the starting point of the trek, a description of the route and the trail you will be walking and a few tips and utilities to take the most out of this experience.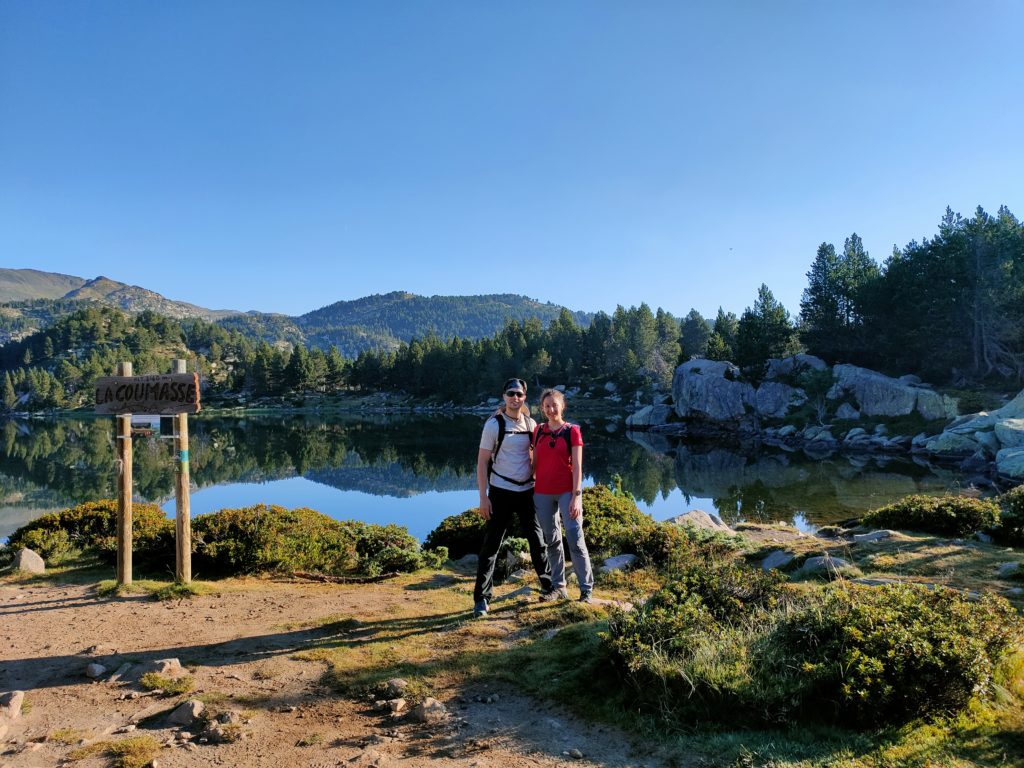 If you have some spare days in the area and are wondering what else you can do, check my other post 'The greatest outdoors activities in Eastern Pyrenees for your adventure holidays'. There you will find a list of the main activities you can do while in your adventure holidays in Eastern Pyrenees. It ranges from trekking routes through breathtaking landscapes, lakes with tones of activities to do, Vauban fortresses or historical cult sites and cities.
Introduction to climbing Carlit
The most common route for climbing Carlit starts at Lac des Bouillouses, a human-made place that is beautiful enough on its own. Appart from climbing Carlit, there are plenty of other routes and activities you can do there. For example:
The 9 lakes of Carlit
The 12 lakes of Carlit
Circular around the Pradella
The lake of Esquits
Circular to the lake d'Aude
Circular around La Borde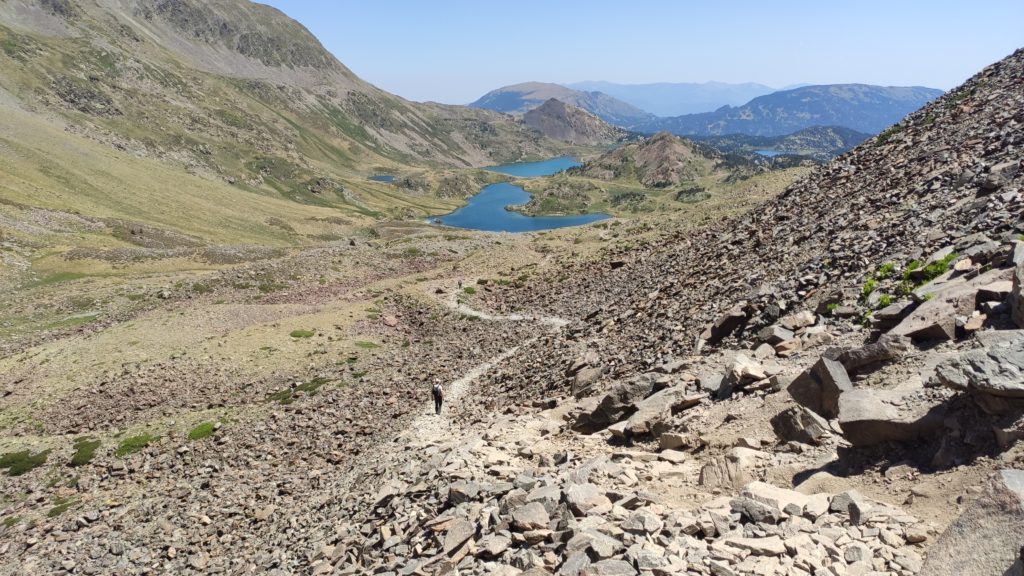 In the Lac de Bouillouses, there are also some hotels where you can sleep, as well as the option to bivouac with your tent in certain areas, including some of the lakes. You can also find some gastronomical offer around the Lac. In case you want to either sleep or eat there, you should book in advance.
How to arrive to Lac de Bouillouses
As the whole post is based on our experience of climbing Carlit in summer, we will describe transporttion options mainly during that time, which anyway is when some car restrictions apply.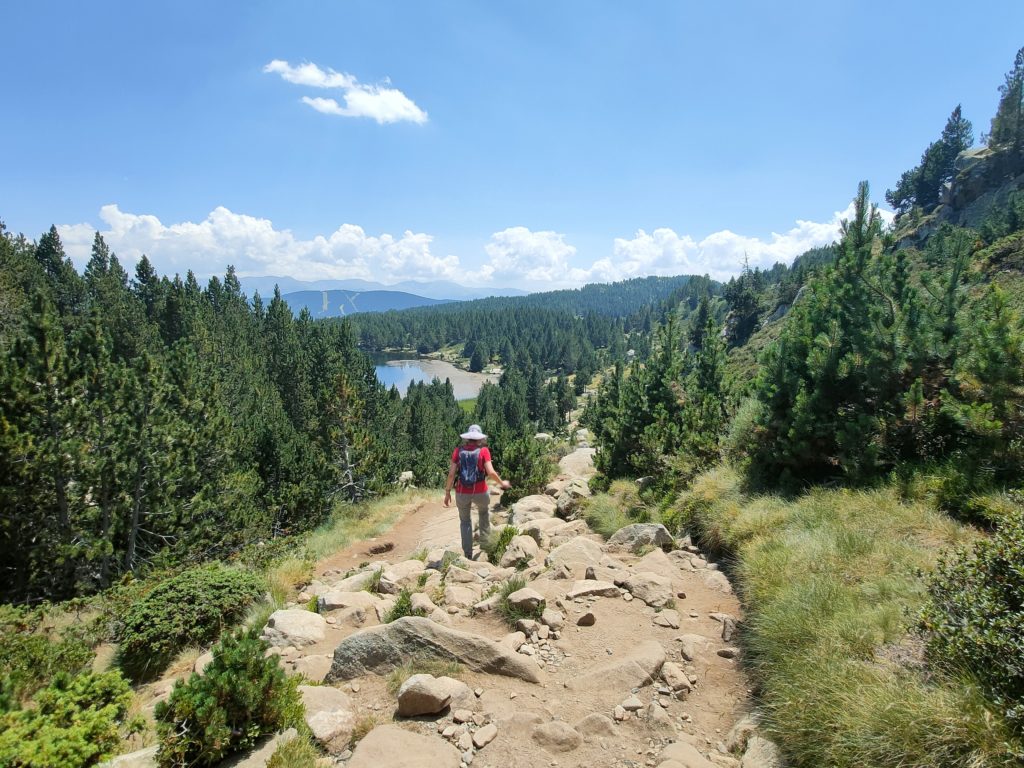 By car
There is a road that takes you right by the Lac des Bouillouses, which has plenty of parking spots. The road is paved and narrow but really good, you can access it with any car. From the closest town (Mont-Louis), it takes about 20 minutes to arrive.
However, during summer time the access to the lake is regulated and therefore the road is only open at certain hours.
In 2022, during the months of July and August but also most weekends in June and September, the access by private car was only possible from 7pm to 7am (night time).
To leave the area by car during this period, you can do it freely during these night hours or following the buses during the day.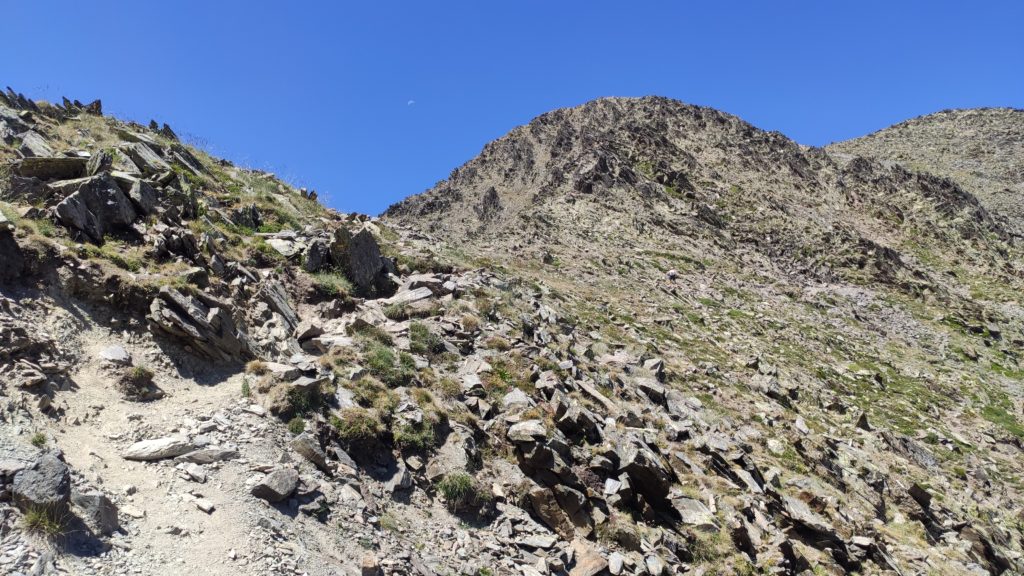 By bus
The bus (or navette) is the alternative to private car and is available the months of July and August and most weekends of June and September. It leaves from the parking Pla de Barres (check the google maps location here) near the town of Mont-Louis, every 15 minutes from 7am to 7pm. The last return from the lake is at 8:30pm.
You can buy your ticket at the parking and although they will take it on your way up, no one will even ask for it when you take the bus to return.
As of 2022, these were the prices:
| TICKET | PRICE |
| --- | --- |
| Adult | 6€ |
| Under 5 yo | Free |
| Child (5-12 yo) | 3€ |
| 13-25 yo | 4€ |
| Forfait family (2 adults + 2 children) | 16€ |
By chairlift
From the town of Font Romeu, it is possible to take a combination of chairlifts and navette that will leave you at L'Étang de Pradeilles. In a 30 minutes walk you will reach the Lac des Bouillouses.
If you chose to arrive by chairlift, the scenario will surely be more spectacular but the schedule more restricted. The time of transportation will be longer and the walk an additional 30 minutes each way. These are some of the reasons why we chose the bus.
Anyaway, if you do go by chairlifts you have two options: leaving from the centre of the town of Font Romeu or from the parking La Calme, at the ski resort of Font Romeu.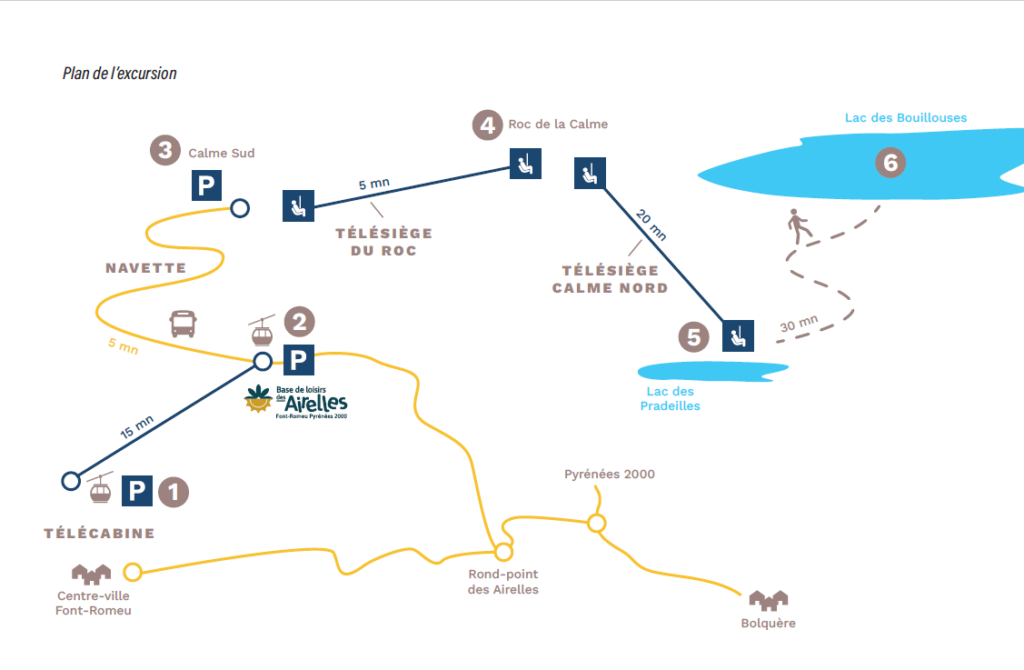 You can find more information at: https://www.altiservice.com/
From the town of Font Romeu
| TRANSPORT | ORIGIN | END | TIME | SCHEDULE |
| --- | --- | --- | --- | --- |
| Télécabine | Town of Font Romeu | Des Airelles | 15 min | 8:30am - 6pm |
| Navette (bus) | Des Airelles | Calme Sud | 5 min | 8:30 am - 5:45pm |
| Télésiège du Roc | Calme Sud | Roc de la Calme | 5 min | 9am - 5:30pm |
| Télésiège Calme Nord | Roc de la Calme | Lac des Pradeilles | 20 min | 9am - 5:30pm |
| Walk | Lac des Pradeilles | Lac des Bouillouses | 30 min | - |
This table contains information as of 2022. All transports are closed from 1:15pm to 1:45pm.
The list of prices in 2022 is as follows:
| TICKET | PRICE |
| --- | --- |
| Adult | 17,40€ |
| Children (5-17) or students (17-27) | 14,10€ |
| Chilren under 5 yo | Free |
| Family (3-7 people) | 14,10€/person |
From the parking La Calme
| TRANSPORT | ORIGIN | END | TIME | SCHEDULE |
| --- | --- | --- | --- | --- |
| Télésiège du Roc | Calme Sud | Roc de la Calme | 5 min | 9am - 5:30pm |
| Télésiège Calme Nord | Roc de la Calme | Lac des Pradeilles | 20 min | 9am - 5:30pm |
| Walk | Lac des Pradeilles | Lac des Bouillouses | 30 min | - |
This table contains information as of 2022. All transports are closed from 1:15pm to 1:45pm.
The list of prices in 2022 is as follows:
| TICKET | PRICE |
| --- | --- |
| Adult | 11€ |
| Children (5-17) or students (17-27) | 7,40€ |
| Chilren under 5 yo | Free |
| Return from Calme Nord | 6€ |
| Family (3-7 people) | 7,40€/person |
| Pass duo (2 adults) | 19,80€ |
| Pass tribu (4 adults) | 35,80€ |
The route
Main numbers for climbing Carlit
The trekking route we will do for climbing Carlit starts in the Lac des Bouillouses and passes next to the 12 Carlit lakes, even if we don't specifically visit them all. It is uphill the whole time.
Starting and finishing point: Lac de Bouillouses at 2,016m (round trail)
Highest spot: Carlit at 2,921m
Altitude gain: 950m approximately
Altitude loss: 950m approximately
Distance: 15km round
Total time: 7-8 hours
Moving time: 5-6 hours
Difficulty: moderate-high, both considering effort and terrain
In this Wikiloc link, you can find the route that we followed.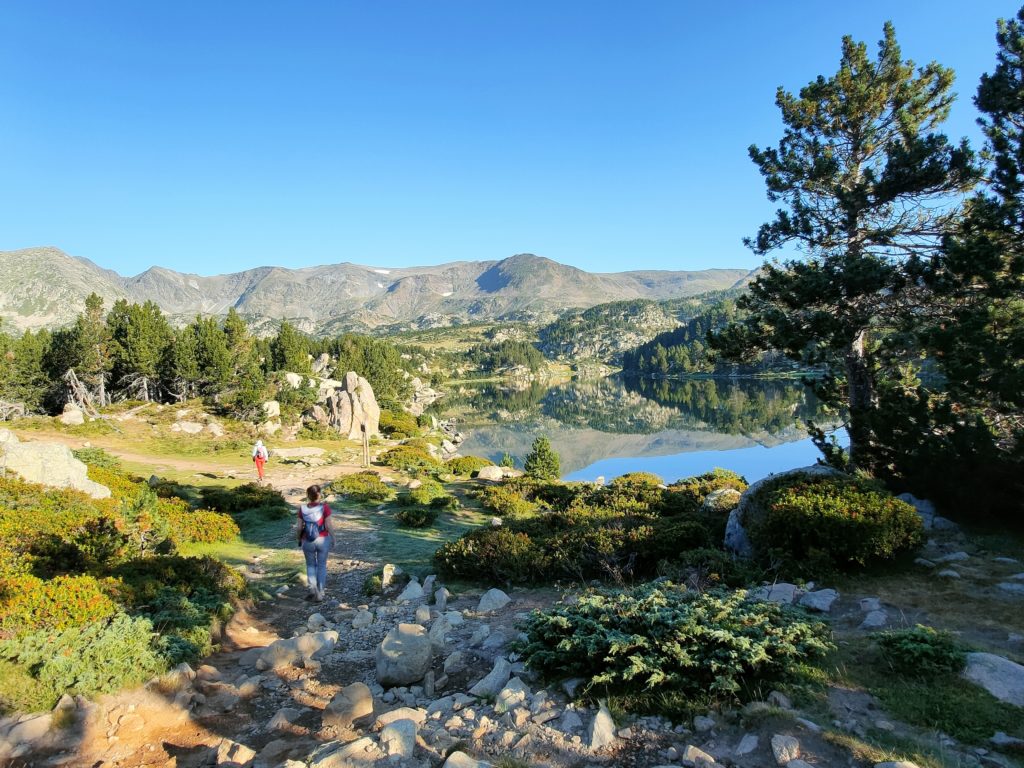 Description of the route
We will start by walking through a forest with a rocky trail and plenty of roots. As we reach glacier lake after glacier lake, the scenario will progressively get more open leaving us completely exposed to the sun and wind.
After leaving all the lakes behing, we will find a path of rocks of different sizes, from slippery gravel to boulders.
The first 5.5km of the trek are fairly ascending and demanding, with an altitude gain of approximately 450m. However, the great challenge is in the last 2km, which have the same altitude gain (450m) in a more difficult terrain.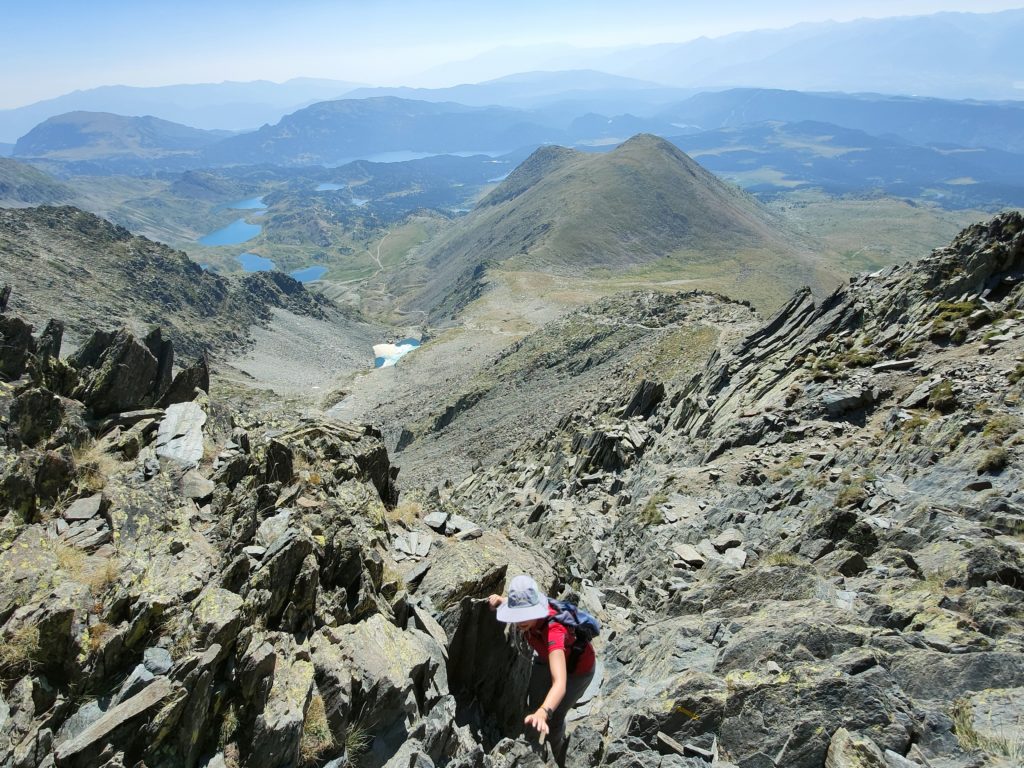 These last 2km of ascend are really slow as the trail is extremely steep and at the end you need to use your hands to help you climb boulder after boulder. This part will also be difficult on the way down and pretty hard on your knees.
So this is the challenge, now let's discuss the reward. During the whole climb the views are incomparable, first walking among a fairytale pine forest to discover mirror lake after mirror lake. When the forest opens, you find yourself surrounded by majestic peaks; rocky, massive, powerfull peaks. Tiny you, that suddenly merge with the environment and are so small yet so empowered. And finally, while you keep gaining altitude, you get to see all these wonders from above. Once at the top, you have a 360º view that does not disappoint.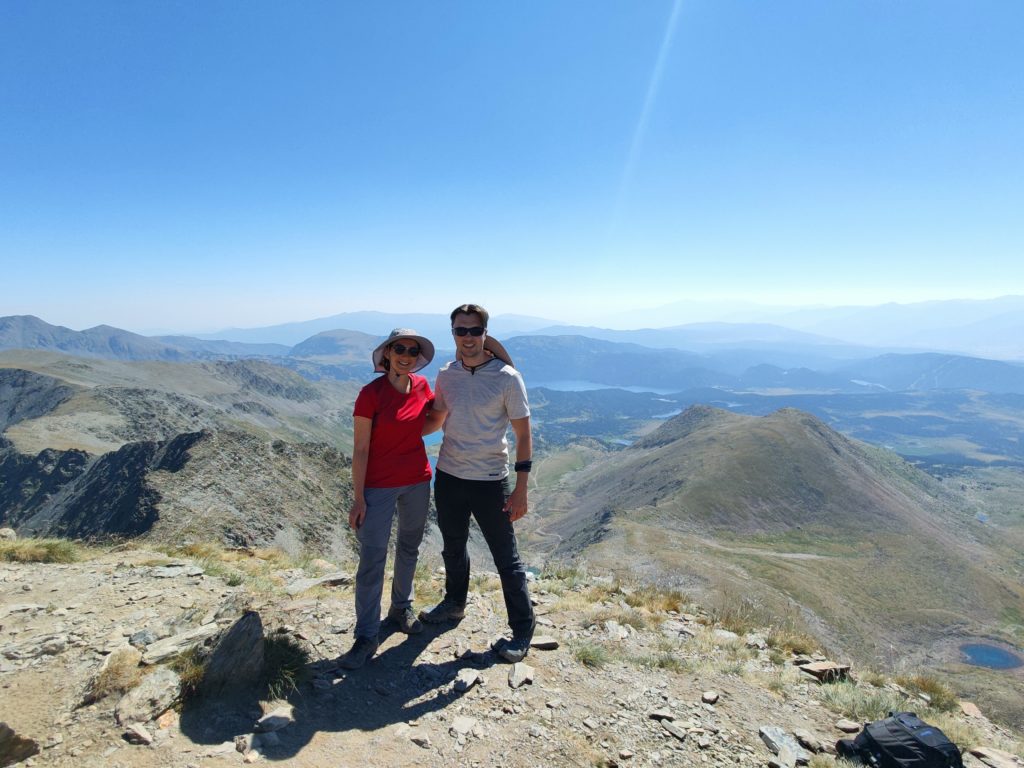 The fact that the trail type is constantly changing, also helps making the climb more enjoyable.
Tips and utilities for climbing Carlit
Check the weather and adapt your plan to it. Basically, decide when to start climbing Carlit and when you need to have finished based on temprerature, possibility of rain or wind (which is strong in the peak).
Use plenty of sunscreen, you are pretty high.
Hats and sunglasses are life savers because you are directly under the sun for most part of the route.
Friendly reminder to have plenty of water, particularly in summer. I would recommend 2,5L per person. You cannot refill anywhere. We fell short and boy did we regret it.
Have something to eat along the trek so you can refill your sugar and energy levels. Fruit, nuts or sweets are great options.
If you want to refresh your legs on the way down, use the frozen small lake at the end of the hard descend. The lakes you'll encounter later (the Carlit lakes) have warmer water and don't provide the same effect.
There are plenty of boulders and stones and your ankles will work hard to carry you. You might consider boots with ankle support.
Similarly, you'll need a good grip in your shoes, particuarly for the gravel in your way down. Sneakers or running shoes won't do.
If you have vertigo or are afraid of heights I'm not sure I would recommend this peak, as you have to climb while being exposed for the last 300m of altitude gain. The climb is easy (yet hard!) but you need to do it right, a mistake might be fatal.
You may experience some mild altitude sickness while climbing Carlit (it can happen from 2,400m high). The most common signs are lightheadedness and feeling more tired than you should. Drink plenty of water and don't rush in your way up. If your symptoms keep worsening, just return.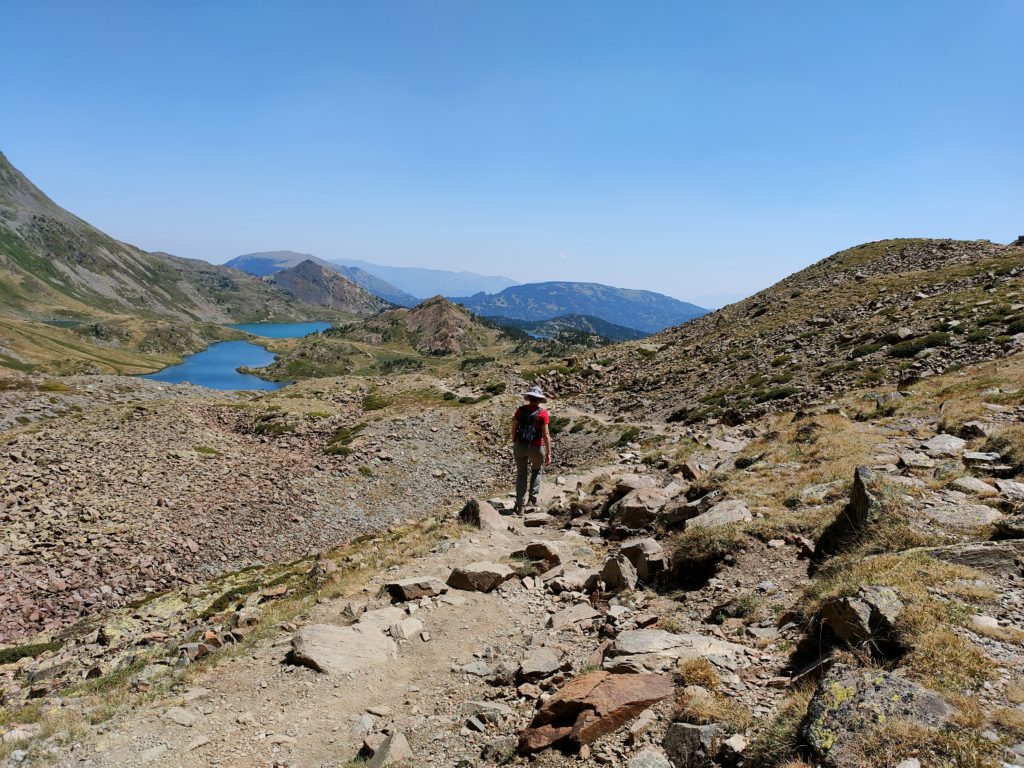 ---
Endnote
Was this post on climbing Carlit useful for you? Please let me know and feel free to ask any question in the comments section! You can also support my work and Buy Me A Coffe. I will be immensely happy 🙂