This post gives you tips and utilities to survive Marrakech if you are planning to visit the city. It is the second of a series of entries about what to do in Morocco, utilities to enjoy the country better and tips on how to travel smart to Morocco.
The posts are based on my own experience there and are especially focused on the doubts I had before visiting Morocco. If I ever visit Morocco again I would do it differently, because I took some decisions about the trip that were motivated by wrong information (for example not renting a car), and I don't want this happening to you!
The basics of my trip to Morocco:
Duration: 11 days/10 nights
Date of travel: from September the 25th to October the 5th, 2017
Places visited: Marrakech (3 days), desert of Merzouga (3 days trip) and mount Toubkal (4 days)
Travel partner: my boyfriend
Time of preparation: one month
Here you'll find extremely useful information about how to arrive from the airport, where to sleep, where to eat, how to move in and outside the city, how to bargain, how to deal with their insistence on you giving them money and a how to dress section for girls.
You can check here other posts about my trip to Morocco. These are the ones currently available:
This post is linked to a previous one where you can find general information about Morocco and particularly the city of Marrakech. I also give you some suggestions about what you can do and see in order to have a genuine experience, all explained from my personal point of view. If you think it can be useful for you to get some context and understand what to expect from your trip to Marrakech, do not hesitate to check it!
Here you have a list of tips and utilities for when you are planning your trip and also for when you are already there.
1. Arriving from the airport
The airport of Menara is 5 km (3 mi) away from the city, and you have several options to get from the airport to Marrakech and the other way around.
1.1. By the airport bus
Bus no. 19
Taking the airport bus to get to Marrakech will cost you 30 Dhs, although you also have the option to buy a round ticket for 15 days. The bus picks tourists up at the airport parking lot -which is quite small- every half hour from 7 am to 9.30 pm, and it takes approximately 30 minutes to get to the city. The driver speaks English and is extremely helpful: if you tell him the name of your riad/hotel or show it in a map (he has one), he will tell you when to leave the bus. It also stops at Djema el-Fna square.
1.2. By regular bus
Bus no. 11
This one is cheaper than the airport bus –it costs just 4.0 Dhs- and it might be a good option for you if you don't carry a large luggage, because the nearest stop is at Avenue Guemassa (500 metres from the airport). This bus also stops in Djema el-Fna.

Bus station near Djema el-Fna, were buses no. 11 and no. 19 stop
1.3. By taxi
The official fare from the airport to the city is 60 Dhs. However, if you decide to take a taxi the driver will try to charge you way more (especially at night). Bargain, and never get in before having agreed upon a price. An alternative option to get a fair price is to call Taxis Verts, TangierTaxi or some other cab company.
1.4. Pick up from your hotel/riad
You can arrange in advance to have a private car to pick you up. We paid 150 Dhs for this service although some other riads and hotels offer it for 100 Dhs.
My recommendation is to take the airport bus unless you arrive at night, then, if you get an acceptable price for a pick up from your riad/hotel I would take it. Taking a taxi directly upon arrival can be risky, especially if you stay at Medina: we found some taxi drivers who couldn't place the riad we were staying at, streets there are crazy and hotels and riads are not always well-located in Google Maps.
2. Where to sleep in Medina
'Medina' is the ancient fortified part of the city and also the most touristic one. Check the post Visiting Marrakech for more information!
We spent five nights in Marrakech in three different riads, separated by the trips we took to the desert and Toubkal. All our nights in Marrakech were in Medina, so that's what I'm going to give you advice about.
First things first: I've used the term 'riad' and maybe you are not familiar with it, so let's explain what it is. A riad is a traditional Moroccan house with an interior garden, usually three or four levels high. They have an average of five rooms per riad so the treatment is really close -in fact, in every riad we were told that 'this was our home in Morocco'. Riads are usually managed by Europeans who felt in love with Moroccan culture.
A riad's terrace
You should also keep in mind that hotels in Morocco use a different scale than the ones in Europe, rating them about a star higher than what we are used to.
I recommend you to stay in riads, not only because they are generally cheaper than hotels but also for their charm. I know I've used a lot the word 'authenticity' but that's how I feel it: having an amazing breakfast or a night tea in the terrace contemplating the city, sharing a conversation with the host, relaxing in the beautiful rooms or common spaces. Staying in a riad doesn't mean to give up any comfort: all riads have WiFi, television, even air conditioning.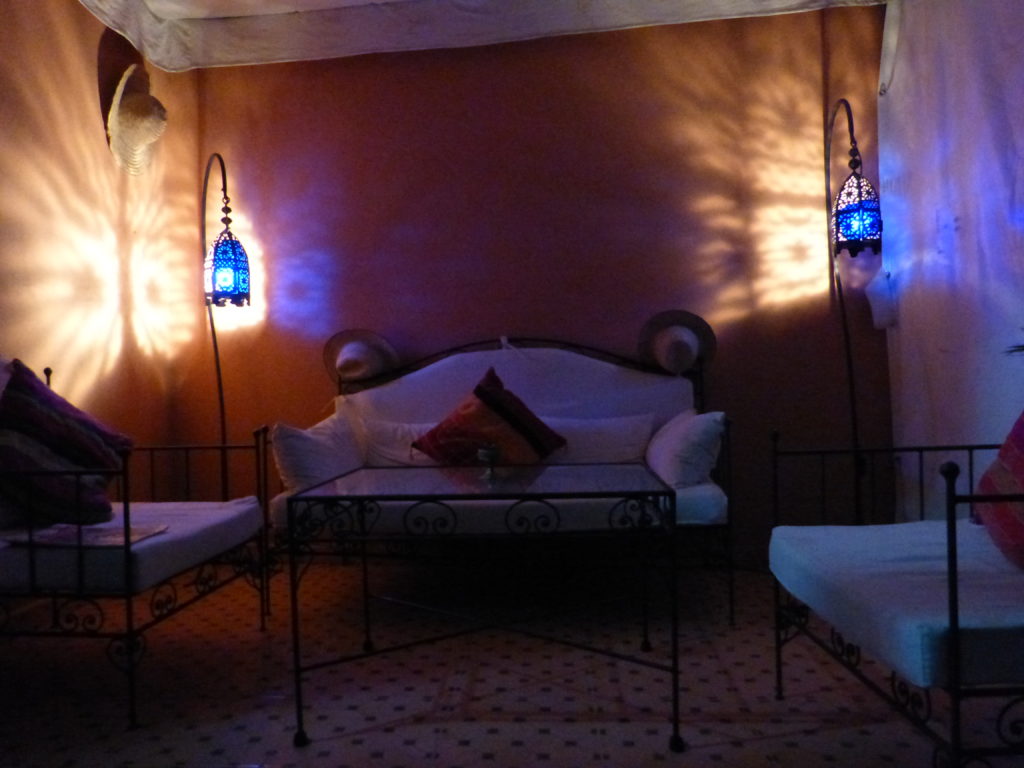 Riad's wonders
The three riads we stayed in had different locations, this way we distributed the visits to tourist attractions depending on the proximity to our riad, because although everything is walking-distance in Medina, you'll be quite exhausted at the end of the day.
3. Where to eat in Medina
I'm not a travel guide and of course I cannot give you exhaustive advice about where to eat, but as we liked some of the restaurants we ate at in Medina and disliked some other ones, I can tell you our experience hoping you'll find it useful.
a/ Nice restaurants to eat
We were recommended to eat there by one of our riad hosts. It is a very cheap traditional Moroccan restaurant, located in the square Djema el-Fna and focused on tourists. You can expect to pay 10-12€ for two complete menus, including desert and coffee. Fun fact about this restaurant: it is advertised in the magazine 'Ling', from Vueling Airlines. In our flight to Marrakech we found a map of Medina with some tourist attractions and Snack Toubkal was amongst them.
The stall number 14 in Djema el-Fna
This one was also recommended by our riad host. It is located in the centre of Djema el-Fna, surrounded by a lot of other stalls (note that the stalls in Djema el-Fna don't have a name, only a number). In this one they serve very fresh barbecued fish for 6-7€ per two persons. It is kind of tricky to find because the stalls are not arranged by number but randomly, and also because everyone tries to lure you to their own stall.
This restaurant is mostly visited by locals. Like the previous two ones, it is located in Djema el-Fna. Here you can find pizzas, pasta, salads and some delicious sandwiches, however, the most amazing thing they have is a great choice of fresh juices (mango, peach, kiwi, pineapple, avocado…). The price –including the juices- averages 10€ per two persons.
A traditional Moroccan restaurant. We did not visit this one but it was recommended to us by a British couple. They told us very enthusiastically that although the price was high -they paid around 90€ for a very complete dinner including a pair of cocktails each- it was totally worth it.
b/ Other tips about eating in Marrakech
In Djema el-Fna restaurant stalls give you bread and sauce without you asking, but you have to pay for it.
Although it is written on the menu, you can agree on the price of the meal before sitting. Check the section How to bargain to read more about it.
In the streets around Djema el-Fna there are plenty of stalls were you can have a traditional small Moroccan snack. It is kind of exciting to eat them because there is no way they can explain you what the food is. But don't worry, everything is delicious and really cheap!
4. How to move
The only vehicles that can drive inside Medina are bikes, motorcycles and tuk-tuks –maybe a bold taxi in some particular streets-. Driving outside but near Medina is an inferno. Driving in the other parts of the city is chaotic but OK. Driving outside the city, through the county, is really safe and peaceful –extremely safer and more peaceful than you would have imagined.
4.1. Inside Medina
In the post Visiting Marrakech I told you that everything in Medina is in walking distance, but if you plan a whole day of visits or you've walked too much already, the only option for you would be a tuk-tuk. Keep in mind that they are not everywhere and you may need to go to the streets around the square Djema el-Fna to find one. If you decide to move by tuk-tuk, ALWAYS agree on the price before entering it.
However, my recommendation would be to avoid tuk-tuks and plan the day visits so that you can walk to them and you can rest when you need to.
4.2. In Marrakech
You can take a taxi from the streets surrounding Medina (for example from here). Remember to agree on the price before accepting the ride.
Another option to move through the new part of the city is the bus. The operator Alsa has some regular buses and touristic ones (check their website), and a lot of them (including the airport one) stop by Djema el-Fna.
4.3. Outside-the-city visits
There are plenty of options here:
1

Guided tour

In this case you wouldn't need to worry about transportation as someone would pick you up from your riad/hotel.

2

Taxi

If you want a private transport no matter the price, this is your option.

3

Grand taxi

For me it is one of the most interesting ways to move to other parts of Morocco –the ones that are close to Marrakech. In case you don't know, a 'grand taxi' is a collective taxi, distinguishable from regular taxis by their size and colour (grand taxis are white while regular ones are a pale orange). It is very similar in concept to trains or buses: you just look for the one going to your destination, you bargain and agree on a price (never pay extra for your luggage, even if you are asked to!), you wait for the grand taxi to be full (6 people) and you leave. It is a really comfortable way of moving, and considerably cheaper than taxis.

You can find the grand taxi station here (you will recognise the street for the huge Moroccan flag). I would recommend you to go there for information before you have to leave so that you can plan it –for example, grand taxis to Imlil (the town where the Toubkal trek starts) seem to be operative only in the morning.

Grand taxi's street

4

Bus

I think that it may be possible to find a bus that takes you where you want to go, although that was not our case. You can check the Alsa website or ask your host to check it for you once you are in Marrakech, but I would strongly recommend you to forget about the bus and take a grand taxi instead.

5

Rental car

If grand taxis are the best option to move near Marrakech, a rental car is better if you want to do a few days trip. I'm going to explain it better on the entry I'm preparing about our trip to the desert, but basically what I want to highlight is that cars are more comfortable than minibuses (it is so obvious but so true, especially when you stay for eight hours in a vehicle), guided tours often stop too shortly in the attractions you visit on the road, drivers always stop at the restaurants they want –usually the ones they have deals with, which are more expensive to you- and of course, you cannot choose what to visit if you pay for a specific trip.

We didn't rent a car because we were told that traffic in Morocco is crazy and driving rules are different from European ones. This is not true. Traffic is chaotic in the city but really OK everywhere else; and although the roads have just one lane for each direction this is not a problem at all, because traffic is not as dense as what we are used to; there's police everywhere and they are extremely helpful to tourists. If I had to repeat, I would definitely rent a car.
5. How to bargain
One of the first things you may be thinking about is which prices you can bargain and which ones you can't. So here's an indicative list on this matter.
a/ What you can bargain
Souvenirs and everything you may buy in the Souk or similar shops.
Taxis and grand taxis.
Restaurants, although, more than bargain, what you can do is agree on a price before sitting or get the beverages for free.
b/ What you can't bargain
Hotels or riads.
However, if you buy a considerable amount of bottles of water they are likely to give some of them for free. You should keep in mind that water in Morocco is more expensive than in Europe. We paid 6 Dhs for bottle of water.
Bus tickets.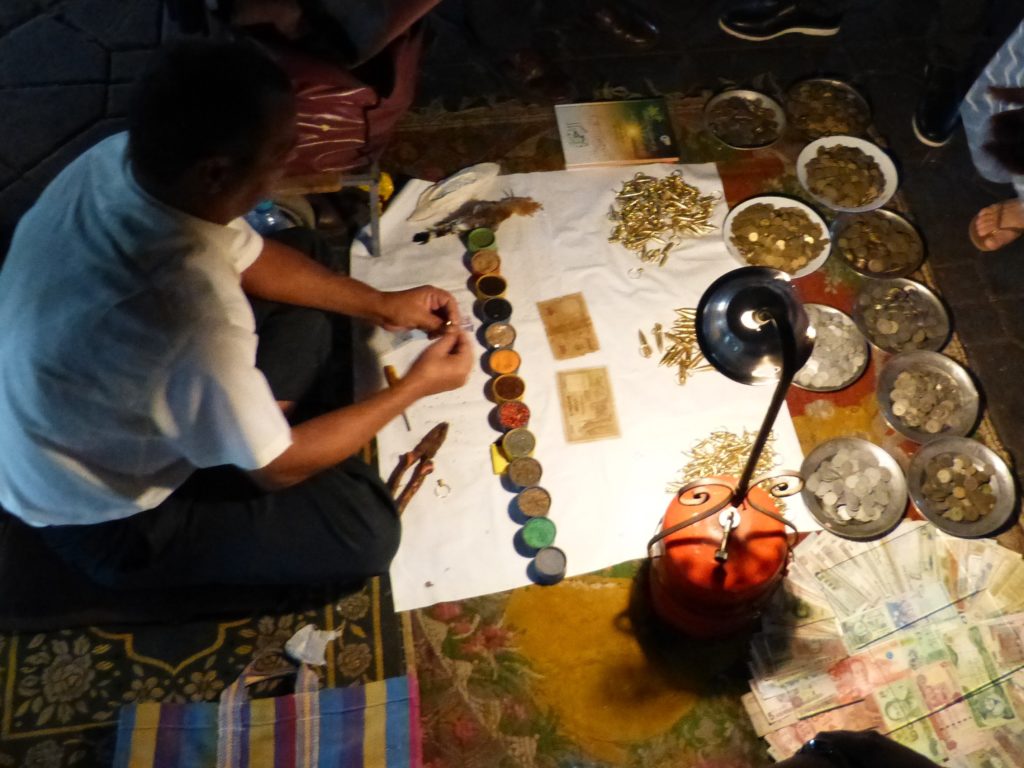 Souvenirs you can bargain for at Djema el-Fna
The other important thing is how to bargain, and I'm sorry to say that this will depend a great deal on your ability. In any case, I'll try to give you some general rules based only on our experience:
Our first offer was usually the 10% of the price they told us, and usually we got things for about the 20-30% of the original price. This will vary a lot depending on how inflated was the price. Generally, popular places and cities have the most inflate prices and, also, Arabics have higher prices than Berbers. If you want more information about this difference, check the 'The people' section in the post Visiting Marrakech.
Before buying anything first ask and bargain around, this way you'll get an idea of what to expect.
They may play offended if you try to bargains heavy. Don't believe them. However, a couple we met in a riad told us to use the sentence 'I don't want to offend you' and it worked really well for us.
If there is a possibility of a lower price than the one they are currently offering, they will offer it if you leave the store.
This is true for Berbers and outside-the-city stores: they will ask you to trade something for their products, so it might be a good idea to have some clothes, sunglasses or technology you don't use. An old phone may be a good trade for a carpet.
We had read before visiting Morocco that they don't like to trade with girls. I couldn't tell you to what extent this is true… I was able to bargain some prices but we also found some sellers that talked to my partner instead of me, even if I was the one talking to them.
6. Being an 'easy prey'
You may be surprised by the title of this section so let me explain myself: living off of tourists as they do, they know every trick to get money out of you, and I want to tell you our experiences on this matter, not for you to avoid them (some may be actually kind of cool) but just so that you can be aware of them.
a/ Visiting the week leather market
After visiting Madrasa, a guy told us that 'today' was the day of the week when Berbers came from all over the country carrying their leather to Marrakech. He told us the market was just around the corner, started giving us directions on how to arrive there, offered to show it on our Google Maps and finally told us he would just accompany us there. We let him drag us and after a 15 minutes walk (definitely not around the corner) we arrived to a kind of factory –which, truth be told, was pretty awesome- where people were treating leather. He told us the steps to transform the raw leather into the final product and after that he took us to his family store, which was obviously his objective from the beginning. We didn't buy anything and he asked for a tip.
Later during the trip, we were offered to be accompanied to the 'weekly Jewish market', so you can see that's kind of a pattern.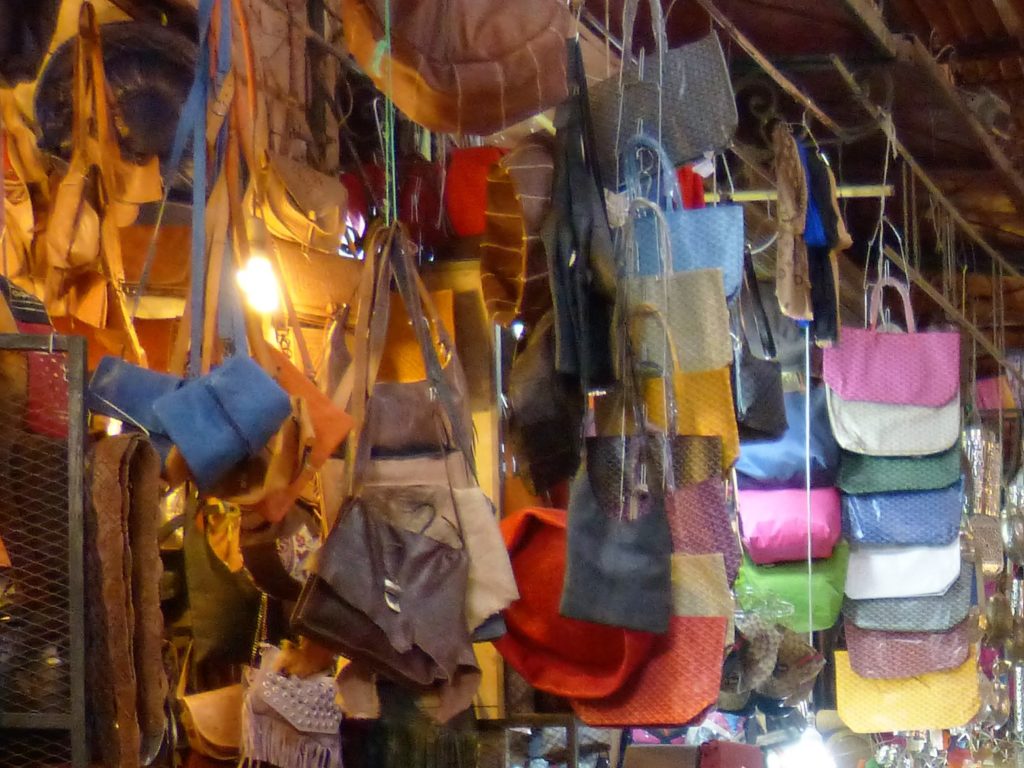 Some leather products in Marrakech
b/ Tipping someone that does something for you
For example, at some point we needed to buy regular towels for our trip to Toubkal. We went to the Souk and asked around. They gave us directions and a guy took us to a place he knew to sell towels. When we had finished our purchase, he asked for a tip. He was quite unhappy when we didn't give it to him.
c/ Two waiters 'arguing' to get a tip out of you
We had finished having dinner at Djema el-Fna and when we had paid for it, a waiter in charge didn't return us the change and said it was their tip. The waiter we had had during the dinner interceded for us and got our change back from his colleague, so we tipped him with that change. Pretty stupid thing to do because that's the tip we were going to give him anyway…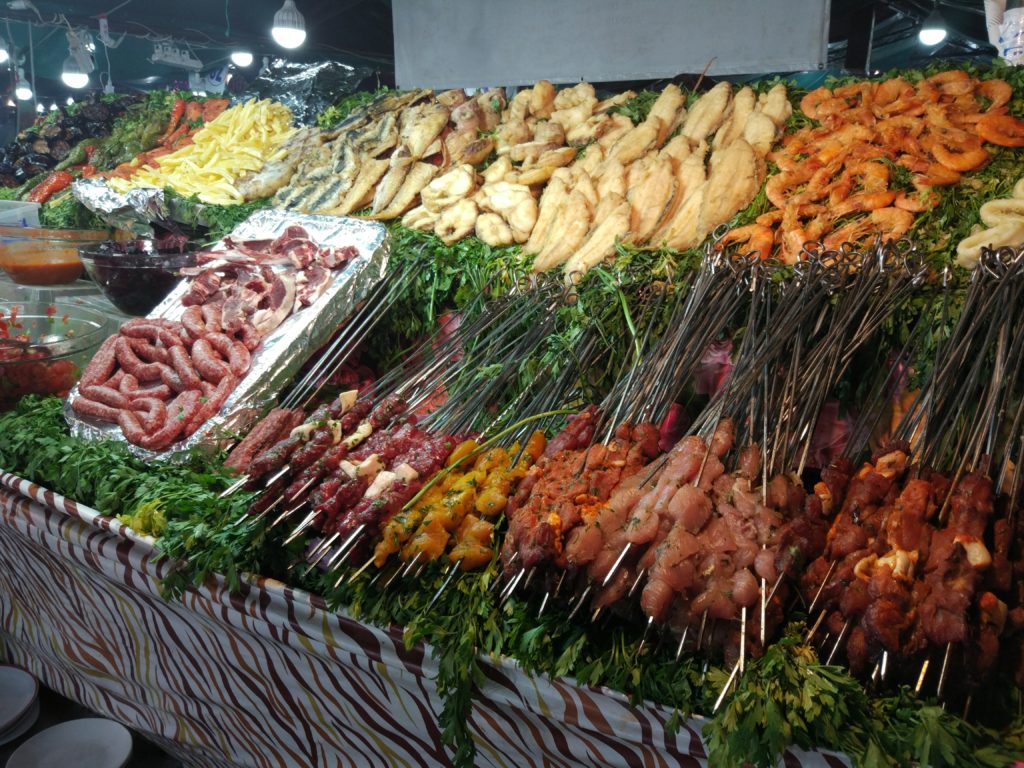 Food from a stall at Djema el-Fna
d/ Not getting your change back at all
This happened in a nice restaurant outside Medina. Our bill –an actual printed bill, not something written on a napkin or just said to us- was 100 Dhs. We paid 200 Dhs and were returned 60 Dhs. After complaining, they gave us 20 Dhs more and told us the rest was their tip. We felt so scammed. And it was really stupid for them because the food had been so amazing that we would have tipped them better and would be recommending their restaurant. If you want to be proactive to avoid this happening to you, I recommend you to have plenty of change so that you can always pay the exact amount of the bill.
7. How to dress (girls)
The first think I want to clarify is that I don't think that we girls need to be extremely worried about how to dress in Morocco. That being said, I did try to dress modestly and I would do so again if I returned to Morocco or if I visited some other Arabic country.
I don't have any rulebook or the feedback of any local, but as I've done before I will give you some random information about this matter so that you can form your own opinion:
Almost every local girl and woman dress with long sleeves, long dresses and their hair covered. You can spot some young women wearing jeans, but they'll have the long sleeves and the hair covered. The only women who wear their hair uncovered are young children.
I didn't feel uncomfortable or stared at or harassed at any moment. However, we were a couple travelling, not a group of girls or a girl alone, and I think that might be relevant.
We saw tourist girls wearing short dresses, open back ones, cleavage… They didn't seem to have any problem with anyone.
A group of two girls with whom we exchanged an opinion about dressing code told us that in the city they covered their hair and skin and they didn't receive anything more than some inappropriate comments. Apparently they didn't have any problem outside the city.
---
Was this post useful for you? Please let me know and feel free to ask any question in the comments section! You can also support my work and Buy Me A Coffe. I will be immensely happy 🙂