The Way of Saint James, or Camino de Santiago, is the combination of christian pilgrimage ways that arrive to the shrine of apostle Saint James the Great (Santiago el Mayor in Spanish) in the cathedral of Santiago de Compostela, Spain. They have medieval origin and have been and remain to this day the most popular, busy, celebrated and ancient route of the European continent. One of the many ways you can take to complete it is the Portuguese Coastal Way, which starts in Porto (Portugal) and follows the coast line of the Atlantic Ocean up until you arrive to Redondela, where you will join the Portuguese Central Way to finally reach Santiago de Compostela.
In the Portuguese Way of Saint James, most days you will be walking right next to the sea, the terrain is easy with little elevation gain, the towns along the route are charming and the gastronomy just amazing. Also, there is good infrastructure compared to other less popular alternatives. And most importantly: if you ask anyone, they will tell you that the Portuguese Coastal Way is the definite most beautiful among all ways.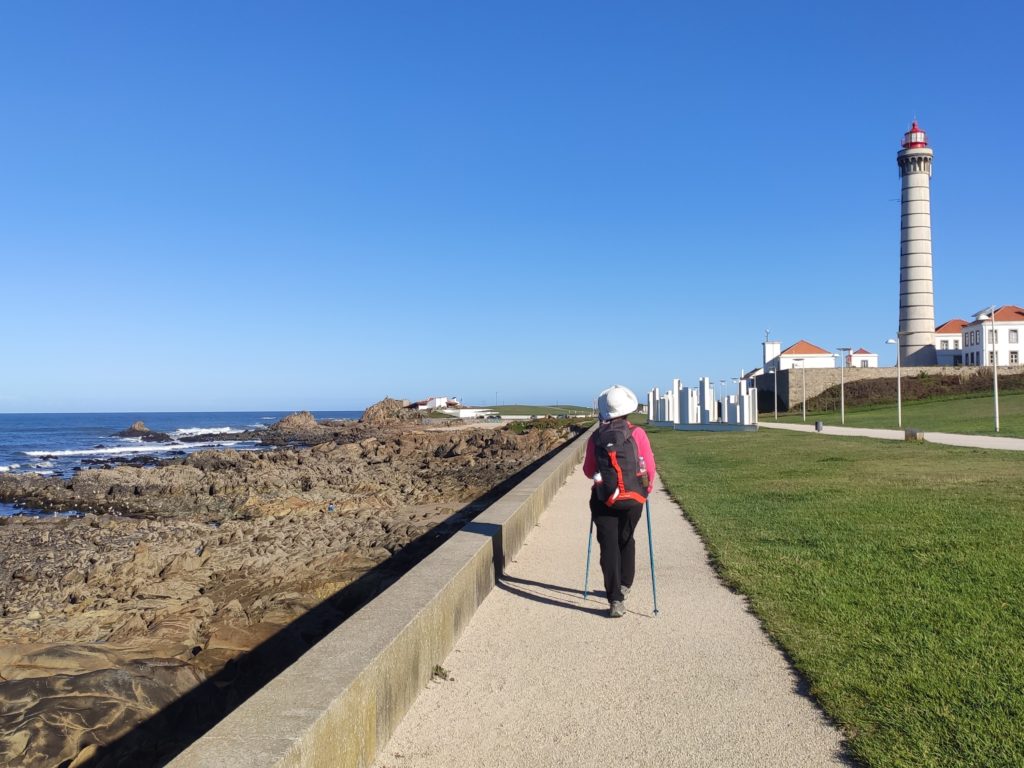 All the Ways of Saint James
There are several different Ways of Saint James that will ultimately take you to Santiago de Compostela. Most of them start within Spain although you can also find Camino de Santiago in other countries, such as France or Portugal. Although the most popular option is to walk them, you can also do it by bike or horse.
The French Way: 764km starting at Saint Jead Pied de Port, France. 33 stages.
The Portuguese Way: 620km starting at Lisbon, Portugal. 25 stages.
The Portuguese Coastal Way: 266km starting at Porto, Portugal. 13 stages. It is a variant of the Portuguese (central) Way that goes by the Atlantic Ocean.
The Northern Way: 824km starting at Irún, Spain. 34 stages.
The Primitive Way: 313km starting at Oviedo, Spain. 14 stages. It is characterised for having great elevation gain/loss while walking through remote and mountainous areas. The landscapes are spectacular.
The English Way: 119km starting at Ferrol, Spain. 6 stages.
The Finisterre-Muxía Way: it is actually a Way that you can do after having arrived to Santiago de Compostela. It is 119km long starting at Santiago, and you'll need 5 stages to complete it.
Other Ways: the Winter Way, the Sanabres Way, Via de la Plata, the Aragonese Way, Lebaniego Way, the Salvador Way, the Forgotten Path… And many more!
In the last years, the Portuguese Coastal Way has positioned itself as the third most popular way to Santiago de Compostela, behind the classic French Way and the regular Portuguese Central Way.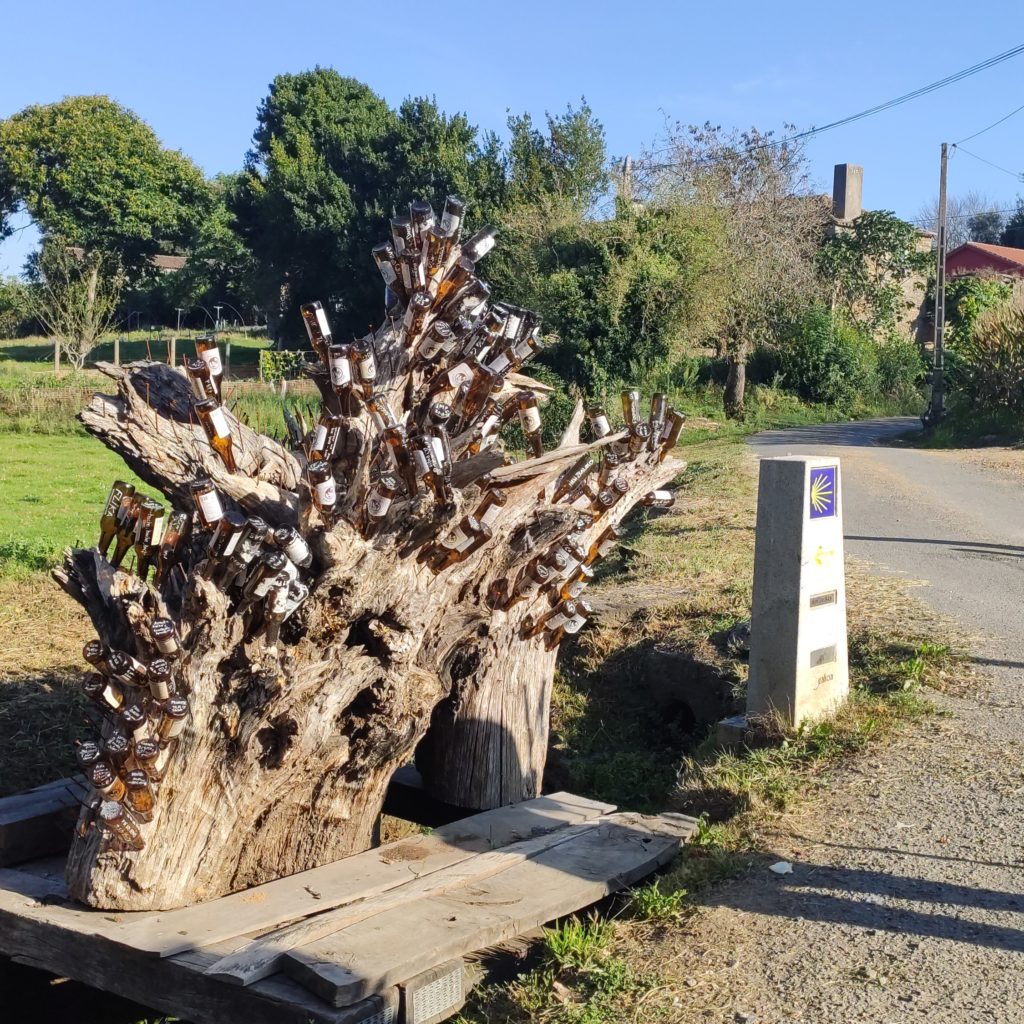 Credentials for the Way of Saint James
The "Compostela"
While traditionally the single reason to walk the Way of Saint James was christian pilgrimage, increasingly more non-christian or non-religious people are also joining the experience. Being it for tourism, for the joy of walking and exploring or for seeking something within ourselves, there are now many motives than can take us to Camino de Santiago.
Regardless on the reason behind your pilgrimage, if you want to do it the official way you will want to get the "Compostela" when you arrive to Santiago de Compostela. The Compostela is a certificate that will demonstrate that you have successfully completed the Way of Saint James.
Once you arrive to the Cathedral of Santiago de Compostela, you'll need to head to the "Oficina de Acogida del Peregrino" (the Pilgrim's Office), located in Rua das Carretas 33 (check map here), 200 metres from the cathedral.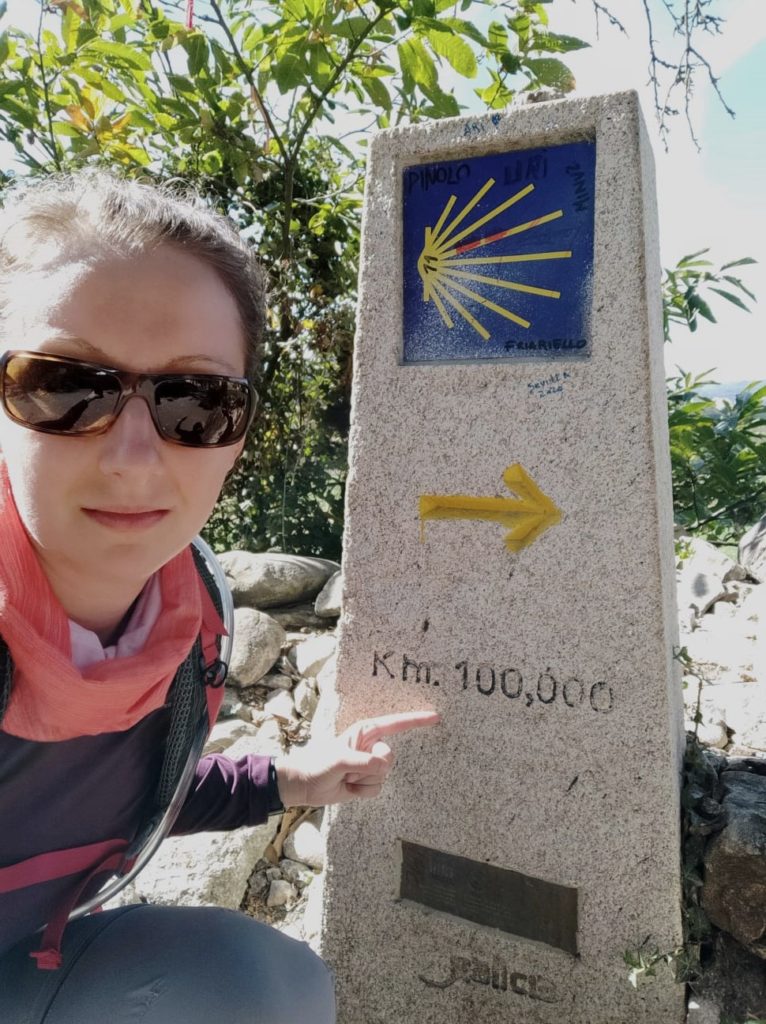 To get the Compostela, you'll need a confession of faith. Alternatively, if you have walked the Way of Saint James for non-religious reasons, what you will get is a Certificado del Peregrino (Pilgrim's Certificate).
The Pilgrim's Credential
The condition to obtain the Compostela is to have walked at least the last 100km to Santiago de Compostela (100km also if you do it by horse but 200km if you bike there). To demonstrate that, you will need a Pilgrim's Credential that you will be stamping along your way, thus demonstrating where you have been. You will need at least two stamps per day for it to be valid. You can get your stamps from the albergues or places you sleep in, from some cathedrals and churches along the way, from restaurants, shops…
The Pilgrim's Credential can be easily bought at all the most popular starting points. You can also obtain it from organisations that are connected with the Way of Saint James. They are distributed along the world.
For the Portuguese Coastal Way, you can get your Pilgrim's Credential at Sé in Porto, the cathedral of the city. It is also the official starting point for the Way.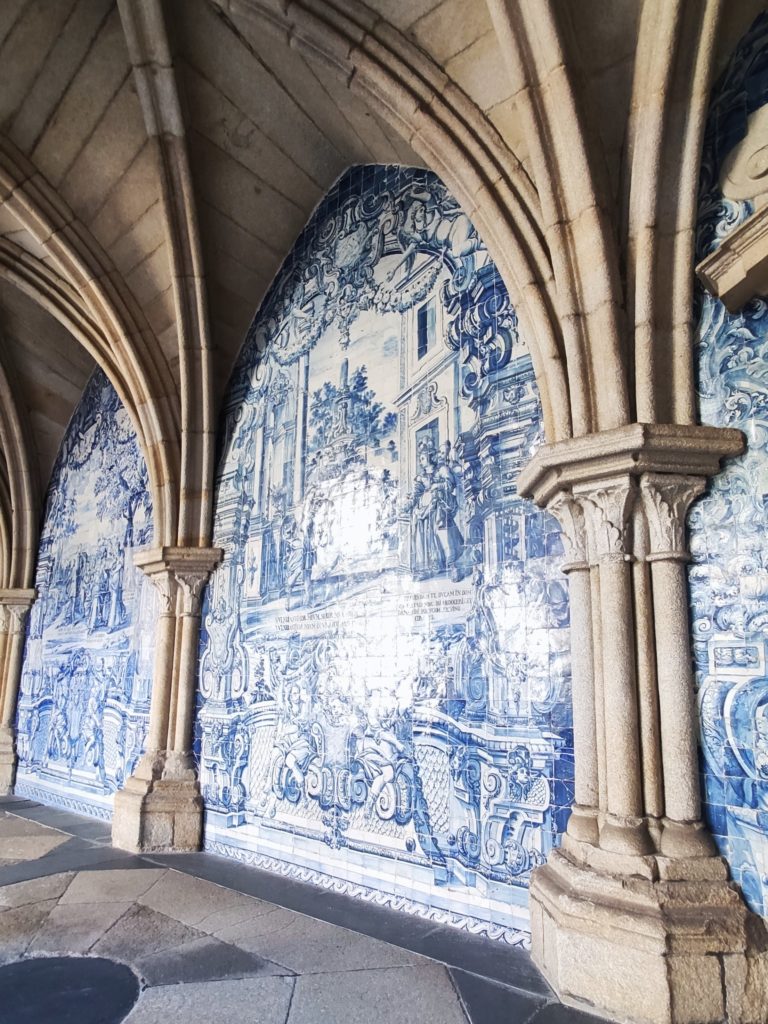 Xacobeo Holy Year
In 1122, Pope Callixtus II established the Xacobeo Holy Year. It takes place every year that the Feast of Saint James (25th of July) falls on a Sunday. It occurs every 6, 5, 6 and 11 years. For the people walking the Way of Saint James for religious reasons, doing it on Xacobeo Holy Year means being granted a Plenary Indulgence (or Jubilee) up to that point in a person's life.
In order to gain the Jubilee, you will need to:
Visit the shrine of Saint James.
Say a prayer for the intentions of the Pope. It is also recommended to attend Mass.
Receive the Sacrament of Reconciliation and Eucharist within 15 days before or after visiting the Cathedral of Santiago de Compostela.
Another event that happens only during Xacobeo Holy Year is that pilgrims will have the privilege to enter the Cathedral of Santiago de Compostela through the Holy Door.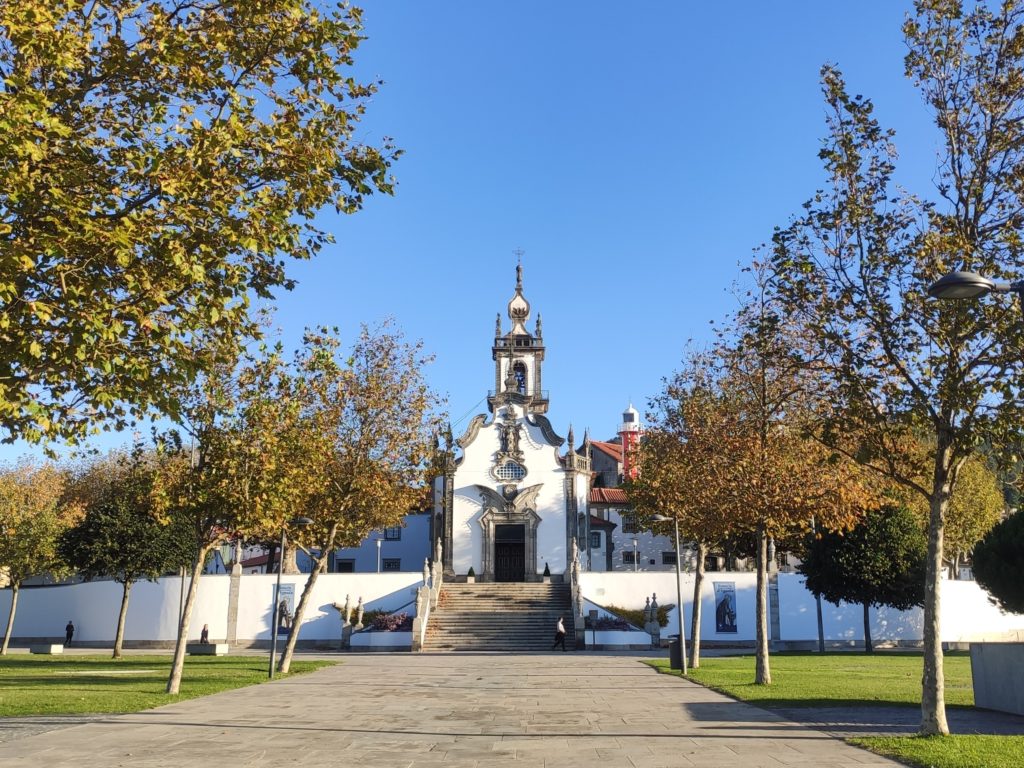 Which one is the Way for you?
The amount of days you have
First of all: how many days do you have? If time is a limitation, it is unlikely that you will be able to walk a whole Way, therefore you will need to decide where to start and where to finish. It might surprise you that some people do not finish at Santiago de Compostela. However, what I have found is that mostly, on their first Way people do arrive to Santiago de Compostela, but then if they keep doing the Way of Saint James along the years, they might split a Way in different years so that they walk it completely.
As you have seen in the previous section, some Ways are longer than others. So you might decide to chose one of the shorter ones that fit the days you have available, or just start in the middle.
If it is your first time walking Camino de Santiago, I would certainly recommend that you arrive to the city. It is the culmination of the experience and it truly gives you a big hype.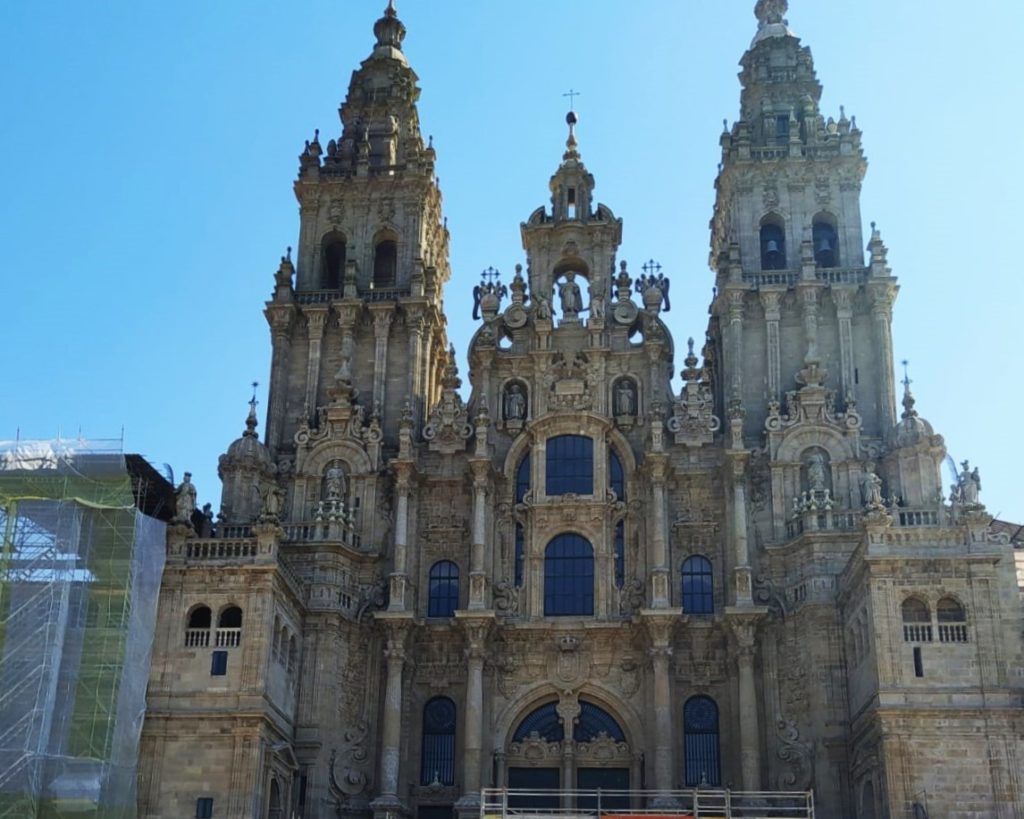 The difficulty
Another important thing to consider is the difficulty of the route. Generally speaking, what is hard about the Way of Saint James is that you will be walking an average of 20km per day. However, there are Ways in which you can modify that while in others you can't. For example, in the French Way, there are so many towns (particularly when you are approaching Santiago) that you can easily distribute the days to walk as many kilometres as you chose. But on other routes such as the Primitive Way, you kind of need to arrive to the next town. Unless you want to sleep in the middle of nowhere.
The distance per day is not the only treat contributing to difficulty. The type of terrain you will be walking (towns, meadows, mountains, beaches, roads…) and the elevation gain/loss of the route will play a significant role.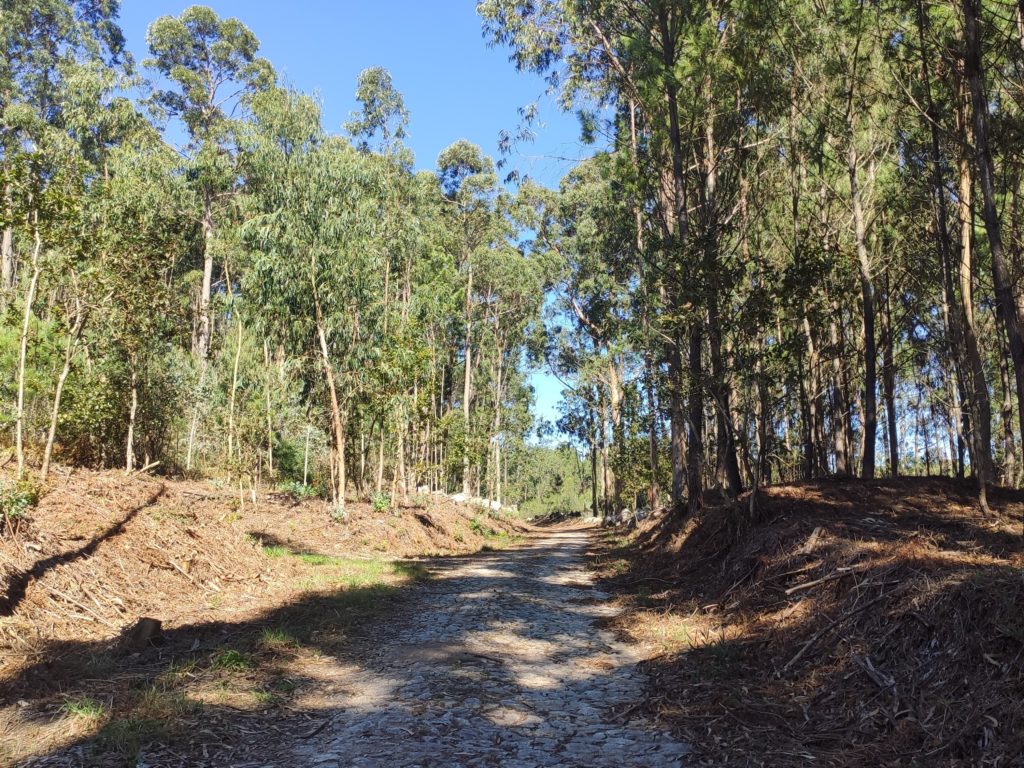 So, which is your physical preparation and the type of path you are most comfortable in? This will help you decide for an easier (like the Portuguese Coastal Way) or more difficult Way (like the Primitive one).
Popularity of the Way
One of the things that people enjoy the most about Camino de Santiago is sharing it with other pilgrims. There are Ways that are busier than others, so if it is important for you to find a group to walk with, you should definitely decide for one of those.
I would say that your best option would be the French Way. It is by a great difference the most popular Way. The Portuguese Central Way could also be an alternative, and even maybe the Portuguese Coastal Way in high season.
When I went to the Portuguese Coastal Way in late September, I didn't find it easy to join other pilgrims. So the season also plays an important role on finding a group. It is easier in the busier months of summer. Also, the closer you are to Santiago de Compostela, the more people you will be encountering.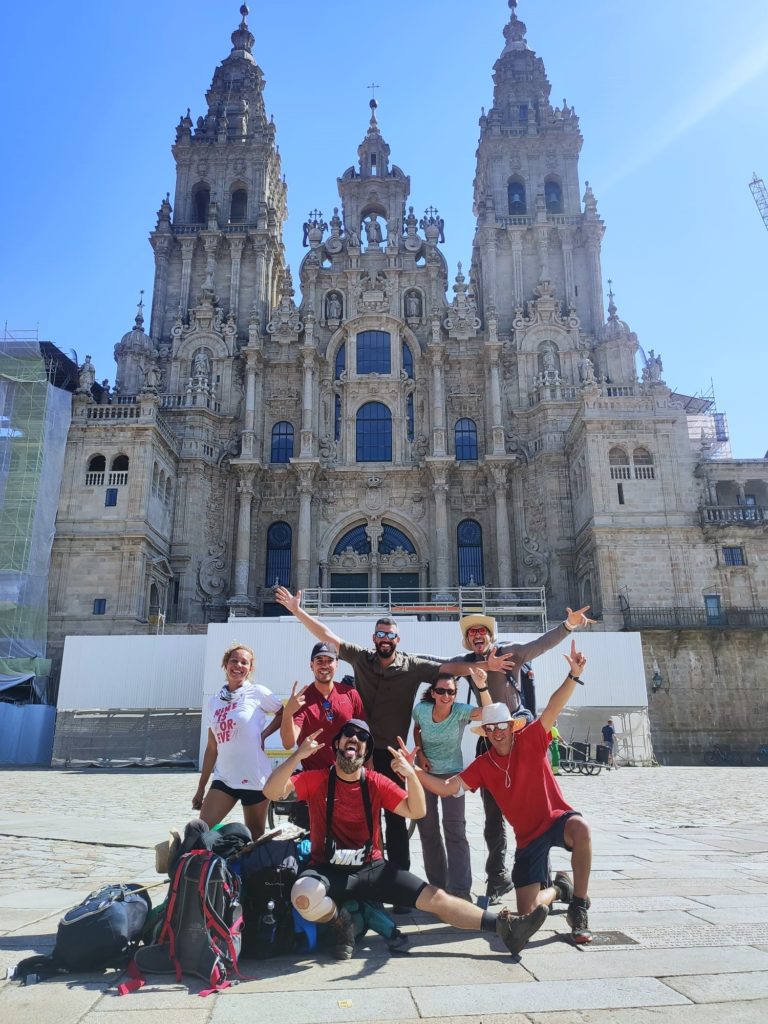 Portuguese Coastal Way
Why should you chose the Portuguese Coastal Way
The Portuguese Coastal Way is extremely beautiful. So many people agree that it is the most beautiful one. It mainly goes by the sea, combining promenades, wooden walkways, small charming towns, paths across forests… At some points, you will walk in the hard shoulder or the cycle lane of a small road, but even from there the views tend to be breathtaking.
You will mainly be walking right next to the Atlantic Ocean until you arrive to Redondela and join the Portuguese Central Way. On the days that you will be in the interior, I doubt you get the chance to miss the coast. You will be busy enough marveling at the pine or eucalyptus forests and villages you will be crossing.
Walking by the sea also means that there is minimum elevation gain or loss. The terrain is also very forgiving, so overall it is one of the easiest Ways you can do.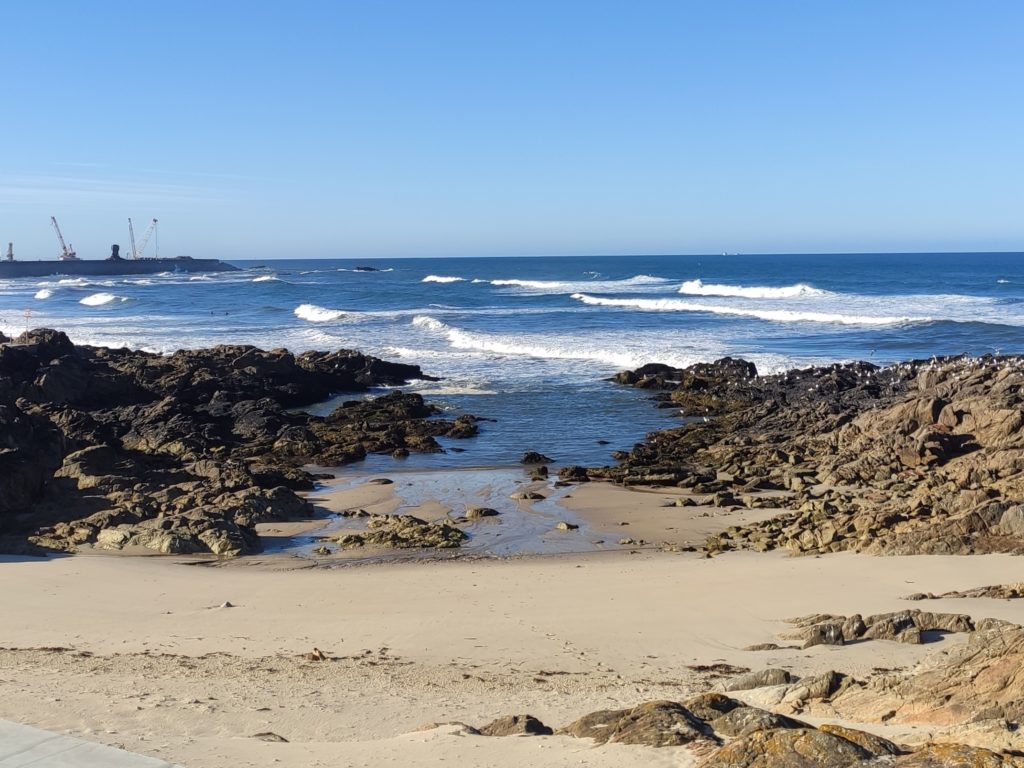 The gastronomy, particularly if you like fish and shellfish will also captivate you too. Depending on when you are visiting, you will be able to get fresh fish directly brought from the sea.
Another reason to chose the Portuguese Coastal Way is that you will be walking both across Portugal and Spain. This will allow you to experience two countries and appreciate its different cultures.
Being now the third busiest Way, you will not lack any service you might need.
Also, have I mentioned that the Portuguese Coastal Way is the most beautiful among all ways?
The stages
| STAGE NUM. | START POINT | FINISH POINT | KILOMETRES | DIFFICULTY |
| --- | --- | --- | --- | --- |
| Stage 1 | Porto | Labruge | 24.5 | ★★☆☆☆ |
| Stage 2 | Labruge | Póvoa de Varzim | 14 | ★☆☆☆☆ |
| Stage 3 | Póvoa de Varzim | Marihnas | 24.5 | ★★☆☆☆ |
| Stage 4 | Marinhas | Viana do Castelo | 20.8 | ★★☆☆☆ |
| Stage 5 | Viana do Castelo | Caminha | 26.8 | ★★★✩✩ |
| Stage 6 | Caminha | Mougás | 23.5 | ★★☆☆☆ |
| Stage 7 | Mougás | A Ramallosa | 16 | ★☆☆☆☆ |
| Stage 8A | A Ramallosa | Vigo | 22.6 | ★★★✩✩ |
| Stage 8B | A Ramallosa | Vigo | 20.8 | ★★☆☆☆ |
| Stage 9 | Vigo | Redondela | 16 | ★☆☆☆☆ |
| Stage 10 | Redondela | Pontevedra | 19 | ★★☆☆☆ |
| Stage 11 | Pontevedra | Caldas de Reis | 19 | ★☆☆☆☆ |
| Stage 12 | Caldas de Reis | Padrón | 17 | ★★☆☆☆ |
| Stage 13 | Padrón | Santiago de Compostela | 22 | ★★☆☆☆ |
These are the official stages, which means that most people split the Way like this. However, the whole Portuguese Coastal Way is riddled with towns, so it would be really easy to make it in less or more than these 13 stages.
From stage 10 (starting at Redondela) you will have joined the Portuguese Central Way.
Accomodation in the Portuguese Coastal Way
There are several types of accommodation that you will find along Camino de Santiago. The traditional ones are public or private albergues (inns). In the albergues you will find very basic services: a bunk bed in a shared room and shower. Most of them, however, also have a kitchen for you to prepare your own food, private rooms you can book or even washing and drying machines.
The public albergues are often managed by the church or the city council. You might book some of them in advance, but they generally operate in a first come, first served basis. This can be tricky if you are doing the Way of Saint James on the busiest season. For this reason, many pilgrims start really early in the morning. However, as the albergue will not be the only accommodation option in a town, it would be very rare that you were left without a bed to sleep.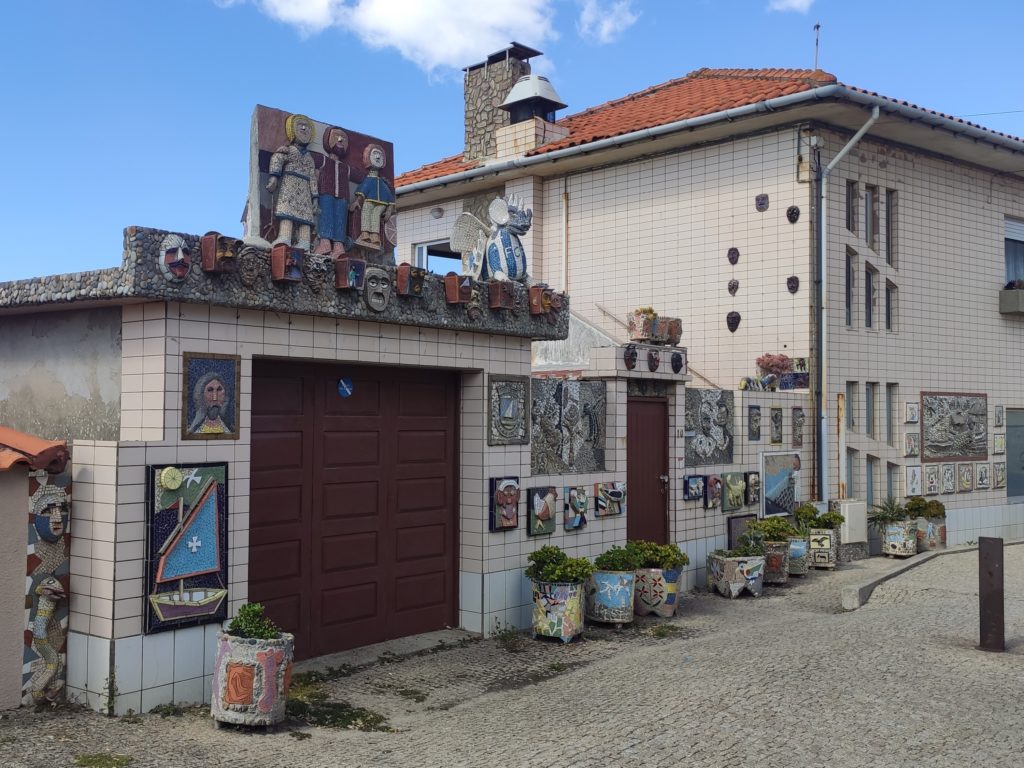 Other options are the classic hostels or hotels. As usual, you might book them in advance or just show up and ask for a room. The type of hostel/hotel you get will depend solely on your preference, although in some small towns you might have fewer options.
If you prefer to delegate this part of the organisation, you can too. There are tons of travel agencies that are specialised in the Way of Saint James and will be able to help you prepare your trip as best suits you: booking your hotels in advance, providing guides, arranging for transfers from and to the airport, organising the transportation of your bag from one hotel to the next one…
Eating in the Portuguese Coastal Way
You will find restaurants or places to eat everywhere along the Portuguese Coastal Way. The offer will be greater in cities and more limited in towns and small villages. However, to be on the safe side I would recommend you to try to plan your meals when you prepare the stage at the beginning of the day, so that you know beforehand where the towns and restaurants are located. Also, carry some food with you such as nuts or fruit, in case it is difficult to find a restaurant to do a full meal stop. This will be particularly important if you go in low season when some restaurants might be closed.
In most restaurants you will find a regular offer of food but also the Menú del Peregrino (Pilgrim's day menu), a cheaper and simple option that will fill you with nutrients. You might need to show your Pilgrim's Credential in order to get the Menú del Peregrino. Keep in mind that food is cheaper in Portugal than Spain.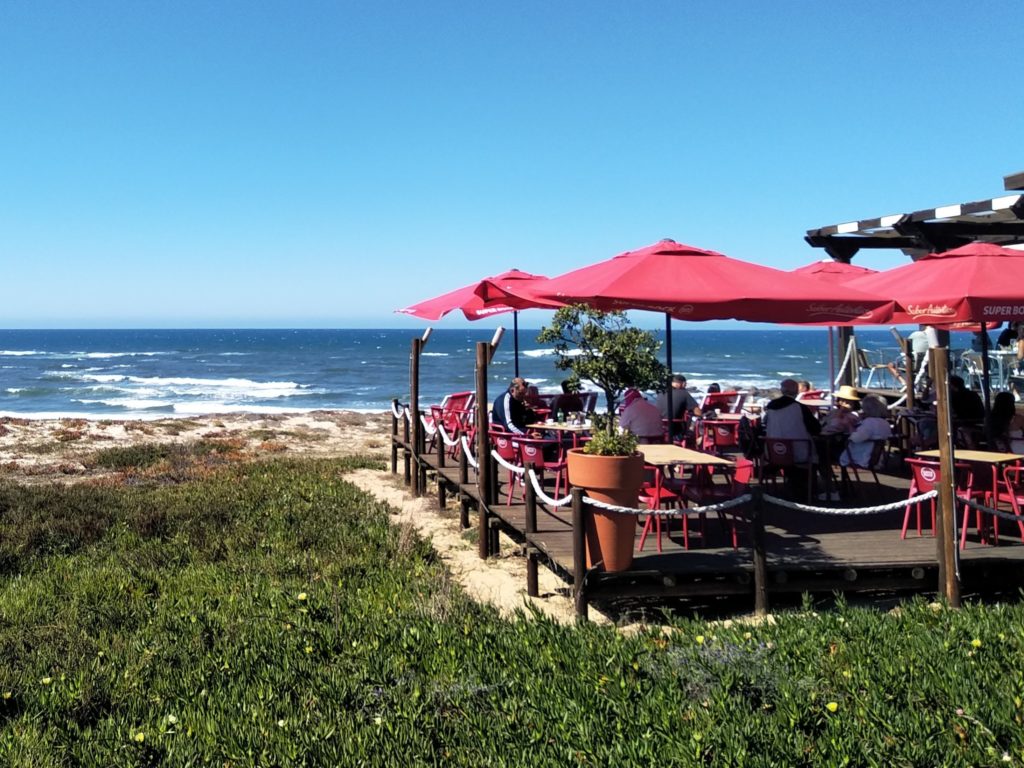 If you are staying somewhere with kitchen, you can also prepare picnics for the day.
Always have enough water and keep refilling when possible, at some points you will not have the option to refill or buy.
As I was saying, the gastronomy in the area is very rich. When you are in Portugal, do not forget to eat some cod and sardines. In Spain don't miss zamburiñas (scallops) or empanada gallega (galician pie made of tuna, meat, scallops…). If you have a sweet tooth (also if you don't) do not miss nata cakes in Portugal and tarta de Santiago in Spain. The first are small crunchy pastries filled with cream while the last is a sponge cake made of almond flour.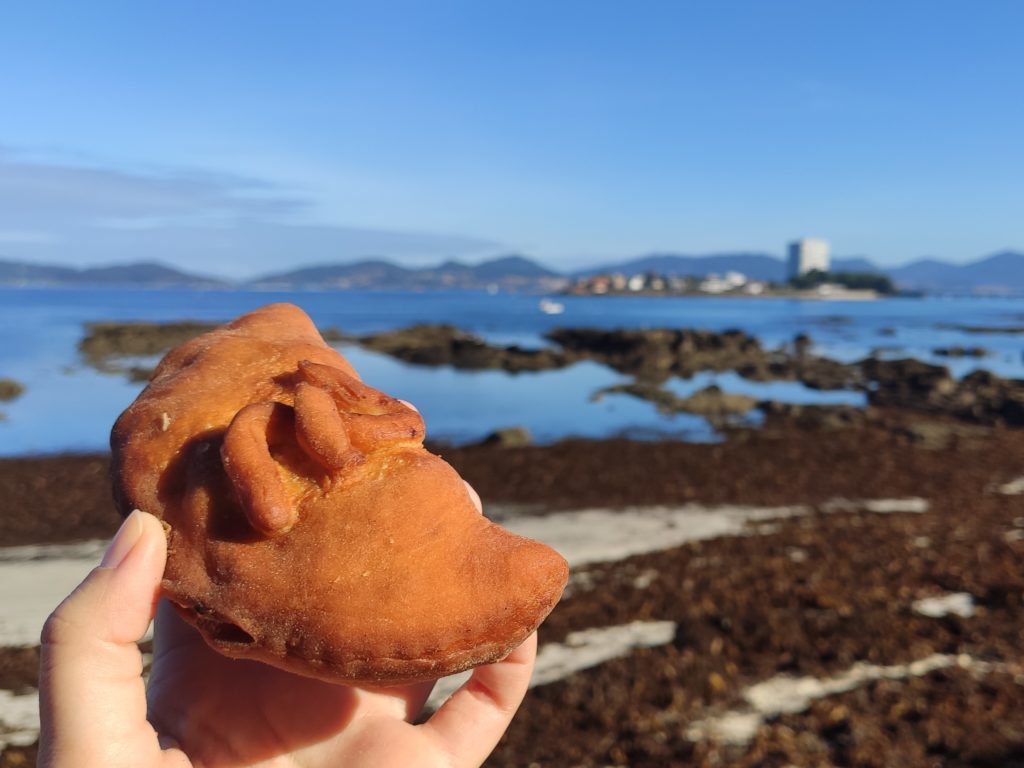 Activities to do along the Portuguese Coastal Way
If you still have the energy when you finish each stage of the Way, there are several activities and visits you can do:
Climb the mount Santa Tegra right when you cross the Minho to enter Spain on stage 6, where you will find a fort from the 4th century.
Visit the picturesque village of Baiona, a beautiful and touristic town you will be crossing on stage 7.
Rest for a day in Vigo to visit Islas Cies, the paradise islands where Praia da Rodas, the most beautiful beach in the world according to The Guardian, is located.
Eat pimientos del Padrón (small green bell peppers with some sweet and some spicy ones) in the town of Padrón, on stage 12.
Brief description of the Portuguese Coastal Way
Difficulty
You will be walking next to the sea for most days until you arrive to Redondela and join the Portuguese Central Way. This means that there is almost no elevation gain and the paths you will have under your feet are flat and rock-free with very few exceptions. The difficulty of the Way, as you can imagine, lies in the number of kilometres you will be covering each day.
Most people have no difficulty to cover the average of 22km per day on the Portuguese Coastal Way, however, if you need to adapt your trip there are several things you can do:
Split the Way so that you walk less kilometres each day, as every few kilometres you will find towns or cities to rest and spend the night there. This will mean the total number of days will increase.
Arrange for your bags to be carried for you. There are "taxi" services that for a few euros each day can transport your bag from your current hotel to the next one. There is more information about this in the section "Preparing your bag".
Not so popular, but here it goes: skip some parts of the route by taking a taxi or public transport. If you think this is something you might need, I would recommend you to ask for options at your hotel/albergue each day. For example, ask for taxi numbers as Apps such as Uber or FreeNow are not very useful in that region. Or ask for public transport alternatives. The metro lines from Porto arrive to Póvoa de Varzim, there is a train line from Viana do Castelo to Caminha with several stops along the way or when you are in the surroundings of Vigo there are several bus lines you can take.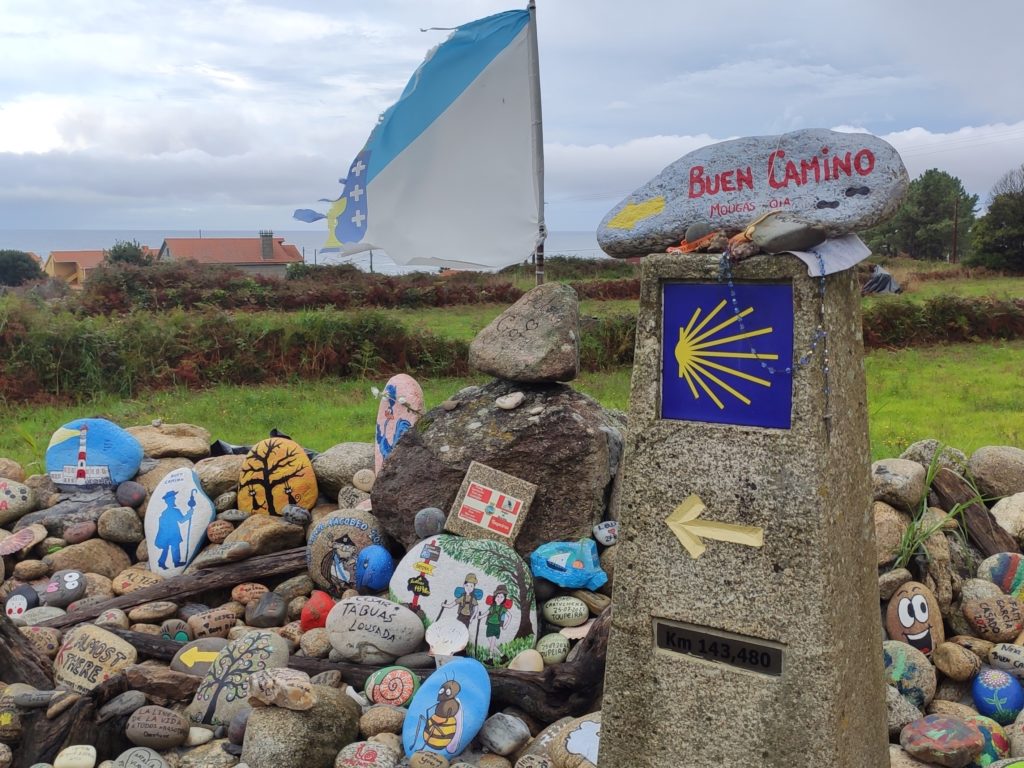 Following the route
Are you familiar yet with the famous yellow arrows that mark the Way of Saint James? You will find them quite often, particularly once you enter Spain, so it is really difficult to get lost. But not impossible! You can get distracted at some point, and miss an indication or a turn. Know that if it has been too long since you've last seen a yellow arrow, you should probably check if you are on the right way.
For this reason, I would recommend you to download a track so that you can check it when in doubt. As the route is not really difficult to follow, you don't need anything too pro.
We downloaded tracks from Wikiloc that covered our stage for the day and used the App Maps.me to open it, a simple mapping application that allows you to locate yourself and check if you are in the right track.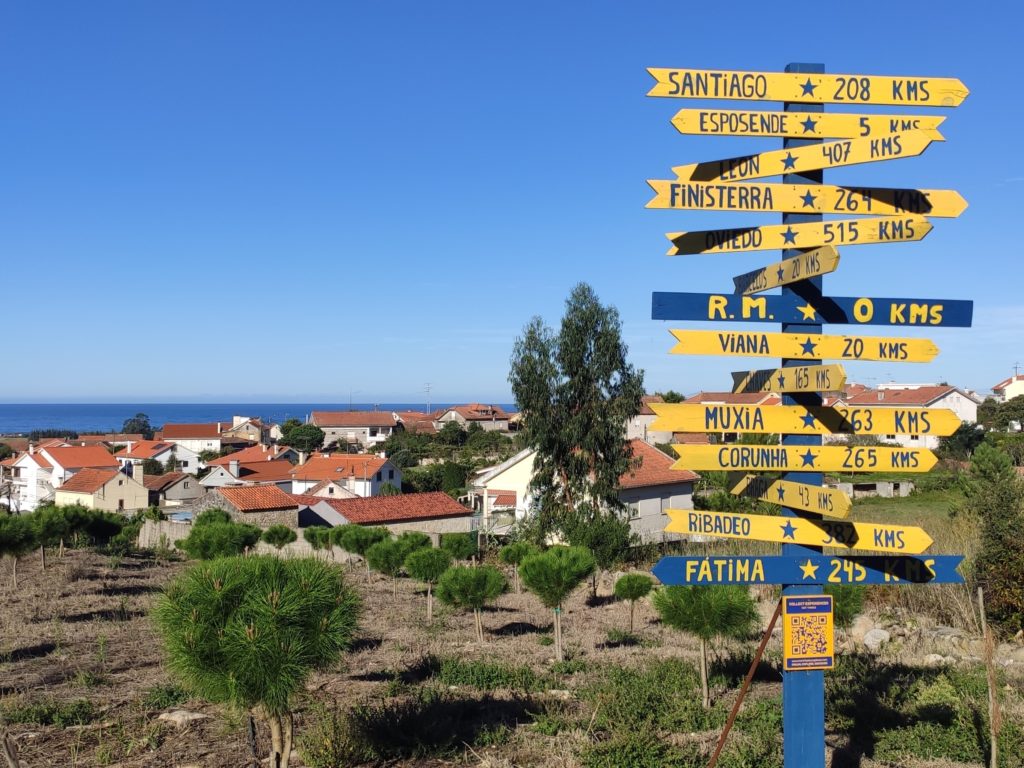 The Portuguese Coastal Way – day-by-day
Stage 1: Porto – Labruge (24.5km)
The official start of the Portuguese Coastal Way is La Sé, in Porto (Cathedral). However, I believe that everyone starts more or less where they want depending on where their hotel is. You will be walking the first 11km through the city of Porto, first following the Duoro until its estuary (6.1km) to the Atlantic Ocean and then walking by the sea (6.5km) until you arrive to Praia de Leça.
From Praia de Leça you walk the first 2km in the street by the sea but from there you take the wooden platform that will be your company until you arrive to Labruge (on the following days too!).
The landscape is beautiful and quite the same for the whole day: ocean at your left, with its dark rocks in the coastline and angry waves breaking against them, surfers navigating this powerful sea, clean sand that covers ample extensions of dunes with great biodiversity, the wooden platform over the dunes and coastline towns, or nothingness, at your right.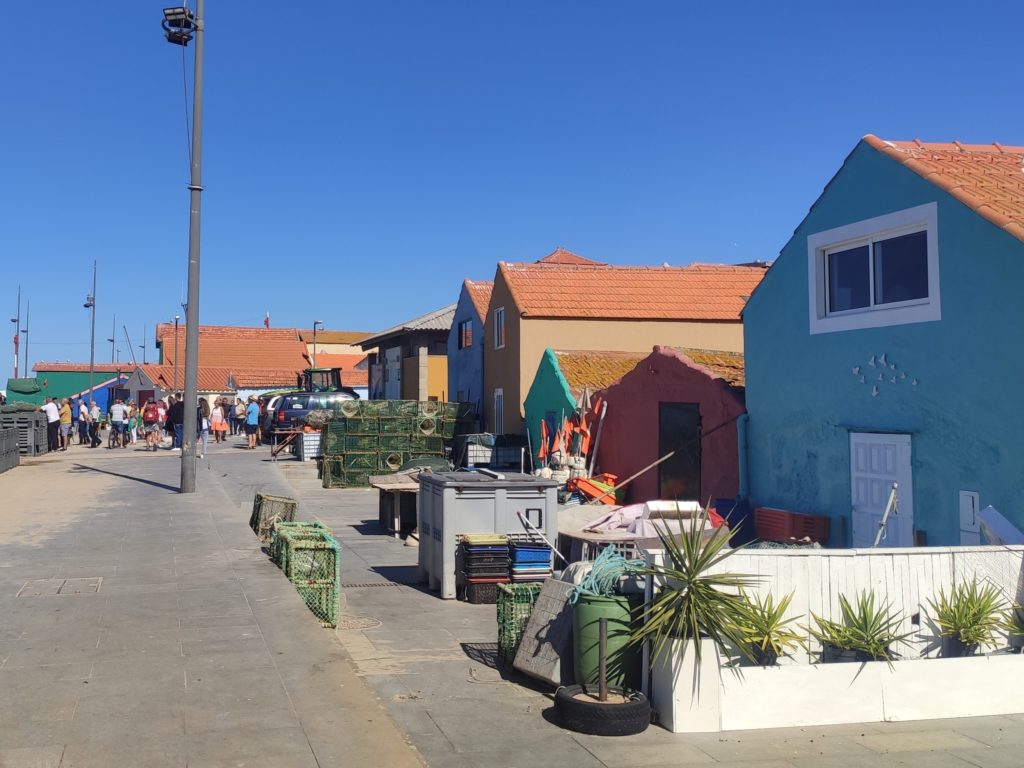 During the day you encounter several chiringuitos and restaurants that cook fresh fish in barbecues in front of you.
You have some alternatives to this more traditional approach for your first day:
Take the metro from the centre of Porto to Matosinhos and start there, thus covering roughly 10km by metro. This is actually a quite common approach and people who do that, usually arrive to Vila do Conde or Póvoa de Varzim.
Leave your bag at your hotel in Porto and, once you reach Labruge, return to Porto by metro and sleep there. This will allow you for a weight-free first day. You can actually do that on the second day too, as the metro line arrives to (and finishes at) Póvoa de Varzim.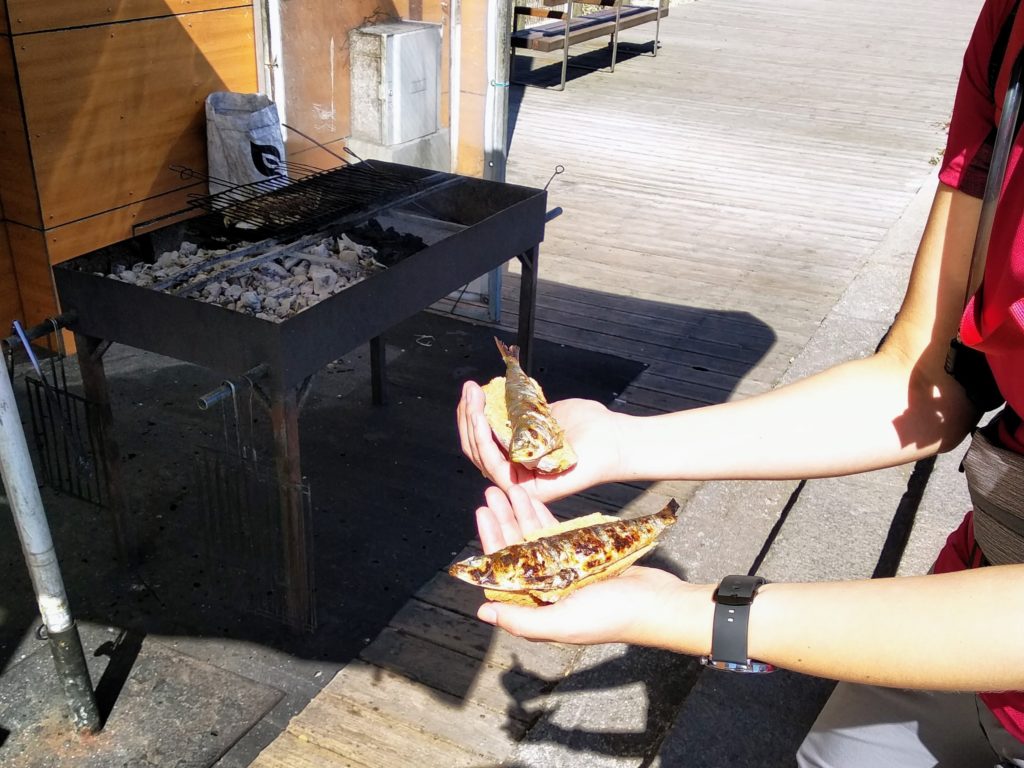 Stage 2: Labruge – Póvoa de Varzim (14km)
In terms of the path and landscape, this stage is quite similar to the first one. There are less restaurants and options to eat.
However, if stage one is windy (which it is) I wouldn't know how to describe this second one. Particularly from Praia de Mindelo to Praia de Árvore, the wind tends to be strong. Even to the point that parts of the wooden platform are covered with sand and you feel like fighting to the wind on your face to keep advancing.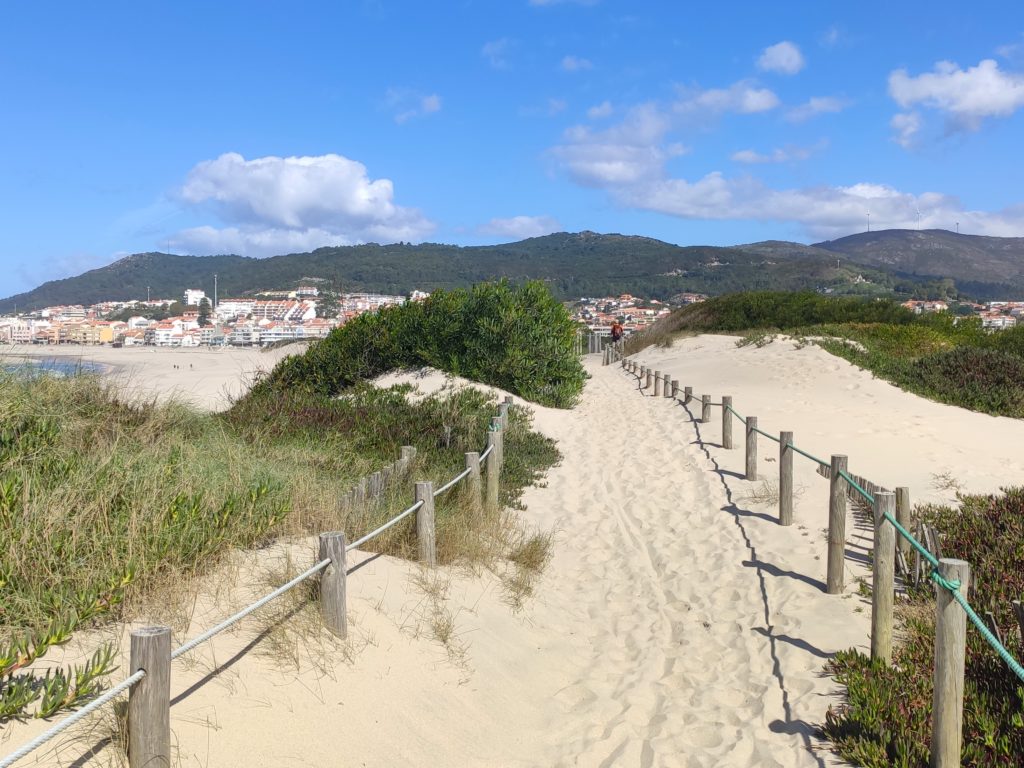 At kilometre 10.7 you will arrive to Vila do Conde, where you will visit the Convento de Santa Clara. It is a convent with great views and also where the 5 conserved kilometres of the aqueduct that used to transport water end. It is very characteristic to the skyline of this town.
Then, Póvoa de Varzim, at the end of the stage, is a thriving city with streets full of life and people.
Stage 3: Póvoa de Varzim – Marinhas (24.5km)
This is the first stage where you will be partially walking in the interior, instead of next to the sea. Also the first where parts of the Way go through the hard shoulder of a road.
However, until you pass Aguçadoura (at 8km approx.), you will have the wooden platform you already know. From there and until you arrive to Fão, you will alternate the road with cobblestone streets and towns. The last 1.5km until Fão go by a beautiful path under the shadow of pine and eucalyptus trees.
From crossing the river Cávado from Fão to Esposende and until you finally reach Marinhas, you will be crossing the streets of the city of Esposende. Alternatively, you can follow the river until its estuary and then the coastline.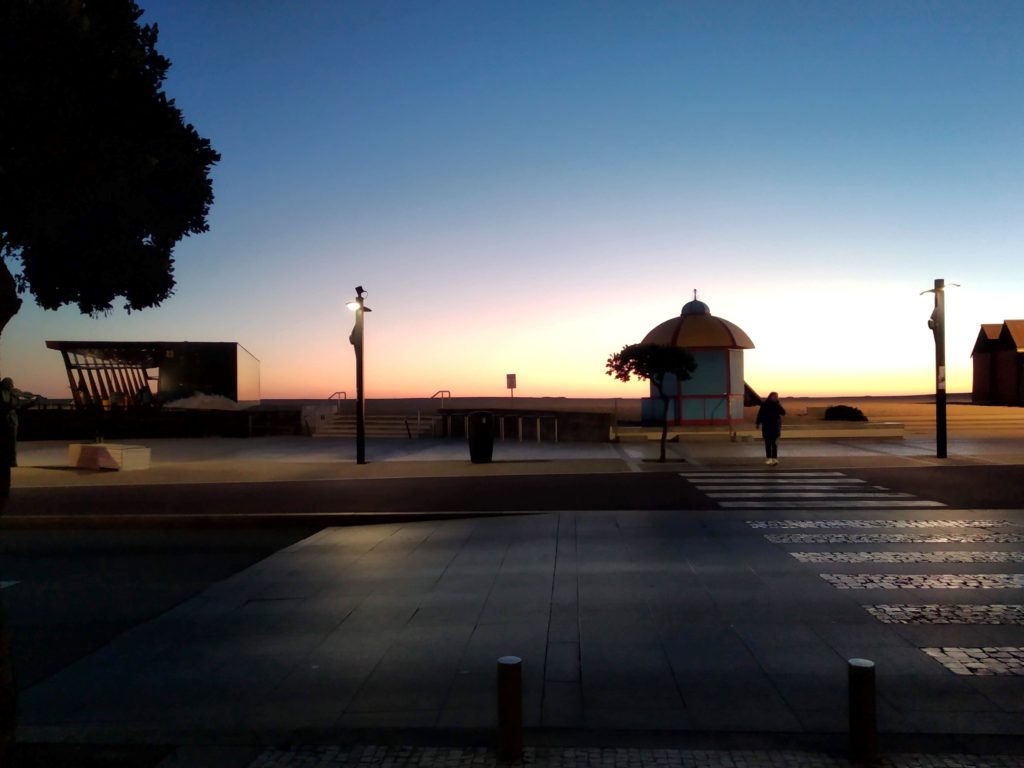 Stage 4: Marinhas – Viana do Castelo (20.8km)
Today, you will be the whole day in the interior until you reach Viana do Castelo when you finish the stage. You will be crossing towns that are more residential areas than towns, so expect fewer services in terms of restaurants or supermarkets.
Starting at Marinhas, you will walk the first 5km until arriving to Antas through residential areas. After Antas and around Castelo de Neiva there is the unmistakably most beautiful part of the day. There, you will start the descend to the river Neiva through a fairytale eucalyptus forest, crossing the river Neiva with its particular huge arrow made of stones.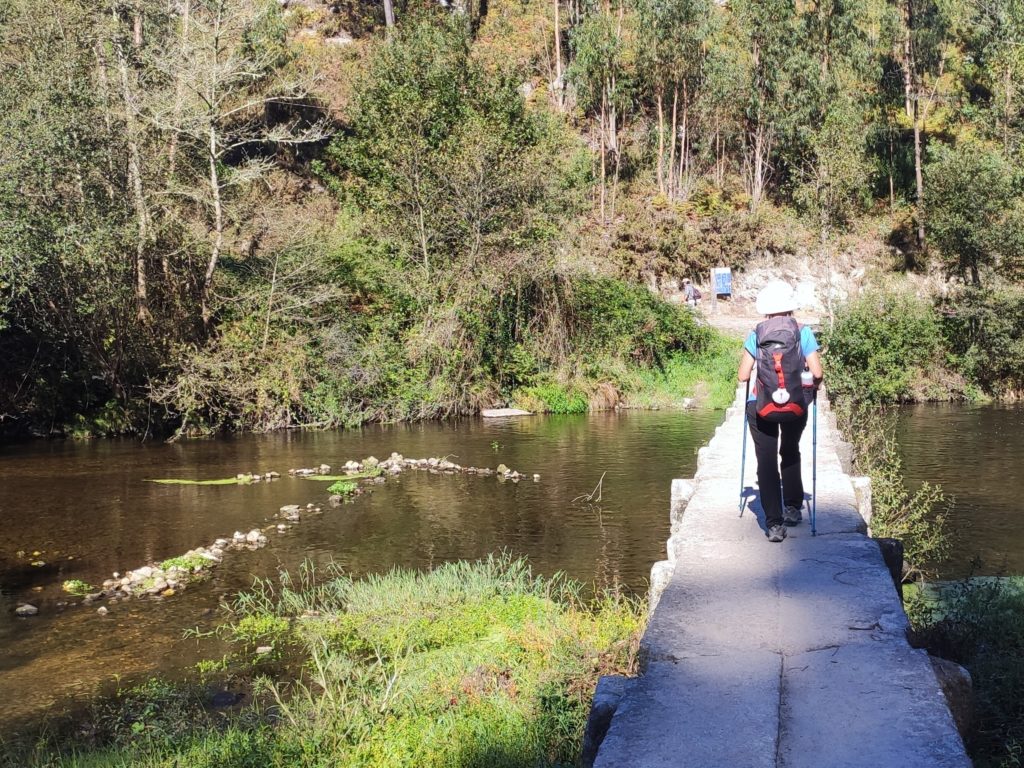 The ascend, first mild through the same forest until you reach the town and then heavier and more exhausting, will leave you at Igreja de São Tiago, around km 10.
You will circle the church and continue the track through yet another forest until Chafé. And from there and until you reach the Eiffel Bridge that crosses the river Lima (6km approx.) you will be alternating residential areas with the hard shoulder of a secondary road.
The Eiffel Bridge is long and tiring after the whole stage, but once you cross it, you already are at your destination Viana do Castelo.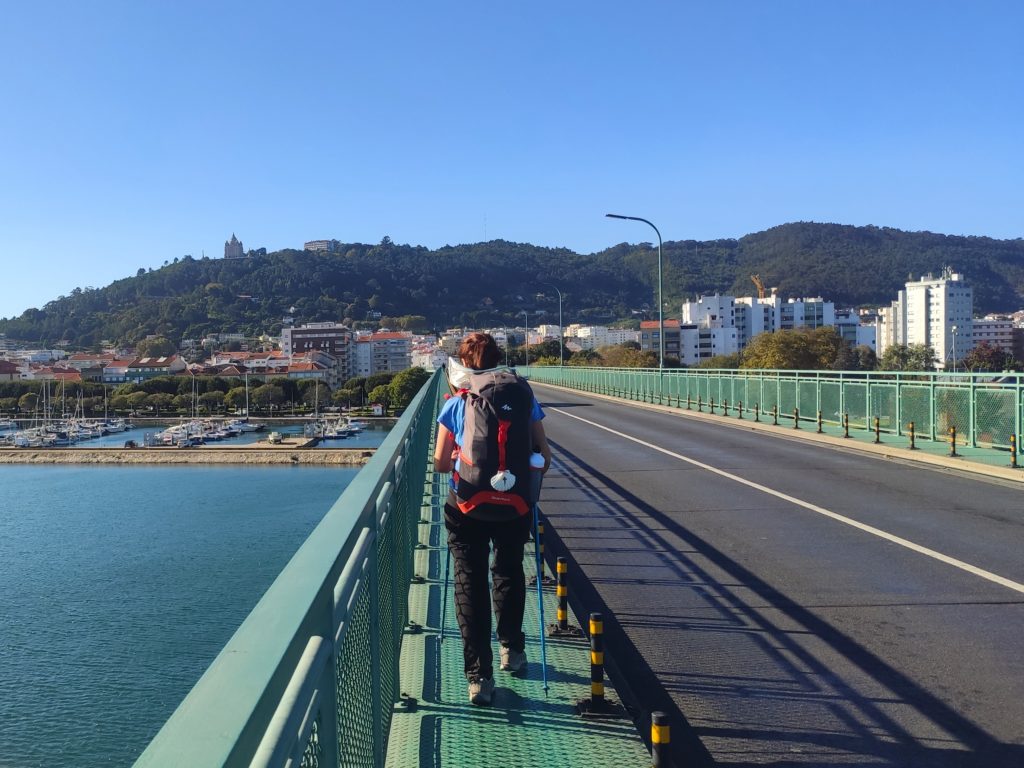 Stage 5: Viana do Castelo – Caminha (26.8km)
From Viana de Castelo until Vila Praia de Âncora there are two possible routes. The traditional one (18km) passes through villages, towns and forests and is therefore more cultural and historical. The alternative one (19km) goes by a trail called Ecovia, right next to the sea. I will describe this second one.
As Viana do Castelo is a big city with over 88,000 inhabitants, it will take you the first 2km of the day to arrive to the shore. You will then take Ecovia and walk mainly through wooden platforms, stone-paved trails, soil trails or even the sand for a short while. With the few exceptions of the chiringuitos you will encounter, there is no town in sight until you arrive to Âncora, so the stage is quite remote (the towns are roughly one kilometer in the interior).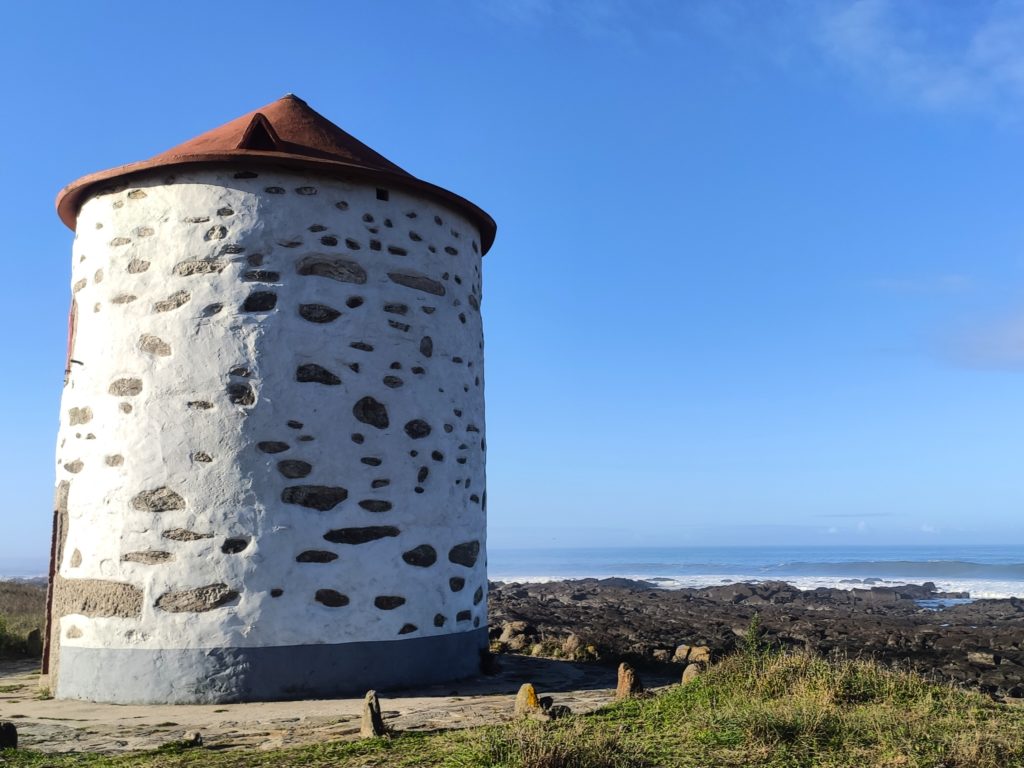 This fifth stage is the longest of the Portuguese Coastal Way and quite tiring. However, note that the train line 3206 goes from Viana do Castelo to Caminha and stops quite often along the way. So, if you need it, you can take it and finish earlier.
Stage 6: Caminha – Mougás (23.5km)
Caminha is the last city of Portugal so on this sixth stage you will need to cross the river Minho to enter Spain. Usually there is a ferry that costs 1.50€ per person. However, as of 2022 it was not working, apparently for maintenance. It has been working on and off since 2019.
The more official alternative is Xacobeo Transfer, a website where you can book your crossing spot in advance and pay by credit card at the boat. Alternatively, hostels tend to offer other options, usually in the form of a free taxi that takes you to the Minho and a taxi boat from a colleague (fishermen of the area). Both options cost 6€ per person.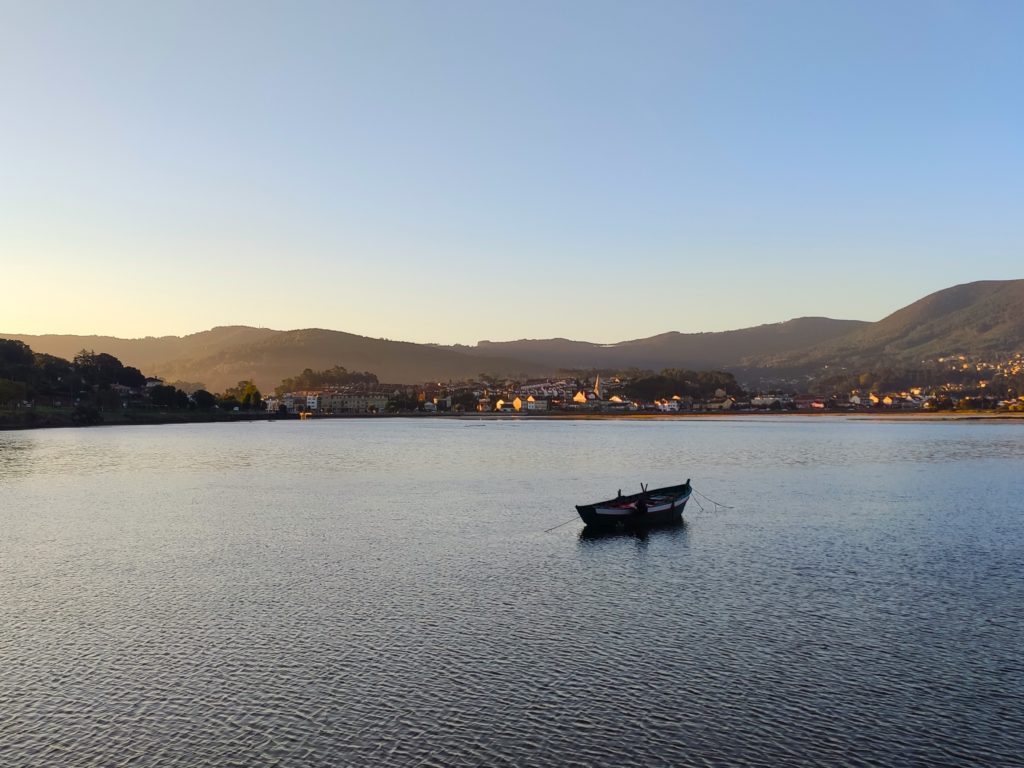 The boat ride lasts for 2 minutes and they leave you at a different spot at the other side than the ferry would, so instead of walking from A Pasaxe through the official Camino and circle the mount Santa Tegra by the interior, you walk by the west side mostly by the sea, adding some 2km to the stage.
At A Guarda you will incorporate to the official Way where after a short while walking next to the coast you will leave it for the bicycle lane of the road, alternating with trail. This combination will last for the rest of the day and you will be at all times overseeing the sea.
A relevant stop in this stage is the town of Oia (17km), where the Monasterio Cisterciense de Santa María (a monastery from the 12th century) is located. As of 2022 it was closed for renovation.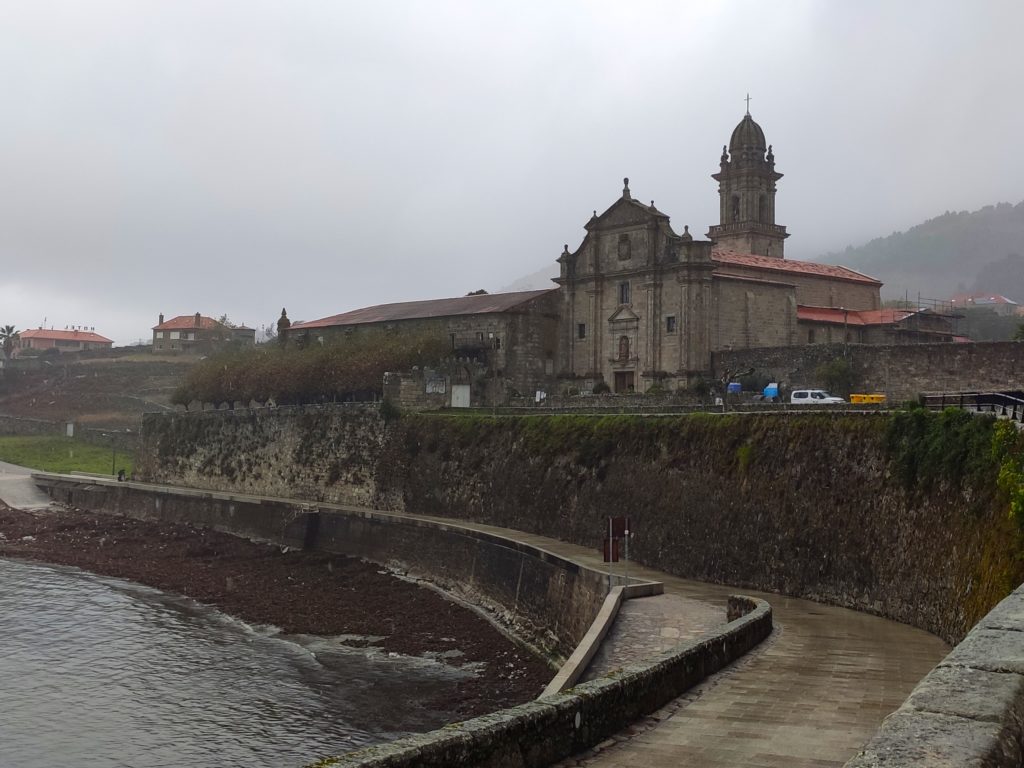 Mougás, the official end of this stage, is a really small town so you might need to check for alternatives to sleep.
Stage 7: Mougás – A Ramallosa (16km)
This is one of the shortest stages of the Portuguese Coastal Way and thus will allow you to rest.
For the first 5km of the day until you arrive to As Marinhas, you combine the road with easy mountain trails with beautiful colours, with the coast line very close.
From As Marinhas to Baredo (4km) you will be surrounding by the interior the mount with the lighthouse of Cabo Silleiro. This means a small hill to climb and then descend through a forest.
After that, you will return to the coast and walk with views over the Ria de Vigo and the Islas Cies (islands), a very gorgeous view that you will have until you leave Vigo the following day.
At km 11 you will arrive to Baiona, a fine big city that will take you a while to cross. You will finally arrive to A Ramallosa through its magnificent Romanesque bridge.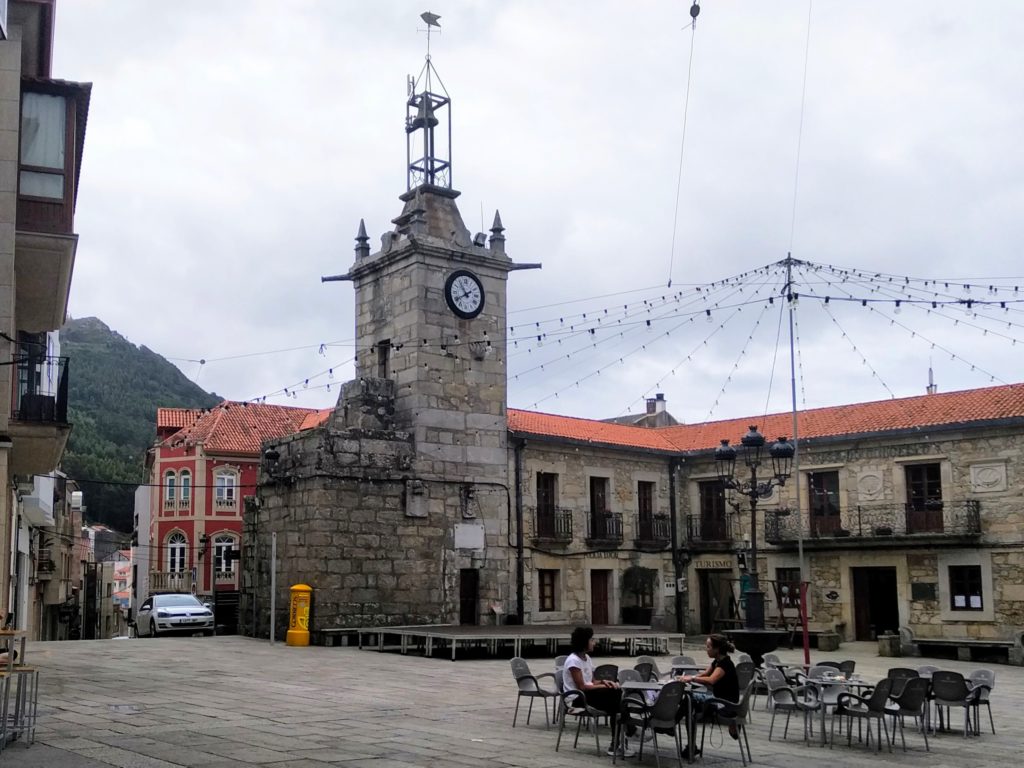 Stage 8: A Ramallosa – Vigo (22.6km or 20.8km)
Today again you will have two options:
Stage 8A (22.6km) is the traditional Portuguese Coastal Way. They say it has a lot of ups and downs and is therefore very hard on your legs and it has no particular attraction.
Stage 8B (20.8km) is an alternative that allows you to continue walking by the sea. If you follow this one, you should look for green arrows instead of yellow ones. In my opinion, it is beautiful and worth it but the downside of this option is that you will be entering Vigo through its industrial area, which is kind of long and has little beauty.
I will be describing Stage 8B by the sea.
Starting at A Ramallosa you cannot miss the sunrise over the river Miñor.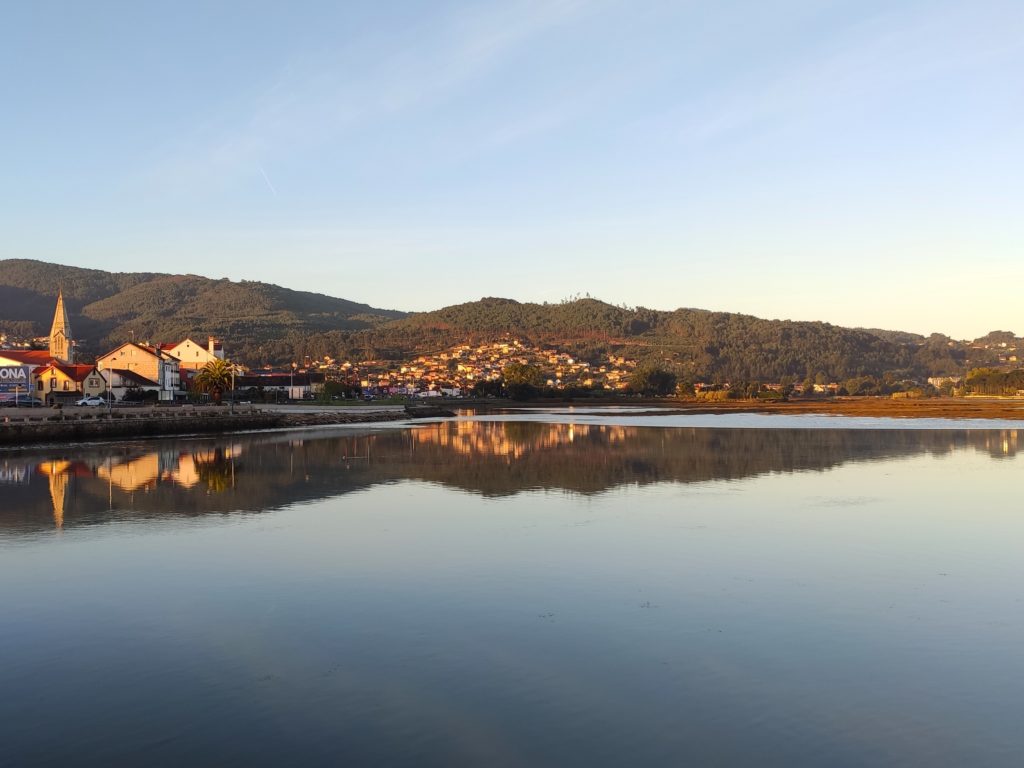 For the majority of the day you will walk in the streets next to the sea, or through small villages, or at the road or the sand for very small periods of time, until you arrive to Playa de Samil at km 12. This is the most popular beach among the people of the area which seems just right. Long white sand, a promenade with areas to walk, ride your bike or exercise, and above all the small but long pine forest just across the promenade, where you can rest in the welcoming calm shadows of the trees.
Unfortunately, Playa de Samil will end and you will arrive to the port and industrial area of Vigo. It makes for a less amenable sight for these last 4km until you reach the historical centre of Vigo, which is surprisingly uphill and also the end of the stage.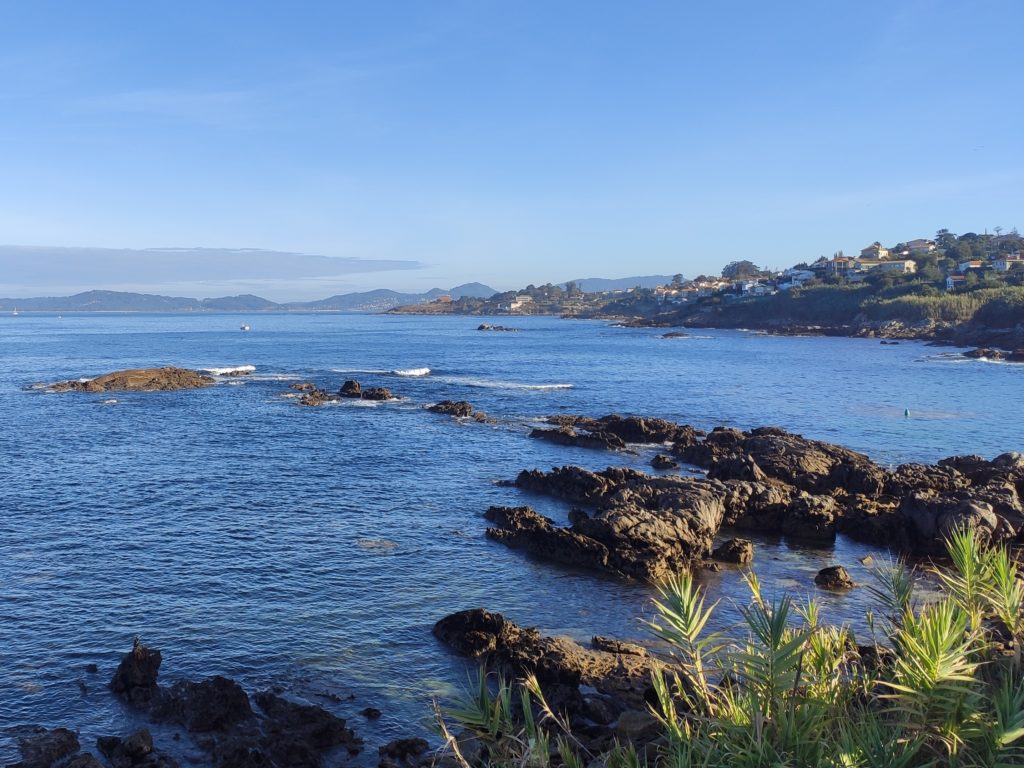 Stage 9: Vigo – Redondela (16km)
Another short stage and the last one of Portuguese Coastal Way until you join the Portuguese Central Way at Redondela. From there, you will be walking in the interior lands of Galicia until you arrive to Santiago de Compostela, so this is your goodbye to the sea.
The main difficulty of the route is to locate the yellow arrows that will get you out of Vigo, at Rua Urzaiz.
Once you leave the city, you will until km 5 alternate a secondary road with forest trails and residential areas with great views over the Ria de Vigo. After 2km through the forest (which can be very wet on rainy days) you return again to the combination of diverse tracks.
On the route you will pass through the bay of San Simon, an historical location due to the sinking of some Spanish ships in 1702 full with gold from the Americas. It was also one of the locations of Julio Verne's novel Twenty Thousand Leagues Under the Seas.
At km 14.1 you will arrive to Cedeira, from which you will reach the urban center of Redondela.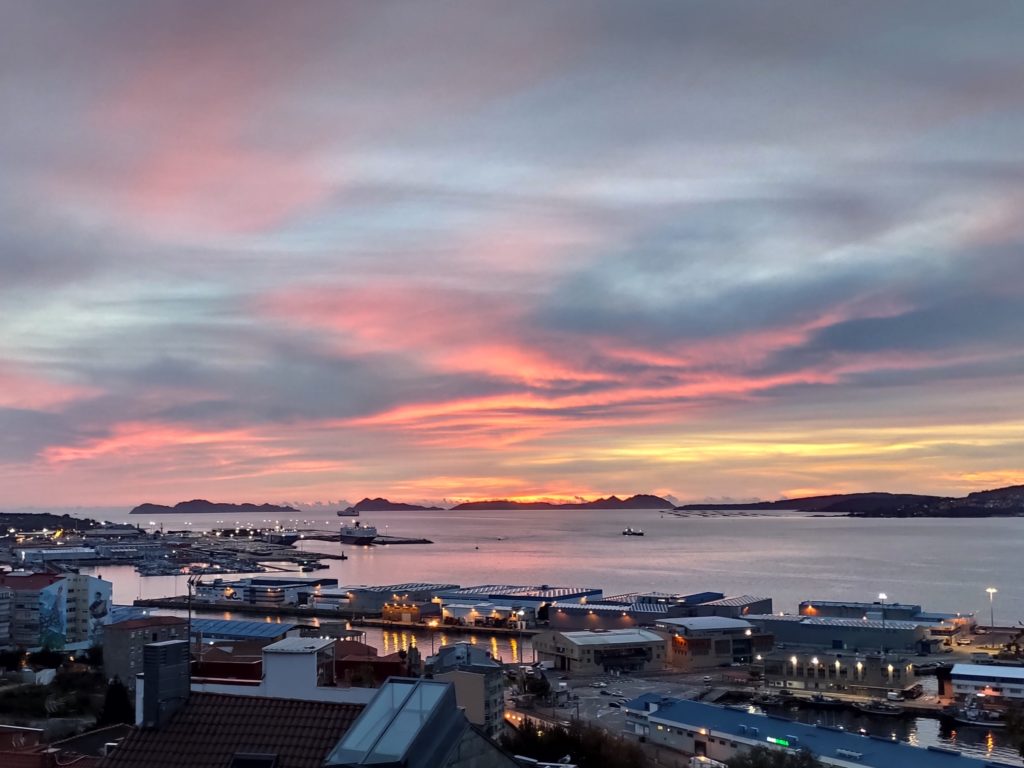 Note that from the end of 2022, there will be a new Ecovia closer to the sea that will increase the beauty -and seccurity- of this stage.
Stages 10 to 13: Redondela – Santiago de Compostela
Follow the Portuguese Central Way.
If it hurts, endure!
You will likely be asking your body to be more active than you usually are for an extended period of time. It is only normal that this will have some impact on your well-being and tiredness. However, our bodies are truly amazing machines that quickly get up to speed on what we ask them.
This means that it will get to a point (for me it happens during the fourth day) when your body will have adapted to the new level of effort you are asking. You will start feeling an increase on your energy levels and the pains and soreness you will for sure be feeling will get really better.
So you just need to endure the first few days of exhaustion, believe me, it will improve!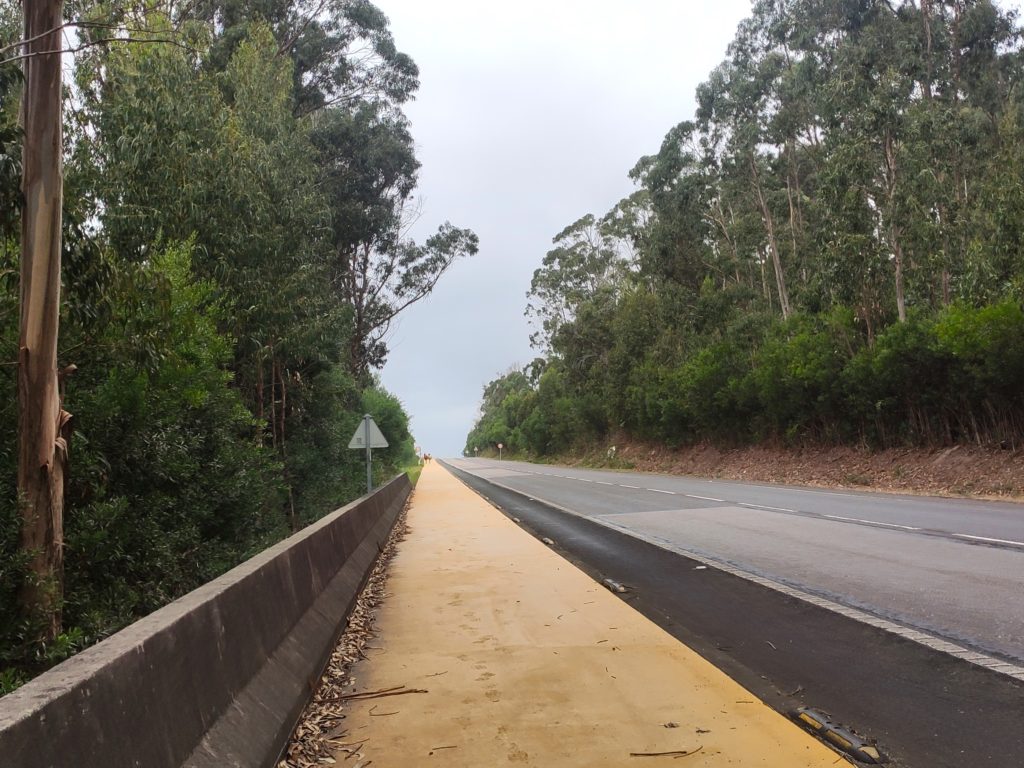 Obviously this will not apply to everything. You should know and listen to your body to be able to ascertain if the specific pain you are feeling will likely pass or is something more serious that you should address.
What kind of pains or problems can you expect to experience?
Blisters on your feet. This is why it is so important that you take shoes that are already adapted to your feet, never new ones! Also, do bring some blister plasters with you just in case.
Pain on the sole of your feet.
In general, soreness in your legs. I recommend to spend some time at the end of each stage stretching and massaging your muscles.
Back pain, particularly if your bag is not adequate. Your bag should rely on your legs to carry its weight, not in your shoulders.
Sunburn, so be sure to carry sunscreen with you!
Just being tired. Get plenty of sleep to allow your body to recover.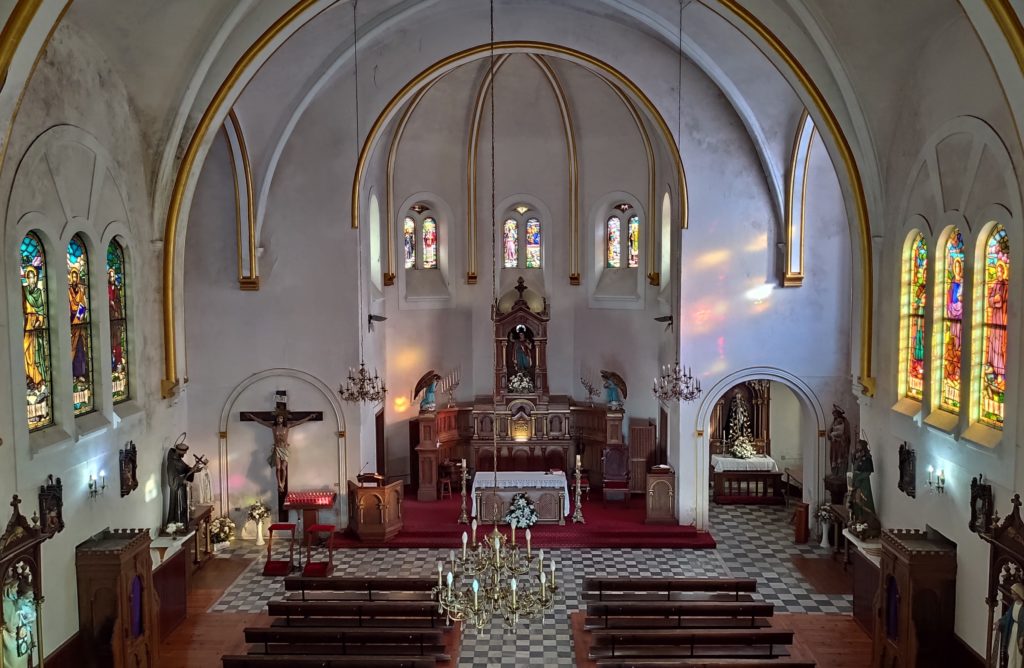 Preparing your bag for the Portuguese Coastal Way
The bag
The general rule of thumb is that your bag should not weigh more than 10% of your weight. So, for example, if you weigh 70kg, your bag should not exceed 7kg. This should already include water (around 1 – 1.5L). If you exceed this, your knees will suffer from the load. Another key consideration is that the weight should be carried by your hips, not your back.
The capacity of your bag should be between 30 to 45L. You should aim to have plenty of pockets to have everything easily accessible. And having a waterproof cover is an absolute must.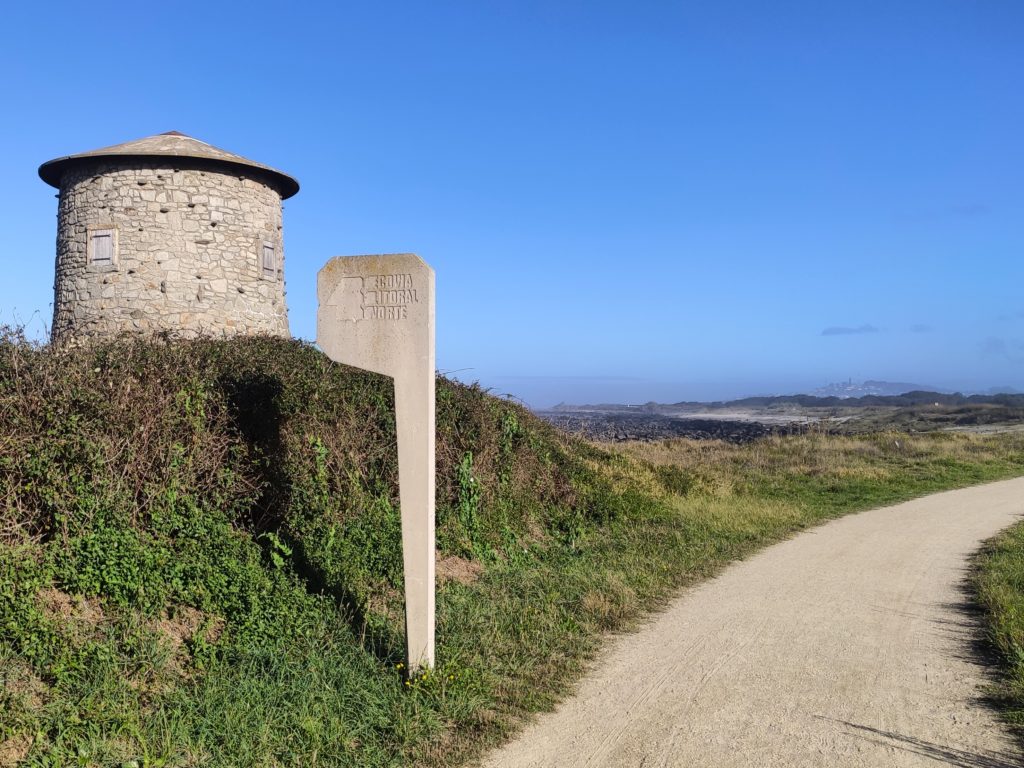 If you feel that carrying your bag is too much for you, there are services that you can hire to transport it from one place to the next one. You can do that prior to your trip and have it all arranged beforehand (you will probably need to have all accommodation booked) or do it on the spot. Along the route of Camino de Santiago all albergues, hotels and hostels can give you the contacts of "bag taxis", for example TopSantiago. You can arrange transportation on a daily basis by phone, whatsapp or email, and pay through bizum or Paypal.
The content
You want to find the balance between carrying the minimum weight while having everything you might need. Depending on the season and the variety of clothes you might need for different weather, this will be easier or harder.
Preparing the content of your bag is crucial to remain injury-free and relatively rested. I always carry the bare minimum and clean my clothes every day after finishing the stage. However, deciding how much is the bare minimum is not always that easy.
For starters, you should at least have enough clothes so that you are dry every day. On sunny and warm days this will definitely not be a problem. But imagine that you get wet with the rain and the humidity doesn't allow your clothes to dry during the night. If it keeps raining on the following day and you are short on t-shirts or underwear you might have a problem.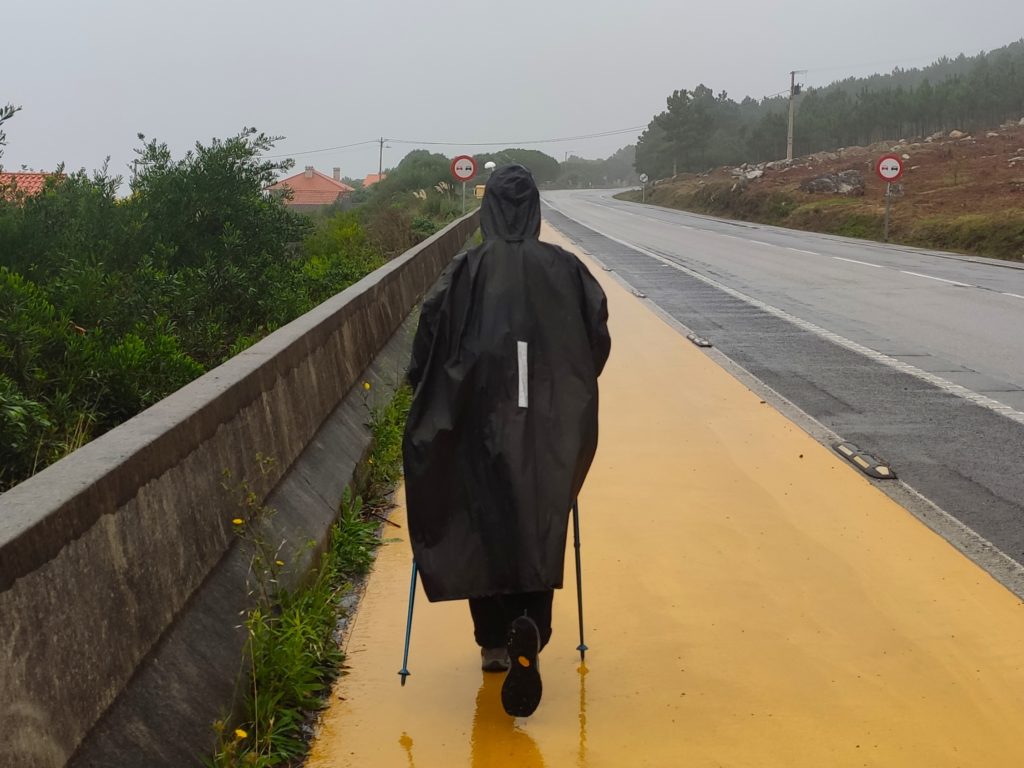 A useful tip to preserve the contents of your bag dry even if it rains is to have them wrapped in plastic bags inside your backpack, so that they are double protected by the waterproof cover of the backpack and the plastic bags.
Shoes
Together with the bag, the shoes you wear to the Way of Saint James are the most important thing to consider. As you will be walking an average of 20km per day, it is key that they are comfortable and already adapted to your feet.
So, the Camino de Santiago is not the time to wear new shoes for the first time and instead you should wear something that you have regularly used and know that doesn't hurt your feet, even if they are absolutely worn out.
The path you will be walking in the Portuguese Coastal Way (this also applies to most other ways) is not technical or difficult in any way, so you do not need specific shoes for trekking or anything. Honestly, you only need them to be as comfortable as possible.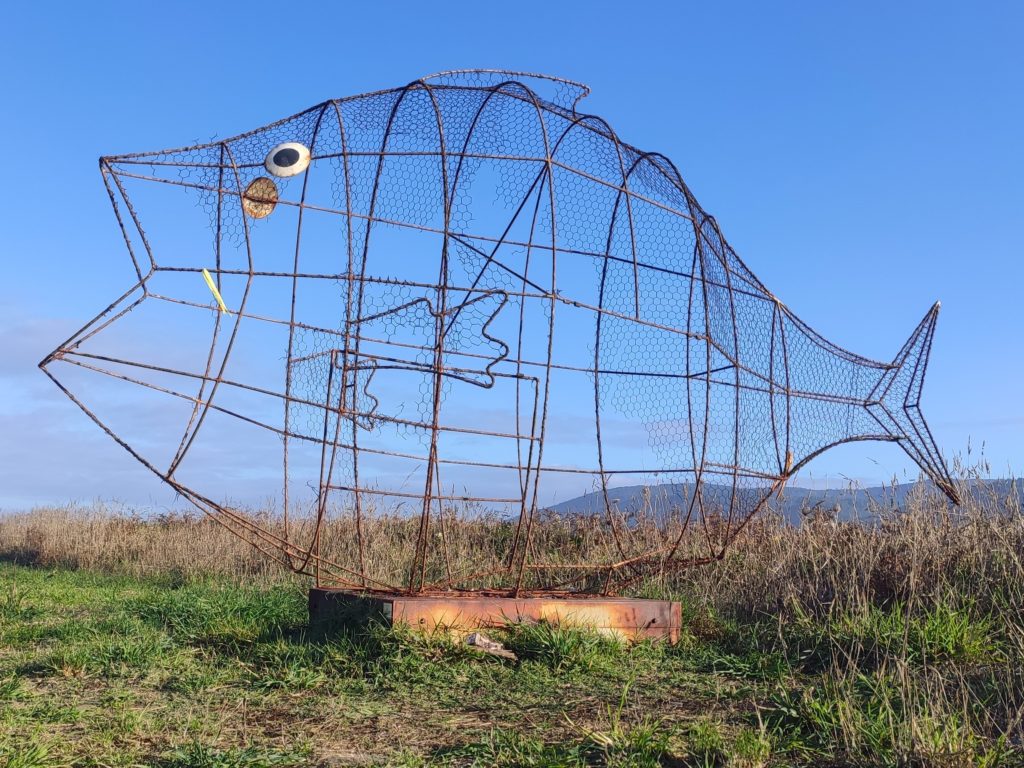 I absolutely prioritise having a light backpack so I don't carry a second pair of shoes, only a pair of flip-flops, but there's some room for discussion here. Not having a second pair means two things: in the afternoons, when I go outside if the weather is nice I use my flip-flops, but if it's not I keep using my walking shoes. Therefore my feet do not rest as much as if I had other shoes. In the albergue or hostel I always use my flip-flops (maybe with socks).
The second thing is: if it rains heavily and my walking shoes get really wet, I'm screwed. It hasn't happened yet so I'm not sure what I will do when it does, maybe throw them in the dryer? (Ideas are welcome!)
Trekking clothes
The clothes you will need will largely vary depending on the weather: will you need warm clothes? Is there a huge difference in temperatures between day and night?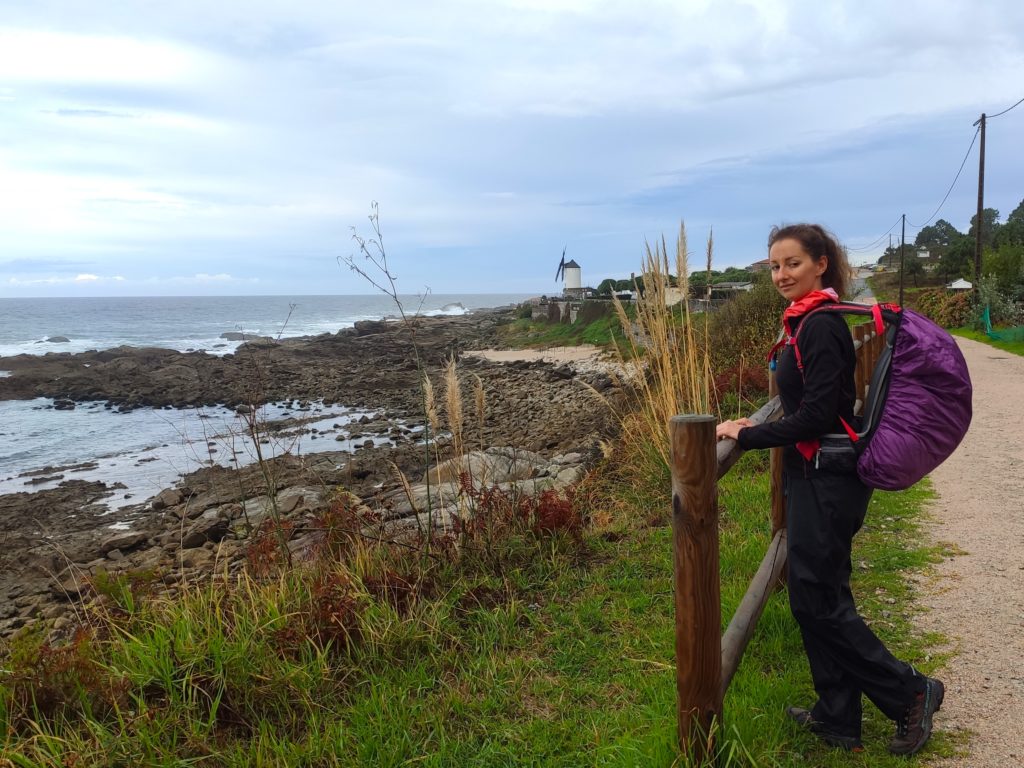 With that in mind, this is my personal list:
Trekking trousers: one pair that are technical, long and light.
Trekking shorts only if you are travelling in summer. You can use them on the hottest days and also in the afternoons.
Two or three trekking t-shirts or shirts, depending on the weather you are expecting. Wash your shirt every afternoon just when you arrive to your albergue or hotel so that it has plenty of time to dry.
Three pairs of trekking socks.
Three pairs of underwear.
Two sport bras.
Neck gaiter, even if you are walking in summer. You will probably need it for the first hours of the morning and if not you can use it instead of a hat to protect your head from the sun.
Hat to protect you from the sun. I never wear one because I use my neck gaiter but this is very personal.
Warm hat and gloves depending on weather, I would say they are not necessary from May to September (included).
Thermal clothing: same as hat and gloves. If its too cold during the day, you can use you thermal trousers under your trekking ones.
Jacket: this will largely depend on the season. My recommendation is to prepare layers and use your trekking jacket also for the evenings.
Waterproof jacket and pants, and put them on right when it starts raining. This allows you to carry less clothes, because it is unlikely they get wet.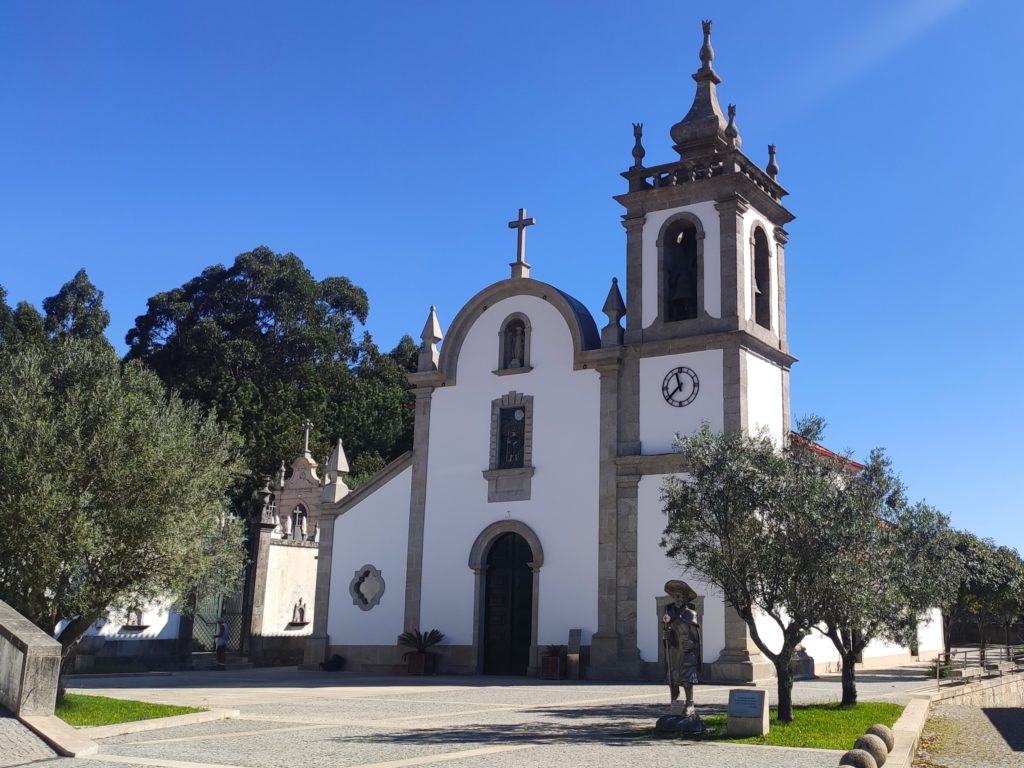 Regular clothes
One set of pyjamas, particularly if you are staying at albergues.
One pair of comfortable jeans for the afternoon. If it's too hot for them, use your trekking shorts.
One or two regular t-shirts or shirts (I would personally wear one and if needed alternate it with trekking shirts).
Swimsuit if the weather allows it.
Toiletries
The general rule is whatever you need, carry only the amount you might use. This will probably mean taking empty 100mL bottles and filling them with your soap or lotions, not only for the weight but also for the space they will occupy.
Shower gel and/or shampoo.
Deodorant.
Toothbrush and paste.
Body lotion for dry skin and massaging your muscles on the afternoon.
Sunscreen (not only for summer).
Lip balm (the wind and sun will not be kind with your lips).
Emery board in case you need it for your feet nails.
Paper tissues.
Whatever other toiletries you use on a daily basis (keeping in mind that you'll need to carry them).
First aid kit
When preparing your first aid kit, remember that you will be crossing towns and cities every few kilometres where you will be able to buy anything you might unexpectedly need. In my opinion, this means that you need to carry only basic drugs or medical products.
The rule of amount and space that applies to toiletries also applies to medical products, so, in general, buy the smaller options.
Blister plasters and something to prevent them such as vaseline.
Regular plasters.
Antiseptic ointment such as betadine.
Something for headaches.
Maybe something for sore muscles in case the massages with lotion are not enough. But you will be able to buy that anywhere.
Any other drug or medical product that you usually use.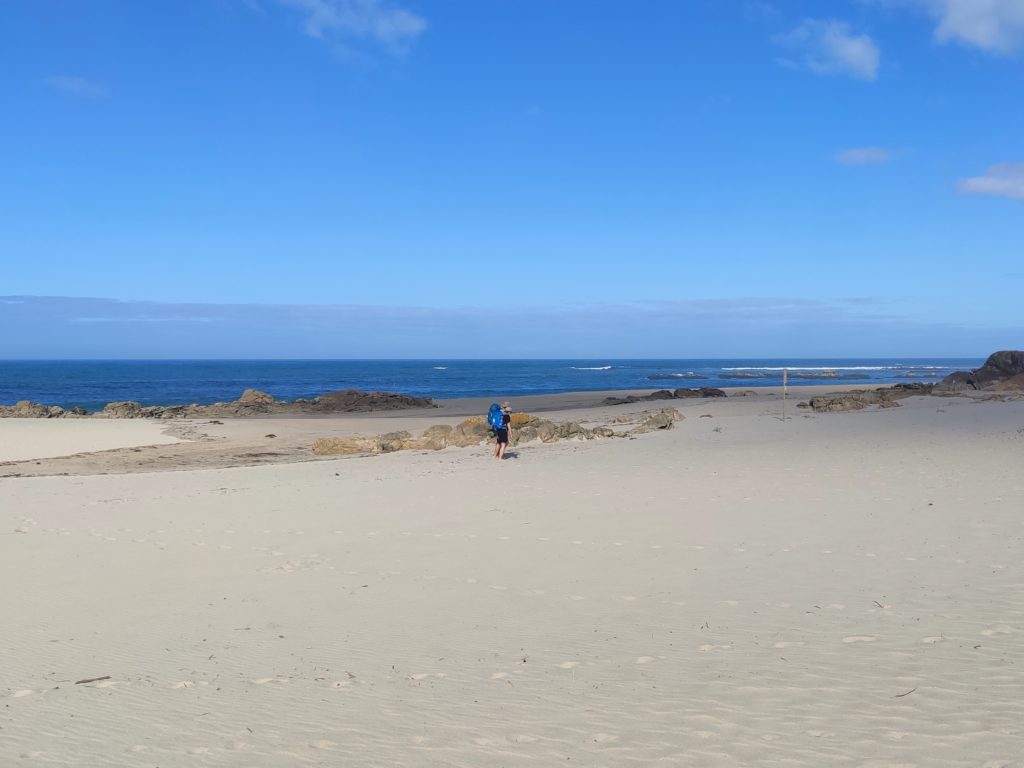 Electronics
This might be very different from one person to the next, but this is what I would consider:
Phone.
Camera, if you feel the one on your phone is not enough and you have weight to spare.
Smartwatch or similar to track your route.
Headphones.
Chargers for everything.
Multiple plug.
Depending on where you are coming from, travel plug adapter.
Accessories
This is the miscellaneous part of every list so expect to find a little bit of everything:
Trekking poles are a must for some people, as they help to take some effort off your legs. I don't use them but mostly for practical reasons. If you are travelling by plane you'll probably need to check them in. A sensible option might be to buy them at the starting point and sell them or give them away when you finish.
Towel, although if you are staying in hotels or individual rooms at hostels they might provide you with that.
Sleeping bag, adapted to the weather. You will only need it if you are in albergues although some of them can also rent the bedding.
Foldable bag for the afternoons.
Small wallet (if your regular one is too big, change it for something simpler).
Identification and cards (check if you need passport and medical insurance cards).
Credit cards and cash (you will not be able to pay by card at some places).
Sunglasses.
Something to hang your clothes to dry.
Plastic bags.
I always carry a very small notebook and pen.
A vieira (scallop shell), which you hang from your bag and is a symbol of the Way of Saint James. Everyone will recognise you as a pilgrim. You can buy that in most towns of the Way.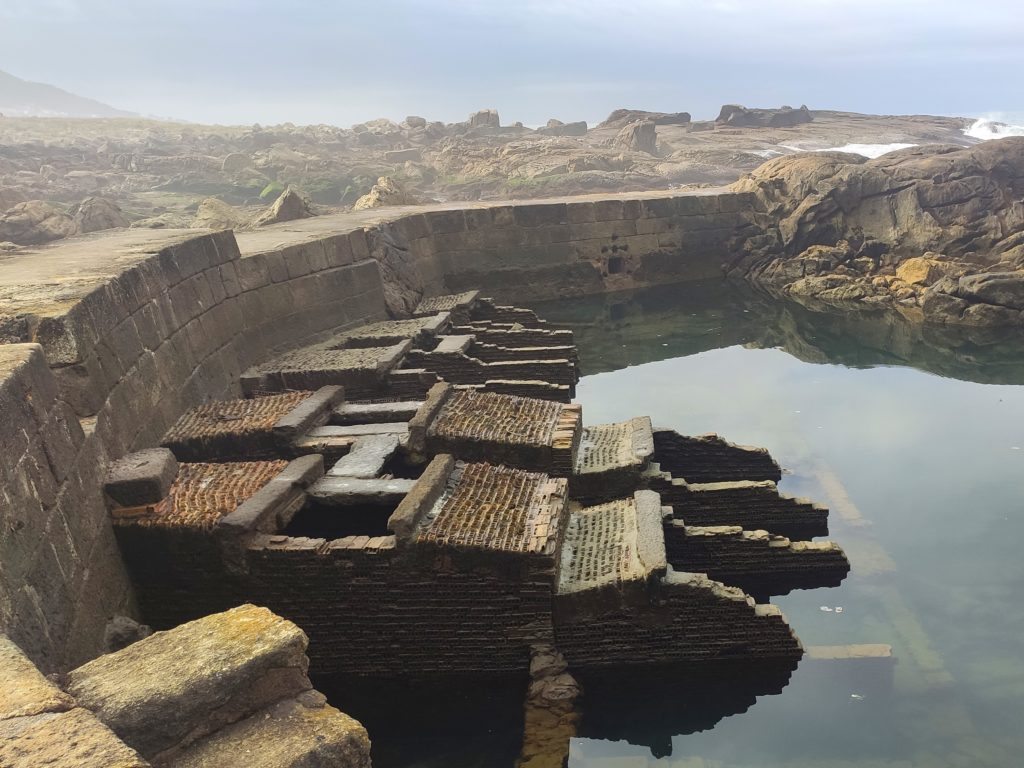 The weather and when to go
You probably know the Iberian Peninsula for its generally good weather during the year. Unfortunately, it does vary along seasons, which, by the way, in Spain change the 21st instead of the 1st of each month. For example, summer starts the 21st of June and lasts until 21st of Septemer.
Some particularities of the region where the Portuguese Coastal Way is located when compared to the rest of the Peninsula are that temperatures tend to be mild and steady because of its proximity to the Atlantic Ocean and rains are pretty common but not heavy.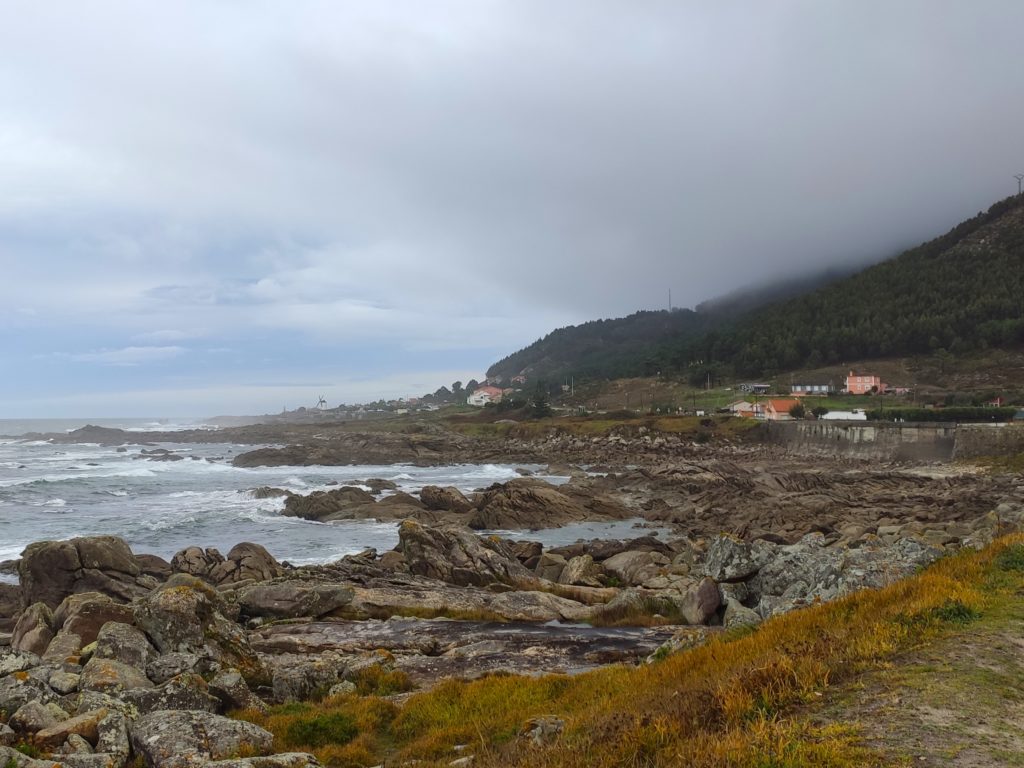 The seasons
So, which is the best season to visit?
Spring: expect mild temperatures of 10º to 25º (Celsius) but high possibility of rain. The end of spring (June) might be one of the best times to do the Camino de Santiago.
Summer: the hottest season with temperatures between 15º and 35º. If you go in summer, you probably should avoid walking in the middle of the day (therefore you'll need to wake up really early). On the other hand, the possibility of rain is the lowest of all year (although it still exists) and you will surely enjoy relaxing at the beach in the afternoon after having completed your kilometres of the day.
Autumn: 5º to 25º with rains starting around October. The weather tends to be more unstable which means you'll probably need a wider range of clothes to be prepared.
Winter: it is the coldest month, with temperatures ranging from 0º to 15º, and the highest possibility of rain. Something very relevant if you visit during winter is that your bag will be considerably heavier. Very few people go in winter.
I would personally avoid winter and the central months of summer (July and August) for extreme conditions. Then, I would try to find the balance between good temperature and low chances of rain. My personal favourite months are June and early September.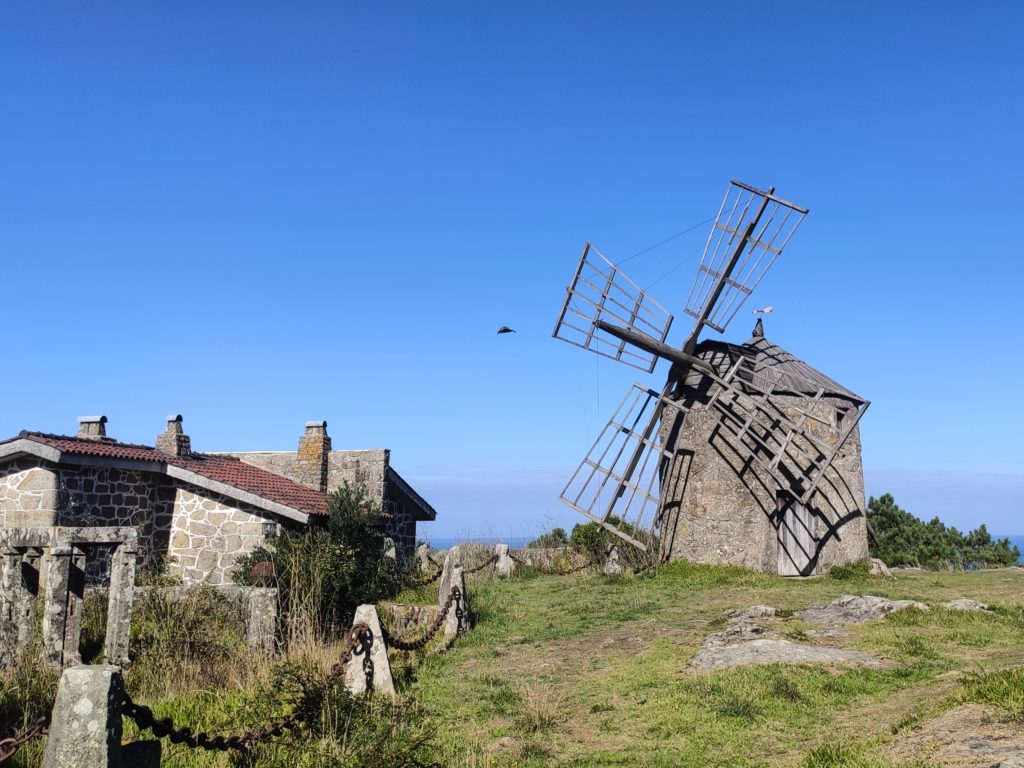 The company
The other factor that in my opinion you should consider to decide when to do the Way of Saint James is if you are expecting to meet and share the experience with other people. Although the Portuguese Coastal Way is the third in number of pilgrims, it still has a great difference with the French Way. Therefore, if you do want to join other people I would recommend to go between June and mid-September.
External useful resources for the Portuguese Coastal Way
Being one of the most popular routes in Europe, there are thousand of useful resources you can find. These are only a few examples.
Spanish tourism website: https://www.spain.info/en/camino-santiago/. It provides general information on different ways available.
The official website of the Government of Galicia (the region of Spain where Camino de Santiago is located): https://www.caminodesantiago.gal/en/inicio. It has information on all the Ways as well as albergues or activities.
Portuguese tourism website: https://www.visitportugal.com/en/content/caminhos-de-santiago-st-james-way. With some very general information, but it redirects you to: http://www.caminhoportuguesdacosta.com/en. Here you will find detailed information on the portuguese stages of the Portuguese Coastal Way of Saint James.
Another option is a website created by pilgrims for pilgrims: https://caminhoportuguesdesantiago.eu/en/. It has a compilation of information you can use.
Then, you can also find A LOT of information on the websites of travel agencies. They usually describe the route day-by-day, as well as provide information of activities to do.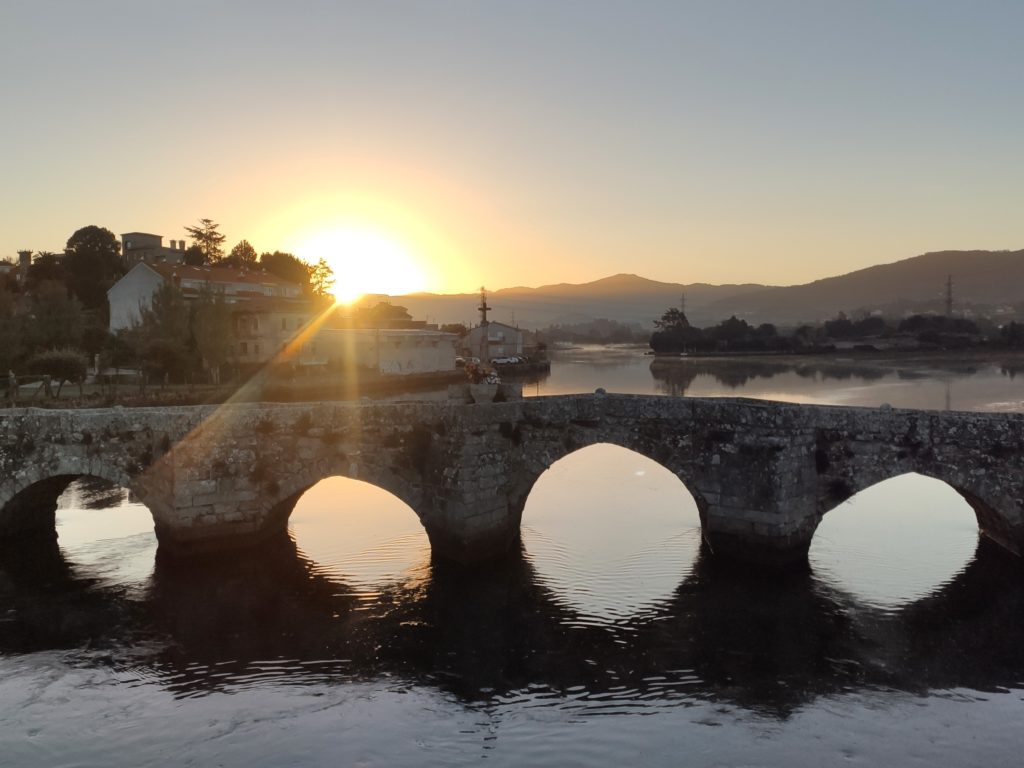 ---
Was this post on the Portuguese Coastal Way of Saint James useful for you? Please let me know and feel free to ask any question in the comments section! You can also support my work and Buy Me A Coffe. I will be immensely happy 🙂