Are you planning or considering a trip to Morocco? Do you want to visit Marrakech? You've come to the right place! I've prepared for you a series of posts with information and advice on what to do, some utilities to enjoy the country better and tips on how to travel smart to Morocco.
The posts are based on my own experience there and are especially focused on the doubts I had before visiting Morocco. If I ever visit Morocco again I would do it differently, because I took some decisions about the trip that were motivated by wrong information (for example not renting a car), and I don't want this happening to you!
The basics of my trip to Morocco:
Duration: 11 days/10 nights
Date of travel: from September the 25th to October the 5th, 2017
Places visited: Marrakech (3 days), desert of Merzouga (3 days trip) and mount Toubkal (4 days)
Number of travellers: two people
Time of preparation: one month
In this post you will find some general information about Morocco and particularly the city of Marrakech. I also give you some suggestions about what you can do and see in order to have a genuine experience, all explained from my personal point of view.
You can check here other posts about my trip to Morocco. These are the ones currently available:
Although I have divided the post in two to make it easy to read, I recommend you to check also the post 7 tips and utilities to survive Marrakech, where you'll find extremely useful information about how to arrive from the airport, where to sleep, where and what to eat, how to move in and outside the city, how to bargain, how to deal with their insistence on you giving them money and a how to dress section for girls.
1. General Information
1.1. The city
Marrakech, also known as the 'Red City' or 'Ochre City', is located in the centre west of Morocco, to the north of Atlas Mountains. It is the fourth largest city in the country, the capital of the region Marrakesh-Safi and the most important of Morocco's four former imperial cities.
Now that we've covered the key boring facts about Marrakech, I'll try to give you some information that you can find interesting and useful for planning your trip.
1

Since Neolithic times, the region of Marrakech was inhabited by Berber farmers. The actual city, what we now know as 'Medina' (the fortified ancient part of the city) was founded in 1062. Lately, modern neighbourhoods have grown around Medina.

Why you need to know this: throughout this and all the posts I write about Morocco, I will differentiate these two parts of Marrakech, 'Medina' and 'modern city', because living in or visiting one or another part are completely different experiences.

2

Tourism is very important in Morocco and particularly in Marrakech, not only because the reigning monarch (a very important figure there) is advocating to increase the number of visitors to the country but also because economy strongly depends on tourism: a large percentage of population is employed in the production of crafts, which are primarily sold to tourists.

Why you need to know this: trading with tourists is heavily imprinted in their DNA, and it affects everything you do and experience. Through these posts, I'll try to picture it to you by examples and tips.

3

Distance to other touristic places of Morocco:

Rabat: 327 km (203 mi)
Tangier: 580 km (360 mi)
Casablanca: 239 km (149 mi)
Fez: 486 km (302 mi)
Agadir: 246 km (153 mi)
Essaouira: 177 km (110 mi)
Atlas Mountains: 67 km (42 mi)
Desert of Merzouga: 562 km (349 mi)
Desert of Zagora: 357 km (222 mi)
1.2. The people
Although there are plenty of ethnicities in Morocco, 99% of population identifies themselves as Arabics or Berbers. While being there we observed some major differences between them that affected the way we interacted with them or how we felt. I'm pretty sure you will find it useful or, at least, curious. However, I want to stress that what I'm giving here is my perception based on the interaction I had with a teeny tiny part of Morocco's population. I may be wrong, I may be biased, so please do not take offense if you feel differently about something that I say.
We visited Marrakech, the Atlas Mountains and the desert of Merzouga –including stops along the way to get there-, and from these experiences I can say that the city (Marrakech) is majorly populated by Arabics and the county regions (the other ones) by Berbers.
We didn't take any guided tour in Marrakech but we had some of them included on our trip to the desert, so we were explained about the Berber culture and traditions but not about the Arabic ones.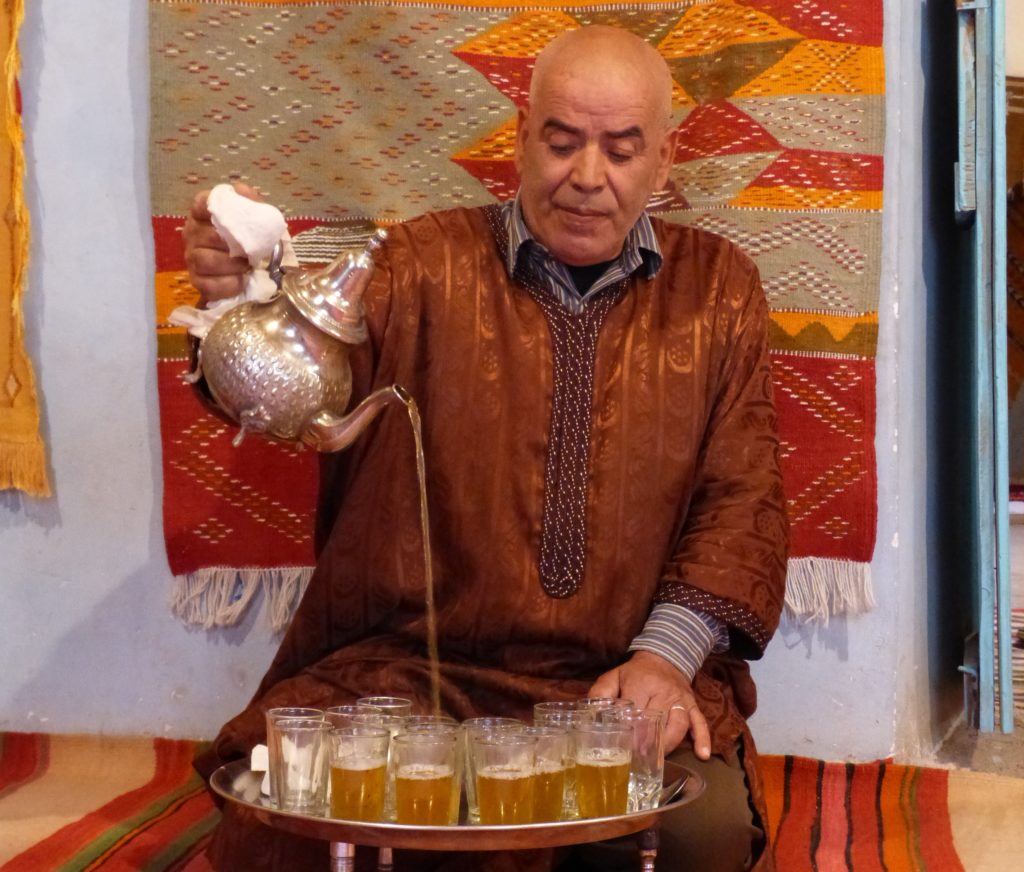 Local Berber serving traditional mint tea
We learnt that Berbers call themselves 'free men'. They were nomads, and although there are still nomad groups in some regions, the majority of them have adopted a permanent home. They live off of agriculture, livestock and tourism. They are traditionally traders, so they may ask for something you have in exchange for something they have, for example, your collar for their tunica or your phone for a carpet.
We found that both Arabics and Berbers are extremely hospitable when it comes to hosting you and that Arabics are more aggressive when it comes to selling, meaning that they'll insist on you buying their products or that they'll increase their price (and you'll be able to bargain a higher discount than with Berbers).
We had long, interesting, peaceful multicultural conversations with some Berbers but we didn't have the chance to do so with Arabics. That's how we found that Berbers are not very fond of Arabics, but we know nothing about the reciprocity of this feeling.
2. What to do
2.1. In Marrakech
We spent three days in Marrakech and for us it was enough to get a glimpse of the city. When preparing the trip, we checked at home the main tourist attractions, but we didn't prepare any itinerary because we preferred to relax over having a busy schedule, even if it meant ending up not visiting something important (which of course happened). If what you want is to really experience and know the city, I encourage you to look for more detailed information and maybe to spend more than three days in Marrakech.
a/ Local's recommendations
In our first riad at Marrakech, the host gave us advice on the attractions we should visit, and as you may find interesting to have the opinion of a local, no matter how brief it may be, here it comes:
Saadian Tombs, Badi Palace and Bahia Palace: these three attractions are in the south of Medina, in short walking-distance from one another. Badi Palace is in runes (a majestic building, now the home of cats and storks) and Bahia Palace fully conserved.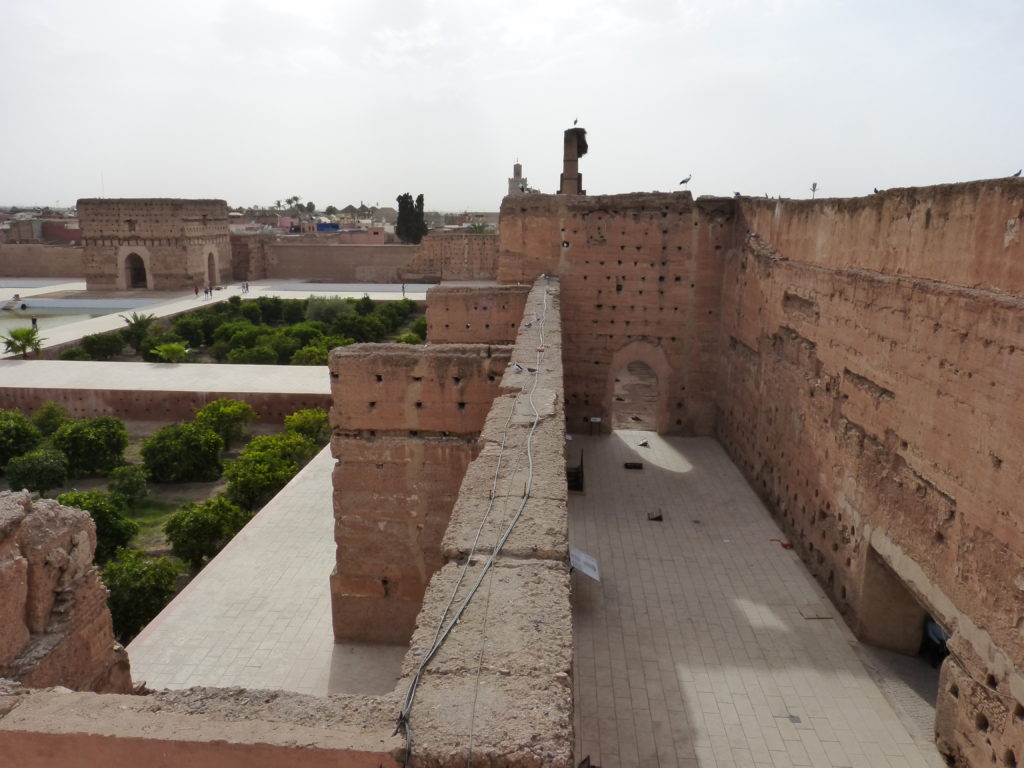 Storks nesting in Badi Palace
Koutobia Mosque and surrounding gardens: it is the biggest mosque in Marrakech, visible from Djema el-Fna square, and although you cannot enter it the visit from the outside is mandatory.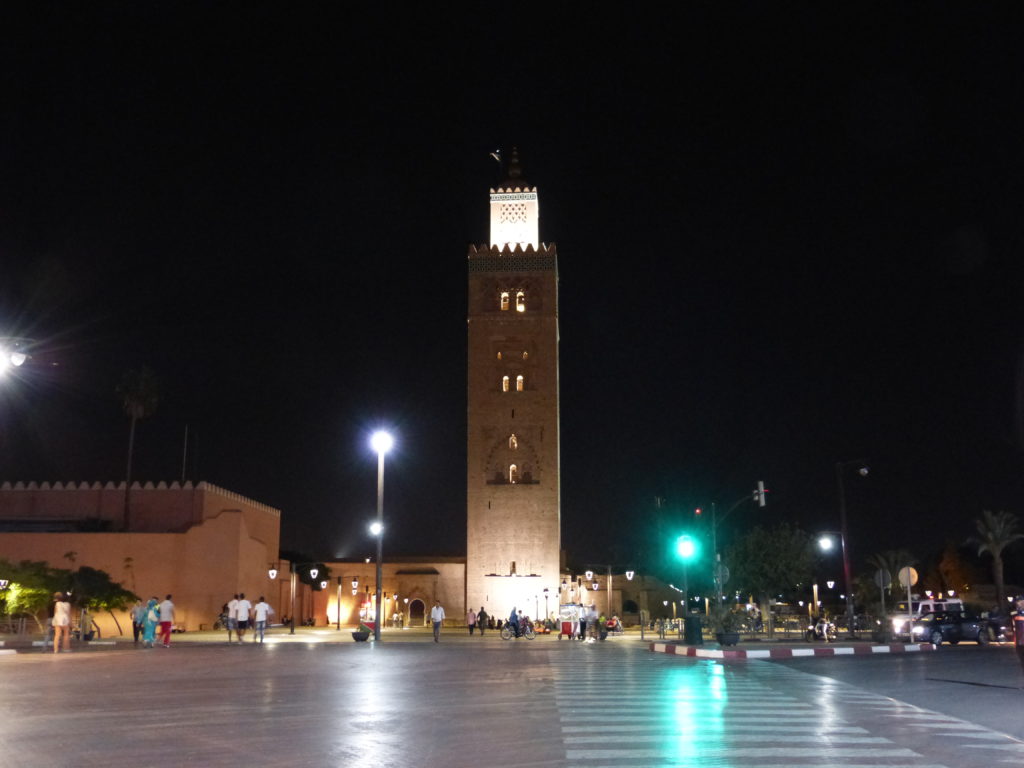 Koutobia Mosque at night
Ben Youssef Madrasa: antique Quran university, where you can mainly see the rooms of former students. We actually visited this one and if you want a funny story about what happened to us when we left it, visit the Being an 'easy prey' section of the 7 tips and utilities to survive Marrakech.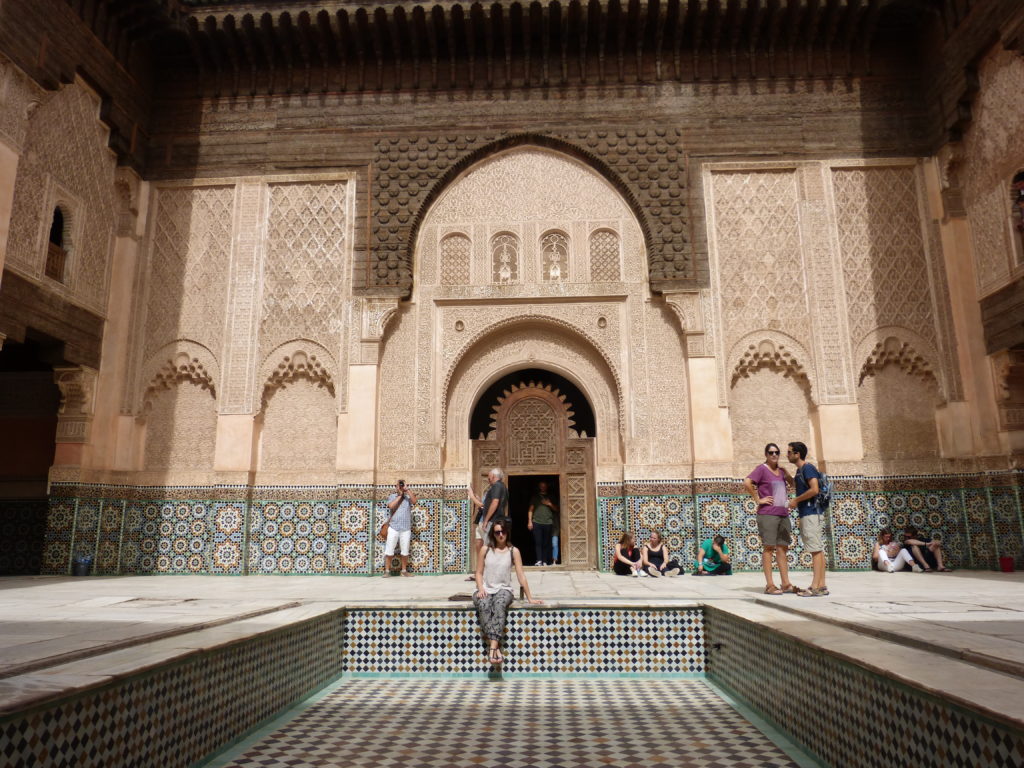 Ben Youssef Madrasa's yard
Marrakech Museum: located in Dar Menebhi Palace, very near to Ben Youssef Madrasa, it exhibits mainly traditional and modern Moroccan art and in fact we were recommended not to visit it unless we were really into art (and we are not).
Majorelle Garden: a majestic city garden which also includes the Islamic Art Museum. It is outside Medina but very near from it.
Cyber Park: a garden inside Medina that offers a fine rest from the city pollution. It also has a very small but curious (and free) museum of Telecommunications.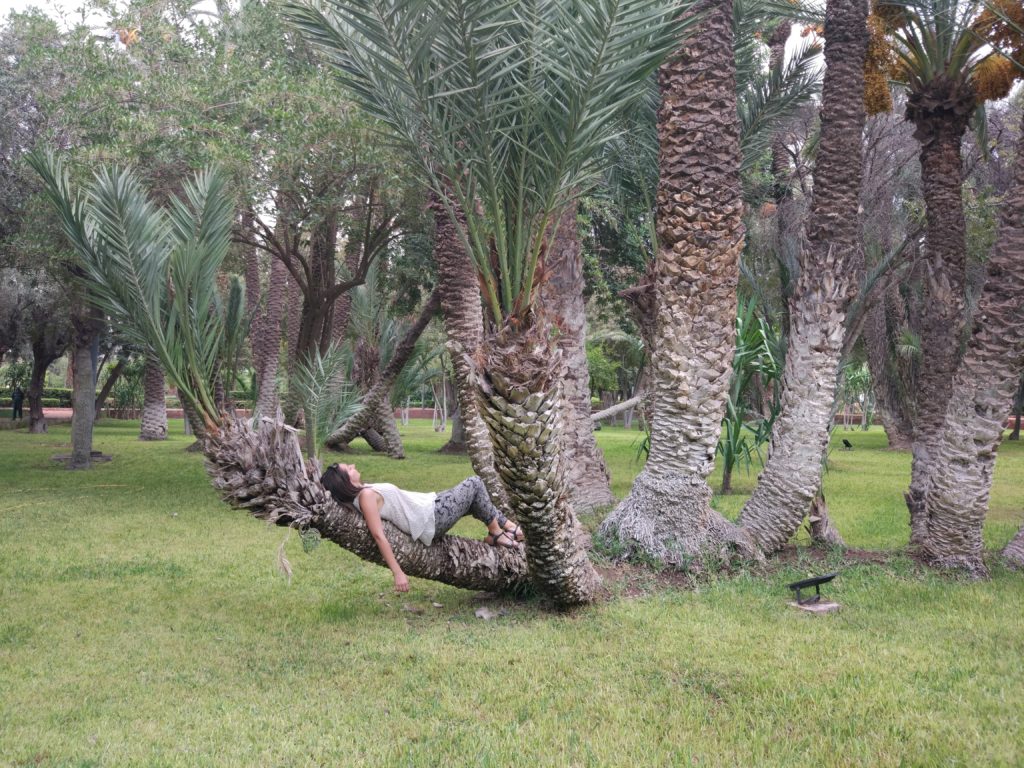 Relaxing in Cyber Park. Two seconds after
this pictures was taken, the sprinkles went on
Djema el-Fna and the Souk: of course.
b/ My recommendations
Apart from this general information, I will recommend you four must-dos that will allow you to experience the city, apart from visiting it, based on what we did and what we couldn't do while we were there:
| | |
| --- | --- |
| 1 | Wander in Djema el-Fna at night |
This is when Djema el-Fna, the famous square, is really alive, not only with tourists but also with locals who join the night no-reason-at-all celebrations. It is an experience and, as a tourist, you'll have to expect to be harassed by waiters who'll try to lure you to their stall to have dinner, merchants who'll want so effusively that you buy their products, women who'll start tattooing your hand with henna if you're not careful enough. It all contributes to the beautiful chaos created there: it is a show as much as the drums or guitar performances, the dancers or the monkeys and cobras (although I have a strong opinion against using animals for tourism that you can read in My personal opinion section if you want to).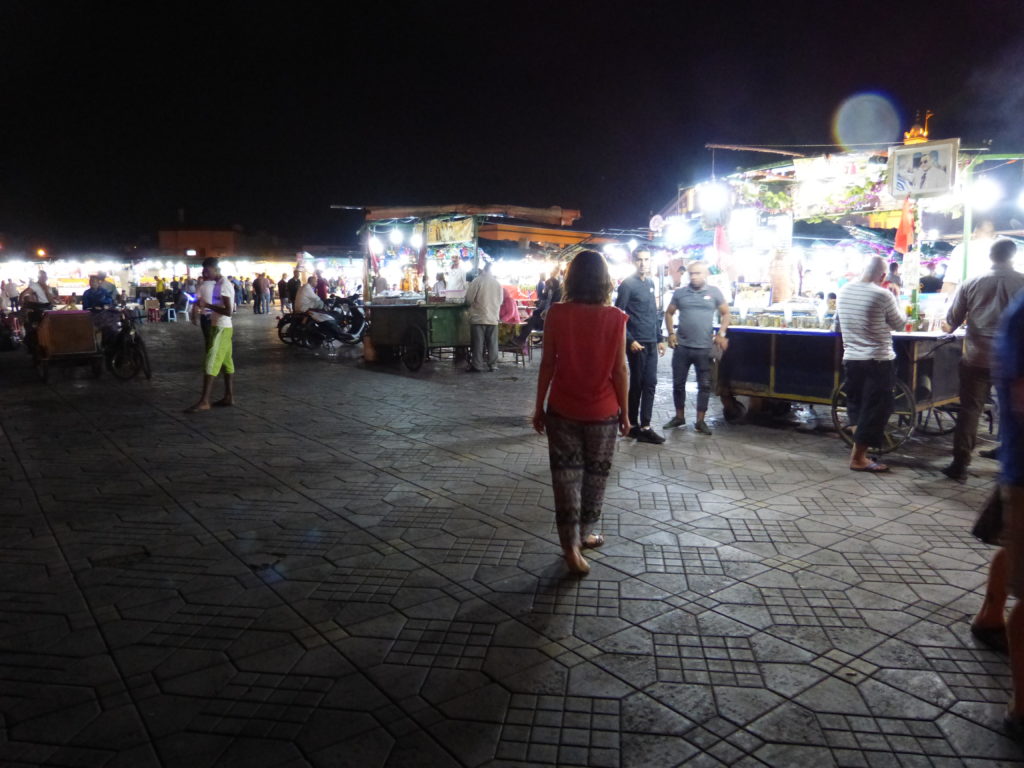 Food stall's lights in Djema el-Fna
The Marrakech Souk is the biggest bazaar of Morocco and it has everything from chandeliers, carpets or spices to animals, towels or cookware. It is quite similar to the famous Grand Bazaar of Istanbul, however, I liked Marrakech's one better because with the combination of souvenirs and daily use products, it charms you with authenticity. The streets are really narrow and you have to share them with locals, other tourists, scooters, bikes and cats alike –however, that can apply to the whole city.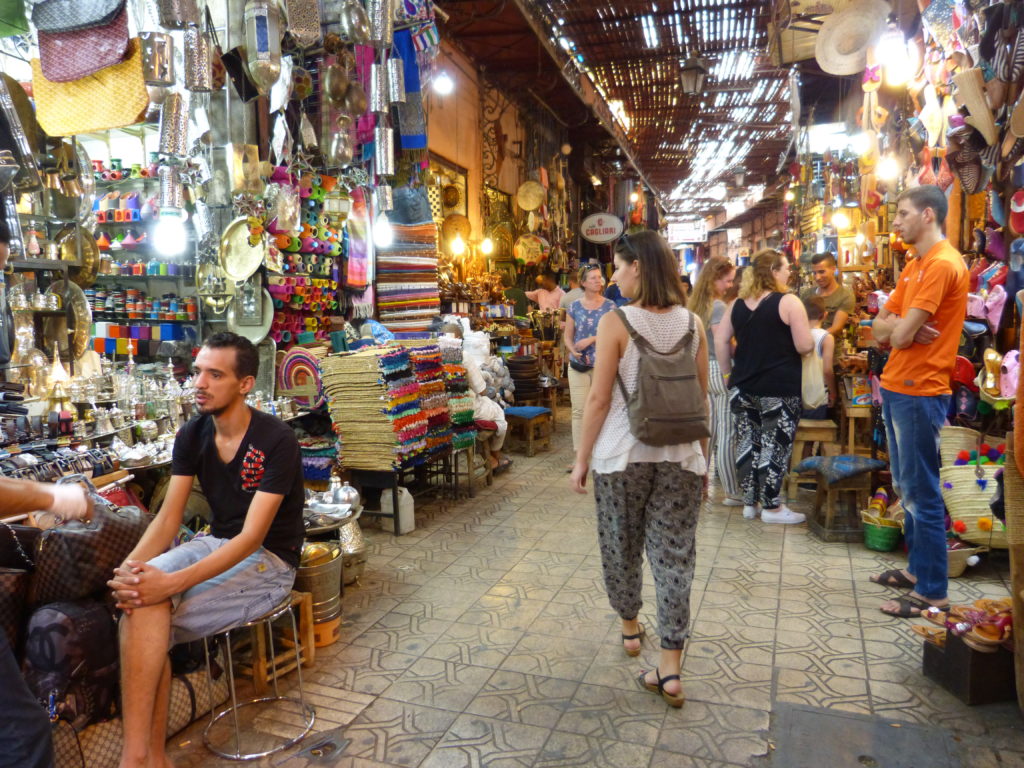 Looking for wouvenirs at the Souk
| | |
| --- | --- |
| 3 | Relax in a terrace and contemplate Djema el-Fna at sunset |
Sunset is the light in which everything looks more beautiful, and Djema el-Fna is not an exception. The stalls start to get lighted, the crowd starts to get bigger and noisier, and you are contemplating these few minutes of quick change from a different dimension, with a beverage in your hand and the soft wind around you. I know I made it sound so cheesy, but the contrast between the busy square and your peaceful terrace is quite dreamy and welcoming, especially if you have spent the whole day visiting the city.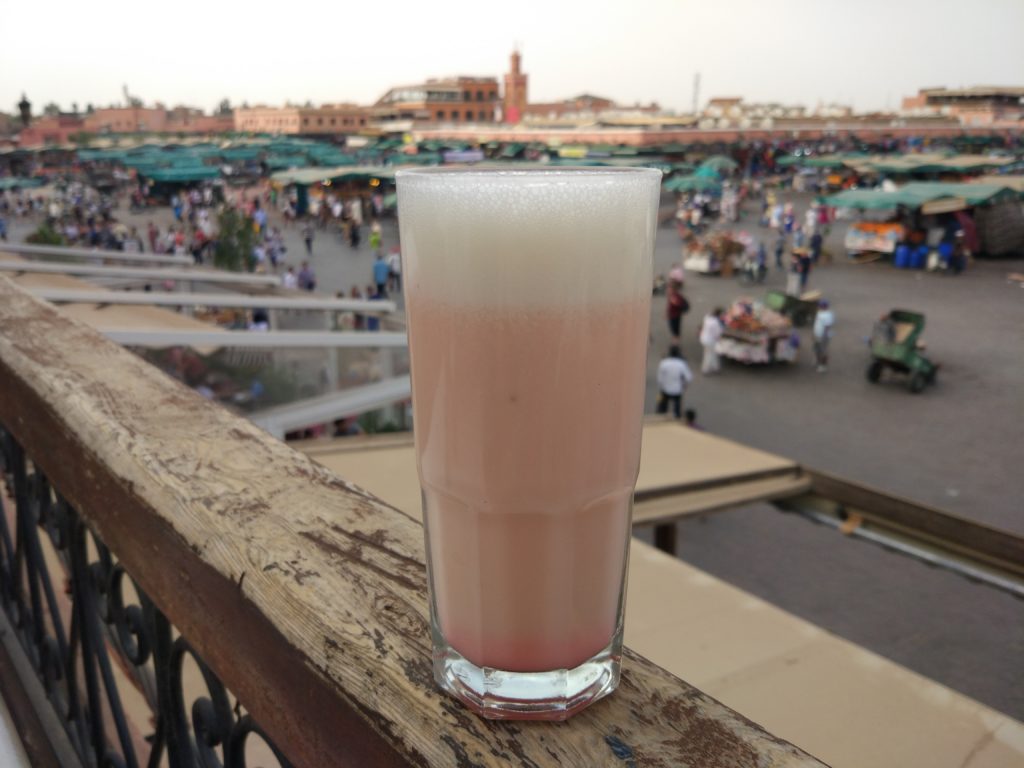 Non-alcoholic cocktail over Djema el-Fna
The modern city is quite different from Medina. We spent all of our time in Marrakech in Medina and I truly regret it, not because of the tourist attractions the modern city may have to offer (I really don't know and I wouldn't care for that) but because I felt like there was a whole lot Marrakech we didn't experience and so I don't feel like I got to 'know' the city. This is of course just my opinion, but if you are interested in it you can check the My personal opinion section at the end of the post.
2.2. Outside the city
There are plenty of visits to do outside Marrakech: from one-day visits to nearby locations to three or four day trips to the farthest destinations. Depending on your interests and the time you have in Morocco you'll have to choose what you want to do, so I don't aim to give you detailed information about every possible excursion but a general idea of what's available and, especially, how I feel it is best to organise this outside-the-city visits.
a/ What to visit
I've prepared a small non-exhaustive list for you, so you can get an idea of the kind of visits you can do in Morocco:
Essaouira: a small city by the sea.
Ouzoud Waterfall: one-day visit to the nature.
Aït Benhaddou: a UNESCO World Heritage Site, a very famous ancient city where Gladiator, Babel or some Game of Thrones chapters where filmed. It is usually part of the trip to the desert in Merzouga.
The city of Aït Benhaddou
Tinghir and Todgha gorge: also part of the trip to Merzouga.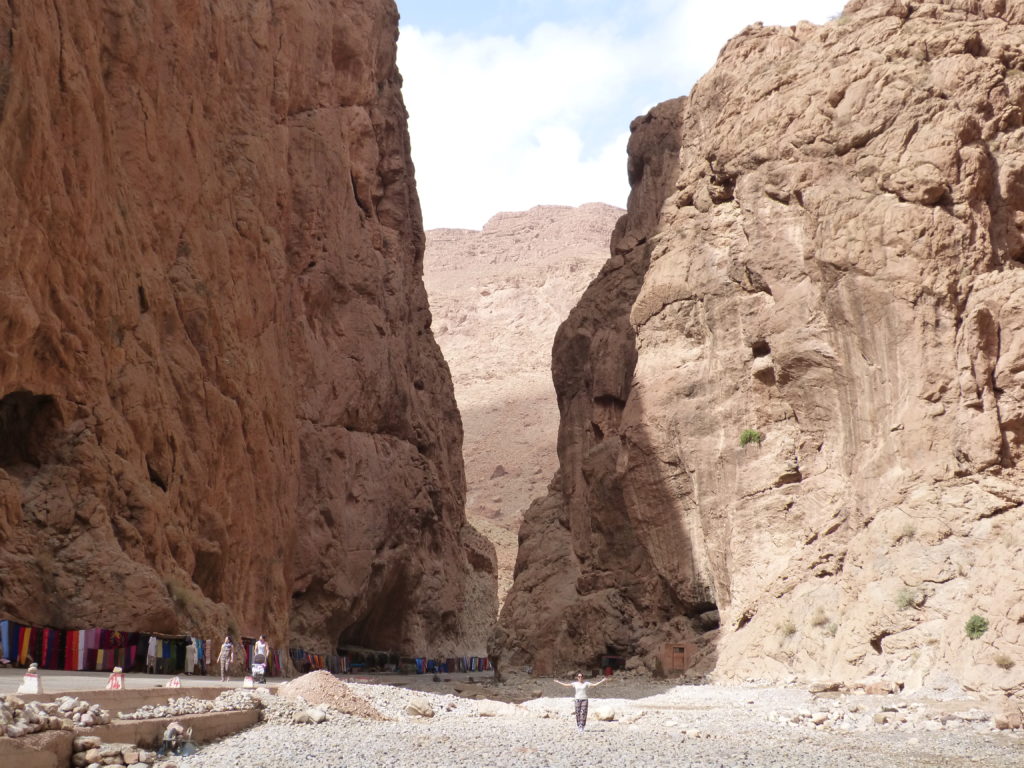 The inmensity of Todgha gorge
Desert of Merzouga: near the border of Argelia, the Merzouga region is one option for those who want to experience true Sahara desert. Usually this trip lasts three days, starting from Marrakech, with cultural stops the first two days, spending the second night of the trip sleeping in the desert and travelling back to Marrakech, or to Fez, the third day. We actually did this trip, check all of it in my posts

A 3-day trip to the desert of Merzouga

and

What you should know before visiting the desert of Merzouga

.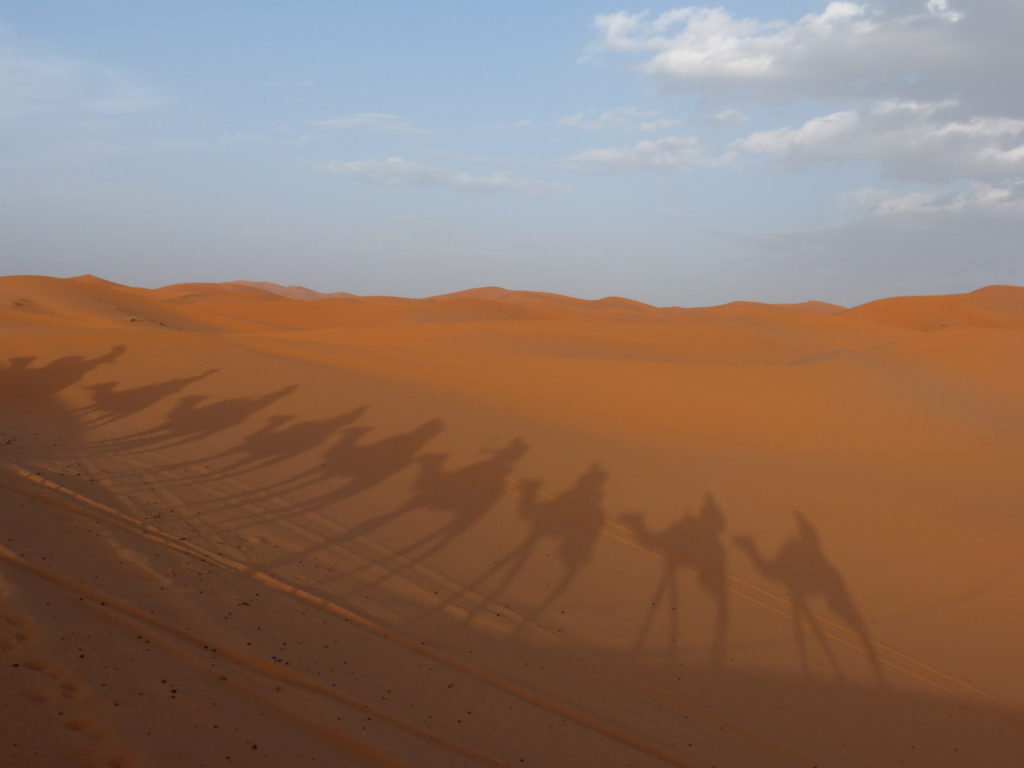 Camel ridding in the desert of Merzouga
Desert of Zagora: this region is not as touristic as the Merzouga one, meaning that it is a more 'authentic' way to visit the desert.
Mount Toubkal in Atlas mountains: really near from Marrakech, just one and a half hour driving, there's mount Toubkal, the highest peak of the north of Africa with 4,167 m (13,671 ft). Being mountain freaks as we are, of course we went there too. If you want more information about this one, check my posts Toubkal Trekking Experience

and

Climbing Toubkal: the route stage by stage

.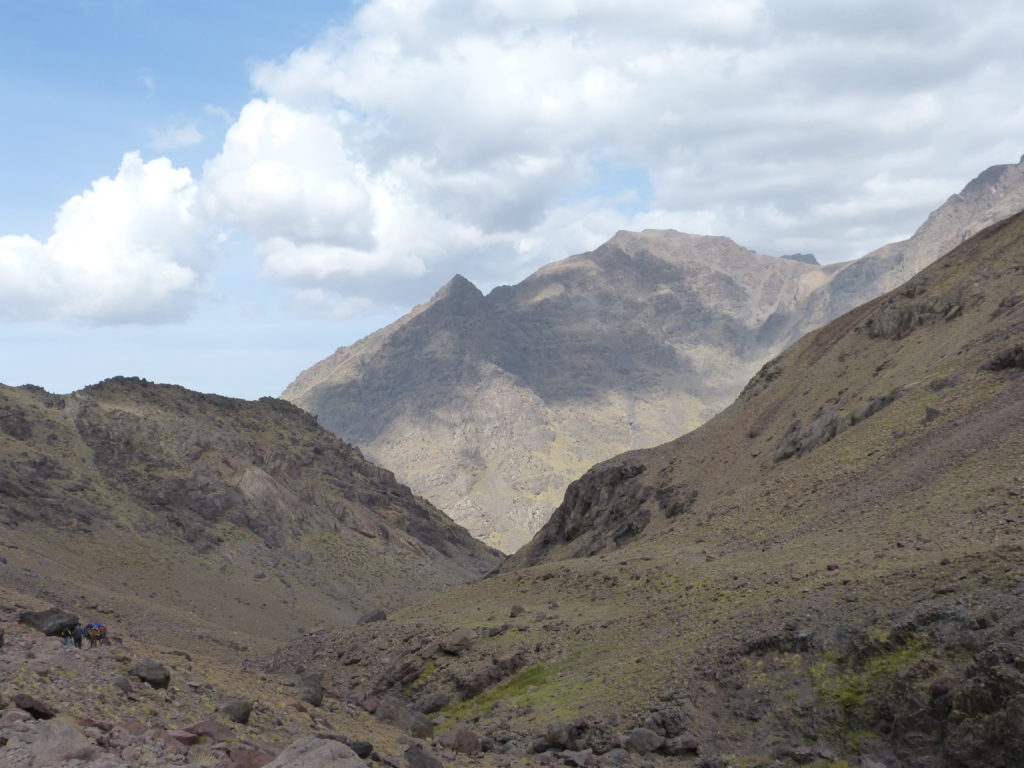 The Atlas mountains surrounding Toubkal
Other cities: like Rabat or Fez.
b/ How to do it
Now, this is the most important piece of advice I can give you and I hope to emphasize it enough: BOOK THESE TRIPS DIRECTLY IN MARRAKECH. We did it this way although we were a little nervous about the availability, and we didn't have any problem to do all the visits we had planned and I promise you won't either.
There might be an obvious exception to this 'book-the-trips-directly-in-Marrakech' rule, and it's that if you arrive at Marrakech late at night and you want to leave the next day you may not have the time to organise it. However, something similar happened to us and it wasn't a problem at all: we booked the trip to the Desert of Merzouga at 8pm and they picked us up from our riad at 7am the very next morning.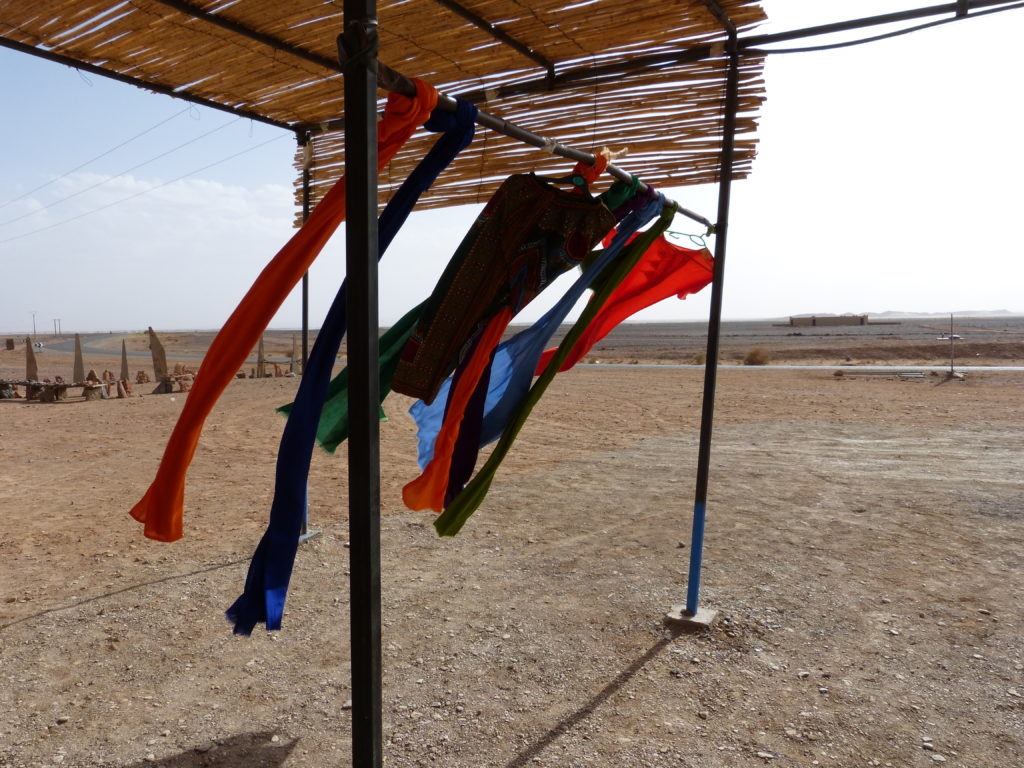 Scarfs hanging on the wind at the desert gates
Why I think it is better to book the excursions directly in Marrakech:
| | |
| --- | --- |
| 1 | It will be cheaper. Honestly this is the main reason why I recommend you to book the trip in the city instead of at home. To explain it with an example: our three-day-trip to the desert cost us 85€ per person for a group trip with individual rooms, and there were people travelling with us in the exact same conditions that had paid up to 130€ per person. The only difference between them and us was that they booked the trip from home. It is understandable, of course: intermediaries have to get their share and that increments the total cost of the experience for the costumers. That's why I'm encouraging you to organise these trips in Marrakech. The following reasons aim just to make you confident about this decision. |
| 2 | You will have a thousand million options to choose. In Medina there are a lot of travel agencies and they are literally everywhere, specially around the tourist attractions and more specifically around Djema el-Fna square, but, honestly, you can find them even in the smallest or quietest streets. Everyone will offer you every possible option of every possible trip, so there is no way that you end up not being able to do a certain trip, no matter how specific or rare it is. |
| 3 | You will be able to ask for a trip as personalised as you want. In general you will be offered three options: a trip for your party alone, a trip in a larger group or a trip in a larger group with individual rooms (be sure to ask for this if it's something you want!). The particular trips can obviously be customised at demand. However, even when you are travelling in a larger group of people you can personalise your particular experience: you could ask to drive a jeep instead of a camel to get to the haima you'll sleep in the desert, or to sleep on 4* hotels, or return to a different city. If this is the case, you will be separated from the group for this part of the experience and will re-join them for the rest of the trip. |
| 4 | It will be easier to get all the information about the trip, its conditions and all the details you want to ask, and, therefore to take a more informed decision about what travel agency choose, depending on what you expect from your trip and who offers it to you. |
3. My personal opinion
The main reason why we chose Morocco as a destination for this trip was because we wanted to experience a cultural shock, and we weren't disappointed. Being from Barcelona, we have mainly travelled to European destinations, and although of course every region has its particularities, the essence is quite similar everywhere.
Berber's traditional scarf
Visiting Morocco was at first a little difficult because of this radical change of environment, but we adapted: we learnt how to deal with and avoid those who constantly wanted to sell us something; we learnt to appreciate getting lost in the Souk; to rest from the pollution visiting the city gardens; to get away from the crowds by having a tea in a peaceful café or restaurant; and we also learnt to find some harmony in the chaos. In general: we started to experience the city on our own terms, and I think that that's what travelling is about.
However, when we took the bus to the airport to return home and saw for the first time the modern part of the city, with its streets full of cars, its Stradivarius and Adidas and Nike stores, its Starbucks, its discos… we started to question to what extent the cultural shock had been real. We felt as if we hadn't visited Marrakech correctly: we had only explored Medina and while driving through the modern city it felt as it was a theme park for tourists.
I don't want you to get me wrong! Medina was beautiful and very interesting and I love to have been there, what I regret is not having been in the modern city to get a more objective opinion on how it feels to live in Marrakech, and that's why earlier in this post I was recommending you to visit it.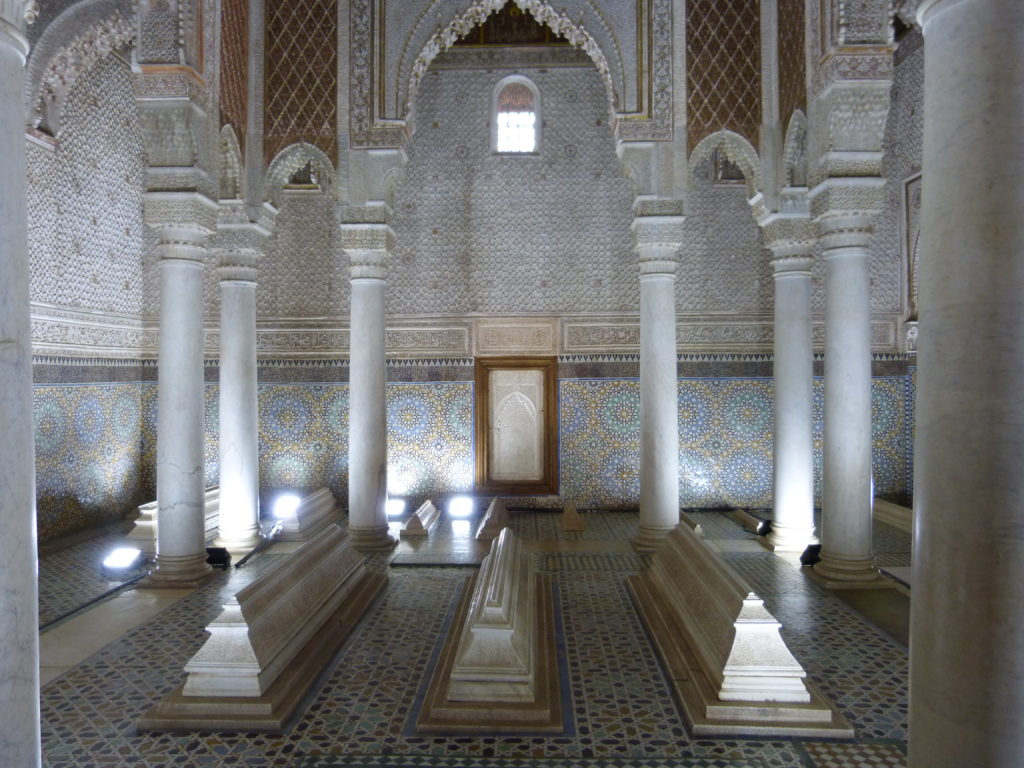 Detailed architecture in Saadian Tombs
I also wanted to comment something about the monkeys and cobras in Djema el-Fna and, in general, every animal you find performing a show for tourists. Monkeys in Djema el-Fna wear diapers all day and have a leash in their neck so that their owner can make them move to attract the attention of tourists. Monkeys hold the leash with their hands to suppress some of the pressure on their neck. Cobras are drugged so that they can be enchanted for the amusement of tourists.
I understand it can be cool to watch a cobra 'dance' and that monkeys are cute to hold and have pictures with, but please, don't do it. If you pay them for entertaining you with animals, you are contributing to their living in awful conditions. There are plenty of cool things to do in Marrakech –and everywhere-, so please do not sustain in your travels the suffering of animals.
Morocco is a wonderful destination that offers you a great variety of ways to visit it. You'll find there amazing cities, charming towns, history and beauty, runes and imperial cities, culture, nature, delicious gastronomy. They even have a desert! And, with all that, it is one of the most economic countries you can visit, so it is an ideal option if you travel with a budget but yet you still want to experience the world and discover new wonders.
---
Was this post useful for you? Please let me know and feel free to ask any question in the comments section! You can also support my work and Buy Me A Coffe. I will be immensely happy 🙂