Are you an adventurer and want to climb the highest mountain on the North of Africa? Well, then Toubkal should be your objective, and this post is where you'll find all the information you need to prepare such a journey.
The basics of my trip to Toubkal:
Duration: 4 days/3 nights
Date of travel: from October the 1st to October the 4th, 2017
Number of travellers: two people
Time of preparation: a month
In this post you will find a summary of everything you need to know to plan your trek to Toubkal: from the basic information such as where does it start and how to get there to a guide of what you need to do to plan for this kind of adventure, either when you go with a guide or by your own.
I also recommend you to read my related post 'Climbing Toubkal: the route stage by stage'. There I explain the route dividing it by the different terrains and difficulties you will encounter, extremely useful information especially if you plan to do the trekking by your own, but as it will give an idea of what to expect from climbing Toubkal, I encourage you to read it even if you go with a guide.
You can check here other posts about my trip to Morocco. These are the ones currently available:
1. Basic information
Toubkal, at 4,167 metres (13,671 ft), is the highest peak of the Atlas Mountains, the North of Africa and the Arab World. It is located at 67 km (42 mi) from Marrakech, at 1.30 hours drive.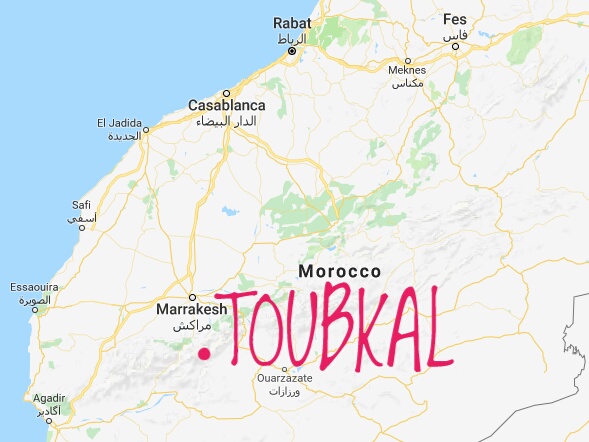 The route starts at the town of Imlil (1,740 m or 5,709 ft). With 15 km (9.4 mi) to walk and an ascension of 2,427 m (7,962 ft) –and then return-, it usually takes two days to complete the summit and return to Imlil, although there are a lot of alternative options: running the route and completing it in one day or doing it more calmly in three days; spending a few days at the refuge and visit not only the summit but the surroundings too; taking a circular route instead of the lineal one…
There are two refuges and a campsite to sleep. All of them are at 3,200 m (10,499 ft), 11.4 km (7 mi) from Imlil and they are separated only a few metres from each other.
Toubkal can be done by your own or hiring a guide and/or porters (mules).
Climbing Toubkal does not require any special skill apart from general fitness and determination. The path is clear and easy to walk and although you can expect some altitude sickness especially when approaching the summit, I believe everyone who is in a good physical condition, has some general knowledge of mountaineering and has prepared thoroughly this trip can reach the summit.
This lack of extreme difficultness is why Toubkal is full with Europeans in search of adventure. In Spain, Toubkal is a very popular destination (especially during Easter) because in our country we don't have any summit over 4,000 m, and the alternative options we have in Alps are notoriously difficult.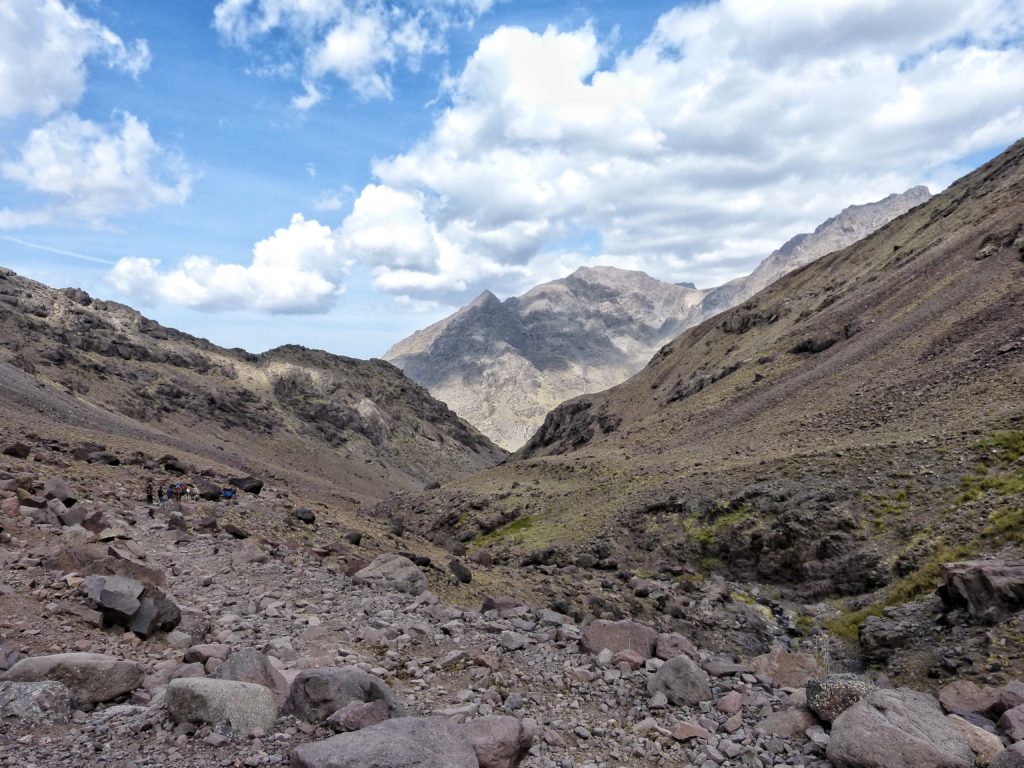 The area of Atlas Mountains
Our route
We arrived to Imlil at noon and spend the rest of the day there to start the hike the next morning. Imlil was a very welcomed change after having spent a few days in busy Marrakech.
We gave a lot of consideration on whether to do the route in 2 or 3 days and we finally decided over 3 days, a decision we don't regret. We are physically fit and spend most of good-weather-weekends at the mountains, but we had never done a hike that lasted more than a day or climbed a mountain as high as Toubkal.
Having also thought a lot about if we had to hire a guide and / or a porter, we decided on having a light backpack and do it by our own.
2. Imlil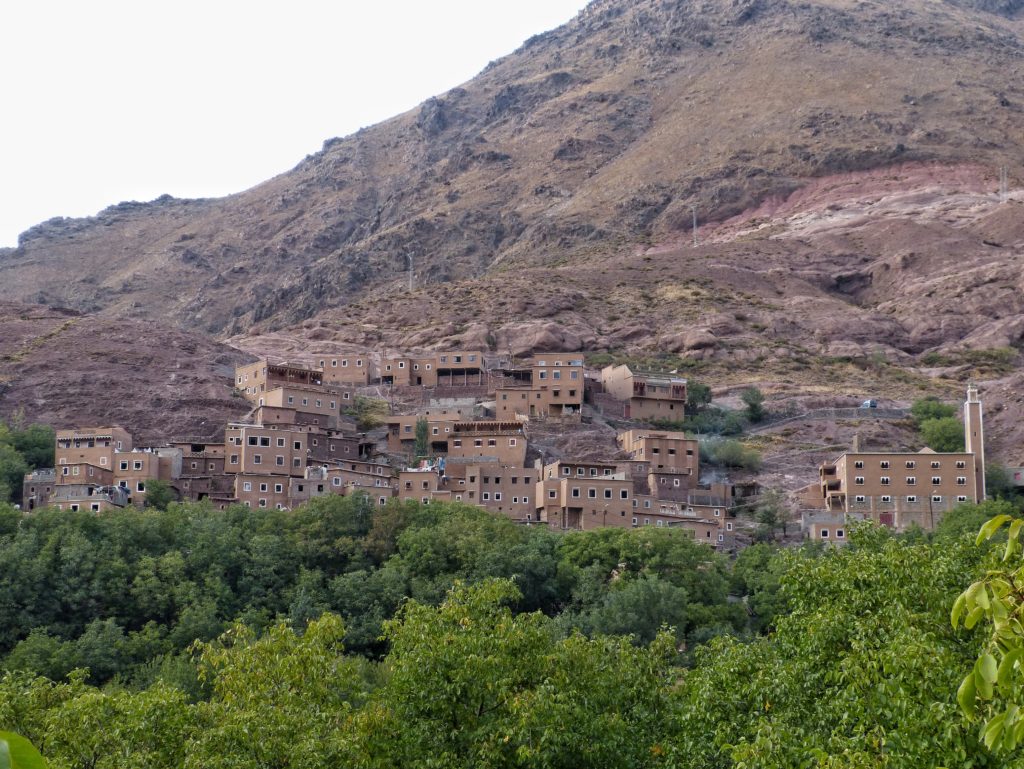 The town of Imlil
a/ How to arrive from Marrakech
The easiest and cheapest way to arrive to Imlil from Marrakech is by grand taxi. For me it is one of the most interesting ways to move to other parts of Morocco – the ones that are close to Marrakech. In case you don't know, a 'grand taxi' is a collective taxi, distinguishable from regular taxis by their size and colour (grand taxis are white while regular ones are a pale orange). It is very similar in concept to trains or buses: you just look for the one going to your destination, you bargain and agree on a price (never pay extra for your luggage, even if you are asked to!), you wait for the grand taxi to be full (6 people) and you leave. It is a really comfortable way of moving, and considerably cheaper than taxis.
You will recognise the street of the grand taxis station for the huge Moroccan flag. I would recommend you to go there for information before you have to leave so that you can plan it. Grand taxis to Imlil seem to be operative only in the morning, although that may change seasonably.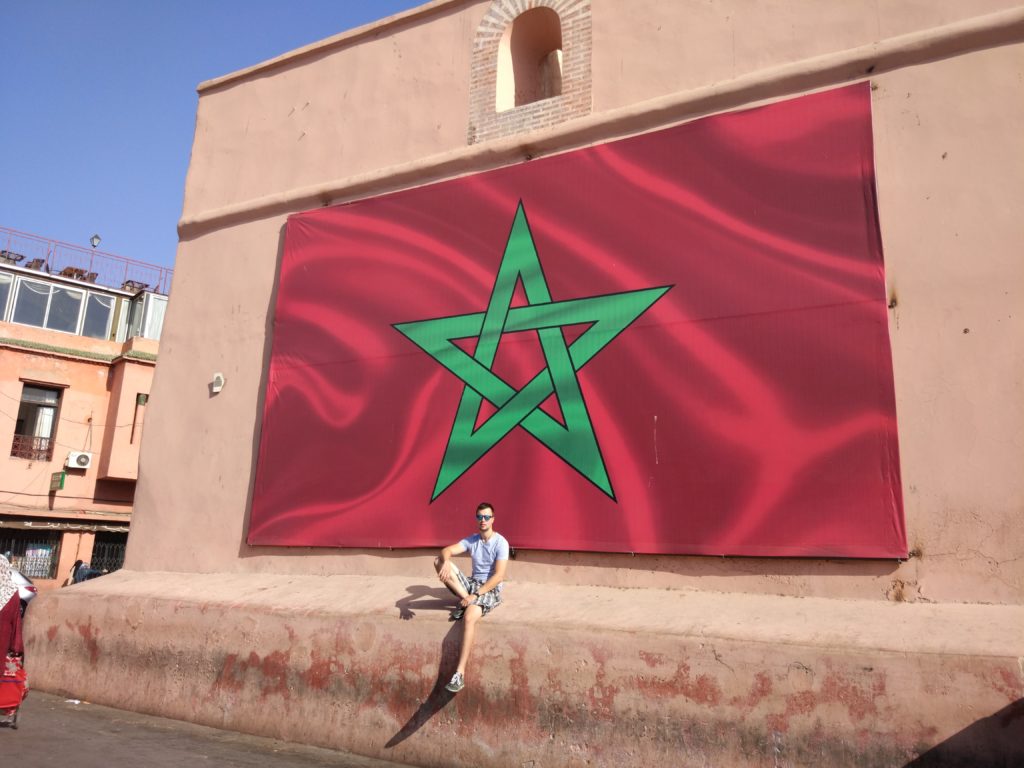 The entrance to Grand taxi's street
The drive from Marrakech to Imlil cost us around 10 € per two persons, and the same to return to Marrakech, so a total amount of 20 € for transportation.
b/ The town
I think the most distinguishable thing from Imlil is that they are producers of apples, so you find apple trees and boxes full of apples everywhere. Everyone in the town must own a few apple trees because they always offer you their apples (usually for free). In fact, when we left for Toubkal after having slept in a riad, the son of the host went after us because they have forgotten to give us apples.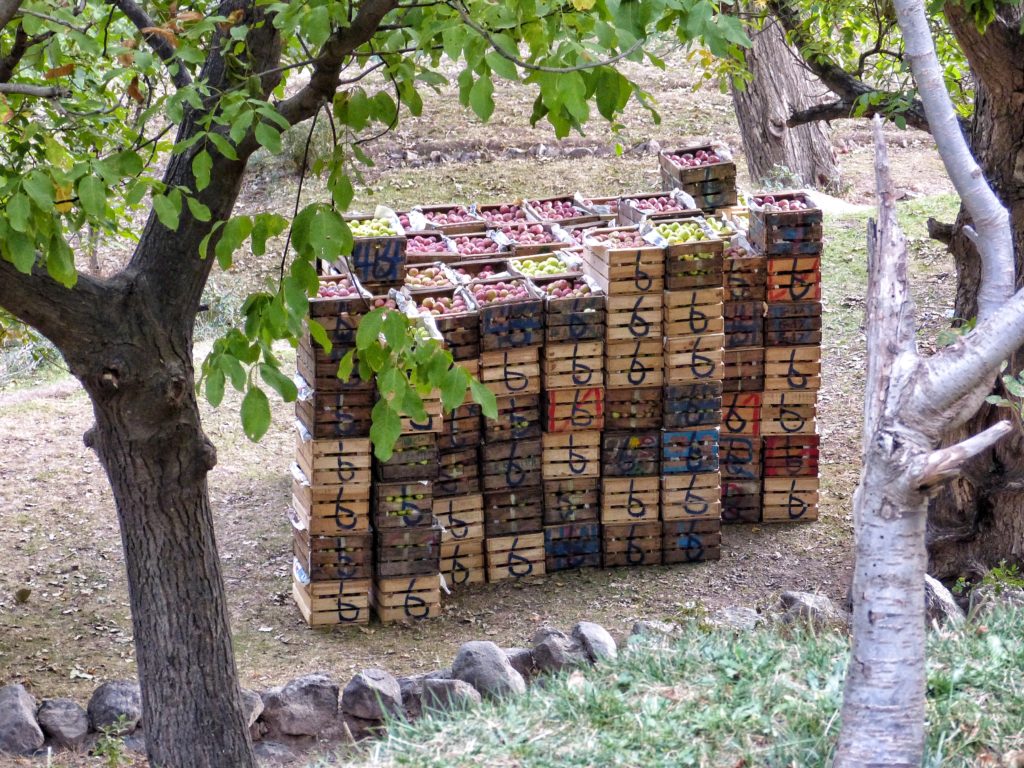 Imlil's apple boxes
Apart from this curious fact, Imlil is a traditional town, extremely more peaceful and a lot less inhabited than Marrakech. You feel safer. The air there is really fresh and everywhere you find a piece of mountain you can hike. For us it was a very very welcomed change from the busy, noisy and polluted Marrakech, although if you have read any other one of my posts by now you already know that I'm more a 'nature' girl than a 'cosmopolitan' one.
c/ The people
Imlil is inhabited by Berbers. We liked them a lot because they are not as direct and aggressive as Arabs when they want something from you and they are happy to help you without asking anything in exchange.
We were really surprised by that and it took us some time to adapt to the treatment we received from people, because we were a little prejudiced from the time we had spent in Marrakech.
For example, when we arrived to Imlil there were some young men around the grand taxis and they asked us what we were going to do there, where we were going to sleep and offered to take us to the riad we had booked. We took that as an attempt from them to guide us to Toubkal and to have us sleep at their riads, so we didn't pay much attention to them and went to have lunch. However, after we had finished eating and we started to look for our riad, its manager was waiting for us to take because the young men had told him we were there. We were kind of moved by this gesture.
The road to our riad
If you want more information about the cultural differences between Arabics and Berbers do not hesitate to check my post 'Visiting Marrakech', where I explain our experiences with both ethnicities and what to expect from them.
d/ Where to eat in Imlil
Imlil is very prepared for mountaineers and tourists and therefore there are plenty of restaurants to eat, especially in the main road (where the grand taxis leave you). As we arrived to Imlil at lunch the first thing we did was to look for somewhere to eat, and we found a hotel / restaurant that was honestly the best place we ate at during our visit to Morocco: Hotel les Etoiles Du Toubkal.
We liked it so much that on our third day of trekking, when we had already climbed Toubkal and had returned to Imlil to take a grand taxi back to Marrakech we didn't hesitate to repeat and eat there again. It was not the most economic restaurant on town but really cheap for European standards.
e/ Where to sleep in Imlil
In this case I won't recommend you any riad or hotel to sleep in Imlil, but I will give you general recommendations that I think you may consider when making your decision on where to stay. I really enjoyed the one we stayed at, it was perfectly comfortable and the hosts were amazing, but I believe almost all riads in Imlil are very similar to one another.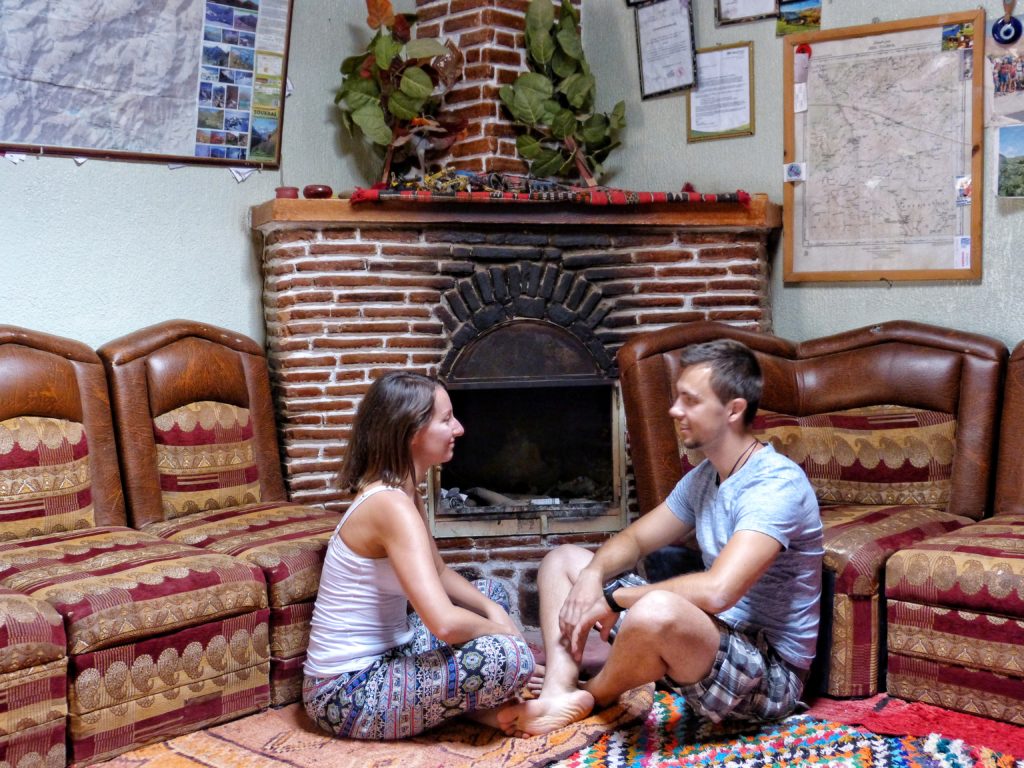 The living room of our riad
So, apart from a price and installations that suit you, what should you take into account when booking a riad in Imlil?
| | |
| --- | --- |
| 1 | Location from the start of the trail. Although Imlil is a small town, depending on where you sleep you may have to walk some two extra kilometres (1.2 mi) to get to the start of the trail. This may not have a huge impact on the overall distance of the trekking, but it is better to save your energies for the actual trek, especially if you haven't hired a porter and have to carry your own belongings. |
| 2 | Would you be able to have dinner or simply share a conversation with the hosts? This is very important because it contributes to the overall experience of Toubkal and Morocco. We had dinner and a long talk with our host after having eaten and we absolutely loved that. He told us about his life, his family, the traditions of Berber people, their celebrations, what was important for them… It gave us an amazing understanding on who they are and how they leave, and I truly believe that apart from having meaningful personal experiences, being able to comprehend other cultures is the main reason why we should travel. |
| 3 | The possibility of leaving some of your belongings there while you climb Toubkal. Our visit to Toubkal was included in a ten days trip to Morocco, so apart from our trekking gear we carried some other things with us and it would have been impossible for us to do the trek on our own, without a porter, if we had had to carry all our belongings. We had to pay three Euros per day for this service. |
f/ Contributing to local economy
We had read that prior to our visit to Imlil and Toubkal, although we really understood it when we were there. Unlike Marrakech, people in Imlil are very humble and their economy strongly depends on everyone's contribution. A large city like Marrakech has its own ways of surviving but small towns like Imlil, or any other one you may visit, lack the advantage of being a local hub or having massive amounts of tourists.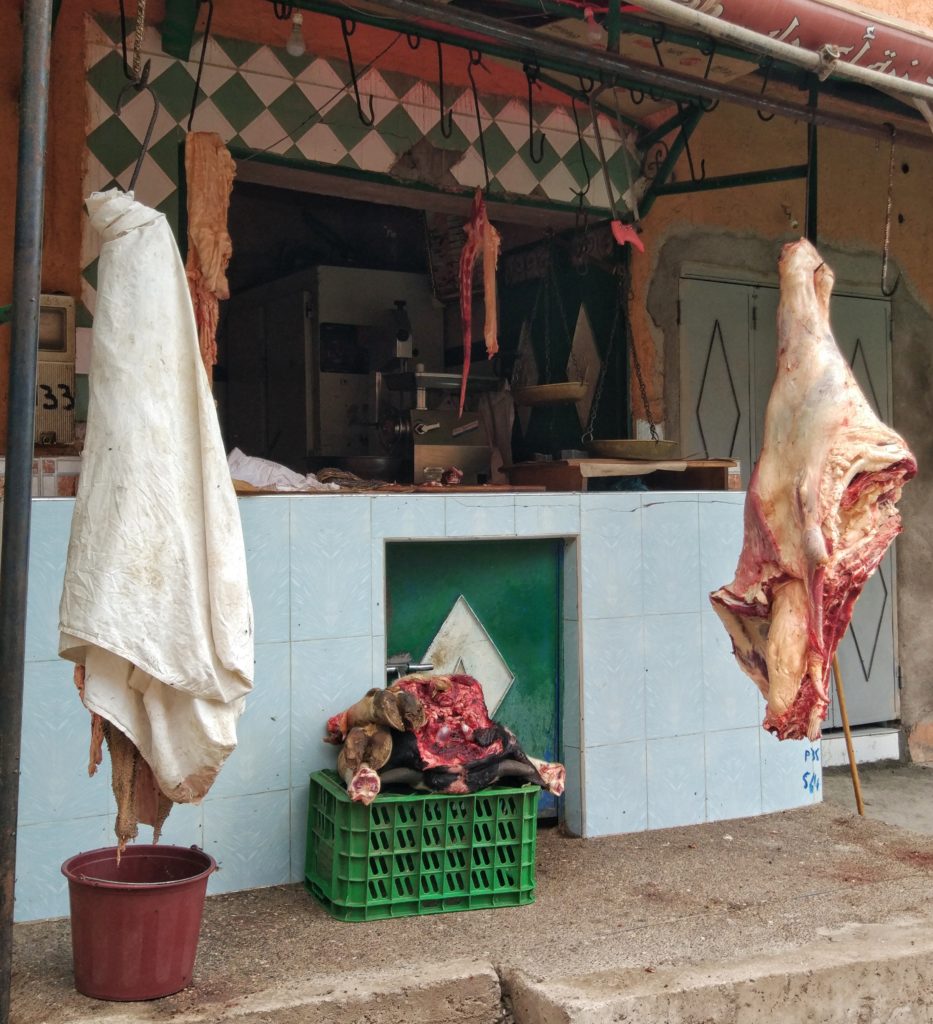 Imlil's butcher
A lot of young men in Imlil are guides or porters for the treks in Toubkal. However, although you may not use any one of these services (we didn't), what is important is that you leave some money there, in the form of meals, accommodation, snacks or souvenirs.
In Toubkal we bought a considerable amount of the souvenirs we took back home. They were cheaper than in Marrakech, handmade instead of massively produced. The sellers, which in most cases were the ones who had manufactured the product, were genuinely happy to have us buy them something.
3. Preparing for Toubkal
a/ How to do it
Hiring a guide and / or a porter
Hiring a guide means that the only thing you would have to worry about for the trek is having enough water and maybe a snack, because these are not provided by your guide.
In general, this is what the 'guide + porter' services include (although it can be customised):
Transportation from Marrakech to Imlil, and back
Mountain guide
Mule and porter
Meals (either provided along the route or at the refuge)
Accommodation in one of the refuges
And this is what's not included:
First day lunch
Last day dinner
Beverages
Travel insurance
The average price we were asked for this services was 200 € per person when we tried to book it by email from home, however, once we went to Imlil we asked around and they offered us the same services for 150 €. The transport from or to Marrakech was obviously not included, but by now you already know that grand taxis are really cheap and comfortable. Keep in mind that our trip lasted three days, so if you are planning on anything different the price will for sure be different too.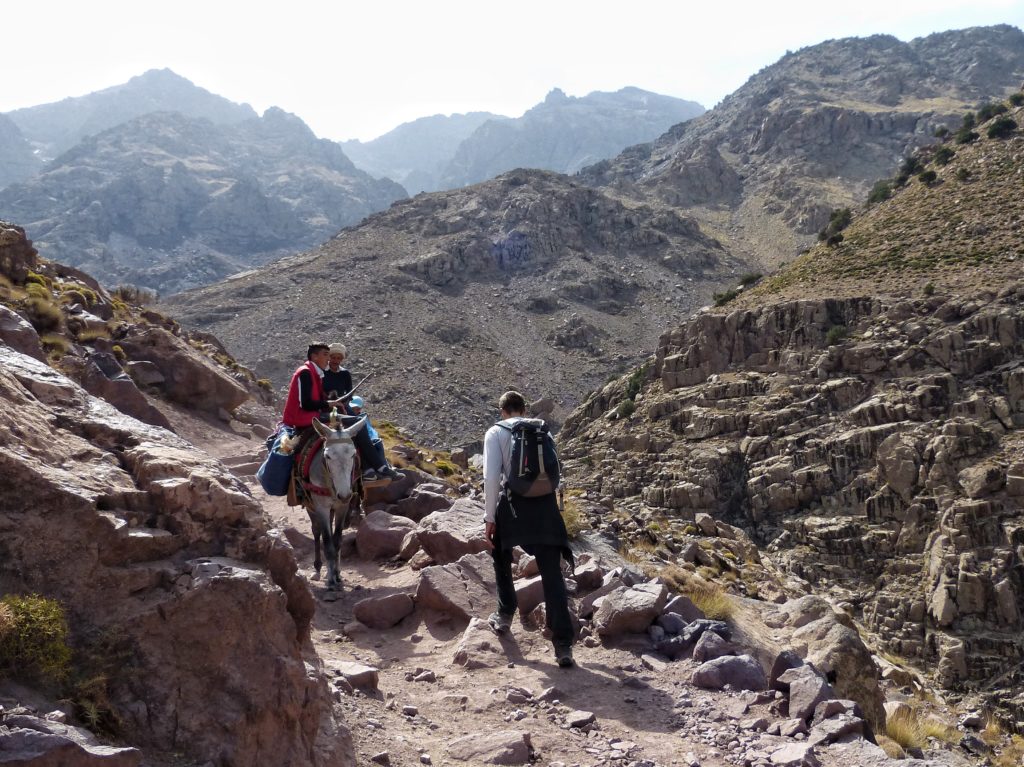 Porters on the path to Toubkal
If you want to have any one of these services for your trek, I very strongly recommend you to wait until you get to Imlil to book them. I am absolutely sure that you won't have any problem or delay at all, because everyone there either can be a guide for you or has five cousins who can. Remember, they live off that!
By yourselves
This is the option that I recommend but only if you have previous experience in the mountains and are able to follow and understand a track. The path to Toubkal is not difficult to follow but that doesn't mean that everyone can do it by their own: if you have hardly visited the mountains, if you have never followed a track or you don't feel confident enough to overcome the difficulties you may encounter (tiredness, altitude sickness…) maybe you should consider having the help of a guide to take some responsibility out of you.
That being said, what I want from you is to truly consider if you are prepared to trek by your own or you actually need this help, because it would be extremely irresponsible from me to advise everyone to go by their own. If you decide on trekking without a guide, don't worry! I'm sure you will be absolutely fine just as we were.
So, what do you need to plan if you don't have a guide?
I can't stress enough that having a good track is the most important thing of the whole planning.
The path is marked by red small dots which are easier to see on the way down than up. There are also a lot of graffiti in the rocks. Yes, graffiti. Yes, I was surprised too, I had never in my life seen that in Europe, however, they are useful to help you follow the right track.
You need to read other people's experiences and their explanation of the route. I recommend you to read my post 'Climbing Toubkal: the route stage by stage'. There I explain the route dividing it by the different terrains and difficulties you will encounter, which will be useful to you not only to get an idea of what to expect from climbing Toubkal but also because having this information will make easier for you to detect if you have gone to a wrong path.
However, what I find more useful and I think is key if you want to trek an unknown path is to have a topographic map and a compass. Luckily for us technology can substitute these items and now we have Apps on our phones that can provide this information.
If you don't use already a map viewer I would recommend you Oruxmaps. It is a free App and it's the one I use. You can get the free verion only in their website, as you have to pay for the version available in Google Play Store or Apple's App Store. Although they could improve its 'user-friendly'-ness (uploading maps can be a little tricky), it has features that I find essential, the ones you should ask your map viewer to have:
Working both online and offline
Huge databases from where you can download tracks
Compass
Altimeter
Sharing your position
Creating and saving your tracks
The premium version of Wikiloc, which costs about 10€ per year, is also a great option.
Besides having it on your phone, I also recommend you to have a topographic map of the area (and the knowledge to read it!). I'm sure you can purchase them online although there are plenty to sell in Imlil.
| | |
| --- | --- |
| 2 | Where are you going to eat? |
Both refuges offer full board and half board, so I think eating there is the most convenient option. They even can pack you a lunch to take away for your last day of trekking, when you are returning to Imlil. I would also strongly recommend having snacks to eat during the trail, such as fruit or nuts.
Check the next section 'b/ Water and food' for more detailed information.
| | |
| --- | --- |
| 3 | Where are you going to sleep? |
There are two refuges and a campsite at Toubkal. If the weather is good you can camp, otherwise you'll have to choose one of the refuges. Depending on the season you would need to book a room (at high season they most probably be crowded) but if you visit at a quiet time you can decide where to sleep once you arrive there.
For more information on that matter, check the section 'c/ Where to sleep in Toubkal', later on this post.
| | |
| --- | --- |
| 4 | What do you need to carry? |
Obviously, only the essentials! Depending on your level of fitness you can carry up to 10 kg (22 lbs) of weight, although that would be A LOT. You have to seriously consider that the trek is long and you most probably will suffer from altitude sickness, so what may seem a reasonable weight at the beginning of the route may not look the same at the end.
For a list of the basics you absolutely need to carry with you, check the next section 'd/ Your backpack'.
b/ Water and food
As I previously told you, the main meals (breakfast, lunch and dinner) will be provided at the refuge. Breakfast will be served whenever you get up, even if it's 3 am in the morning or 10 am. Lunch can be either eaten there or taken away and dinner is served around 8 pm, when everyone is already there.
So, the only main meal you may need to worry about is the first lunch, if you don't arrive to the refuge when they serve it. We didn't leave extremely early so we knew that we wouldn't get to the refuge on time for lunch. What we did was take some boiled eggs, cheese and bread from our breakfast (it was really rich!) and eat that with some fruit and snacks.
If you are going with a guide, every meal will be provided, either at the refuge or by the guide or porter.
What about snacks and water? These are not included. You can buy them at Imlil or during the trek, especially at the first stages. You will be offered fruit, sweetened nuts, water, beverages such as cokes… At some places of the trek you can even have a whole meal (tagine, couscous…).
You can also buy water and snacks at the refuge, although the snacks there are chocolates or chips, nothing healthy or rich in nutrients.
After you reach the refuges, you won't find anywhere to buy water or snacks, so prepare in advanced for that part of the trek!
c/ Where to sleep in Toubkal
The two refuges located at Toubkal are Refuge du Toubkal and Refuge les Mouflons. They are at 3,207 m (10,506 ft).
It was very difficult for us to decide for one of them because we kept reading contradictory opinions about the temperature, the quality of the meals, the facilities –especially the toilettes and showers–, the WiFi connection… Besides, the two refuges are located only a few metres from each other, so distance was not something that could help us make the decision.
Supposedly Refuge les Mouflons was better equipped although Refuge du Toubkal was newer. Les Mouflons offers individual rooms while Refuge du Toubkal fails to do so, and it also has private toilettes while Refuge du Toubkal doesn't. The WiFi connection is lousy in both of them. Refuge du Toubkal has heat in the first floor, where the kitchen and dining room are located but not at the second floor where the dormitories are. Refuge les Mouflons doesn't have heat at all.
We finally booked two beds at Refuge du Toubkal because it was cheaper and our host at Imlil had recommended that. What we found was a perfectly clean refuge. The beds were decent and blankets were provided. We only had two showers and as they were kind of busy we had to wait for half an hour to take a shower. The bathroom was cold but every other part of the refuge had good temperature, although at night we slept with our thermal clothing. The meals were a little simple but nutritive and abundant. We had no WiFi connection. The people who worked there was friendly and helpful.
We haven't been to Refuge les Mouflons so we can't compare them, but Refuge du Toubkal was a good option and we did not regret our choice.
d/ Your backpack
WATER AND FOOD:
Water.
Snacks (fruits and nuts).
Small money to buy beverages or food along the trail (they may not have change to give you back).
CLOTHING:
Adequate clothes (depending on the season).
Thermal clothing. You will absolutely need them for the highest parts of the trek. You may also include a buff and gloves.
Impermeable windshield warm jacket, if possible, with a hood.
Good hiking boots.
Clean dry socks for every day of the trek. To avoid blisters, we always use a double-sock.
Some clothes to change.
ACCESSORIES:
Mobile charger.
Toiletry.
Towel and soap (in case you want to take a shower).
Sunscreen.
Sunglasses.
Frontal light or a torch, especially if you plan on walking by night (which you will do if you plan a 2 days trek).
Strips and iodine, for blisters.
Some medicine for headache, in case the altitude sickness hits you.
---
Was this post useful for you? Please let me know and feel free to ask any question in the comments section! You can also support my work and Buy Me A Coffe. I will be immensely happy 🙂